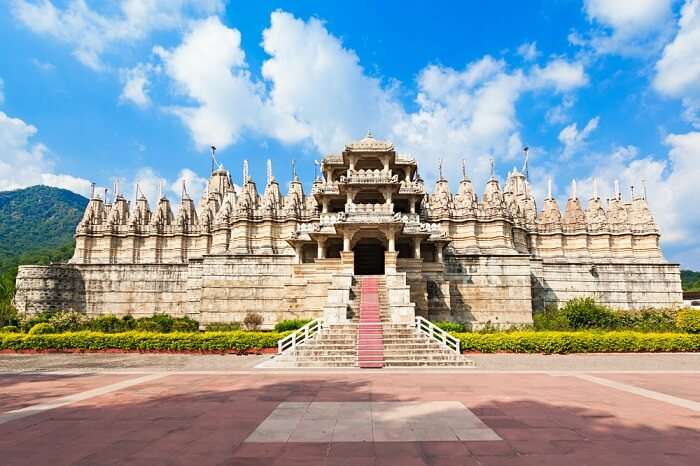 Rajasthan, the land of forts and fables, is also the meeting ground of many religious sects & beliefs and home to revered pilgrimage sites as well as holy shrines. Tucked in the lap of Aravallis, along the banks of the Banas river is the charming temple town of Nathdwara in Rajasthan. One of the most important places to visit in Nathdwara, the Shrinathji temple also gives the town its name literally meaning 'Gateway to Shrinathji'. While Nathdwara is flocked by thousands of devotees every year who visit the sacred shrines, it is also frequented by history enthusiasts visiting Haldighati or art aficionados drawn by the craft village of Molela.
15 Best Places to Visit in Nathdwara to Feel the Divinity & Culture
Here, we have enlisted the top places to visit in Nathdwara where you can make the most of your vacation. Read on now!
1. Shreenathji Temple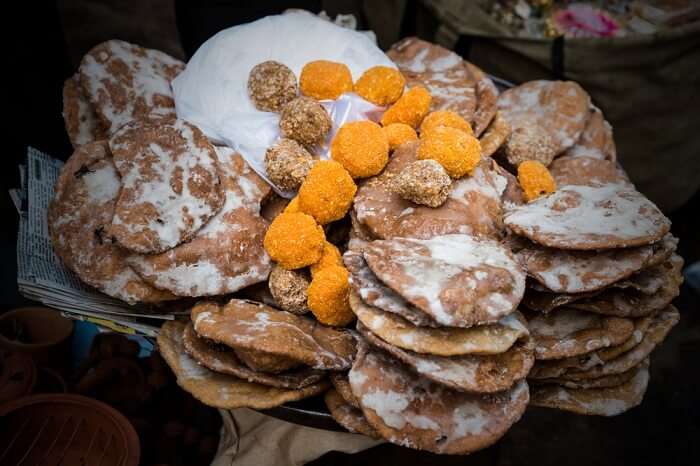 A prominent Vaishnavite shrine, Shrinathji temple is home to the 7-year-old 'infant' incarnation of Lord Krishna. Originally worshipped at Mathura, the deity was moved here along the Yamuna in 1672 AD. You can feel the divine presence as you enter the sanctum sanctorum and gaze at the enchanting & beautifully sculpted black stone statue of the Lord Krishna. Though the darshan queues are usually long, the spiritual vibes of this pious place and immense faith keep the devotees going. Special care must be taken off the Nathdwara darshan timing if travelling with children and senior citizens.
Speciality: Dedicated to Shrinath Ji, the temple is an important pilgrimage centre by Vaishnavas
Location: NH 8, Shiv Nagar, Nathdwara, Rajasthan 313301
Nathdwara temple timings: There are seven time slots starting from 'Mangla' (5:45AM-6:30AM) and the final evening 'Arti' (5:15PM-6:00PM)
5 Places Near Nathdwara That Cannot Be Missed On Your Rajasthan Vacation!
2. Haldighati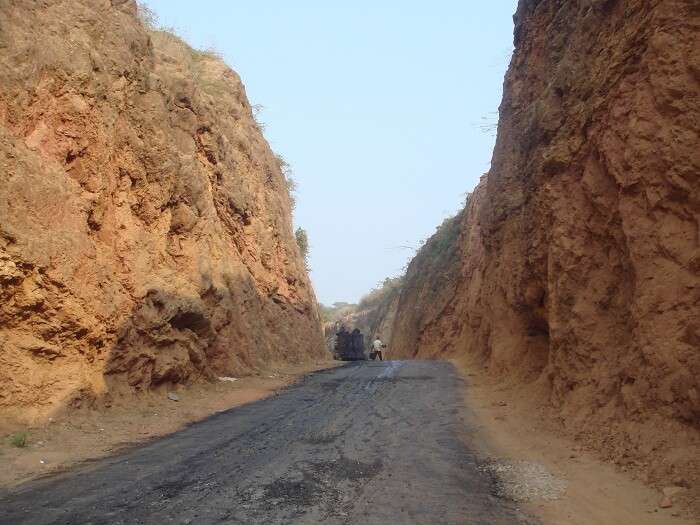 The famed battleground, where Rajasthan's legendary brave heart Maharana Pratap took on the mighty Mughal army of Akbar, is definitely amongst the top places to visit in Nathdwara for its historical significance. Haldighati (the name owing to its turmeric coloured soil) is now a mountain pass in the Aravalis where you can feel the presence of the valiant Maharana of Mewar and spot the cenotaph dedicated to his loyal horse Chetak. Do not miss out on visiting his memorial and museum close by for an experience to remember.
Speciality: The place is best known for its historical significance
Location: Near Rakt Talai, Maharana Pratap Stadium Road, Haldighati, Khamnore, Udaipur, Rajasthan, 313322
Timings: NA
3. Maharana Pratap Memorial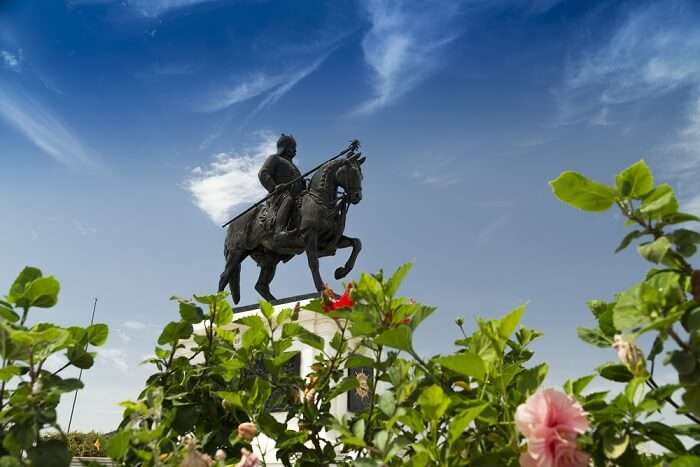 This well-maintained museum dedicated to one of the most inspirational, brave and daring rulers of Mewar is a fitting tribute to the warrior who dedicated his entire life to protect his land and people. Impressive statues depicting the battle of Haldighati, life-like artwork and informative film about Maharana Pratap allow us a peek into the life of this courageous warrior. The light and sound show narrating the tales of his valour is both insightful and a treat to the eyes. So, if you are seeking the top-rated Nathdwara tourist places, make sure to visit this attraction.
Speciality: Details of Haldighati war, light & sound show
Location: Maharana Pratap Memorial Road, Udaipur, Rajasthan 313001
Timings: 9:30 AM to 7:30 PM
25 Enthralling Places To Visit In Mount Abu On Your Vacation
4. Dwarkadheesh temple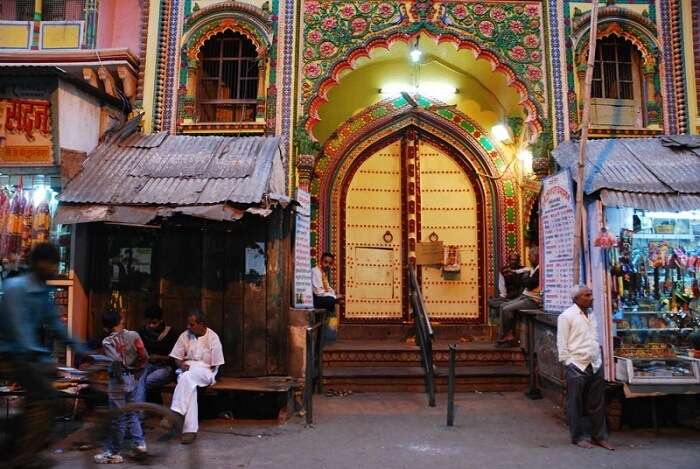 Just 18Kms from Nathdwara is another Krishna shrine that is visited by thousands of devotees along with the Shrinathji temple. Exuding positive vibes and aura, the beautiful statue of the deity is a sight to behold. Designed like an ornate haveli, the huge temple along the Rajsamand lake is a peaceful spiritual retreat for spending some tranquil moments in divine presence.
Speciality: A serene pilgrim site designed like a haveli
Location: Dwarka, Gujarat 361335
Darshan timings: 7:00 AM-11:00 AM; 4:00 PM-7:00 PM
5. Charbhuja Temple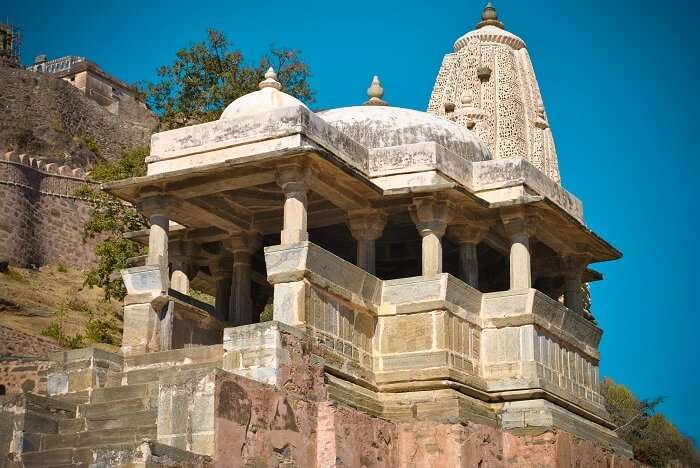 Image Source
This famous Vishnu temple located an hour away from Nathdwara is highly revered by pilgrims across the State. Built by King Gang Dev in 1444 AD as instructed in a divine dream, this ancient temple displays excellent mirror work and marble carvings. The idol installed at the temple is believed to be the same one worshipped by Pandavas, making it historically significant. With its entrance guarded by towering stone elephants, the temple exudes grandeur and divinity.
Speciality: Beautiful interiors and exteriors
Location: Tehsil, Mandir Choraha Kumbhalgarh, Garhbor, Rajasthan 313333
Timings: 5:00 to 10:15 PM
Shopping In Jodhpur: From Places To Products Here Is The Best
---
Planning your holiday in Rajasthan but confused about what to do? These Rajasthan travel stories help you find your best trip ever!
Real travel stories. Real stays. Handy tips to help you make the right choice.
---
6. Molela Terracotta Village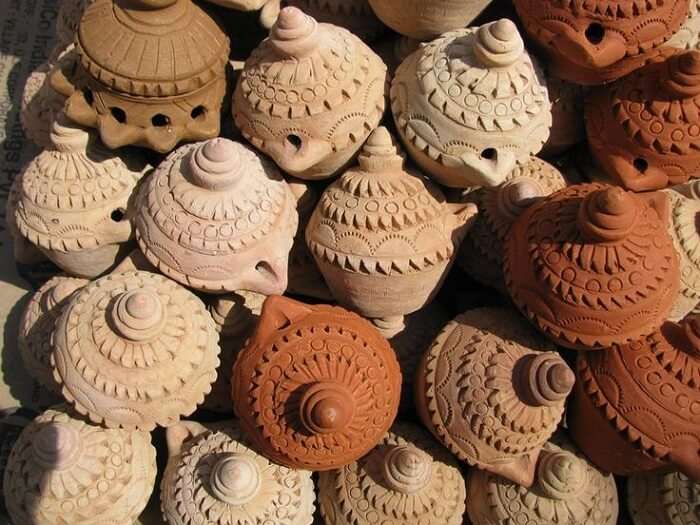 Image Source
The rich handicrafts and workmanship of Rajasthani craftsmen is celebrated the world over. The incredible pottery art kept alive by this small village must be seen to be believed, making Molela a worthy addition to the place to visit in Nathdwara. This 800-year old clay art comes alive on detailed murals and plaques with images of gods/goddesses and scenes from epics or village life. Molela Teracotta art Museum managed by acclaimed artist Dinesh Chandra Kumhar is worth a visit. He also conducts workshops, seminars and training sessions for those interested in the art.
Speciality: Intricate nad beautiful pottery products
Location: Terracotta, Hanumanpura Rd, Molela, Rajasthan 313322
Timings: Open throughout the day
7. Shri Eklingji Temple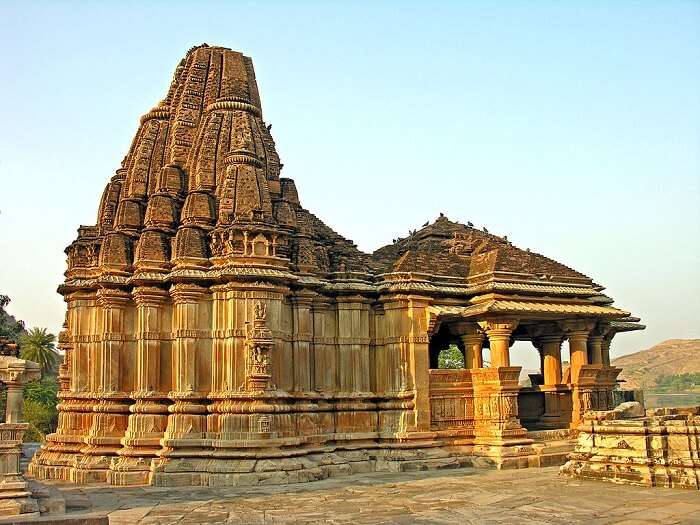 While you consider the best places to visit in Nathdwara, this outstanding temple complex just a half an hour drive away must definitely be on your itinerary. One cannot help but marvel at the craftsmanship and architectural beauty of this 108-temple complex dedicated to the benefactor deity of Mewar Rajputs. Along with the main shrine of Eklingji (Lord Shiva), the serene complex also houses temples dedicated to the Sun God, goddess Durga and others. Photography is prohibited inside the temple which is the perfect place to meditate, relax and feel one with divinity.
Speciality: Intricate architecture
Location: Udaipur, Delwara Marg, Eklingji, Rajasthan 313202
Timings: 4:30 to 7:00 am, 10:30 am to 1:00 pm, 5:00-7:30 pm
Umaid Bhawan Palace Jodhpur: A Royal Home Where You Can Tie The Knot
8. Nand Samand Dam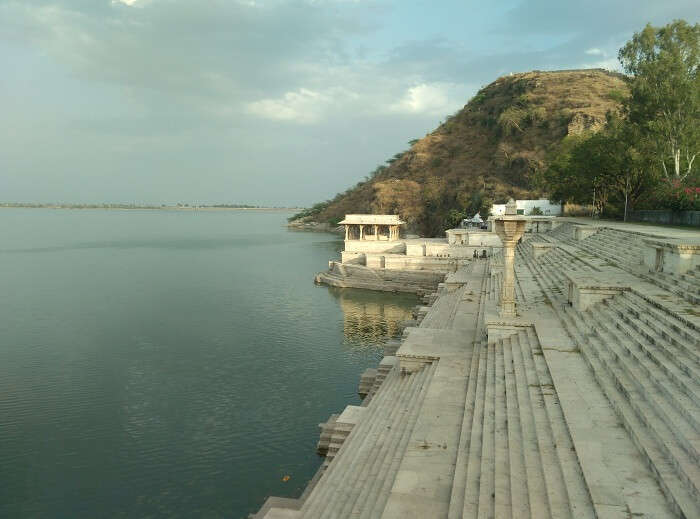 One of the few places to visit in Nathdwara for some relaxed moments by the tranquil waters is the Nand Samand dam also called Tantol Dam. This placid expanse of water is a wonderful outing from Nathdwara especially during the monsoon season when the water is overflowing. The main source of water supply to Nathdwara and nearby villages, this beautiful dam is also the perfect spot to catch a serene sunrise or a stunning sunset with the Aravalli hills in the backdrop.
Speciality: Serene views
Location: WQGM+V2W, Joshiyon Ki Madri, Rajasthan 313301
Timings: 7:00 am to 6:30 pm
9. Ranakpur Jain Temple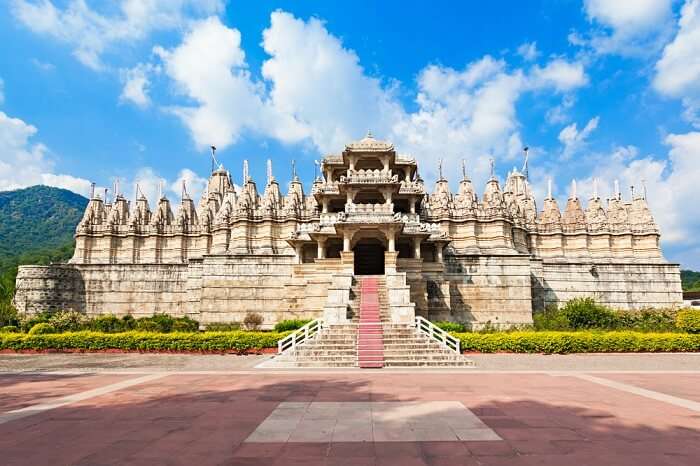 Located 97 km away, arguably one of the best places to visit near Nathdwara, is this exquisite poetry in stone: the awe-inspiring Ranakpur Jain temples. The outstanding craftsmanship, intricate carving and marvellous architecture of this beautiful temple will leave you spellbound. Built in the 15th century by the Jain businessman Dharna Shah after a divine vision, this architectural marvel has 1444 carved pillars each different from the other. One exceptional carving is that of a 108 snake heads on a single piece of stone, a true gem not to be missed.
Speciality: The beautiful architecture of the temple with marbles
Location: Desuri, Ranakpur Rd, Sadri, Rajasthan 306702
Timings: 12: 00 PM to 5:00 PM 
7 Places To Visit In Neemrana That Offer An Offbeat Yet A Classic Experience!
10. Kumbhalgarh Fort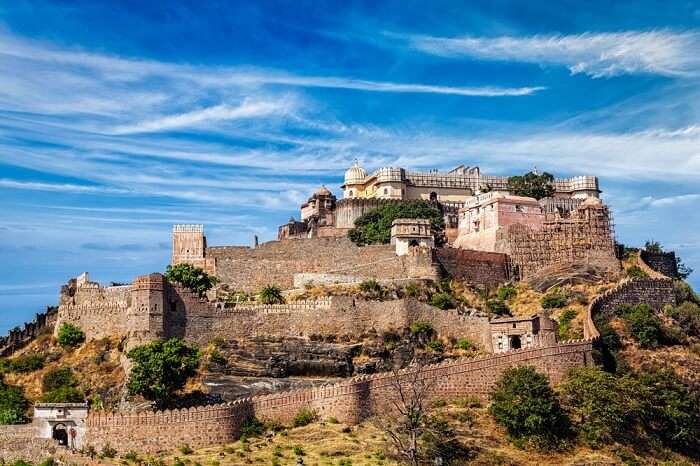 Calling Kumbhalgarh the crowning glory amongst forts in Rajasthan wouldn't be an exaggeration by any means. This towering fort with its impressive rounded bastions is undeniably one of the must-visit places near Nathdwara and can be combined with a trip to Haldighati. Built in the 15th century by Maharan Kumbha, this invincible symbol of Rajput supremacy is now a UNESCO world heritage site. Considered India's very own Great Wall, the fort ramparts are wide enough for 8 horses to march abreast. Offering you to enjoy the perks of Nathdwara tourist places, Kumbhalgarh Fort will surely enthrall you with its magnificence. 
Speciality: The fort is famous as the second largest wall after the Great Wall of China
Location: Kumbhalgarh, Rajasthan 313325
Timings: 9:00 AM to 6:00 PM 
11. Chittorgarh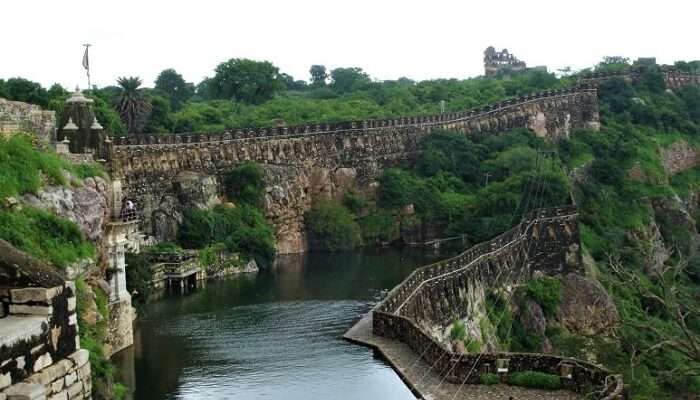 Home to the largest fort in India and Asia, Chittorgarh is positioned along the banks of Gambhiri River and Beach River. Featuring glorious Rajput history, this destination is an ultimate hub for those who are intrigued by history and architecture. Enhancing its charm is the Chittorgarh Fort that has witnessed numerous battles. Apart from the fort, the place also houses numerous attractions that you can add to your itinerary. Some of the best ones include Rana Kumbha Palace, Fateh Prakash Palace, Meera Temple, and more.
Speciality: Architecture, religious sites, Chittorgarh Fort
Location: Chittorgarh District, Rajasthan
Timings: Open throughout the day
Pushkar Mela: Everything You Need To Know About The Most Gorgeous Fair In India
12. Pali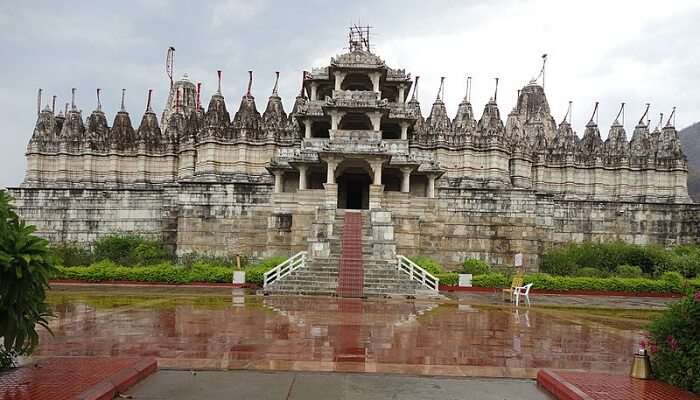 Nestled in the heart of Rajasthan, Pali is a hidden gem that is yet to be explored by many. While positioned by the river Bandi and encircled by Aravali Mountain Range, this destination makes a perfect base for the ones seeking nature's beauty. Also known as "Industrial City", Pali features several tourist spots where you can witness the best of this destination. Some attractions that you must visit on your trip include Lakhotia Garden, Parshuram Mahadev Temple, Bangur Museum, Jawai Dam, and Om Banna.
Speciality: Textile hub, religious sites, majestic views
Location: 70 km south-east of Jodhpur, Pali District, Marwar Region, Rajasthan.
Timings: NA
13. Rajsamand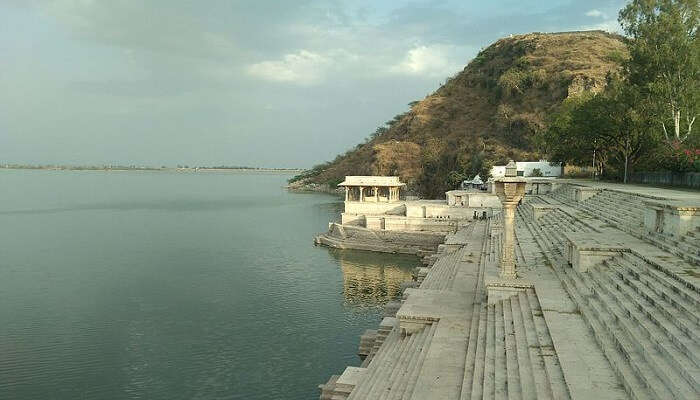 Positioned at a distance of 17.6 km from Nathdwara is renowned for its religious and cultural sites. The most famous one is the man-made lake, Rajsamand Lake that was created by Rana Raj Singh of Mewar in the 17th century. Interestingly, the lake was once a seaplane base during World War II. Besides this marvel, the destination is beautified with other tourist attractions that are known for their own beauty. While planning a trip here, make sure to visit Haldi Ghati, Kankroli, Kumbhalgarh Wildlife Centuary, and more.
Speciality: Rajsamand Lake, religious sites, natural vistas
Location: Rajsamand, Rajsamand District, Rajasthan.
Timings: NA
15 Royal Resorts In Pushkar That Are Perfect For A Memorable Stay
14. Alsigarh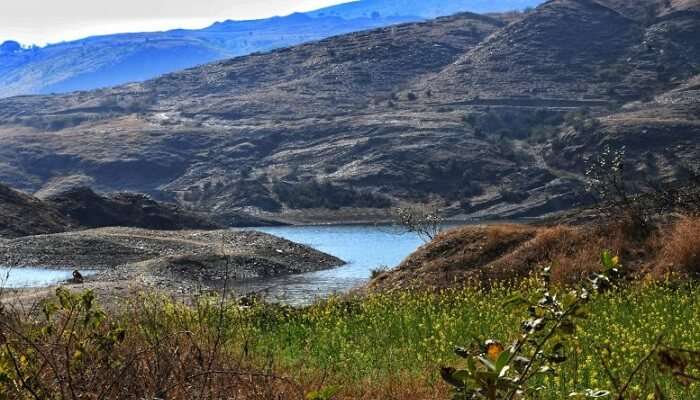 Yet another place that is less explored by many, Alsigarh is beautified with the serene beauty of nature. Nestled in a hilly area, Alsigarh makes a perfect place if you want a peaceful escape from the hustle and bustle of city life. Located 71.8 km away from Nathdwara, this destination allows you to witness the unparalleled charm of verdant hills, glistening waterfalls, rustic villages, lush green farms, and more. If you wish to witness the best of this place, make sure to plan a vacay during monsoon Season.
Speciality: Nature's bliss, waterfalls, valleys, hills
Location: Alsigarh, Jhadol Tehsil, Udaipur District, Rajasthan
Timings: NA
15. Mavli

Mavli is a quaint town which is also called a hidden gem as not many tourists visit here. Although it's a small town, it boasts a rich history of the Mughal and Medieval era that makes it a perfect place for history buffs. From temples to monuments, you will find several sightseeing spots here. Mavli is a small town and is truly a hidden gem brimming with medieval history. Enhancing the charm of Mavli is Bai Raj Ki Bawri (step wall) that features an intriguing history. Apart from this, there are several attractions where you can head to and make the most of your vacation.
Speciality: Baiji Raj ki Baori, historical sites, sweet rabdi
Location: Mavli Tehsil, Udaipur District, Rajasthan
Timings: NA
38 Exhilarating Things To Do In Udaipur For Tourists Of All Ages
For our editorial codes of conduct and copyright disclaimer please click here. 
Frequently Asked Questions About Places To Visit In Nathdwara
Is is safe to visit Rajasthan during Covid times?
Yes, Rajasthan is one of the best places where you can plan a trip during the pandemic. However, it is advised to check the travel advisory issued by the state govt. Apart from this, ensure to follow all the safety protocols
What is Nathdwara famous for?
Nathdwara is famous for a temple that was built in the 17th century temple and is dedicated to Lord Shrinathji (Lord Krishna). There are also many exciting places to visit in Nathdwara that it is known for.
How can I go to Nathdwara from Udaipur?
Nathdwara is just 46 kilometres away from Udaipur. There are two buses that ply between the two destinations and it will just take you around 1 hour to reach the destination.
How can I go to Mount Abu from Nathdwara?
There are no direct buses flights or trains between Mt Abu and Nathdwara. You can take a taxi from Mount Abu to Nathdwara. You can also take a train from Nathdwara to Udaipur and then take a bus to Mount Abu.
What can I shop for in Nathdwara?
Handicrafts, Picchavi paintings, pottery, Terracotta handworks, antique items and puppets are some of the popular things to shop for in Nathdwara.
How far is Nathdwara from Ahmedabad?
Nathdwara is 308 kilometres away from Ahmedabad.
What is the best time to visit Nathdwara?
The best time to visit Nathdwara is from September to February as the weather is pleasant. During this time, the weather is immensely pleasant and you can witness the best of this destination.
Which God is the Nathdwara Temple dedicated to?
The iconic Nathdwara temple is dedicated to Shrinathji (Lord Krishna).
---
Looking To Book A Holiday Package?
Book memorable holidays on TravelTriangle with 650+ verified travel agents for 65+ domestic and international destinations.
---
People Also Read:
Places To Visit In Rajasthan Best Places To Visit In Kerala Best Places To Visit In Himachal Pradesh