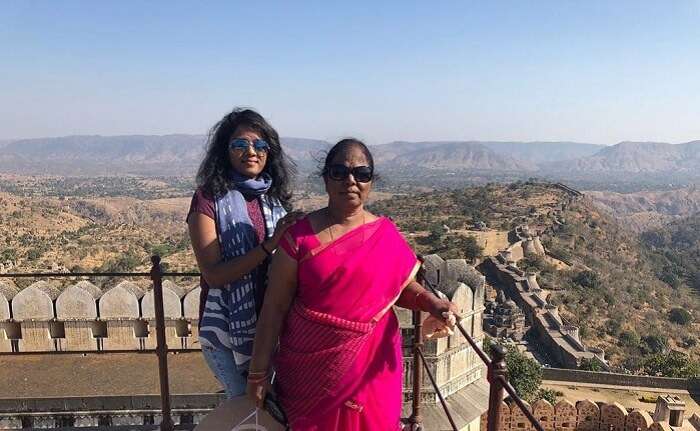 I am a frequent solo traveler but this time it was different. My mother and I were going on a holiday to Rajasthan and I was more than excited. The feeling of spending quality mother-daughter time was overwhelming and we both were looking forward to some wonderful memories.

Since I usually like to complete a destination in the most holistic and proper manner, I decided to go for a personalized Rajasthan family package that would include the best places to see in Rajasthan. Additionally, since my mother was also going to be with me this time, I also wanted everything to be perfectly organized for this trip. Luckily, TravelTriangle came to our rescue (recommended by a colleague). This online travel marketplace provided customized packages to travelers via its partner agents specialized in the personalized holiday experience.
I soon raised a request for the same and promptly received a call from one of their representatives understanding my requirements. After doing so, they connected me to their travel agents and I soon started receiving quotes from multiple agents. We chose the best one from "Shoes On Loose" and were soon sorted when it came to our trip planning.
All that was left now was our actual trip to begin and we were more than looking forward to it.
Details of my family trip to Rajasthan
Cost: INR 56,250
Duration: 9 Days
Trip Type: A mother-daughter getaway!
Inclusions: Hotels, Sightseeing, Cab, Transfers, and Breakfast
Exclusions: Flights, Personal Expenses, Lunch, and Dinner
Agent Name: Shoes On Loose
Day 1: Hyderabad to Jaipur – A warm welcome in Rajasthan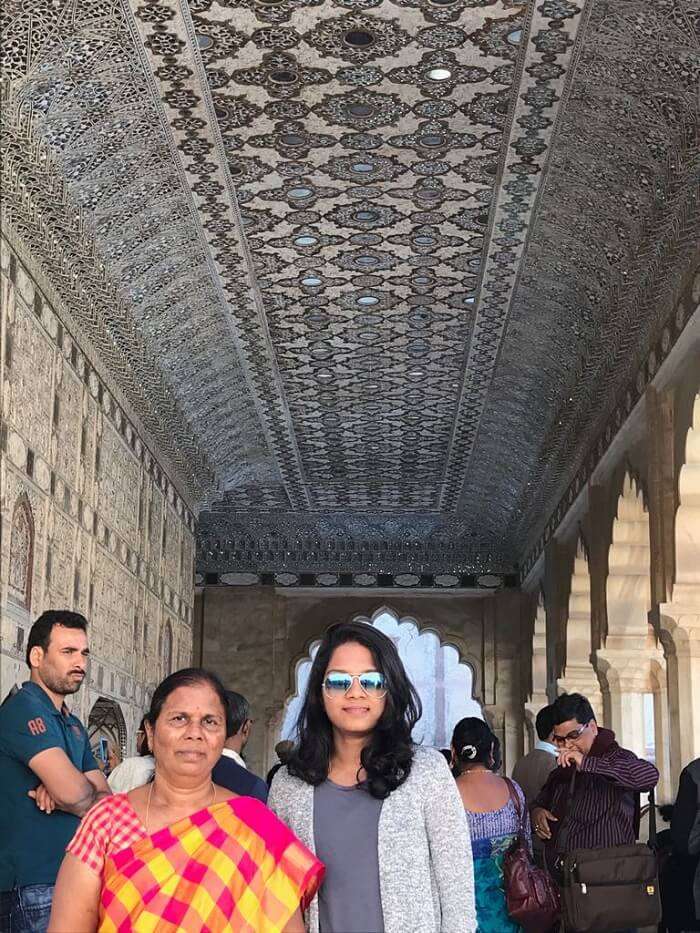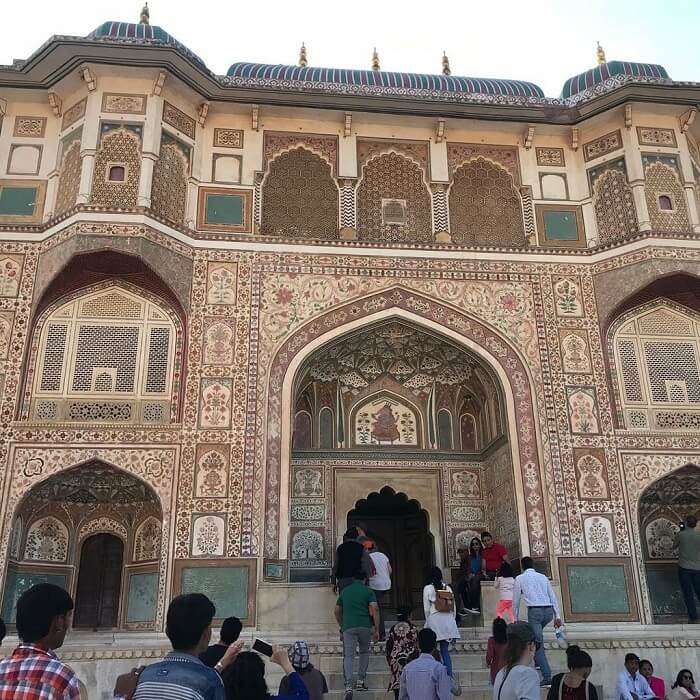 Jaipur Vs Udaipur: Comparing The Two Jewels Of Rajasthan
We reached Jaipur at around 11 am and were greeted by our guide and driver for the trip in a warm manner. As soon as we got into the car, we all gelled up with each other comfortable and were soon chatting about all the good things we were about to witness. One thing, I would especially want to add here was that our driver cum guide for the trip is an excellent person and took proper care of our safety and made sure we were comfortable. And even though this might not sound like a big deal but it played a big part in our whole trip experience.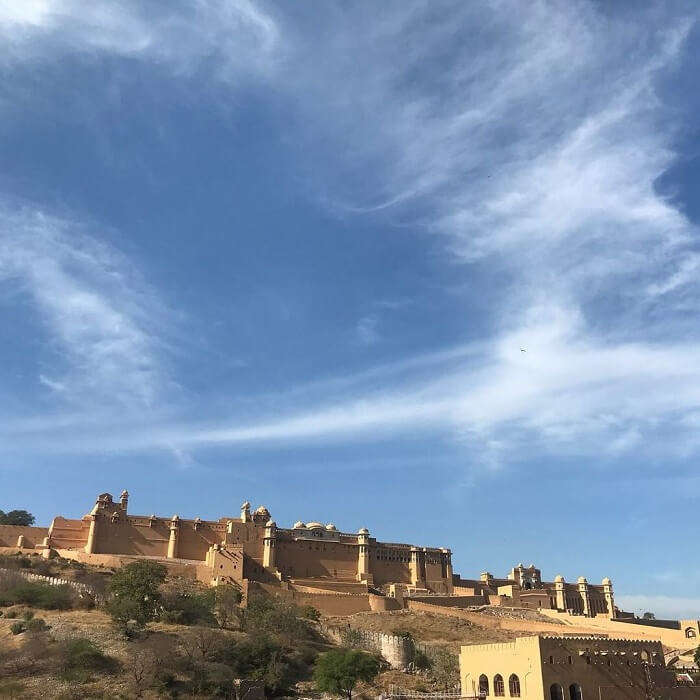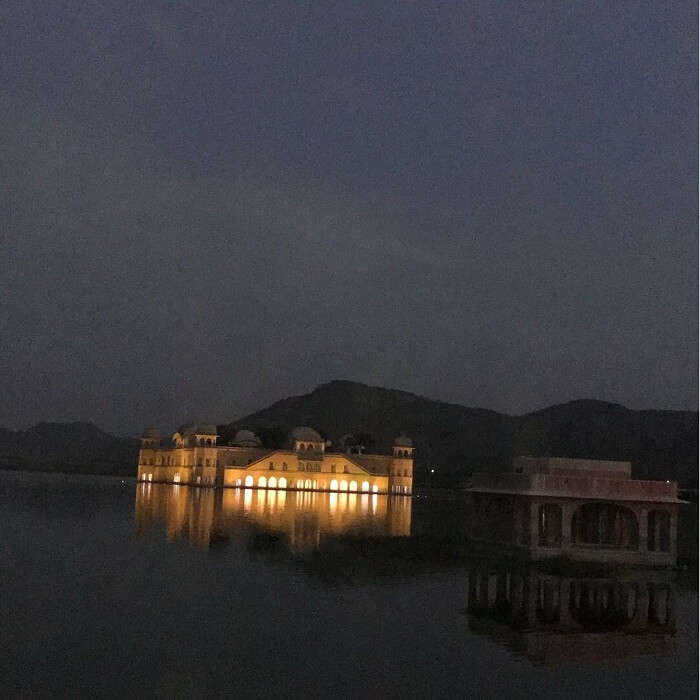 We visited the Hawa Mahal today and were awestruck by its architecture. Post this, we visited the Nahargarh fort which had an amazing panoramic view of the city. Next up on our list of best places to see in Jaipur was the Jal Mahal which looked absolutely beautiful all lit up in the middle of a lake. By this time, the inner child in me which wasn't much interested in history earlier was beginning to like it and the experiences started getting better.
We finished off the day by checking into our hotel and retiring for the night. Our first day in Jaipur had been great.
---
Rajasthan Holiday Packages On TravelTriangle
Explore Rajasthan, the land of Maharajas. Experience its royal cultural heritage, luxurious hotels, camel safaris, pristine lakes, and magnificent forts and palaces. Cover the best of Jaipur, Udaipur, Jodhpur, Jaisalmer, Pushkar and Ranthambhore at best prices with TravelTriangle.
---
Day 2: To Udaipur via the majestic Chittorgarh

/div>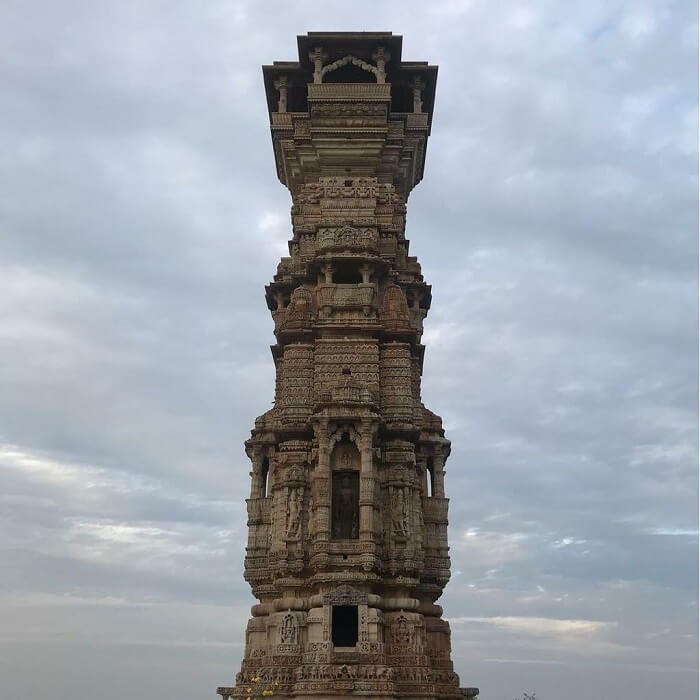 Deeg Palace In Rajasthan: An Escape To The Royal Past
We started early in the morning today for we were to go to Udaipur as part of our Rajasthan tour itinerary. On our way, we stopped by at Chittorgarh to witness its majestic glory and true to its fame, the experience was totally worth it. It was also during this time that the whole controversy about the movie "Padmavati" was buzzing and it raised our curiosity even more.
Now I won't comment about the legend behind the queen but I would certainly like to talk about the grand architecture of this fort, the palatial verandahs, and the overall alluring royalty that the fort possess even now.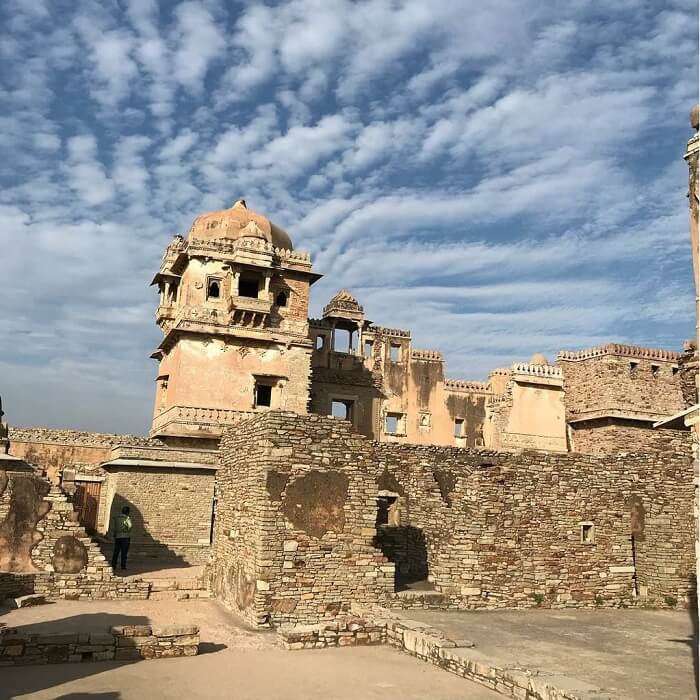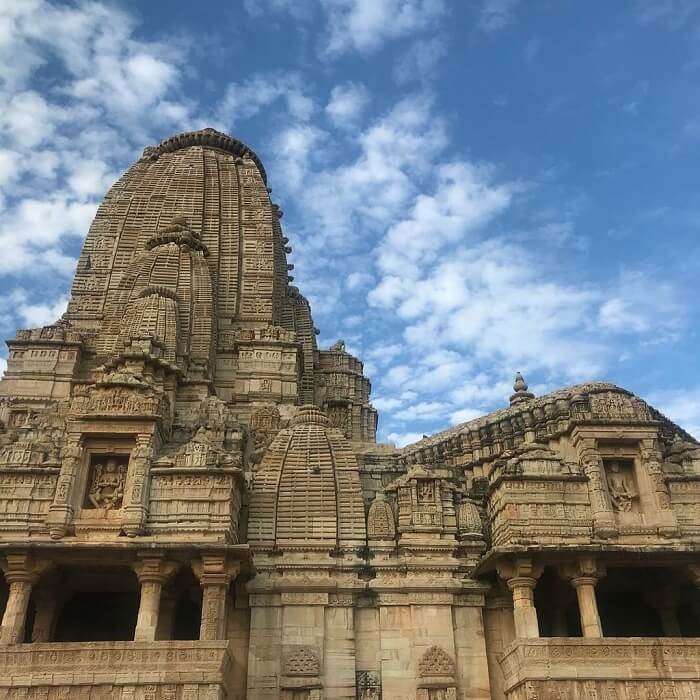 The best attractions in the fort included the Padmini Mahal, Meera Temple, Kali Mata Temple, and the famous pillars Vijay Stambh and Kirti Stambh.
Post the fort visit, we continued our journey to Udaipur and reached the city in the evening. After checking into the hotel, we had our dinner and retired for the night.
Day 3: Witnessing the best attractions in Udaipur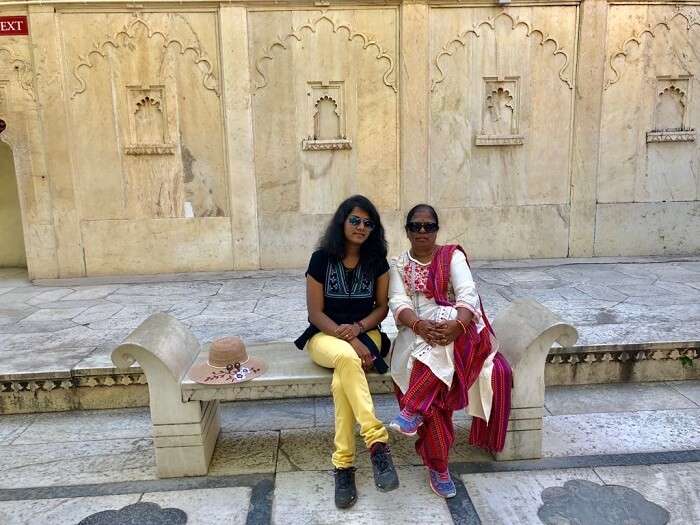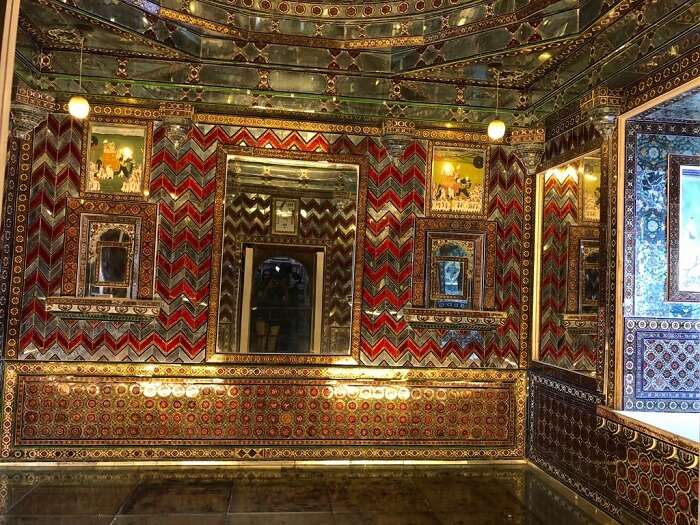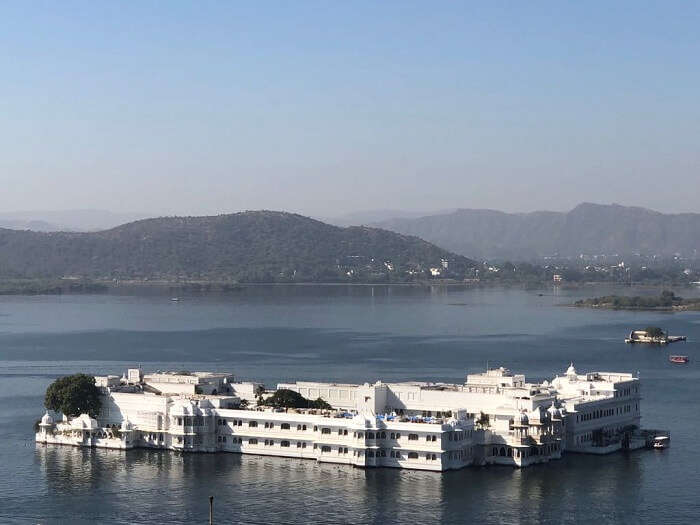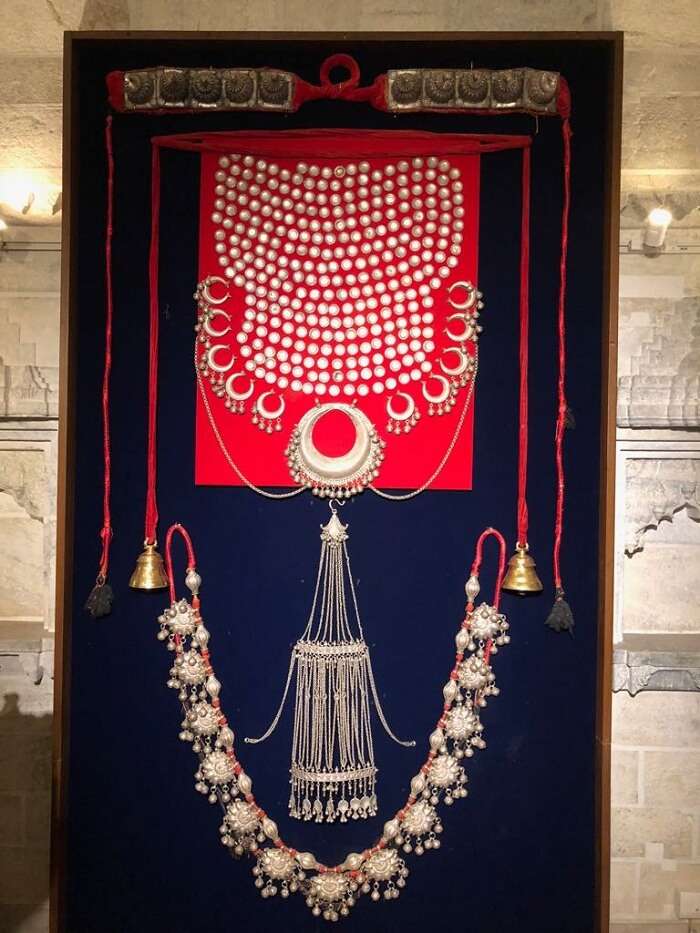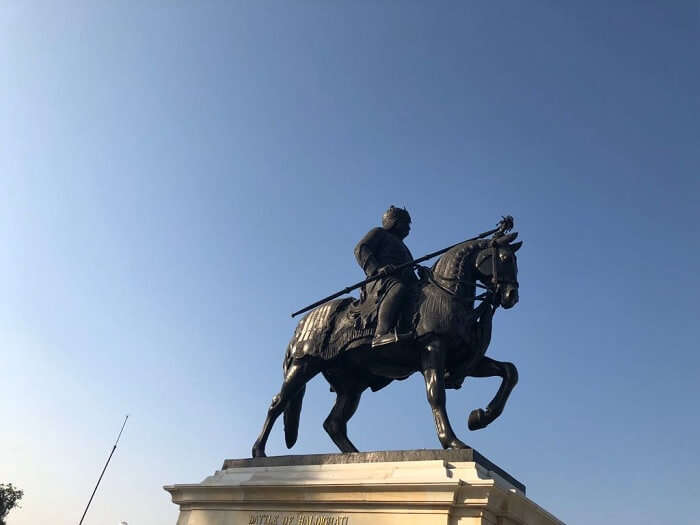 Visit Chokhi Dhani, Sonipat In 2022 To See The Best Of Rajasthani Culture And Cuisine!
We started the day with a visit to the grand City Palace and it was followed by the Monsoon Palace and Fateh Sagar Lake. Wherever we went, we were amazed by the wonderful and carefully thought architecture, the tales of valor, and legends behind things. Every attraction inspired us and we took great lessons from the tales of the past. We also enjoyed a boating session before proceeding to a beautiful garden and subsequently Lake Pichola.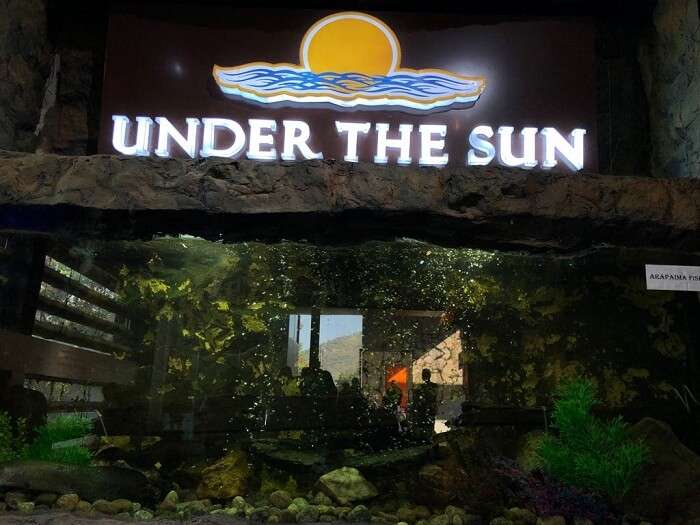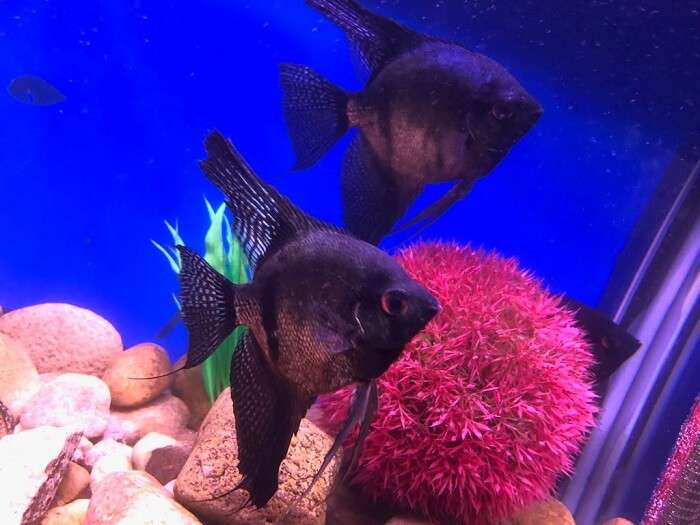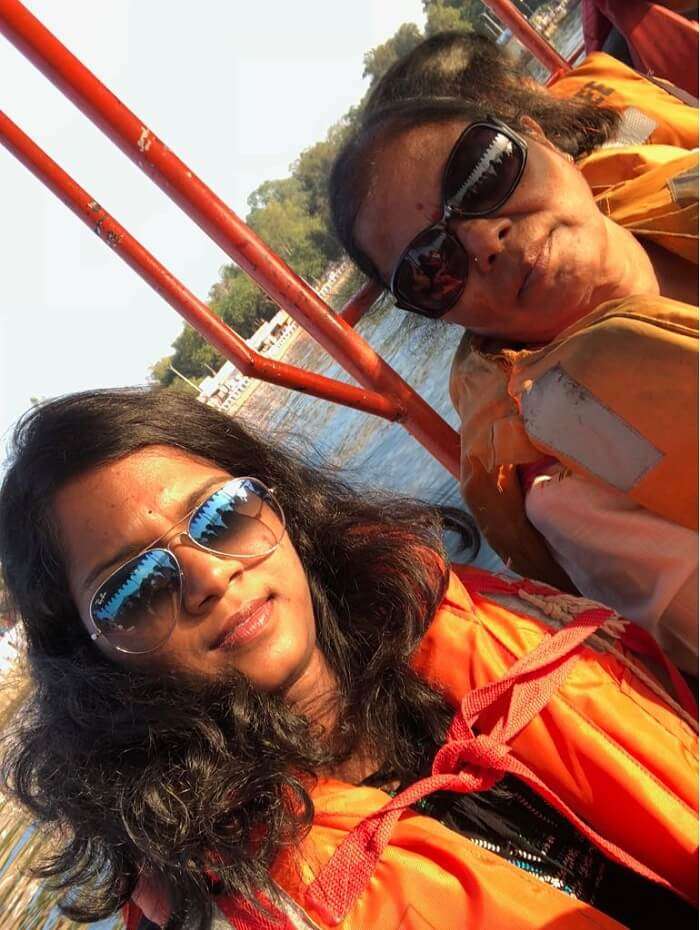 22 Best Resorts In Jodhpur In 2022 For A Taste Of Luxury & Rajasthani Heritage
Later, to witness a grand sunset we went up the Mansapurna Karni Mata Ropeway, which was home to the Karni Mata Temple and some amazing city views. However, as luck would have it, we were late for the sunset and missed it. Seeing our disappointed faces, our driver promised us an even better sunset once we visit the Thar Desert in the coming days. Happy once again, we quickly paid our respects at the temple and proceeded back to the mainland. On our way, we were delighted to see Lake Pichola and all its attractions lit with bright lights. The temperature during this time was also going down and overall, we enjoyed our ride.
Day 4: Hello Jodhpur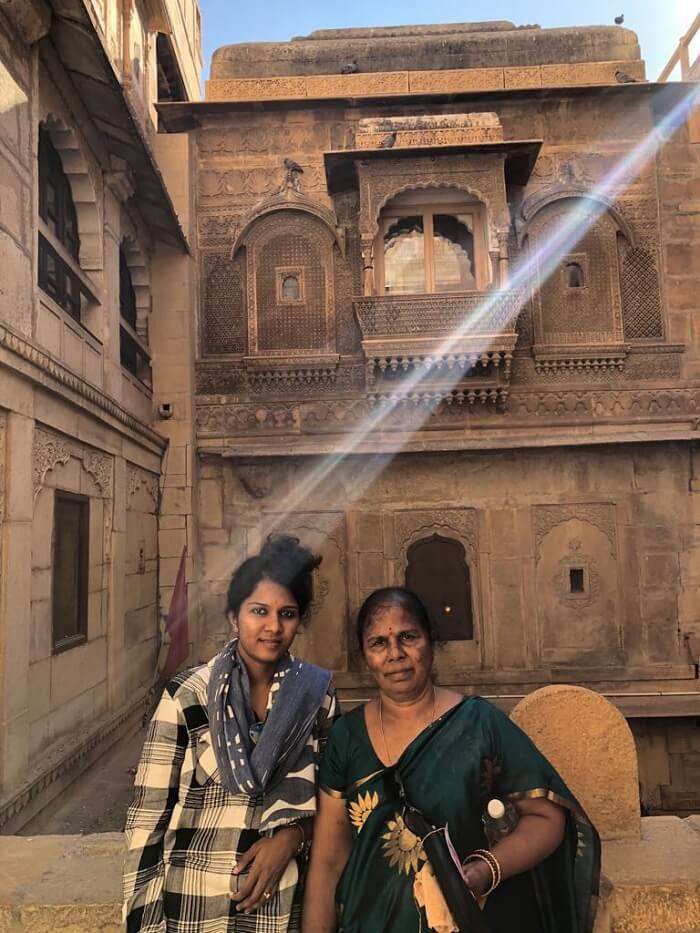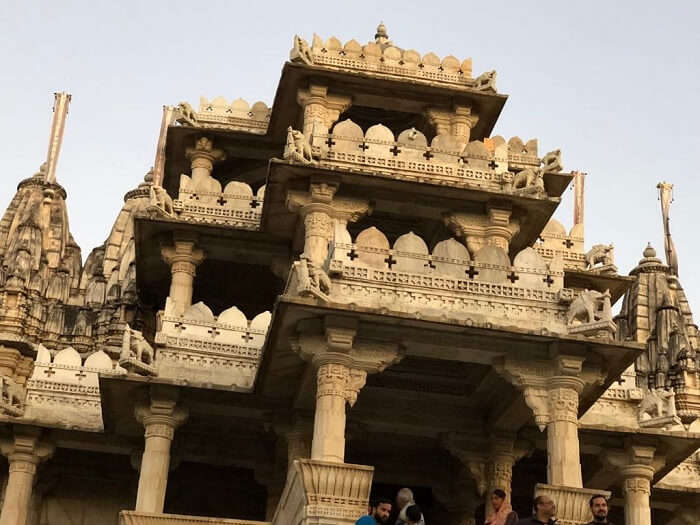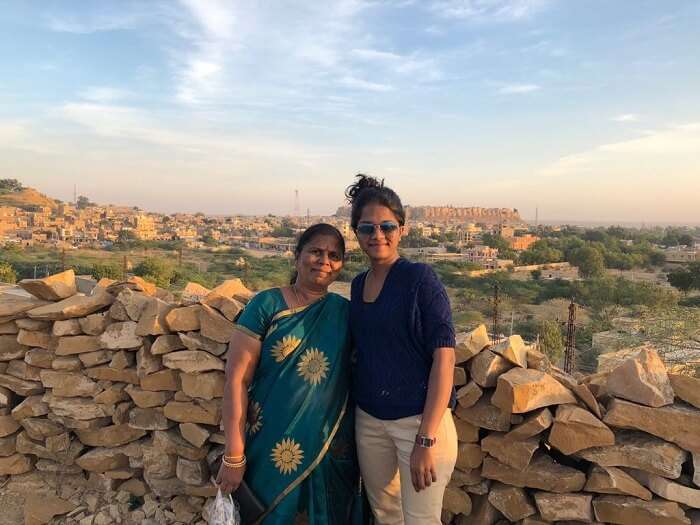 15 Best Places To Visit In Rajasthan In November With Pals In 2022
In the morning after breakfast today, we set off for Jodhpur. On the way, we stopped by at the famous Kumbhalgarh Fort, the birthplace of Maharana Pratap. Among other famous places here, we also saw the Maharana Pratap Museum and Haldighati. Once again, it was a splendid experience for both my mom and I and we came back even more inspired than before.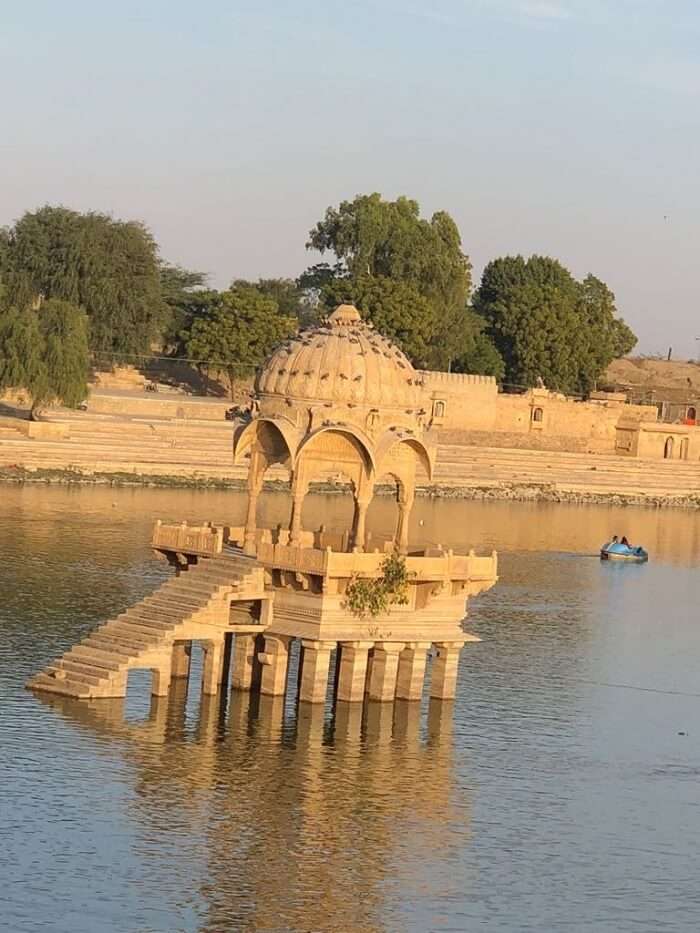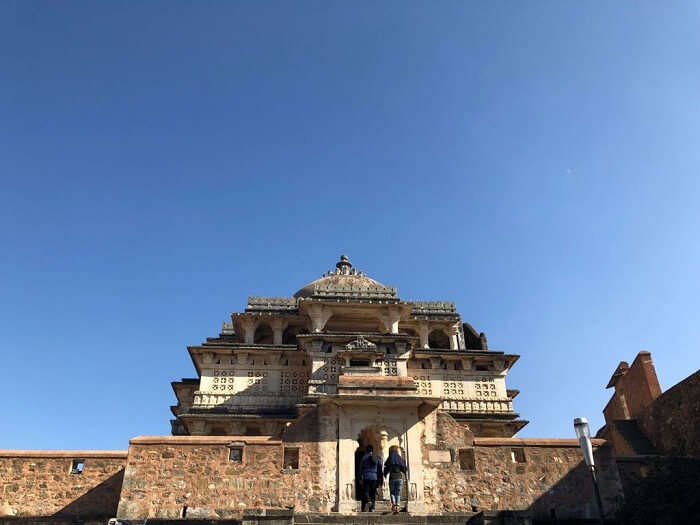 There was an option to visit Kumbhalgarh Wildlife Sanctuary but we decided not to since we were getting late.
Later during the journey, we also visited the famous Ranakpur Jain Temple and although by this time, we were a bit tired, all of it soon vanished as soon as we entered the temple and felt its tranquil vibe. There are 1444 marble pillars supporting this temple and it was fascinating to go through its details.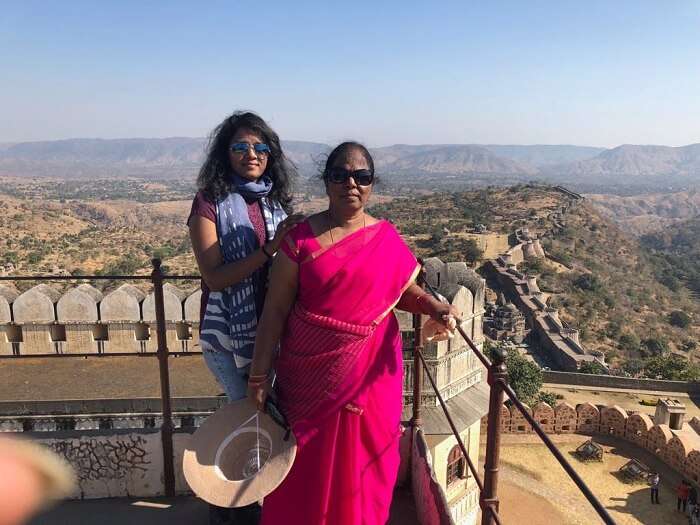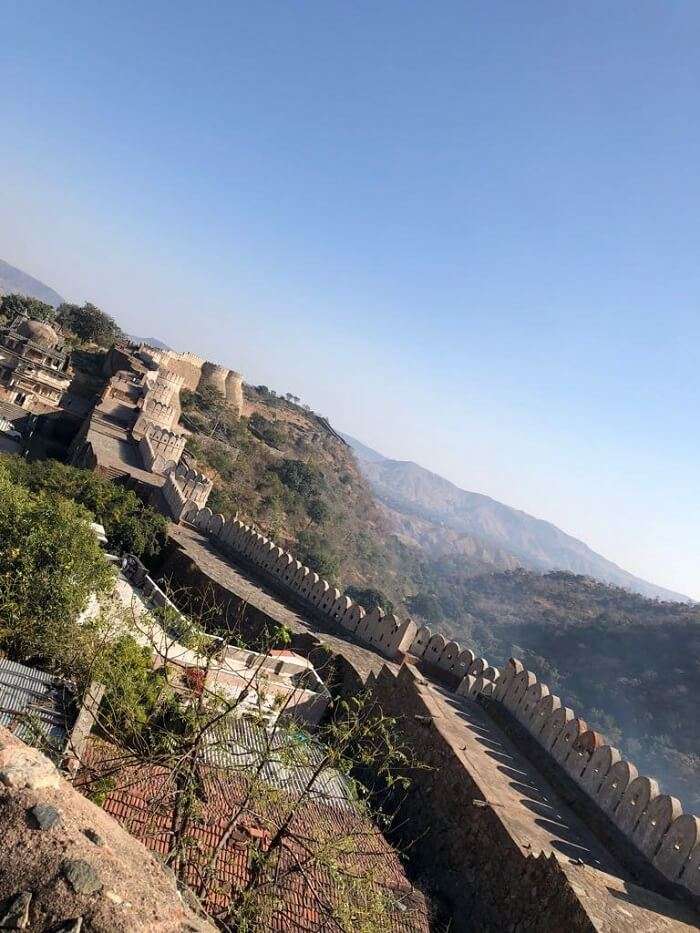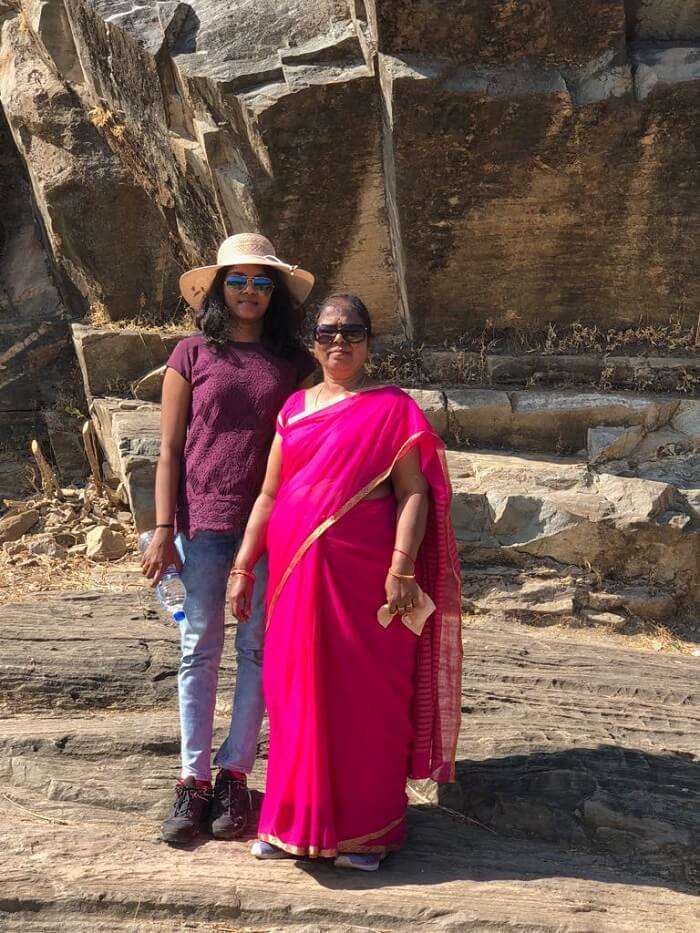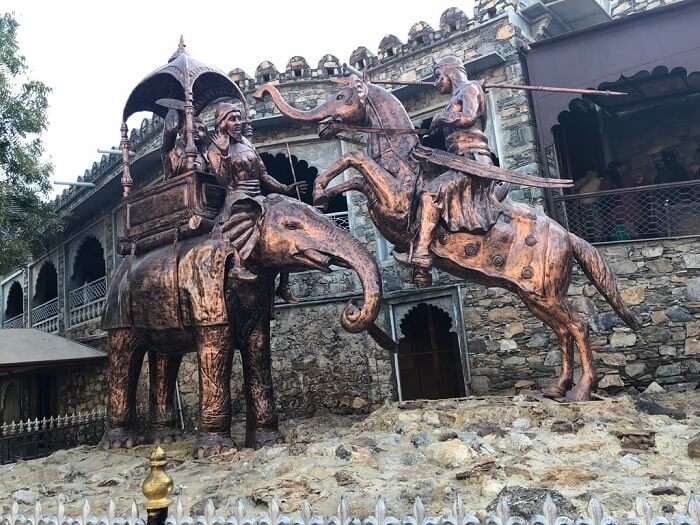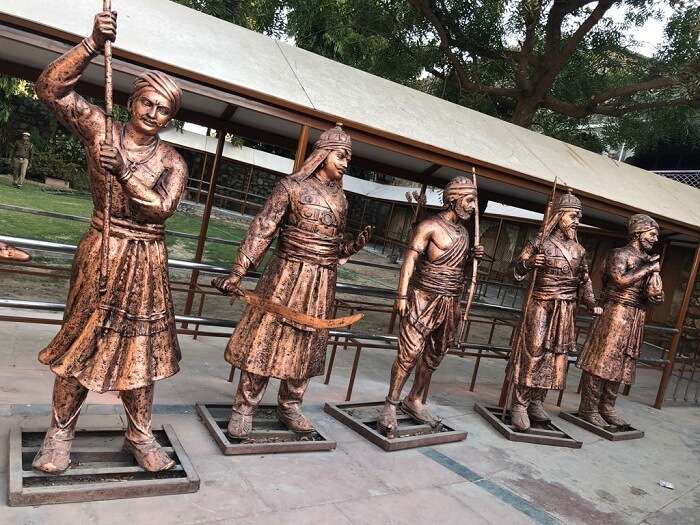 20 Best Palaces In Rajasthan That Tell Stories Of Past Glory
Back on the road, as we proceeded towards Jodhpur, our driver entertained us with scary stories as we passed through the forested area. We reached Jodhpur around 9 pm and post our check-in, and dinner retired for the night.
Day 5: Jaisalmer Fort and all its golden glory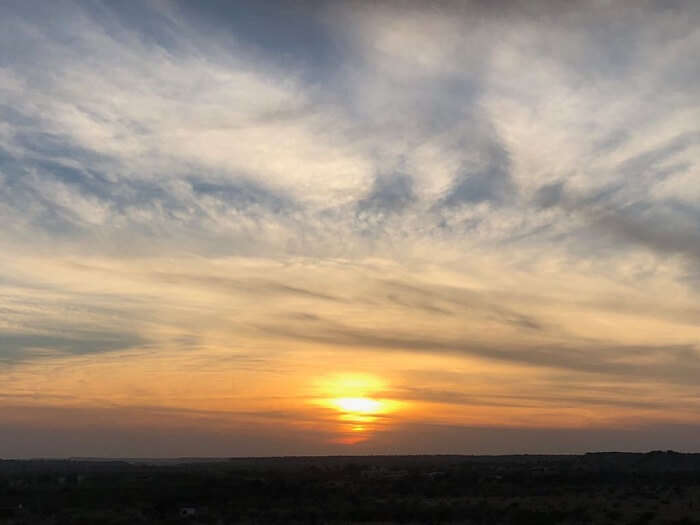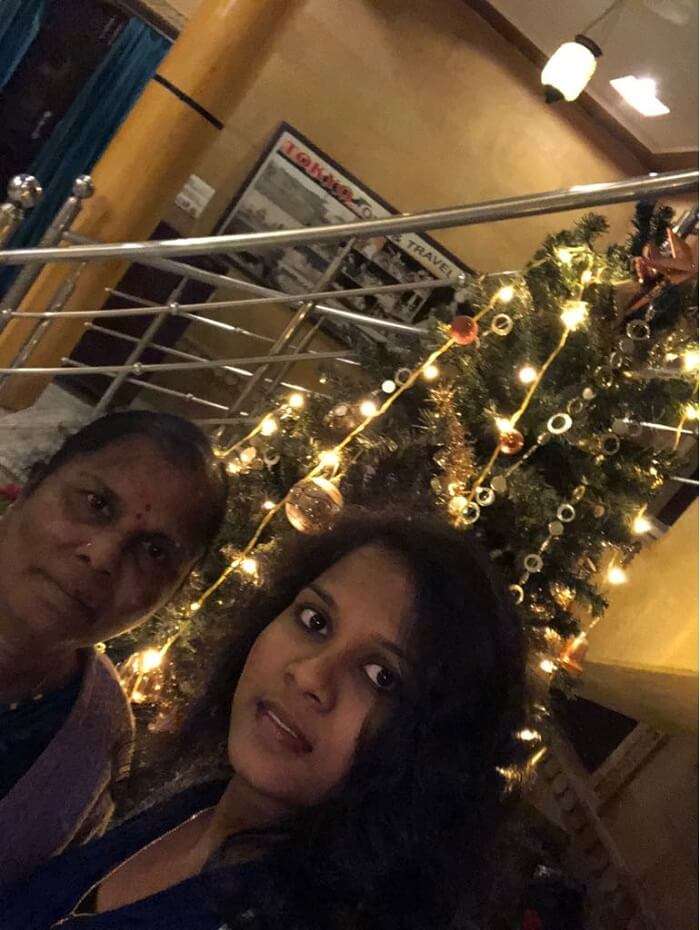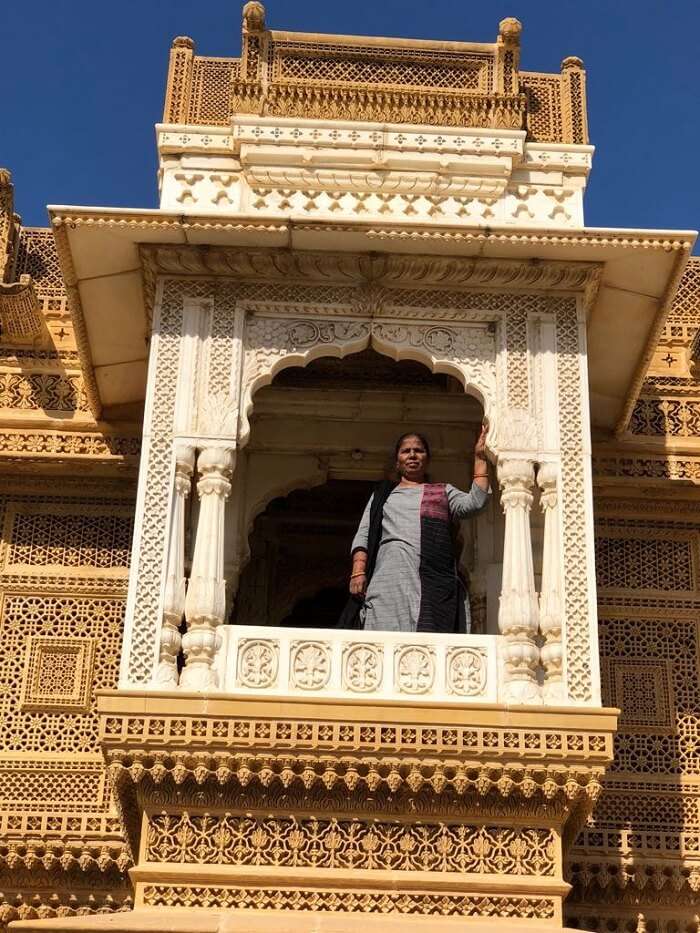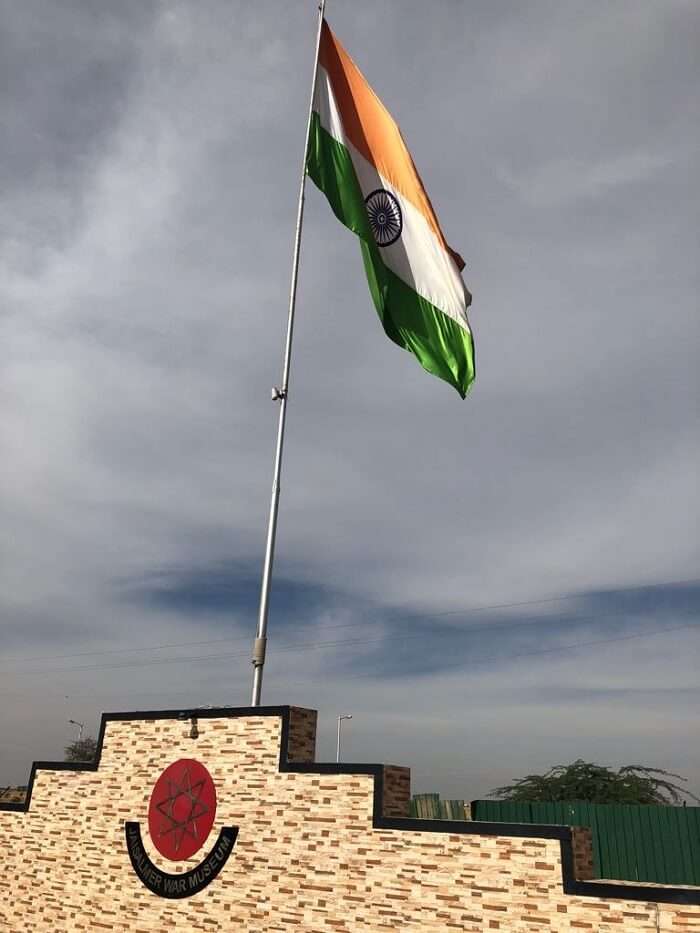 In the morning, we checked out of our hotel and proceeded towards Jaisalmer post breakfast. We reached the Golden City around 12 pm and straightaway went sightseeing. Our first stop was Jaisalmer Fort and here we found out why Jaisalmer is known as the Golden City for as soon as the sun touched the sandstone walls of the fort, it gave out a beautiful golden hue. Also wherever we went we hired a guide for we did not want to miss out on any details or history regarding the places we were visiting and once again, it turned out to be a spectacular experience for not only the history and legends behind the attractions were mind-blowing, my mother too, thoroughly enjoyed the whole experience.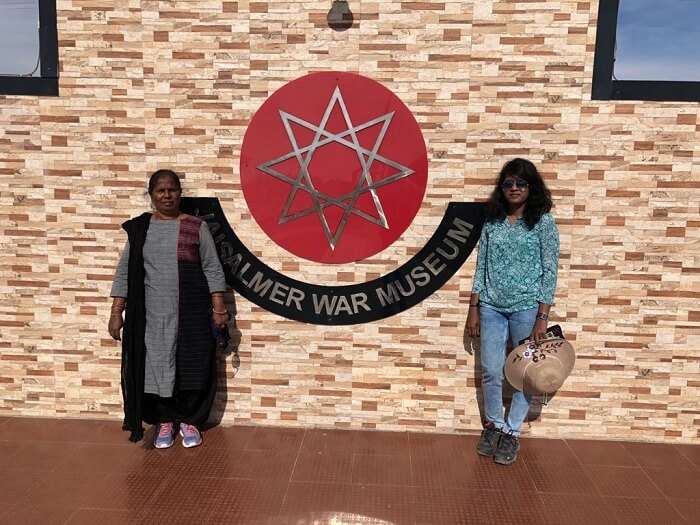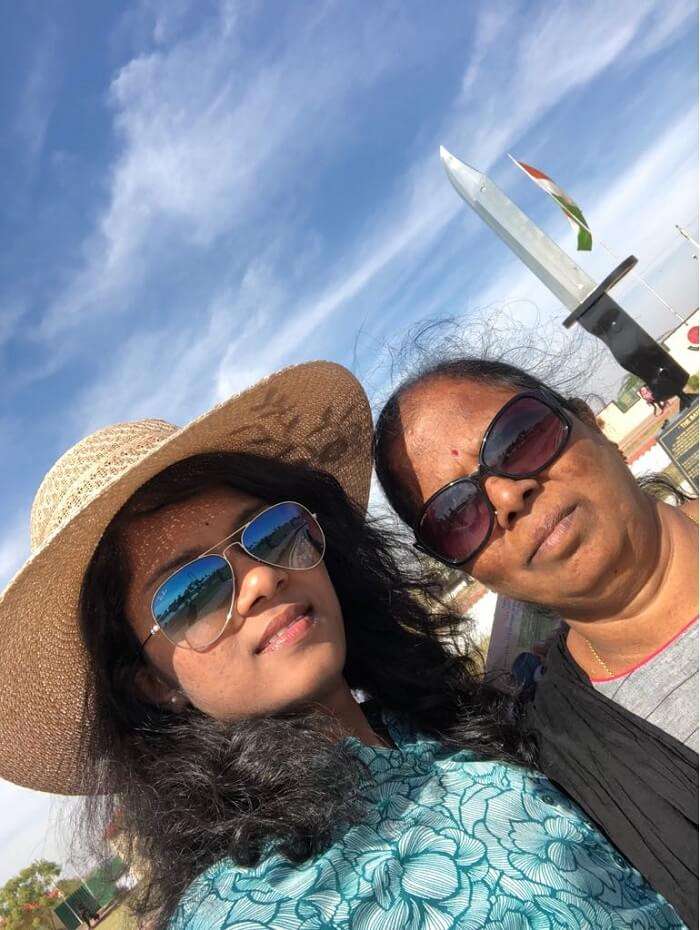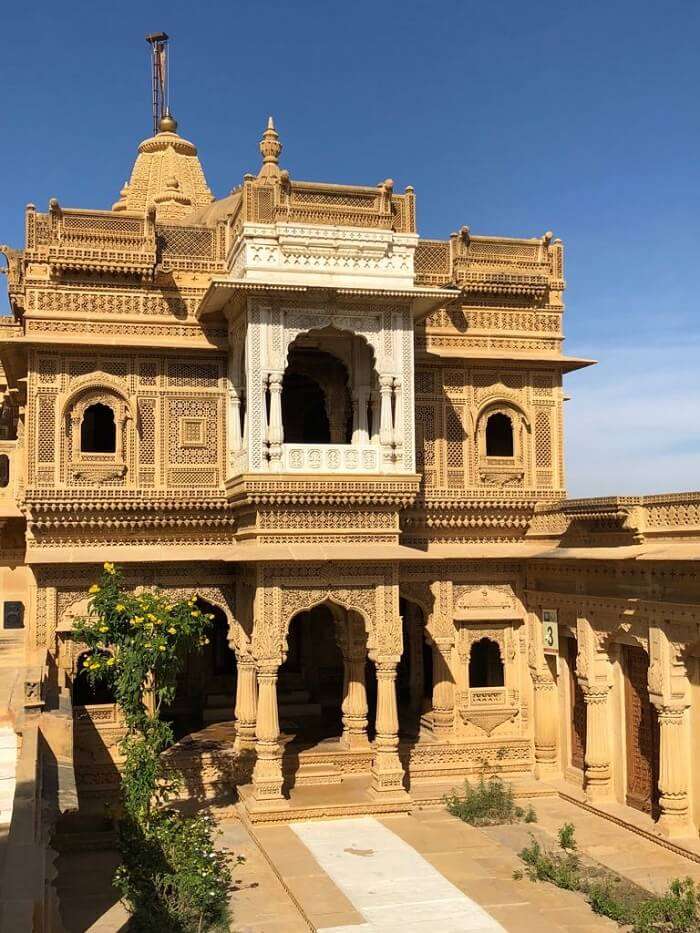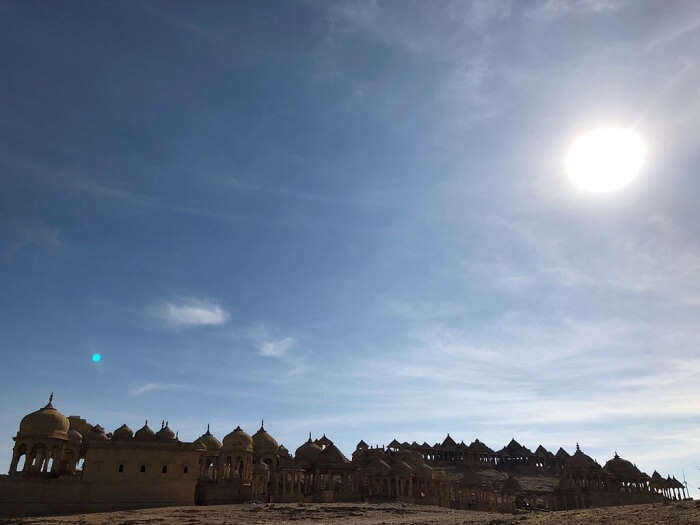 21 Honeymoon Places In Rajasthan That Are Perfect To Sweep You Off Your Feet In 2022!
Next was the Gadi Sagar Lake where we also saw the sunset post which we proceeded to our hotel for check in and some rest. Later, in the night, we went to a famous restaurant for dinner and after enjoying our meal headed back to the hotel and retired for the night.
---
Planning your holiday in Rajasthan but confused about what to do? These Rajasthan travel stories help you find your best trip ever!
Real travel stories. Real stays. Handy tips to help you make the right choice.
---
Day 6: Ahh, the sand dunes!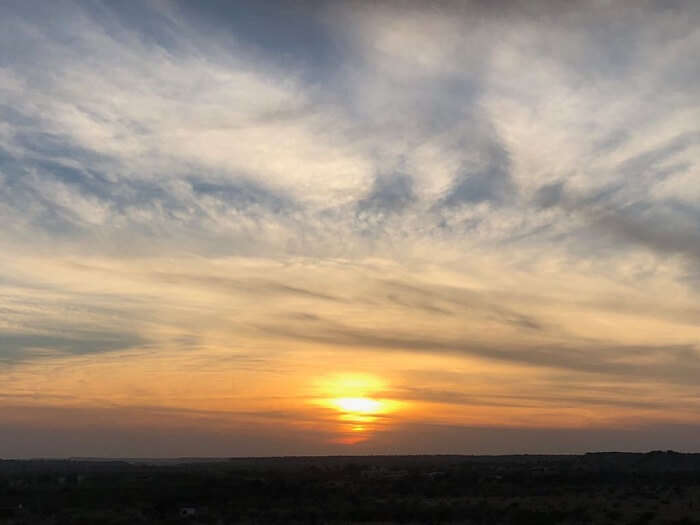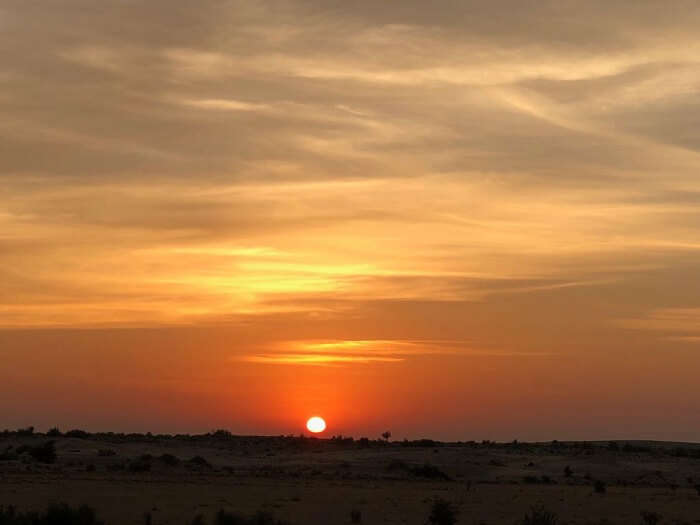 We began our day by visiting some more places in and around Jaisalmer and these included the Bada Bag, Jain Temple (which was beautiful), and the 17th century War Museum (we saw war relics of the past here, heard stories of bravery, and even saw a 12 minute movie on the same).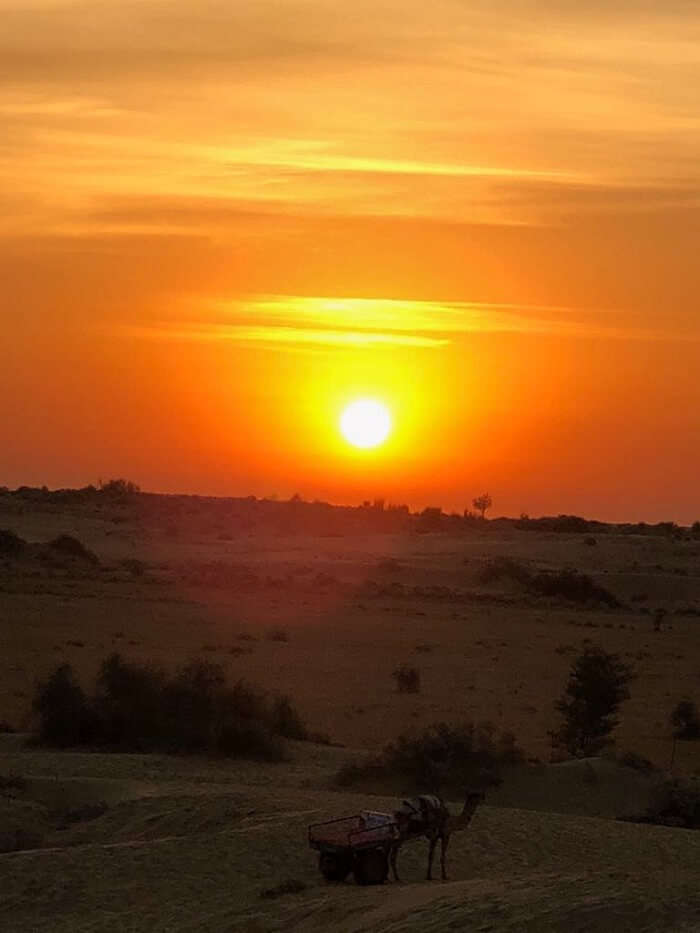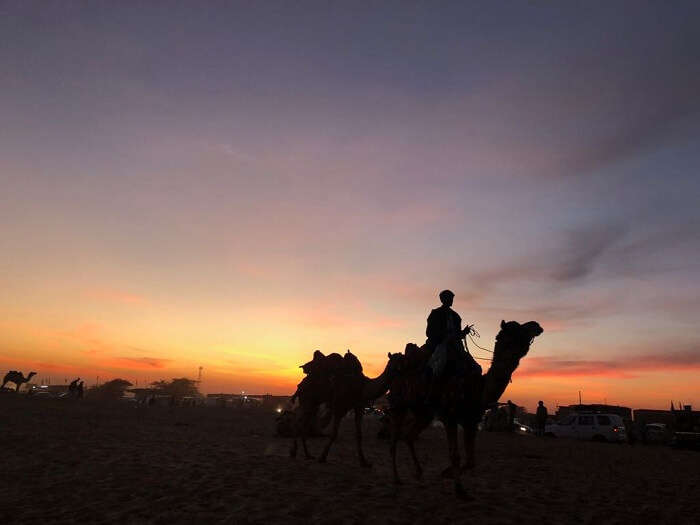 Later on our way to the sand dunes, our driver told us about Kuldhara village and how it is said to be haunted. He even offered us to take us there but it was too much for us and we politely refused.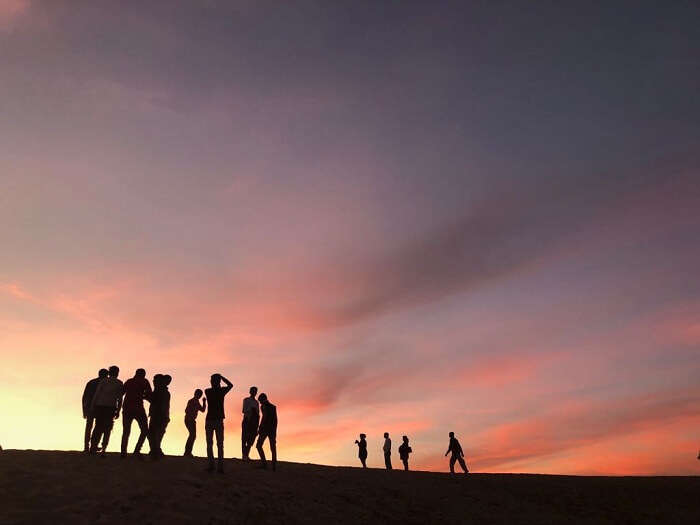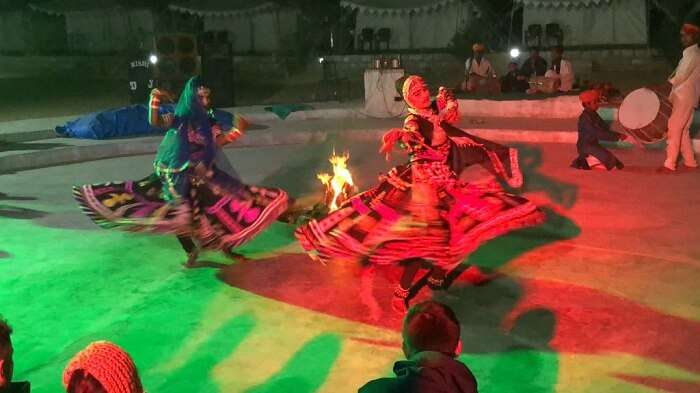 The sand dunes experience was one of the best in our whole trip. I ventured into the sand on a camel while my mother did so on a cart (because I was worried she might not be comfortable enough, even though she really wanted to). Anyway, the sunset that both of us saw here was so good that it melted away all our fatigue and both of us clicked numerous pictures and made videos of the same (my mom was in charge of videos while I took pictures).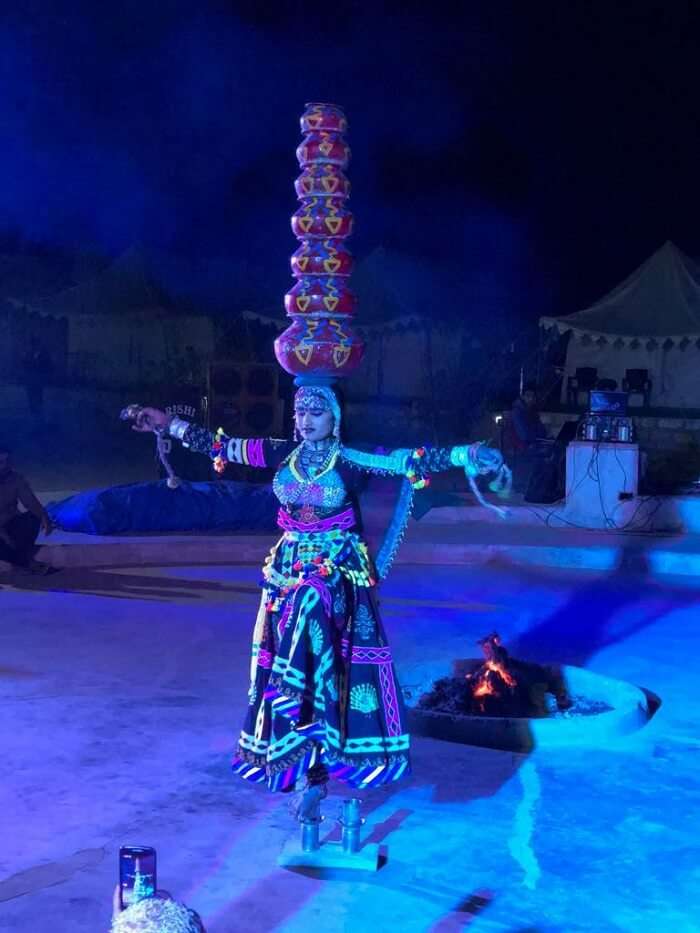 Things To Do In Rajasthan On A Romantic Trip For A Royalty-Like Experience
Later back our camp, we were given a proper warm and grand Rajasthani welcome and it was followed by the bonfire, cultural show, and dinner. This was also the first time my mom was staying in a tent and as the temperature came down to around 5 degrees, our experience got better.
Day 7: A majestic sunrise and back to Jodhpur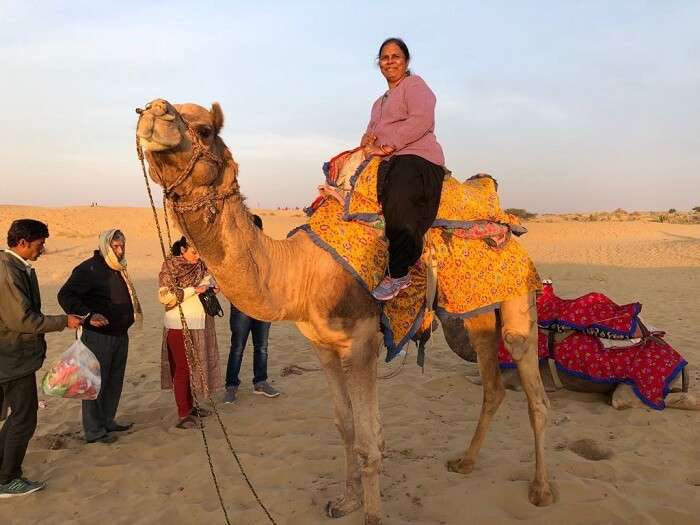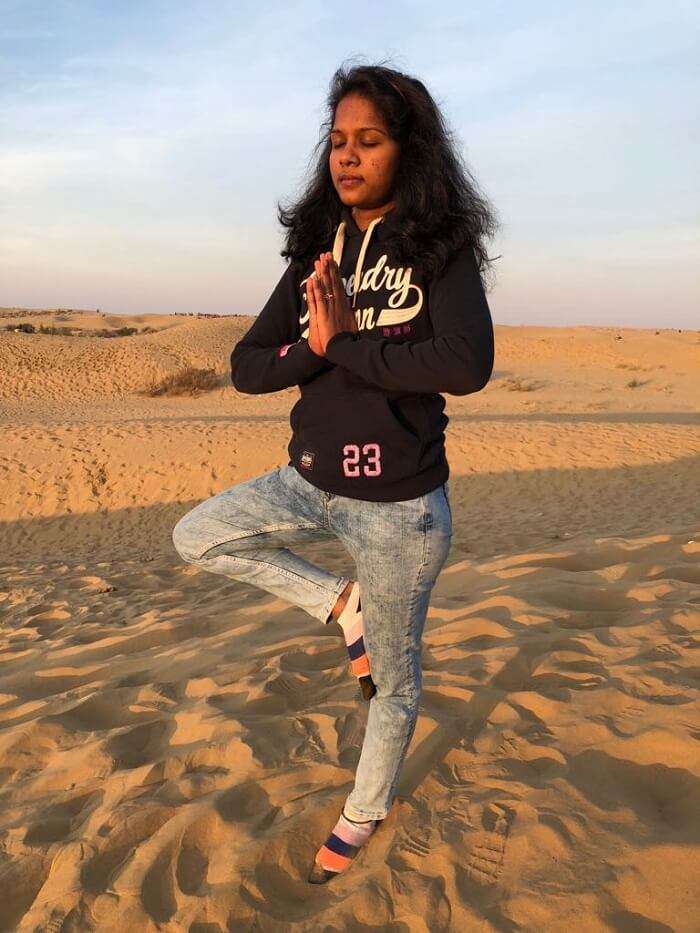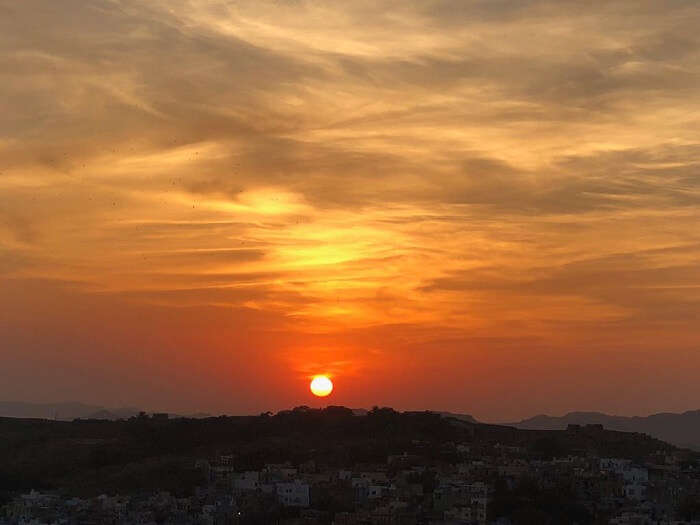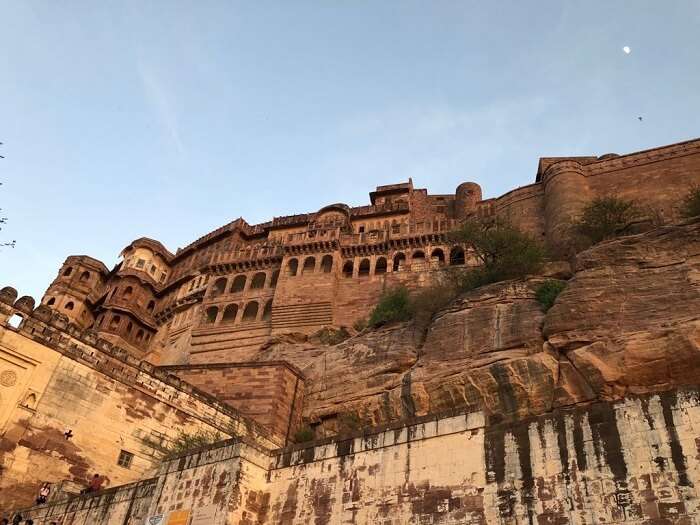 As we reached the dunes, we could see the sun come up and give us a spectacular sunrise. The temperature too started increasing now and the sand which was so called in the morning now began getting warmer and soothing. Both my mom and I have traveled a lot but I think this was one of the best sunrise's we had ever seen. I even put it in the same league as the one I saw in Paris on a cruise. And yes, this time, my mom did do a camel ride and the happiness on her face was totally worth it.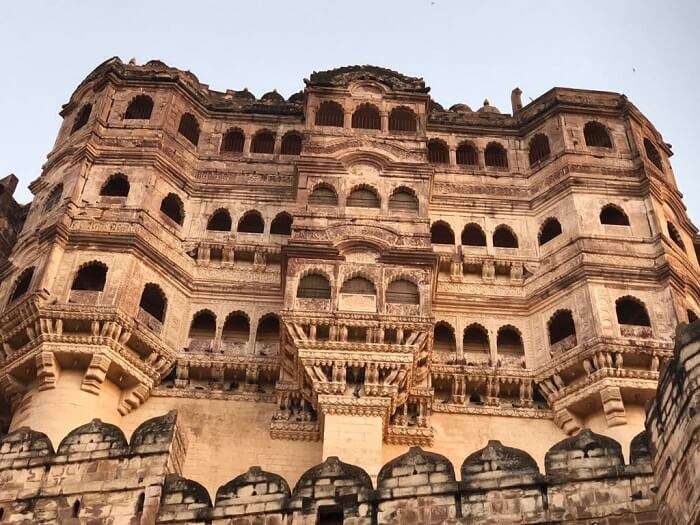 We had earlier asked our camp management for a visit to the sand dunes early in the morning but when we woke up, we couldn't find anyone. Nonetheless, we called our driver and promptly agreed to take us.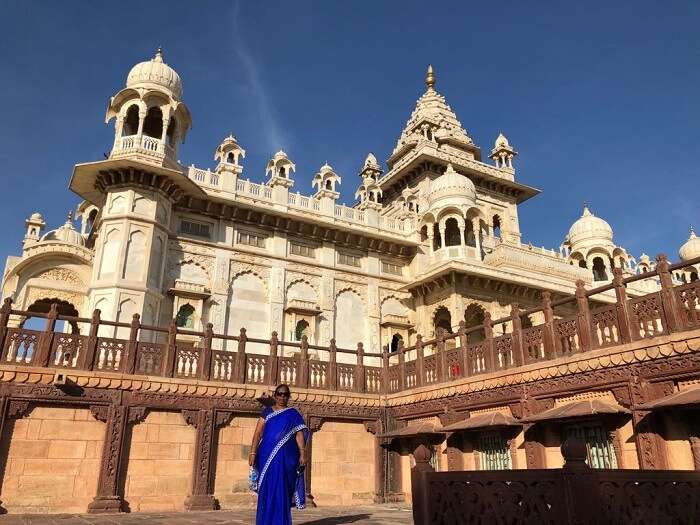 Back in the camp, we freshened up, had breakfast and then checked out. We were once again back on road to Jodhpur and reached the city between 2 and 3. Our first stop for sightseeing was the Mehrangarh Fort and we started with the Moti Mahal (which is the largest period room in the fort and was the place where the king used to sit and meet his subjects). This was no doubt a great experience but the rest of the fort sightseeing, unfortunately, wasn't.
The lift to Mehrangarh Fort had a queue of 200-300 people whereas its capacity was only 10 people. Moreover, since the Fort closes at 5:25, by the time we reached the top it was already 5:15. All we got were 10 minutes which was a disappointment since we had also taken an audio device guide and couldn't make much use of it. Also, our government ID proof was taken in exchange for the device and we had to all go and retrieve them. Overall, the organizing committee at the fort should have guided us to avoid visiting the fort when they knew they wouldn't allow anyone to even explore the fort after 5:25.
Day 8: A holy day!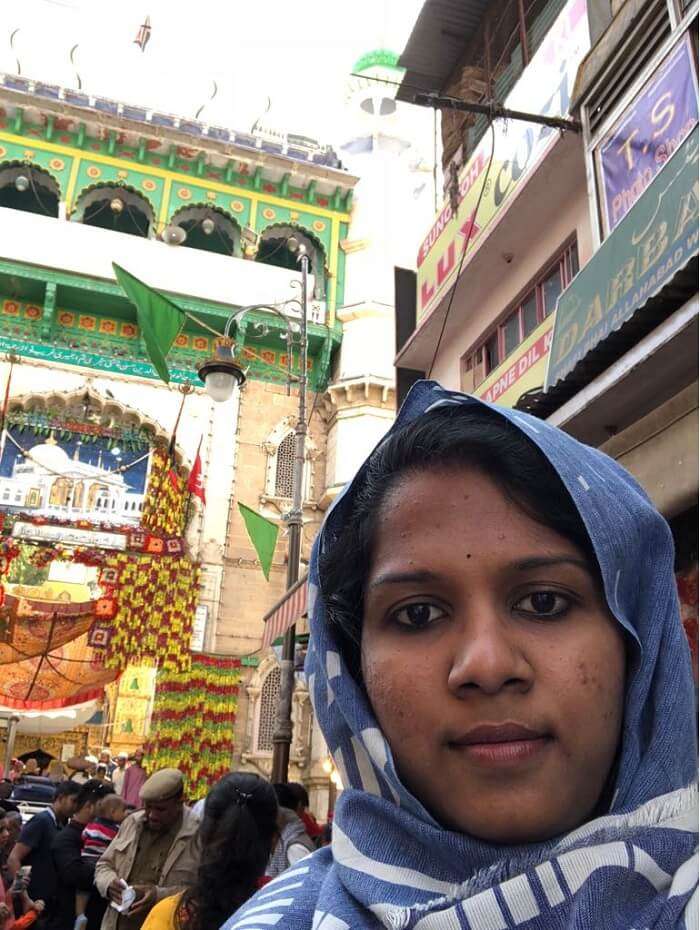 We started for Jaipur via Ajmer and Pushkar today. Upon reaching Ajmer, we found out that the car could only go till a certain point after which one has to rely on local transport. And even though, they were charging exuberantly, my mom and I did pay for we were really excited to visit the world famous Dargah where they saw whatever you wish for comes true. However, once we entered the Dargah, everything else faded away for it the vibe here was truly blissful. Everyone was now under one roof and followed one god. It was beautiful.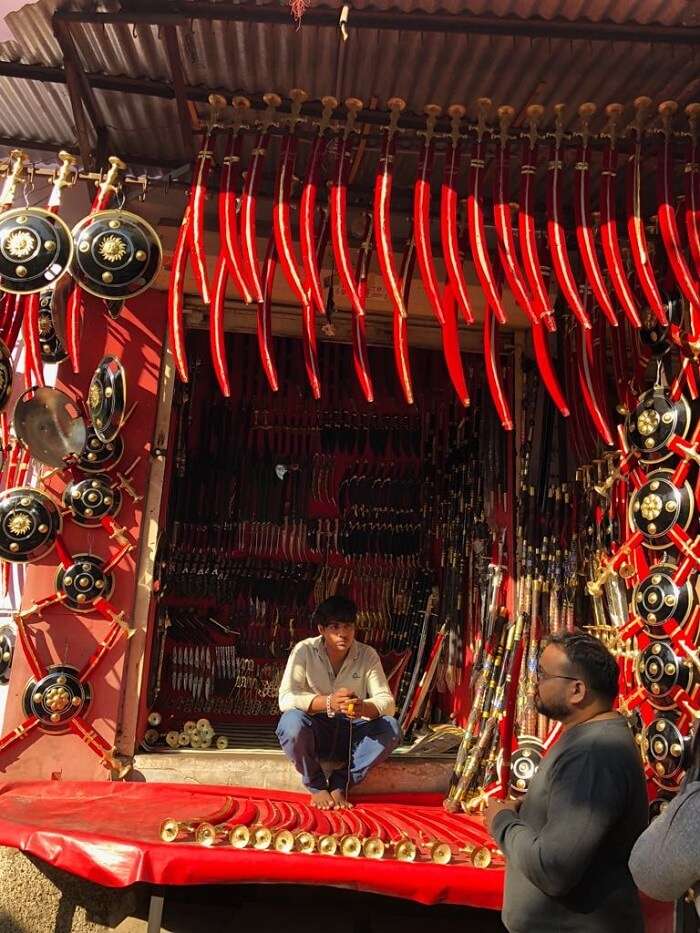 11 Jaisalmer Resorts To Stay In 2022 For Experiencing Rajasthani Lifestyle
Later back on the road, we were now headed towards Pushkar. This time, we had our lunch on the way for our driver had warned us that every place in Pushkar would be crowded and have long waiting times and it was all true. In Pushkar, we visited the only Brahma temple in the world and had a great darshan at the Savitri Mata Temple.
Finally, we proceeded towards Jaipur and it took us 2.5 hours to reach the capital of Rajasthan. And although we were planned to visit Chokhi Dhani to visit the true rustic vibe of Rajasthan but since we had been getting enough of it in the past few days, we decided to skip it for shopping (we practically hadn't shopped anywhere on our trip). And it was worth it.
We bought souvenirs, jewelry and a lot many things. For our dinner this time, we invited our driver too and even though he was a bit hesitant, the gentleman finally agreed. He took us to a great restaurant where we had one of the nicest meals in Rajasthan and it was followed a sweet dish called Rasmalai which was, in all honesty, out of the world. It was so good that we asked the shop owner to pack 1 kg for the next day and that we would collect it while on our way to the airport.
Day 9: Goodbye Rajasthan

We started our morning with a half day Jaipur city tour and visited some amazing monuments like Jantar Mantar and Hawa Mahal but while we were on schedule for our sightseeing, we, unfortunately, got delayed when it came to picking up the rasmalai for the traffic was really bad. After wasting 45 minutes stuck in the traffic, my driver suggested us to give up on it and buy sweets and have lunch at the airport because we could miss our flight. He was right, and we followed his advice and proceeded to the airport.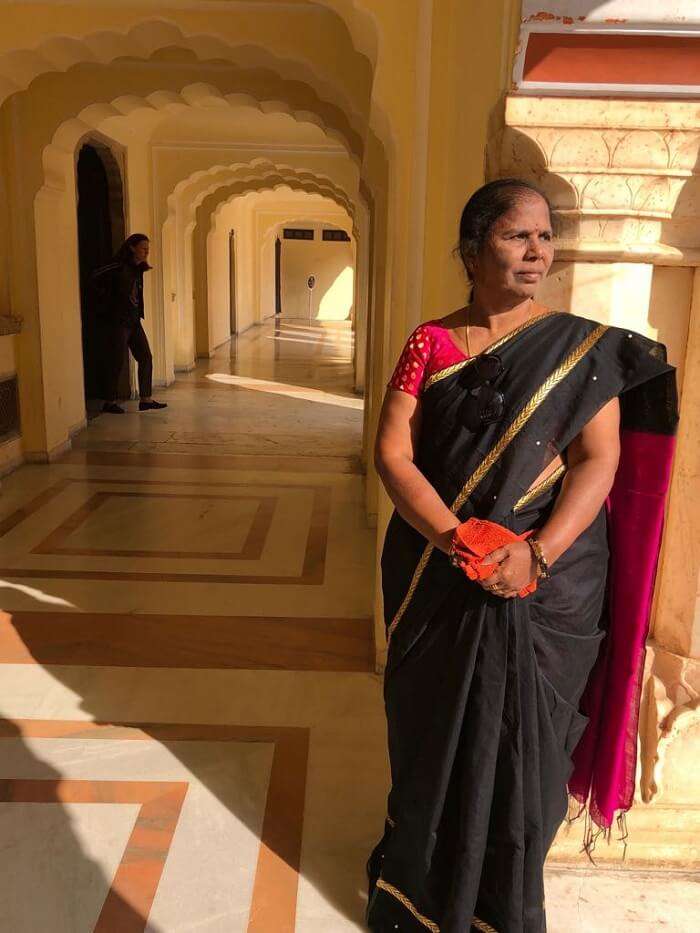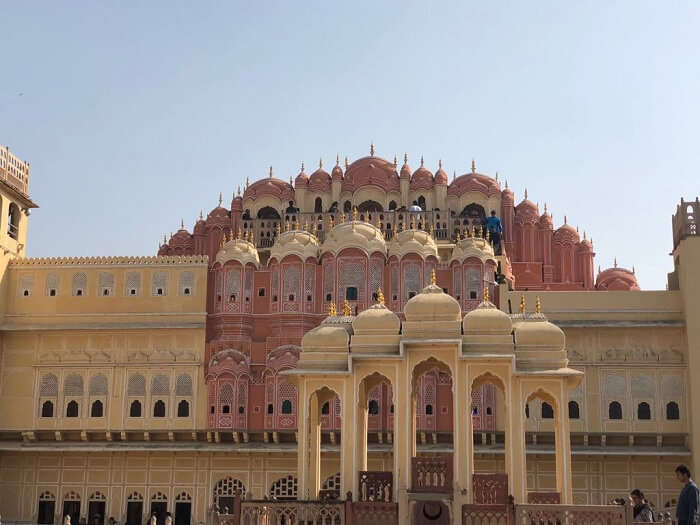 10 Hidden Treasures Of Rajasthan That Need To Be Visited Right Away!
Thankfully, we reached the airport on time and took our flight back to Hyderabad where my brother was already waiting for us to take us to our hometown. The trip was now officially over but the memories were just beginning to grow.
Looking back on our memories..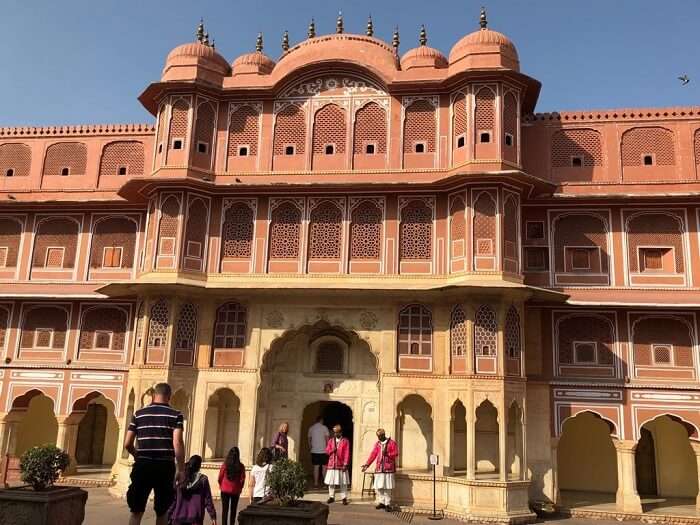 If I have to write a few lines about our Rajasthan trip, I would say it was one of the most amazing experiences of my life. Spending quality time with my mother, visiting beautiful places, learning about legends and history, and experiencing the excellent hospitality of Rajasthan that it is so famous for was truly mind-blowing. Additionally, there was also a lot of contemplation that happened along the way during our travels which not only enriched our minds but also gave us a fresh perspective on the way of life and living across different places in India. My mom and I would especially like to thank our driver who took such good care of us throughout the trip. He is truly a gentleman, and as discussed, if he ever comes to Hyderabad, we will surely give him a glimpse of our wonderful hospitality too.
Best moments during the trip
Witnessing the magnificent architecture of Rajasthan
Enjoying sunsets and sunrises
Witnessing the grandeur of Chittorgarh Fort and seeing the Padmini Mahal
The lakes in Udaipur and Mansapurna Karni Mata Ropeway
The grand Kumbhalgarh Palace (birthplace of Maharana Pratap) and the Ranakpur Jain Temple
Sam Sand Dunes in the Thar Desert and the sunrise and sunset we witnessed here
The holy vibes of Ajmer and the only Brahma Temple in the world in Pushkar
Shopping and food in Jaipur (especially the rasmalai)
Negative experience
The only negative experience that we had was at Mehrangarh Fort in Jodhpur where we got only 10 minutes to explore the fort apart from the Moti Mahal. Poor time and people management ruined our experience here.
Tips for travelers
Rajasthan is one of the best places to explore for those who want to get away from the bustling city life and soak in the grand history and hospitality of India
When traveling with family or even alone, it is preferable to make a list of destinations you want to cover and go for a personalized package
There would be people who would try to trick you into higher prices if they know you don't know the native language, so always be careful
Don't miss the sunset in Jaisalmer
The local transport in Ajmer to the Dargah is very expensive so if you can walk, then you can do so
Pushkar is mostly too crowded and it is better you have your meal somewhere on the highway than risk the waiting time in a restaurant there
The traffic in Jaipur can be unpredictable and bad, so plan your activities accordingly
Visit Rajasthan with an open mind and keep your expectations low – just go with the flow and you'll be happy!
Loved this mother-daughter trip to Rajasthan? You too can plan an awesome vacation just like them! Simply select a Rajasthan Tour Package and let TravelTriangle personalize a holiday for you.
---
Looking To Book A Holiday Package?
Book memorable holidays on TravelTriangle with 650+ verified travel agents for 65+ domestic and international destinations.
---