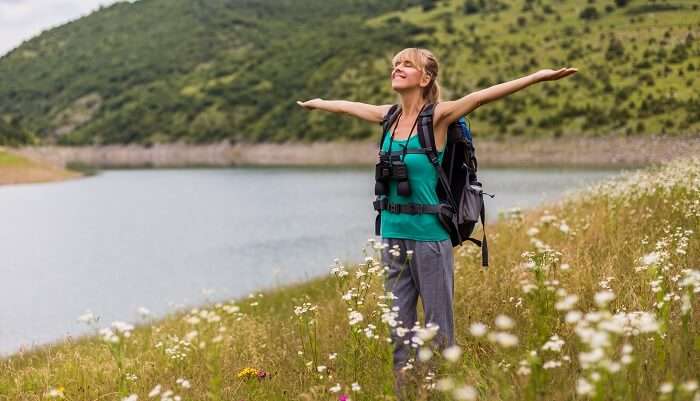 Owing to the rising trends, traveling safe is equally important as traveling solo for all the female travelers across the world. Hence, keeping safety as the priority followed by the unique traits for which female travelers prefer to be a loner, we have put together a list of 21 best solo female travel destinations in the world. Keep the spirits high as you keep scrolling down and on purpose, we've saved the best for the last. Off you go!
Please Note: We've listed the score of every country as per the Global Peace Index (2016) that measures the particular nation's peacefulness based on certain factors. Developed by the Institute of Economics and Peace, this index is updated annually and a negative score means absence of violence and fear of any kind.
21 Best Destinations For Solo Female Travelers
1. Explore Iceland Blindly Because It's Totally Safe!
Ranking number one on the Global Peace Index, Iceland is the most safest country to visit for female solo travelers.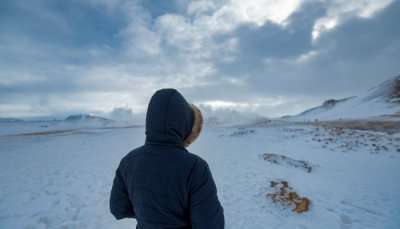 Low crime rates and qualitative medical care, makes Iceland one of the best countries to visit not just for solo female travelers but also for everyone alike. Much famed for its stunning glaciers and active volcanoes, Iceland totally lives up to the name of "The Land of Ice and Fire."
Best Time To Visit February to March and September to October
GPI Score: 1.192
            Suggested Read: Safety Tips For Female Solo Travelers: Planning Well & Staying Alert Is The Mantra
2. Capture The Best Pictures In Denmark
Don't judge the country by its size. For the record, ranking number two on the GPI and being a small country compared to the others on this list, Denmark offers jaw-dropping landscapes that makes a perfect backdrop to capture some amazing moments.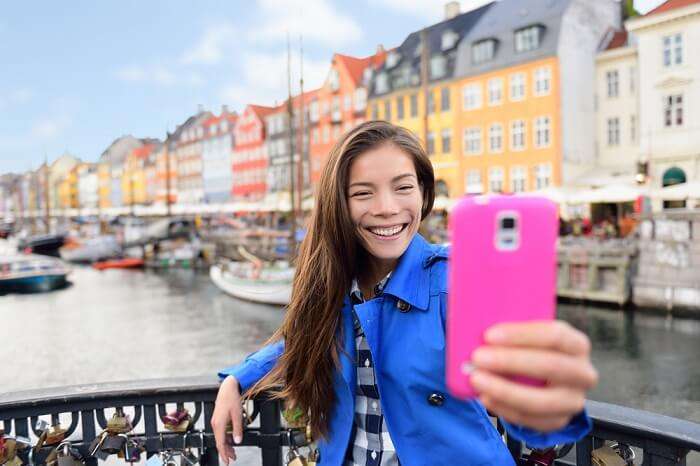 From sand dunes and turquoise beaches to high cliffs, rich national parks, massive mountains, lush green forests, and glistening lakes, Denmark oozes natural beauty with changing landscapes that serves photography very well.
Best Time To Visit May to early June & September
GPI Score: 1.246
3. Get Close To Nature In Austria
Exploring Austria not only gets you close to nature but it literally takes you into the lap of nature.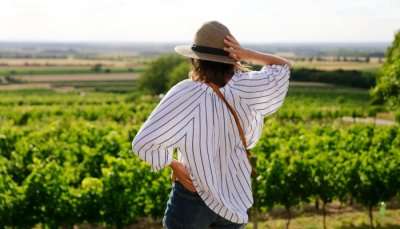 With the famous River Danube flowing through the city from west to east at a stretch of about 350 kilometers, the flawless Alpine vistas offer a lot of variety to the solo female travelers and enables them to soak in the beauty of its natural lakes and rivers!
Best Time To Visit April to May and September to October
GPI Score: 1.278
4. Test Your Limits With The Adventures Of New Zealand
If you're a true daredevil and have always related yourself best to the outdoor adventures, then New Zealand is the place to be for you.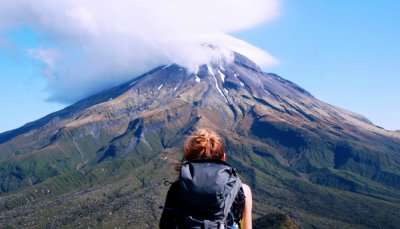 From skydiving and bungee jumping, to caving, off road driving, river rafting, ziplining, jetboating, etc., the list will go on and on, when it comes to the thrilling adventures of New Zealand. In short, New Zealand allows you to explore the real you!
Best Time To Visit February to April
GPI Score: 1.287
5. Be A Beach Baby In Portugal
Step into Portugal and you will instantly feel how blessed is the country when it comes to exotic beaches and spectacular coastline.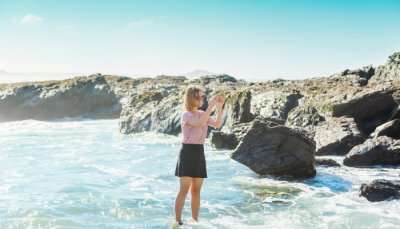 From the famous Algarve coastline in the south to the crowd pulling beaches on the western coast, Portugal is indeed a wowzer and the best place to be for watersport enthusiasts. Beach babies are most welcome here!
Best Time To Visit February to October
GPI Score: 1.356
                    Suggested Read: This 18 Year Old Becomes The Youngest Pilot To Fly Round The Globe Solo
6. Encounter A Culture So Different In Czech Republic
Though the people of Czech Republic are inspired by the 90's fashion trend, the roots and culture of Czech Republic has gone through centuries of change and development.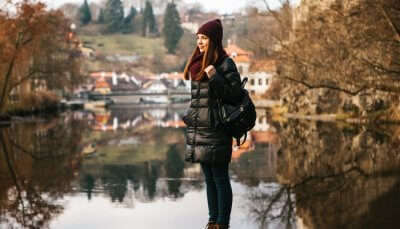 Having been through thick and thin, Czech Republic is now a place wherein the people are dedicated to their leisure time, parks are utilized to the fullest, and beer is like drinking water here. With so much to learn at every nook and corner, Czech Republic is indeed one of the best solo female travel destinations in the world.
Best Time To Visit May to June
GPI Score: 1.36
7. Witness Views To Die For In Switzerland
Swiss watches may be very famous but what gets the country true recognition is what matters the most. Composed of many beautiful lakes and snow-clad mountains, the incredible landscapes of Switzerland offers mesmerizing views that are worth drooling over.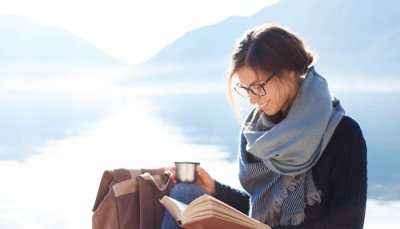 All you gotta do is grab yourself some cheese, chocolate, and a nice bench, and get lost in your own wonderland. No wonder why DDLJ was shot there!
Best Time To Visit July to August
GPI Score: 1.37
8. For A Happy-Go-Lucky Crowd, Head To Canada
Isn't Justin Trudeau enough for a reason to get to Canada? Of course not. Another best reason is that as per the World Happiness Report 2016 which is rolled out by the United Nations, the Canadian lot happens to be one of the happiest ones.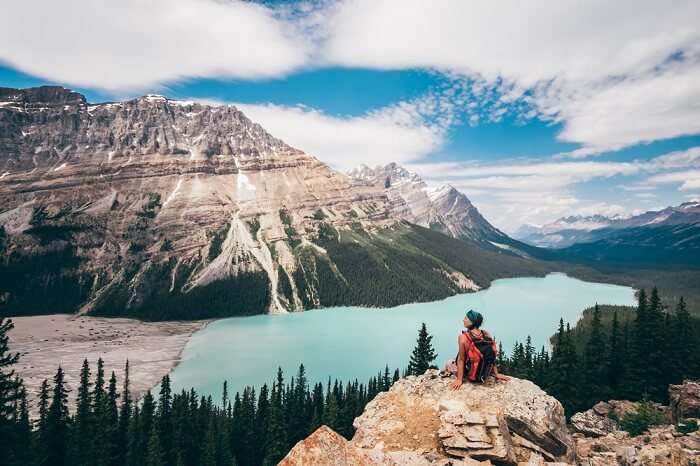 Beating USA and UK, Canada rose to number six in the previous year in terms of a happy crowd. And as it is said (or heard), happy people also pass for happy soulmates too. Who knows? Your cupid has all the possible chances to be in Canada. At least Justin Trudeau is there!
Best Time To Visit September to October
GPI Score: 1.388
9. Japan – The Foodie's Paradise!
Probably, you might not believe it when you hear that Japanese people have proven by following healthy eating habits, that one can actually live for a long time and suffer low risks of heart disease.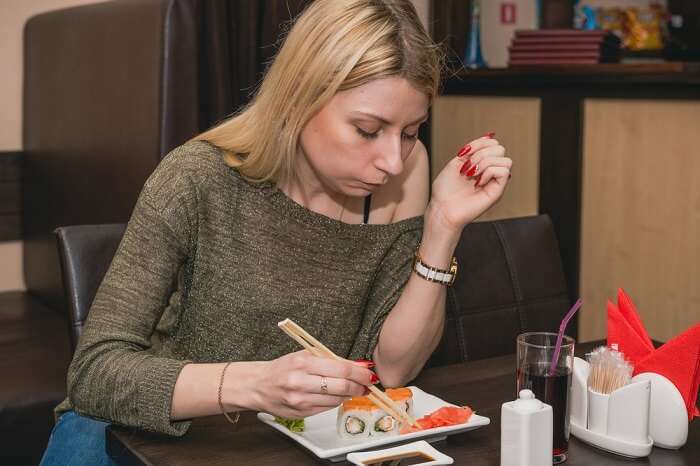 Encompassing mainly of rice and miso soup, Japanese citizens focus a lot on seasonal produce and also include a lot of seafood in their diet. The sushi cuisines are famous worldwide and other delectable dishes include fish, prawns, pickled vegetables, and much more. If you're a foodie at heart, then Japan is the place for you!
Best Time To Visit March to May and September to November
GPI Score: 1.395
                    Suggested Read: Encircling The Earth Twice: An Indian Woman On A Solo World Trip
10. Admire The Nature & Architecture In Slovenia
All the future architects must visit Slovenia at least once in a lifetime. It is phenomenal to see how a beautiful city sits on a land that is a home to more than 10,000 caves underneath.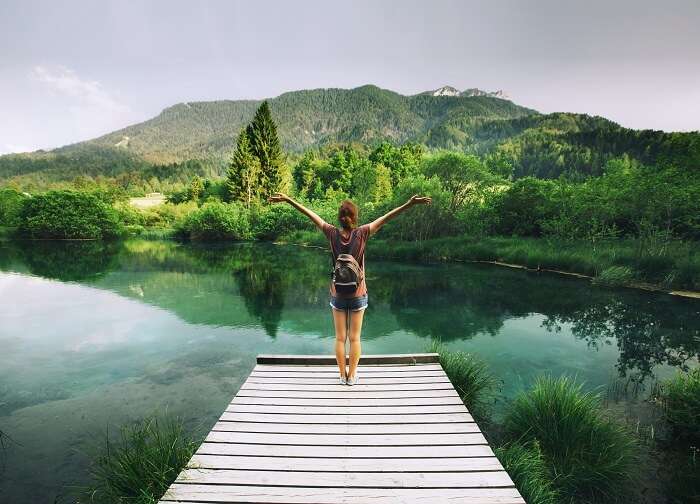 The most famous cave of Postojna in Slovenia, stretches for about 20 kilometers. With a small population of as much as 2 million and beautiful buildings like Crystal Palace, Nebotičnik, and Grand Hotel Union, Slovenia is truly an architectural masterpiece!
Best Time To Visit Late May to September
GPI Score: 1.408
11. Witness What Finnish People Are Like In Finland
The Finns are a lot who are a lot like two sides of the same coin. Though they may appear to be of very reserved kind of nature and behavior, Finnish people are actually very welcoming and can get chitty-chatty, literally.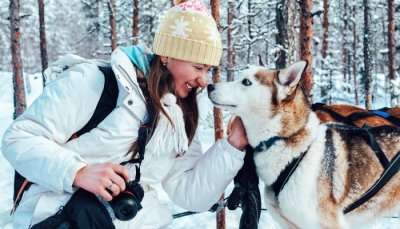 With a never-dying sense of humor, Finnish people are generally very friendly and get along with travelers from across the world. Hence, you're sorted here.
Best Time To Visit December to March
GPI Score: 1.429
12. Ireland – Hit The Bar, The Irish Way!
Hitting a bar and catching up with the locals, is the part and parcel of everyday life for everyone in Ireland. Whether you're traveling alone or not, going to a pub or a bar, is absolutely safe for men and women alike, especially, at any time of the day.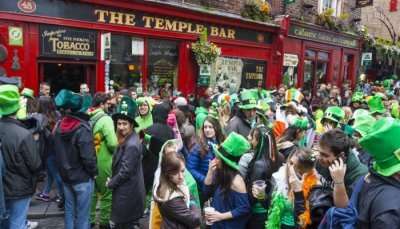 Such a culture is what makes Ireland one of the best solo female travel destinations in the world. You can always strike a conversation with the staff at the bar who are considerate of your well-being. Though beer is famous in Ireland, you can also try your lips (wink wink) on some wine and cocktails!
Best Time To Visit May to June and September
GPI Score: 1.433
Suggested Read: Meet The Desi Solo Traveler Who's Scouting Game Of Thrones Locations In Ireland!
13. Unwind Peacefully In Bhutan
Bhutan usually offers the path less traveled by unique travelers who love to make peace with nature and surroundings, especially on a solo trip. With endless monasteries, snow-bound mountains, and extremely beautiful, Bhutan is synonymous with peace.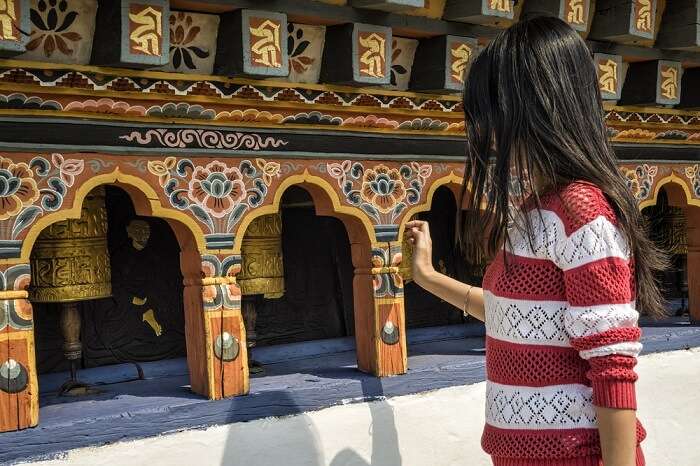 Much famed to be the Land of the Thunder Dragon, for those solo female travelers who are looking forward to unwind in an unique, unusual, and unspoilt environ, Bhutan is the right choice for you!
Best Time To Visit January to February
GPI Score: 1.445
14. Women = Men, In Sweden
As far as the Swedish people are concerned, they don't just say it, but believe that actions speak louder than words. True to that belief, the citizens have made sure that gender equality just doesn't remain as a mere belief but goes on to become one of the cornerstones of their future society.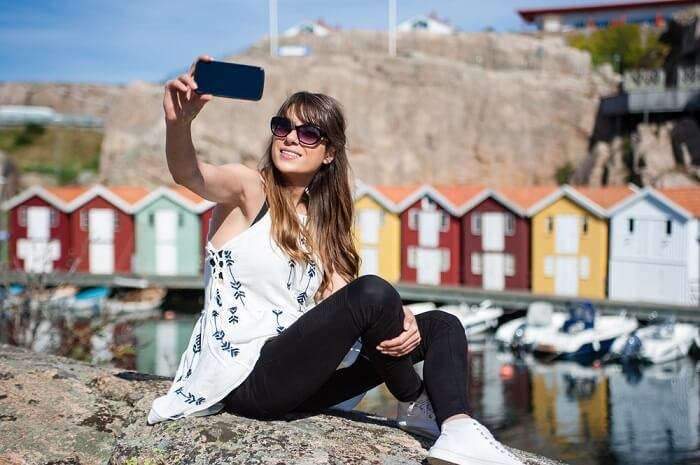 And on your visit to Sweden, you can feel the empowerment that surrounds you wherein you witness women exercising equal power and rights like that of men. Inspired yet?
Best Time To Visit May to September
GPI Score: 1.461
15. Nightlife At Its Best In Australia
Unity in diversity can be best encountered in the famous clubs and bars of Australia. Though the famous cities of Melbourne, Perth, and Sydney, have infinite number of clubs and bars, the shining Gold Coast is one place with awesome pubs that are a major crowd puller.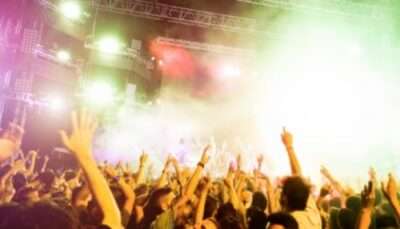 With famous pubs like Sin City, and Club Liv, Gold Coast is where one can witness the best of DJ nights, live bands, and a vibrant nightlife of Australia.
Best Time To Visit November to May
GPI Score: 1.465
Suggested Read: This Indian Woman Set Out On A Solo Journey To Australia And What She Experienced Was Beautiful!
16. For Music, Dance & Festivals, Go To Germany
Musicians, poets, and fine artists, have long ruled in the lineage of German population. Musicians like Mozart and Beethoven gave life to the soul of music which are still hummed by many.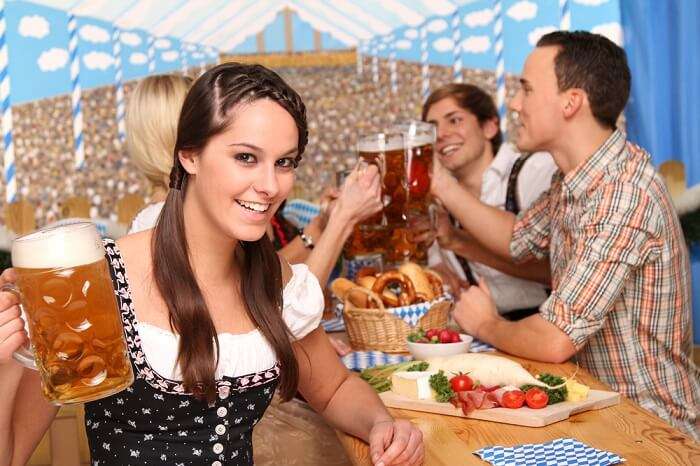 Popular for its cultural festivals, and Schwanensee ballet forms too, the Oktoberfest is one of the famous festivals in Germany that attracts travelers from across the world and shares with all of them, the common love for music, art, and beer, of course!
Best Time To Visit May to September
GPI Score: 1.486
17. Taste A Little Bit Of Everything In Norway
There's a reason why this country is called the "Kingdom of Norway." Just like a perfect kingdom, Norway has a surprise for everyone and anyone.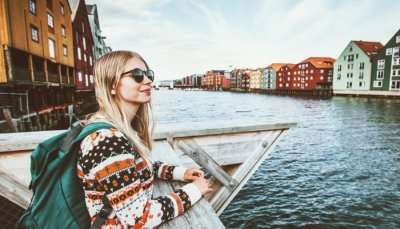 From natural attractions like forts, museums, cliffs, rivers, mountains, and yes the Northern Lights, Norway is a complete package for solo female travelers. There is beauty everywhere in Norway, all you have to do is just look around!
Best Time To Visit June to July
GPI Score: 1.5
18. For The Love Of Shopping, Go To Singapore
From the luxurious boutiques to the jam-packed flea markets, there is nothing you can't buy in the shopping paradise of Singapore. With a shopping center or a fashion store at every nook and corner, millions of tourists flock to Singapore to quench their thirst for shopping.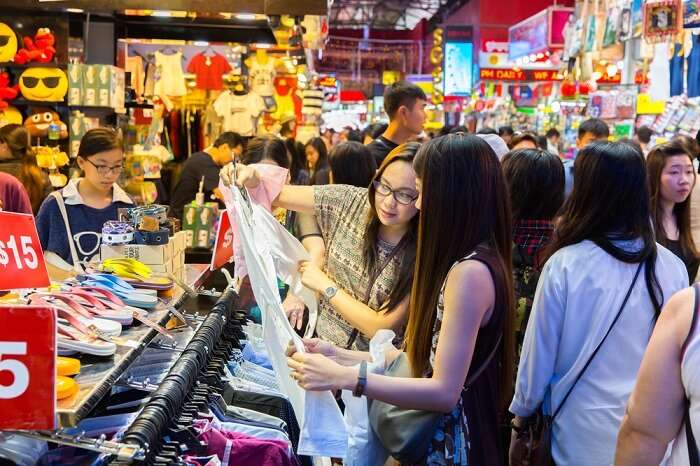 Apt for solo female travelers, you can explore the markets of Singapore at your own pace and buy almost anything under the Singapore sun. Go ahead and shop till you drop!
Best Time To Visit Any time of the year!
GPI Score: 1.535
19. Paris Is The Place To Fall In Love, With Yourself!
We know Paris is the most romantic place in the face of the world, but love is not necessarily for another person. There is a reason we put Paris on this list, and it is to explore your love for yourself.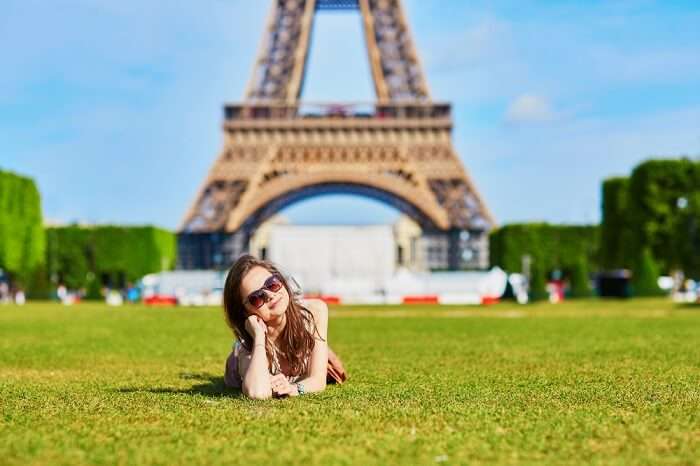 You don't need to fall in love with someone else when you're in the place which is the true manifestation of love. Hence, feel motivated to soak the beauty of the city (not just the Eiffel Tower) and let it reflect on your skin elegantly and gracefully!
Best Time To Visit June to August
GPI Score: 1.829
                          Suggested Read: Trip To Paris – My Solo Experience In The City Of Love
20. Fill Your Soul With Luxury At Bora Bora Islands
Wondering as to why a honeymoon destination is on this list? Leave the worrying to us. It is because Bora Bora Islands is all about glamourous over-water villas, luxurious resorts and bungalows which are much needed sometimes to pamper yourself.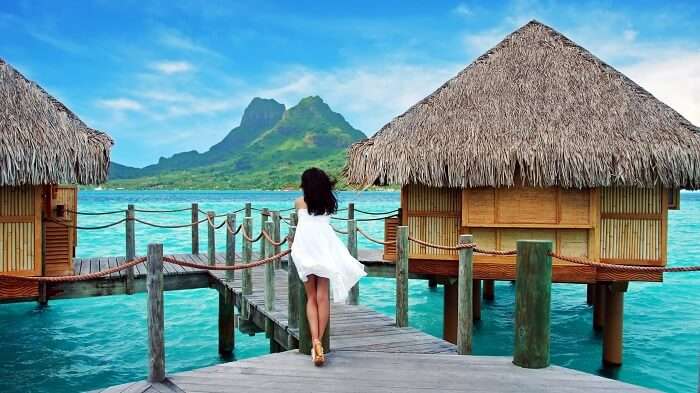 In a getaway that feels like a dream come true, why dream of anybody else? Feel like a queen or a princess and relax your soul inside out as you revive yourself in Bora Bora Islands.
Best Time To Visit: November and April
GPI Score: NA
21. Don't Know + Don't Care = Las Vegas
It's Vegas! Do we need to say anything more? Glittery neon signs, endless clubs and bar, lively nightlife, dazzling casinos, and what not. Whether it's a honeymoon in Vegas or a solo trip, nobody cares who you are and what you do in Vegas.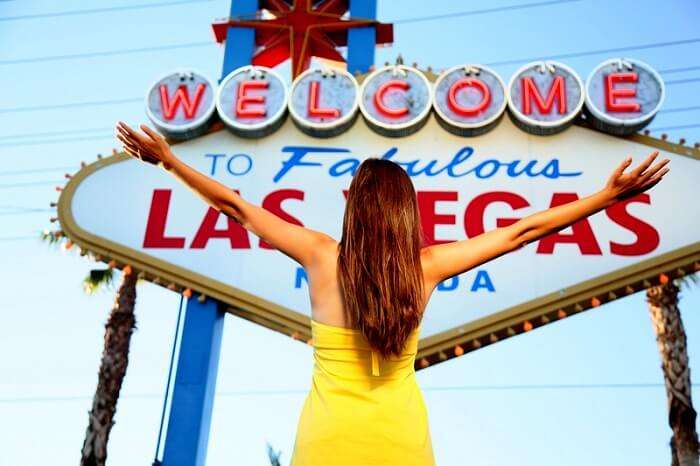 And that my friend, is the best part. When we said we saved the best for the last, we meant it. Get yourself some Vegas at least for once in a lifetime.
Best Time To Visit March to May and September to November
GPI Score: 2.154
So which country are you dreaming of? Before you could fly away to your dreamland, checkout some of the economical international tour packages that you can customize as per your interests with TravelTriangle!
And if you know more of such cool destinations that are fit for solo female travelers, don't forget to share them with us in the comments below!
Disclaimer: TravelTriangle claims no credit for images featured on our blog site unless otherwise noted. All visual content is copyrighted to its respectful owners. We try to link back to original sources whenever possible. If you own rights to any of the images, and do not wish them to appear on TravelTriangle, please contact us and they will be promptly removed. We believe in providing proper attribution to the original author, artist or photographer.
Comments
comments