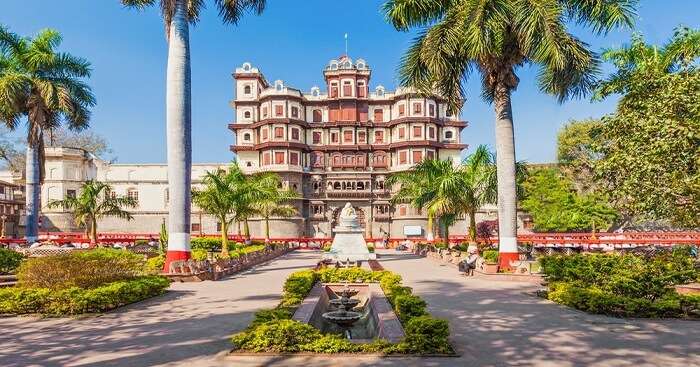 The cultural and industrial capital of Madhya Pradesh, Indore will charm you with its warm and friendly people, bustling bazaars, and unique gastronomic delights. The city has a glorious past and perfectly blends the modern and traditional to create its own vibrant and distinct identity.
Located on the Malwa plateau, the city is blessed with a pleasing weather all year round which is perfect to explore the hugely popular markets in the old city, street food delights at Sarafa and Chappan dukan and the grand temples and palaces in and around the city. Our recommendation for the best places to visit in Indore:
Top 15 Places To Visit In Indore
Find below a list of magnificent places that one should definitely pay a visit when traveling to an important city in the heart of India, Madhya Pradesh. Make sure you include all these places to see in Indore in your itinerary before you embark on your trip. Most of these Indore tourist places are located close to each other so you would not have a problem exploring them.
Lalbagh Palace
Khajrana Ganesh Temple
Kanch Mandir
Rajwada
Patalpani Waterfall
Annapurna Temple
Treasure Island Mall
Sarafa Market
Chhapan Dukaan
Gomatgiri
Krishnapura Chhatris
Pipliyapula Regional Park
ISKCON Indore
Indore White Church
Ralamandal Wildlife Sanctuary
1. Lalbagh Palace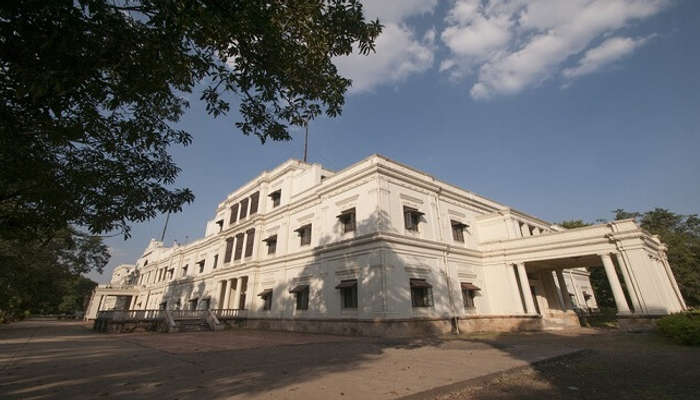 This majestic royal residence spread over a sprawling 28 acres is one of the best places to visit in Indore. It allows you to glimpse through the rich heritage of this historic city and gives you a taste of the lavish lifestyle of the Holkar rulers. Hugely influenced by European style of architecture, be prepared to be bowled over by grand Italian columns, gorgeous chandeliers, rich Persian carpets and exquisite stained glass windows. A noteworthy feature is the use of elevators in those times to deliver food to the dining halls, a living testimony to the grand lifestyle of the Holkars in many of the Indore tourist places. Now converted to a museum displaying extraordinary exhibits from the glorious era, the Lal Bagh Palace should definitely feature on your Indore travel itinerary. Malwa Utsav organised every year to showcase the culture and
Opening hours: 10AM to 5PM. Closed on Mondays
Ideal for: History, Architecture, Photography
Suggested Read: 9 Best Hotels In Indore For The Modern Luxury Lovers
---
Looking To Book A Holiday Package?
Book memorable holidays on TravelTriangle with 650+ verified travel agents for 65+ domestic and international destinations.
---
2. Khajrana Ganesh Temple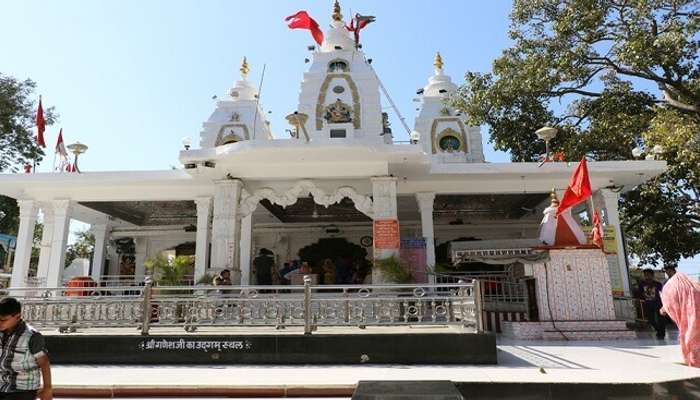 Highly revered by the local population, this beautiful Ganesh temple was built by the benevolent queen Ahilyabai Holkar. It is said that she has built this powerful shrine to protect the idol of Lord Ganesh from the wrath of Aurangzeb. With a towering Ganesha statue and smaller temples dedicated to other deities, the beautiful and well-maintained temple complex exudes and aura of serenity and spirituality. This undoubtedly is one of the best places in Indore for stealing some tranquil moments and seeking blessings of the almighty.
Opening hours: All days at all hours. There are long queues on Wednesdays and Sundays.
Ideal for: Religion, Spirituality
3. Kanch Mandir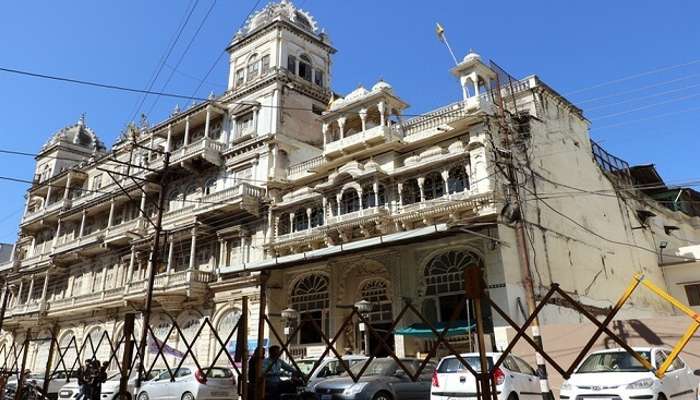 Located close to Rajwada Palace, you can add this unique Jain temple to your Indore sightseeing list. Though not a huge temple, its beauty lies in the fact that the entire temple is made of Belgian stained glass and mirrors – from the floor to the ceilings, stairs and walls, everything is crafted out of gleaming glass pieces, giving it an aura of opulence. The dazzling domed ceiling displays intricate designs crafted from glass pieces. Its grandeur is enhanced manifold when it is lit up with lights and candles on certain Jain festivals like Mahavir Jayanti. You will, in fact, be able to notice this architecture while you're visiting places in Indore at other sites as well.
Opening Hours: 5AM to 12PM, 4PM to 8PM on all days
Ideal for: Architecture, Spirituality
4. Rajwada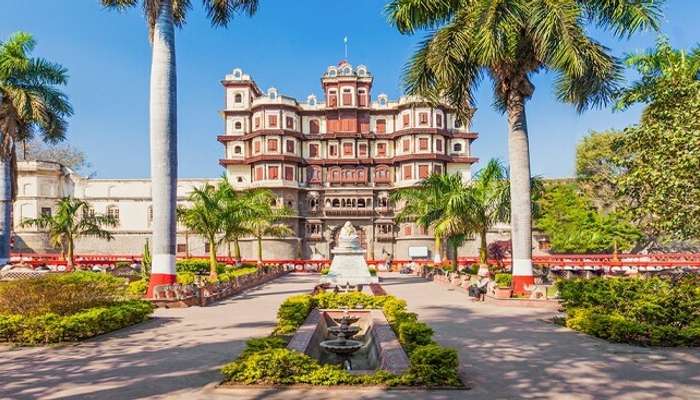 This seven-storeyed historic attraction is the royal residence of Holkar dynasty, built in 1747AD by the founder of Holkar dynasty, Malhar Rao Holkar. The majestic structure is a fine example of the grandeur and architectural skills during the Holkar rule. Located in the heart of the old city, the 200-year Rajwada palace has influences of Maratha, Muslim and French styles of architecture.
You can take a peek into the splendour of the bygone era while walking through the museum inside this popular Indore sightseeing spot. Let the rich baritone of Mr. Amitabh Bachchan's voice takes you on a journey through the story of the first Holkar king and the history of Indore, with the mesmerising light and sound show at 6:30PM. You'll also find plenty of good resorts in Indore located close to this point, which makes accessing it super easy.
Opening hours: 10AM to 5PM
Ideal for: History, Culture, Photography. The market around Rajwada palace is a shopaholic's delight.
Suggested Read: 7 Mystical National Parks Of Madhya Pradesh
5. Patalpani Waterfall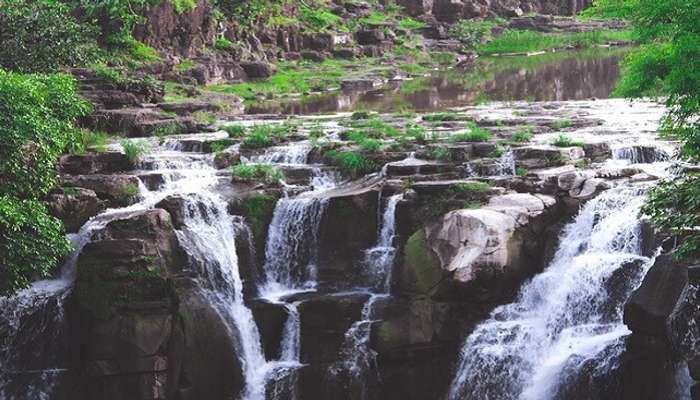 This stunning waterfall is one of the top picks amongst Indore picnic spots for its natural beauty and picturesque setting. Located about 30 km away from the city, you can witness the splendour of Patalpani waterfalls in the monsoon months. This is one of the best tourist places in Indore in the rainy season to sit and enjoy some freshly roasted corn-cobs, soak in the breathtaking views and stare with wonder at the jaw-dropping 300-feet fall. A railway line passing along the area adds to the charm of the place.
Opening hours: 6AM to 6PM. Recommended for visit in the monsoon months.
Ideal for: Nature, Relaxation, Photography
6. Annapurna Temple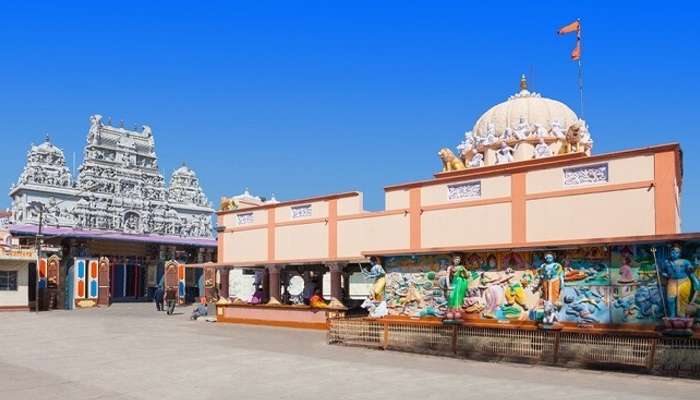 The Annapurna temple is visited by thousands of devotees and tourists every year. The shrine is not just a place of pilgrimage for the spiritually inclined, but also one of the most popular places to visit in Indore. Its grand facade and architectural beauty stand out even from a distance. Dedicated to Goddess Annapurna, the deity of food, this magnificent temple has four life-size elephant sculptures guarding the entrance. A rare depiction of the 4-vedas in the Vedhshala is another reason to visit the temple and spend some peaceful moments in the presence of divinity.
Opening Hours: all days
Ideal for: Spirituality, Architectural beauty
---
Planning your holiday but confused about where to go? These travel stories help you find your best trip ever!
Real travel stories. Real stays. Handy tips to help you make the right choice.
---
7. Treasure Island Mall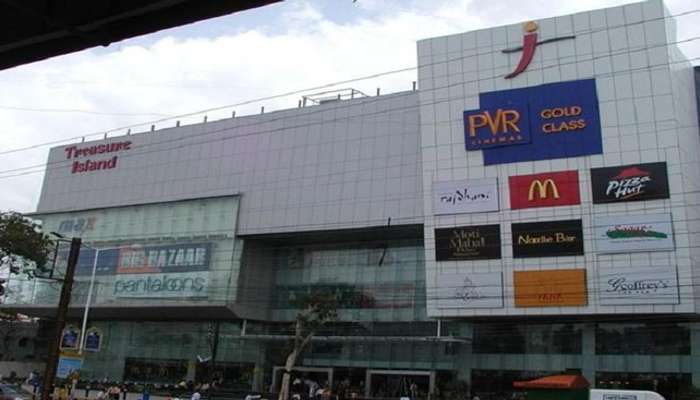 The biggest and most popular mall in the city along with being one of the prime tourist places in Indore, Treasure Island is your one-stop-destination for shopping at the best international brand stores, trying out a range of cuisines and spending fun time with the kids. The recently renovated mall hosts luxury brands like Tommy Hilfiger, Nautica, GAP etc and also has a thrilling gaming zone for the kids. Many of the best restaurants and cafes in Indore are located in this mall. The multi-screen PVR cinemas and a fantastic food court make it the perfect destination for a family outing during your Indore travels.
Ideal for: Shopping, Games, Movies, Food
Suggested Read: 4 Best Tourist Circuits In Madhya Pradesh
8. Sarafa Market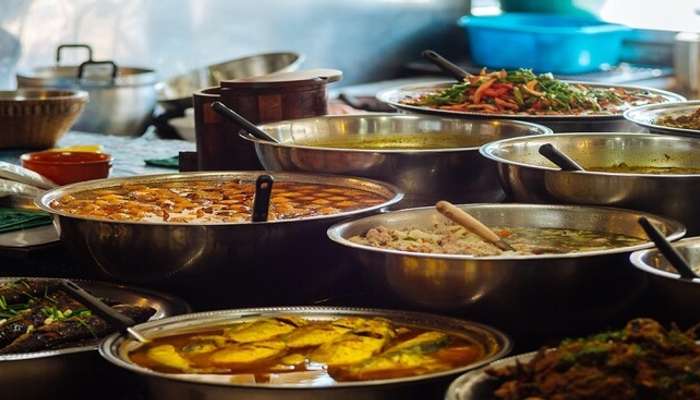 Whether you are a die-hard foodie or not, you cannot help but give in to the delectable delights of one of the best street food markets in the country. This foodie haven is the best place to witness Indoris' obsession with food and their ingenuity in dishing out some unique street food items. A jewellery market by day, the Sarafa Bazar transforms to a bustling food lane by night offering yummy options like Bhutte ki kees, Garadu chaat, Sabudana khichdi, Dahi bade(at the famous Joshi Dahi Bada House) and the 6-flavored panipuri. There's also the malpuas, rabdi, mawa baati and Jalebi to satiate your sweet tooth cravings, making this one of the finest places to see in Indore for foodies. If you want to be able to gorge on the local food of Indore everyday in an economical way, then you should consider staying at any of the great homestays in Indore during your trip.
Opening hours: 9:30PM to 2AM
Ideal for: Food, Family fun, nightlife
9. Chhapan Dukaan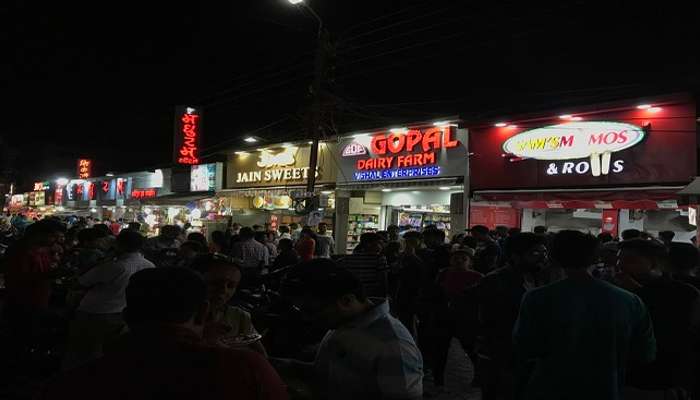 It is one of the best places in Indore to feel the buzz and vibrant atmosphere of this wonderful city. A group of 56 shops offering the most amazing variety of local delicacies makes this place a great hit with tourists and locals alike. From trying out chaat spread at the iconic Vijay chaat House or satisfying your egg cravings at Johnny's hot dogs to tasting the uniquely Indore shikanji and appetizing panipuri, there is so much to taste and relish at Chappan Dukan. This is one place you mustn't miss out on during Indore sightseeing
10. Gomatgiri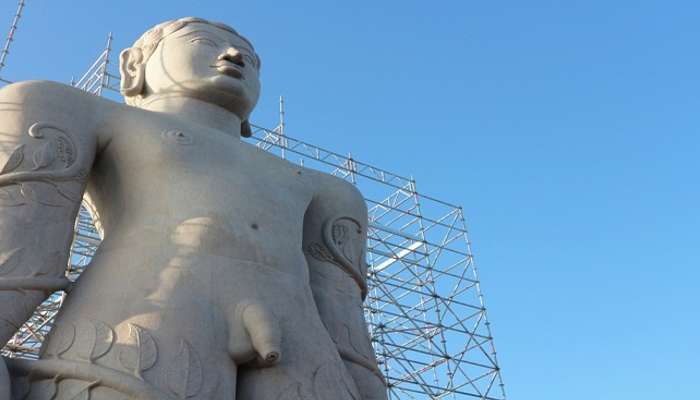 When you're looking to get away from the hustle-bustle of the city, this calm and beautiful Jain temple is the perfect place in Indore to enjoy a few blissful hours. Located close to the airport on a small hillock amidst green landscapes, the temple boasts of a 21-feet high idol of Bhagwan Bahubali (the other one being at Shravanabelagola in Karnataka) and smaller idols of the 24 tirthankaras. You can marvel at the architectural beauty of the temples while witnessing some stunning views of the city. Great sunrise and sunset views, delicious wholesome local food and the tranquil environment make it one of the favoured Indore picnic spots too.
Opening hours: 6AM to 12PM, 2PM to 7PM, on all days.
Ideal for: Spirituality, family fun, picturesque views
Suggested Read: 15 Tourist Places In Madhya Pradesh That You Should Be Visiting Right Now!
11. Krishnapura Chhatris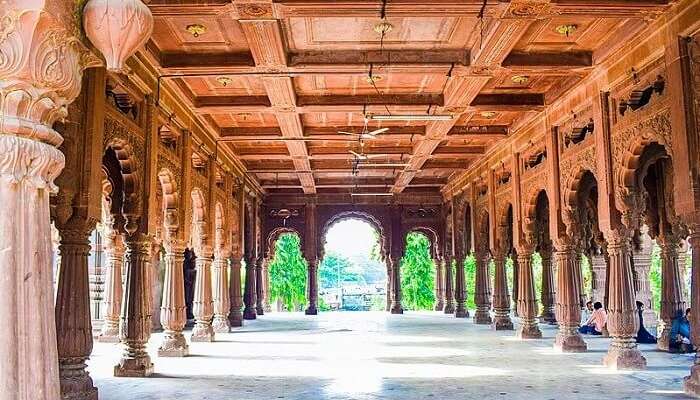 Built by Holkars to store the remains of the dynasty's rulers, Krishna Pura Chhatris are three cremation places in Indore. One of the intriguing places to visit in Indore city, this place exhibits some of the beautiful architecture with carved structures leaving the visitors in awe. The steps constructed at the back of the structure directly lead to the banks of the Kahn river. The use of different types of stones, columns, and carved exteriors makes it appealing to the eyes of the visitors.
Opening Hours: 9 am to 5 pm
Ideal For: Architecture appreciation
Suggested Read: Nightlife In Indore: 10 Best Places to Eat, Dance and Party Hard
12. Pipliyapula Regional Park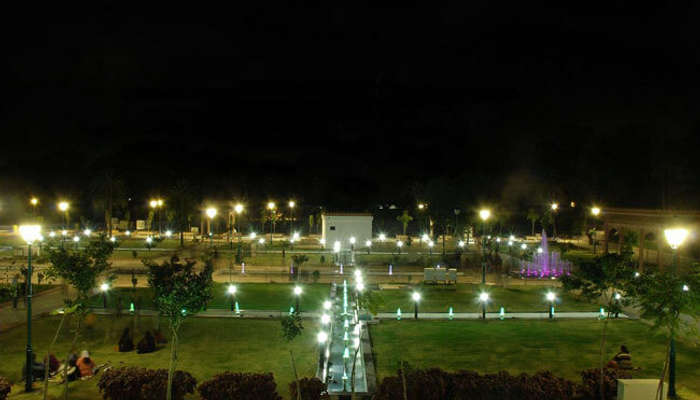 A perfect place to witness the mesmerizing sunset, Pipliyapula Regional Park is nothing less than a treat for travelers. Attracting adults and kids alike, this regional park is spread over 122 acres and houses a massive lake that allows visitors to take part in some of the interesting activities including peddle-boating, motor-boating, and much more. This park is one of the most interesting places to visit in Indore, Madhya Pradesh with giving travelers an opportunity to spectate magical Mist and Musical fountain, Labyrinths, French Gardens, and much more.
Opening Hours: 10 am to 8:30 pm (Closed on Mondays)
Ideal For: Family outing, Musical fountain, Rejuvenation
13. ISKCON Indore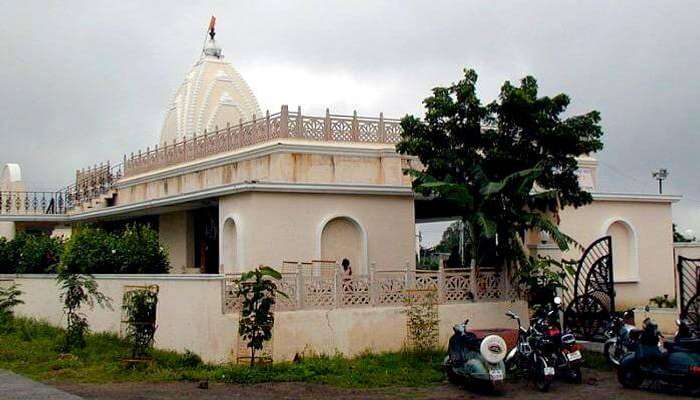 Dedicated to Lord Krishna, ISKCON Indore allows travelers to embrace the essence of spirituality and peacefulness that oozes out of the hymns and sounds of chants. The deities of Lord Krishna and Radha are constructed purely from marble and justifies the word beauty. Allowing visitors to calm their minds and souls, and feel the tranquility surrounding the temple, ISKCON is surely one of the good places to visit in Indore.
Opening Hours: 5 am to 1 pm, 4 am to 7 pm (Closed on Saturdays and Sundays)
Ideal For: Spirituality, Tranquility, celebrating the vibrant festival of Janmashtami
Suggested Read: 10 Best Indore Street Food Delicacies For The Person Who Wants To Savour It All
14. Indore White Church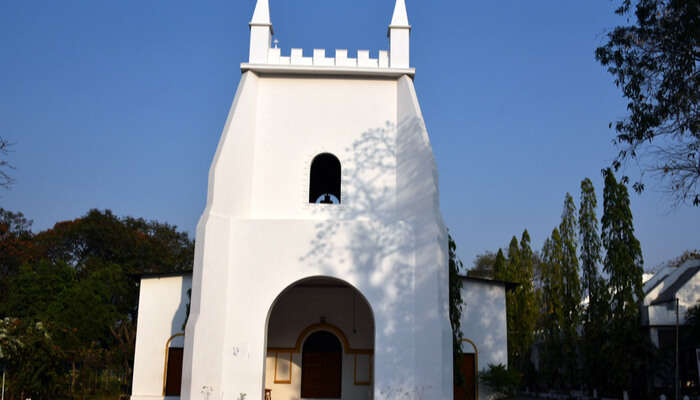 One of the historical places to visit in Indore, White Church showcases the impact of a British autonomy. Exhibiting mesmerizing European architecture, the White Church acts as a perfect escape for those who are seeking to embrace the quietness and calmness of their surroundings. The European design of this building is built in snow white marble and stone which makes it extremely appealing to the eyes of the spectator.
Opening Hours: 9 am to 9 pm
Ideal For: Architecture appreciation, celebrating the glorious festival of Christmas
15. Ralamandal Wildlife Sanctuary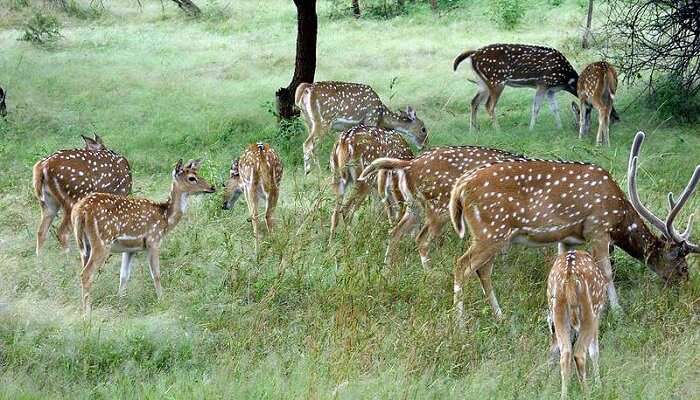 One of the oldest places to visit in Indore, Ralamandal Wildlife Sanctuary is a treat for nature admirers and wildlife lovers. This sanctuary not only houses some of the magnificent wildlife creatures but also the holy river of India, Ganga. One can witness deer, tigers, wild hare, and an extensive variety of birds along with other beautiful wildlife here as compared to the parks and other nature-oriented tourist places near Indore. This place allows visitors to be grateful for the wonders of mother nature like nothing else.
Opening Hours:: 9 am to 6:30 pm
Ideal For: Indore wildlife, marvels of mother nature
Further Read: 15 Best Things To Do In Indore For Feeling The True Vibe Of The City
The beautiful architecture, mesmerizing wildlife, picturesque views, authenticity in the air, and the vibrant culture of Indore makes it one of the best destinations. With no dearth of places to visit in Indore, this destination attracts all kinds of tourists to spend some time embracing the local culture. Plan your trip to Madhya Pradesh and make a pocketful of beautiful memories while visiting places in Indore and around it.
Frequently Asked Questions About Indore
Q. What is Indore famous for?
A. Indore is the fourth biggest center of the cotton textile industry due to rich black soil in the city. Apart from this, Indore is known as the food city and is also famous for unique bangles.
Q. What is there to do in Indore at night?
A. One of the best things to do in Indore at night is to visit Sarafa Bazaar and treat your food soul with some amazing dishes that are famous in this city.
Q. What is there to see in Indore?
A. There are several places to visit in Indore like Lalbagh Palace, Patalpani, Rajwada, Sarafa Market, and Annapurna Temple. These places have bewitched many travelers who come back again to explore these tourist places.
Q. Is there any beach in Indore?
A. There are no beaches in Indore but one can find some spots not far from the city. One of these places is Tarkarli, situated 6 kilometers from the southern part of Malvan.
Q. How can I go to Omkareshwar from Indore?
A. There are two ways to reach Omkareshwar from Indore – one is by road and the other is by train. The distance between both cities is around 72 kilometers which is easily covered in a time span of 3 to 4 hours.
Q. Is Indore a safe city?
A. Indore has been recorded as one of the safest places to be in India. All the places to see in Indore are safe to explore for all, including women.
Q. Is Indore the cleanest city in India?
A. Indore was declared as the cleanest city in the country in the Swachh Survekshan Awards (2019) and Bhopal as the cleanest capital. Apart from this, Ujjain is also one of the cleanest cities in the 3-10 lakh population category.
Q. What is the best time to visit Indore?
A. October to March has been marked as the best time to visit Indore as the temperature dips down, creating cool weather for sightseeing.
---
Looking To Book An International Holiday?
Book memorable holidays on TravelTriangle with 650+ verified travel agents for 65+ domestic and international destinations.
---
Comments
comments