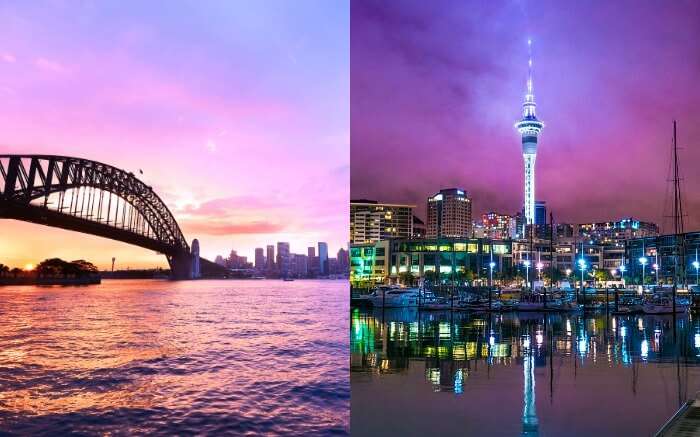 Most honeymoon packages combine Australia and New Zealand. But in a rare scenario, if you have a 'Australia Vs New Zealand for honeymoon' kind of fight, it is going to be immensely difficult. There are innumerable similarities between the two destinations that will leave you totally confused.
In this post we compare to two countries and help you in picking either Australia Or New Zealand for honeymoon, based on your preferences. In sections where one is a clear winner, you have the final verdict in the end; and for comparisons that are interest based, you can take your pick yourself!
Attractions for honeymooners: Which is better?
1. Cruise tours – Luxury vs natural beauty


Parramatta River Cruise lets you sail past some of iconic tourist attractions in Australia, such as Sydney Harbour and Opera House. The experience is mainly about luxury and glamour.
Milford Sound Cruise in New Zealand takes you through the scenic fiord in Fiordland National Park. This is an important attraction of the country, where you can also spot penguins and dolphins.
Our pick for honeymooners: New Zealand
Suggested Read: 10 New Zealand Restaurants To Taste The Country's Culinary Masterpieces
2. Cave tours – Limestone vs glowworms


Australia has many caves; the famous ones are Jenolan Caves and Ngilgi Cave. Jenolan Caves are limestone caves, and also world's ancient-most discovered open caves. Ngilgi Cave were discovered in 1899, and are roughly 5,00,000 years old.
Even though the caves in Australia attract a thousand travelers, but what you'll experience in New Zealand's Waitomo Caves is exclusive. Waitomo Caves are glowworm caves, which means they glow because of bioluminescence. This lovely cave is among the most romantic places to visit in New Zealand for honeymoon.
Our pick for honeymooners: New Zealand
Suggested Read: 11 National Parks In Australia For A Utopian Experience Into The Wild
3. Film tours – Ramsay Street vs The Hobbiton


Ramsay Street in Australia is the iconic film set of The Neighbours, daily soap that began in 1985. This soap tour in Australia is organized by Neighbour Tours.
But the Lord of the Rings' Hobbiton located in New Zealand, has worked wonders for tourism in New Zealand. Today it is one of the best tourist attractions in New Zealand. Arranged by Hobbiton Tours, the excursion takes you to the real film sets, and is among the dream-places for LOR fans.
Our pick for honeymooners: New Zealand
Suggested Read: Summer In Queensland: See What Makes It The Best Season To Visit
4. Nightlife – Putting on a show after the sunset


Both the countries are known for a stylish nightlife. Australia is more about live music and rooftop clubs in major cities – Sydney, Melbourne, Gold Coast and Perth.
Nightlife in New Zealand is quite happening with glitzy pubs and bars. However, there are only two main cities, Auckland and Queenstown to party through the night. Even Auckland is not that lively, which means if you wish to go dancing, you much head to Queenstown.
Our pick for honeymooners: Australia
5. Scuba diving – The Great Barrier Reef vs captivating coastlines


Australia, with its Great Barrier Reef steals the hearts of divers across the world. This is world's largest coral reef system spread across 900 island and covering 344,400 square km of area. Alongside rich corals, Australia opens a gateway to cave diving. Diverse underwater topography and up to hundred meters of visual clarity elevates the charm of scuba diving in the Great Barrier Reef manifold.
Scuba diving in New Zealand too is an awe-inspiring experience. There are easily accessible coastlines, about hundreds of offshore islands, and marine reserves to keep you captivated. There are two major diving spots in NZ – Poor Knights Islands, known for colorful and rare marine life and Milford Sound, where you can spot black corals.
Our pick for honeymooners: Australia. While both destinations offer scuba diving, Australia's Great Barrier Reef is home to a myriad of exclusive corals that you can never find in one place.
Suggested Read: New Zealand In October: Fall In Love With The Colours Of Spring
6. Adventure – Adrenaline rush for the daring couple


With a ferocious wildlife and a myriad of adventure activities Australia never disappoints couples looking for some adrenaline rush. Sky diving, bungee jumping, white water rafting, and surfing – this country is the ideal escape for the adventure-enthusiasts.
While Australia magnetizes with its sights mostly, New Zealand attracts with adventure activities.  New Zealand's Auckland is called the Adventure Capital of the world as there are several things to do in Auckland that are meant for bravehearts. Bungee jumping, rafting, caving, canoeing, heli skiing, and sky diving in New Zealand are among the most popular adventure activities.
Our pick for honeymooners: New Zealand
Must Read: Top 21 Things To Do In Australia: Scuba, Skydiving, & More
Australia or New Zealand which is better for honeymoon: All about your pick
7. Weather – Choose based on your preferred activities


The best time to visit Australia depends from region to region. June to August is the winter season and most of the regions are perfect to visit. North and Central states remain pleasant, while South Australia becomes a skiing destination.
The summer season in Australia starts from December and ends in February. This is the best time to hit the southern region – Sydney, Melbourne, and Canberra. Central area at this time is hot, and northern area is humid.
To visit New Zealand the best time would be all through the year. Summer and spring months, i.e. from December to May, are the peak season, and are good for outdoor activities and beach hopping. While winter and autumn months, i.e. from June to November, are great for snow sports and sightseeing.
8. Capital cities – Choose the kind of places you love to visit


Canberra, the capital of Australia is majorly about national monuments, such as Australian War Memorial, Parliament House, and National Portrait Gallery.
Wellington, the capital of New Zealand offers a mix of all. There's Wrights Hill Fortress, City Gallery, Wellington Zoo, Mount Kaukau, Matiu Island, and Wellington Botanic Garden.
9. Beaches – White sand vs golden sand


Whitehaven Beach is actually among the best beaches in Australia, located in the Whitsunday Islands. Honeymooners take a helicopter ride through this region beautified with white sand beaches and kissed by azure sea. The ride is followed by a romantic lunch on this mesmerizing beach. Other famous Australian beaches are Bondii Beach, Surfer's Paradise, and Manly Beach.
90 Miles Beach of New Zealand on the other hand is among the best in the country. Piha Beach, Whale Bay, and New Chums Beach are other top beaches in New Zealand.
10. Wildlife – Exotic animals vs adorable birds


The wildlife in Australia consists of mammals more than birds. There are poisonous snakes, huge spiders, and crocodiles. But there also are adorable ones like koalas and kangaroos. Also, more than 800 species of birds fly in the country.
New Zealand has more of birds, mainly flightless. This is a land of birds where you'll be able to spot penguins, kiwi birds, blue duck, takahe, and white-faced heron. Also expect to see endemic bird species (which are found in a particular region only) like kakapo.
11. Landscape – Rainforests & desert vs volcanoes & glaciers


Australia's landscape is about coast, rainforests, and desert, while, New Zealand's landscape is about volcanoes, coast, fjords, glaciers, and mountains. Both the countries flaunt their striking landscapes to lure more and more tourists.
12. Romantic stays – A heart-shaped private island vs a wagon stay


The Makepeace Resort is Australia is a private heart-shaped island, where all the luxury prevails with nature's richness.
For a more fairytale-inspired couple the staying in a lovely isolated wagon must be in the bucket-list, and New Zealand will help you put a cross on it, with the Wagon Stays.
Suggested Read: 17 Dreamy Australian Honeymoon Destinations That Define Romance
13. Island tours – Island hopping like never before


Whitsunday Islands happen to be among the most famous honeymoon destinations in Australia. The striking white sand, azure sea, and the helicopter rides are key atractions.
Similarly in New Zealand, the Bay of Islands is scenic and happening at the same time. This island is also known for hosting overnight trips and events.
14. Drives – Hitting the beautiful roads


The Great Ocean Road drive in Australia is in the bucket list of a lot of travelers. This 243 km coastal route, takes you through scenic panoramas, which consist of top things to see in Australia like the Twelve Apostles. Markets, wildlife, beaches, spa, and hotels are some experience scattered through the route.
Driving in New Zealand will take you through dramatically scenic landscapes. Rent a vehicle of your choice, which is quite easy in NZ. To return, all you'll have to do is park in the designated parking lot in your destination.
Note: To drive in both the countries you'll need an International Driving Permit.
Suggested Read: Top 16 Restaurants In Brisbane To Experience The Australian Taste & Hospitality
15. Food – Making the way to the heart through stomach


Australia has managed to embrace cultures from different corners of the world. And this is why the country offers a variety of food. A Hamburger or a grilled Kangaroo – the non vegetarians here have the most delicious food options readily available. Vegans and vegetarian folks might have a tough time looking for their preferred dish, specially in the small towns.
New Zealand is a slightly more vegetarian-friendly destination, in spite of the fact that its seafood and meat has made the foodies go gaga. The Kiwi Meat Pie, Whitebait Fritter, and Falafel Burger are famous delicacies of NZ.
Further Read: Honeymoon In New Zealand: 12 Exotic Destinations For A Fairy-Tale Honeymoon
Hope that by now you have a much clearer picture of which you want to pick: a honeymoon in Australia or honeymoon in New Zealand. Let us know, which one you think is better for you!
Frequently Asked Questions About Australia VS New Zealand For Honeymoon
Is New Zealand good for honeymoon?
Yes, New Zealand is one of the greatest places to enjoy some time with your better half. The diverse landscapes, myriad natural marvels, and plenty of amazing things to do in this destination make it one of the best honeymoon destinations.
Is Australia good for honeymoon?
For those who are looking for a laid-back honeymoon vacation and want to spend some time in between the rugged mountains, snowy valleys, and white beaches, then Australia is definitely a great place for a honeymoon.
Which is more expensive- Australia or New Zealand?
When it comes to the choice between Australia vs New Zealand Honeymoon, one tends to compare the budgets first. It is true that Australia is generally more expensive than New Zealand but this also means that the tourism infrastructure of Australia is much better than New Zealand as well.
What does one experience on honeymoon in Australia?
Plenty of experiences awaits honeymooners in Australia including mountain biking, water skiing, clifftop walking, partying at the Opera Bar, taking a romantic ride on Kuranda Railway, boating across Emmagen Creek, exploring the diversities at Great Hinterland Walk, sunset Kayaking in Broadbeach, and much more.
What does one experience on honeymoon in New Zealand?
Some of the best things that one can experience on honeymoon in New Zealand are kayaking, hiking, romantic stroll around the beach, skywalking, sky jump, strolling around vineyards, visiting the sets of the movie Hobbit, skiing, snowboarding, and much more.
What is the best time to visit Australia?
The best time to pay a visit to Australia is either between the months of September to November or from March to May. The pleasant weather during these months makes it possible to enjoy a comfortable vacation in Australia.
What is the best time to visit New Zealand?
The best season is the summer season (December to February) to pay a visit to New Zealand. There are plenty of activities that one can be a part of when traveling to New Zealand between the months from December to February.
Which nightlife is better- Australia or New Zealand?
Both of these countries have a stylish and wild nightlife scene. While Australia is all about live music and rooftop parties, New Zealand is a destination that is known for its glitzy pubs and bars. So, the choice depends upon the taste of the traveler.
---
Looking To Book An International Honeymoon?
Book memorable honeymoon on TravelTriangle with 650+ verified travel agents for 65+ domestic and international destinations.
---