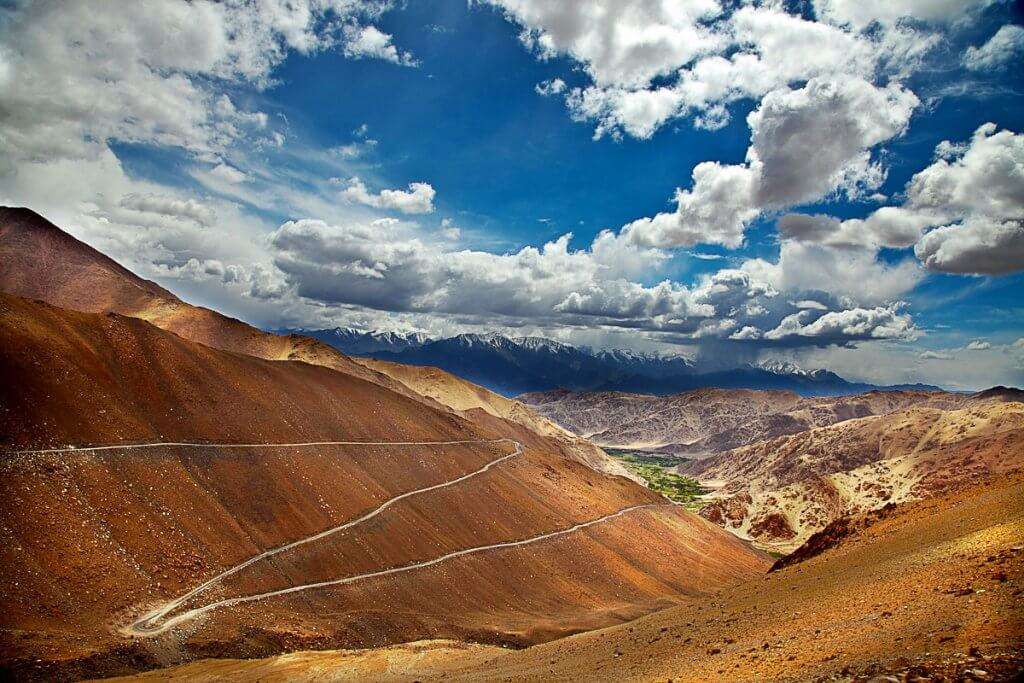 Just picture your hair fluttering with the chilling breeze as you trace and gaze at the enchanting path with your partner; sounds exciting, right? If road trips are your idea of romance, here is a list of incredibly romantic road trips in India for couples.The routes on the list guarantee a journey far more fascinating than the destination. With love of your life by your side, every bit of these trips will make for a memory worth treasuring. If you've been looking for travel inspiration, let your search cease.
Top 25 Road Trips In India For Couples
We've shortlisted 25 road trips in India for couples keeping in mind various factors, such as affordability. Check out the list and get going:
Mumbai To Pune
Shimla To Manali (Via Mandi)
Gangtok To Lake Tsomgo And Nathu La Pass
Shimla To Manali Via Kinnaur And Spiti
Bangalore To Bandipur Forest
Chennai To Munnar
Mumbai To Mount Abu
Jaipur To Ranthambore
Bangalore To Ooty Via Mysore
Bangalore To Goa
Jaipur To Jaisalmer
Shillong To Cherrapunjee
Kolkata To Digha
Chennai To Puducherry
Delhi To Agra To Jaipur
Darjeeling To Pelling
Bangalore To Coorg
Kozhikode To Kollegal
Dehradun To Nainital
Ahmedabad To Kutch
Mumbai To Goa
Guwahati To Tawang
Manali To Leh
Vishakhapatnam To Araku Valley
Puri To Konark
25. Mumbai To Pune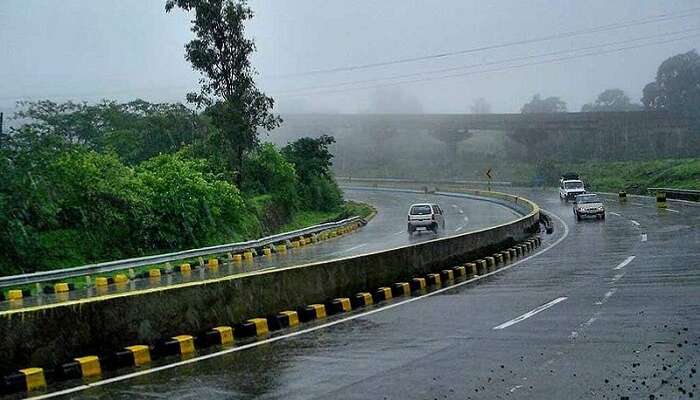 Image Credits: PlaneMad for Wikimedia Commons
Pretty famous amidst Mumbaikars is heading to the tranquil hill station somewhere in Pune, named Lonavala. With the lush greens, the serene atmosphere, and the clear blue skies, Lonavala is a hill station that turns out to be the best weekend getaway from Mumbai or from Pune. On your road trip, do not forget to relish 'chikki', which is a famous snack that makes your trip even more fun. This spot is perfect for road trips in India for couples because of the romance that is spread all around.
Mumbai To Pune Distance: 148 Km
Estimated Time: 3 hours
Route: Mumbai-Panvel-Rasayani-Khandala-Lonavala-Devghar-Urse-Hinjawadi-Pune
Attractions Enroute: On your way to Pune, you are bound to come across long windy stretches of roads. Soak in the beauty of the sprawling vineyards, Karnala Bird Sanctuary in Karnala, Pawna Lake in Lonavala, and Tapovan Hill in Devghar. If you have more time on your hands, you can also sneak a peek of Rajmachi Fort in Lonavala.
Must Read: 20 Perfect Reasons To Visit India: We Bet You Can't Resist Packing Your Bags In 2021!
24. Shimla To Manali (Via Mandi)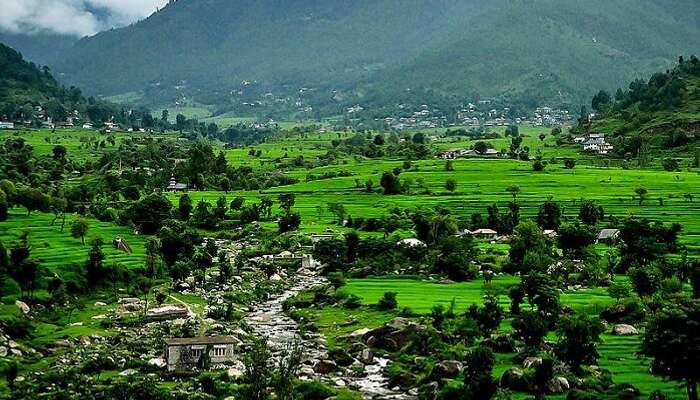 Image Credits:Travelling Slacker for Wikimedia Commons
As cliche as it sounds, a road trip from Shimla all the way to Manali is perhaps one of the most beautiful routes that one can ever drive on. The picturesque views of the surrounding valley, the sounds of River Beas gushing alongside, the hairpin turns, and the lush greens with mountain villages nestled amidst combine to offer a one in a million experience for the couples who are seeking to get away from the hustle and bustle of city life. You can take little breaks enroute and spend some time on the ice-cold water of the river.
Shimla To Manali (Via Mandi) Distance: 248 Km
Estimated Time: 7 hours
Route: Shimla/Manali Highway-SundarnagarKullu-Manali
Attractions Enroute: There are plenty of local dhabas sitting on the roadside where you can relish some hot paranthas and a cup of delicious chai while beholding the beautiful sights.
Suggested Read: 13 Amazing Tree Houses In India: A Treat For Your Younger Self In 2021!
23. Gangtok To Lake Tsomgo And Nathu La Pass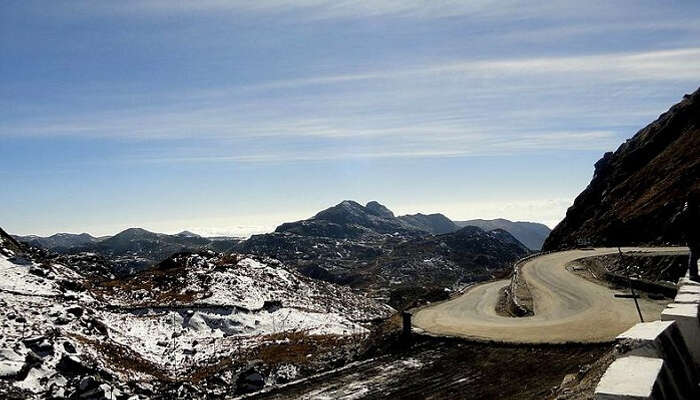 Image Credits: ParthVaghela19 for Wikimedia Commons
Gangtok in itself is one of the most romantic cities that one can visit in India. Now, the bar of standards of road trips in India for couples have just been set really high by the route leading one to Lake Tsomgo, followed by Nathu La Pass from Gangtok. This uncommercialised bounty of natural wonders is something that deserves a visit at least once in your lifetime by road. The route might get a little challenging because of the hilly terrain but this thrill is what adds to the experience. The alluring sights to behold, the stupendous mountain ranges, and the perfect weather is exactly what you might need to spend some alone time with your beloved!
Gangtok To Lake Tsomgo And Nathu La Pass Distance: 37 Km + 17 Km
Estimated Time: 2 hours
Route: Gangtok- Jawaharlal Nehru Rd-NH-10-Lake Tsomgo-NathuLa Pass
Attractions Enroute: On your way to the lake, you can take a stopover at Jawaharlal Nehru Botanical Garden. If you wish to embrace some essence of spirituality, you can also pay a visit to Phensong Monastery and Enchey Monastery.
Suggested Read: 5 Toy Trains In India: A Timeless Delight For Kids & Adults Alike In 2021!
22. Shimla To Manali Via Kinnaur And Spiti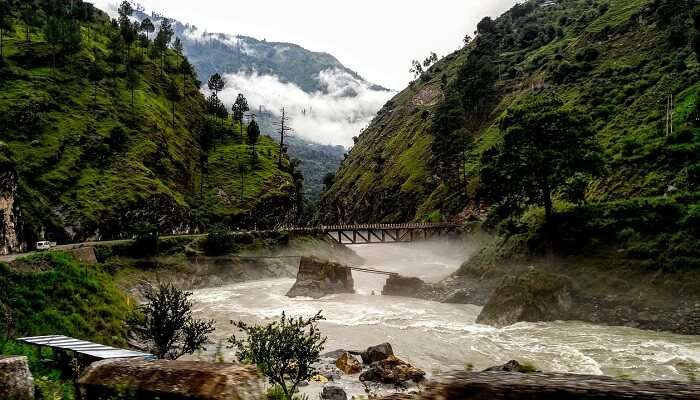 Image Credits: SourabhManjrekar for NeedPix
If you are looking for the longest of the long road trips to take with your loved one, this is the best bet. Spread the road trip from Shimla to Manali over a total of four days by taking stopovers in between and exploring more towns than you had planned to. Rampur, Nako, Kaza, and other lesser known and hidden spots could offer you the much needed escape that you had always dreamed of with your beloved. The roads might get a little rocky but the immensely gorgeous and awe-inspiring landscapes truly make up for it. End your trip from Kaza to Manali and reach your destination in the most thrilling manner possible!
Shimla To Manali Via Kinnaur And Spiti Distance: 130 Km + 180 Km + 110 Km + 75 Km
Estimated Time: 5 days
Route: Shimla-Rampur-Nako-Kaza (via Kunzum La and Rohtang La)-Manali
Attractions Enroute: There is an extensive variety of attractions that you can witness on this route including Aryabhatt Planetarium, Nako Lake, and ample monasteries in Kaza and on the way.
Suggested Read: 22 Temples In South India 2021: The Perfect Amalgamation Of Art And Divinity
21. Bangalore To Bandipur Forest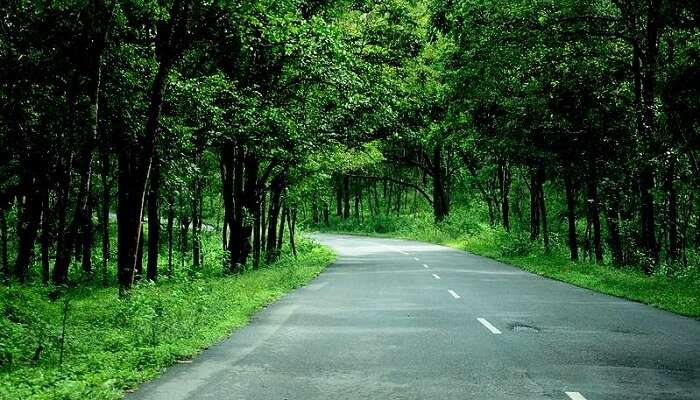 Image Credits: Kamaljith K V for Wikimedia Commons
Driving along the lush greens of a forest, passing through the humongous trunks, listening to nothing but the sounds of dried foliage crushing underneath the tyres is probably one of the best experiences that one can enjoy with their partners. One such road trip is in the southern region of the country that begins from Bangalore and continues till Bandipur Forest. Rent a car with a sunroof and let nature spread its magic around you and your partner!
Bangalore To Bandipur Forest Distance: 217 Km
Estimated Time: 4 hours
Route: Bangalore-Ramanagara-Maddur-Mandya-Mysore-Nanjangud-Bandipur
Attractions Enroute: You might spot a deer casually strolling around the road near the forest!
Suggested Read: 30 Best Places To Visit In August In India To Welcome Monsoons In 2021!
20. Chennai To Munnar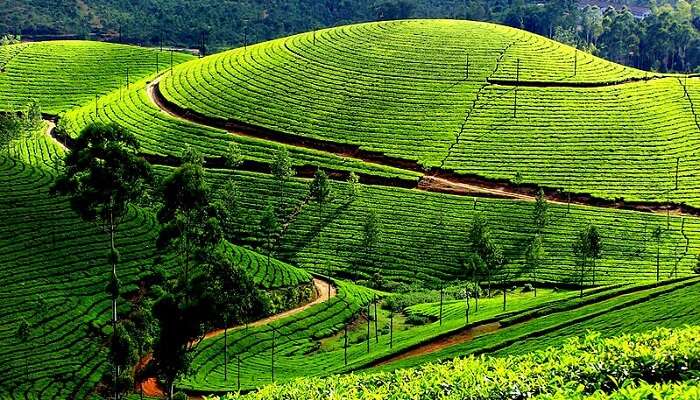 Image Credits: Ben3john for Wikimedia Commons
The southern region of the country perhaps offers the most stunning road trips in India for couples to spend their weekends away from the bustling cities and in some quiet areas. One such route that gives one a chance to getaway for a weekend by road is Munnar all the way from Chennai. The road trip might be a little long but that is all worth the long wait. Munnar is probably the most beautiful town that exhibits several shades of green and acts as a refreshing escape for many.
Chennai To Munnar Distance: 590 Km
Estimated Time: 11 hours
Route: Chennai – Villupuram – Trichy – Kanyakumari Rd- Munnar
Attractions Enroute: There is a plethora of natural wonders that you can visit on your way to Munnar. Bodi Ghat with the perfect mountain backdrop might be idyllic for photographers. Chinnakanal waterfalls are another attraction that one should definitely visit.
Suggested Read: 26 Best Adventure Destinations In India You Must Set Sail For In 2021
19. Mumbai To Mount Abu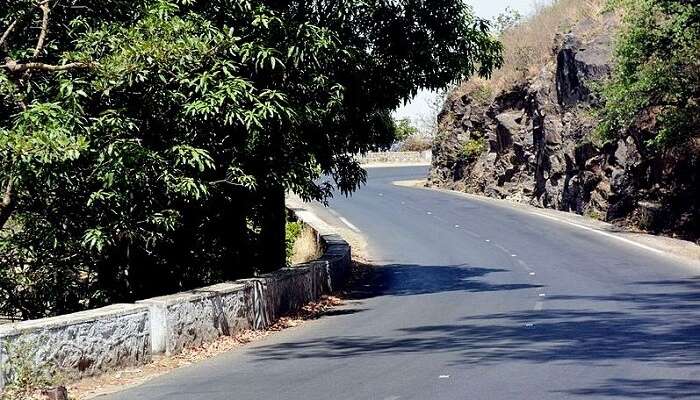 Image Credits: Camaal for Wikimedia Commons
Ever thought of crossing states as a road trip? Sounds thrilling, right! If you and your partner are quite tired of metropolitan life and wish to get distressed, escaping to Mount Abu from Mumbai could be your thing. Mount Abu is perhaps the most tranquil destination that one can visit in their lifetime. Take your partners to embrace the solace and charm that this destination has to offer and make sure to stopover all the amazing dhabas and hidden towns that you cross in between!
Mumbai To Mount Abu Distance: 755 Km
Estimated Time: 13 hours
Route: Mumbai-Bengaluru/Mumbai Highway-Mumbai/Agra National Highway-National Highway 48-Ahmedabad/Patan Highway Road-Mount Abu
Attractions Enroute: Gateway of India, Tungareshwar National Park, Dumas Beach Surat Castle, Sanjay Gandhi National Park, Sabarmati Ashram, Lakshmi Vilas Palace, Nakki Lake, Dilwara Temples are a few attractions that you can visit.
Suggested Read:13 Treehouses In South India That'll Bond You With Nature's Mystique
18. Jaipur To Ranthambore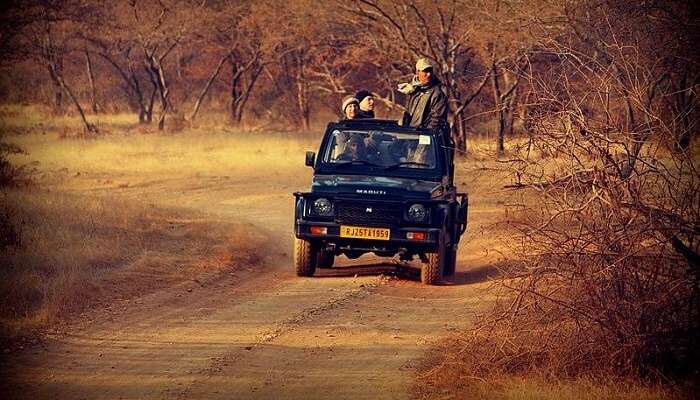 Image Credits: Abhishek Kashyap for Wikimedia Commons
Another one of the road trips in India for couples is taking a short trip from the Land of Royals in Rajasthan i.e. Jaipur to the Land of the Wild i.e. Ranthambore. For those wildlife lovers who wish to get away from the concrete jungle and rush into the wild should surely pay a visit to Ranthambore. This is where you can witness all the enigmatic and exotic species of flora as well as fauna of Rajasthan, the largest state of this country.
Jaipur To Ranthambore Distance: 180 Km
Estimated Time: 3 hours
Route: Jaipur-SH24-Ranthambore
Attractions Enroute: You can pay a visit to the Bassi Wildlife Sanctuary that falls in the middle of the route.
Suggested Read: 10 Exotic Places In India For An Experience That Is Surreal
17. Bangalore To Ooty Via Mysore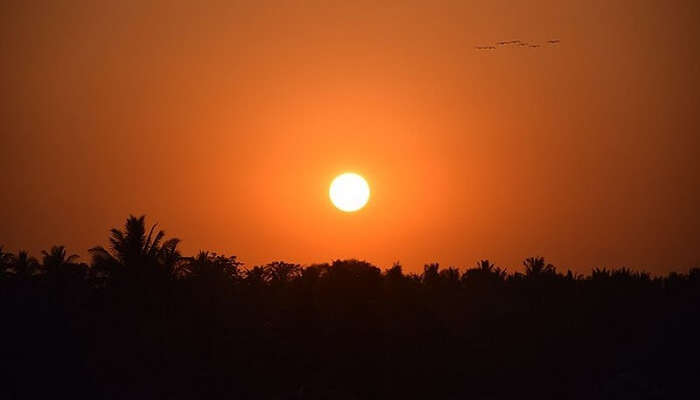 Image Credits: Vaibhavraj241 for Wikimedia Commons
Bangalore is a town that is home to ample young professionals, fighting to make something of themselves. This race often calls for a quick getaway to gather that energy to make the next few days more productive. Ooty, in the heart of Nilgiri Hills, is one such destination that is perfect to rejuvenate. The thousands of shades of green and the soothing environment is perfect for those jittery nerves of yourself and your partners.
Bangalore To Ooty Via Mysore Distance: 277 Km
Estimated Time: 6 hours
Route: Bangalore-Mandya-Mysore-Bandipur-Mudumalai Elephant Camp (Theppakadu)-Masinagudi-Ooty
Attractions Enroute: There are numerous attractions enroute with the best ones being Mysore Fort and an Elephant Camp.
Suggested Read: 36 Best Family Holiday Destinations In India To Have A Gala Time In 2021!
16. Bangalore To Goa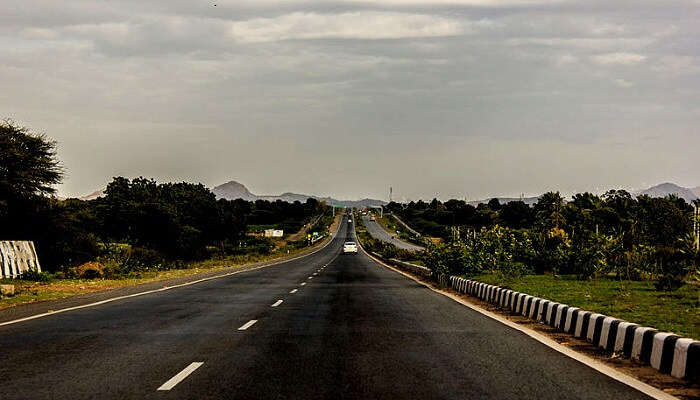 Image Credits: Saad Faruque for Wikimedia Commons
Goa is a destination that is often synonymous with romance and nightlife. If you are one of those crazy couples who cannot resist a glass of beer or a fine wine on the weekend in Bangalore, why not take a trip to Goa, and spend some hours by the beach. Just imagine leaving for a weekend with your partners on a Thursday night and starting your Friday morning with a sunrise on the beach. This route is perfect for a trip not only because of the destination but because of the unwinding roads and the amazing Punjabi dhabas serving your soul food!
Bangalore To Goa Distance: 585 Km
Estimated Time: 11 hours
Route: Bangalore-Tumkur-Chitradurga-Hubli-Dharwad-Ramnagar-Anmod-Panaji
Attractions Enroute: Ranebennur Blackbuck Deer Sanctuary, Chitradurga Fort, and Dudhsagar Falls are the top attractions to visit enroute Goa from Bangalore.
Suggested Read:30 Unexplored Places In India That Will Totally Stump You In 2021!
15. Jaipur To Jaisalmer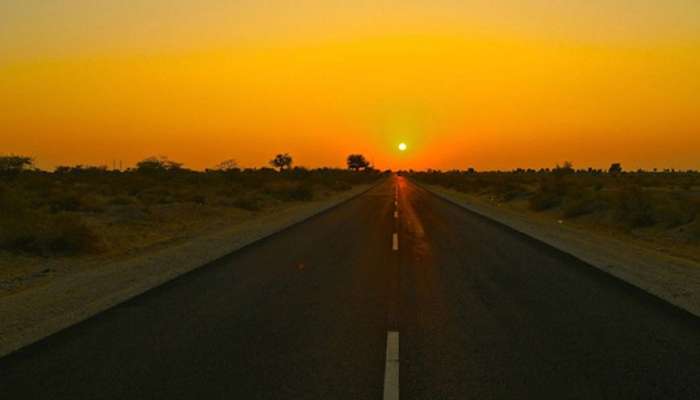 Another classic experience is the road trip from Jaipur to Jaisalmer. It is one of the best places for road trip in India. This trip is the best opportunity to enjoy the changing colours of Rajasthan as you drive through the various villages. The drive would be a wonderful experience with your partner considering the roads are in great condition.
Jaipur To Jaisalmer Distance: 558 km
Estimated Time: 10 hours
Route: Jaipur-Jobner-Kuchaman-Nagaur Rd and NH11 to Indira Colony-Jaisalmer
Attractions Enroute: Stopover at Jodhpur for some refreshments. You can try authentic Rajasthani cuisine which are available throughout the route. This drive will definitely be an exciting one with rustic ambience and full of different flavors of food.
Suggested Read: 40 Magnificent Tourist Places In Jaipur
14. Shillong To Cherrapunjee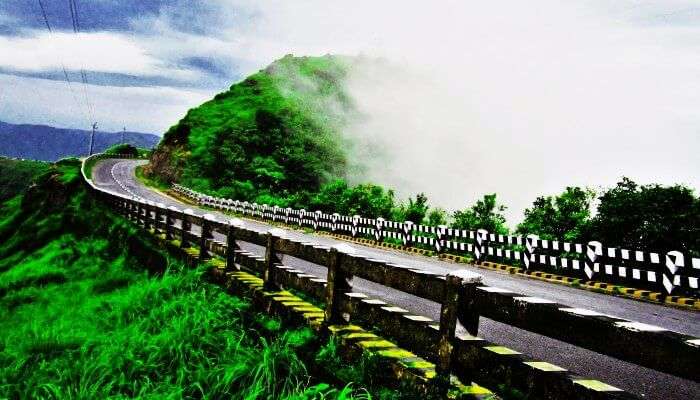 Shillong To Cherrapunjee is a short but fun trip. It is one of the best road trips in India by car. The 53 km stretch drive from Shillong offers you the most astonishing caves, mountain roads, gorgeous waterfalls, scenic panoramic view and lush greenery all around. The drive from Shillong and come back is the most awesome scenic travel and for the best experience start early in the morning.
Shillong To Cherrapunjee Distance: 55 km
Estimated Time: 2 hours
Route: Shillong-Cherrapunjee
Attractions Enroute: You will find stops for food enroute
Suggested Read: 21 Honeymoon Places In India In May In 2021 That Bloom With Love & Fervent Charm
13. Kolkata To Digha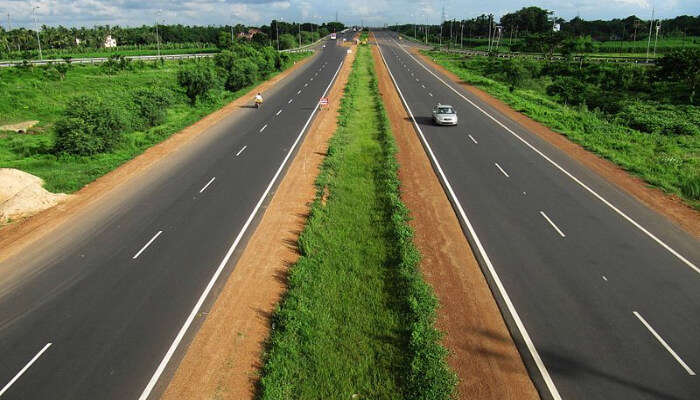 Kolkata to Digha is an iconic stretch and it takes about 4 hours to complete this popular road trip. There is a reason why this is the favorite of any Kolkatan. The roads are in good condition and lined with greenery giving it a pleasing look. It is favorite weekend options for many East Indians. Enjoy the drive with your beloved, clicking pictures along the way.
Kolkata To Digha Distance: 180 km
Estimated Time: 4 hours
Route: Kolkata-Howrah-Kolaghat-Manikjore-Ramnagar-Digha
Attractions Enroute: The 4 hours of journey won't be a problem as there are plenty of dhabas and sweet shops along the way.
Suggested Read: 21 Best Things To Do In Kolkata In 2021: Know What Makes It The City Of Joy
12. Puri To Konark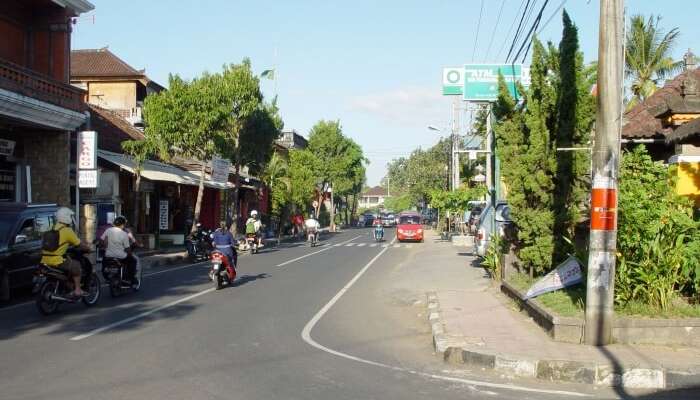 Is your partner particular about what goes up on his Instagram? Drive your soulmate to Puri. Puri's tree-lined roads and majestic sunsets are a sight to behold. The road from Puri to Konark is lined up with forests. Take in the smell of the ocean and the incredible sights as you traverse across this beautiful Indian city. This stretch is quite short, so this trip should ideally only take half a day of your time. But we promise that it'll be worth it.
Puri To Konark Distance: 36 km
Estimated Time: 1 hour
Route: Puri-Bhuan-Balukhand-Konark
Attractions Enroute: Chilika Lake, Shree Jagannath Temple, Konark Sun Temple, Puri Beach
Suggested Read: 8 Magical Winter Road Trips In India If You Like Some Chills & Thrills!
11. Visakhapatnam To Araku Valley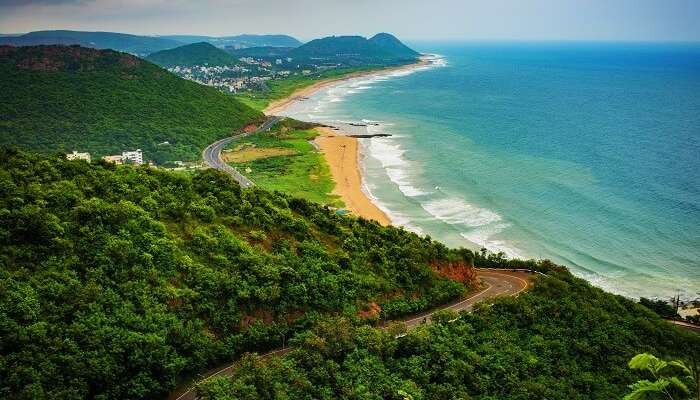 Surprise your soulmate with a road trip to the place where the Bay of Bengal meets the majestic Eastern Ghats. The ocean meeting the mountains offers a scenic vista to those who travel here on the weekend to escape the drudgery of their daily life. Visakhapatnam never fails to attract tourists from around the world with its lush greenery and peaceful surroundings. Araku Valley, on the other hand, has a pleasant climate throughout the year, making it an ideal tourist spot. It is truly one of the best road trips in South India.
Visakhapatnam To Araku Valley Distance: 116 km
Estimated Time: 3 hours
Route: Vishakapatnam-Kothavasala-Araku
Attractions Enroute: NA
Suggested Read: 19 Exquisite Beach Resorts In Chennai To Appease Your Coastal Cravings In 2021
10. Chennai To Puducherry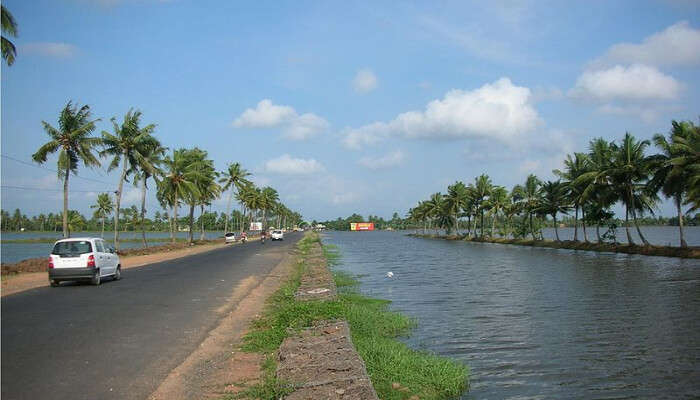 Driving all the way through the magnificent East Coast Road is an experience that fills the heart with bliss. With waves frolicking on one side and super smooth road ahead, Chennai to Pondicherry is one of the most special road trips in India for couples. It will leave you mesmerized. You will have the time of your life on this route and the scenic locations will leave you with asking for more.
Chennai To Puducherry Distance: 155 km
Estimated Time: 3 hours 30 minutes
Route: Chennai-Raja Annamalai Puram- Kovalam- Mamallapuram-Koovathur
Attractions Enroute: Explore the historic and sacred temples of Mamallapuram before you head off to visit the tourist places in Puducherry.
Suggested Read: Embark On These 8 Exciting Family Road Trips In India For A Memorable Adventure
9. Delhi To Agra To Jaipur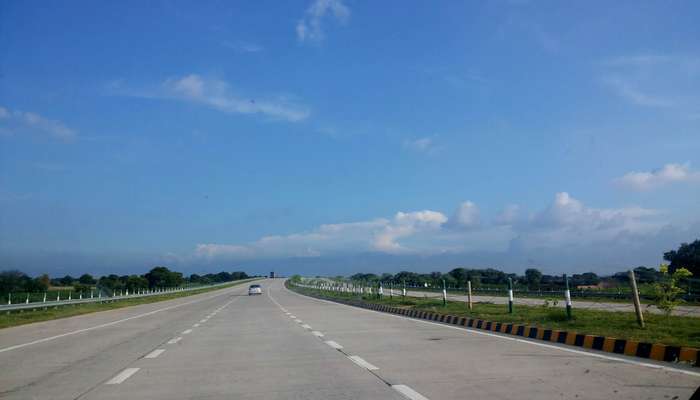 Combining three cities – Delhi, Jaipur and Agra, the Golden Triangle tour of India finds a spot in top 10 most romantic road trips in India for couples. It is a delight for culture-vultures, who love exploring monuments and the history associated with them. Delhi, Jaipur and Agra represent the essence of Incredible India, right from their modernity to the heritage. India Gate, Red Fort, Old Fort in Delhi; Taj Mahal in Agra; and Amer Fort in Jaipur are star attractions of this tour. Dhaba food on the highway is a bonus.
Delhi To Agra Distance: Delhi to Agra – 212 km, Agra to Jaipur – 242 km
Estimated Time: Delhi to Agra – 4 hours, Agra to Jaipur – 4 hours 30 minutes
Route: Delhi-Vrindavan-Agra | Agra-Bharatpur-Dausa-Jaipur
Attractions Enroute: When going from Delhi to Agra, make a short visit to Vrindavan, a sacred place where Lord Krishna spent his childhood days. If you're on your way to Jaipur from Agra, halt for a thrilling safari in Keoladeo National Park.
Suggested Read: 11 Things To Do In Darjeeling In August 2021 Which Will Make Your Journey Super Fun
8. Darjeeling To Pelling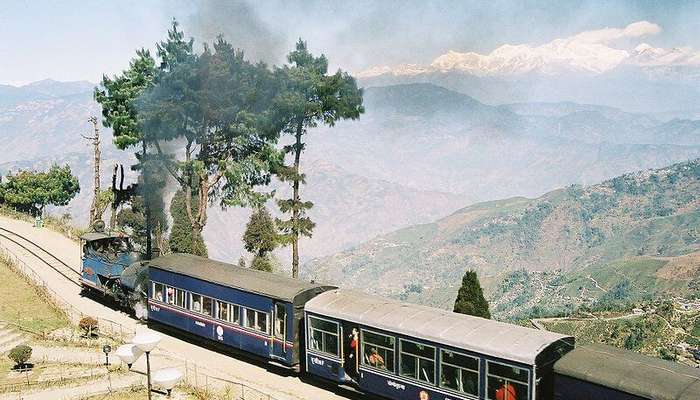 Darjeeling is a small town located in the foothills of Mount Khangchendzonga and has many beautiful monasteries. Well-known for its tea and tea gardens, it is a popular destination among global tourists and honeymooners from India and abroad. As the toy train coos and meanders through the hills, running parallel to your car or bike, enjoy the enchanting hill views with the love of your life. The breathtaking journey will be the one of the best road trips in India
you will take.
Darjeeling To Pelling Distance: 107 km
Estimated Time: 6 hours
Route: Darjeeling-Naya Bazaar-Pelling
Attractions Enroute: Stop at Tukvar Tea Garden and spend some peaceful time together, and let the untouched nature enchant you both.
Suggested Read: 15 Bewitching Places To Visit In Pelling And Its Vicinity
7. Bangalore To Coorg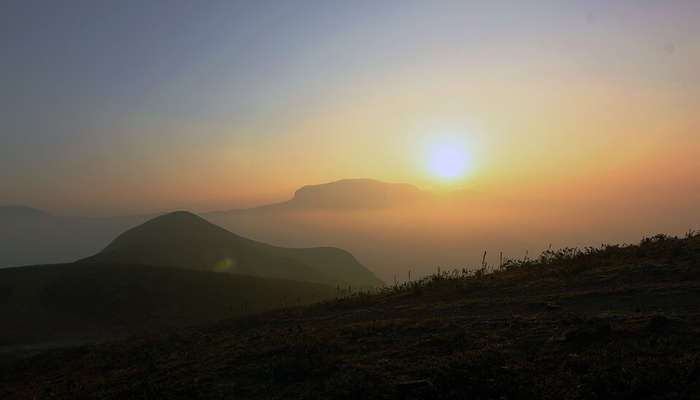 There are many weekend getaways near Bangalore, and Coorg is definitely among the more romantic ones in the list. The verdant grasslands of Coorg is the best of nature you get near the Bangalore. It is also one of the best places in South India for honeymoon, and why wouldn't it be? Coffee and spice plantations make for a scenic paradise, plus you have plenty of activities to try, like trekking and camping. And the route is a delight to the eyes as well as the soul. This is one of the best road trips in India for both young and senior people.
Bangalore To Coorg Distance: 268 km
Estimated Time: 6 hours
Route: Bangalore-Kaggalipura-Mysore-Hansur-Coorg
Attractions Enroute: Stop over in Mysore for a hearty meal, which includes Mysore Dosa. And of course, don't miss the opulent Mysore Palace.
Suggested Read: Dare To Embark On These 20 Electrifying International Road Trips From India
6. Kozhikode To Kollegal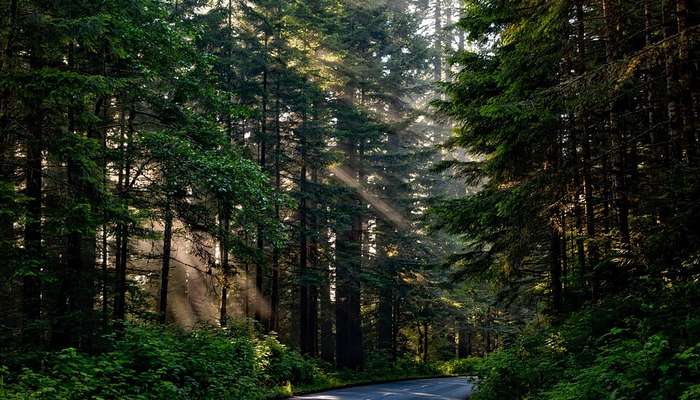 If you're fascinated by the idea of driving through the jungles, this is one of the most romantic road trips in India for couples that you'll ever embark on. Driving through the Bandipur Tiger Reserve, there are fair chances you'll spot some elephants along the way. So, keep your cameras ready! This is touted to be the best road trips in India for people in their early fifties. Kozhikode is a couple-friendly tourist destination.
Kozhikode To Kollegal Distance: 280 km
Estimated Time: 7 hours
Route: Kozhikode-Bandipur National Park-Chamarajanagar-Kollegal
Attractions Enroute: Don't miss Wayanad – one of the best places to visit in Kerala , while making your way to Kollegal. Lakkidi View Point, and Thusharagiri Waterfalls are among the best tourist attractions in Wayanad.
Suggested Read: 32 Amazing Things To Do In Kerala For An Incredible Holiday In 2021!
---
Planning your honeymoon but confused about where to go? These honeymoon stories help you find your best honeymoon trip ever!
---
5. Dehradun To Nainital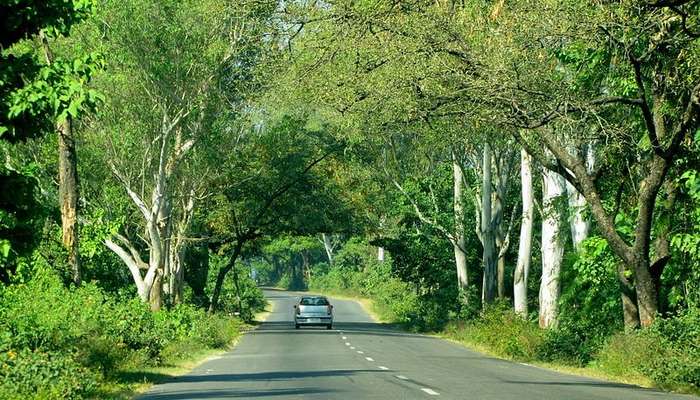 Dehradun and Nainital are two famous places to visit in Uttarakhand. The journey between the two is flecked with rhododendrons and oaks, sometimes on both sides of the road. Meandering through the hills, as you watch the Himalayan panorama unfold on your Uttarakhand trip, hold tight onto your partner and enjoy the romantic bliss. Get going on one of the best road trips in India. And since the route is not too long and tiring, this is among the ideal romantic road trips recommended for newly weds.
Dehradun To Nainital Distance: 288 km
Estimated Time: 7 hours
Route: Dehradun-Haridwar-Kashipur-Nainital
Attractions Enroute: Chill in the cafes of Rishikesh, most of which offer river/hill view and serve delicious food in reasonable price. Also, a small safari in the Jim Corbett National Park is a must.
Suggested Read: 15 Best Things To Do In Nainital For An Amazing Holiday
4. Ahmedabad To Kutch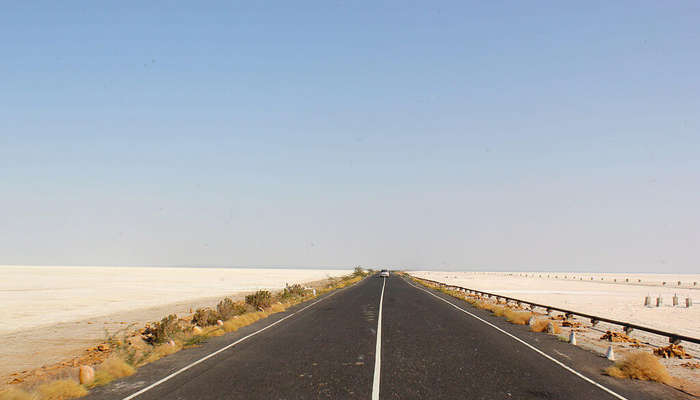 The Great Rann of Kutch is a white desert in Gujarat that looks absolutely surreal. A road trip from Ahmedabad to Kutch is lined with remnants and tiny villages that make for a beautiful journey to take with your partner. With a glimpse of Gujarat's heritage all the way and the beauty of Rann, this is truly one of the most spell-binding road trips to take with your partner. And if you can time the trip around the famous Rann Utsav, nothing like it!
Ahmedabad To Kutch Distance: 482 km
Estimated Time: 8 hours 30 minutes
Route: Ahmedabad-Mehsana-Bhuj-Kutch
Attractions Enroute: While enroute, stopover in Wild Ass Sanctuary, which is one of the most famous tourist places in Gujarat.
Suggested Read: 20 Mesmerising Places To Visit In Kutch This Winter
3. Mumbai To Goa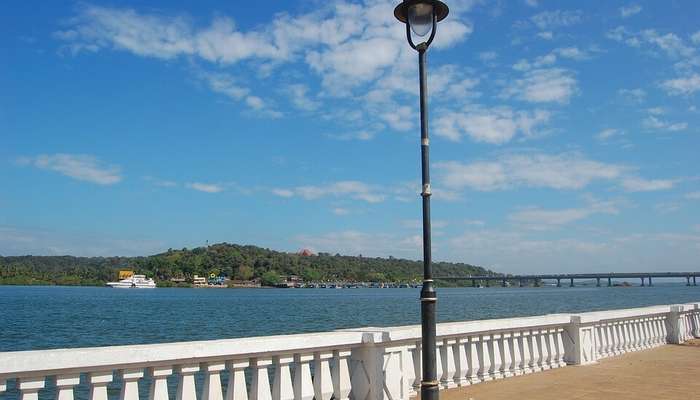 A road trip from Mumbai to Goa is truly fascinating. Driving on the broad highway road, you'll come across picturesque panoramas with hills and beaches, and food joints that know the art of filling the tummy and touching the soul. The ride stays smooth, picture-perfect all through! No wonder this is among the most romantic road trips in India for couples.
Mumbai To Goa Distance: 597 km
Estimated Time: 11 hours
Route: Mumbai-Pune-Satara-Kolhapur-Goa
Attractions Enroute: On your trip to Goa take NH 48 to reach faster, and make a stopover in Satara. Visit Sajjangarh Fort to enjoy the 360 degrees view of the Western Ghats. If you're visiting between September and October, take out a little extra time for Maharashtra's very own Valley of Flowers, Kaas.
Suggested Read: Goa Travel Guide [Infographic]: All You Need For A Fun-loaded Vacation
2. Guwahati To Tawang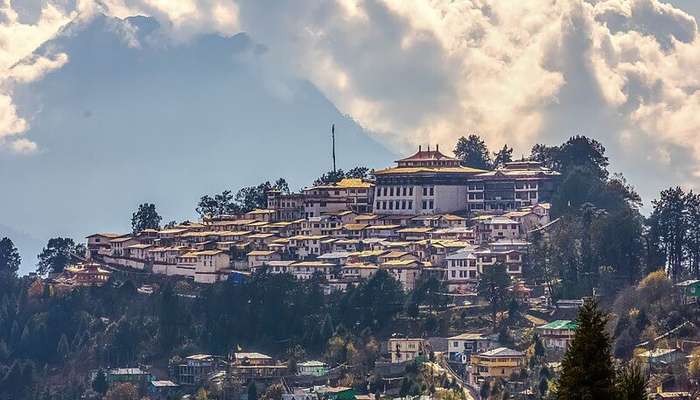 Tawang is known well for its monasteries and scenic beauty. Driving from Guwahati to Tawang is an experience that will bring you closer to the untouched beauty of the Northeast India. The curves and edges of the route can be thrilling at times, but the cloud kissed mountains draw that perfect backdrop that make it one of the best road trips in India for couples to take with your soulmate.
Guwahati To Tawang Distance: 510 km
Estimated Time: 14 hours
Route: Guwahati-Nagaon-Tezpur-Tawang
Attractions Enroute: This is going to be a long journey for sure, to refresh yourselves with tiger spotting in Pakke Tiger Reserve. Leopard, jungle cat, and elephant are some of the other species you can expect to see here.
Suggested Read: 7 Incredible Places Near Kumarakom That Make The Best Road Trips!
1. Manali To Leh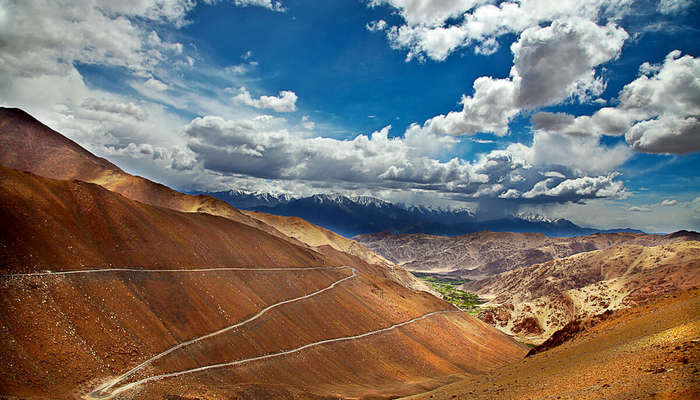 Leh manages to convince us that Utopia is real. The route from Manali to Leh, though treacherous, is worth all the weariness. If you're a more of an adventure-loving couple, this has to be in your bucket list. It is inarguably the daddy of challenging yet romantic drives in India.
Manali To Leh Distance: 480 km
Estimated Time: 2 days, because you'll need a stopover for acclimatization
Route: Manali-Rohtang-Keylong-Baralacha La-Sarchu-Leh
Attractions Enroute: Stopover in Rohtang Pass on your trip to Leh. Solang Valley nearby is considered a leading destination for skiing in India. You can also try different adventure activities like paragliding.
Further Read: 30 Places To Visit In Leh Ladakh For A Spell Binding Effect
How many of these romantic road trips in India for couples have you taken already with your partner? Which one is next in your list now? If you're feeling inspired, go ahead and book a trip to India at the earliest to avail exciting deals at discounts. Haven't you heard: the early bird catches the worm? We hope you're able to reignite the spark in your relationship by hitting the road.
Disclaimer: TravelTriangle claims no credit for images featured on our blog site unless otherwise noted. All visual content is copyrighted to its respectful owners. We try to link back to original sources whenever possible. If you own the rights to any of the images, and do not wish them to appear on TravelTriangle, please contact us and they will be promptly removed. We believe in providing proper attribution to the original author, artist or photographer.
Please Note: Any information published by TravelTriangle in any form of content is not intended to be a substitute for any kind of medical advice, and one must not take any action before consulting a professional medical expert of their own choice.
Frequently Asked Questions About Road Trips In India For Couples
Where should I go on a road trip?
Some of the best places to take a road trip in India are:
1. Chennai To Puducherry
2. Darjeeling To Pelling
3. Bangalore To Coorg
4. Manali To Leh
Are road trips cheaper than flying?
Road trips are cheaper than flying but before heading makes sure your car is in proper working condition. On the other hand, if you are a solo traveler, it might be cheaper to fly. Flying is undoubtedly faster than driving if one needs to cover long distances.
How do I plan a cheap road trip?
There are several ways to plan a cheap road trip. 1. Make sure to book the best hotel deals ahead of time 2. Proper checking of the car before heading for the trip 3. Travel in a group and find wallet-friendly activities 4. Bring your own foods and drinks and look for perfect picnic spots.
Which road is best in India?
The expressways are the best roads in the Indian road network. Some of the best expressways in India are:
1. Allahabad-Bypass Expressway
2. Yamuna Expressway
3. Western Expressway
4. Mumbai-Pune Expressway
Which is the best road trip in India?
Manali to Leh Highway is the best road trip to take in India. The distance is 479km.
Where should I go for a romantic weekend?
Rekindle the romance in Manali – the ideal romantic destination in India.
Which is the longest NH 7 or NH 44?
National Highway 7 (NH 7) is the major North-South National Highway in India that runs through the states of Uttar Pradesh, Madhya Pradesh, Maharashtra, Andhra Pradesh, Karnataka, and Tamil Nadu. It is the longest national highway in India.
People Also Read:
Family Road Trips Road Trips From Delhi Road Trips From Mumbai
Comments
comments