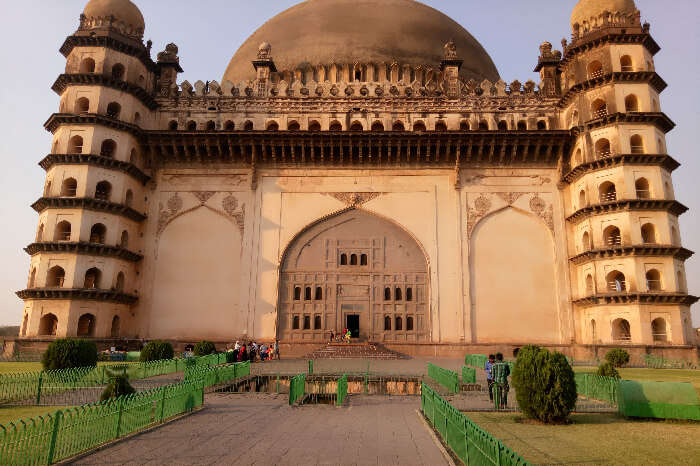 Built in the 16th century, it almost took 20 years to complete the construction of Gol Gumbaz. It is a tomb of Adil Shah who started the construction right after he ascended the throne of Bijapur Sultanate. The tomb has 4 minars, each has 7 floors with staircases. One can see an overall view of Bijapur from these minars.
About Gol Gumbaz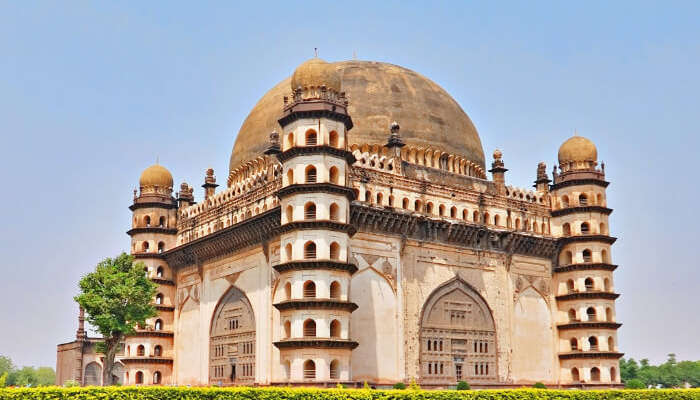 Gol Gumbaz is a tomb of Adil Shah in Bijapur, Karnataka. Its circular dome is said to be the second largest in the world after St.Peter'Basilica in Rome. The most peculiar thing is that the central dome stands without any pillar support. Mohammed Adil Shah ordered to build this tomb before his death. He was the 7th ruler of Adil Shahi Dynasty. The simple and charming design of Gol Gumbaz still remains the architectural excellence of Bijapur Sultanate.
Gol Gumbaz timings: 10.00AM to 5.00PM
Gol Gumbaz entry fee: Indian Nationals – Rs.15/-, Others – Rs.200/-, children up to 15 years of age – no fees
Famous for: Mausoleum, Tomb and Historic place
Visit duration: 1 to 2 hours
Must Read: 12 Stunning Places To Visit In Summer In Karnataka For A Relaxing Retreat In 2019
---
Looking To Book A Holiday Package?
Book memorable holidays on TravelTriangle with 650+ verified travel agents for 65+ domestic and international destinations.
---
Best Time To Visit Gol Gumbaz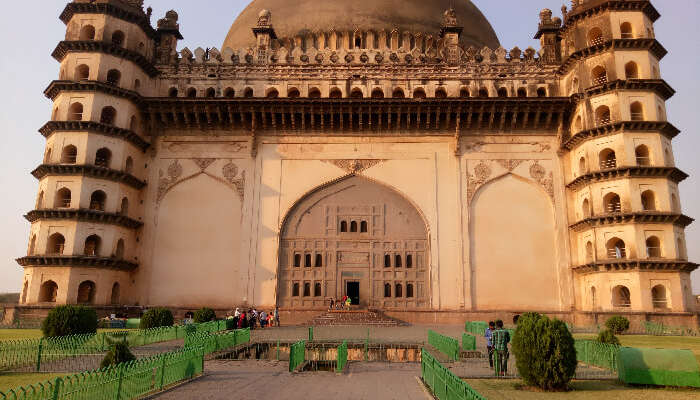 The best time to visit Gol Gumbaz is between the months of October to March when the temperature ranges from 20 degrees C to 30 degrees C. You can even visit during the monsoons, however, rain might disrupt your travel plans. Summers are pretty hot and dry which may make your visit uncomfortable during summers.
Gol Gumbaz Trivia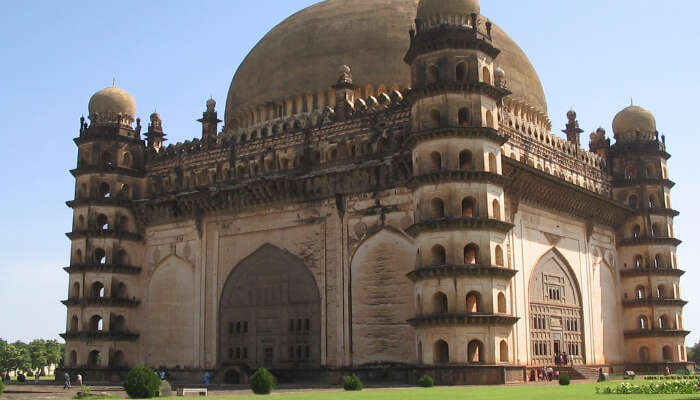 Gol Gumbaz, the tomb of Adil Shah is circular in shape and is indeed one of the biggest domes in India. It is maintained by the Archaeological Survey of India. Here are some interesting facts and trivia about Gol Gumbaz you should know:
The Tomb was built in the year 1656 in the memory of Sultan Adil Shahi. The name of the architect is Yaqut of Dabul.
The style of architecture of the building is taken from Deccan Indo – Islamic styling and is inspired by the Taj Mahal in Agra.
It is also known as the 'Black Taj Mahal' or 'Taj Mahal of South India'.
Gol Gumbaz is also called as Gol Gumbad which means a circular dome.
The tomb contains one of the largest single chamber spaces in the world.
Whispering gallery is one of the most striking feature of the monument, as the lowest whispers can be heard by someone standing at a long distance from the gallery. The sound made inside echoes back 7 times.
Suggested Read: 12 Hill Stations In Karnataka In 2019 To Rejuvenate Yourself
Places To Visit Near Gol Gumbaz
The city of Bijapur also known as Vijaypura is a cultural hub due to the influences from the various dynasties that have ruled this region. The place ranks among one of the popular places to visit in Karnataka. We present to you the list of best places you can visit near Gol Gombaz:
1.Archaeological Museum, Bijapur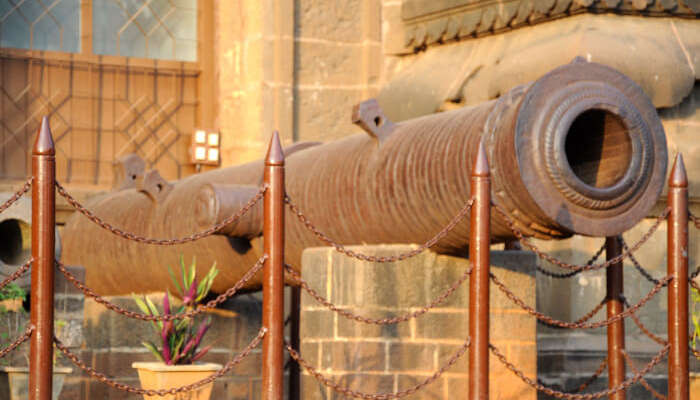 The Archaeological museum in Bijapur is an attractive structure built in the Adil Shahi architecture. This place is a perfect site for those who want to enhance their knowledge about the history of Bijapur. The collections in the gallery of the museum include stone inscriptions in Arabic, Kannada, Sanskrit and Persian languages, ancient coins, wooden carvings, carpets, miniature paintings and many other articles dated back to the time between 11th and 17th centuries.
Suggested Read: 15 Places To Visit In Coorg For A Mesmerizing Vacay In South India In 2019
2.Almatti Dam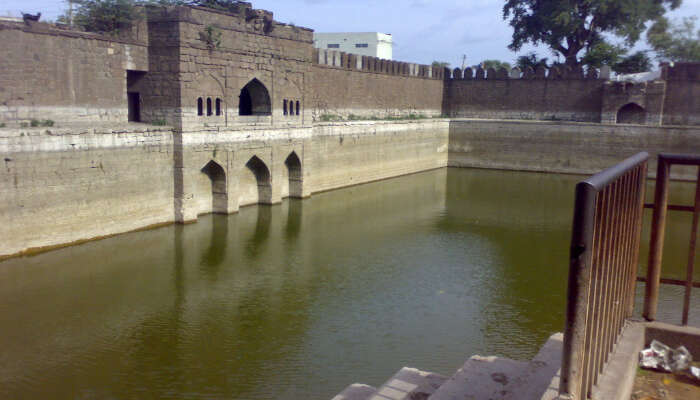 Almatti dam is one of the key attractions in Bagalkot district in Karnataka. It is known for its height and beautiful surroundings. If you plan to go boating, it can be relished at this dam. The best time to visit is during monsoons and winters when the site of the dam is extremely pretty and pleasing to eyes.
3.Torvi Narasimha Temple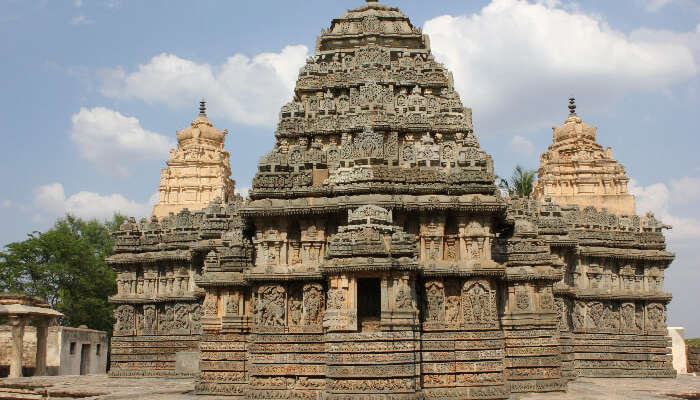 Narasimha temple is situated in Torvi, which is 5km from Bijapur. This temple is also known by the name of Narashoba temple. It is believed that at the site of the temple, Kumara Valmiki composed the famous Thoravi Ramayana in Kannada. It's hard to miss out on this famous temple when you are in Bijapur.
Suggested Read: 20 Things To Do In Gokarna For Escaping The Monotony Of Life In 2019!
4.Uppali Buruz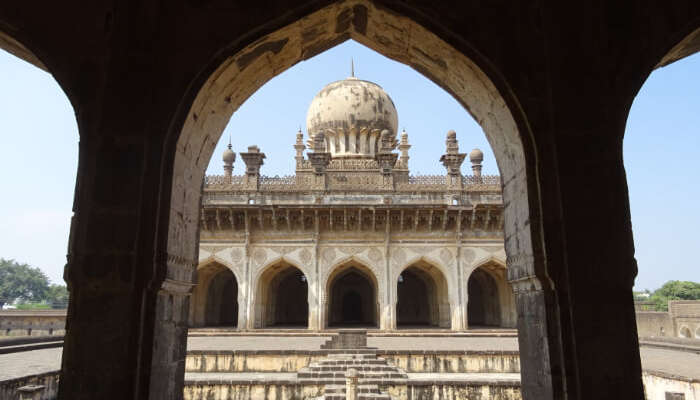 If you wish to enjoy a beautiful sunrise, you can plan your visit to Uppali Buruz monument in Bijapur. It is an 80ft high tower, spherical in shape with stone steps all around. Furthermore, it contains various guns, powder chambers, war material and water cisterns. The top of the tower is famous as it provides an aerial view of the city.
5.Malik-e-Maidan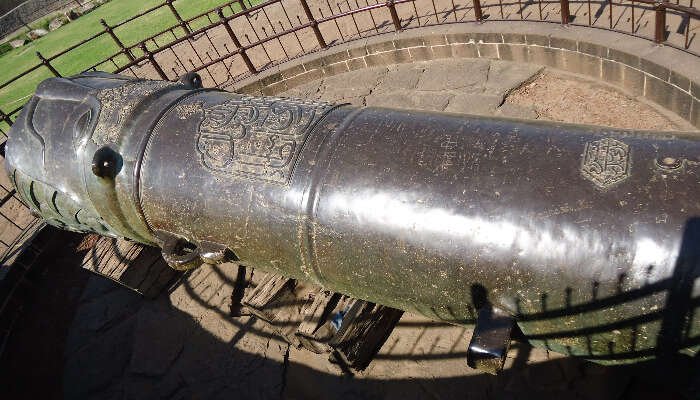 One of the most recommended tourist spots is Malik-e-Maidan or "Lord of the Battlefield". It is a huge cannon setup by Muhammad Adil Shah on the top of Sherzah Burj in Bijapur. The cannon is believed to be the largest warhead of the medieval era. It is said that the gunner had to take a dip in a water tank to protect his ears from the sound when the cannon was fired.
Suggested Read: 10 Festivals In Karnataka That Will Give You A Glimpse Into Its Vibrant Culture
Traveller Tips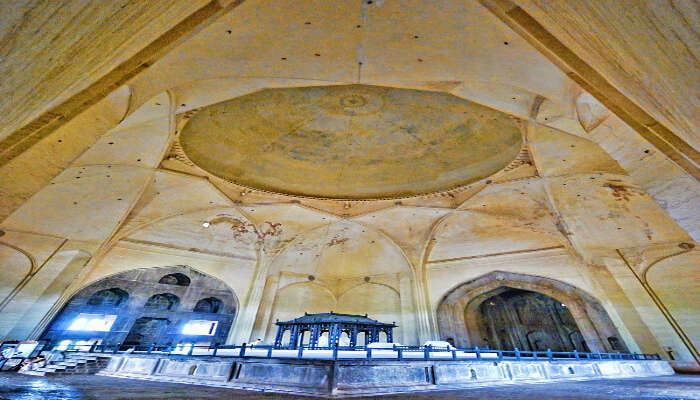 The massive Gol Gumbaz tomb easily competes with India's more famous mausoleum. Here are a few tips you should keep in mind if you plan on visiting the monument:
Reach the tomb early in the morning at the time of opening when there is not much crowd. This will give you more time and space to admire the beauty and architecture of this legendary memorial.
Do carry your camera because photography is allowed inside the monument.
You don't need to worry about your personal vehicles as parking is available.
Keep good 1 to 2 hours of your time free while visiting the tomb so that you are able to enjoy every site of the place.
Suggested Read: Karnataka Cuisine: 15 Popular Karnataka Dishes For A Flavorful Culinary Journey
How to Reach Gol Gumbaz
Bijapur is associated with all transport routes. It is well connected to many cities, especially in South and West India. The place has its own bus stops and railway station. Once you have reached Bijapur, you can hire an auto, book a cab or look for the local buses to reach Gol Gumbaz. Another interesting way to reach the tomb is by a tonga. The airport is under construction and will be opened soon. Currently, Sambre airport in Belgaum is the closest one and located at about 164km from the city.
Further Read: This Private Island Homestay In Karnataka Is A Treasure & You Won't Doubt It!
If you are fond of historical places, Gol Gumaz will be worth visiting to satisfy your need for historical information. The architecture and the beauty of the tomb are enough to take you back to the 16th century. The handy guide is ready for you, all you need to do is book your holiday to Karnataka and get lost in the ancient world of the historic monument.
People Also Read
Daria Daulat Bagh Bibi Ka Maqbara Taj Mahal
---
Looking To Book An International Holiday?
Book memorable holidays on TravelTriangle with 650+ verified travel agents for 65+ domestic and international destinations.
---
Comments
comments