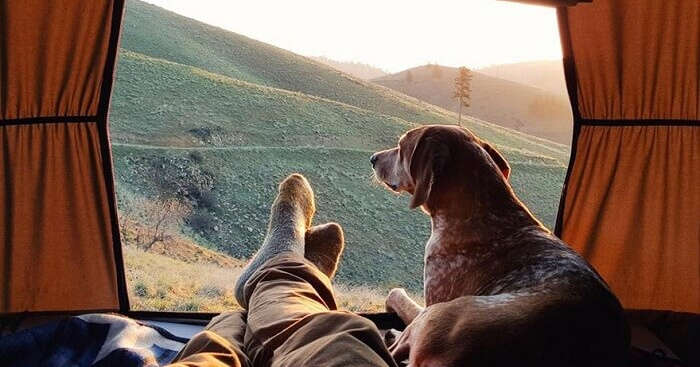 Be it love, care, friendship, loyalty, companionship or protecting your loved ones, dogs have been more human in every aspect of life than humans themselves. And it so happens that one human in a million proves to be a dog's best friend than the other way round.
P.S.: It's totally natural to feel a little jealous but not when you can customize your own International tour packages with TravelTriangle.
This is how the world turned upside down for Maddie the Coonhound when Theron Humphrey rescued her. He showered enough love on Maddie that she balanced herself enough to travel the entire back country of America.
From Maddie on Things to this new project called "Four by Three", you have got to see it to believe the kind of fun and laughter they both share while traveling. Take a look!
1. Hello There!
Suggested Read: Jessie & Her Faithful Stalker: A Life Changing Himalayan Expedition
2. Look At The World Through My Eyes & You'll Find Beauty Everywhere
3. And This Is How We Started
4. High On Love & Life
Suggested Read: Travel Adventures Of A Dog
5. My First Camping In Crater
6. And Then There Was No Looking Back
7. Then There Was Boating
Suggested Read: Mother Uses Her Maternity Leaves To Travel With Her Baby & The Outcome Is Awww-dorable!
8. This Is How I Became "Maddie On Things"
9. My Master's Mastermind
10. Album Will Be Out Soon. Fingers Crossed!
Suggested Read: This Solo Traveler Found A Genius Way To Tell His Mother He Was Okay And We Can't Stop Laughing!
11. Shoot. Slam. Dunk. Repeat.
12. My Bike. My Rules.
13. But First, Sit Back & Enjoy The Ride
Suggested Read: 30 Cool Travel Accessories For A Smart Traveler
14. I Swim Too, But Only In Pretty Places
15. And Then There Are Days Like These At Glacier National Park
16. With My Human In The Fifth Water Hot Springs
Suggested Read: 27 Year Old On The Verge Of Creating History: Set To Become Fastest Woman To Travel All Countries
17. When Theron Wouldn't Let Me Concentrate
18. A Power Nap Is A Must
19. Only To Wake Up At Gifford Pinchot National Forest
Suggested Read: You Must Not Indulge In These 16 Things While Traveling
20. Us And Our Never Ending Adventures
21. Never Say No To One Of These
22. When Eleanor Came To Rescue
Suggested Read: Setting New Benchmarks In Photography: A School Dropout Goes Out To Prove That There Is No Better Teacher Than Travel
23. Waking Up To Denmark Maine
24. Ice Skating Without Skates In Colorado
25. Oh Lord, Thank You For The Bread & Breakfast
Suggested Read: Check Out Our Holiday Recommendations For The Celebs Who Made Headlines In 2016! What's Your Take?
26. When Maddie Went Merry
27. Meet The Snow Woman
28. Soaking The Wild Vibes Of North Maine Woods
Suggested Read: Avneet's Incredible Solo Trip To Spiti Valley: Tale Of The Mountains From The Eyes Of A Traveler
29. On The Bridge Less Traveled In Lake City, Colorado
30. When Gratitude Fills Your Eyes, There's Only Room For Love
31. Finally Feels Good To Be Home!
Suggested Read: The Level Of Thrill & Adventure Jayesh Experienced On His Romantic Trip To Himachal Is Unbeatable
32. Here's One To The Journeys Ahead. Ciao!
Wondering from where to begin your travel story? Don't think twice to customize your own International tour packages with TravelTriangle. BOOK NOW and embark on your journey.
Maddie's journey has been nothing less than a roller coaster ride. Hope through these photographs, she has inspired you to live, love and travel. Do shower some love for Maddie and you are welcome to share your thoughts in the comments below. Cheers!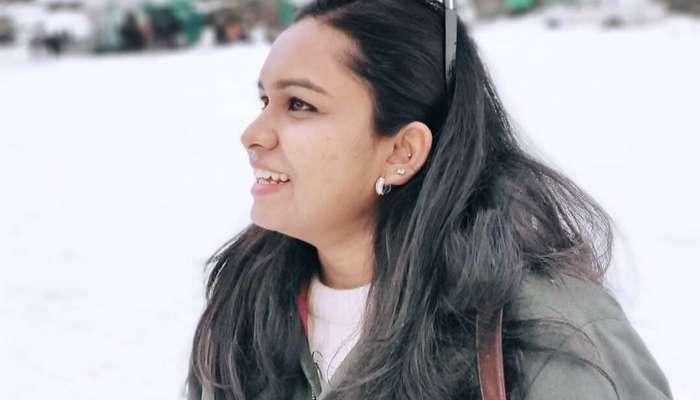 Comments
comments