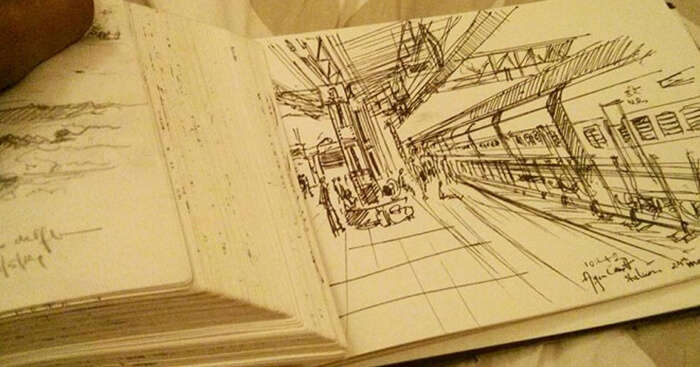 In a time when carrying a DSLR has become a fad, Amit Gudadhe has discovered a unique way to immortalize his travels — he doodles wherever he goes!
From taking part in school competitions to being an active member of the fine arts club — he has had a knack of arts ever since he was a goody two shoes kid. In fact, it was this very love for art and design which pushed him into taking product design in post-grad after completing his grad from IIT Kanpur.

Having traveled to various places because of his father's job, Amit realized that travel is what kept him sane while he was in Europe for his Masters. Now, always yearning to travel, he believes that visiting places has exposed him to multiple cultures and peoples. This, in turn, has diversified his thought process and pushed him into thinking beyond his own limited set of ideas.

Fusing this love for traveling with his art, Amit has crafted a distinct identity for himself.
"I am not a kind of a person who would aim to visit major historical attractions or tourist places. I, would rather sit in a park and read a book, while having a nice Gelato and soaking in the sun."
---
Looking To Book A Holiday Package?
Book memorable holidays on TravelTriangle with 650+ verified travel agents for 65+ domestic and international destinations.
---
He travels to sketch and sketches to travel

"Doodling pushes me to travel. And when I travel, I have to doodle."
Traveling and sketching have become integral and inseparable parts of each other for Amit. He visits new places so that he can go and sketch/doodle there and sketches/doodles because he has traveled to a new place. The two words have now become synonymous for him.

Amit asserts that although doodling and sketching started off as a casual fun activity with friends, but over the last 1 – 1.5 years, have become a part of him. His art has given him a new vision and has added a spark to his everyday life.
From a 5 minute quick doodle to an hour long sketch – the dedicated span of time depends on the complexity that needs to be reflected. For that moment of time spent, Amit extracts himself from everything else.
Brewing of the travel bug

Amit's traveling adventures began with friends, while in bachelor's. As a student traveling on a holiday, he soon realized how elating his experiences of exploring different cultures and meeting diverse peoples were turning out to be. But travel picked up in Europe, during and after his post-grad.
"Luckily, that was the time when I had enough funds to travel. That was the transition phase, where in, I realized that travel is what keeps me going."
His entry into a sketchy world

The first day of doodling still remains fresh in Amit's memories. It was an architect-friend who opened the world of doodling to him. On a random doodling session one summer evening, he accompanied his friend and soon the session became more of an exploration, as they roamed around the beautiful city of Delft in Netherlands.
This session pushed the IIT-ian into going places and capturing moments into doodles and sketches. For that particular purpose, he caught hold of a sketchbook, which has been with him since.
The art of Doodling and Sketching

Doodling is a random catch of a moment — it is neither limited by space, nor time. This is one of the reasons why Amit doesn't forget to carry his sketchbook, wherever he goes.
Be it visiting a friend or sitting in a café or traveling in the auto – one never knows when that opportunity to doodle might present itself. Those doodles/sketches are not aimed at the perfection of technique, but precisely on a capture of the beauty and transience of a particular moment.
---
Planning your holiday but confused about where to go? These travel stories help you find your best trip ever!
Real travel stories. Real stays. Handy tips to help you make the right choice.
---
Photography vs doodling – Capturing the moment

When focusing on a particular scene for 10 minutes or an hour, one ends up noticing a lot of things, consciously and subconsciously. As a result, such a spectacle gets imprinted in memory and stays with you for quite a lot of time. On the other hand, digital photography has armed us with the freedom to click an endless number of images.
This, Amit believes, has distanced us from the actual moment of admiration. When the ceaseless pressing of the camera button starts, the moment is bound to get lost. Only those photographers will have a story to tell, whose frames are set to capture aesthetic moments rather than click a sight.
Bringing work and passion to an equilibrium

Now back in India, work has been keeping Amit in one place. In order to strike a balance between work and his travel-and-sketch affair, he goes out of Delhi once in a month and wanders around Delhi on Sundays.
"I look at Delhi more as a traveler's paradise, than just my residence. It has so many things to offer but most of us either do not realize, or value that."

Amit's travel-and-sketch adventures have had a therapeutic effect on him. From a young 4-year-old monolingual Arabic kid pointing that he did not draw the cloud, to an old woman perpetually patting his back for drawing a mosque – sketching has allowed Amit to witness strange bonds of humanity, beyond the barriers of language or nationalities.
He further believes, as his diary grows, his conscience evolves and his adventures become all the more fun too. And sometimes, a doodle renders what the mind sees rather than what the eye does.
Amit states, "Well, the best part of doodling is that it gives you something to look forward to — conversations, travel, exploration and more importantly, it doesn't complain."

Further Read: The Story Of This Ordinary Man And His Extraordinary Love For Travel Will Definitely Inspire You
---
Looking To Book An International Holiday?
Book memorable holidays on TravelTriangle with 650+ verified travel agents for 65+ domestic and international destinations.
---