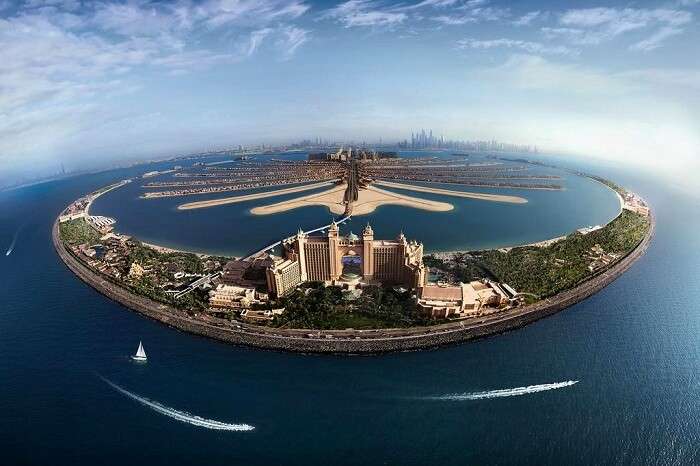 From mesmerizing sunsets and ecstatic dinner cruises to exciting desert safaris, endless shopping mania, and marvelous man-made wonders, love comes alive on a romantic trip to Dubai. Now that it's clear why this dazzling city is sought majorly by the love birds, we've assorted all the best and the most romantic things to do in Dubai for you, so that you don't miss out on any of these blissful experiences. Take a look!
15 Most Romantic Things To Do In Dubai
Here are 15 most romantic things to do in Dubai while holidaying there with your partner. Take a look and make the most of it!
15. Enjoy Arabian Horse Riding At Al Dhabi Stables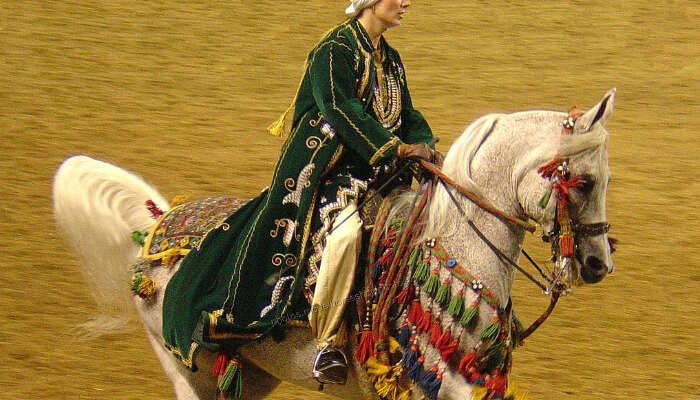 Riding an Arabian horse is one of the best things to do in Dubai for couples that enables them to taste the authentic desert culture. Camp under the moonlight, witness the most beautiful sunrise and sunset over the never ending dunes, and of course, experience royalty with your better half while riding an Arabian horse on your desert adventure at Al Dhabi Stables.
Location: Emirates Road 611, Dubai
Best Time For Horse Riding: September and May
How To Reach: Al Dhabi Stables can be reached within 25 minutes from Dubai Downtown via Motorway 611 motorway.
Tips:
Make sure you arrive at the stable well in advance so that the team can get you ready with boots, hats, chaps, and necessary equipments.
For those who have not experienced horse riding ever before, the team will help you with all the riding techniques.
Before you set out for your desert adventure, the team will let you ride the horse in arena first. This will help you in getting to know your horse better.
Must Read: 10 Romantic Things To Do In Dubai At Night For Couples On A Holiday In 2019!
14. Hot Air Balloon Ride At Balloon Adventures Emirates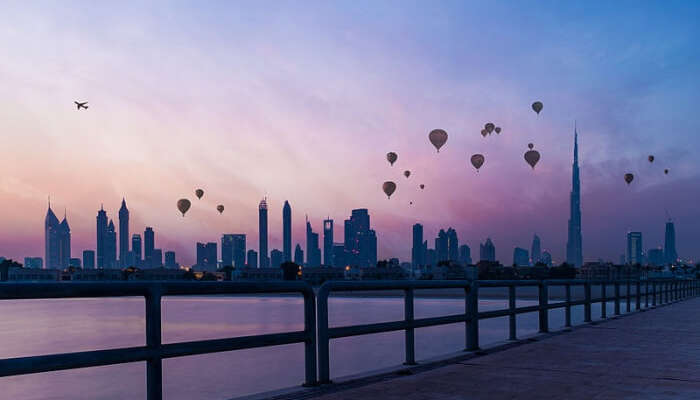 Just like in the rest of the world, hot air balloon rides are one of the most romantic things to do in Dubai for couples. Whether it's your honeymoon in Dubai or not, it is a must for all the couples to witness the glorious sand dunes and the mighty mountains of Hajjar in the backdrop. Fly with the best pilots of Balloon Adventures Emirates and it is needless to say how awe-inspiring are the 360 degree views of Dubai. Must try!
Location: Rashidiya, Dubai
Duration: 1 hour
Best Time For Hot Air Ballooning: September to May
How To Reach: By road, you can reach Balloon Adventure Emirates in just 30 minutes from the famous landmark of Burj Khalifa.
Tips:
Comfortable clothes are recommended as per the weather conditions.
Breakfast is also included in the package booked with Balloon Adventure Emirates.
Suggested Read: Scuba Diving In Dubai: Explore The Beautiful Underwater World In 2018
13. Rejuvenating Spa Date At Talise Ottoman Spa in Palm Jumeirah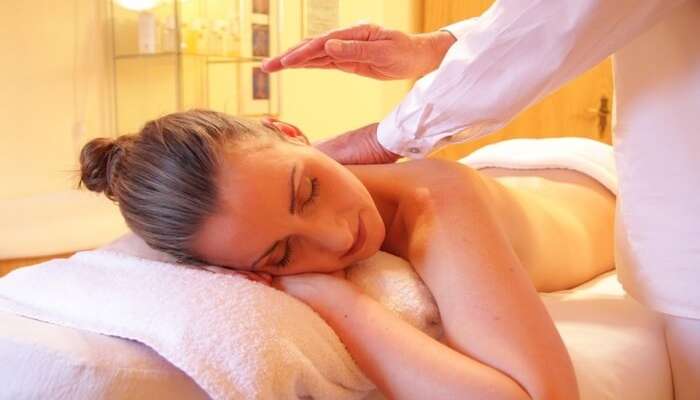 The trend of going on a spa date with your loved one and rejuvenating yourselves together is on the rise and we couldn't have missed it out in the list of romantic activities to do in Dubai.
And speaking of a spa date, a visit to the Talise Ottoman Spa in Palm Jumeirah is nothing less than indulging in sheer Arabian luxury. Apart from its massage rooms, snow rooms, and saunas, one can dive into divinity at its relaxing and calm thalassotherapy pools. Whatever you do, just don't miss out on this one!
Location: Jumeirah Zabeel Saray, The Palm Jumeirah, Crescent Road (West), Dubai
Timings: Monday to Sunday: 9 am to 9.30 pm
Must Try: Royal Ottoman Hammam
Price Range: INR 8500 to INR 4,50,000
How To Reach:
By road, take a taxi and get down at the Palm Gateway Monorail Station. Then board the Monorail and reach the top of the Palm Jumeirah Hotel.
By metro, you can get down at the Dubai Internet City metro station from where Palm Jumeirah is just 10 minutes away by walk.
Suggested Read: Visit Dubai In April To Have A Vacation Full Of Amazing Marvels And Miracles
12. Experience Love At First Sight With The Miracle Garden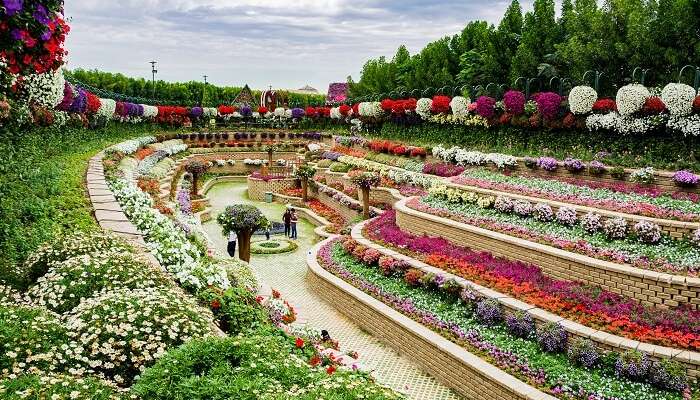 Ever wondered how 45 million flowers in full bloom would look like? True to its name, visiting the Miracle Garden is indeed one of the fun romantic things to do in Dubai. Much famed to be the world's largest garden of natural flowers, romance can be felt in full bloom which is in sync with millions of flowers at Dubai's very own Miracle Garden.
Location: Al Barsha South 3, Barsha, Dubailand Area, Dubai
Timings: Sunday To Thursday: 9 am to 9 pm; Friday and Saturday: 9 am to 11 pm
Average Time Spent: 1.5 to 2 hours
Entrance Fee: INR 720 per person
How To Reach:
By Bus, take route 105 from Mall of The Emirates metro station for just INR 90 per person and get down at the Miracle Garden.
By metro, board the Dubai Metro and deboard at the Mall of the Emirates. From there, take the above mentioned bus route of 105.
Suggested Read: Dubai Summer Surprises 2019: Be A Part Of UAE's Hottest Fiesta Before It Ends
11. Enjoy Picnic At The Hatta Mountains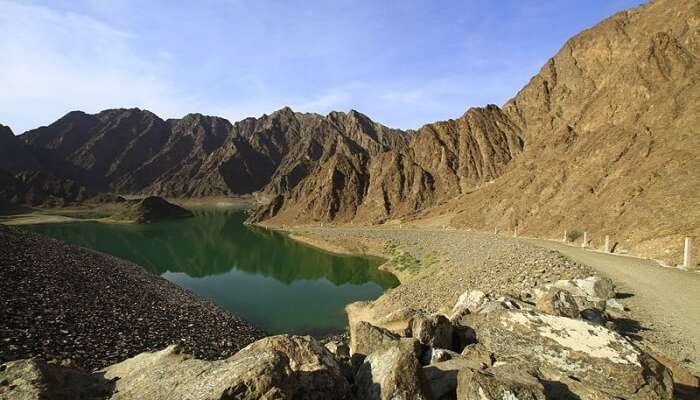 One of the best couple things to do in Dubai is to trek to the Hatta Mountains and find that perfect picnic spot to enjoy a relaxing day with your beloved. Relish the fantastic views from the Hatta Dam, picnic in the park, travel through the historical Hatta heritage village, explore the natural pools, savor the mouthwatering authentic Hatta cuisine, and much more during the Hakka Mountain Safari with your better half by your side.
Location: Hajar Mountains, Hatta (134 kilometers to the South-east of Dubai)
Operating Days: Daily
Duration: 6 hours
Timings: 8.30 am to 3 pm
Price Per Person: Starts from INR 5,500
How To Reach: By drive, one can reach Hatta in just 1.5 hours from the Deira city center via Sharjah-Kalba road.
Tips:
This safari and its adventures are not recommended for those people who are suffering from back problems.
For those who are not physically fit or are going through any medical conditions, can opt for the light dune bashing and desert drive.
Suggested Read: Top 20 Romantic Hotels In Dubai For Couples: An Epitome Of Love And Luxury!
10. Become Water Babies At The Kite Beach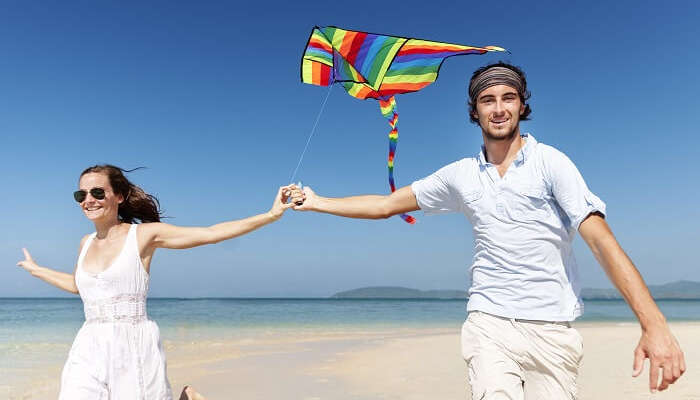 Offering picturesque views of the great Burj Al Arab, Kite beach in Dubai is an apt place to be for those love birds who are water junkies at heart. Whether you want to immerse your feet in the smooth white sands or try your hands at kayaking, kite surfing, beach tennis, soap football, and beach volleyball, Kite Beach has it all.
Location: Umm Suqeim, Off Jumeirah Beach Road, Near Jumeirah Beach Hotel, Dubai
Best Time To Visit The Beach: Mar-May
Average Time Spent: 2 to 3 hours
How To Reach:
From Burj Al Arab, the beach is just 500 meters away.
By metro, get down at the Noor Bank station.
Tips:
Avoid going to the beach on Fridays and Saturdays as it becomes pretty crowded.
The beach is super clean indeed and offers
9. Hike The Jabal Al Jais Mountain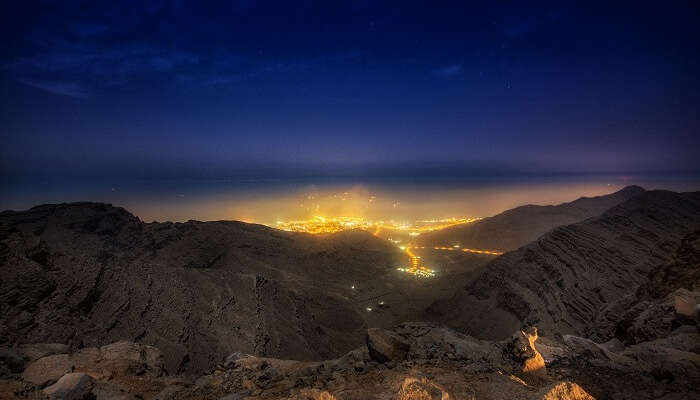 Located close to the border of Oman, the Jabal Al Jais Mountain is much renowned as the Stairway to Heaven in UAE. For those couple who love to go on adventure honeymoon destinations, Jabal Al Jais Mountain happens to be the perfect match.
Suggested Read: A Trip Of Excitement, Fun, & Endless Shopping: Dubai Proved To Be An Ideal Pick For Them!
Spanning over a distance of 17 kilometers, the hiking route of Jabal Al Jais Mountain is 1,500 metres steep and take a minimum of nine hours to complete the hike. Feel that adrenaline rush?
Location: Wadi Ghalilah, Ras-al-Khaimah, 55577789, United Arab Emirates
Elevation: 1,934 meters
Temperature: -5 degree Celsius
How To Reach:
The highest point of UAE is located just 30 kilometers away from Ras Al Khaimah.
From Dubai, it takes about two hours towards the north to reach Jabal Al Jais Mountain.
Tips:
Make sure you carry enough food, water and toiletries along as there are no restaurants, toilets, along the way as well as when you reach the top.
It is advised to hike this adventure land in the company of expert climbers and guides.
8. Cruise Through The Dubai Creek With Dhow Cruise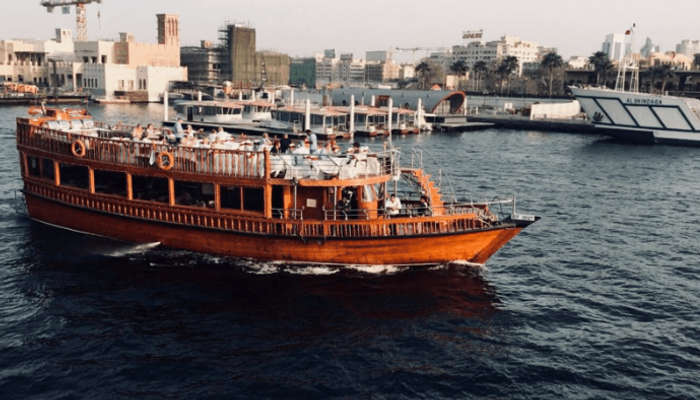 Redefining sophistication, nothing beats a classic and romantic dinner experience while cruising through the Dubai Creek when it comes to the most romantic things to do in Dubai.
Choose from the wide range of modern cruises and traditional Dhow cruises which are not only comfortable and air-conditioned but also put up a great show with live entertainment, personalized service, and international cuisine.
Boarding Location: Deira Creek
Landmarks: Behind National Bank of Dubai and Next to Sheraton Creek Hotel
Price Per Person: 5 Star Cruise – INR 4500 & 4 Star Cruise – INR 3600
Inclusions: Soft drinks, tea or coffee, beverages, music & dance show, and international buffet dinner
Timings: Pick Up: 7 pm; Boarding Time: 8 pm; Cruise, Dinner, & Return: 8.30 pm to 10.30 pm
7. Get Mesmerized By The Dubai Fountain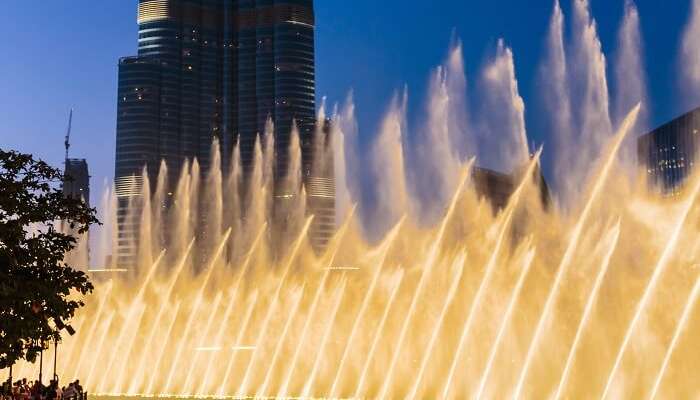 Phenomenal is the word that describes the Dubai Fountain at its best. Located at the foot of Burj Khalifa, the Dubai Fountain exhibits one of the world's largest fountain wherein 22,000 gallons of water is choreographed perfectly.
The water rises about 150 metres in the air as the vibrant and illuminated jets dance away to the tunes at once. Putting up a powerful performance in Dubai, the sound and the light show can be witnessed from anywhere within a circle of 30 kilometers in the city.
Location: The Dubai Mall, Dubai
Timings: Monday to Sunday: 6 pm to 11 pm
Frequency: Twice in the afternoon & every 30 minutes in the evenings
Average Time Spent: 1 to 1.5 hours
How To Reach:
By metro, get down at the nearest station of Burj Khalifa or the Dubai Mall Station.
The mall is also located at a walking distance from the station via the Metro Link Bridge.
Suggested Read: Nightlife In Dubai: What's In The Store For The Kind Of Traveler You Are
6. Walk Hand-In-Hand On The Smooth Sands Of Jumeirah Beach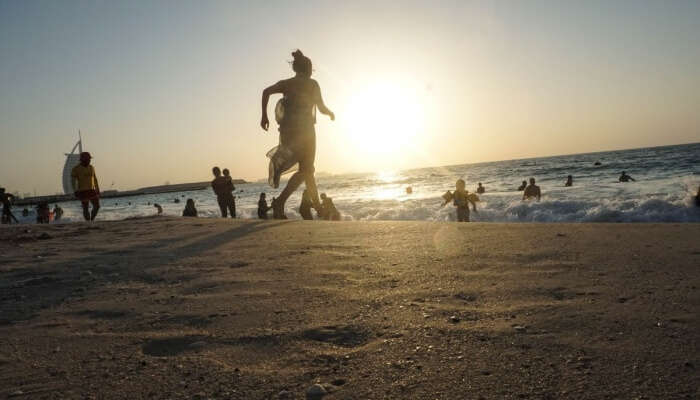 Stretching for over 14 kilometers, walking hand in hand with your loved one on Jumeirah Beach is one of the most romantic things to do in Dubai.
A recipient of Blue Flag certification for having adhered to international standards, watching the sun go down the horizon is one of the must things to do at Jumeirah beach, a walker's paradise.
Location: Jumeirah District, Dubai
Timings: 24*7
Average Time Spent: 1 to 4 hours
5. Dine Like A Royalty At The Burj Al Arab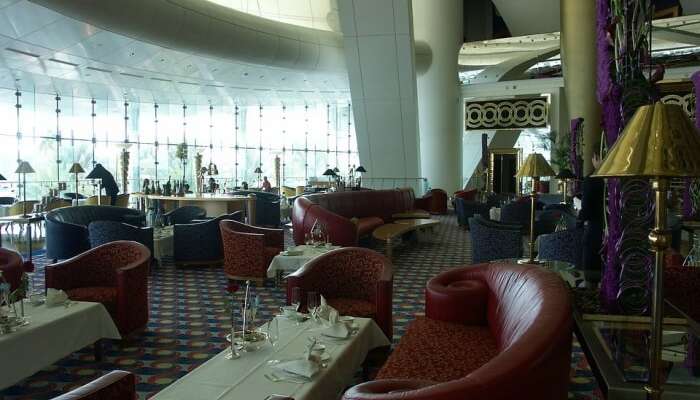 This ain't any ordinary experience. It's the classic culinary experience that takes you on a majestic tour through the world-class restaurants and bars for each course inside Burj Al Arab. Normally admission inside Burj Al Arab is restricted unless you've made a reservation in any form.
Suggested Read: They Had The Most Amazing Time Holidaying In Dubai And They Captured It All Beautifully!
Meanwhile, making a reservation at the Culinary Flight, will not only treat your taste buds with Dubai cuisine but will also take you restaurants all the way from the atrium to the 27th floor of Burj Al Arab. It's a strict no no to miss out on this one.
Location: Culinary Flight, Jumeirah Beach Road, Umm Suqeim, Dubai
Timings: Lunch – 12.30 pm to 15.30 pm & Dinner – 7 pm to 12 midnight
Restaurants: Scape Restaurant & Bar, Junsui, Al Muntaha, Sahn Eddar, Gold On 27, Al Iwan and many more
Cost Per Person:
Lunch: INR 17500/ INR 30,250 (with wine pairing)
Dinner: INR 22,500/ INR 35,000 (with wine pairing)
Tips:
There is a dress code for men and women and it's different for lunch and dinner. Wear smart casuals for lunch and semi-formals for dinner.
Gentlemen are requested to wear a collared shirt, trousers or jeans, and closed shoes for lunch whereas a collared shirt with long sleeves, formal trousers, closed shoes, and a jacket is a must for dinner.
Ladies can wear a dress or suit, a top and a long or short skirt for lunch as well as for dinner.
4. Shop Away To Glory
Want to impress your lady love? Take her out to infinite shopping places in Dubai and shell out all your love while she shops till she drops. With numerous malls like that of Wafi Mall, Dubai Mall, Ibn Battuta, Gold Souk, and Souk Madinat Jumeirah, one can never get tired of the bling and buzz in Dubai.
Famous Malls: Dubai Mall, Mall of Emirates, Gold Souk, and Meena Bazaar
Best Things To Buy: Gold, Oudh and Bakhoor (Arabic Perfumes), Pashminas, Frankincense and Myrrh, Electronics, Shisha Kits, Carpets, Spices, and Chocolates
3. Experience One Of A Kind Overnight Desert Safari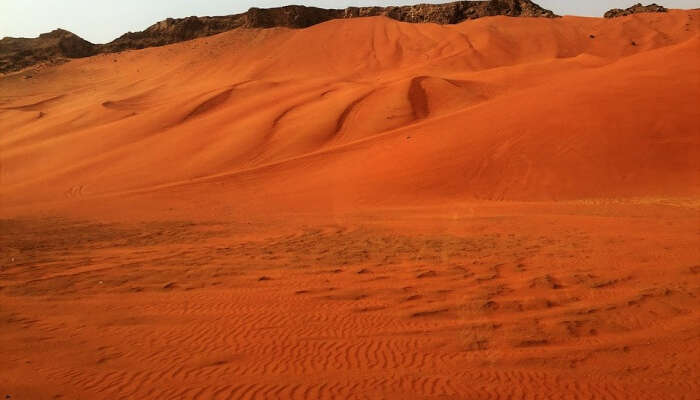 Stargazing in the desert, watching the sun go down, riding the camel and watching the live Arabian performances in the vast deserts, are few experiences that one can only be experienced in Dubai. A night spent with your soulmate under the starry sky lit by the moonlight, only adds more charm to the surreal romantic experience.
Location: Red Sand Dunes, Lahbab, 80971, Dubai
Timings: 3 pm to 9 pm
Cost Per Person: Starting From INR 8,000
Inclusions: Dune Bashing, Camel Safari, Sandboarding, Ski/board, Shisha, Bar Be Que Dinner, Belly Dancing, Overnight Stay, Breakfast, and Bar
Tips:
In case you want to enjoy belly dancing and drinks at the bar, do not book your trips during Ramadan as the services remain unavailable.
Carry your towels, basic toiletries in a small bag as transfers will be done in a group of 6 and there is not much space in the car.
2. Explore The Underwater World Together Like Never Before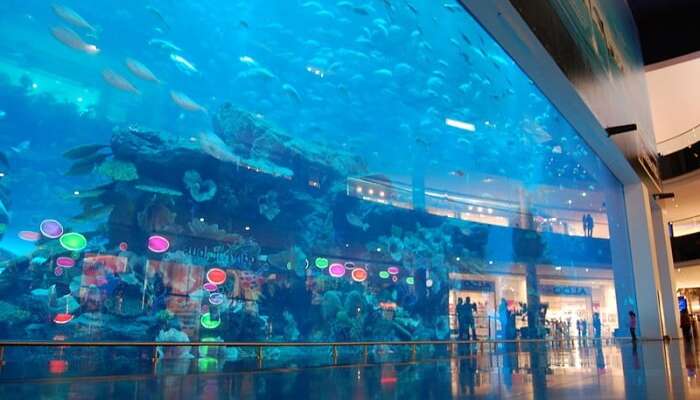 From diving with sharks to cage snorkeling, Dubai makes all your dreams come true just like that. For those bravehearts out there, it is a must to experience the thrills of underwater adventure at the Dubai Aquarium and Underwater Zoo.
Location: Ground & Level 2, The Dubai Mall, Dubai
Timings: Sunday to Wednesday: 10 am to 11 pm; Thursday To Saturday: 10 am until midnight
Cost Per Person: Exploring experiences start from INR 2,150
Things To Do: Shark Scooter Ride; Visit The King Croc; Shark Diving; Cage Snorkeling; Shark Walker and more.
Average Time Spent: 1 hour (Visits Only); Half day (Adventure Activities)
How To Reach:
By metro, get down at the nearest station of Burj Khalifa or the Dubai Mall Station.
The mall is also located at a walking distance from the station via the Metro Link Bridge.
1. Discover A New Sky At The Mighty Burj Khalifa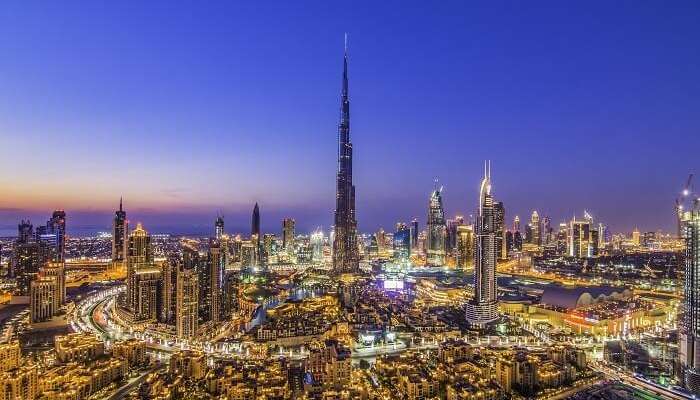 You can't help but feel on top of the world when you're at the Observation Deck of Burj Khalifa. Reach at the top levels of 124 and 125 or combine your on the top visit with a visit to the SKY at level 148.
Get into a personal elevator, go to Level 148, enjoy your access to the world's highest observatory, and get mesmerized by the unique design of this astonishing marvel. Your romantic trip to Dubai is totally incomplete without experiencing the majestic Burj Khalifa at its best.
Location: Observation Deck, 1, Sheikh Mohammed bin Rashid Boulevard, Dubai
Height: 830 meters
Timings: Non-prime hours: 8 am to 3 pm; Prime Hours: 3.30 pm to 6 pm
Total No. Of Floors: 163
Observation Deck Level: 124 & 125
Average Time Spent: 1.5 hours
Tips:
Ticket prices are based on prime hours and non prime hours to visit the observation deck.
One can relish surreal and romantic sunrise views from 5.30 am onwards over the weekends, i.e., Fridays & Saturdays.
Further Read: 12 Tourist Places In Dubai: Do Not Come Back Without Visiting These Marvels
These romantic experiences enable all the couples to spend quality time with each other as everybody deserves to experience those special moments with their special someone. And for that, book one of the tailormade Dubai tour packages with TravelTriangle, and enjoy personalized experiences that are crafted especially for you!
People also read:
Best honeymoon destinations in Costa-Rica Honeymoon trip to Dubai Safari honeymoon
Comments
comments