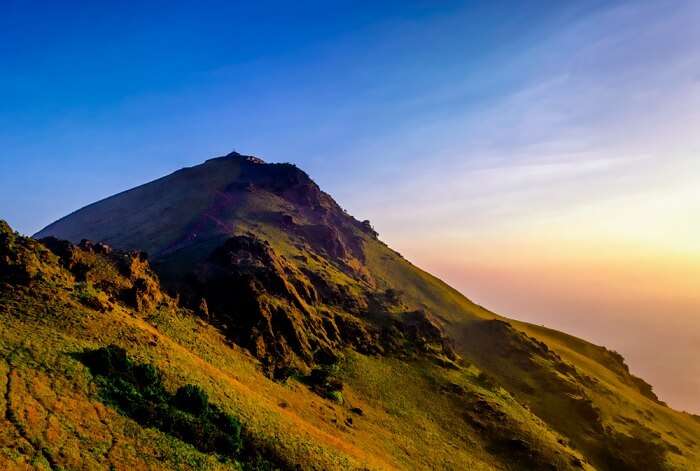 The Western Ghats are mesmerizing to say the least and anyone with a love for the outdoors will more than find their fill of adventure here. Stretching all the way from Gujarat to Tamil Nadu, it also covers Karnataka. And one of the best adventures to experience is the Mullayanagiri Trek.
The summit offers splendid views of the green Western Ghats and make you feel like you're on top of the world.
About Mullayanagiri
Know about the highest peak of Karnataka and why it is so famous.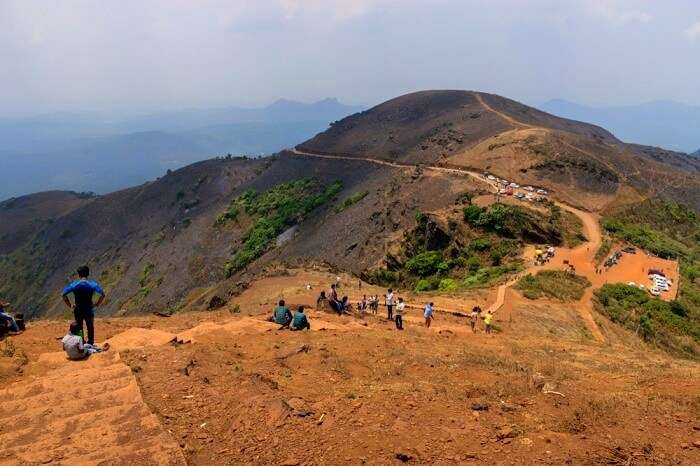 One of the best places to visit in Karnataka, Mullayanagiri the state's highest peak. It's part of Baba Budangiri Hills of Chikmagalur taluk and rises up 6,330 feet. It derives its name from a tomb at the summit that's dedicated to Mulappa swamy, a holy man who's said to have meditated in caves nearby. The same caves are inhabited by bats and can be explored.
15 Top Hill Stations In Karnataka To Rejuvenate Yourself
Mullayanagiri Trek Details
From altitude to duration to trek distance, find out all the essential details about the trekking in Mullayanagiri here:
Ideal duration: 3 hours
Difficulty level: Easy to moderate
Maximum altitude: 6,330 feet
Mullayanagiri Trek distance: 3-4 kilometers
Mullayanagiri Trek Route: Sarpadhari – Mullayanagiri
Mullayanagiri is one of the most popular trekking destinations in Karnataka as it's fairly easy to do and the scenery is spectacular. However, if you want to push yourself, the Mullayanagiri Trek can be made more challenging by venturing farther into Baba Budangiri Hills. This will give you an extra 10 kilometers or so of trekking.
How to Get Here from Bangalore
There are several ways to get to the starting point of Sarpadhari. Those looking to plan their Mullayanagiri Trek from Bangalore can do so by taking an overnight KSRTC bus from Bangalore to Chikmagalur. You can also opt to drive yourself by going from Bangalore to Hassan, on to Belur and finally, Chikmagalur. An alternate route is to go via Tumkur then to Arsikere, Kadur and Chikmagalur.
Best Time to Visit Mullayanagiri
Know about the best time to go for a trek here based on your preference.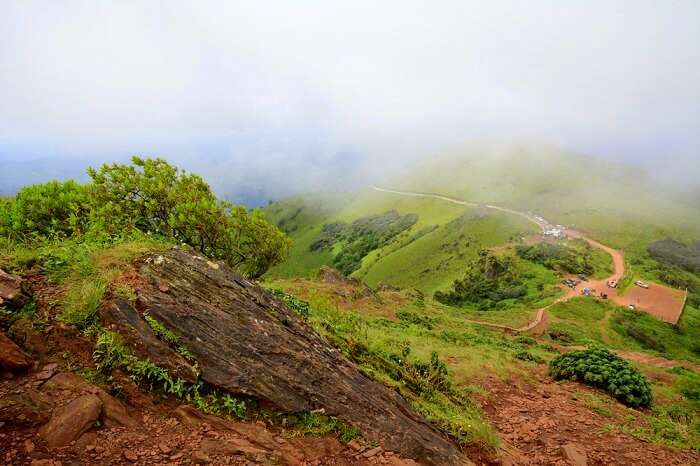 The best time to visit Mullayanagiri is from September to April. The winter months are a wonderful period since temperatures range between 14 and 32oC. If you want to see the Western Ghats come alive, however, go during the monsoon which is from June to September. It's bathed in rich shades of green with fog creating an air of mystery.
14 Itineraries Including Best Honeymoon Places In And Around Karnataka
Mullayanagiri Trek Itinerary
Find out if you should do the short trek or an extended long one.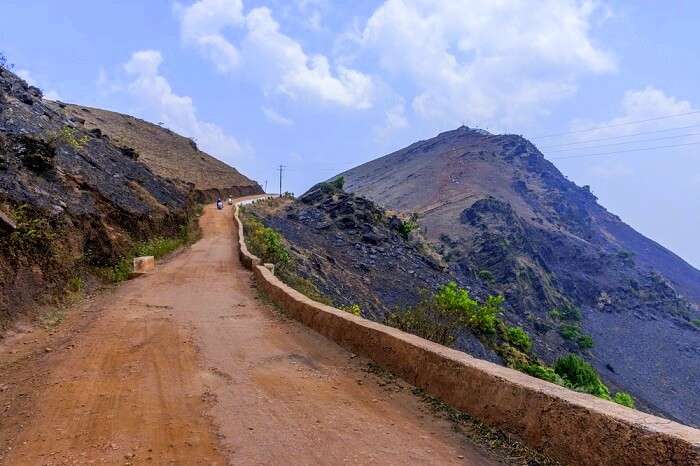 The Mullayanagiri trek in Chikmagalur can be completed in just a few hours but there's more you can do to enrich your trip. You can explore Baba Budangiri Hills which is about 12 kilometers away and take in Manikyadhara Falls that's around 9 kilometers away. Try to visit the Deviramma Temple too, which is located a little over 10 kilometers.
The Mullayanagiri Trek can be spread over two days if you plan to trek to these places. You should consider booking a tour to get the most out of the experience. The Mullayanagiri Trek costs an affordable INR 3,500 or so inclusive of transportation from Bangalore and back, accommodation, meals, a guide and permits.
If you're traveling as part of a tour group and plan to camp overnight, your journey will start early in the morning. However, you can go anytime during the day if you don't intend to camp as there are no restrictions on Mullayanagiri Trek timings. The area is open throughout the day.
What To Pack For Mullayanagiri Trek?
Find out what essentials you need to carry for your trek to Mullayanagiri.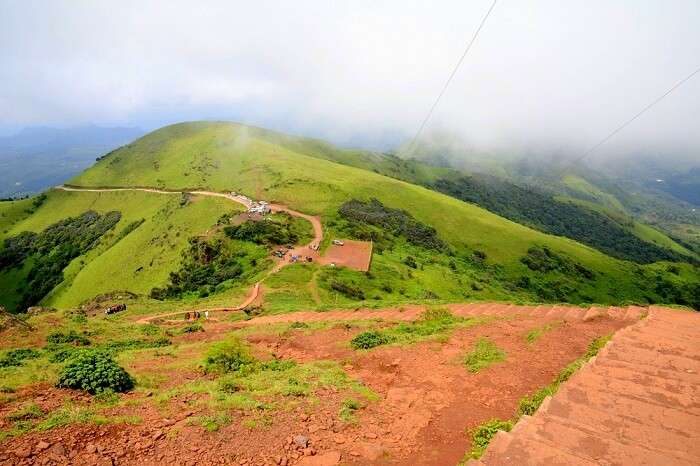 Backpack
Hiking shoes
Comfortable clothes
Light sweater
Raincoat
Water
Monsoon In Karnataka: Here's 15 Places You Must Visit During Monsoon
Places To Visit Near Mullayanagiri
If you are planning to enjoy the splendid ambiance of Mullayanagiri hills, make sure to visit these fascinating places to complete your exciting tour:
1. Coffee Museum Chikmagalur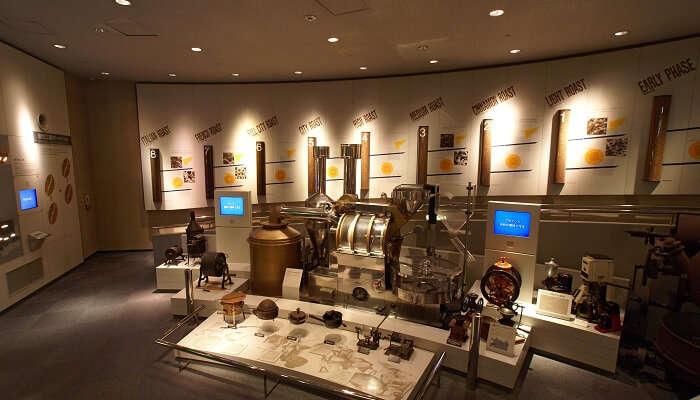 If you are a coffee buff, then visiting Coffee Museum Chikmagalur is a must for you. This striking museum will take you on a historical tour of coffee plantations in South India. While visiting here, you can learn the art of coffee making and its various aspects. Run by the Coffee Board of India, this spot is one of the most-visited places by tourists. The intriguing process of harvesting, drying, roasting and grinding of the coffee beans would surely let you enjoy your time here.
Location: Dasarahalli, Karnataka
Distance from Mullayanagiri: 7.6 km
2. Bhadra Wildlife Sanctuary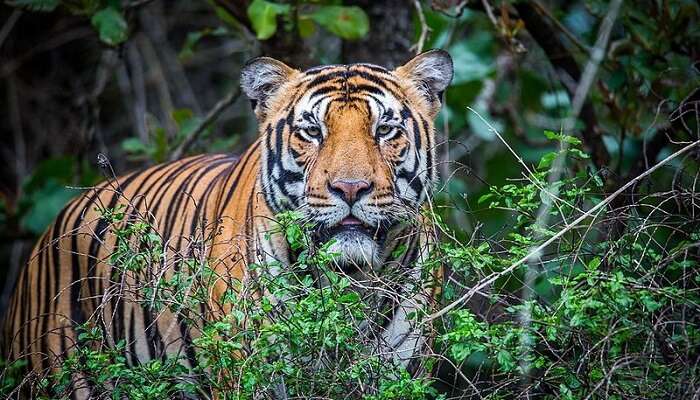 Ideally positioned in the Chikkamagaluru district, Bhadra Wildlife Sanctuary is one of the best wildlife centuries in India that makes a perfect place to witness intriguing wildlife. Apart from being a Project Tiger reserve, the wildlife sanctuary also houses numerous species of animals and birds. While featuring 250 species of birds, 20 leopards, and 30 tigers, this place offers an ultimate treat for the ones interested in wildlife or wildlife photography. While visiting here, you can also climb to Kallathigiri Mountain from where you can witness a wonderful view of the surroundings.
Location: Behind Ranganathaswamy Temple, Tarikere, Lakkavalli, Karnataka 577115
Distance from Mullayanagiri: 80.5 km
12 Things To Do In Murudeshwar For A Relaxing Holiday In Shiva's Coastal Abode
3. Hebbe Falls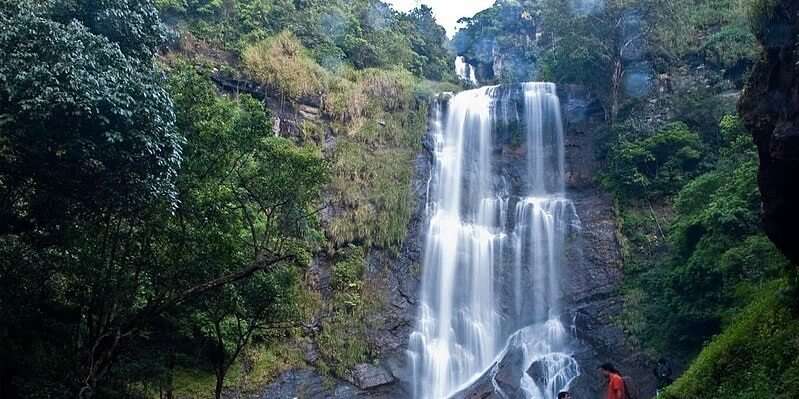 Falling from a height of 168 metres, Hebbe Falls is one of the most ideal places to enjoy a refreshing picnic amidst serene surroundings. To reach here, you may also hire a cab or simply opt for trekking if you wish to indulge in some adventure. Moreover, the trek would allow you to enjoy the mystical vistas of the coffee estates and forests as well. It is believed that the water of the falls comprises medicinal properties which is also why travelers from far and wide come here.
Location: Chikkamagaluru District, Kesavinamane, Karnataka
Distance from Mullayanagiri: 66.8 km
4. Kallathigiri Falls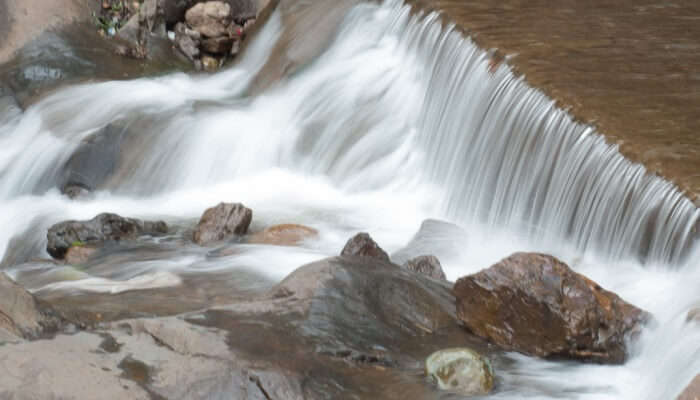 Also known as Kalahasthi fall, Kallathigiri Falls is one of the most peaceful and mind-refreshing spots near Mullayanagiri. The cascading waterfalls feature unparalleled beauty as if it's coming straight from a painting. The falls also attracts many trekkers who start from Tarikere, which is around 24 km away from the falls. So, if you wish to enjoy yourself in the lap of nature, make sure to visit Kallathigiri Falls.
Location: Kallathgiri, Chikmagalur, Karnataka 577129
Distance from Mullayanagiri: 54.6 km
23 Interesting Places To Visit In Udupi On Your South India Tour
5. Z Point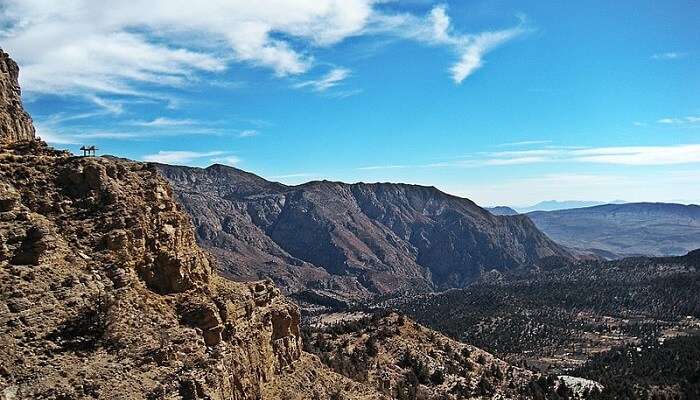 Are you in search of a complete adventure? If yes, then trekking to Z point should be on your itinerary. You can reach this striking point after a steep trek. Elevated around 1500 metres above sea level, the Z Point features deep gorges and also allows you to enjoy the blissful vistas of Kemmangundi. The replenishing ambiance and striking views around the point are worth the tiresome trek.
Location: Chikmagalur, Karnataka 577129
Distance from Mullayanagiri: 59 km
Tips to Visit Mullayanagiri
1. Carry a negative RT-PCR report with you while traveling
2. Check whether you require forest permissions or not.
3. While reaching hills, make sure to wear comfortable clothes and shoes
4. Pack all travel essentials such as mini first-aid kit, mosquito repellent, power bank, sunglasses, sunscreen and more
5. Check out the weather and road conditions before planning your trip
6. Keep enough cash with you as cards are not accepted everywhere 7. Don't carry any precious belongings while trekking 8. Keep yourself hydrated at all times
20 Places To Visit In Murudeshwar: Divine, Ancient, And Serene
Homestays Near Mullayanagiri
Are you looking for homestays near Mullayanagiri? Here, we have enlisted some of the top-rated ones to make your stay quite soothing:
1. Thotadhahalli Homestay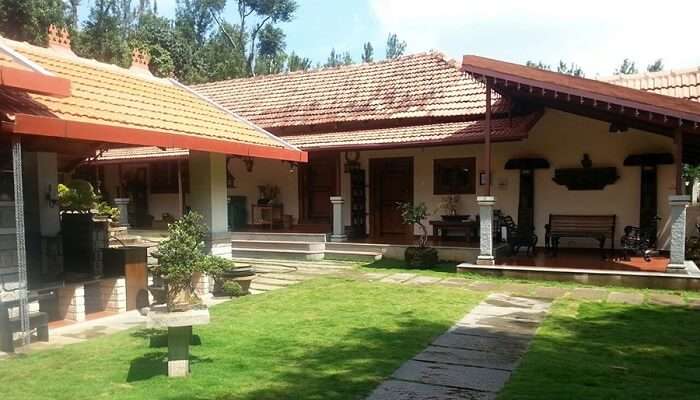 Enjoying the vicinity of coffee plantations, Thotadhahalli Homestay is one of the best homestays where you can enjoy a cozy stay. While staying here, you can take advantage of numerous plush amenities extended to you. This kid-friendly property not only makes a perfect abode for families but also for solo travelers and honeymooners as well.
Location: Thotadhahalli Estate, Kaimara, Karnataka 577131
Price per night: INR 2,200 approximately
2. Scenic Acres Homestay

Located around Mullayanagiri, Scenic Acres Homestay is one of the best properties if you are seeking luxury and nature's bliss at the same time. Run by the Sargod family, this property is one of the oldest homestays which is also renowned for coffee cultivation. The rooms are encircled by beautiful flowers and fruit plantations offering you instant freshness. If you are traveling with your family, this is the place to be.
Location: near Mountain View School, Vidyanagar, Chikmagalur, Karnataka 577102
Price per night: INR 3,600 approximately
Nandi Hills: The Hidden Gem In The South That Proves Not All The Best Places Are On The Map
3. Thippanahalli Homestay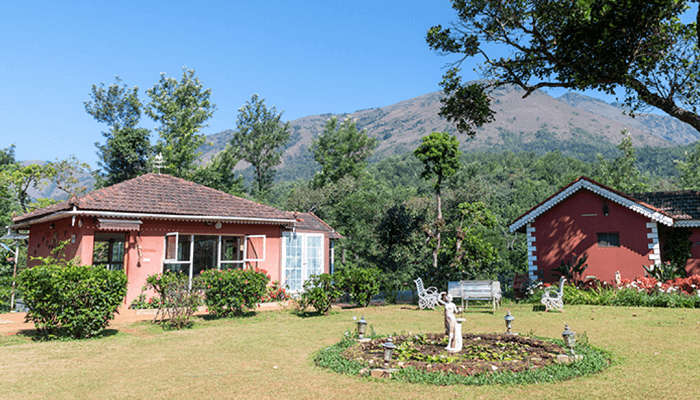 Yet another property enjoying the vicinity of coffee plantations, Thippanahalli Homestay is one of the most popular homestays near Mullayanagiri. Since it enjoys close proximity to several vantage points, it makes an ideal base for numerous travelers. Featuring 230 years of history of the colonial era and plantations, this is one of the oldest villas turned into a homestay.
Location: 160, Thippanahalli Estate, Chikmagalur, Karnataka 577130
Price per night: INR 1,400 approximately
4. The Great Escafe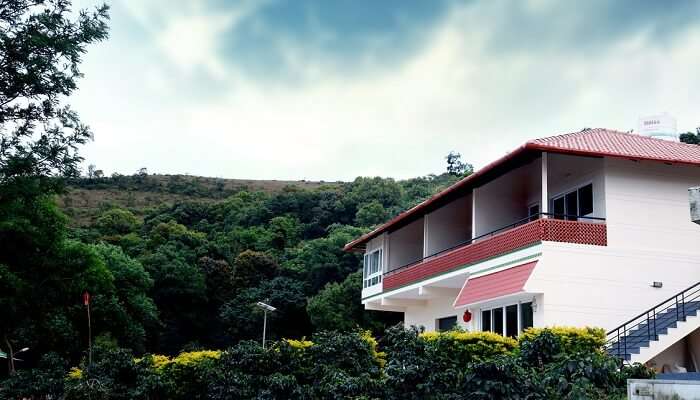 38 Best Places To Visit In Chikmagalur That Are No Less Than The Northern Hills
If luxury at budget is all that you are seeking, The Great Escafe is your ideal abode. The homestay features numerous well-equipped rooms and also pampers you with lavish amenities. From relishing scrumptious meals at the on-site restaurant to enjoying several games in the play zone, the homestay offers you all kinds of perks that you are expecting. Families, as well as couples, can enjoy a soothing stay here.
Location: Mullayanagiri Road, Pandaravalli, Karnataka 577130
Price per night: INR 2,100 approximately
5. Thanmaya Homestay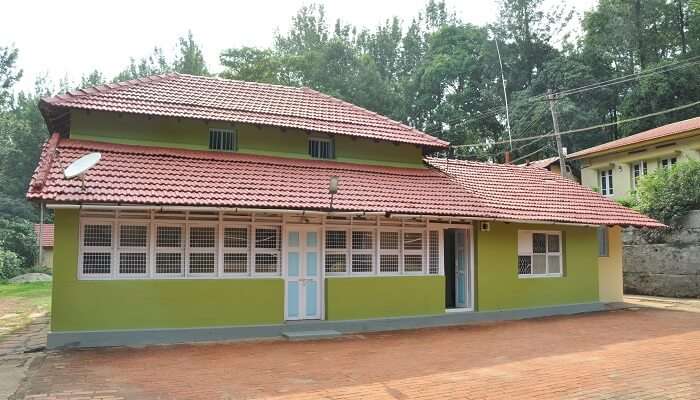 If you wish to stay in the lap of nature and amid aromatic coffee plantations, Thanmaya Homestay is a perfect option for you. Ideally positioned near a serene setting, this place is for all nature lovers and peace seekers. The lavish rooms and numerous amenities make your stay complete. The homestay is located just at a distance of 11.7 km from Mullayanagiri and you can reach there with a short cab ride.
Location: Chikmagalur, Chickmagalore, Karnataka 577101
Price per night: INR 2,300 approximately
8 Best National Parks In Karnataka For The Wildlife Enthusiasts To Explore
Are you lured by this fantastic place called Mullayanagiri? If yes, then enjoy the taste of adventure while planning a trip to Karnataka and treat the adventurous soul in you with Mullayanagiri Trek. Apart from trekking, this destination has got so much to offer. So, what are you waiting for? Come here with your travel buddy or alone and witness some of the best experiences!
For our editorial codes of conduct and copyright disclaimer please click here. 
Frequently Asked Questions About Mullayanagiri Trek
How long is Mullayanagiri Trek?
The trek to the peak from Sarpadhari is a half-day trek. The peak is at a distance of 3-4 km from the starting point and takes about 3 hours to ascend. The initial part of the trek is steep, vertically inclined at 60 degrees or more.
How do I get to Mullayanagiri peak?
From Chikmagalur proceed towards Bababudangiri, near Kaimara you have to take a left turn (8 kms from Chikmagalur). You will hit Y intersection, Your left side road goes to mullayanagiri peak(direct road till peak ).
Which are the best places to visit near Mullayanagiri?
There are numerous attractions that you will find near Mullayanagiri. Some of the best ones include Z Point, Kallathigiri Falls, Hebbe Falls, Bhadra Wildlife Sanctuary, Coffee Museum Chikmagalur, and more.
How do I get to Baba Budangiri?
Baba Budangiri is situated at a distance of 270 km from Bangalore, and you can easily reach Chikmagalur by taking a private bus which can further take you to the shrine. From the shrine, these buses can further drop you off to Manikyadhara waterfalls.
How do I get from Chikmagalur to Mullayanagiri?
Chikmagalur is around 280 km from Bangalore by road. The base for the trek, Sarpadhari, is further 15 km away. The entire trek is around 5 km and should take about 4 hours. Chikmagalur is well connected to Bangalore by road.
---
People Also Read:
Trekking In Uttarakhand Trekking In Garhwal Trekking In Himachal Pradesh