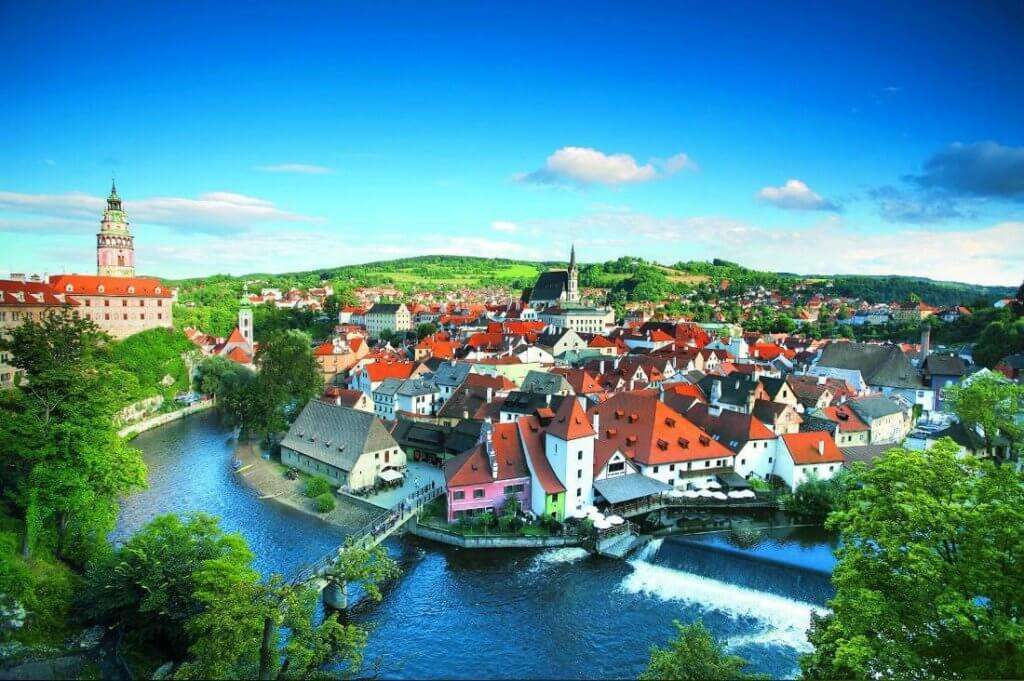 A visit to Czech Republic implies a visit to Prague for sure, since this beautiful European city is bejeweled with Baroque marvels, happening pubs and more! Thanks to its easy connectivity, people tend to start and conclude their Czech sojourns in Prague, often staying limited to the boundaries of this capital city. Be it the famous sights like the Prague Castle, the Old Town Square, or a simple evening out at a cool European style cafe; the itinerary is mostly similar. But, if you are an explorer, you'd love to tour these places around Prague!
10 Best Places Around Prague
So, do you know what awaits beyond Prague? Perhaps, it is a good idea to start exploring cities near Prague by train and get to know Czech Republic tourism in its entirety. Here are some wonderful add-ons to the Prague trip itinerary you have been planning:
1. Cesky Krumlov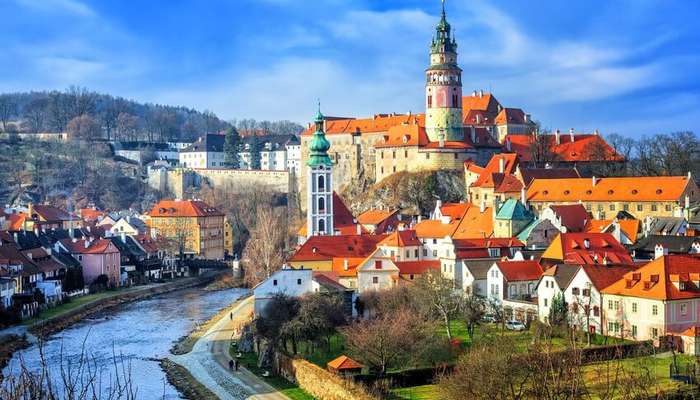 The medieval town of Cesky Krumlov, at a short distance from Prague, is one of the most recommended cities near Prague Czech Republic. It perfectly complements the taste of the tourists in Prague. Another castle awaits your attention here, full of the old-world charm splendour, but with a difference. The bastion is mounted on a hill overlooking the Vltava River. It is one of the best places to see near Prague.
Cesky Krumlov Castle has a beautiful exterior facade, consisting of a large Rococo-style garden attached to an elaborate fountain in place. The interiors of this place are a pleasant walk down the history of the town during the 17th and the 18th century. The castle takes you through the life of the Royalty here including their dining etiquette, as well as details of their wardrobe or the Royal Pink upholstery. There is a stunning Baroque theatre inside, giving a glimpse of entertainment during those years. It is, hands down, one of the best cities to visit near Prague.
Expect yourself to be in a town full of life, with people roaming around at a leisurely pace and finding enough space and time to pick up small souvenirs, or having coffee, beer, Mediterranean food in comfort of a boutique cafe and long-drawn conversations surrounding the beauty of the place. There is no one in hurry here.
Distance from Prague: 175 km (2.5 hours)
Things to do: If you are into photography, you are gonna want to visit to Museum Fotoatelier Seidel which was an actual photography studio of Joseph Seidel. Take a tour around the museum which has been decorated in Art Nouveau style. Enjoy a hot cup of coffee at Castle Cafe which not only brews amazing coffee and beers but also provides stunning views of the whole city. Another one of the things to do in Cesky Krumlov is kayaking or canoeing on Vltava River in summers.
Tips: It is cheaper if you buy a Cesky Krumlov Card which provides access to most of the attractions in the town which includes castle museum and tower, Museum Fotoatelier Seidel, Egon Schiele Art Centrum, Monasteries Český Krumlov. It costs less than $15 (INR 1,000). If you think you can't visit all the places in one day, don't worry because the card is valid for 12 months.
Must Read: Shopping In Prague: 6 Places To Feed The Shopaholic In You!
---
Europe Holiday Packages On TravelTriangle
Explore the most beautiful places to visit in Europe, from Paris to the Venice canals and from the Greek islands to the Swiss alps. Book customized packages by expert agents on TravelTriangle. Inclusive of airport transfers, cab, resort, sightseeing and meals. Best holiday experience Guaranteed. Book Now
---
2. Karlovy Vary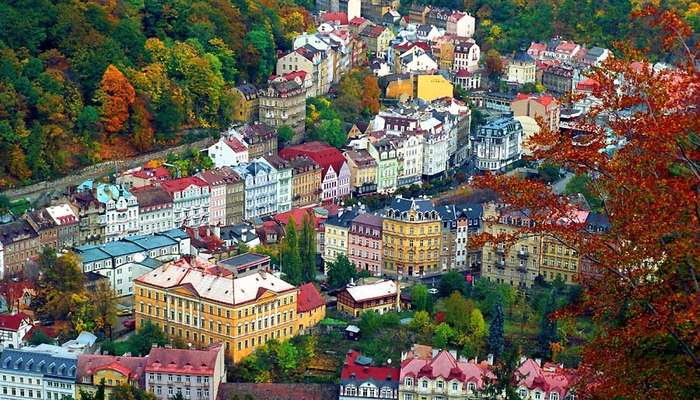 If you are wondering where else to visit near Prague then, head straight to Karlovy Vary for an extension which is famous for its cool architecture.
This city was discovered in 1370 and is a popular tourist site for its architectural brilliance and hot springs. It must be an eyesore for people who enjoy Prague and still visit Karlovy Vary for its colourful and imaginative architecture. If you cannot have enough of the special display from Prague, be here and enjoy another exquisite architectural splendour from Czech Republic. It is one of the best places to visit near Prague.
Of all the places near Prague, Karlovy Vary is a grand destination and very picturesque naturally. The hot springs destination is famous for its spa treatments, which has been on offer for the past six centuries. The spa complex offers physical and mental rejuvenation, which is a good option if you please so. It is one of the best places near Prague to visit
Distance from Prague: 130 km (2 hours)
Things to do: One of the things to do in Karlovy Vary is get a bird's eye view from Diana Observation Tower which offers stunning views of the city from the height of 18,00 ft. Visit the Moser Museum and Glasswork Factory where you can learn a lot about the renowned Moser glass art. Get a drink of Mother nature's soda recipe aka mineral water from the one of the 5 hot springs in the city. It is one of the unique experiences this place has to offer. Also, check out the 1970's Hot Spring Colonnade which spurts hot water 40 ft above the ground.
Tips: The best way to get around the city is by public transport. If you wish to buy antiques and artwork from the city, make sure your paperwork is in order since export of objects of cultural value is prohibited
Suggested Read: Prague Honeymoon Guide: 10 Sizzling Recipes To Spice Up Your Trip To The Land Of 100 Spires
3. Kutna Hora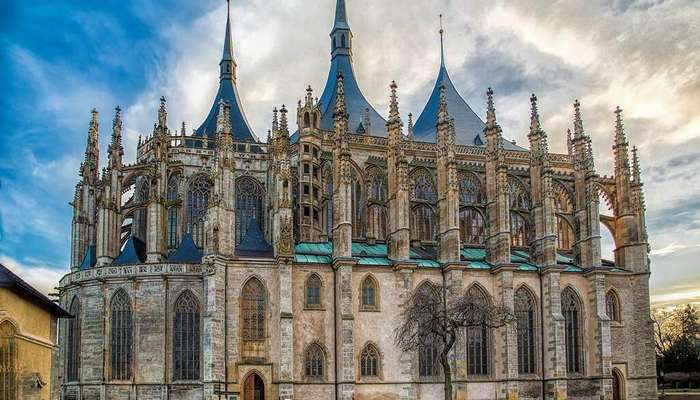 Located at distance of about 80 km from Prague, this 13th-century mine town is full of surprises. The famous bone church, yes, you read it right- a skeleton house called Sedlec Ossuary is located here.
This small Roman Catholic Chapel uses only human bones for interior decorations. There is a big chandelier hung at the centre-top, made of only human bones. If that sounds strange to you, wait until you experience it all. It looks beautiful and the intent is noble too. The chandelier, for example, has been constructed to commemorate people who died during the plagues and wars in Europe. The single piece of chandelier contains at least one bone of every person who died during this time. it is estimated that 70,000 people died due to plague and wars. It is one of the most historicak places near Prague to see.
Kutna Hora has other attractions like the Cathedral of Saint Barbara which has an exquisite vaulted ceiling and ornate frescoes. A must visit is the historic silver mining site. The cave mine tour is a bit of an adventure plus its visitors get to learn a lot about how coins were minted inside. It takes you through the complete journey of coin mining, through the caves. Otherwise too, Kutna Hora has a pretty hill-view and a lot of space to walk to visit every corner of the town in pleasure.
Distance from Prague: 85 km (1.5 hours)
Things to do: Known as the mining city, do not miss out on visiting the medieval silver mine where you will learn how silver was mined and processed inside the 'donkey gin'. After that, grab a fancy lunch at 400-year old Restaurant Dačický where you can gorge on lip-smacking Czech cuisine. Visit the Italian Court where silver coins were produced during the rule of a king. In the evening, take a stroll in the charming streets of Kutna Hora which seem right out of a fairy-tale. It makes one of the beautiful places to visit around Prague.
Tips: You will need not more than two days in Kutna Hora since all the attraction can be visited in a day. If you are travelling on a train, the station is near to Sedlec Ossuary from where you can begin the trip.
Suggested Read: In Pictures: 30 Most Beautiful Cities In Europe That Will Make You Want To Take The EuroTrip Now!
4. Krivoklat Castle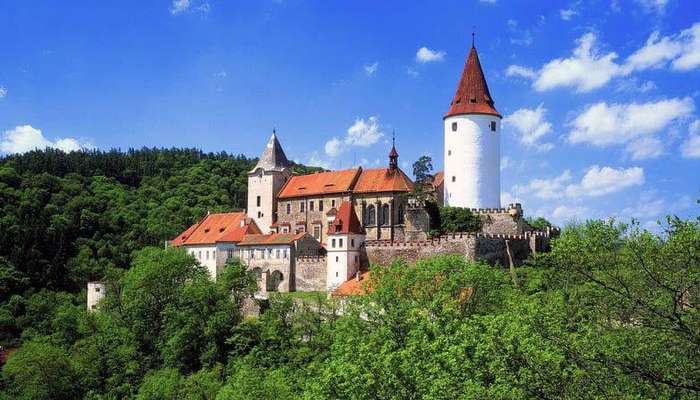 Located in the Berounka River Valley, Krivoklat Castle is one of the places close to Prague will take you back in time. The castle tour is a must for travelers who are looking to experience the serenity of hill by own. Krivoklat Castle rests on a forested hill and was originally a royal residence built in the 13th century.
The castle was founded in the 12th century and built in Gothic style and its interiors are still the same, full of paintings, art and a massive section of books (the collections is over 50,000). A walk inside the castle will take you through dark patches of the political prisoners captured here; their sentiment finds expression through beautiful cravings in the Royal Chapel today. These carving show angels holding instruments of torture. It is one of the best places to see around Prague.
Distance from Prague: 60 km (1 hour)
Things to do: A Krivoklat Castle tour will let you enjoy the unspoilt beauty of its surrounding highlands. It is a well-preserved landscape, which has most of its tourist attraction in order, carefully preserved and most importantly, it is still not crowded.
Tips: If you are looking for a Gothic experience, do not miss a trip to Krivoklat Castle.
Suggested Read: Prague Honeymoon Guide: 10 Sizzling Recipes To Spice Up Your Trip To The Land Of 100 Spires
5. Terezin Concentration Camp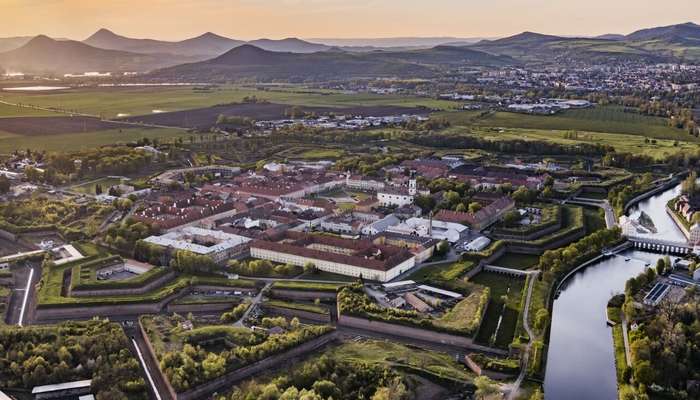 Image Source
A must-visit for the history buffs, about a one-hour drive from Prague, is Terezin Concentration Camp. The campsite was constructed by the Nazis to hold war prisoners around the time of World War-2. It is one of the unique and heartrending places to go around Prague.
There are similar concentration camp builds to be seen in Munich or Poland, for example. The Terezin Concentration Camp is notorious for housing many Jews imprisoned by the Nazis. The majority of the camp prisoners were from the community who underwent a lot of torture. A guided walk through the camp is enough to give you the chills and imagine what a hard task life it was for the Jews under the Nazi regime, led by Adolf Hitler.
Distance from Prague: 60 km (1 hour)
Things to do: The Terezin camp area also has ghettos where most of the camp prisoners went torture during interrogations during the 18th century. People who are curious to know more about Hitler and his regimen can specifically find a lot to observe and watch out during the camp visit-it is an equivalent of 'life at the site'.
Tips: A trip to the Terezin Concentration Camp , located about 60 kilometres from Prague, will take about an hour. Make sure to leave early to avoid crowd.
Suggested Read: 5 Gorgeous Annual Festivals In Prague That'll Make It Your Favorite City In The World

6. Vienna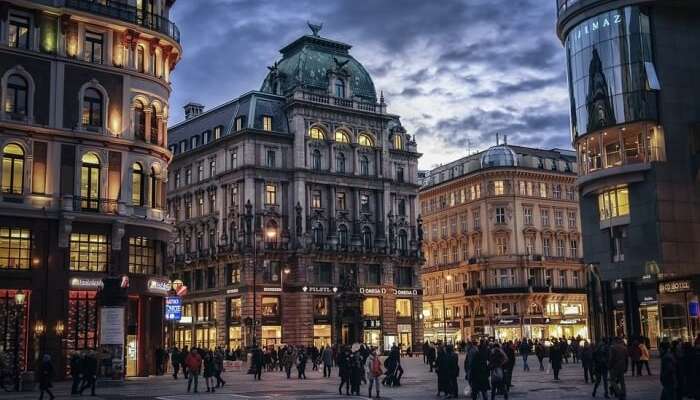 On a Vienna city tour travelers find out eventually that there's more to Vienna or Wien than classical music and legacy of monarchs. With independent bookstores and bistro culture, Vienna attracts a surprising number of younger tourists to Austria. An amusement park and a world-famous zoo entertain travelers who are young at heart.
Distance from Prague: 333 km (3 hours 45 minutes)
Things to do: Whether travelers are interested in the history of Habsburg family or a live classical music performance that was composed by Vienna's own Mozart, Vienna is a musical wonderland in Central Europe.
Tips: Vienna is plastic-free, so make sure you bring your own bag when you're going out to shop.
7. Nuremberg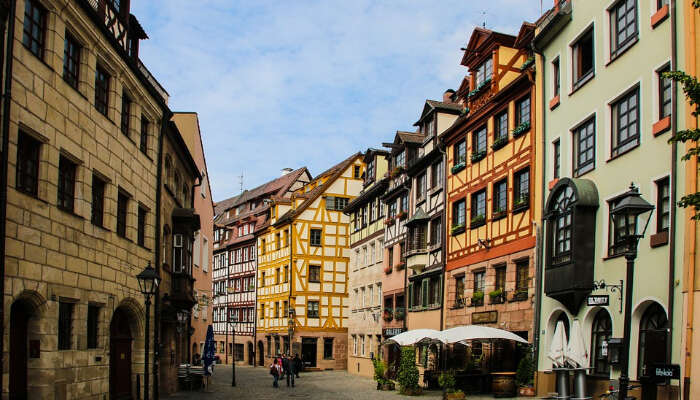 Visitors can discover beautiful Nuremberg — the site of Hitler's propaganda rallies. While relaxing on the comfortable train ride to Nuremberg a guided tour of city attractions like Congress Hall and the medieval old town can be taken as well. You will have the time of your life and will not be disappointed by the bevy of activities that take place here.
Distance from Prague: 298 km (3 hours 14 minutes)
Things to do: You can visit Nuremberg Castle which stands tall even after suffering huge demolition during the times of WWII. A prominent seat of the Roman Empire, this place has a trail leading up to the entrance.
Tips: One has to take the steep trail to reach Nuremberg castle from where the panoramic views of the city are just surreal. Don't miss to climb the steep steps that lead to the top of the Sinwell Tower.
8. Dresden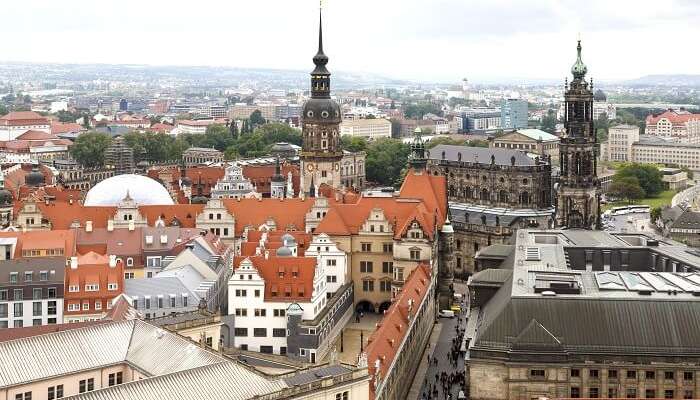 Plan a visit to Dresden during winter. This historic city is home to a number of museums, palaces, and iconic buildings that are open in winter. Castle Moritzburg – a spellbinding water castle, in particular, is a must visit. You will be spellbound by the beauty of the place and astounded by how terrific everything looks.
Distance from Prague: 149 km (1 hour 53 minutes)
Things to do: Visit Zwinger Palace or take a Frauenkirche Day trip to Meissen, among other things.
Tips: Germany winter temperature can dip to about -50 deg F, and a number of attractions shut down after Christmas. Make sure you carry adequate clothing.
9. Leipzig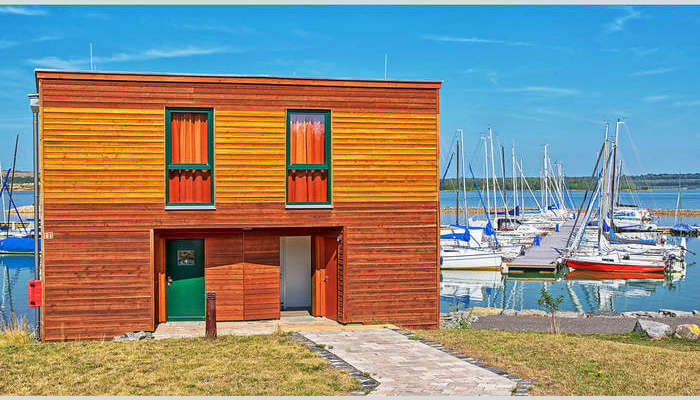 When in Rome, do as the Romans do. A famous saying that holds true to this day in almost every walk of life including travel. Germany is home to numerous lakes, and the locals love to go on vacations at a lakeside house. One of the top villas in Germany is located on the outskirts of Leipzig and on the banks of Lake Störmthaler.
Distance from Prague: 262 km (2 hours 45 minutes)
Things to do: The lakeside villas in Leipzig are surrounded by luxurious sailboats, high-end resorts and an effervescent presence of mother nature to add a surreal experience to your vacation.
Tips: Make sure you book villas in Leipzig in advance to avoid last-minute hassles.
10. Wroclaw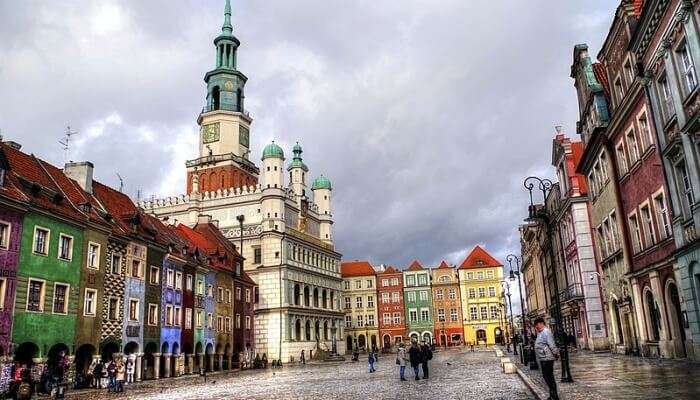 Wroclaw is the cultural and economic hub of Poland. Attracting modern-day businesses and at the same time latching on to its varied and complicated history, Wroclaw simply never stops giving joy to its residents and tourists alike. It is one of the best places to visit near Prague. It has some splendid sights for you to see!
Distance from Prague: 335 km (3 hours 54 minutes)
Things to do: The country's finest chocolate is manufactured here. Do not leave without sampling it.
Tips: Make sure you buy souvenirs for your family before you leave.
Further Read: Here's How To Spend A Weekend In Most Beautiful European Cities
It's always a good idea to go beyond boundaries, see the places that are often left unseen. So, now you know where else to visit in Czech, other than Prague. For a hassle-free trip planning customizable Europe holiday will be around for rescue too, you just have to be the one who's determined to go!
Frequently Asked Questions About Places Around Prague
Q. What countries are close to Prague?

A. Slovakia, Poland, Germany, and Austria are close to Prague.
Q. Is Prague good for couples?

A. Yes. Prague is among the most romantic cities of Europe. This year-round destination is quite popular as a romantic getaway for couples especially the newlyweds.
Q. What is the closest German city to Prague?

A. Dresden is the closest German city to Prague that you can visit on your 3 day Prague trip.
Q. Are there mountains near Prague?

A. Yes. Czech Republic has the largest ski resort which is located on the Czech mountain range.
Q. Is it better to use euros or koruna in Prague?

A. Czech crown is the official currency of Prague and is the best currency for making all payments. Though the Czech Republic is still a part of the European Union, euro is not always accepted here.
Q. What is Prague famous for shopping?

A. There are a lot of things you can buy from Prague as a souvenir such as glassware, crystal jewelry, decor, liquors, Garnet & Moldavite jewelry, traditional ceramics, antiques, and wooden toys.
Q. What is the best time to visit Prague?

A. Prague usually has a colder temperature and sees maximum tourists during summers. But if you want to avoid the crowd, the best time to visit Prague is the spring and early fall.
Q. Where is the best neighborhood to stay in Prague?

A. Prague 1, or the Prague Municipal District is one of the best places to stay in Prague. As it has all the Prague highlights located within close proximity. You can also get to almost anywhere without taking a metro or a tram. Malá Strana and Staré Město are some other beautiful areas to stay in Prague.
Q. Is Prague a safe city?

A. Prague is a very safe city. The violent crime rate is pretty low in most areas of Prague and it is safe to walk around even after dark. But be careful on Wenceslas Square as the area is prone to pickpockets.
Q. What are the best day trips from Prague?

A. Kutna Hora, Karlovy Vary, and Dresden are the best day trips from Prague.
---
Looking To Book An International Holiday?
Book memorable holidays on TravelTriangle with 650+ verified travel agents for 65+ domestic and international destinations.
---
People Also Read:
Prague In Winter Prague In Summer 3 Days In Prague
Comments
comments