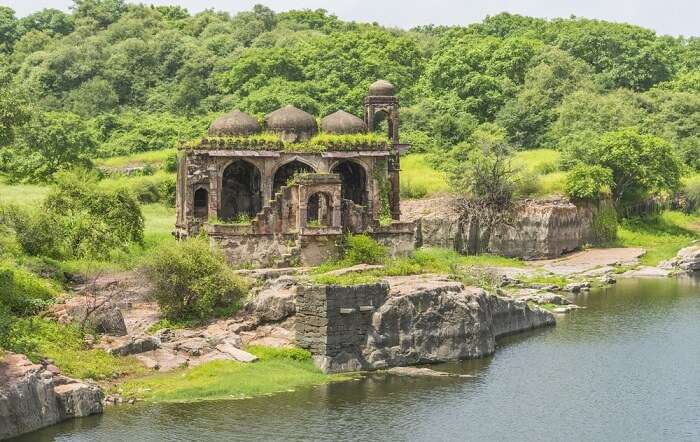 Sawai Madhopur is a quaint little city of Rajasthan, known for varied topography, palaces, forts and temples. Surrounded by Aravalli hills on one side and Vindhya Ranges on the other, Sawai Madhopur boasts of its rich history and heritage. If you wish to explore this true gem of Rajasthan, head off to these fascinating places to visit in Sawai Madhopur and let their charm woo you. Be it a history buff, a wildlife enthusiast or a nature lover, the beauty of Sawai Madhopur will never fail to enthrall you.
Best Places To Visit In Sawai Madhopur
Here is a list of some of the best places to visit in Sawai Madhopur, Rajasthan for you to have the most enticing holiday. Take a look!
Ranthambore National Park
Chauth Mata Temple
Ranthambore Fort
Surwal Lake
Chamatkar Temple
Kachida Valley
Khandar Fort
Trinetra Ganesh Temple
Amareshwar Mahadev Temple
Shilpgram
Hathi Bhata
1. Ranthambore National Park- Expansive Biodiversity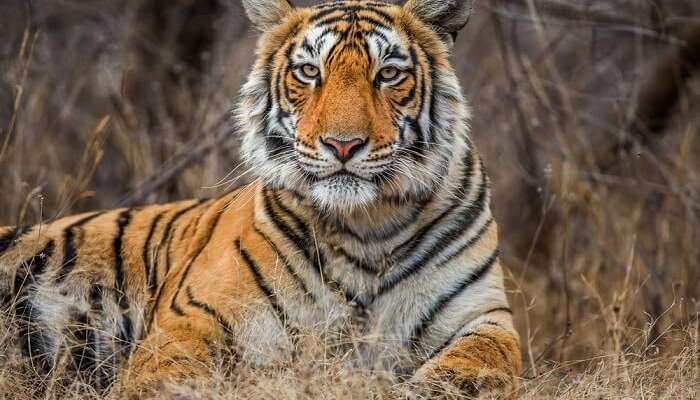 Ranthambore National Park is one of the biggest and most beautiful wildlife reserves of India. Sprawling over 392 sq km, this national park is one of the most beautiful places to visit in Sawai Madhopur. Listed as a part of Project Tiger and home to numerous Royal Bengal tigers, it was established in 1974. Apart from tigers, this vast national park is the habitat of deer, nilgai, leopard cat, jungle cat, sloth bear, palm civet, Indian gazelle, and cobras.
The national park has a huge lake called Padam Talao and numerous birds like sarus crane, winged jacana, nightjar, sandpiper and fish owl are spotted around this water body. Located between Vindhya and Aravalli ranges, this vast wildlife reserve, featuring picturesque topography of lake, undulating tracks, canals, and springs is one of the most popular tourist places in Sawai Madhopur.
Location: near Sawai Madhopur, Rajasthan
Opening hours: Summer: 6:00 am to 9:30 am and 3:00 pm to 6:30 pm. Winter: 7:00 am to 10:30 am and 2:00 pm to 5: 30 pm.
Charges: There are two kinds of safaris: jeep and cantar. For jeep safari, charges are INR 750/person for Indians and INR 1350/person for foreigners. For canter safari, INR 510/person for Indians and INR 1250/person for foreigners.
---
Rajasthan Holiday Packages On TravelTriangle
Explore Rajasthan, the land of Maharajas. Experience its royal cultural heritage, luxurious hotels, camel safaris, pristine lakes, and magnificent forts and palaces. Cover the best of Jaipur, Udaipur, Jodhpur, Jaisalmer, Pushkar and Ranthambhore at best prices with TravelTriangle.
---
2. Chauth Mata Temple – Temple At The Hill Top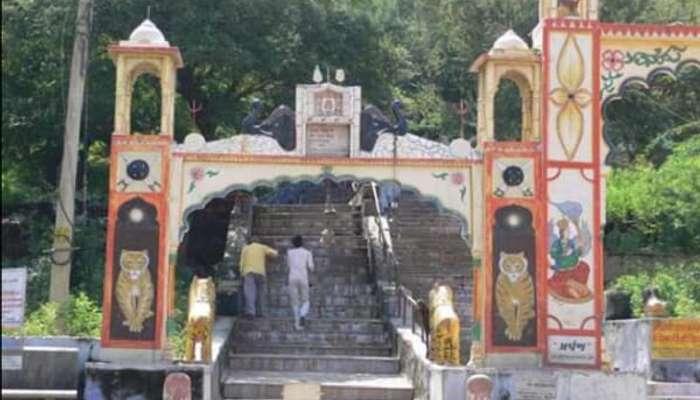 Chauth Mata Temple is among one of the most peaceful places to visit in Sawai Madhopur, built by Maharaja Bhim Singh. Locals believe that the king brought the idol of Chauth Mata from Pachala and established the same on the top of a hill near Sawai Madhopur. In later years, a temple was built on the hill featuring Rajput style structure and architecture. One needs to climb quite a few steps to reach this temple located on the hilltop.
The temple has other idols of Bhairava and Ganesha, which attracts pilgrims throughout the year, especially during Ganesh Chaturthi. Located on the outskirts of the main town, Chauth Mata temple is one of the most visited places near Sawai Madhopur.
Location: Old Grain Mandi Rd, City, Sawai Madhopur, Rajasthan 322001
Must Read: 18 Palaces & Forts In Rajasthan That Speak Of A Glorious Past
3. Ranthambore Fort – A Heritage Place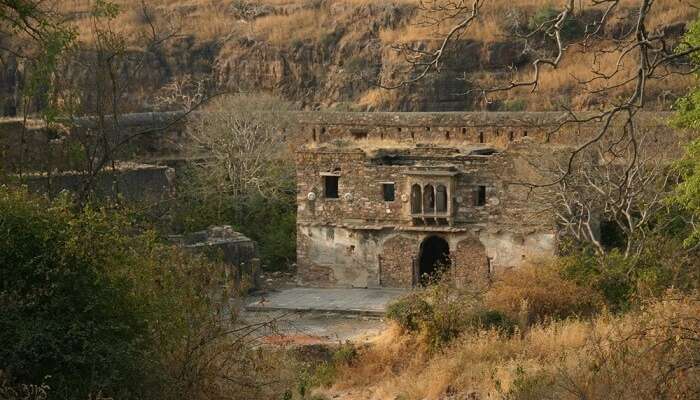 One of the oldest forts in Rajasthan, Ranthambore Fort was built in 8th century by Chauhan dynasty. Located 5 km inside the wildlife sanctuary, this is a UNESCO World Heritage Site and one of the major Sawai Madhopur tourism attractions. Perched atop a 700 feet high hill, the fort offers an amazing view of the surrounding lakes and the national park. The taran dwar, a 32 pillared chhatri, and Sameton ki Haveli are some of the most beautiful attractions of the fort.
Location: Sawai Madhopur, Rajasthan 322001
Opening hours: 6:00 am to 6:00 pm
4. Surwal Lake- A Paradise For Ornithologists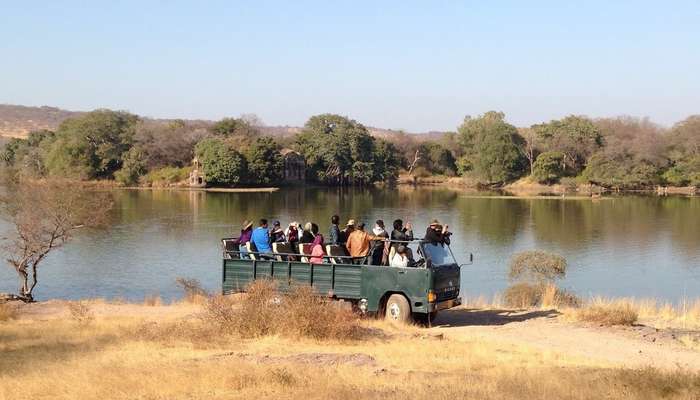 Surwal is a seasonal yet very picturesque lake, surrounded by meadows, farmlands, and villages. This lake is considered a haven for nature lovers and bird watchers as it acts as the habitat of numerous migratory birds like spoonbills, sarus cranes, and greylag geese. This is one of the most scenic places near Sawai Madhopur for a day-long picnic and photogenic sunrise views.
Location: Surwal Dam, near Sawai Madhopur, Rajasthan
Must Read: Ranthambore National Park: The Biggest Habitat Of Nature's Most Ferocious Predator
---
Planning your holiday in Rajasthan but confused about what to do? These Rajasthan travel stories help you find your best trip ever!
Real travel stories. Real stays. Handy tips to help you make the right choice.
---
5. Chamatkar Temple – Abode For Wish Fulfillment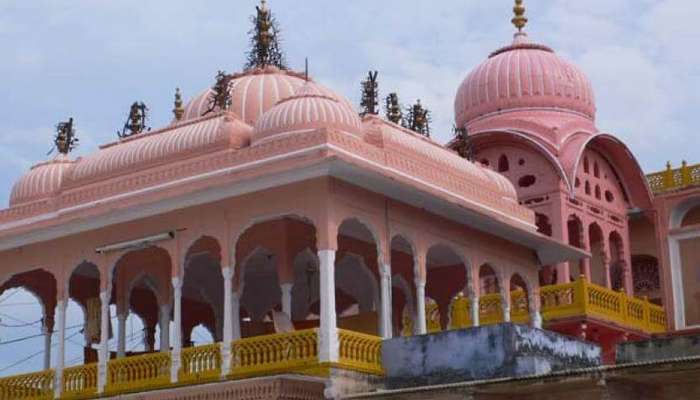 Chamatkar Temple is one of the oldest and most beautiful Jain temples located close to Sawai Madhopur station. The temple is dedicated to Lord Adinath and also houses idols of many Jain Tirthankara. There is a popular belief that all wishes are fulfilled on worshipping at this temple. So, make sure you seek blessings at this temple.
Location: Sheopur – Sawai Madhopur Road, Near Alanpur Circle, Alanpur, Sawai Madhopur, Rajasthan 322021
Opening hours: 5:00 AM to 10:00 PM
6. Kachida Valley – The Spectacular Green Meadow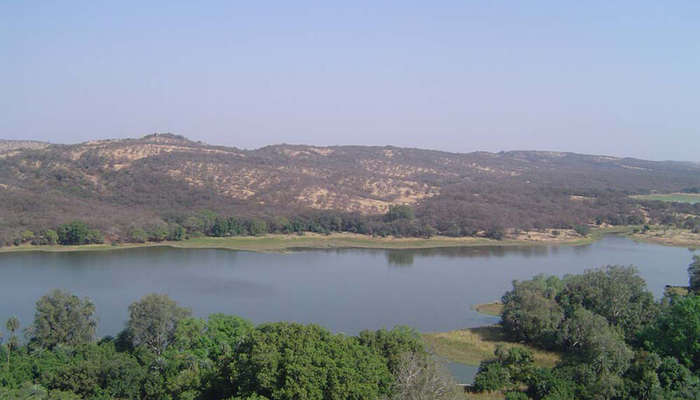 Dotted with rugged hillocks and opulent forests, Kachida Valley is a visual treat and one of the most picturesque places to visit at Sawai Madhopur. An ideal place for wildlife buffs and nature enthusiasts, this is home to wild boars, sloth bear, and panthers. Enjoy jeep safari, spot wildlife, and admire the best views of the surrounding forests.
Location: Kacheeda Kalan, Rajasthan 322029
Suggested Read: 10 Hotels In Ranthambore For A Royal Stay
7. Khandar Fort – The Relics Of Mewar Reign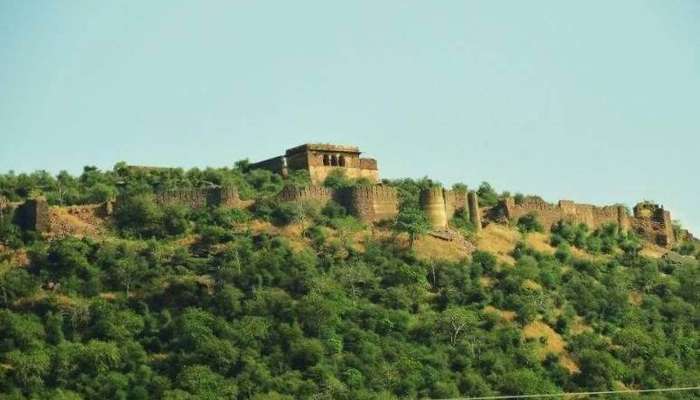 Khandar fort is an architectural beauty and certainly among the most extravagant places to visit near Sawai Madhopur. Featuring huge structures and fortified walls, the Khandar Fort was built by a Mewar king, who never lost any battle. The fort has many temples located inside such as Jain temple, Rani temple, Jagatpal Ji temple, Chaturbhuja temple, and Hanuman temple, etc. A drive to the fort is quite enthralling and the panoramic view from the fort is a sight to behold.
Location: Goth Bihari, Rajasthan 322025
Timings: 8 AM – 6:30 PM
Suggested Read: Honeymoon In Rajasthan: 6 Things To Do And Attractions For Couple
8. Trinetra Ganesh Temple – A Unique Temple Of Lord Ganesha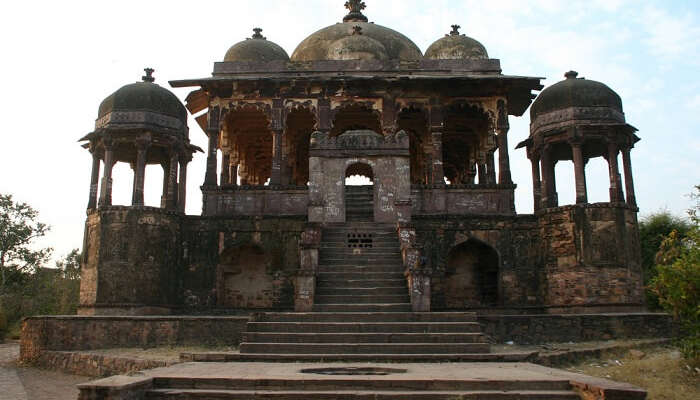 Perched inside Ranthambore Fort, Trinetra Ganesh Temple is a famous Hindu temple of not only the region but also of entire Rajasthan. Historical sources reveal that the temple was built in 1299, during a war between King Hameer and Ala-ud-din Khilji. King Hameer was a devotee of Lord Ganesha. He dreamt of trinetra idol, won the battle and constructed a beautiful temple within the fort. This is one of the must-see tourist places in Sawai Madhopur and the only temple in the world that has the whole family of Lord Ganesha.
Location: Ranthambhore Fort, Rajasthan 322001
9. Amareshwar Mahadev Temple – Majestic Temple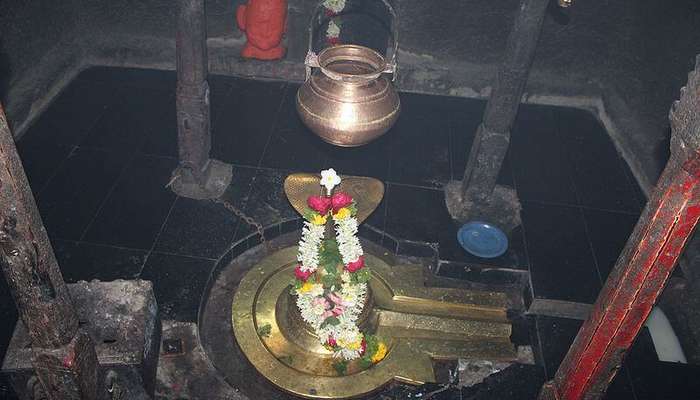 This temple is one of the most popular places to visit in Sawai Madhopur. As old as 1200 years, this temple holds a great significance in the lives of the people there. While you go to seek blessings, you will have a thrilling experience as the way to reach the temple consists of adventures and waterfall too. So, do visit this temple while visiting Sawai Madhopur.
Location: Khilchipur, Rajasthan 322027
Suggested Read: Our 6 days In Rajasthan Gave Us Majestic Experiences To Be Cherished Forever
10. Shilpgram – The Craft Village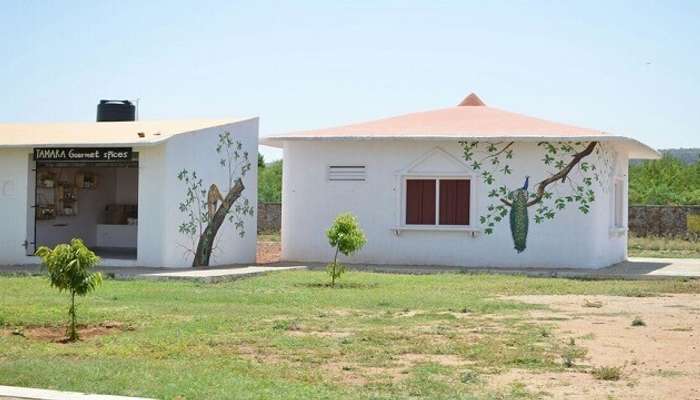 Shilpgram is a craft village near Sawai Madhopur from where you can buy indigenous craft items. It is located 9 km outside Sawai Madhopur in Ramsinghpura Village. You will find a wide variety of arts, crafts, and local items. If you wish to have unique shopping experience on your trip to this part of Rajasthan, then you should definitely plan a visit to Shilpgram. The museum has been established to support local ethnic groups and crafts and you should appreciate and promote it being Indian citizens.
Location: Ramsinghpura, Sawai Madhopur, Rajasthan 322027
Timings: 10:30 AM – 7 PM
11. Hathi Bhata – Life-Size Stone Sculpture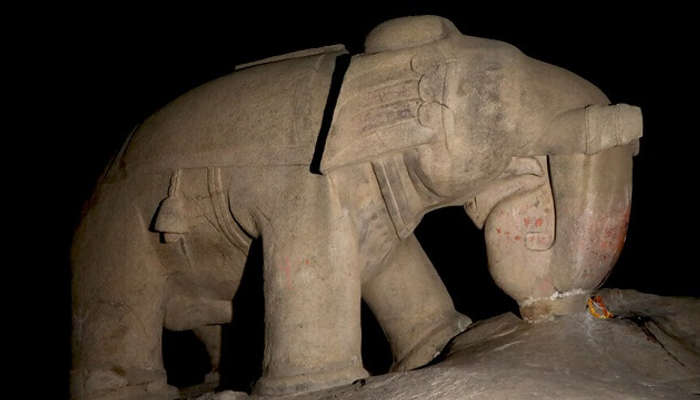 Image Source
On your way to Sawai Madhopur, you will come across a stone sculpture of an elephant carved out of a single stone. The life-size stone sculpture of elephant is located in Kakod and has inscriptions that narrate the story of Raja Nal and Damayanti. The stone sculpture is as old as 1200 BC and was sculpted by Ram Nath Slat during the reign of Sawai Singh.
Further Read: Ranthambore National Park: The Biggest Habitat Of Nature's Most Ferocious Predator
Do visit this heritage city of Rajasthan. For accommodation, there are many resorts and hotels in the city for travelers with all kinds of budget. In fact, there are many Jain Dharamshala in Sawai Madhopur to accommodate tourists, traveling on a shoestring budget. So, don't think too much and plan a visit to Rajasthan for an extraordinary experience.
Frequently Asked Questions About Places To Visit In Sawai Madhopur
Q. How can I go to Sawai Madhopur?
A. The nearest airport is Sanganer Airport in Jaipur. You can take a bus or train from Jaipur to Sawai Madhopur. Udaipur also has good rail and road connections to Sawai Madhopur.
Q. How many tigers are there in Ranthambore?
A. There are in total 62 tigers in Ranthambore National park, according to the 2014 consensus.
Q. Which is the best zone in Ranthambore?
A. If you want to spot a tiger, Zone 01 is the best zone to spot the famous tigers in the park where you can meet Sultan, Noor, and Ustad. Singh Dwar is the entry and exit gate to get into this zone.
Q. Are there elephants in Ranthambore?
A. No, there are no elephants in Ranthambore. You can visit Corbett National Park to enjoy the elephant safari.
Q. Why is Sawai Madhopur famous?
A. Sawai Madhopur is famous for its Sawai Man Singh Sanctuary that is home to a wide range of flora and fauna. Other than this, Chamatkar Temple is among the most famous Jain temples in Sawai Madhopur.
Q. Which is the best time to visit Ranthambore?
A. October to April is the best time to visit Ranthambhore if one wishes to spot tigers in the park there. Ranthambore National Park remains open from 1st October to 30th June every year.
Q. Are kids allowed in Ranthambore?
A. Yes, kids are allowed inside the Ranthambore National Park as long as they're accompanied by an adult.
Q. How much does the Ranthambore safari cost?
A. The cost of a safari tour here is made of a few components like park entry fees, vehicle hire, and guide fees. The rates for a gypsy safari are as follows:
Indian nationals – INR 974 per person
Foreign nationals – INR 1,714 per person
People Also Read:
Places To Visit In Bharatpur Places To Visit In Bundi Places To Visit In Pushkar
Comments
comments