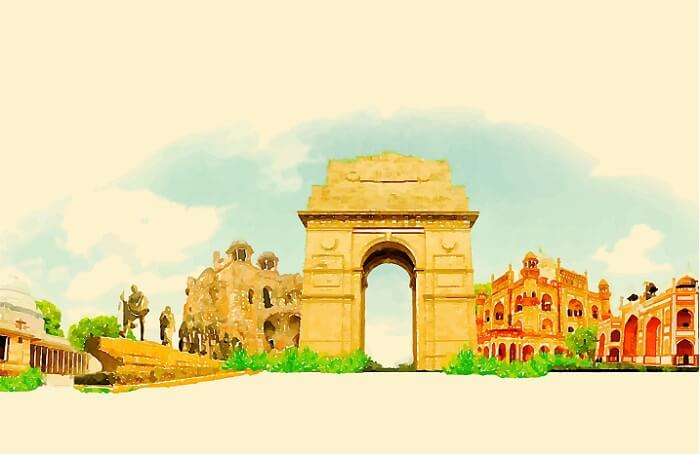 Delhi has been the capital of many dynasties over the period of time. From the Pandavas of the Hindu epic Mahabharata to the Narendra Modi-led BJP of the present day political scenario, the current capital of India has seen many rulers come and go. Many of these rulers got new forts, palaces, and establishments constructed. Today, these historical places in Delhi form the highlight of the sightseeing tours of the capital, popularly known as Delhi Darshan.
With a history that spans over a millennium, it is only normal to have a long list of historical places. But to try and summarize, we bring to you a comprehensive list of famous places in Delhi that speak volumes about the history of the Indian capital.
20 Famous Historical Places In Delhi
Lush Ladho Sarai
Mystical Mehrauli
Happening Hauz Khas
Ancient Tughlaqabad
Unique Jahanpanah
Antique Kotla
Significant Shergarh
Historical Old Delhi
Magnificent Badarpur Zail
Contemporary Wazirabad
Beautiful Nizamuddin
Appealing Inderpat Estate
Monumental Khirki Village
Exquisite Kharera Village
Aesthetic Delhi Ridge
Engaging Babarpur
Stunning Jantar Mantar
Artistic Agrasen Ki Baoli
Charming Chhota Qutub Minar
Inspiring India Gate
As mentioned before, the Sultanate of Delhi has seen many rulers. Many of them established their own cities. The medieval history period itself saw the rise and fall of seven cities within Delhi, viz. Qila Rai Pithora, Mehrauli, Siri, Tughlaqabad, Firozabad, Shergarh, and Shahjahanabad. These 7 cities form a major chunk on the list of historical places in Delhi.
1. Ladho Sarai (Rai Pithora)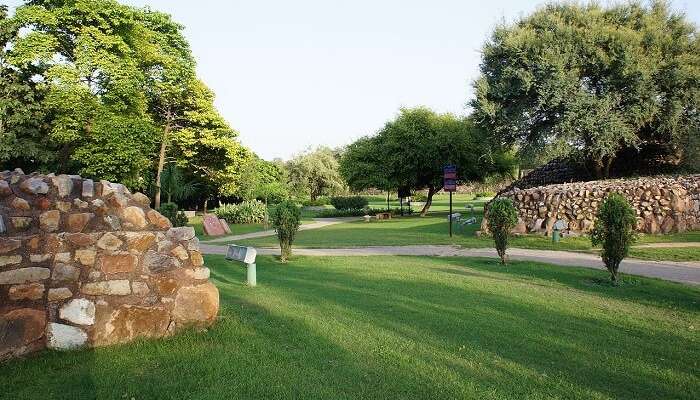 Due to the availability of recorded historical facts, Rai Pithora is known as the first city of Delhi. The once fortified city was built by Prithviraj Chauhan after defeating the Tomar Rajputs in the 12th century. Prior to this, the Tomars ruled over an establishment known as Lal Kot that was built by the Tomar ruler Anangpal I in the 8th century. Though these attractions on the list of historical places in Delhi are no more in existence, ruins of the same can be seen in the Mehrauli district. The 12th-century Rai Pithora is today popularly known as Ladho Sarai.
Monuments in Ladho Sarai: Gateway and ramp of Qila Rai Pithora, numerous bastions of Rai Pithora, Gateways of Lal Kot, Mandi Mosque, Rajon-ki-Bain (Rajon Ki Baoli), Badun Gate, Tomb of Azim Khan, and Tomb of Balban Khan
Location: Southwest Delhi, Near Qutub Minar Complex, New Delhi – 110030
Nearest Metro: Saket Metro Station (Yellow Line)
Suggested Read: 18 Adventurous Places In Delhi NCR That'll Make Your Heart Skip A Beat In 2020
2. Mehrauli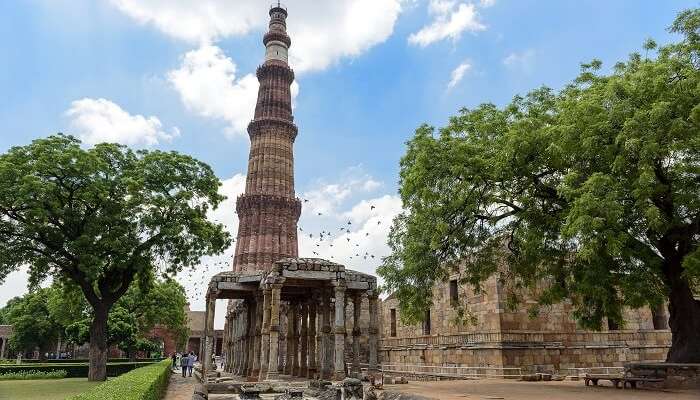 After defeating Prithviraj Chauhan in 1191, Mohammad Ghori left his slave Qutubuddin Aibak as his viceroy. Aibak captured Delhi, which was still in the hands of the Chauhans, in 1193. After the death of Ghori in 1206, Aibak took the throne of Delhi for himself and established the first Mughal rule over Delhi. This gave to the rise of the Slave Dynasty. Qutubuddin Aibak began building Islamic structures that were later incorporated in his city – Mehrauli. This was the second city of Delhi.
The city of Mehrauli includes a plethora of historical places in Delhi, the chief being the Mehrauli Archaeological Park and the Qutab Archaeological Area.
Built By: Tomar Rajputs
Built In: 1060 CE
Monuments in the Qutab Minar Complex: Minar of Qutubuddin Aibak (Qutub Minar), Iron Pillar, unfinished minar, Tomb of Iltutmish, Tomb of Imam Zamin, Alai-Darwaza, and a mosque
Other Monuments in Mehrauli: Jahaaz Mahal, Hauz-i-Shamsi, Moti Masjid, Zafar Mahal, Tomb of Adham Khan, Jamali Kamali Mosque, Tomb of Maulana Jamali Kamali, and Gandhak-ki-baoli
Location: Southwest District, New Delhi – 110030
Nearest Metro: Qutub Minar Metro Station (Yellow Line)
Must Read: 35 Most Famous Historical Places In India In 2020: You Think You Know Them Well Enough?
3. Hauz Khas (Siri)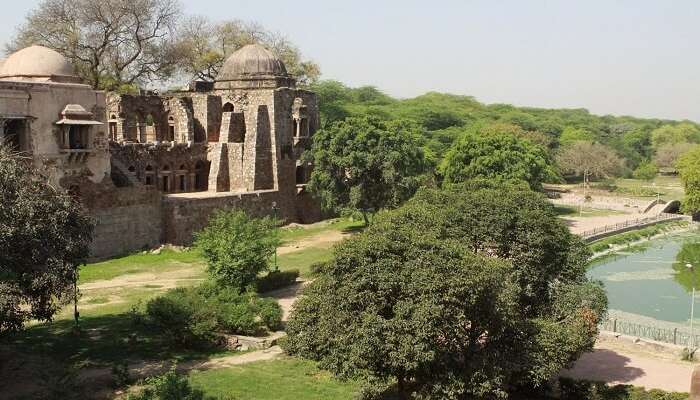 One of the most happening & affluent neighborhoods of the 21st century Delhi, Hauz Khas derives its name from the Royal Water Tank built during the reign of Allauddin Khilji. The present day Hauz Khas district was then called Siri, which was one of the seven cities of Delhi. A highlight of the New Delhi tourism circuit, the area holds importance for both the history buffs and the part lovers. And with the presence of myriad monuments in the district, Hauz Khas qualifies as one of the important historical places in Delhi.
Monuments in Hauz Khas: Tomb of Feroz Shah Tughlaq, Bag-i-AlamGumbad, Kali Gumti, and Tefe Wala Gumbad
Built By: Alauddin Khilji
Built In: 13th century
Location: South West District, New Delhi – 110016
Nearest Metro: Green Park Metro Station (Yellow Line)
Suggested Read: 25 Best Resorts Near Delhi To Relax, Rejuvenate, And Unwind on Weekend In 2020
4. Tughlaqabad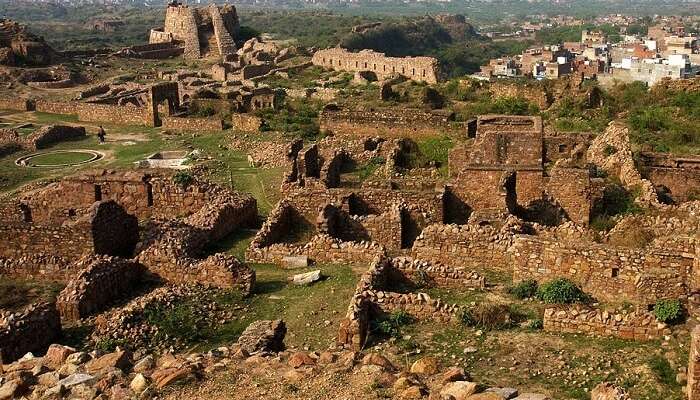 It was in 1320 that Ghiasuddin Tughlaq won the Sultanate of Delhi from Nasiruddin Mohammed and founded the city of Tughlaqabad. He got the Tughlaqabad Fort constructed in the city, remains of which can still be seen in this area. As the third city among the former seven cities of the Delhi Sultanate, Tughlaqabad too ranks high in the list of the important historical places in Delhi.
Built By: Ghiyas-ud-din Tughlaq
Built In: 1321
Monuments in Tughlaqabad: Tomb of Ghiasuddin Khan, Nai-ka-kot, Adilabad, and Tughlaqabad Fort
Location: South Delhi, New Delhi- 110016
Nearest Metro: Green Park Metro Station (Yellow Line)
Suggested Read: 19 Festivals Of Delhi To Attend In 2019-20 For A Food, Shopping & Cultural Extravaganza!
5. Jahanpanah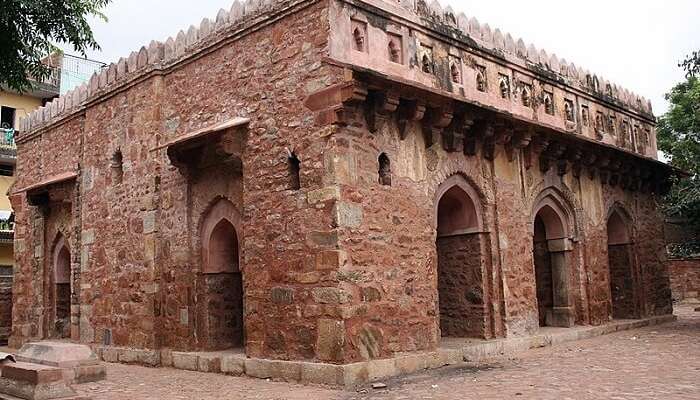 After the untimely death of Ghiasuddin Tughlaq in 1325, his son Muhammad bin Tughlaq ascended the throne. After a reign of 7 years with Tughlaqabad as his capital, he shifted the capital of the empire to Daulatabad, Devgiri, in Aurangabad District of Deccan. But the scarcity of water led him to shift back to Delhi in 1334. It was then that he founded another city – Jahanpanah or the World's Asylum – very close to his former capital of Tughlaqabad. Though it was never considered among the 7 cities of the capital, it is considered as one of the important places in Delhi for the history lovers.
Monuments in Jahanpanah: Begumpuri Masjid, Lal Gumbad, Tomb of Bahlol Lodhi, and Bijay Mandal
Location: Geetanjali Marg, Block S, Malviya Nagar, New Delhi – 110016
Nearest Metro: Malviya Nagar Metro Station (Yellow Line)
Suggested Read: 27 One Day Road Trips From Delhi To Take With Your BFFs
6. Kotla (Firozabad)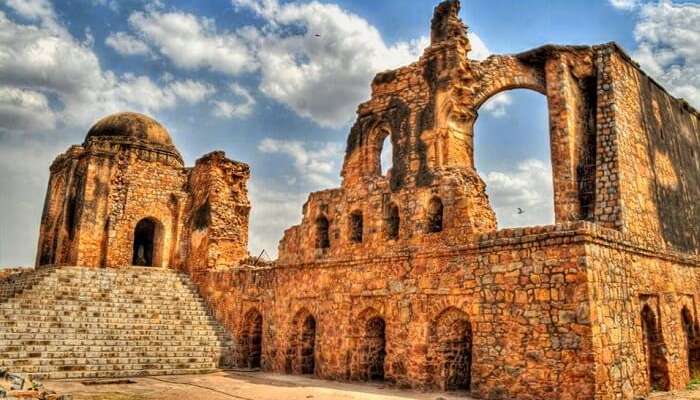 After a disastrous reign by Muhammad bin Tughlaq, his son Firoz Shah set out to bring some stability to the empire. In due course, he established another city in Delhi – Firozabad or Firoz Shah Kotla. The city was a large enclosure of high walls and contained palaces, pillared halls, mosques, a pigeon tower, & a water tank. Firoz got an Ashokan pillar from 1500 years ago erected on the top of his palace.
The Sayyid and Lodhi dynasties that followed worked to restore the stability. The most famous gardens and tombs of this era, which you might be able to see on a Delhi Darshan in the area surrounding the present-day Lodhi Gardens, also fall in the Firozabad city of medieval India.
Built By: Delhi Sultanate
Built In: 14th century
Monuments in Kotla: Ashoka's Pillar, Firoz Shah Kotla, Khuni Darwaza (Lal Darwaza), Inchla Wali Gunti, Kala Gumbad, Tomb of Mubarak Shah, Tomb of Barhe Khan, Tomb of Chhote Khan, Tomb of Darya Khan, Tomb of Kale Khan, and Tomb of Khwaja Sara Basti Khan
Monuments in & around Lodhi Gardens: Tomb of Sikandar Lodhi, Tomb of Safdarjung, Old Lodhi Bridge, Bara Gumbad, and Sheesh Gumbad
Location: South Extension I, New Delhi – 110003
Nearest Metro: South Extension Metro Station (Pink Line)
Suggested Read: 14 Fun Things To Do In Delhi On A 2020 Trip To The Capital City
7. Shergarh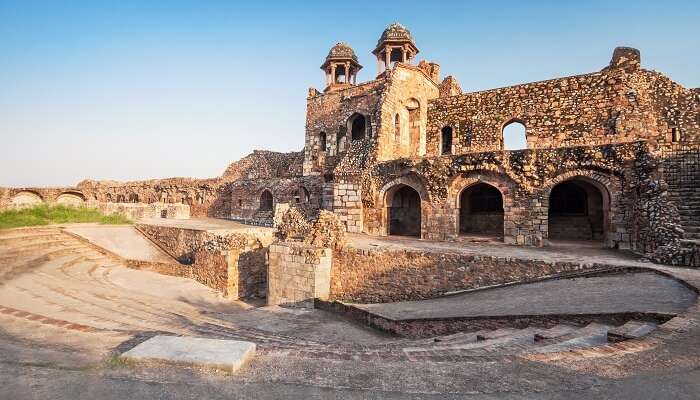 The present day Purana Qila (Old Fort) was the creation of Sher Shah Suri in his capital city of Shergarh. However, when Humayun defeated him in 1555 to win the capital back, the fort and the city were incomplete. Humayun did the needful and led to the existence of one of the most popular historical places in Delhi.
Though the Humayun's Tomb complex was built later by Emperor Akbar, its location next to the Old Fort has often led to a debate among the historians about whether or not it is to be included in the city of Shergarh. But in case you are going to Old Fort, you better not miss the monuments of the Humayun's Tomb complex.
Monuments in Old Fort area: Purana Qila (Old Fort), Khair-ul-Manzil, Moti Gate of Sher Shah Suri, and Qila-i-Kuhn mosque of Sher Shah
Monuments in Humayun's Tomb complex: Humayun's Tomb, Arab Sarai, Afsah-walla-ki-Masjid, Tomb of Isa Khan Niyazi, Nai-ka-Gumbad, Chillah Nizamuddin Aulia, Nila Gumbad, and Tomb of Bu Halima
Location: Mathura Road, Near Delhi Zoo, New Delhi – 110003
Nearest Metro: Khan Market Metro Station (Violet Line)
Suggested Read: 15 Free Things To Do In Delhi
8. Old Delhi (Shahjahanabad)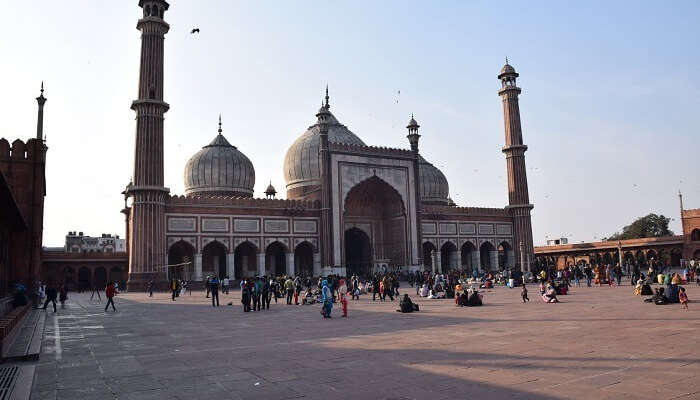 Shah Jahan, the man that gave Taj Mahal to the world, is also credited for the construction of the city of Shahjahanabad – the present-day Old Delhi. The city remained the capital of the Mughal Sultanate from 1639 till the end of the Mughal Dynasty. The walled city was known for its royal architecture, intricate lanes, elegant mosques & gardens, dazzling bazaars, and surrounding walls.
Famous Places in Old Delhi: Red Fort (Lal Qila), Jama Masjid, Chandni Chowk, Dariba Kalan, Ballimaran, Bhagirath Palace (erstwhile mansion of Begum Samru), Naughara, Mirza Ghalib ki Haveli, Haveli Dharampura, Chunnamal ki Haveli, Digambar Jain Lal Mandir, and Salimgarh Fort
Built By: Mughal Emperor Shahjahan
Built In: 1628- 58
Monuments listed under Gates of Delhi:
Nigambodh Gate: northeast, leading to Nigambodh Ghat on the Yamuna River
Kashmiri Gate: north
Mori Gate: north
Kabuli Gate: west
Lahori Gate: west, leading to the tomb of Syed Abdul Rehman Jilani Dehlvi.
Ajmeri Gate: southeast, leading to Ghaziuddin Khan's Madrassa and Connaught Place
Turkman Gate: southeast, close to some pre-Shahjahan remains, including the tomb of Hazrat Shah Turkman Bayabani
Delhi Gate: south, leading to Feroz Shah Kotla
Monuments in Red Fort: Red Fort, Naubat Khana, Diwan-i-Am, Mumtaz Mahal, Rang Mahal, Baithak, Muthamman Burj, Diwan-i-Khas, Moti Masjid, Sawan & Bhadon, Shahi Burj, Hammam, and Sunehri Masjid
Historical buildings in and around Naughara Digambar Jain Mandir, Shwetambar Jain Mandir, 9 colorful Jain havelis, and Paranthe Wali Gali
Location: Old Delhi, Delhi – 110006
Nearest Metro: Chandni Chowk Metro Station (Yellow Line)
Suggested Read: 56 Exhilarating Tourist Places In Delhi For Your Next Soothing Vacation In 2020
Other Important Historical Places In Delhi
There is an abundance of historical places in Delhi. Read on, to know about some more of these places.
9. Badarpur Zail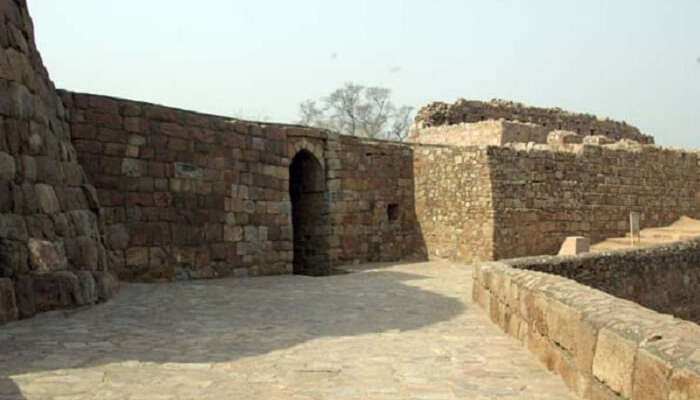 Badarpur, the historic town in the south of Delhi has its own share of historical monuments. Once the area had a number of sarais, and today it still houses some monuments that one can visit on their historic tour of Delhi. Explore the walls of the old city of Tughlaqabad and more on your Badarpur excursion.
Historical buildings in Badarpur Zail Tomb of Mohammed Tughlaqabad Shah and Walls of the old city of Tughlaqabad
Location: Bawana, New Delhi, Delhi 110039
Nearest Metro: Rithala Metro Station (Red Line)
Suggested Read: A Boat Ride From Delhi To Taj Mahal Is On The Cards & We Can't Keep Calm!
---
Planning your holiday but confused about where to go? These travel stories help you find your best trip ever!
Real travel stories. Real stays. Handy tips to help you make the right choice.
---
10. Wazirabad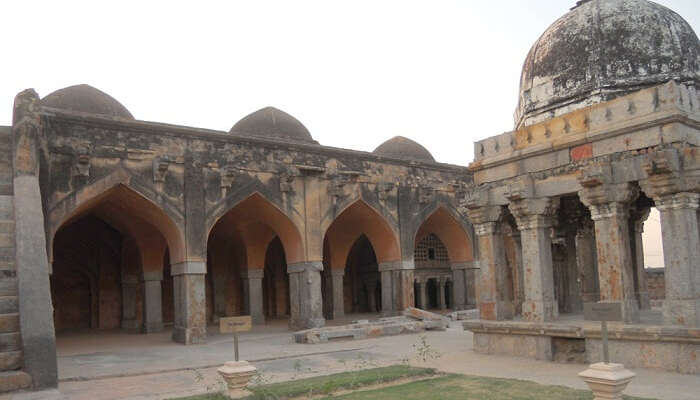 Image Source
Monuments are the backbone of any town or city today. They store and preserve one's history and culture. This history is what gives one their roots. And when we talk about the historical monuments in Delhi, then Wazirabad should be mentioned too. Wazirabad has monuments built back in the ages and it is great fun to go back in time, while exploring these beautiful monuments.
Monuments in Wazirabad: Wazirabad Tomb (Tomb of Shah Alam I), Wazirabad mosque, Wazirabad bridge, Tomb of Shah Alam Bahadur Shah, Tomb of Shah Alam II, and Tomb of Akbar Shah II
Location: North East Delhi, New Delhi – 110054
Nearest Metro: Majlis Park Metro Station (Pink Line)
Suggested Read: 50+ Incredible Places To Visit Near Delhi In 2020: Within 600 km From The Capital
11. Nizamuddin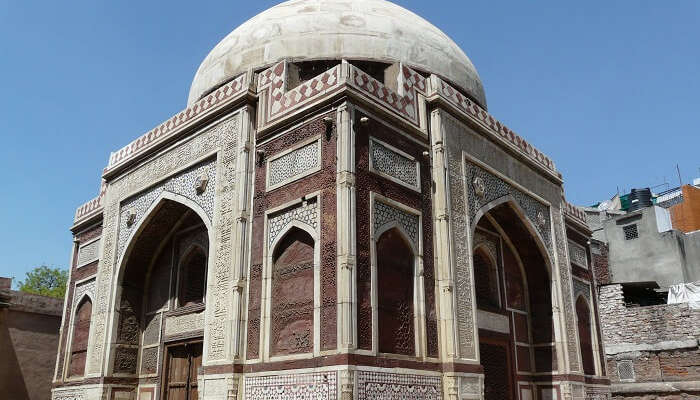 Image Source
Who hasn't heard of the Dargah of Hazrat Nizamuddin? I guess everyone has, and other than the famous Dargah, Nizamuddin also has a few monuments that one can explore in the region. Mirza Ghalib, the world famed poet, is buried in Nizamuddin too, and one can visit the tomb of Mirza Ghalib while on a tour of the historical monuments in Delhi.
Monuments in Nizamuddin: Tomb of Mirza Ghalib, Tomb of Ataga Khan, Grave of Jahanara Begum, Tomb of Nizamuddin Auliya, Tomb of Amir Khusro, Nizamuddin Baoli, and Tomb of Mirza Muzaffar (Barha Batasha & Chhota Batasha)
Location: Hazrat Nizamuddin, South Delhi District, New Delhi – 110013
Nearest Metro: Jangpura Metro Station (Violet Line)
12. Inderpat Estate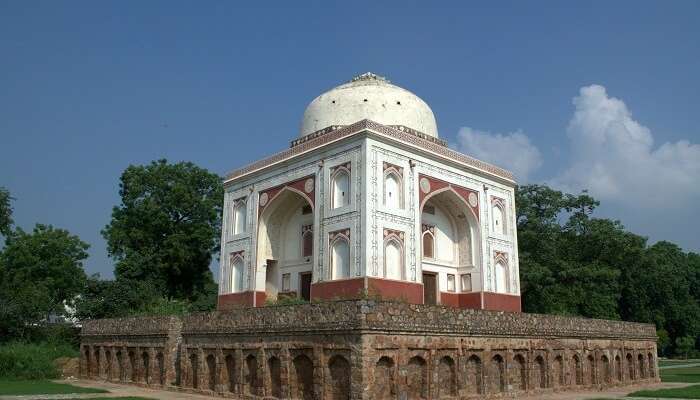 Image Source
While talking of the historical monuments in India, let us not forget the Inderpat Estate. Earlier known as Indraprastha, the name in the modern times changed to Inderpat or Indrapat. The monuments that one can visit here are the tomb of Sunderwala Mahal, Sunderwala Burj, and more. Explore these interesting places in history with your friends. Plan a heritage tour soon!
Monuments in Inderpat Estate: Lakkar wala Gumbad, Sunderwala Burj, and Sunderwala Mahal
Location: Sunder Nursery, Hazrat, Bharat Scouts and Guides Marg, Nizamuddin, New Delhi – 110013
Nearest Metro: Jangpura Metro Station (Violet Line)
Suggested Read: Getting Married? These Are The 17 Best Locations For A Pre Wedding Shoot In Delhi & NCR
13. Khirki Village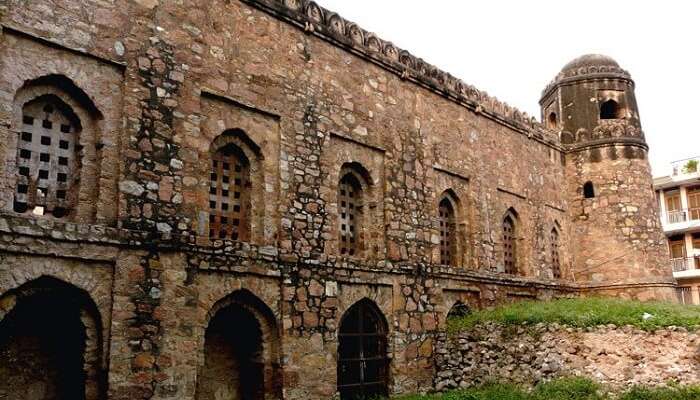 Image Source
This is one region that you can explore throughout the day. There are a number of walks that one can indulge in here. It is the hub of artisans and historians, and for good reasons. One can visit the Khirki Mosque here which is a construction of the late 14th century among other historical monuments. Head to the village and lose yourself to the captivating sites of the old and rumbling, yet elegant historical monuments in Delhi.
Monuments in Khirki Village: Khirki Masjid, Satpula III dam, and Tomb of Sheikh Yusuf Qattal
Location: South Delhi District, New Delhi – 110017 
Nearest Metro: Malviya Nagar Metro Station (Yellow Line)
14. Kharera Village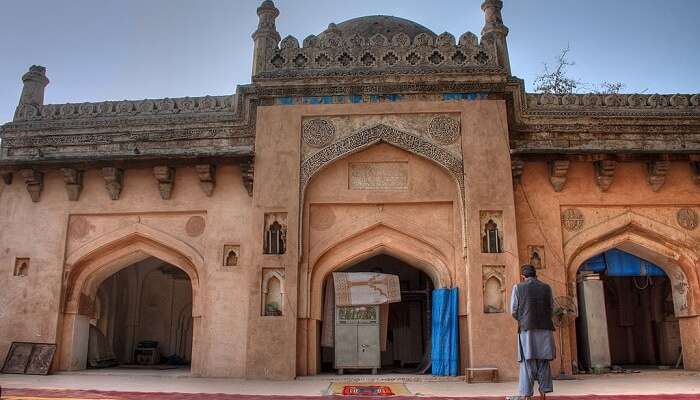 Image Source
Another region with quite a few monuments in Delhi is Kharera Village. These monuments are a reminder of the past and the golden era that the country once saw. Today, what we can do is visit these places and learn how significant these structures once were, and are even today. Some important structures in this village are mentioned below. Read on, to know more about these amazing places in Delhi.
Monuments in Kharera Village: Chor Minar, Sakri Gumti, Chhoti Gumti, Idgah of Kharera, Neeli Masjid, Poti ka Gumbad, Biran ka Gumbad, Dadi ka Gumbad, and Bara Khamba
Location: Hauz Khas, New Delhi – 110016
Nearest Metro: Hauz Khas Metro Station (Yellow Line)
Suggested Read: The New Direct Train From Delhi To Leh Will Get You There In Half The Time
15. Delhi Ridge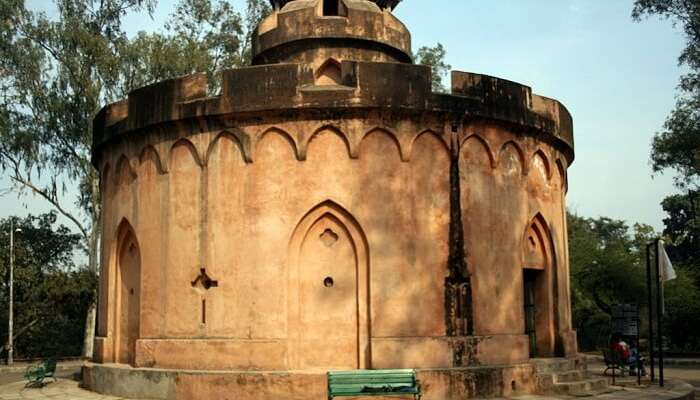 Image Source
North Delhi isn't just famous for the Delhi University Campus, and the haunted Ridge Road. There is more in terms of exploration that one can indulge in there. The area has a few historical places too, like the Flagstaff Tower. This was built in 1828 as a signal tower. Head to Delhi Ridge and know more of some historical places in that region.
Historical buildings in and around Delhi Ridge Flagstaff Tower, Chauburji, Hindu Rao Baoli, Ashokan Pillar, and Pir Ghaib
Location: Kamla Nehru Ridge, Civil Lines, Delhi, 110007
Nearest Metro: Vidhan Sabha Metro Station (Yellow Line)
16. Babarpur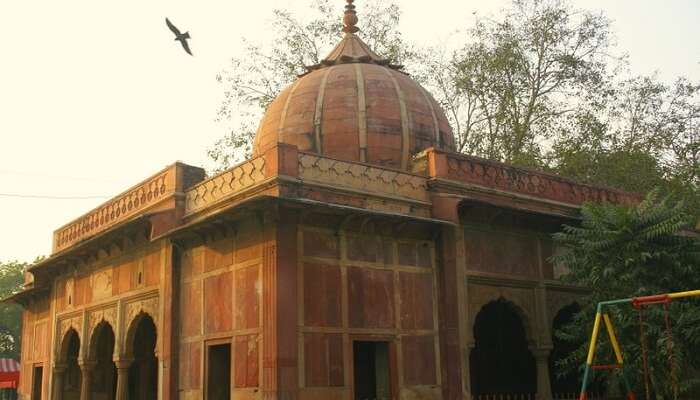 Image Source
Another region that one can include in their list of historical monuments in Delhi is Babarpur. It is in north east Delhi and has a few important buildings, namely Kos Minar. These were the Indian milestones from the medieval period. Wonder how the world ran without Google Maps? Well, these milestones helped as markings on longer routes during the earlier times. Head to Babarpur to have a look at these!
Historical buildings in Babarpur Lal Bangla and Kos Minar (Mughal Milestone)
Location: North Shahdara, North East Delhi District, New Delhi – 110032
Nearest Metro: Jaffrabad Metro Station (Pink Line)
Suggested Read: 10 Less Popular Places In Delhi That Have Been Ignored For Long
Historical Places In Delhi For Delhi Darshan
The list has not ended yet. Here are a few interesting monuments that one can add to their list of Delhi darshan. They won't disappoint you for sure!
17. Jantar Mantar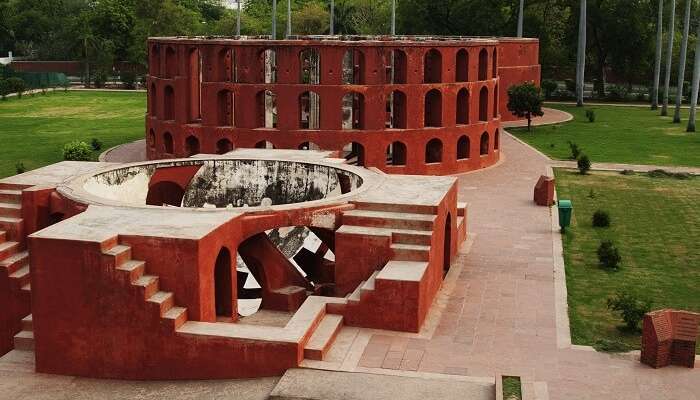 Jantar Mantar is among the monuments that form the backbone of New Delhi tourism. Located in the present-day city of New Delhi, it is one of the 5 observatories built by Maharaja Jai Singh II of Jaipur in 1724. The observatory consists of 13 instruments and 3 major individual structures. The 3 individual structures are:
Samrat Yantra: The Samrat Yantra, or Supreme Instrument, is a giant right triangle that is basically an equal hour sundial. Its 128-foot-long (39 m) hypotenuse, which is parallel to the Earth's axis, points toward the North Pole. On its either side is a quadrant with indicators for hours, minutes, and seconds. It also helped in measuring declination and other related coordinates of various heavenly bodies.
Jayaprakash Yantra: The Jayaprakash has hollowed out hemispheres with markings on their concave surfaces. Crosswires were stretched between points on their rim. It was used to study the position of the stars.
Misra Yantra: The Misra Yantra, the only structure in the observatory that is not invented by Jai Singh II, was a tool to determine the shortest & longest days of the year and to indicate the exact moment of noon in various cities all over the world.
Built By: Maharaja Jai Singh II
Built In: 1724
Location: Connaught Place, Sansad Marg, New Delhi – 110001
Nearest Metro: Janpath Metro Station (Violet Line)
18. Agrasen Ki Baoli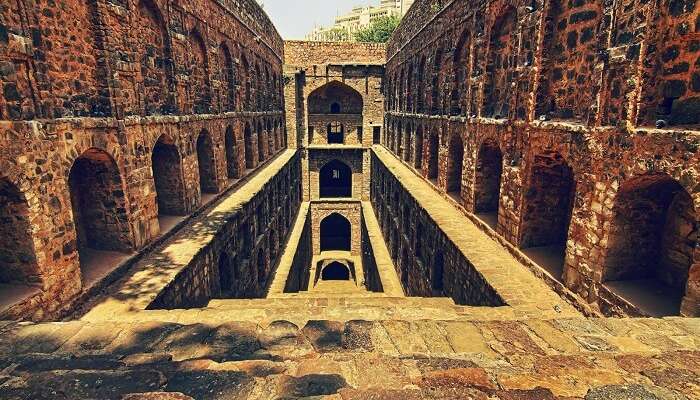 Agrasen ki Baoli is located on the Hailey Road near Connaught Place in the present-day city of New Delhi. One of the ASI-protected historical places in Delhi, it consists of 3 levels and 103 steps. Though there are no historical records to prove it, but the building is believed to have been built by the legendary Maharaja Agrasen and rebuilt by the Agarwal community during the reign of the Tughlaq dynasty. Rumors have it that the Baoli is also one of the haunted places in Delhi.
Location: Hailey Road, KG Marg, near Diwanchand Imaging Centre, New Delhi – 110001
Nearest Metro: Janpath Metro Station (Violet Line)
Suggested Read: 15 Extraordinary Destinations Around Delhi That You Ought To Check Out In 2020
19. Chhota Qutub Minar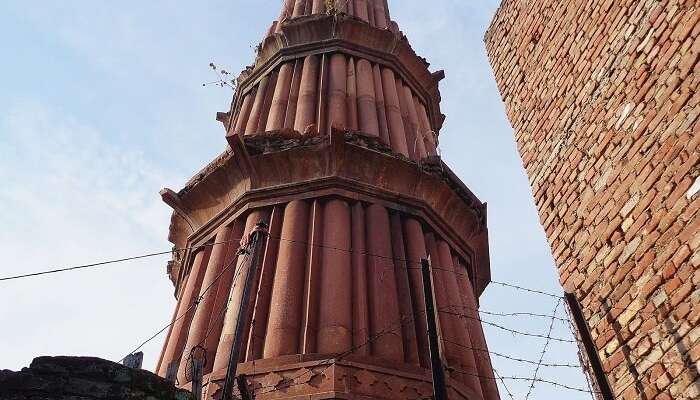 Debate still exists, for those who have even heard of this monument, about the date of construction of this monument. While the red sandstone used in the minar suggests it to be from the Mughal Period, many locals claim it to be from the time of Prithviraj Chauhan. It is also believed that the structure was used as a hunting lodge by Shahjahan during the 1650s. What now stands as a 17-meter tall tower with 12 faces, has a broken top portion. Due to its remote location at the Hastsal Village in Uttam Nagar, it has been ignored from the face of New Delhi tourism.
Location: Hastsal Village, Uttam Nagar, West Delhi, New Delhi – 110059
Nearest Metro: Uttam Nagar East Metro Station (Blue Line)
20. India Gate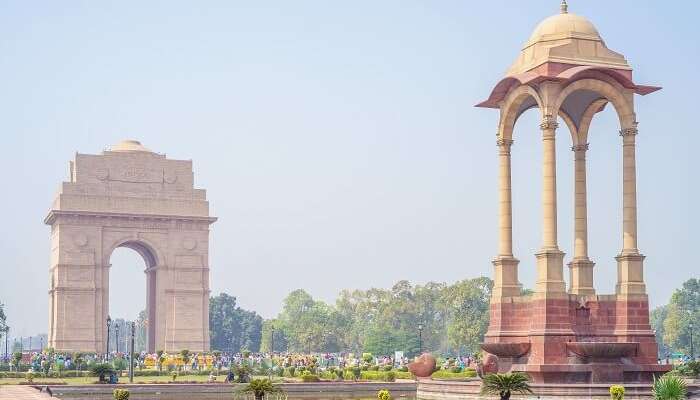 One of the more recent attractions of the New Delhi tourism, the India Gate on Rajpath is a war memorial to the 82,000 soldiers of the undivided Indian Army who died in the period 1914 – 1921 in the First World War, in France, Flanders, Mesopotamia, Persia, East Africa, Gallipoli, and elsewhere in the Near & the Far East, and the Third Anglo-Afghan War. It is a part of the work of the Imperial War Graves Commission (IWGC) that came into existence in December 1917 for building war memorials.
Its foundation stone was laid by the visiting Duke of Connaught on 10th February 1921 and it was inaugurated on 12th February 1931 by Lord Irwin. After the Bangladesh Liberation War of 1971, another structure was added to it – the Amar Jawan Jyoti.
Built By: Sir Edwin Lutyens
Built In: 1931
Location: Rajpath, India Gate, New Delhi – 110001
Nearest Metro: Central Secretariat Metro Station (Yellow Line)
Further Read: 7 After-Dark Tours In Delhi All You Night Crawlers Must Take
Despite our best efforts, the list mentioned above doesn't cover all the historical monuments of the capital. But it certainly presents ample fodder for those who seek a walk through the historical places in Delhi. Book a trip to Delhi soon and explore all these amazing places here!
Frequently Asked Questions About Historical Places In Delhi
Q. Which are the top historical places in Delhi?
A. Delhi is a hub of historical places and there is no dearth of tourist attractions for history buffs in the capital city. Some of these are Red Fort, Jama Masjid, Humayun's Tomb, Qutab Minar, and India Gate.
Q. How many historical places are there in Delhi?
A. Made up of 7 districts, Delhi has been ruled by many kings and rulers which is why it has become the historical, architectural, and cultural capital of India. One cannot determine the number of historical places in Delhi but three of them have been recognized as World Heritage Sites by UNESCO.
Q. How many tombs are there in Delhi?
A. There are 12 tombs in Delhi including Lodhi Tomb, Humayun's Tomb, and Tughlaqabad Fort.
Q. How many forts are there in Delhi?
A. There are around 16 forts in and near Delhi that you can explore if you are interested in the history of Delhi.
Q. Why is Delhi called a mini India?
A. Delhi has bagged the title of 'Mini India' due to its multiculturality along with harmony among people.
Q. What is the historical importance of Delhi?
A. Delhi has been the hub of culture, transportation, politics, and commerce for a long time. Apart from this, many kings have ruled this city which is why Delhi is a historical city of India.
Q. Who built the India Gate?
A. Edwin Lutyens, also the planner of Chandigarh, built India Gate in the year 1921 which commemorates the members of the British Indian Army.
Q. Why Qutub Minar is famous?
A. Qutab Minar was built when the last Hindu ruler of Delhi was defeated. This 73-meter high tower was built by Qutub-ud-Din Aibak in the year 1193.
---
Long Weekend Trips Starting @ Rs 3499/-
Take a trip to spend the upcoming long weekend with your buddies.
✓ Stay at 4 star rating hotels with local sightseeing, meals and transfers.
✓ Travel in AC coach round trip (from Delhi).
✓ All Inclusive Deal– Camping, Jeep Safari & Trekking as per itinerary
✓ Sign up NOW to celebrate the long weekend out of town!
---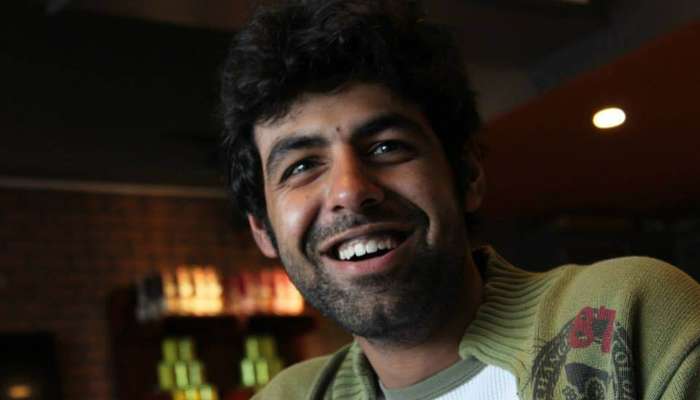 Comments
comments