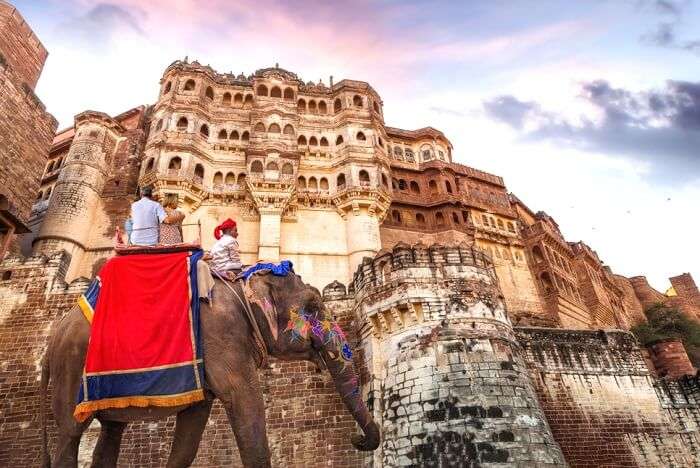 Is there any better way to make your honeymoon special than spending those lovely days in royal Rajasthan? Guess not! It's time you stop dreaming about your romantic vacation and turn it into a reality. With numeorus honeymoon places in Rajasthan, this destination is magical.
A honeymoon in Rajasthan is not everybody's cup of tea; it's for those who want something different for their vacation. It's time for you to woo your sweetheart by taking her on a hot air balloon ride or a camel ride or an exotic desert camp. Oh, boy! You will be spoilt for choice in Rajasthan.
Best Honeymoon Places In Rajasthan 2019
Rajasthan is a beautiful state with charming places to visit. Here are some of those places one can visit on a honeymoon.
1. Jaipur – To Paint You In The Color Of Love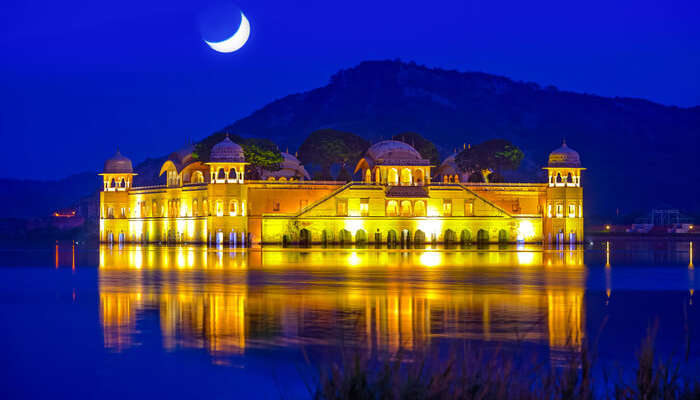 Jaipur! The pink city makes a lovely honeymoon destination for all those couples who wish to have a royal honeymoon. Jaipur has everything a couple would ask for; it has the spectacular desert views, lavish hotels, and the ancient havelis that attract tourists not only from India but from all over the world. Jaipur has been one of the popular and the best honeymoon places in Rajasthan for more than a decade. There's no reason you should miss it!
Beautiful places to visit in Jaipur for couples: Sheesha Restaurant, Nahargarh Fort, Central park, Smriti Van, Sisodia Rani Garden
Romantic things to do in Jaipur:
Watch a Bollywood flick with your love at Raj Mandir
Fly high in Jaipur sky in hot air balloon
Visit Fairmont Jaipur for a romantic date night
Try yummy street-food in the main market and delicious non-veg at MI Road
Some of the best honeymoon hotels in Jaipur:
Rambagh Palace, The Oberoi Rajvilas, Jai Mahal Palace, Royal Heritage Haveli, and Hotel Meghniwas
Must Read: 11 Jaisalmer Resorts To Stay In 2019 For Experiencing Rajasthani Lifestyle
---
Rajasthan Honeymoon Packages on TravelTriangle
Explore Rajasthan, the land of Maharajas. Experience its royal cultural heritage, luxurious hotels, camel safaris, pristine lakes, and magnificent forts and palaces. Cover the best of Jaipur, Udaipur, Jodhpur, Jaisalmer, Pushkar and Ranthambhore at best prices with TravelTriangle.
---
2. Pushkar – To Enliven Your Love Life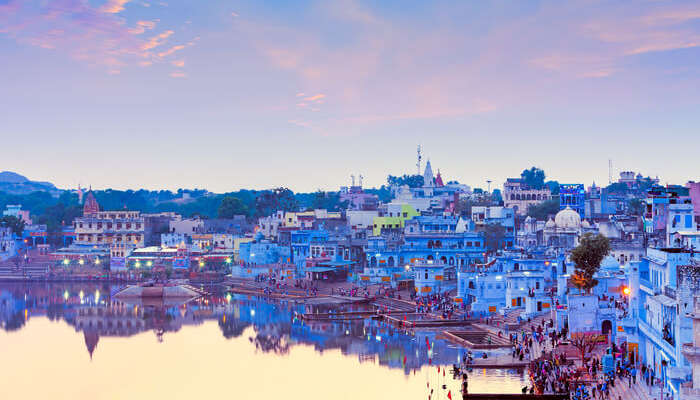 The scenic and silent town has always been one of the most popular honeymoon destinations in Rajasthan for couples. The city is surrounded by tall, green trees on three sides and the fourth side is covered by the shiny desert. This is not just a romantic place, but it's also great for the couples who are looking for beautiful budget honeymoon destinations in India.
Beautiful places to visit in Pushkar for couples: Pushkar lake, Sunset Cafe Hotel, Varaha Ghat, Thar Desert
Romantic things to do in Pushkar:
Go for Sawan ke Jule or a fun camel ride
Pushkar is a small town, hire a bike and go on a long romantic
Do absolutely nothing and see the setting sun from your hotel terrace
Hike from Ratnagiri Hill to Savitri Temple with your loved one
Some of the best honeymoon hotels in Pushkar: Hotel Prem Villas, Gulaab Niwaas Palace, Pushkar Resorts, and The Westin Pushkar Resort & Spa
Suggested Read: Ranthambore National Park: The Biggest Habitat Of Nature's Most Ferocious Predator
3. Jodhpur – For A Grand Start Of Your Life After Wedding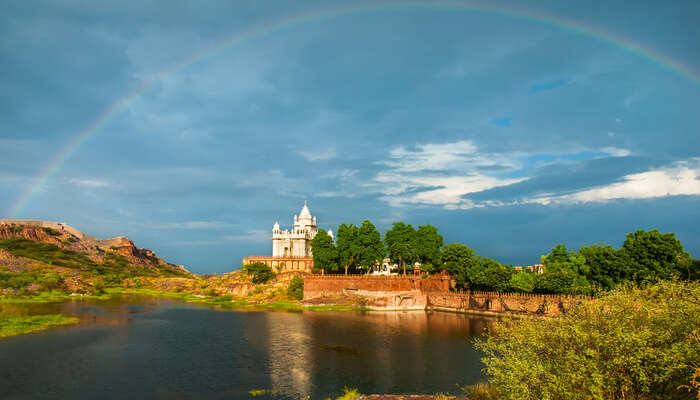 The rustic villages, ancient palaces, and golden sand—Jodhpur is a picture-perfect town. This small town has a lot of wonderful things to offer to newlyweds. The scenic beauty and peace of this town make it one of the most romantic honeymoon places in Rajasthan.
Beautiful places to visit in Jodhpur for couples: Umaid Bhavan Palace museum; Umaid garden; Udai mandir; Mandore Gardens
Romantic things to do in Jodhpur:
Takhat Sagar Lake to spend a beautiful evening
Witness the beautiful sunset at Kailana Lake
A romantic dinner at Mehran Terrace Restaurant
Some of the best honeymoon hotels in Jodhpur: Mango Hotels Jodhpur – Ratanada, Marugarh Resort, Vivanta by Taj – Hari Mahal, Jodhpur, and Umaid Bhawan Palace Jodhpur
Suggested Read: Neemrana Fort Palace: A Brief Guide For Your Weekend Trip
4. Jaisalmer – To See Magnificence That'll Leave You Speechless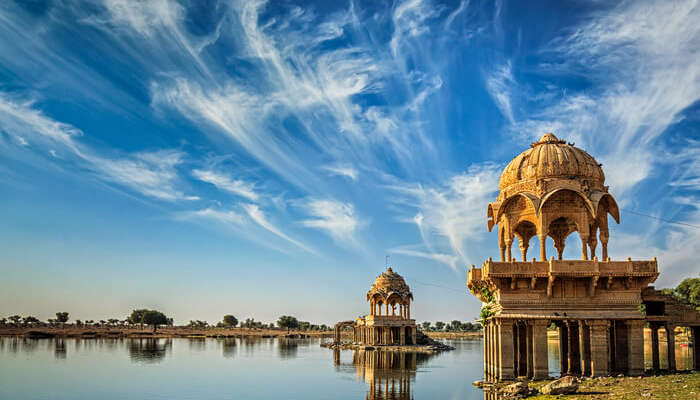 A perfect combo of desert camp, folk dance, and camel safari—reminds you of Dubai? Yeah, Jaisalmer has come out straight from one of the tales of Arabian Night Stories to make your honeymoon in Rajasthan memorable. Jaisalmer's sunrise mesmerizes each and every tourist making it a not-to-miss kind of thing.
Beautiful places to visit in Jaisalmer for couples: Jaisalmer Fort, Bada Bagh, the massive five-storied Patwon-Ki-Haveli, Desert Nation Park, Gadsisar Lake
Romantic things to do in Jaisalmer:
Enjoy a Camel Ride
Go for a comfortable camp stay in desert for a night or two to dance with folk dancers
Walk on the warm desert and feel the smooth sinking feeling
Some of the best honeymoon hotels in Jaisalmer: Hotel Pleasant Haveli, Jasmin Home, Helsinki House, The Gulaal, and Jaisalmer Marriott Resort & Spa
Suggested Read: 10 Glorious Places To Visit In Jaisalmer
5. Mount Abu – For Those In Love With Mountains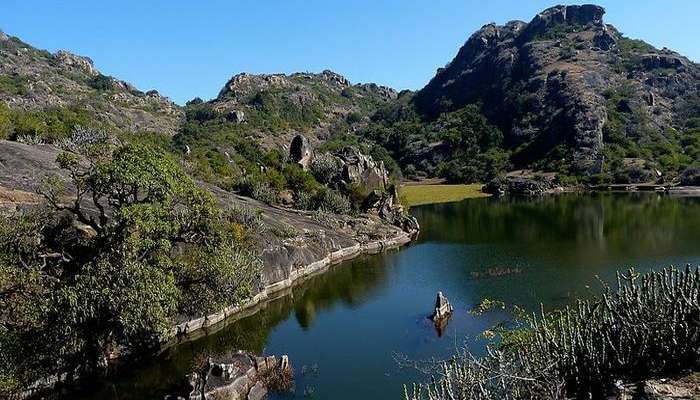 The only hill station in Rajasthan, Mount Abu attracts hundreds of newlyweds every year. The green Aravalli mountains and Nakki Lake offer a spectacular retreat to people in love making it one of the best honeymoon places in Rajasthan.
Each corner of this town is filled with incredible vistas. And Gurushikhar, Aravalli mountains' highest peak has a wonderful backdrop for your sweet conversations. If you want to witness the exquisite view of the sun setting over the ridge, then you can't afford to miss the honeymoon point in Mt Abu.
Beautiful places to visit in Mount Abu for couples: Dilwara Jain Temples, Mount Abu Wildlife Sanctuary, Nakki Lake, Achalgarh, Guru Shikhar, Trevor's crocodile park
Romantic things to do in Mount Abu:
Hot air balloon ride up in the sky with your sweetheart
A romantic boat ride in the morning or during sunset
Fine dine at Mulberry Tree Restaurant
An easy trek to Bridal path for stunning views
Some of the best honeymoon hotels in Mount Abu: Hotel Silver Oak, Ratan Villas, Hotel Hillton, and Hotel Hillock
Suggested Read: 17 Best Resorts In Jodhpur In 2019 For A Taste Of Luxury & Rajasthani Heritage
6. Ajmer – For Tranquility And Solace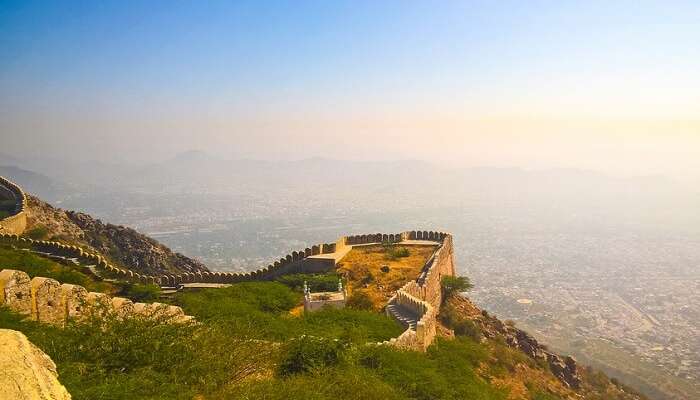 Also known as the Ajmere Sharif, Ajmer is a pretty famous city of Rajasthan. The rich heritage of the city is what attracts tourists and its luxury resorts are exactly what honeymooners seek. The city is tranquil and provides one with total solace. It is a destination where one can enjoy some quality time with their partner.
Beautiful places to visit in Ajmer for couples: Khawaja Gharib Nawaz, Ana Sagar Lake, Lake Foy Sagar, Taragarh Fort, Ajmer Sharif Dargah, Akbari Fort & Museum
Romantic things to do in Ajmer:
Seek the blessings of Khwaja Moinuddin Chisti
Shop for Rajasthani handicrafts
Enjoy a candlelight dinner with your partner
Some of the best honeymoon hotels in Ajmer:
Hotel New Jannat, Hotel Lake Vinora, Bijay Niwas Palace, and Grand Xenia
7. Udaipur – For A Completely Royal Affair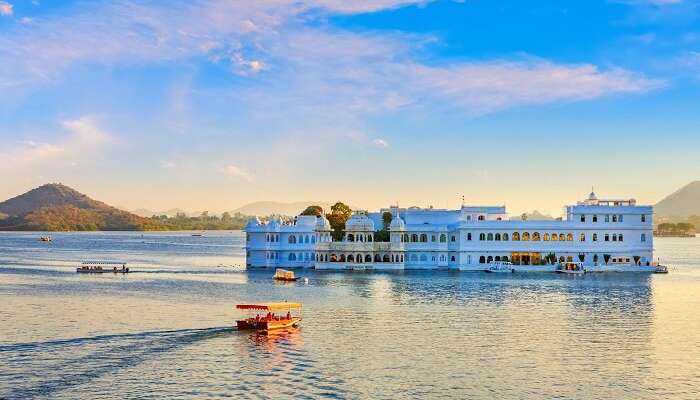 Dotted with palaces and forts, a honeymoon in Udaipur is a totally royal affair. The city charms one and all of its visitors, and especially the newlyweds with love in its air. The pebbled streets of the old town and the serene environs around its lakes make Udaipur a perfect honeymoon in Rajasthan.
Beautiful places to visit in Udaipur for couples: City Palace, Lake Palace, Monsoon Palace
Romantic things to do in Udaipur:
Go boating at Fateh Sagar Lake with your partner
Enjoy an evening stroll at the Gulab Bagh
Spend some alone time at the Jaisamand Lake
Have a lunch date on a Shikara ride
Some of the best honeymoon hotels in Udaipur:
Leela Palace, Oberoi Udaivilas, Taj Lake Palace, Radisson Blu Udaipur Palace Resort & Spa, and Ramada Udaipur Resort and Spa
Suggested Read: Honeymoon In Rajasthan: 6 Things To Do And Attractions For Couple
8. Bikaner – For The Splendour Of Forts And Palaces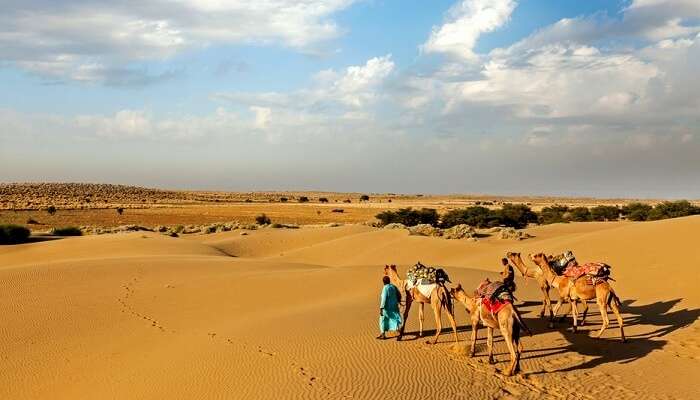 Known for its forts and palaces, the city of Bikaner is another of those places one can visit on a honeymoon in Rajasthan. Rich in heritage, the city is known for its delicious Rajasthani cuisine, magnificent forts, and spiritual temples. Located in the Thar desert, it gives one true experience of a desert. Enjoy camel rides, and exploring the ancient forts of the city.
Beautiful places to visit in Bikaner for couples: Junagarh Fort, Lalgarh Palace, National Research Centre on Camel, Bhandasar Jain Temple
Romantic things to do in Bikaner:
Tour the majestic Junagarh Fort
Enjoy a camel safari with your partner
Relish the local cuisines of the city
Some of the best honeymoon hotels in Bikaner:
Vesta Bikaner Palace, Narendra Bhawan Bikaner, The Laxmi Niwas Palace, and Hotel Jaswant Bhawan
9. Chittorgarh – To Feel The Historic Vibes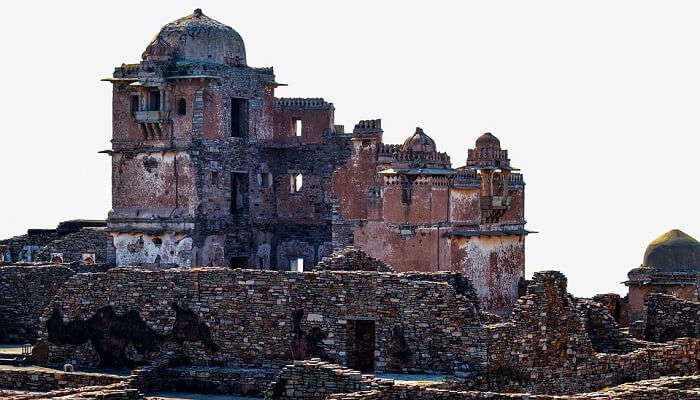 The land of mysterious forts, timeless ruins, and the tales of heroism and sacrifice, Chittorgarh is an ancient town that reeks of historic aura. Home to the famous Chittorgarh fort, this destination is an ideal place for a honeymoon in Rajasthan for those who are seeking to get an insight into the hair-raising history of the state. The blockbuster hit, Padmavati, showcases the story of this land and exhibits glimpses of the famous attractions such as Padmini Palace, Rana Kumbha Palace, and more.
Beautiful places to visit in Chittorgarh for couples: Chittorgarh Fort, Rana Kumbha Palace, Padmini Palace, Meera Temple, Kalika Mata Temple, Bassi Wildlife Sanctuary, Gau Mukh Kund
Romantic things to do in Chittorgarh:
Tour around the Chittorgarh Fort
Get an insight into the history of the kings and queens
Visit the brave Queen Padmini's Palace
Seek blessings as a newly married couple in the Meera Temple
Some of the best honeymoon hotels in Chittorgarh: Hotel Kumbha Retreat Spa, Hotel Pratap Palace, Castle Narela Lake Resort, Hotel Castle Bijaipur, Palette
Suggested Read: 5 Places To Visit In Rajasthan In January Which Has Something More Than Just The Palaces!
10. Alwar – To Witness The Spooky Romance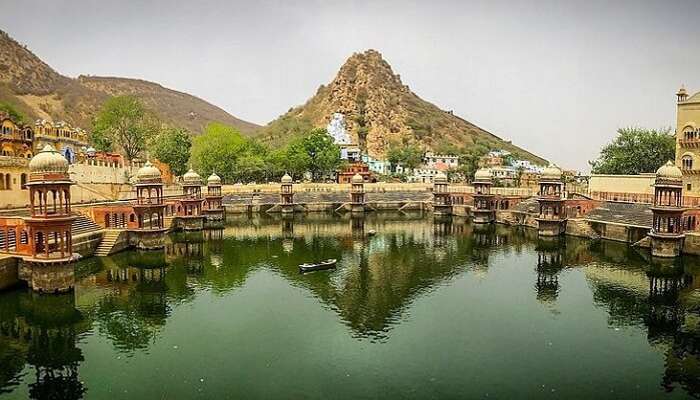 A perfect destination for those couples who are always up for something challenging, Alwar is known for blanketing some of the most haunted places in Rajasthan. From spooky historic sites and nature reserves to serene lakes and stunning havelis, Alwar hides an impeccable experience in its arms which makes the whole honeymoon eventful. To add to an already outstanding experience, this destination has plenty of delicious delicacies to offer, making the whole honeymoon in Rajasthan an absolute experience.
Beautiful places to visit in Alwar for couples: Bhangarh Fort, Sariska Tiger Reserve, Siliserh Lake, Moosi Maharani Ki Chhatri, Alwar City Palace, Bala Quila Fort, Kersroli
Romantic things to do in Alwar:
Spend some quality time by the pristine lake
Get spooked by the horror stories of the Bhangarh Fort
Go on a date in the famous eateries
Some of the best honeymoon hotels in Alwar: Lemon Tree Hotel, Ritumbhara Hotel and Resort, Hotel Nirwana Palace, Sunrise Resort, Royal Krishna Garden
11. Bundi – For Embracing The Beauty Of Baoris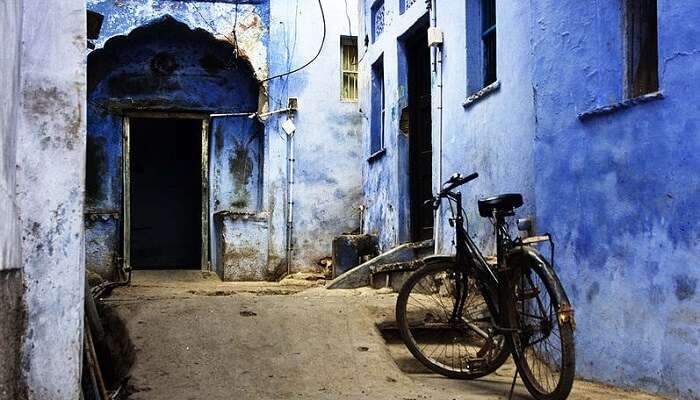 A less traveled, lesser known destination with some stunning places that one can witness, Bundi is a land of beautifully built Baoris. Initially home to numerous local tribes of Rajasthan, Bundi is a princely state that offers impeccable princely stays. The tales of an extensive number of battles and valors, this destination has historic importance latched to itself and thus attracts numerous history buff couples. With a part of its name translates to 'narrow streets', this destination is all about true lifestyle of Rajasthan.
Beautiful places to visit in Bundi for couples: Taragarh Fort, Raniji Ki Baori, Sukh Mahal, Nawal Sagar, Bundi Palace, Ramgarh Vishdhari Sanctuary, Garh Palace
Romantic things to do in Bundi:
Shop for silver jewelry and other hand made artifacts
Unfold the mysteries of Bundi Fort
Embrace some tranquility in the Baori
Some of the best honeymoon hotels in Bundi: Hadoti Palace, The Ummaid Bagh, Haveli Katkoun, Bundi Vilas, Haveli Braj Bhushanjee
Suggested Read: 14 Places To Visit In Rajasthan In Monsoon In 2019 For Those Who Love Rains!
12. Nawalgarh – To Travel Around The Miniature Town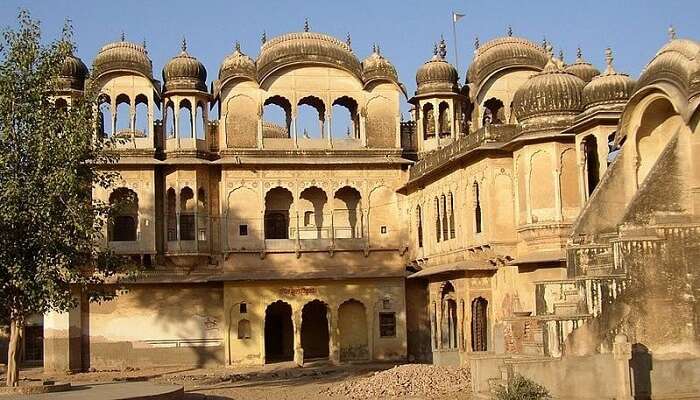 The golden city of Rajasthan, Nawalgarh is often tagged as the open air gallery or a living museum. This miniature of a town was home to Marwaris in the initial days of the town. Nawalgarh blankets some of the most iconic havelis that exhibit the rich architecture of Rajasthan. These havelis were built by those Marwaris who wished to flaunt their flourishing businesses and wealth back in those days. So, if appreciating architecture is your idea of a vacation, definitely head to Nawalgarh. There's plenty of it!
Beautiful places to visit in Nawalgarh for couples: Sheesh Mahal, Morarka Haveli, The Poddar Haveli, Roop Niwas Palace
Romantic things to do in Nawalgarh:
Try the authentic cuisine
Tour around the glorious Sheesh Mahal
Ponder at the beautiful architecture
Some of the best honeymoon hotels in Nawalgarh: Koolwal Kothi, The Grand Haveli and Resorts, Roop Niwas Kothi, Parasrampuria Haveli, Vivaana Culture Hotel, Ajitbagh
13. Bharatpur – To Get Closer To Wildlife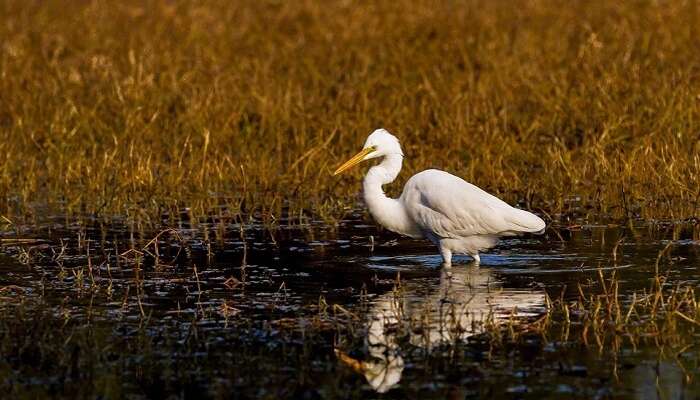 Calling out to the nature admirers and wildlife lovers out there, Bharatpur is a perfect escape for those couples who are seeking to simply escape from the usual bustle of the city. Home to a UNESCO World Heritage Site, Bharatpur is known for its National Park. From dry grasslands and woodlands to species of wildlife and flora, there is so much hidden within the trees of the national park. Bharatpur is one of the amazing honeymoon places in Rajasthan. 
Beautiful places to visit in Bharatpur for couples: Lohagarh Fort, Bharatpur National Park, Keoladeo National Park, Government Museum, Bharatpur Palace and Museum
Romantic things to do in Bharatpur:
Take blessings from Lord Krishna in the Bankey Bihari Temple
Tour around the Lohagarh Fort
Witness the opulence at the Dholpur Palace
Some of the best honeymoon hotels in Bharatpur: The Bagh, The Birder's Inn, Hotel Kiran Villa Palace, Udai Vilas Palace, Mahal Khas Palace, Laxmi Vilas Palace, Atmantan Farms, Hotel Surya Vilas Palace
Suggested Read: Nagaur Fort: Get Engrossed With The Beauty Of This Architecture In Rajasthan
14. Shekhawati – To Spectate The Town Of Havelis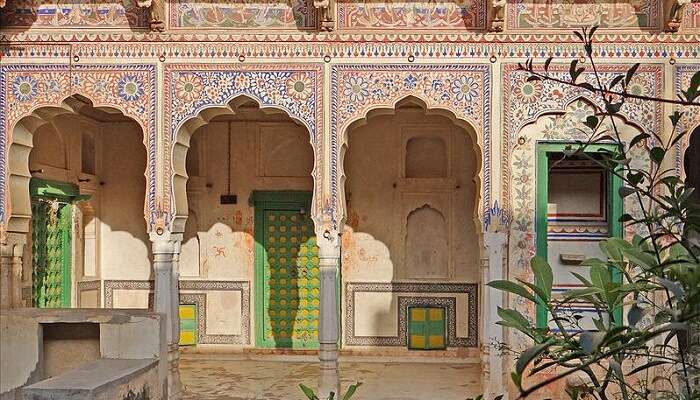 A colorful destination that haven't really received as much fame as it should, Shekhawati is often tagged as a wanderer's paradise. With its floors being covered by towering havelis that exhibit the true architecture of Rajasthan and royal mansions reeking of luxury, Shekhawati will surely add that extra touch of opulence to your honeymoon. Attracting all the architecture admirers and art enthusiasts, the iconic structures of this destination never fail to act as a perfect backdrop for some cute captures!
Beautiful places to visit in Shekhawati for couples: Badalgarh Fort, Harsh Nath Temple, Chirawa, Laxmangarh Fort, Le Prince Haveli, Mandawa Fort
Romantic things to do in Shekhawati:
Take a ride on the Shekhawati and Pink City Express
Get clicked in front of rich colored havelis
Explore the massive palaces and mansions
Some of the best honeymoon hotels in Shekhawati: The Piramal Haveli, Alsisar Mahal, Radhey Ki Haveli, The Great Western Resort, Hotel Shahi Palace
15. Churu – For Walking Through The Living Museum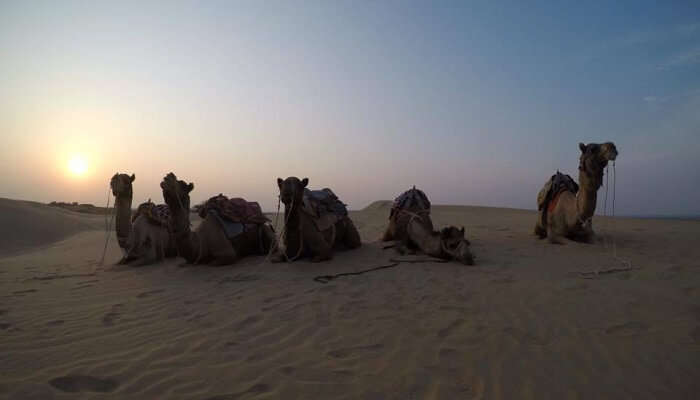 Reeking of true and authentic Rajasthani vibes, Churu is a destination that is often tagged as 'the Gateway to Thar Desert'. Sitting at the brim of the famous Thar desert, Churu is a tiny city that blankets an extensive number of gorgeous havelis that were once residences of merchants, deeply rooted history of trades, and vibes similar to that of a ghost town. Surrounded by shimmering golden sand dunes, Churu gives easy access to the massive Thar desert. The colorful and vibrant havelis with enchanting paintings on the walls are bound to captivate travelers with its beauty. A destination with no infrastructure for tourists as such, Churu surely deserves a stop enroute Bikaner!
Beautiful places to visit in Churu for couples: Sri Shantinath Bhagwan Mandir, Mansa Devi Temple, Sethani Ka Johara, Ratangarh Fort, Kanhaiyalal Bagla Haveli
Romantic things to do in Churu:
Marvel the grandeur of havelis
Capture the beauty of Churu and yourselves
Lose yourself in the beauty of the postcard skyline
Some of the best honeymoon hotels in Churu: Malji Ka Kamra, Narayan Niwas Castle Fort, Mahansar Fort Heritage Hotel, Hotel Ramgarh Fresco
Suggested Read: Monsoon In Jaipur 2019: A Guide To Explore The Pink City Of Rajasthan!

16. Kota – For Enhancing Your Chemistry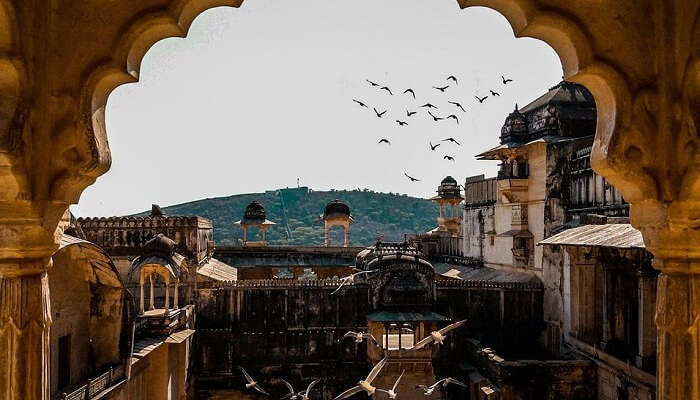 Often tagged as the 'coaching factories', Kota is a destination that is not just home to some intellectual youths but also offers plenty of beautiful places that one can witness. Home to numerous historic museums, grand palaces, colorful paintings, and much more, Kota is sitting in the southeast region of Rajasthan. So if you are a pair of individuals who are always seeking to get an insight into the historic significance of a destination along with witnessing the beautiful attractions, Kota is the place to be!
Beautiful places to visit in Kota for couples: Seven wonders park, Krishore Sagar, Kota Barrage, Garadia Mahadev Temple, Chambal Garden,
Romantic things to do in Kota:
Take a boat ride on calm waters
Witness the birds and crocodiles in their habitat
Unravel the mysteries of an ancient palace
Some of the best honeymoon hotels in Kota: Hotel Palkiya Haveli, Welcomheritage Umed Bhawan Palace
Further Read: 50 Incredibly Romantic Honeymoon Destinations In India
Now that you've found the love of your life as well as the place to make some beautiful memories, it's time to book the best package for your honeymoon in Rajasthan.
Frequently Asked Questions About Honeymoon Places In Rajasthan
Q. Is Udaipur good for honeymoon?
A. Udaipur offers a pleasant stay to honeymooners. You can take a romantic boat ride in Lake Pichola or spend quality time amidst the desert on a camel safari, the options are endless.
Q. What is the best time to visit Rajasthan?
A. The best time to visit Rajasthan is between November to February when it isn't scorching hot and the sunshine is bearable.
Q. Is Jaipur good for honeymoon?
A. There are a myriad of romantic things to do in Jaipur on your honeymoon. You can treat yourself to a luxurious stay at one of the havelis in Jaipur. You can take photos in Amer Fort against the backdrop of the beautiful structure and end the day with a romantic dinner at a rooftop restaurant.
Q. How can I go from Udaipur to Mount Abu?
A. A bus will take 4 hours to reach Mount Abu from Udaipur. On the other hand, a Mahindra taxi will take 2.6 hours. You've to cover a distance of approximately 163 kilometres.
Q. Which is the most beautiful city in Rajasthan?
A. Udaipur is the most beautiful city in Rajasthan owing to its pristine lakes, mesmerizing havelis, ancient forts, and resplendent resorts. 
Q. How many days are required for Rajasthan tour?
A. A week is required for a tour of Rajasthan.
Q. Is it good to visit Rajasthan in December?
A. The winter season in Rajasthan starts from November and lasts until February. If you want to experience winter in Rajasthan, visit the state in December. During this month, the temperature ranges between 25 degree celsius to 10 degree celsius. The pleasant weather allows travelers to explore every nook and cranny of Rajasthan.
Q. Is Mount Abu worth visiting?
A. Yes, Mount Abu is worth visiting for its lakeside resorts and picturesque view of the hills.
---
Looking To Book Your Honeymoon Package?
Book memorable honeymoon on TravelTriangle with 650+ verified travel agents for 65+ domestic and international destinations.
---
People Also Read
Honeymoon Places In Madhya Pradesh Honeymoon Places In Uttarakhand Honeymoon Places In India
Comments
comments