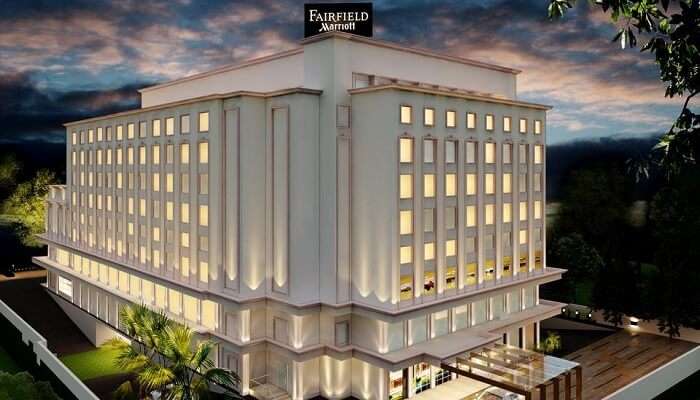 Although Amritsar is the holiest city for Sikh pioneers, visitors and tourists visit this delightful sight in Punjab. Prominent spots to explore in Amritsar incorporate the Golden Temple, Akal Takht, Jallianwala Bagh, and Gobindgarh Fort. Wagah Border is a street outskirt among India and Pakistan. It is a prominent place of interest these days. So, for all these events to do, you require to take a stay of 2 to 3 days in Amritsar. To enjoy a comfortable stay, here are some of the best hotels in Amritsar which will definitely make your vacation worth a memory.
List of Best Hotels in Amritsar
We constantly search for a hotel near to all tourist spots, right? Then why not have a look at the top best 15 hotels in Amritsar.
1. Taj Swarna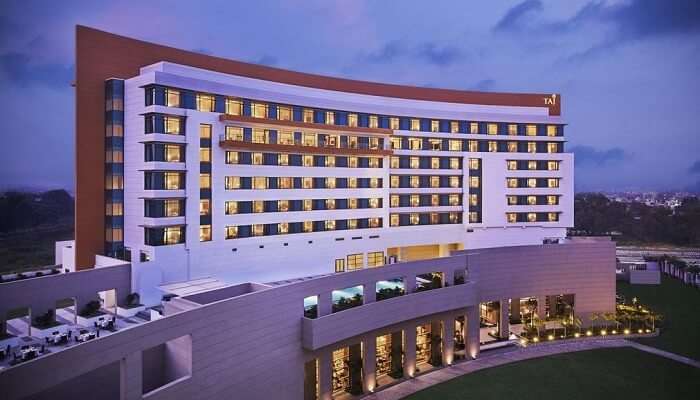 Situated in the heart of Amritsar at Basant Avenue, Taj Swarna flaunts an open-air pool and spa focus. Free WiFi is maintained and free private parking is available on location. Golden Temple is 5.5 km away. Gobindgarh Fort is 6 km away. Incredible help and warm services provided. Whereas, staff is wonderful in their frame of mind towards the visitor administration. Property is perfect and reviving. You will completely cherish your stay at Taj Swarna – a popular hotel in Amritsar.
Highlight – Club Twin Room with Lounge Access and One Way Railway Station/Airport Transfer.
Location – Plot No. C-3, Opp. Outer Circular Road, Basant Avenue, 143001 Amritsar, India
Price – 24000 INR
Rating – 4.5/5
Must Read: Maharaja Ranjit Singh Museum: A Visit In The City Of Amritsar
2. Hyatt Regency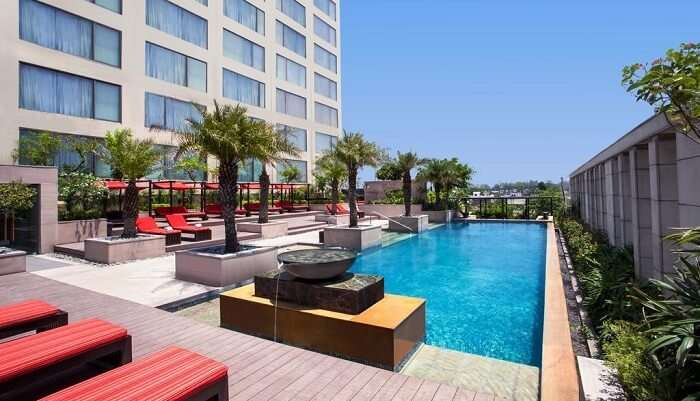 Offering a throughout the year open-air with impressive pool outfitted and water jet highlights. The hyatt regency, additionally, offers complimentary AC mentors to pick and drop service two times each day to the Golden Temple for its guests. Fantastic help, compassionate staff, and incredible nourishment will make your stay comfortable in this hotel.
Highlight – Hyatt Regency Amritsar likewise has the greatest spa in the city with 8 treatment rooms.
Location – MBM Farms, G.T. Road, Adjacent to the mall of Amritsar, Main GT Road, 143001 Amritsar, India
Price – 7056 INR or above
Rating – 4/5
Suggested Read: Food In Amritsar: 5 Flavorful Dishes That All Foodaholics Must Try In 2022!
3. Radisson Blu Hotel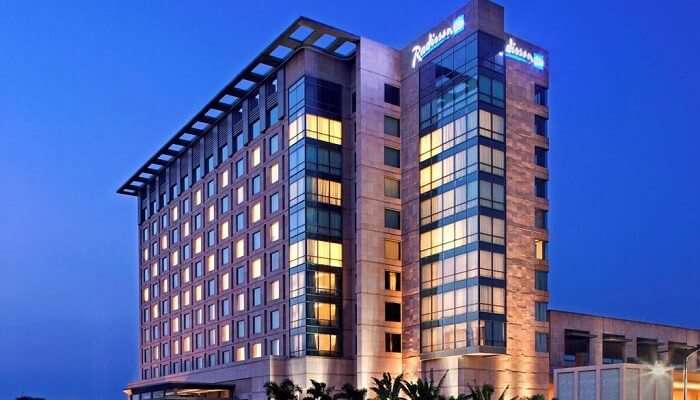 Situated at the Lobby Level, Proof Bar is appropriate for an easing up night and provides a wide scope of drinks and snacks. Visitors can relish local and international cuisines and buffet dinners offered 24 hours at Tavolo Mondo Restaurant or best food being cooked in the open show kitchen while unwinding jade stylistic layout at Wall of Asia Restaurant. The nourishment in the café is really great!!
Highlight – The staff is extremely supportive and inviting. Staff is likewise a very pleasing, accommodating, and helpful.
Location – Airport Road, 143001 Amritsar, India
Price – 5379 INR or above
Rating – 4.5/5
Suggested Read: Akal Takht In Amritsar Amidst The Sheer Beauty Of Golden Temple Is A Must Visit In 2022
4. WelcomHotel Amritsar – Member ITC Hotels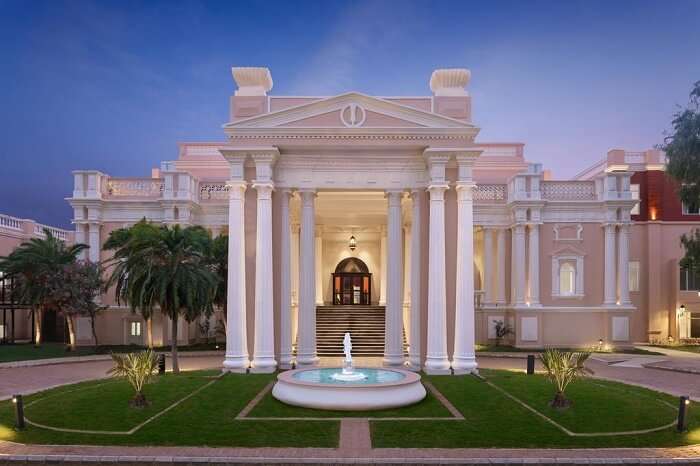 Situated in Amritsar, 14 km from Golden Temple, WelcomHotel Amritsar – Member ITC Hotels highlights convenience with a café, free private parking, an outdoor pool, and a wellness focus. With free WiFi, this 5-star hotel has a bar and a nursery. The service gives a 24-hour front office area, accommodation services and cash exchange for visitors. It offers reciprocal transport services from the lodging to the Golden sanctuary.
Highlight – Unrivaled Double Room With Airport/Railway Station Transfers
Location – Ajnala Road, Amritsar 143101 India
Price – 6000 INR or above
Rating – 5/5
Suggested Read: Shopping In Amritsar: Where To Shop, And What To Buy From This Historical City!
5. Fairfield by Marriott Amritsar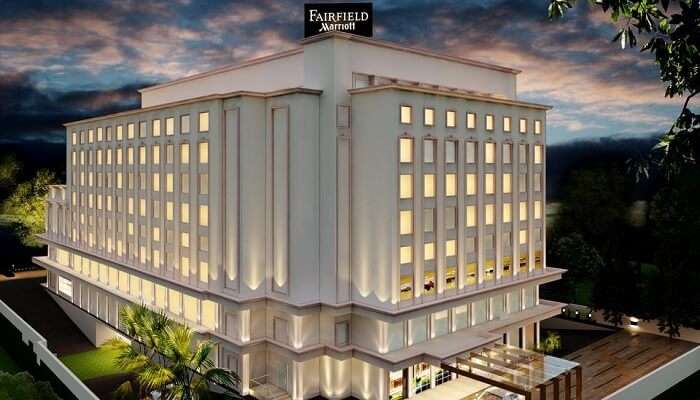 Situated in the heart of Amritsar and hardly 10 minutes from the Golden Temple, Fairfield by Marriott Amritsar is elegantly designed for visitor's essential needs – suitability, comfort, consistency, solace, and quality. Outfitted with facilities and services to assist you with work and play, they give you exactly what you need and skip what you don't need. Sink into your immaculately delegated 4-star lodging or suite, which offers an assortment of luxuries like rich sheet material, a level screen TV, an elegant marble washroom, and an ergonomic workspace. Enjoy scrumptious global toll at Kava, our lodging eatery, or ease up with a paint mixed drink at the snappy on the location bar. With more than 5,000 square feet of squeeze-edge occasion space, the inn can make way for a wedding or conference.
Highlight – Stay in shape and centered during your time in Amritsar at our wellness focus or the open-air pool.
Location –<.strong> Albert Road, Amritsar 143001 India
Price – 5013 INR or above
Rating – 4.5/5
Suggested Read: These 13 Resorts In Amritsar Will Make Your Punjab Trip In 2022 Worthwhile
6. Ramada by Wyndham Amritsar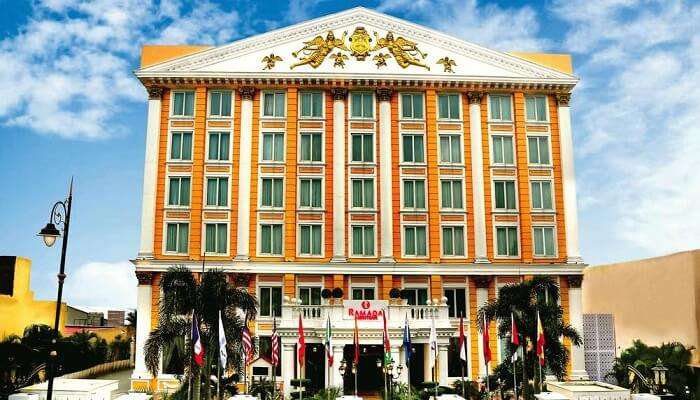 At the point when the glow and nature of Ramada Worldwide hold hands with Punjab's eminent cordiality, you can be assured that your involvement with Ramada Amritsar will be highly unique. The Hotel is strategically placed 1 km to the Golden Temple, 1.5 Km from the Railway Station and 12 Km from the International Airport. It is a 4-star Hotel with 144 guest rooms. These rooms come with welcoming room facilities that contain 24-hour front work area, 24-hour in-room eating, free Wi-Fi, bundled drinking water, Tea-espresso maker, full HD TV, in-room computerized safe, washroom civilities and day by day paper. The Fitness Center on the roof is the most ideal approach to keep lively and to revive with the availability of 'La Piscine' pool with the city see.
Highlight – The Hotel has one Multi-Cuisine Restaurant 'Outdoors' a Coffee Shop 'Kaffee Avanti' and a few Conferencing and Banqueting scenes to provide food up to 400 visitors.
Location – 117/1 Inside Hall Gate Hall Bazar Road, Amritsar 143006 India
Price – 6272 INR or above
Rating – 4.5/5
Suggested Read: 14 Places To Visit in Amritsar For A Glimpse Of The Momentous Past In 2022!
---
Planning your holiday but confused about where to go? These travel stories help you find your best trip ever!
---
7. Hotel Sawera Grand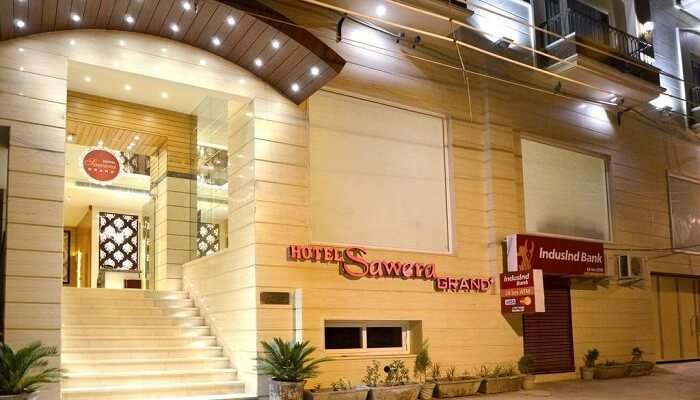 Hotel Sawera Grand is a newly developed property with all the ultra present-day technologies, trends, and services. Inn Sawera Grand is the standard choice of keen business, relaxation explorers and programs. Keeping visitor enjoyment in mind, their multilingual staff undertakes to make the stand for its guests charming, delightful and a significant experience. There are 47 Luxury Rooms and Suites, 24 Hours Veg Kitchen, Fully Air Conditioned, Free Wi-Fi.
Highlight – Lodging close to Golden Temple and Railway Station, 24 Hours Pick and Drop Service (Chargeable), Day and Night Unique Service.
Location – 1724/1, Sawera Tower Katra Baghian, Amritsar 143001 India
Price – 3808 INR or above
Rating – 4.5/5
Suggested Read: 5 Simple Yet Interesting Things To Do In Amritsar For All Kinds Of Travelers In 2022!
8. Golden Tulip Hotel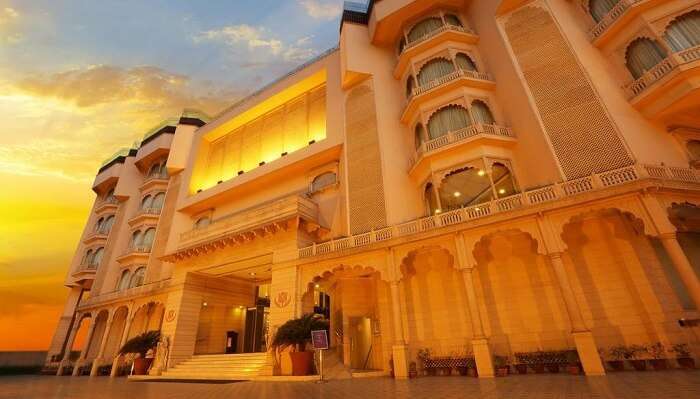 One of the major hotel networks around the world "Golden Tulip Hotels Group" has set high International Standards all over the world and established a benchmark for other Hotel companies as well. Golden Tulip Amritsar is a modern 4-star hotel offering novel atmosphere and style giving a fascinating experience and great assistance. It provides 52 rooms which include 4 suites. Every Room provides the elegant and luxurious experience for guests.
Highlights – Views from all rooms are just amazing. Visitors are overwhelmed here.
Location – 8 G T Road Model Town, Amritsar 143001 India
Price – 5540 INR or above
Rating – ⅘
Suggested Read: 10 Festivals Of Punjab You Must Experience In 2022 To Get The Real Essence Of The Rich Culture
9. Lemon Tree Hotel

Lemon Tree Hotel, Amritsar is situated in Model Town, GT Road, on the Grand Trunk Road, one of Asia's longest and most significant roadways. The lodge is only a couple of moments from the railway station and Gobindgarh Fort and is near to Sadda Pind and the acclaimed Golden Temple. Services such as free parking, free wifi, in build restaurant, luxurious room with extra ordinary services are provided to guests to make their stay pleasant.
Highlight – Staff as well as other services are mind-blowing.
Location – 7, Grand Trunk Road, Amritsar 143001 India
Price – 6102 INR or above
Rating – 4.5/5
Suggested Read: Moorish Mosque: Why You Should Visit This Historic Gem In Punjab In 2022
10. Ranjit's SVAASA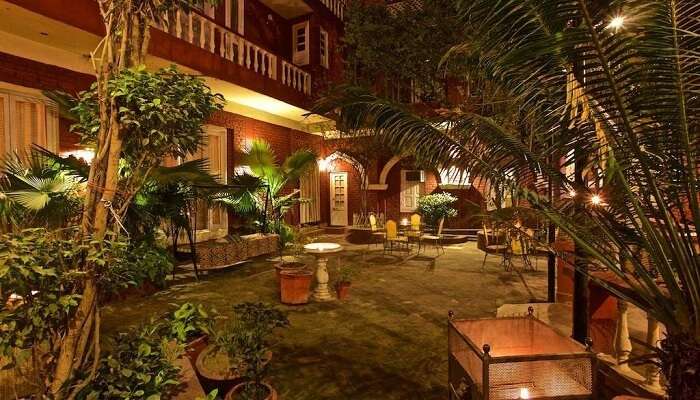 Ranjit's SVAASA is a concept out of a luxurious look of the old British Colonial Haveli, presently rich with its trademark design rooms and apartments, fully equipped with current pleasantries. The property additionally includes an honor winning Spa in its rebuilt horse magazines and dairy animals sheds. The wide yard extravagant with arranged greenery and the housetop natural vegetation overstate the slight yet wonderful estate. In the core of the City, Ranjit's SVAASA is a comfortable sanctuary to unwind and love your vacation with home-prepared Punjabi nourishment, with mainland alternatives.
Highlight – Experience playing with the family pooch or tuning in to the twittering flying creatures or seeing the green parrots flying around.
Location – 47-A, The Mall, Amritsar 143001 India
Price – 9735 INR or above
Rating – 4/5
Suggested Read: 6 Astonishing Places To Visit In Kapurthala In Punjab For An Exciting Vacay!
11. Hotel Puri Palace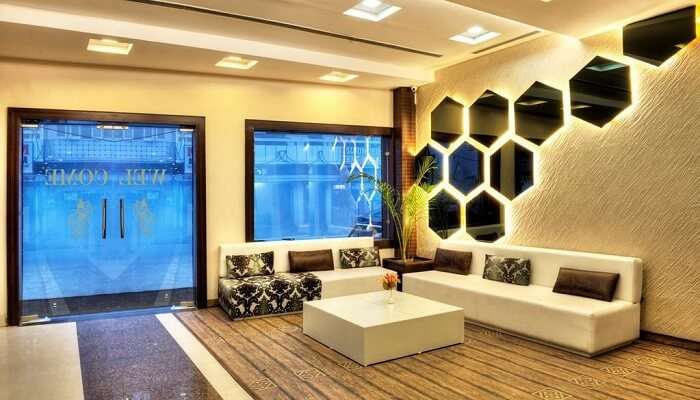 Hotel PURI PALACE an 'A' class standard in located in the center of the Amritsar. A newly built property in the heart of the city Amritsar stacked with all the ultra-present day civilities and offices for a lavish hotel, HOTEL PURl PALACE is the optimal selection of smart business, relaxation voyagers and shows.
Highlight – Hotel offers a total mix of extravagance with 26 unique sorts of very much outfitted rooms.
Location – Hussainpura Chowk, Bus Stand, Near Peer Baba Dargah To Shivala Road, Hotel Puri Palace, Amritsar 143001 India
Price – 1929 INR or above
Rating – 4.5/5
Suggested Read: 20 Best Restaurants In Chandigarh To Relish The Real Taste Of Punjabi Tadka In 2022!
12. Hotel Hong Kong Inn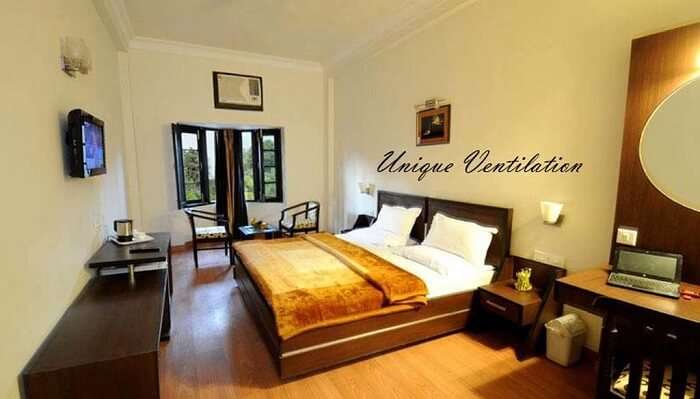 Hotel Hong Kong Inn is adjacent to Golden Temple and Railway Station, 24 Hours Pick and Drop Service (Chargeable), Day and Night Unique Service, 47 Luxury Rooms and Lodges, 24 Hours Veg Kitchen, Fully Air Conditioned, Free Wi-Fi
Highlight – Services, and the view from the Hotel are amazing to explore.
Location – Hotel Lane, Opp Country Inn Hotel Near Railway Station, Queens Road, Amritsar 143001 India
Price – 2122 INR or above
Rating – 4.5/5
Suggested Read: 7 Impeccable Things To Do In Bathinda That Will Take You Down The Punjabi Lanes!
13. Best Western Merrion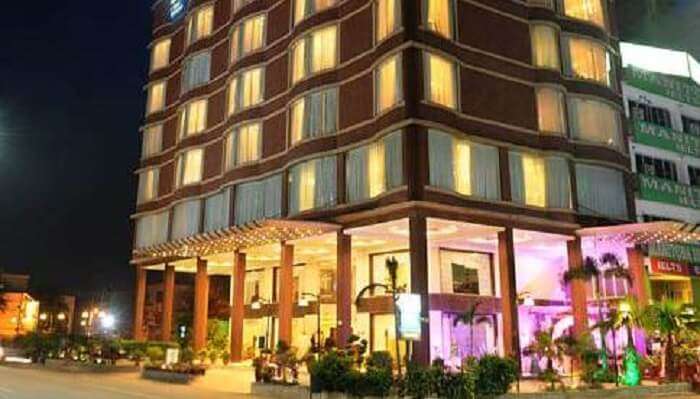 Situated in the core of the focal business location of the Amritsar, Best Western Merrion is a desert garden for harmony, Serenity, and quietness. The hotel is placed in the focal spot of Ranjit Avenue with a golden open area to business regions and key corporate areas houses. The resort offers its visitors 40 selected and extravagant visitor rooms alongside Comprehensive business and Conferencing offices. The Hotel presents a capacity of Dining Options including Rooftop Pool Side BBQ, Round the Clock Coffee Shop, Multi-Cuisine Restaurant, Bar and Lounge and a Banquet Hall for massive social occasions. The lodging can easily have up to 400 visitors for meal occasions with 3 meals and meeting rooms. Designed with lovely insides and a steady design "The One" presents its visitors a paramount top-notch food experience.
Pool Side BBQ and Grill is an ideal spot to relax by the poolside while having a charge out of the BBQ and refreshments alongside Live Music. Magma – Lounge Bar is the spot to engage and be engaged. Serving the best choice of local and national food with perky music and live-wire environment, you will positively be engaged.
Highlight – The One-The Multi-Cuisine Restaurant: Enjoy mouth-watering heavenly and bona fide nourishment at "The One."
Location – Ranjit Avenue 45 District Shopping Complex B-Block, Amritsar 143001 India
Price – 5426 INR or above
Rating – 4/5
Suggested Read: Visit These 9 Revered Temples In Punjab To Seek A Profound Experience In 2022!
14. Inn DNR Pride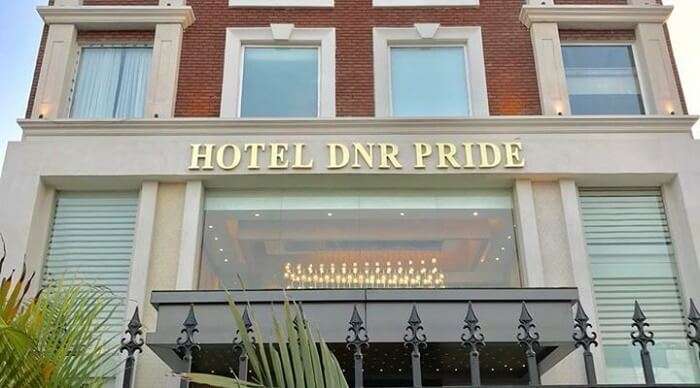 You will enjoy Hotel DNR Pride, the most recent boutique inn of Amritsar. They are presently open to serve their visitors to extraordinary assistance greatness. The hotel is arranged inverse to the Mall of Amritsar on GT Road, removing it from the pinnacle traffic yet effectively available. Their 32 rooms appear in a selection of Standard, Premium and Luxury, each with its own size and luxuries. Without negotiation, every room accompanies pose bolster pocket spring sleeping mats and soft sofas, hard and delicate pads, and every one of the washrooms is standard three installation type, with the most recent trend fittings. It also affords an arrangement of resident, Indian and Oriental foods, making it genuinely a combination eatery.
Highlight – The throughout the day eating café, Daffodils, at the room level, has 70 covers and is open for the duration of the day.
Location – Grand Trunk Road Opposite The Mall of Amritsar, Amritsar 143001 India
Price – 4760 INR or above
Rating – 5/5
Suggested Read: Nehru Garden In Jalandhar: A Smart Guide To Explore Hidden Beauty In The Punjab City!
15. Sadda Pind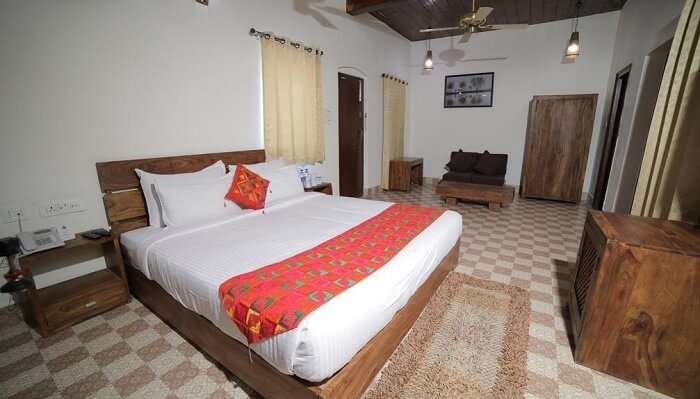 Sadda Pind is a Punjabi Village resort spread crosswise over 12 sections of land. It presents to you an opportunity to encounter culture, hues, and kinds of Punjab in one spot. Located in the sacred city of Amritsar, only 8 km from Golden Temple and 7 km from the air terminal, Sadda Pind offers an ideal setting for an end of the week escape or a short remain with loved ones.
Highlights – You can experience and get the detailed knowledge of Punjabi culture here.
Location – Main Bypass Road behind Guru Nanak Dev University, Amritsar 143105 India
Price – 8148 INR or above
Rating – 4.5/5
Further Read: 10 Stunning Places To Visit In Bathinda To Add A Punjabi Flavor In Your Trip
These are the best hotels in Amritsar which will definitely make your vacation memorable. With all the comfort and luxury, these places brings out the best of a holiday. Thus if you plan a vacation to Punjab , make sure to pick one of these hotels and have a great time in Amritsar.
Disclaimer: TravelTriangle claims no credit for images featured on our blog site unless otherwise noted. All visual content is copyrighted to its respectful owners. We try to link back to original sources whenever possible. If you own the rights to any of the images, and do not wish them to appear on TravelTriangle, please contact us and they will be promptly removed. We believe in providing proper attribution to the original author, artist or photographer.
Please Note: Any information published by TravelTriangle in any form of content is not intended to be a substitute for any kind of medical advice, and one must not take any action before consulting a professional medical expert of their own choice.
Frequently Asked Questions About Hotels In Amritsar
What are the Famous hotel for a pleasant stay in Amritsar?
If you are planning to visit amritsar, you will find every type of resort and Hotel according to your requirement for a pleasant stay during your visit. However, some famous hotels such as Hotel Inn, Taj Swarna Amritsar, Hyatt Regency, Hotel Blue diamond, Sarovar Portico.
Which place is famous to explore in Amritsar?
The top spots to visit in Amritsar are the Jallianwala Bagh, the mid-year castle of Maharaja Ranjit Singh and the Central Sikh Museum situated on the second floor of the Golden Temple complex.
Would we be able to wear pants in Golden Temple?
Yes, you can wear pants in Golden Temple Amritsar, the main thing which is obligatory is to cover your head.
Which is the best time to visit Amritsar?
The best time to visit Amritsar is between November and March when the climate is relatively lovely and perfect for touring and visiting the Golden Temple. In any case, at times the temperature can contact a solidifying – 4 Degree Celsius.
What is the best time to go to Wagah Border?
Best time to visit: The function begins at 4:15 p.m. in winters and 5:15 p.m. in summers. Sensible time to visit through: an hour Tips: There is a constrained passage, so plan to be there, in any event, an hour before.
What are the best affordable hotels in amritsar?
No doubt you will find every type of hotel range from Luxurious to affordable one. People always look for a pleasant stay at a low price. You will find some of the low budget hotels such as Hotel Punjabi Niwas, Hotel Majestic, Bindra Paradise, FabHotel KK Continental.
---
Looking To Book An International Holiday?
---