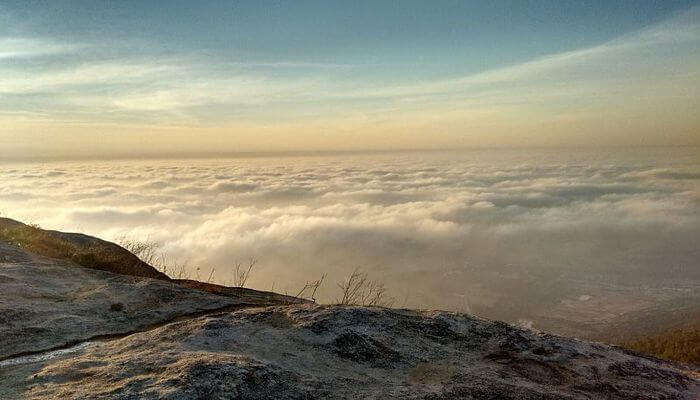 Cover Image Credit: Wikimedia
The hillock of Nandi Hills is one of the most cherished places for a weekend getaway from Bengaluru, Karnataka. Get a panoramic view of the city and more. Trek through some lush greenery and feel the spirituality at the Shiva temples. There are a lot of places near Nandi hills if you are looking to get some peace, without having to drive too far. The hill has a lot of recreational activities and resorts for people of all ages. There are also many famous historical sports to experience. Take your time and spend a weekend here. Then make your way to the next thing. Here is a great selection:
15 Best Places Near Nandi Hills
When you are looking to make a trip and do not want to stop at just one, here are a few places near Nandi Hills that are a must-add to the map. Since Nandi Hills is located just off the national highway, it makes for a great addition to any road trip. From hillocks to small towns and villages, the options are amazing. Here are some of the places to visit near Nandi Hills which you can consider when you are looking and adding this hill to your plans:
1. Lepakshi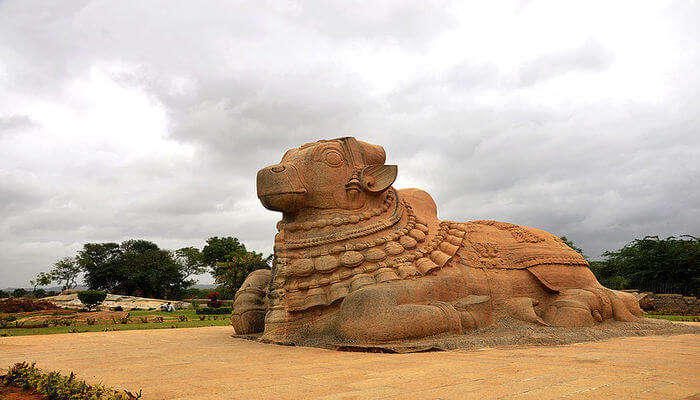 Located just on the border of Andhra Pradesh and Karnataka, this is a stunning historical city with mythological stories. The town of Lepakshi is famous for its many temples with awe-inspiring architecture. This tiny village attracts both pilgrims and tourists. Its most prominent spectacle is the Hanging Pillars of Lepakshi. This temple is a sight that everyone looking for top places near Nandi Hills.
Ideal for: Friends and family groups
Type: Ancient temples
Stay options: Lepakshi Haritha Hotel
14 Mystical Places To Visit In Badami, Karnataka That Need Your Attention In 2022
2. Anantapur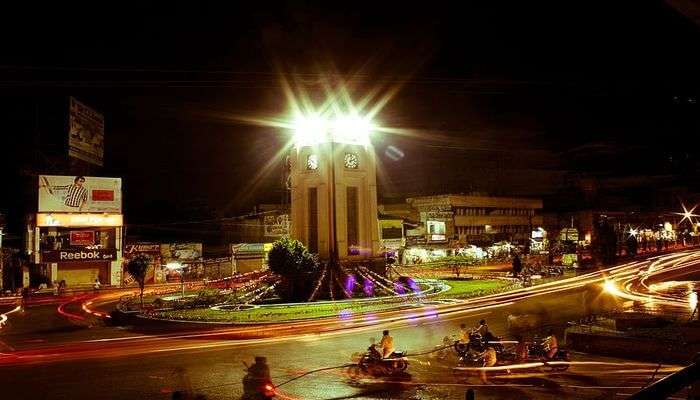 This city, located right off the national highway, has made it an ideal halt for many tourists looking to places near Nandi Hills. The city has many great sights for families to spend a day and explore. The clock tower in the city center is a forty-seven-meter tall tower built in the year 1947. The ISKCON temple and Paashanti Nilayam Sai Baba ashram are some of its other landmarks. Be sure to make all your bookings ahead of time when you go here. There is not much to do here over a day, so plan it well.
Ideal for: Family on a road trip
Type: City
Stay options: Hotel Lotus Grand, SRS Regency Hotel
3. Tumakuru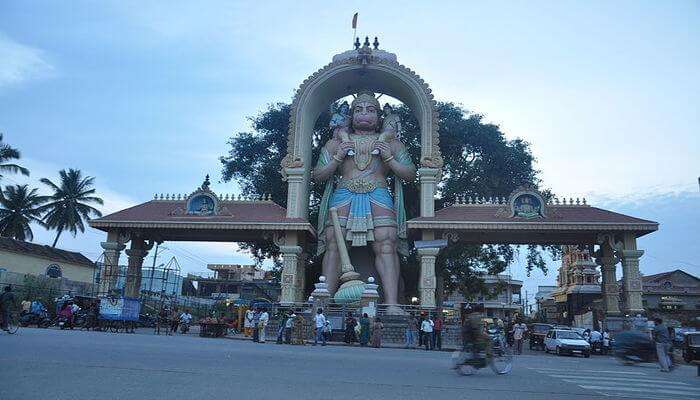 The city of Tumakuru, locally called "Tumkur," is one of the industrial towns of Karnataka. The city has something to offer people of all ages. There are many great spots to take a hike in nature like the Ramadecara Betta or the Devarayanadurga hills. The Mandarin Jain temple is an alluring structure made to resemble the features of a peacock. The city has a balance of both urban living and laid back backyards. All of this makes it one of the superior weekend places near Nandi Hills.
Ideal for: Hiking, temples
Type: City
Stay options: Thumnaby Comforts, SS Residency, Vilasi Comforts
7 Major Airports In Karnataka For A Safe & Joyful Trip In The Air
4. Hessargetta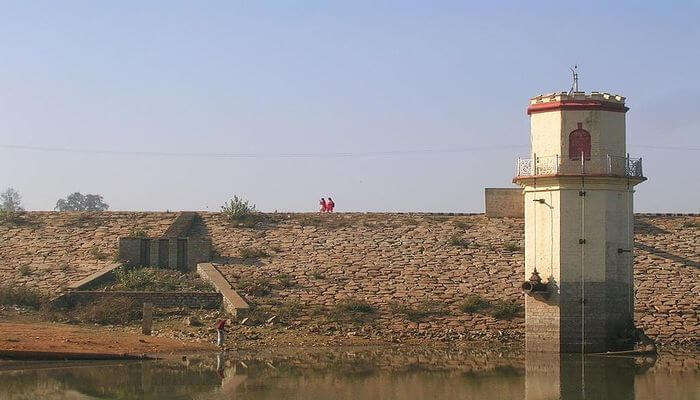 Located just thirty-five kilometres from the city of Bangalore, this city of Hessarghatta is filled with grasslands until the eye can see. Known for its greenery and the large Hesargetta lake, this town has been a cost-friendly getaway for many. Many of the youth prefer to take bike trips here in the cold mornings. The city has many organic food restaurants and rustic resorts. One can also see dazzling rural moments like cattle breeding and poultry farms.
Ideal for: Road trips, relaxation getaway, staycation
Type: Grasslands
Stay options: Earth Kitchen, Pada Retreat, Taj Kutirum
5. Gandikota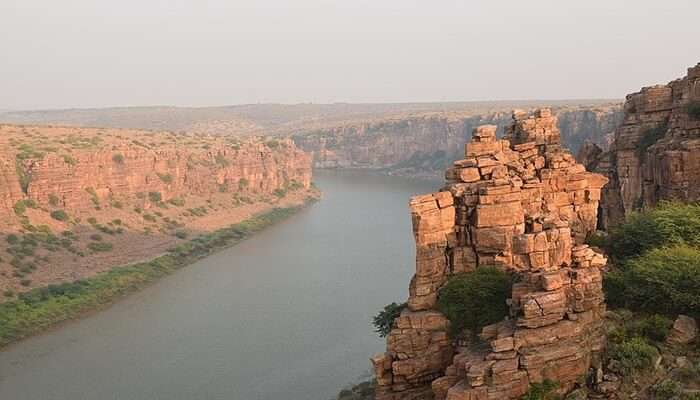 One of the best places to visit near Nandi Hills, Gandikota is a small village on the banks of the Penna River. The town is famous for its fort that overlooks a canyon. The town gets many young travellers who wish to camp to a beautiful backdrop and embrace the outdoors. There are many spots to climb rocks and see some of the most stunning sunsets ever. There are also many temples of unique styles. There is a well-kept government resort that can make this trip fun even for families.
Ideal for: Camping, Photography, Friends
Type: Adventure
Stay options: Camping, Haritha Resort
7 Things To Do In Tumkur That Are Worth Taking A Trip To Karnataka
6. Kolar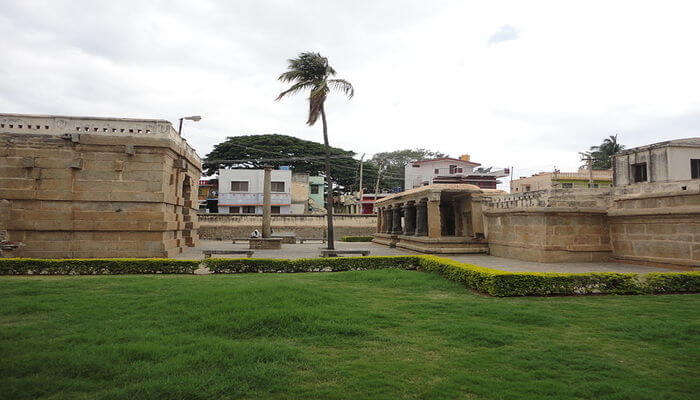 Anong the best places near Nandi Hills Kolar is the city once famous for its gold mines, today it is a town of many stories. Renowned for its Someshwara and Kolaramma temple, it sees thousands of pilgrims every year. There are also many beautiful hills to go on long hikes and explore the varied terrains. The Ankara Gange is one of the most loved trekking spots for all youngsters in Karnataka. Since Kolar is just off the national highway, it is also a popular destination for biker groups. The many coffee shops at the entrance of the city see a swamp of unique bikes every weekend.
Ideal for: Photography, Friends groups, Pilgrims
Type: Town
Stay options: Zion Golf Resort, Silvan Villa Resort
7. Bengaluru 

The capital city of Karnataka, Bengaluru, is the central cultural hub for all south Indian states. Also called the "Garden City," most of its green cover is still preserved. Some of the best spots  in Bangalore like Lal Bagh and Cubbon Park are loved by tourists and locals alike. The city is also home to some of the best pubs in the country, making it a go-to destination for beer lovers. With both cultural and historical significance, this city is a treat even for as long as a week. Bengaluru is one of the most important cities when you consider places near Nandi Hills.
Ideal for: Cosmopolitan experience
Type: City
Stay options: Taj Westend, Leela Palace Hotel
9 Museums In Karnataka: Top Creative Spots With A Rich Heritage
8. Mysore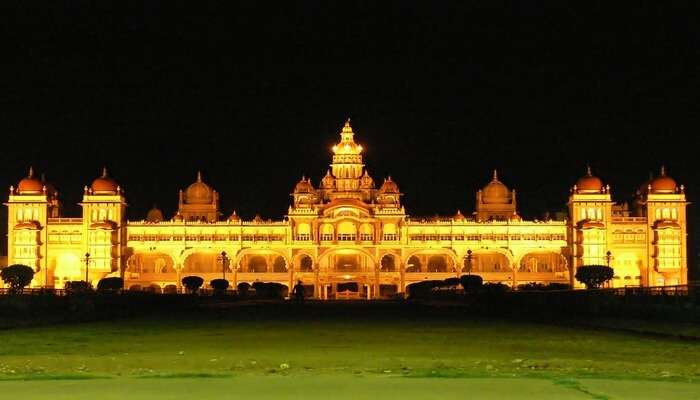 This royal city is also called "The city of palaces. Mysuru is the land of the Wodeyar dynasty and and has iconic structures like the Mysore Palace, the summer palace, and much more. Its simple lifestyle and ample tourist options put it on the top of the list of family holiday destinations. Chamundi Hills, Lalitha Mahal, Jagmohan Palace and Karanji Lake are some of the other popular attractions in Mysore.
Ideal for: Family, groups
Type: City
Stay options: Fortune Palace, Zostal Backpacker hostel
9. Rangantittu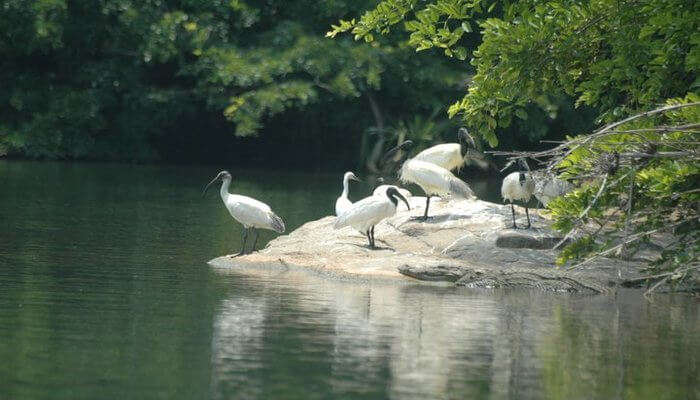 One of the best tourist places near Nandi Hills, the village of Rangantittu is home to the most indigenous bird sanctuary in Karnataka. Located in the district of Mandya, the town is around 40 acres of green cover and ponds. By the banks of the Cauvery river, one can spot more than 150 different species of birds. This collection is one of the highest clusters of birds in Asia, making it a popular destination for ornithologists. If you are planning to go here, you can also consider coupling this with a few spots around Mandya and Srirangapatna.
Ideal for: Solo travelers, Nature enthusiast
Type: Bird park
Stay options: Noel Home Stay, The Cute Resort
25 Stunning Places To Visit In Summer In Karnataka For A Relaxing Retreat In 2022
10. Horsley Hills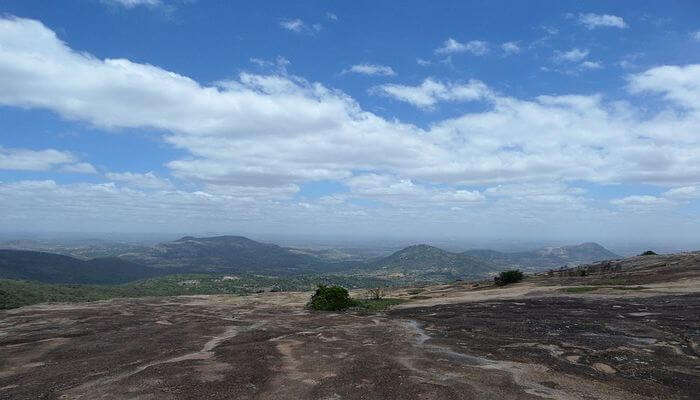 Horsley Hills or Hosleykonda is a hill station in the Chittoor region of Andhra Pradesh. One of the best hills near Nandi Hills, this destination is known for its surreal beauty and dense forests. In the winter, the hill transforms into a paradise for hiking with an envelope of mist covering it. The government has taken appropriate actions to maintain the green cover and keep the hill away from plastic waste. If there is a scare from wildlife movement, then camping is not allowed. Check with the forest department office beforehand.
Ideal for: Nature enthusiast
Type: Hill station
Stay options: Haritha Hill Resort, Holiday homes
11. Madhugiri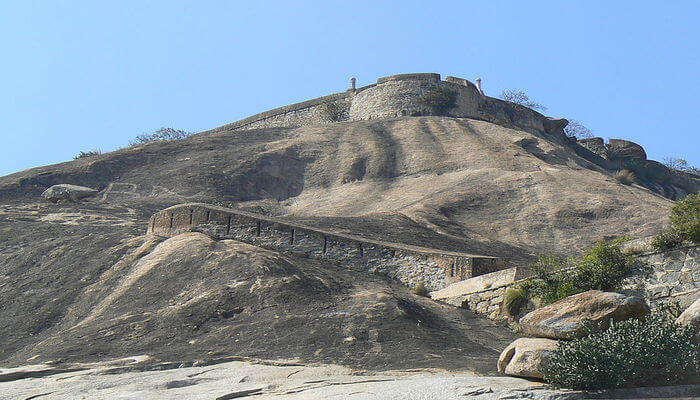 Madhugiri is a small town located very close to Tumkur. The unique rock formations have made this a popular destination for those who enjoy the outdoors. The Madhugiri fort is a beautiful hike that leads to a panoramic view of the city below. The Vijayanagar kings built the fort as a place to store supplies. The fort has until today stood the test of time. There are many small eateries sprinkled around the city that offer the many flavors of the local food culture.
Ideal for: Hiking
Type: Village
Stay options: Akshay Comforts, Shri Manjunatha Comforts
Ecotourism Found New Meaning As Karnataka Unveiled 30 Foot Tall Canopy Walk
12. Skandagiri Hills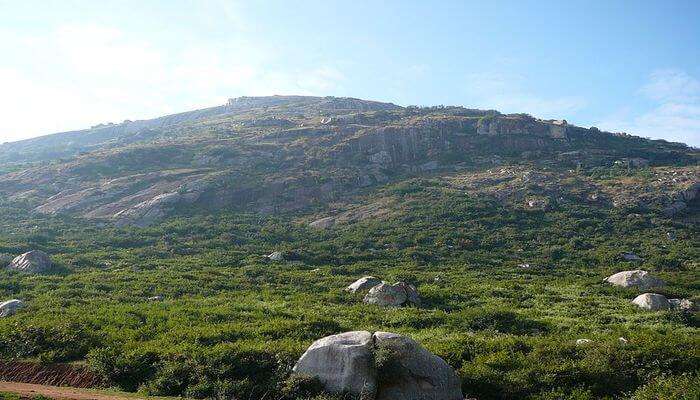 One of the many pleasant trekking places near Nandi Hills, the Skandagiri trek is one of the best to nurture your love for the outdoors. With greenery till the eye can see, and minimal changing terrains, this is an excellent trekking spot even for beginners. The best time to hike here is in the winter. The cold breeze, coupled with the sounds of nature, brings a sense of relaxation like no other. If you are planning to trek at night, it is recommended that you go in large groups.
Ideal For: Hiking, trekking, camping
Type: Hill Station
Stay Options: Mount Palazzo, CampHalli, Nandi Cottages
13. Chamarajanagar 

The small town of Chamrajnagar is named after king Chamaraja of Mysore. The city is famous because of its attractions like the BR hills and MM hills. They also get many travellers each year who come to understand the processing and production of silk and sandalwood. The Shivanasamudra waterfall is another wonder of nature locked near this city. Post monsoon, this waterfall can be seen at its highest power.
Ideal for: Family trips, road trips
Type: Small Town
Stay options: Nijaguna Residency, Rathneshwari Residency
30 Amazing Places In India To Celebrate New Year 2022!
14. Hindupuram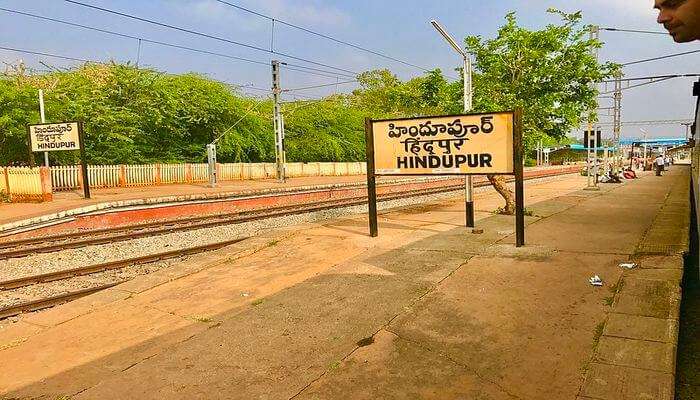 Located in the state of Andra Pradesh, Hundupur is also called the city of gold. Sitting on the banks of the Penna River, this city has many stunning temples that draw the attention of hundreds of tourists. The Chowdeshwari Temple, Shani Maharaja Temple, and the Jain temple are the most significant attractions. Since it is on the bank of the river, it also gives many scenic picnic spots.
Ideal for: Family trips
Type: Small Town
Stay options: Palla Residency, JVS Paradise
15. Devarayana Durga 

Among the best places to visit near Nandi Hills, Devarayana Durga is a hill station on the outskirts of Bengaluru. It is a small hilltop sprinkled with many temples. Some consider this as a spot for a weekend trip. Its peaceful green cover makes it a perfect place for a picnic with friends and family. The hill is an excellent spot for a day hike to see the panoramic view of the city below. The drive up to DD hills has a great view of Mango plantations on both sides of the road. During the peak summers, it could get hot, but it's advanced to be there early in the morning.
Ideal For: Day Trips
Type: Hillock
Stay Options: Shumasha Retreat
15 Offbeat Places In South India 2022 That Will Make You Go 'WOW' With Natural Beauty!
How to Reach Nandi Hills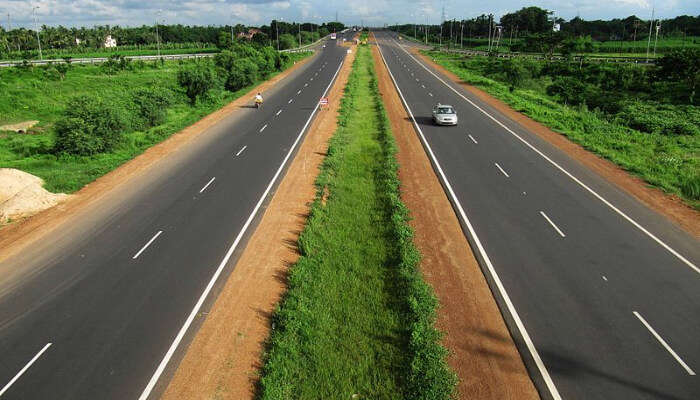 Nandi Hills is very close to the capital city of Karnataka which is Bangalore. Therefore, transportation from Bangalore to Nandi Hills is not a problem at all. If you love flights, then de-board at the international airport in Bangalore and head to the main bus stand. From there, several KSRTC buses ply regularly to Nandi Hills. The same can be said about railways. De-board at Bangalore railway station and head to Nandi hills via bus. Since Nandi Hills is well connected by road, then take a cab or hire a car to drive yourself through the mountains.  
So, here is your list of the top places near Nandi Hills that you can enjoy on a vacation. Adventure, pilgrimage, sightseeing, just name and it's there for you. We hope this article becomes a helpful guide for you in case you are planning a trip to Karnataka and looking forward to a great trip.  Spread across multiple states, this would truly be an all-round vacation for you!
For our editorial codes of conduct and copyright disclaimer please click here.
Frequently Asked Questions About Places Near Nandi Hills
What is the best time to go to Nandi Hills?
The best time to go to Nandi Hills is in the early morning. If you wish to stay there in the many resorts, it's a good idea to wake up before the morning sun and drive to the hilltop. The gates to the main viewpoint open at 06:30 AM.
What is there to see in Nandi Hills?
Some of the must-see places in Nandi hills is the Tippu Drop, Cycling park, Sunset Viewpoint, and the Bhoganandeshwara temple.
Where is Nandi Hills?
Nandi hill is a small hillock located sixty kilometers from Bangalore. It falls in the Chikkaballapur district after the Bengaluru Airport. The hill is an ideal recreation spot for those looking to get away on the weekends. Bengaluru is one of the biggest cities when you consider places near Nandi Hills.
Are cars allowed in Nandi Hills?
Yes. Cars are allowed on Nandi Hills. The hill has a particular parking lot where they can be parked against change. The vehicles are only allowed to go up after the gates open at 6 AM. The surrounding areas of Nandi hill have a lot of stalls that are open all night.
What is special in Nandi Hills?
Nandi Hill is famous for its many day trips. Big groups go to Nandi hills to enjoy the sounds of nature with a picnic basket. There are many great spots to experience the breathtaking sunset. In the winters, the whole hill has a layer of mist, making it a relaxing experience.
How do I get to Nandi Hills by bus?
There are daily buses to Nandi Hills from Majestic Bus stand in the city center. The busses cost you as little as Rs.50. The frequency is very varied, so it's not the most reliable option.
Is Nandi Hills open on Sunday?
Yes, Nandi hill is open on all seven days of the week. The gates open at 6 AM, and you must leave the space by 7:00 pm. Unless you have a place booked on the hilltop guesthouse, there are no visitors allowed past 7:00 pm.
---
Looking To Book A Holiday Package?
---
People Also Read:
Places Near Malappuram Places Near Sikkim Places Near Pahalgam