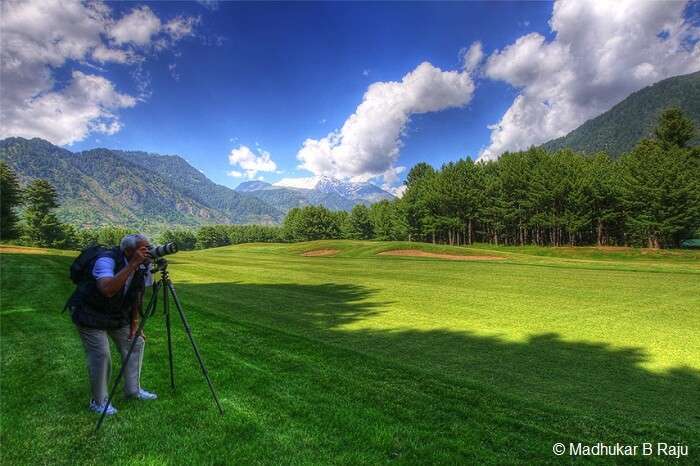 Gulmarg – the Meadow of Flowers truly lives up to its name. While in summers the valley is flocked with day-trippers from Srinagar and tourists from across the world, the winter season sees ski and snowboard enthusiasts rushing to Gulmarg – India's premier ski resort. But the numerous places to visit in Gulmarg are open throughout the year for those who wish to capture the beauty with their cameras or merely their eyes. Before we go ahead listing the top places to visit in Gulmarg, here are some essentials that you might find useful while booking a trip to Gulmarg and other valleys of Kashmir.
18 Top Places To Visit In Gulmarg 
If you have it all sorted but are wondering which are the popular places to see in Gulmarg then here is a list. Now that you have all the essential information, let us move ahead and explore the best places to visit in and around Gulmarg. Just check it out and go explore!
1. Gulmarg Biosphere Reserve – To Witness Flora & Avifauna

Home to numerous species of flora, fauna, & avifauna, the Gulmarg Biosphere Reserve is among the most popular tourist places to visit in Gulmarg for wildlife lovers. Biodiversity blooms here in its richest form. The conifers and green herbs give the entire sanctuary a scenic appearance. This offers ample opportunities to capture the animals in scenic settings.
The endangered Musk Deer is the main attraction of the reserve. Other species of animals include Hangul, Leopard, Brown Bear, Black Bear, and Red Fox. The biosphere reserve is also a paradise for ornithologists. The area has a large population of indigenous and migratory birds including, inter alia, Griffon Vulture, Blue Rock Pigeon Monal, Snow Cock, Kashmir Roller, and Jungle Crow. Also, it would be more fun to check this out during winter in Kashmir.
Location: Gulmarg Biosphere Reserve, Gulmarg, Jammu And Kashmir
Timings: 10:00 am – 4:00 pm
2. Strawberry Field – Try Fresh Strawberries

A favourite destination of the yesteryear Bollywood movies, the idyllic Strawberry Field is one of the most beautiful places to visit in Gulmarg. Travellers can walk to this pristine part of Gulmarg or take a pony ride. During summers, the fresh strawberries are ripe to be plucked and savoured.
Location: Alva Farm Road, Strawberry Valley, Gulmarg, Jammu and Kashmir, 193403
Quick Fact: Many scenes of the Shashi Kapoor – Amitabh Bachchan starrer Namak Halal were shot in and around Strawberry Field.
Must Read: A Prison You Would Happily Escape Into : Trip To Kashmir
3. Apharwat Peak – Snow Clad Year Round

At an altitude of approx. 4,200 meters above sea level, the Apharwat Peak is one of the most beautiful places to visit in and around Gulmarg. It lies in the second phase of the Gondola cable car ride from Gulmarg and reaching the peak is dependent on the weather conditions.
The beautiful summit remains covered with snow for most of the year and the snow-clad slopes are among the best ones for snowboarding and skiing in India. Another noteworthy point is that the Line of Control (LOC) is only a few kilometres from this peak. It is definitely one of the most visited out of all the Gulmarg tourist places.
Location: Near Alpather Lake Khilanmarg, Gulmarg
Suggested Read: Here's What Makes Kashmir A True Heaven On Earth
4. Alpather Lake – Amidst Scenic Peaks

Located about 13 km from Gulmarg, the Alpather Lake is among the enchanting places to visit in and around Gulmarg. The stunning water body is situated at the foot of the twin Apharwat Peaks and is surrounded by rocky mountains and the verdant meadows.
The breathtaking topography and perfect setting for photography has made this destination a favorite among the nature lovers as well as photography enthusiasts and also one of the top lakes in Kashmir. And what makes this tourist attraction all the more interesting is the pony ride from Gulmarg through the well-laid snowy trails.
Location: Gulmarg 193403, Jammu And Kashmir
Suggested Read: Let The Skiing Begin: Skiing In Manali Vs. Skiing In Gulmarg
5. Ningle Nallah And Ferozepur Nallah – Gorgeous Mountain Streams

The duo of Ningle Nallah and Ferozepur Nallah are two mountain streams flowing through the lush green valleys. The grassy pastures on the sides of the streams put these attractions among the best places to visit in Gulmarg for camping and picnic. Of those, Ferozepur Nallah is also a famous tourist attraction in Gulmarg for trout fishing. Both the places are best options for nature lovers as they offer spellbinding views of the landscape and opportunities of living close to nature.
Location: 5 km from Gulmarg, Gulmarg, 193403, Jammu and Kashmir
---
Planning your holiday but confused about where to go? These travel stories help you find your best trip ever!
---
6. Seven Springs – Seven Natural Water Outlets

Known for its seven natural outlets of water, the Seven Springs offer a majestic view of both Srinagar and Gulmarg valleys from the top. The famous Gondola cable car ride takes you from Gulmarg to the Seven Springs in Kongdori. This is one of the best ways to enjoy natural views and adventure in Gulmarg.
Location: Gulmarg, 193403
Suggested Read: 10 Things To Do During Snowfall In Gulmarg
7. Gulmarg Golf Course – A Popular Golfing Destination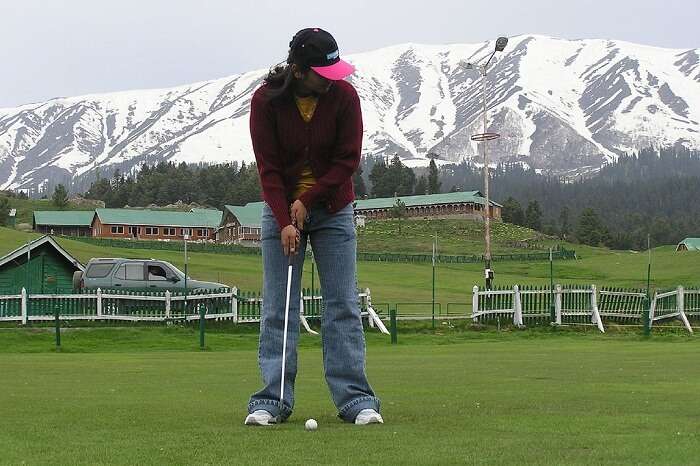 One among the largest and highest 18-hole golf courses in India, the Gulmarg Golf Course is situated on the lower ranges of Gulmarg. Though golfing began in this region as early as the early 1920s, the present-day structure designed by Ranjit Nanda – a well-known golf course designer – was inaugurated only in 2011 by Omar Abdullah, the then Chief Minister of Jammu and Kashmir. Gulmarg has slowly emerged as one of the most popular places to visit in Gulmarg and a popular golfing destination in India.
Location: Gulmarg, Jammu and Kashmir 193403
Suggested Read: Kashmir Food: These Scrumptious 18 Dishes Will Introduce You To Zaika-e-Kashmir
8. Children's Park – For Kids' Entertainment

Children's Park is a spot in Gulmarg made for the entertainment of kids. The several rides and activities would keep them occupied while you enjoy the beauty of this place. The rides include Toy trains, buggy rides, car rides and swings and slides. You can also hire a pony and roam the place to enjoy its neverending serenity and charm.
Location: Gulmarg, Jammu and Kashmir 193403
Suggested Read: 10 Resorts In Kashmir For An Incredible Himalayan Vacation!
9. Khilanmarg – Lush Meadows

Khilanmarg is a small and enchanting valley offering breathtaking views of the snow-capped mountains and is one of the best Gulmarg tourist places. The lush meadows, alpine forests and flowers bedded valleys will cast a spell on you. The 600-metre slope from Khilanmarg to Gulmarg becomes the site for winter skiing scenes in Gulmarg. The site of Himalayan peaks and the amazing chill in the air will make you fall in love with Khilanmarg instantly. You can also visit the famous restaurants in Kashmir here.
Location: Gulmarg, Jammu and Kashmir 193403
10. Shrine Of Baba Reshi – Seek Blessings

Built in 1480, the Shrine of Baba Reshi is one of the religious places to visit in and around Gulmarg. It is accessible by a motorable road from the main Gulmarg Valley and your Gulmarg sightseeing tour won't be complete without a visit to this holy place. The old Kashmiri architecture of the shrine – latticework on windows, carved deodar pillars, and excellent craftsmanship – of the shrine makes it an absolute wonder. The shrine is dedicated to Baba Reshi, a Muslim scholar & saint who spent his days meditating and praying in the valley.
Location: Baramula District, Gulmarg 193403, India
Suggested Read: 6 Haunted Places In Kashmir That You Should Not Visit Even In The Daylight
11. Maharani Temple – One Of The Oldest Temples

Maharani Temple is known to be built in 1915 by Mohini Bai Sisodia, the wife of Maharaja Hari Singh – the last Dogra king of Jammu and Kashmir and is one of the top Gulmarg places to visit . The temple houses shrines dedicated to Lord Shiva and Goddess Parvati. It is here that the Rajesh Khanna – Mumtaz starrer Aap ki Kasam was shot.
Location: Gulmarg Road Gulmarg Baramulla Jammu and Kashmir, 193403
12. St. Mary's Church – Star Attraction

St. Mary's Church is one of the star attractions of Gulmarg sightseeing tours. Set in the beautiful backdrop of verdant meadows, tall alpine trees, and high snow-clad mountains, the church built in the early 20th century boats of its Victorian-style architecture. Giving the appearance of a tiny countryside chapel, the church has grey stone walls and a steep green roof with wooden trimmings.
The rustic views of the wild landscape, the vast stretches of forests, the ancient church, and the hotels & huts serve as perfect backdrops for amazing photographs. For the same reason, the attraction has become a point of interest for not just religious travellers, but also photography enthusiasts.
Location: Gulmarg Baramulla Jammu and Kashmir, 193403

Suggested Read: 10 Festivals In Jammu And Kashmir: A Peek Into The Rich Kashmiri Culture (2022)
13. Kanchenjunga Museum – Displaying Modern Warfare Equipment

If you are looking for places to see in Gulmarg then we strongly recommend the famous Kanchenjunga Museum. The museum displays modern warfare and mountaineering equipment. The famous museum was initially set up as a high altitude warfare school but was later converted into a museum.
Location: Gulmarg Baramulla Jammu and Kashmir
14. Tangmarg – A Quaint Little Town

One of the most famous Gulmarg sightseeing places, Tangmarg is a quaint little town and connects a 5-kilometre long trekking route and Gulmarg by a 13-kilometre long metal road. You can not skip this one which is one of the secrets that Kashmir has kept guarded for so long. 
Location: Baramulla District, Gulmarg, Jammu and Kashmir, 193402
Suggested Read: Autumn Affair In Jammu & Kashmir: A Burst Of Colours!
15. Outer Circle Walk – Enjoy The Best Views

Here, you can get a chance to enjoy the beautiful view of the whole valley of Kashmir. You can even choose to have a hearty walk at the vast grassland and make the most of your evening. As for the views, you can witness Nanga Parbat, which is known to be the 4th highest peak on earth, at an altitude of 8,500 meters. This is easily considered to be one of the best places to visit in Gulmarg.
Location: Gulmarg, Jammu and Kashmir 
Suggested Read: Witness 9 Most Breathtakingly Beautiful Valleys In Kashmir On Your Naturescape In 2022!
16. Lien Marg – Winter Sports And More

If you want to go a little beyond Gulmarg, this can be the right place. Situated at a distance of 10 kilometers from Gulmarg, Lien Marg is established 8,700 feet above the sea level. This place is admired for its lush-green pine forests. You can come here to enjoy some thrilling winter sports and make your travel experience simply worthwhile.
Location: 10 km from Gulmarg, Jammu and Kashmir
Suggested Read: Churches In Kashmir: 9 Places To Feel The Much Needed Peace You Deserve
17. Banibal Nag – A Wondrous Lake

This attraction too is at a few distance from Gulmarg and is located around the Ferozepur Valley. It is a lake that people who want spend some time in solace must witness. Since the lake is located at an elevation of 96,000 feet above the sea level, it is a sight one should definitely visit for a memorable travel experience.
Location: 5 km from Gulmarg, Jammu and Kashmir
Suggested Read: Explore These 10 Best Places To Visit In Gulmarg In May 2022 On Kashmir Trip
18. Imambara Goom – A Sacred Paradise

If you want to visit a holy site in Gulmarg, Imambara Goom is just the right place. This can also be considered as one the best places to visit in Gulmarg with family. This is where you can also enjoy some of the best views of the Himalayas and have a great time amidst nature. 
Location: Ahmadpora, Baramulla, Gulmarg, Jammu and Kashmir, 1030957
Suggested Read: River Rafting In Pahalgam: A Must-Have Experience On Your 2022 Kashmir Trip
How To Reach Gulmarg

By Air: The nearest airport to Gulmarg is the Srinagar Airport in Srinagar which is located at a distance of 56 km.
By Rail: The nearest railhead to Gulmarg is the Jammu Tawi Railway Station which is located 290 km from Gulmarg.
Best Time To Visit Gulmarg

Gulmarg, like the rest of Kashmir, is a year-round destination. Barring the month of September, tourists can take the Gondola ride and enjoy snow all through the year. However, the months from mid-December to February are suitable for snow activities such as skiing and snowboarding. The weather is pleasant. Light woollens are all that you need during March – September. During October – February, the temperature drops to as low as –4° and it is essential to carry thick woollens.
Further Read: 30 Unbelievably Beautiful Places To Visit In Kashmir
With our ready list of places to visit in and around Gulmarg, you now know what are the places to cover when you visit Gulmarg. So, don't think any further. Just book a trip to Kashmir and explore the valley of Gulmarg and other nearby places.
For our editorial codes of conduct and copyright disclaimer, please click here
Frequently Asked Questions About Places To Visit In Gulmarg
Is it safe for tourists to travel to Gulmarg now?
One of the main tourist destinations in Kashmir is Gulmarg and there are a lot of places to visit in Gulmarg to be explored if you are an adventure seeker. According to the reports, now it is safe to travel there but one must take precautions and check for the information from State Government rules on the restriction to entry and exit the state border.
Which is the best to visit Gulmarg?
November to February is the best time to visit Gulmarg.
Is Kashmir safe for tourists in 2022?
Yes, Kashmir is a safe place to visit in 2022. The security levels have increased and the government is paying strict attention to the safety of the tourists in Kashmir.
What is there to do in Gulmarg in January?
The month of January is within the winter months in Gulmarg. Here are some of the things that one can do in Gulmarg in January:
1. Experience skiing
2. Visit Alphar Lake
3. Enjoy a gondola ride
4. Enjoy hot Kahwa and wazwan
What should I wear in Gulmarg?
The weather in Gulmarg is usually cold and winters are extreme. So, make sure you carry enough woolens.
1. Wear extra layers to prevent catching cold
2. Caps, gloves, socks for extra protection against cold air
3. Comfortable boots or shoes as you would be doing a lot of hiking and walking
Is there snow in Gulmarg in June?
No, there is no snow in Gulmarg in June because it is a month of summer and the temperatures are higher than freezing. The average temperature during summers range from 13 degrees Celsius to 29 degrees Celsius. There may be a less amount of snow at the higher altitudes of Gulmarg.
What is Gulmarg famous for?
Gulmarg is very famous for its skiing scenes in India. This town is located on the Pir Panjal Range, which is a part of the western Himalayas.
What is the cost of gondola ride in Gulmarg?
The cost of Gondola ride in Gulmarg for per adult and child (3 to 10 year) is:
(Phase 1) Gulmarg to Kungdoor – INR 750 – INR 800
(Phase 2) Kungdoor to Aparwath – INR 950 – INR 1000
Children below 3 years – No entry fee
Chair Lift – INR 250 – INR 300