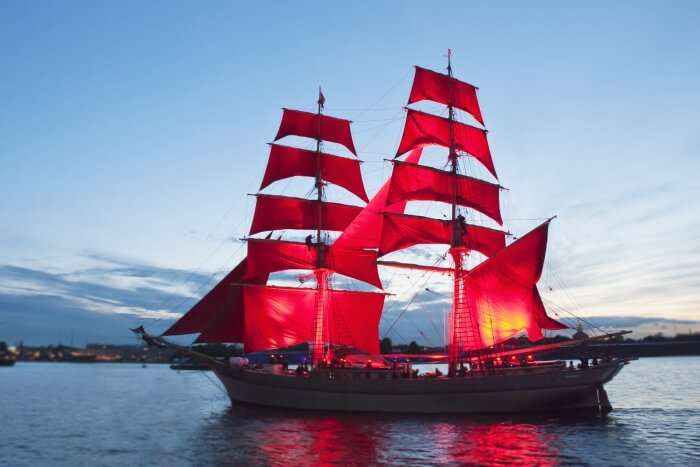 Saint Petersburg is one of the very lively cities of Russia. Being the former capital of Russia, this city is full of culture and art, along with amazing people and food. All these make Saint Petersburg definitely worthy of your time. This city is underestimated as a tourist destination because of prejudices about the country but contrary to everything people here are loving and make your stay very enjoyable. Long days and the energetic environment around the Saint Petersburg in June counts it for its popularity.
Why Visit Saint Petersburg In June?
Saint Petersburg in June is a month where the city goes by complete month without proper night, which is the reason why it got its name as the month of White nights. This month marks the city with the highest number of tourists visiting. All museums are filled with tourist during days, the night is peaceful and you can good night stroll with lots of natural light. The city is even marked with lots of event and festival around the cheerful city. A major reason for blooming tourist is the warm temperature of Saint Petersburg in June.
Weather And Nightlife
Unlike usually cold Russia, warm months of summer season make this former capital of Russia come to life. With a number of events happening around and variety of tourist places offering little something in warm months. The weather in St Petersburg in June is warm. You should definitely visit this city in June. It is the best time to do a variety of things that are opened only in summer months. The nightlife is very active in summer with booming markets, busy streets and smoky bars you can have great experience in this city. St Petersburg daylight hours in June is longer than the other months so you also have more time during the days also to explore this city.
Must Read: 19 Cool And Unusual Things To Do In Russia That You've Never Heard Before!
10 Places To Visit In Saint Petersburg In June
The port city of Russia, Saint Petersburg is also the cultural capital of the country. There are many culturally and traditionally important places that are open to public for a visit. Here are some of the top places to visit in Saint Petersburg in June:
1. Hermitage Museum
Hermitage museum is a must-see historical museum for any visitor to Saint Petersburg. It is the second largest art museum in the world. Its grandeur is defined in galleries full of old treasures of the artist, spanning over 1500 rooms. Founded in 1764, this museum can definitely be included in the list of oldest museums around the world. With a huge collection of paintings from the Berlin merchant Johann Ernst on display, even a complete day won't be enough if you set to explore this museum.
Location: Palace Square, 2, Sankt-Peterburg, Russia, 190000
Suggested Read: 8 Cities With Best Russia Nightlife; Say It Aloud, "Lights, Vodka, & Russians!"
2. Church Of The Saviour On The Spilled Blood
Also known as the Cathedral of the Resurrection of Christ, the church of the Saviour on the Spilled Blood is dazzling and seems like a set from animated movies. The exterior of this church is decorated with classic Russian architecture is truly beautiful. Even more beautiful are its interiors which are decorated with more than 7000 mosaics which makes it this church stand out in the city. The church was built in the memory of Alexander II on the sight where he attacked and inflicted with wounds that killed him.
Location: Griboyedov channel embankment, 2Б, Sankt-Peterburg, Russia, 191186
3. Scarlet Sails Festival
Visiting Saint Petersburg in June can save you from missing out a variety of Saint Petersburg events in June. One of the best you can visit during the White Nights festival in summers. It is truly magical to be part of this event in Russia. It is a festival with lots of lights and fireworks dedicated to school graduates in the city. Though its summer season, we advise you to get warm clothes, to beat the cold nights in Saint Petersburg in June.
Suggested Read: 10 Places To Visit In Russia To Witness The Beauty Of This Incredible Nation
4. Peterhof Palace
Peterhof palace is located a little away from the main city of Saint Petersburg. It was built with the intent to mark the presence of greatness of Tsar Peter and make look down on Versailles. Its magnificence is from large water gardens which makes it stand out. Its lush green gardens make is worth the visit and hydrofoil speedboats are worth journey. This place is popularly related with the daughter of Tsar Peter, Elizabeth on whose orders outside gardens, park and beautiful system of fountains were built.
Location: Razvodnaya Ulitsa, 2, Sankt-Peterburg, Russia
5. Saint Isaac's Cathedral
To get the wonderful eye view of the city, but to get that you need to get to the top of a basilica. You must know it is the oldest basilica in the world. This fourth largest cathedral in the world is not an even proper cathedral and has been converted into a museum. It is famous for the feast organized here on important days. It decorates the skyline of Petersburg with its gilded dome. It is decorated outside with sculptures and inside with many paintings and mosaics.
Location: St Isaac's Square, 4, Sankt-Peterburg, Russia, 190000
Suggested Read: 9 Fabulous Beaches In Russia That Let You Relish The Taste Of The Good Life!
6. Peter And Paul Fortress
Peter and Paul's fortress marks the very first structures built in the city of Saint Petersburg and the birthplace of this city. Originally built for defence functions but has been used for a variety of purposes. One of the major attraction of this palace is a bell tower and still the highest in the city of Saint Petersburg. It has served as a jail during the Russian revolution, home of government departments, as military base and burial base for royal families of Russia.
The beach in front of Peter and Paul fortress is filled with people doing various activities in Saint Petersburg in June. During the hot Weather in Saint Petersburg in June, this beach serves as a perfect venue for a variety of functions such as dance and music.
Location: St Petersburg, Russia, 197046
7. Tsarskoye Selo Pushkin
This building is a display of grandeur of Russia's imperial rule. They are two suburban estates, constructed in the 18th century, surrounded by vast and beautiful landscapes. Its charming and green suburb and major attraction of extraordinary Amber Room occupies a tourist whole days. Summer in Saint Petersburg see a great number of tourist at these place and may require pre-arrangements to skip the queue.
Location: Garden St, 7, Pushkin, Sankt-Peterburg, Russia, 196601
Suggested Read: 9 Hotels In Russia That Are A Perfect Blend Of Modern Culture And Old-World Charm!
8. Mariinsky Theatre
Mariinsky is a theatre with most extensively and beautifully decorated auditorium. It hosts one of best ballet and opera performances in town. Founded in the 18th century, this ballet company is called the imperial ballet of Russia. You would definitely not want to miss one of best ballet and opera performances in grand and historical Mariinsky theatre. This is also the stage where the masterpieces of various legendary Russian composers were premiered.
Location: Theatre Square, 1, Sankt-Peterburg, Russia, 190000
9. Canal Complex
One of the very good reasons to visit Saint Petersburg is you can enjoy a beautiful boat ride in complex canal and river system of Saint Petersburg. This city is built over 42 islands with developed waterways throughout the city. You will need to use these boat rides for exploration purposes. It is not a way of transportation but also serve as major sightseeing tours with the help of boats and with a variety of river entertainment.
Suggested Read: Russia Plans To Open A Luxury Hotel In Space By 2022 Since Earth Is Too Mainstream!
10. Catherine Park
Catherine Park received its name from the iconic Catherine Palace. The park is adorned beautifully with fountains and ponds, extends around the Palace. There are beautiful buildings and pavilions included in it. The major attraction of this park is rotating exhibitions. Visiting this place in summers can give you the availability of ferry to a little island and with pavilion houses setting up temporary exhibitions. Catherine Park has is divided into two parts – a regular old garden and an English garden.
Location: Garden St, 7, Pushkin, Sankt-Peterburg, Russia, 196601
Further Read: Russian Museums: For A Tour Down The Country's Expansive And Profound Culture!
If you go to Saint Petersburg in June, there will be an ever-increasing crowd at all main attractions and queues can be found everywhere around tourist spots. We highly recommend you to plan any of your favourite international destination including Russia, to enjoy everything to the fullest.
Frequently Asked Questions About Saint Petersburg In June
Q. How is the weather in Russia in June?
A. The average temperature in Moscow (Russia's capital) in June is 23 degree Celsius. And it rises during the heat waves to around 30 degree Celsius during daytime.
Q. What should I wear in St. Petersburg in June?
A. June is a summer month in St. Petersburg so keep your clothes lighter, like Tshirts and Convertible pants. Also carry fleece vest for nights here may get a bit chilly.
Q. What is white night in Russia?
A. White Night is a phenomenon in St. Petersburg, Russia when the nights are bright. This is caused by the geographical location of St. Petersburg, as it is the world's most Northern city.
---
Looking To Book An International Holiday?
Book memorable holidays on TravelTriangle with 650+ verified travel agents for 65+ domestic and international destinations.
---