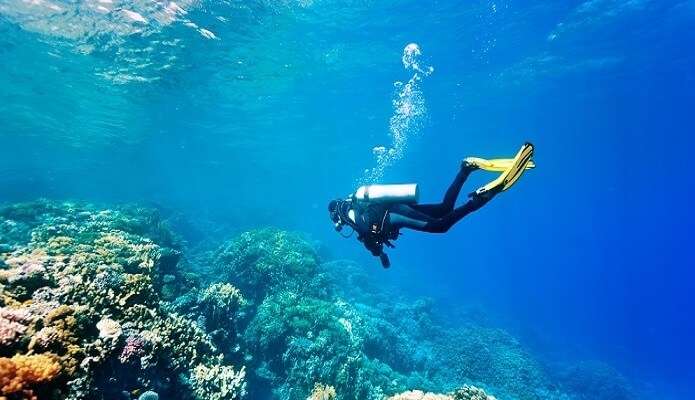 Goa is fast becoming a scuba diving hub for underwater adventure enthusiasts in India. Goa offers plenty of places for this exotic adventure, including its alluring, exhilarating beaches and invigorating islands. Goa is hands-down one of the best adventure destinations in India when it comes to water sports. Of all the adventures, scuba diving is among the most exotic ones. Scuba diving in Goa will not just captivate you but also create lot of cherishable memories. Goa shores are full of colourful exotic underwater creatures, fish, lobsters, coral reefs, and flora. If you are planning a trip to Goa, make sure you do not miss out on this stimulating experience.
9 Best Spots For Scuba Diving In Goa
Here is a of the most popular spots for a stimulating, splendid experience under the deep waters of Goa and experiencing the lives of stunning creatures and corals living under water.
1. Grande Island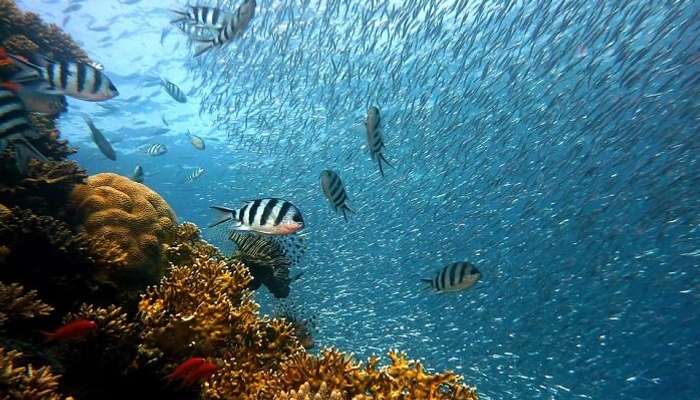 NOTE: The image is for representation purpose only.
This is one of the most popular places in whole Goa for underwater Scuba adventures. Situated in South Goa, this is an alluring exotic island where people come from all over the world to observe the stunning underwater marine life, corals, and reefs. Usually divers with along with their instructors will reach Grande Island through a boat or yacht from the nearest beach which is Bogmalo Beach. Visibility here is one of the best that you can get in Goa. The place has enough shallow waters for newbies and first-time divers.
Must Read: 7 Lakes In Goa That Are Ideal For An Off-Beat Vacation
2. Uma Guva Reef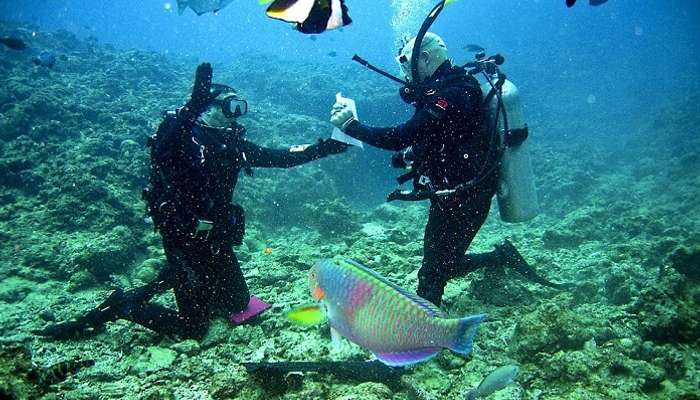 NOTE: The image is for representation purpose only.
This one has dive sites ranging from 6 meters to 12 meters. The Uma Guva Reef is one of the best places to explore the lives of denizens of the deep. One may find a variety of colourful tunas, sharks, turtles, and even snappers while scuba diving at this particular spot. This spot is in the surrounding of Grande Island and is extremely popular among the regular divers in Goa. Owing to its scenic splendor, comparitively clean waters, and variety of ocean fauna, it offers some of the best scuba diving in Goa.
Suggested Read: 7 Best Forts In Goa Every History-Lover Must Visit
3. Malvan Island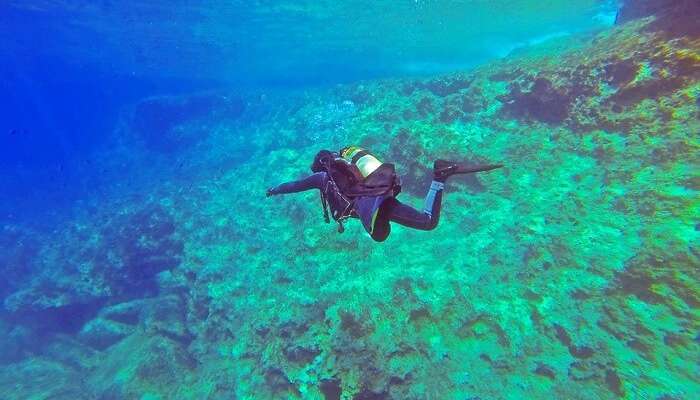 NOTE: The image is for representation purpose only.
Mavlan Island is fast becoming an extremely popular destination for divers near Goa. Situated only at two hours' drive from Goa airport at Maharashtra border, this Island presents a refreshing opportunity to explore the calm seasides with lush-green backwoods. The beaches here aren't as commercialised or developed as some of the beaches in North Goa, yet you may love the serenity and calmness of this place, making it a perfect destination for deep diving.
The island is famous for its white sand beaches. Scuba diving spots here can be reached through boat rides. There are some awesome spots which vary from 5 meters deep to 25 meters. There are a couple of locations near this island which are extremely popular among divers enthusiasts – Sindhudurg as well as Tsunami Island of Tarkali. The calm waters and peaceful waves at Malvan make it an ideal place to explore panfish, clam, lobster, colourful corals, and other exotic marine animals. This place is open for diving from October to April. Cost for scuba diving for one person is around INR 2500/- here.
Suggested Read: Goa In Winter: 7 Happening Events & Festivals To Keep Your Eye On
4. Nagoa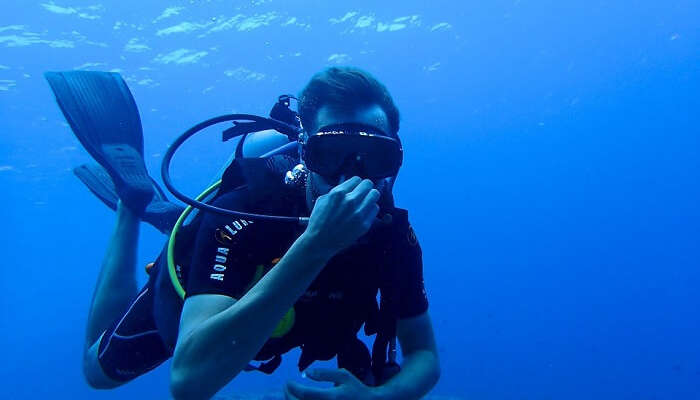 NOTE: The image is for representation purpose only.
Nagoa is a fascinating spot for amateur as well as expert scuba divers in Goa. Popular for its visibility in the depths, the spot allows clear sightings of awe-striking coves and extraneous varieties of exotic fish. This place is only 17 kilometers away from the famous Vasco Da Gama. Best time to scuba dive here is from October to May. Cost per person for diving here is around INR 5000/-, which is about the average price of scuba diving in Goa altogether, making it a famous spot for scuba diving amongst budget travelers and backpackers.
Suggested Read: 6 Best Spots For Snorkeling In Goa To Experience Its Thrill First-hand!
5. Calangute Beach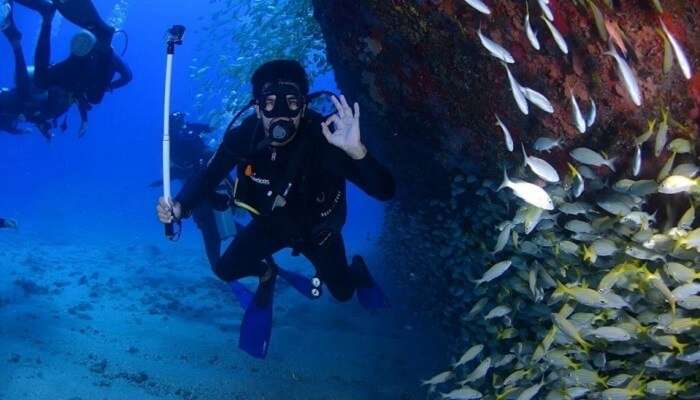 NOTE: The image is for representation purpose only.
Calangute offers an exquisite experience of diving deep to explore the fascinating underwater denizens. Coral and other underwater animals here will captivate you to no end! On a good day, one may be able to sight enchanting dolphins at this location. There'll be a decent number of expert divers on this beach who can help you undergo a gripping diving experience. The prices here may vary from one diving school to another but you can have a great experience in around INR 3000/-.
Suggested Read: 7 Magnificent National Parks In Goa For An Adventurous Encounter With The Wild
---
Planning your holiday in Goa but confused about what to do? These Goa travel stories help you find your best trip ever!
---
6. Baga Beach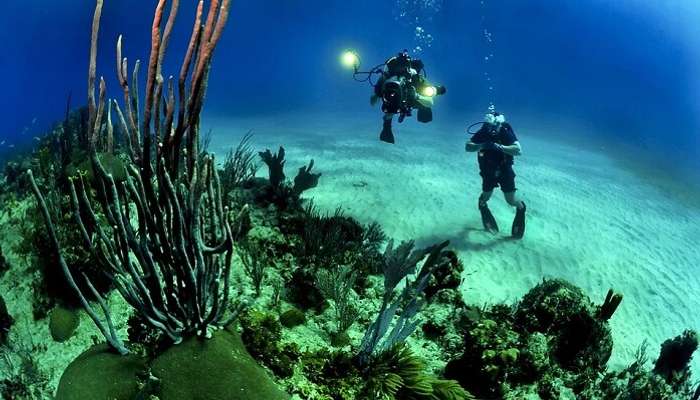 NOTE: The image is for representation purpose only.
Undoubtedly, Baga Beach is the most happening beach of Goa. Full of travellers, adventure sports, and everything that you can ask for in a Goa's beach. There are few spots around this beach which are really enjoyable for scuba diving. The beach is especially good for first time divers. This is one of the safest places in Goa to try diving and exploring the underwater world.
At Baga, you will find intriguing coral, many varieties of Goa floral and marine life. If you go a bit far and are lucky enough, you may also sight few dolphins playing with the underwater waves.
Suggested Read: Christmas Celebration In Goa Is The Perfect Way To Soak In The Festivities In 2020!
7. Lobster Avenue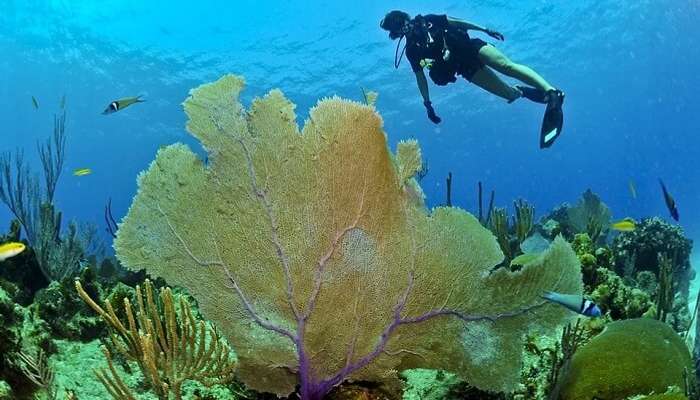 NOTE: The image is for representation purpose only.
This is a rocky underwater place famous for its white sand stretches and huge variety of exotic lobsters living under the calm waters. The waters are calm with very less undercurrents – that's why this place is preferred by some divers. If you see nothing but a rocky bottom, you will need to do some work and look around the rocks to find the hidden colourful exotic marine creatures.
The depth is around 10 meters, which is good for new divers. Some of the popular fish and lobsters that you may be able to find here are Sergeant Majors, Flounders Groupers Turtles, Reef Rays and many more.
Suggested Read: 25 Most Romantic Places In Goa For Couples To Have A Lovely Time In 2021
8. Turbo Tunnel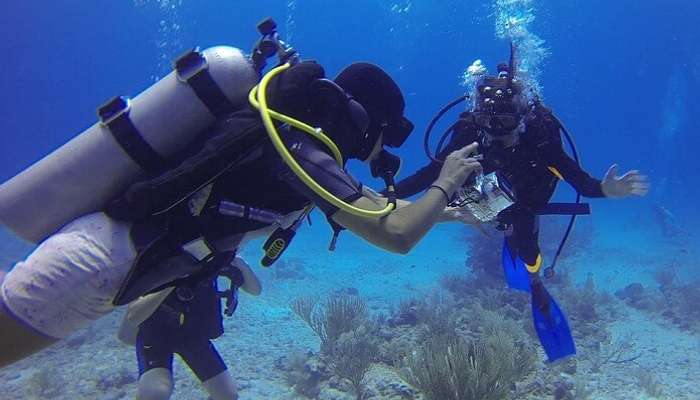 NOTE: The image is for representation purpose only.
Wonderful site near the coast of Vasco De Gama, Turbo Tunnel is popular among the beginners. The depth is 8 meters and you'll get a fair chance to witness exotic fish and corals. There is an underwater city, named Surge City which hosts numerous exotic fish, big boulders, and sand.
This is a narrow channel and has an area with among the highest concentration of intriguing exotic fish. Stonefish are among the best highlights of this place – they are plenty here but some of them may also be venomous and not easy to spot as they keep lying over stones in motionless state.
Suggested Read: 34 Famous Beaches In Goa That Will Make Your 2021 Vacay A Happy Trip
9. Sail Rock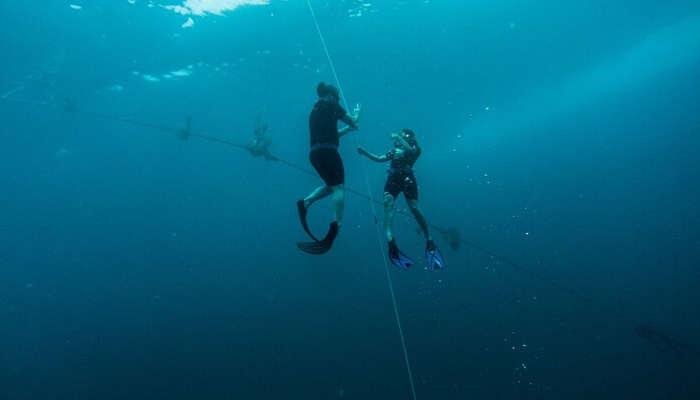 NOTE: The image is for representation purpose only.
Sail Rock is situated at southwest of Grand Island in South Goa. It is a paradise for those looking for big fish and there are plenty of tunas, barracudas, jacks, reef rays, and even sharks. There's an amazing number of small fish across the shallow waters of Sail Rock.
This place is around a kilometer away from Grande Island and is named so due to a small rock peak coming out from the sea water surface, which is visible from far. Timings for diving here are from 7 AM in the morning till 3 PM in the evening. Cost is around INR 5000/- per person. The diving starts from the month of October.
Suggested Read: 23 Watersports In Goa That You Must Add to Your Bucketlist For A Fun 2021 Vacay
Top Instructors And Schools For Scuba Diving In Goa
Scuba diving is a sport where you will need to accompany an expert to help you experience the amazing life under water. These experts will not just ensure your safety under water, but will also help you with the accurate locations, reaching the spots, with expert equipment and your training before the actual dive. Here are some of the schools you can choose to dive with :
1. Dive Goa
NOTE: The image is for representation purpose only.
Situated at Candolim beach, this diving school has extremely well-trained and friendly staff. They also conduct various scuba diving courses if one is interested to learn this sport in detail. They have their own swimming pool where they teach you the basics of the diving and give you hands off training so that you are fully ready to witness the breathtaking life under the ocean.
The depths that you will go to can vary from 8 – 20 meters. The school is open from October to May. They have numerous sites covered with reef and seaweed forests around Ilha Grande & Netrani Island.
Address: SinQ Night Club, Opposite Taj Holiday Village, Aguada – Siolim Rd, Candolim, Goa 403515
Cost: They have varied packages including a 20 minute package which would cost INR 4000/- while a 40 minute package with more depth will cost around INR 5500/-
Hours: 9 AM to 6 PM
Phone: 093250 30110
Suggested Read: 7 Affordable Things To Do In Goa With Kids For Your Next Family Adventure
2. Sea Water Sports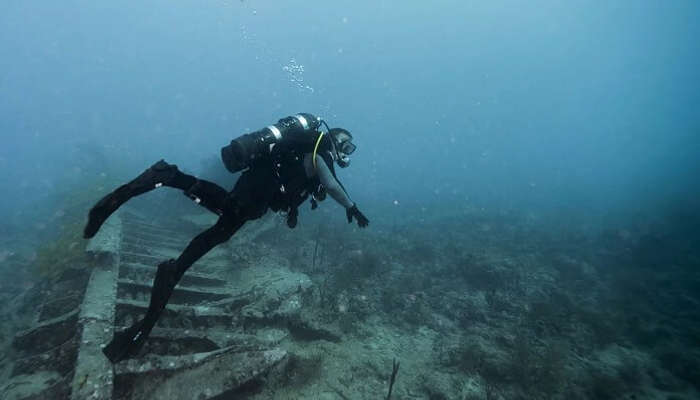 NOTE: The image is for representation purpose only.
Sea Water Sports is one of the most popular water adventure sports park in Goa. They offer scuba diving in Goa at multiple locations around Grande Island. This is a one-stop destination for all kinds of enthralling water adventures in Goa
Location: Flysports Adventure Park, Vadawal, Latambarcem, Goa 403503
Cost: Package cost starts from INR 2200/- per person
Timing: 9 AM to 6 PM
Contact: Contact | +91 – 8291917770
Suggested Read: 3 Days In Goa In 2021: A Guide To Help You Plan Your Getaway Better
3. Scuba Evolution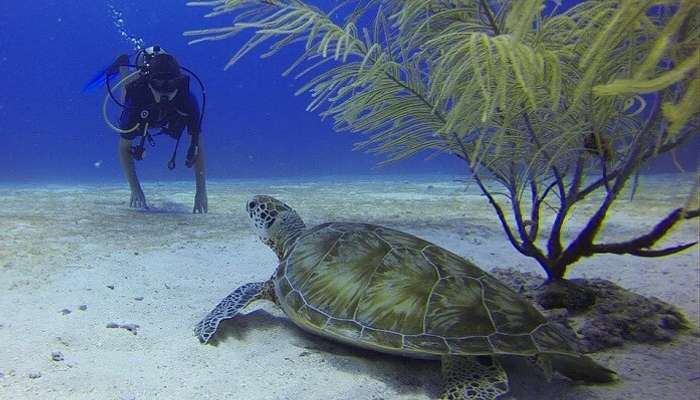 NOTE: The image is for representation purpose only.
Founded by highly experienced navy veterans, Scuba Evolution will keep you in safe hands. First started in 2015, this group has completed hundreds of diving. From 12 meter shallow dive to an advanced open water dive of 30 meter, this school offers a lot of range. You may get more discount if you book it for a large group.
The experience takes around 1 and a half day – where on the first day instructors will brief you on the basics of diving, necessary gears and share the dos and don'ts. After this, instructors will train your in a swimming pool before taking you outdoors. Minimum age for diving is 10 years here.
The scuba package also includes photos and a short video of your dive. Charges for boats, snacks and rental for equipment are included in the package.
Address: H. No. 840, Villa Sorronto, D'Mello Vaddo Anjuna Starco Junction, Anjuna, Goa 403509
Cost: Cost is around 5500/- per person
Hours: 9 AM to 8 PM
Phone: 072619 42119 | Phone
Further Read: 12 Delhi To Goa Trains: Best Rail Journeys Along The Konkan Coast
Scuba diving in Goa will definitely be a memorable experience if you cover the above-mentioned spots for this activity. Apart from being thrilling, this water sport is considered to be extremely peaceful! Explore more than just the beaches and nightclubs by getting closer to the marine life during your Goa vacay.
Tips For Scuba Diving In Goa
Make sure you abide by the given tips and suggestions for a safe, comfortable, and enjoyable experience of diving in Goa.
Try scuba diving in the right season. Do not indulge in this activity in the monsoons.
Get a proper health checkup done before embarking on your adventure. Make sure you do not have any health complications or allergies that can be triggered while scuba diving.
Keep a tab on the weather at all times even at the destination itself. Do not tread into the water even if there's the slightest chance of a weather anomaly.
Book your scuba diving tour only through a certified operator and make sure your diving instructor has proper experience and license.
Make sure you use the latest and quality equipment that is not damaged from any angle.
Listen to the instructor carefully and follow his guidelines properly.
When you are underwater, do not touch anything or drift anywhere without your instructor's knowledge and approval.
Frequently Asked Questions About Scuba Diving In Goa
Q. Is Scuba diving safe in Goa?
A. Scuba diving is safe in Goa and most of the diving instructors are PADI certified. In fact scuba diving is safer here as the waters at most of the locations around Goa beaches and islands are shallow and with low undercurrents.
Q. How much does scuba diving in Goa cost?
A.The cost may vary from location to location in Goa. The cost may also vary according to the depth of the dive and the total duration. The cost for scuba diving generally starts from INR 1500/- and may go up to INR 5000/- or higher.
Q. Which is easier to do – scuba diving or snorkeling?
A. While snorkeling can be tried by anyone in Goa, scuba diving requires some expertise and equipment. Carrying the equipment and diving with them isn't as easy as one can imagine. It requires a little bit of practice, which one usually undergoes before the real adventure under the waters begins.
Q. What is the best time for Scuba Diving in Goa?
A. Scuba diving is mostly practiced at locations across Goa from the month of October to April. Some places may offer adventure at other times as well. Undercurrent and waves can be high during monsoons and therefore monsoons should be completely avoided for this sport.
Q. Can non-swimmers do scuba diving in Goa?
A. Yes. At most of the places, especially at places with shallow depths and low undercurrents scuba diving is pretty much safe even for non-swimmers and is allowed for all.
---
Looking To Book A Holiday Package?
---
DISCLAIMER: TravelTriangle claims no credit for images featured on our blog site unless otherwise noted. All visual content is copyrighted to its respectful owners. We try to link back to original sources whenever possible. If you own rights to any of the images and do not wish them to appear on TravelTriangle, please contact us and they will be promptly removed. We believe in providing proper attribution to the original author, artist or photographer.
Comments
comments