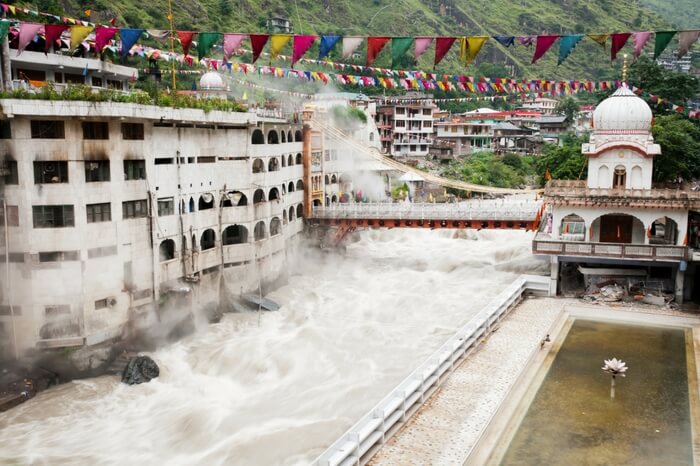 It's no surprise that we often find almost no mention of hot springs even in the most talked about travel experiences. So, here we are to break the stereotype by letting you know about some Indian states that boast of some of the most famous hot springs in India located at attractive tourist places.
Heated and brought up to the earth's surface by geothermal forces, hot water springs are natural features which often take the form of pools, geysers, and fumaroles. These natural hot springs contain dissolved chemicals and minerals which are found to be beneficial to human body and are believed to possess great medicinal values. Medicinal value apart, an experience of immersing yourself in these must-visit hot springs in India is really a great pleasure too.
But wait, before you start chalking out your own plan to bathe in hot springs, do check out our list of 10 states that house some of the most popular hot springs in India.
---
Looking To Book A Holiday Package?
Book memorable holidays on TravelTriangle with 650+ verified travel agents for 65+ domestic and international destinations.
---
Hot springs of Ladakh, Jammu & Kashmir
Not many who travel to Ladakh, know that Ladakh is not just about lifeless mountains and deep gorges. Lies within, is the warmth of Chumathang and Panamik hot water springs which can be explained best if experienced.
1. Chumathang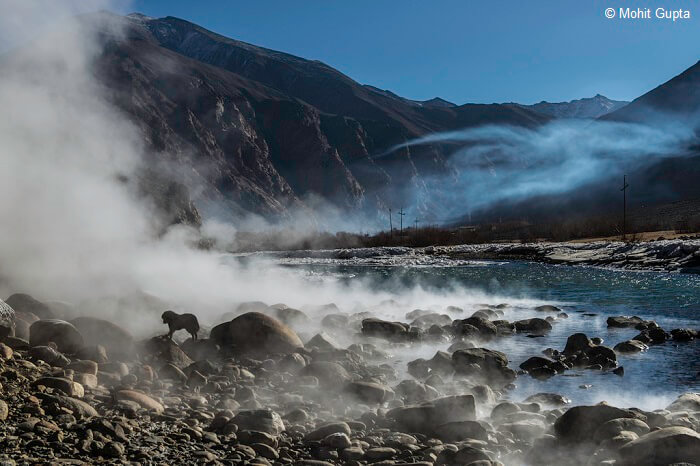 Image Source
Chumathang hot springs will give you an incomparable bathing experience as you will forget the cold of Ladakh and feel the warmth of the water of this hot spring destination. Chumathang hot springs are like other amazing hot springs in India and are believed to have medicinal powers.
2. Panamik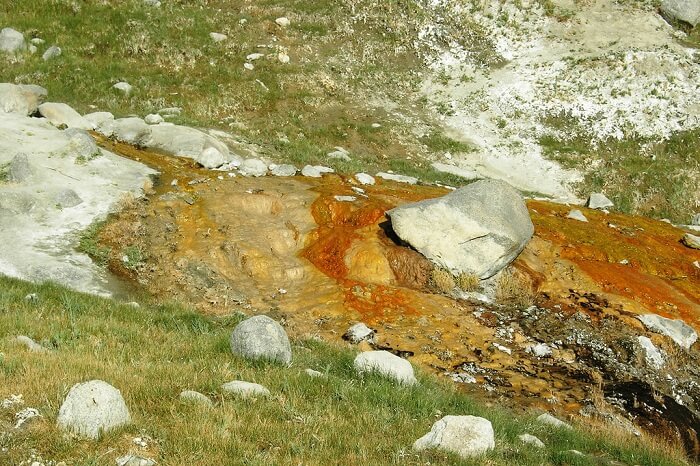 Image Source
Nestled quietly in Nubra Valley, located about 150 km from Leh, Panamik village is often flocked by tourists taking a dip in hot sulphur springs. There are pools for males and females, cabins with showers and change rooms as well that makes bathing in Panamik hot springs a real delight and comfort.
Best time to enjoy hot springs of Ladakh: June – August
Entry fee: INR 20 per person for bathing in hot bath complex for tourists.
Suggested Read: 9 Places To Visit In Leh Ladakh
Hot springs in Himachal Pradesh
Imagine yourself bathing in a hot spring on a pleasant day with a view of rivers gushing through the picturesque valleys and dense forests covered in a blanket of mist. Well, that's Himachal Pradesh for you! Some of the famous hot springs of Himachal Pradesh are:
3. Manikaran Hot Springs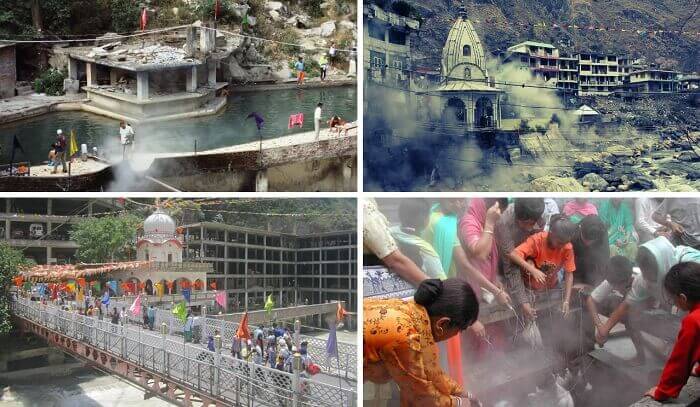 Located in Parvati of Kullu District, Manikaran is known for sulphur hot water springs. Enjoy bathing in hot water spring of Manikaran besides visiting Sikh Temple and taking a dip in its holy water.
4. Kheerganga Hot Springs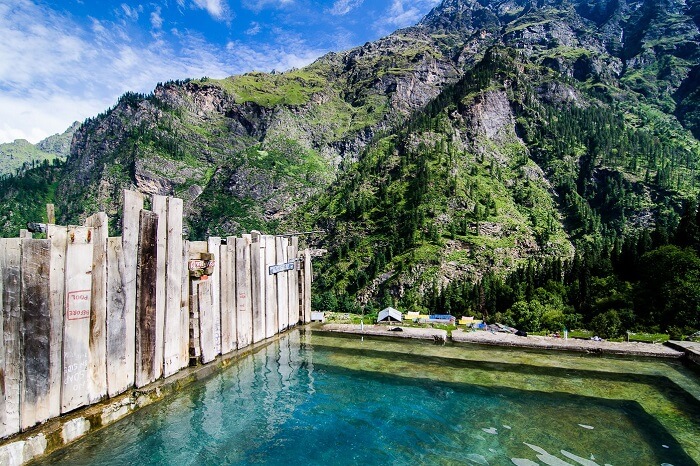 Image Source
Trek up through the dense forests of Kullu district and enjoy bathing in hot water springs while being surrounded by mesmerizing ambient beauty in Kheer Ganga. Tourists from all parts of the world love to immerse themselves in this exceptional experience.
Must Read: Kheer Ganga Trek- Whispers From The Parvati Valley
5. Tattapani Hot Springs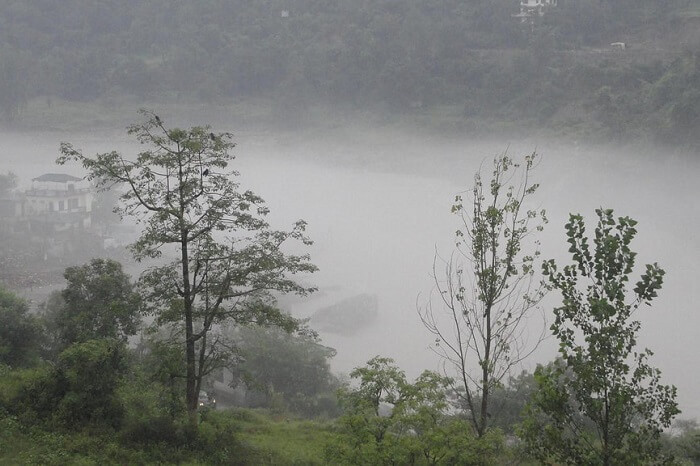 Image Source
Known as one of the most famous hot water springs in India, Tattapani pure sulphur springs can cure many ailments, especially bone and joint diseases. The amazing location adds to the beauty of the hot springs.
---
Planning your holiday but confused about where to go? These travel stories help you find your best trip ever!
Real travel stories. Real stays. Handy tips to help you make the right choice.
---
6. Vashisht Hot Springs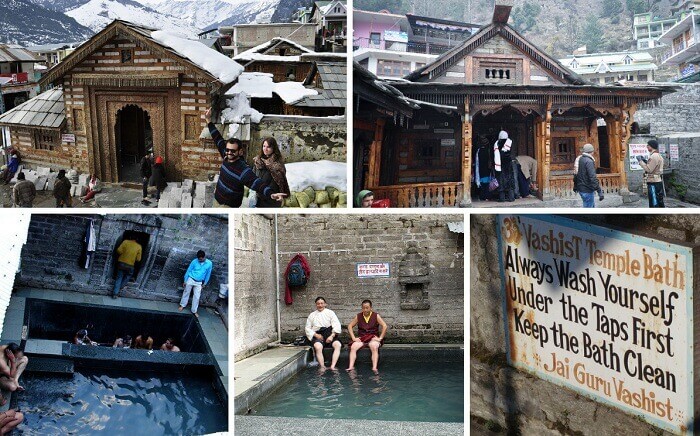 Surrounded by lush green hills, Vashisht is a small village housing one of the best hot springs in India which appear from granite deposits in this area. There are separate hot water pools for women to bathe.
Best time to enjoy hot springs in Himachal Pradesh
Manikaran: May – July and November – January
Tattapani: October – May
Vashisht: April – May; Timings for tourists are 7:00 am – 1:00 pm and 2:00 pm – 10:00 pm
Kheerganga: May – October
Suggested Read: 19 Photos That Will Make You Want To Leave For Himachal NOW!
The unique hot springs of Uttarakhand
If you are planning a trip to Uttarakhand anytime soon, the do enjoy a dip or two in the natural hot springs Uttarakhand.
7. Tapovan Hot Springs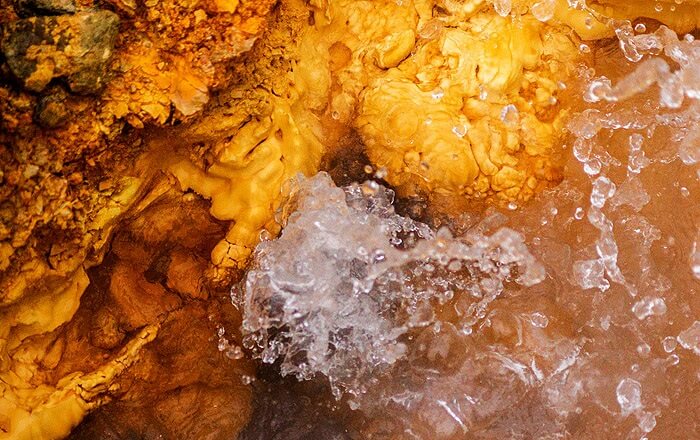 Image Source
Apart from offering an amazing scenic view of the picturesque landscape, Tapovan is also famous among visitors as a famous attraction for its sulphur-rich hot springs which emerge from the yellow-soiled hill. You can cook rice or boil eggs by dipping the contents in these hot water springs here.
8. Gaurikund Hot Springs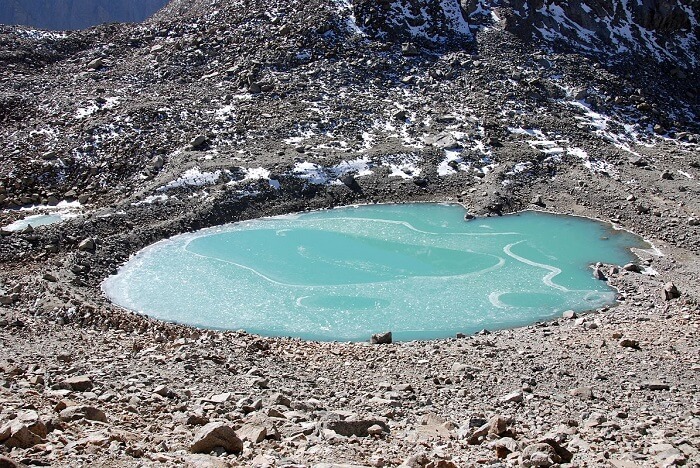 It's an another popular Hindu pilgrimage site. Situated at 6,000 feet, it houses many hot springs that are famous among tourists as bathing hotspots. It also serves as a base camp from where people trek to Kedarnath temple after bathing in these hot springs.
9. Rishikund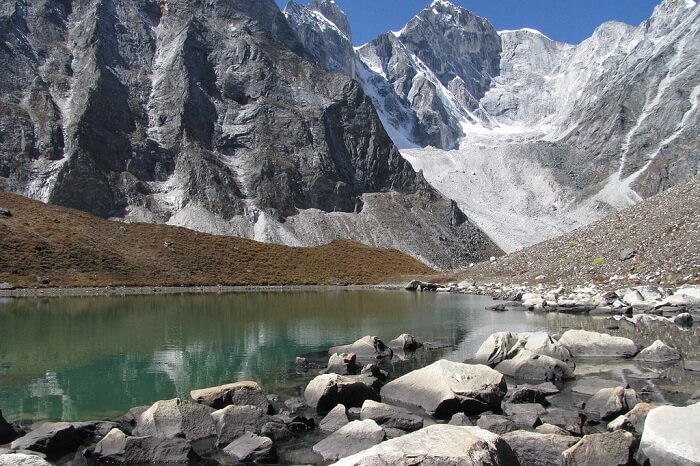 Rishikund is another famous natural hot springs in the state of Uttarakhand. Also known as Gangani, it is about 46 km from Uttarkashi mostly visited by people who wish to gain some spiritual and peaceful experience. Here, people take a bath in this hot water spring on their way to Gangotri.
10. Suryakund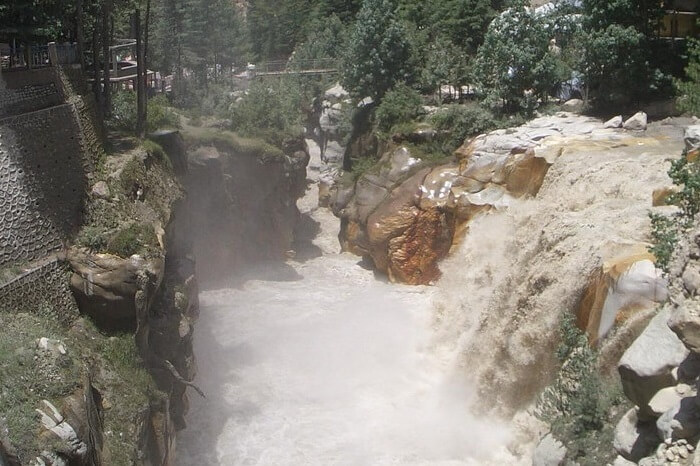 Being one of the most famous hot springs in India and located nearby Yamunotri temple, it is visited by many devotees all the year round. It's surrounded by snow-clad mountains that add to the divine beauty of the place.
Note: Kedarnath, Gangotri, and Yamunotri, along with Badrinath, are a part of the Chhota Char Dham Circuit.
Tapt Kund at Badrinath, Tatopani, and Jankibai Chatti are some other natural hot springs in Uttarakhand that you should visit.
Best time to visit hot springs in Uttarakhand: The best time to visit above mentioned hot springs in Uttarakhand is preferably in summer months from April-June, except for Gangani which you should visit in winters.
Hot springs of Madhya Pradesh
Madhya Pradesh is also known as 'Heart of India' and there is no doubt that it houses attractions of various kinds, including the tourists' favorite natural hot water springs.
11. Dhuni Pani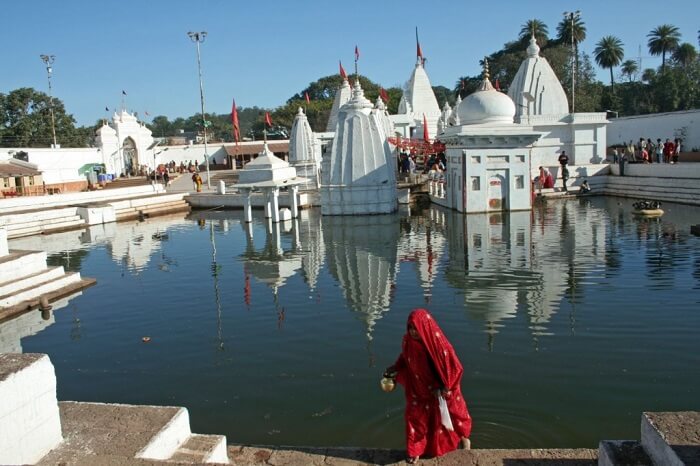 Located in the dense forests of Madhya Pradesh is the Dhuni Pani, one of the lesser-known yet fascinating hot springs in India. To get there, you will have to trek from Amarkantak. This is a sacred hot water spring which has a spiritual significance. It is believed that taking a dip in these hot springs can cure many diseases. Don't ignore to hire a jungle guide while you plan to pay a visit to hot spring attraction.
Best time to visit hot water springs in Madhya Pradesh: October to March is considered as the favorable time for tourists to visit Madhya Pradesh and experience bathing in these hot springs.
Also in Madhya Pradesh: Chavalpani is another hot water spring, located close to the Pachmarhi hill station.
Hot springs of West Bengal
12. Bakreshwar hot water springs, West Bengal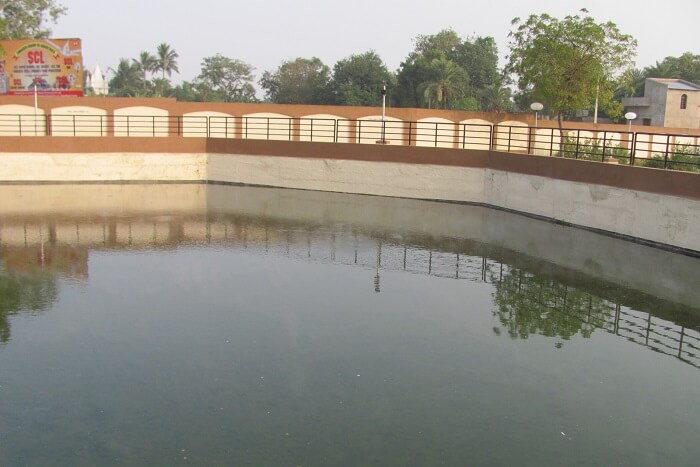 Image Source
Otherwise a pilgrimage center for Hindu devotees, Bakreshwar is located in West Bengal, about 230 km from Kolkata and is also famous for being home to many natural hot springs. Some of the best hot springs of Bakreswar are Surya Kunda, Dudh Kunda, Agni Kunda (hottest of all), Bhairav Kunda, Shwet Ganga, Brahma Kunda and Amrita Kunda. Each spring is enclosed in a 10-ft deep reservoir 10 feet in depth shooting the clouds of sulphurous vapors. Besides the large pond, piped water for those who don't wish to get into the pond to bathe.
Best time to enjoy bathing in Bakreshwar hot springs: Monsoon, winter, and spring seasons are the most ideal times to take a dip in these popular hot water springs in India.
Hot springs in Sikkim
Clustered in the northern part of Sikkim these, are some of the most famous hot springs in north-east India – well-known and frequently visited by tourists not only from India but from all across the world.
13. Reshi Hot Water Spring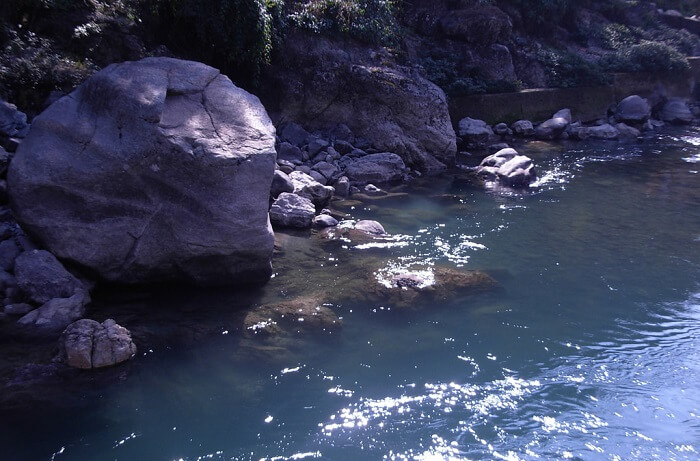 Located approximately 25 km away from Gyalshing on the banks of Rangeet river, surrounded by awe-inspiring landscape, these hot springs in north-east India are worth taking a dip. The sulphur rich hot Reshi Hot Springs are believed to possess curative powers against many skin diseases.
14. Yumthang Hot Water Spring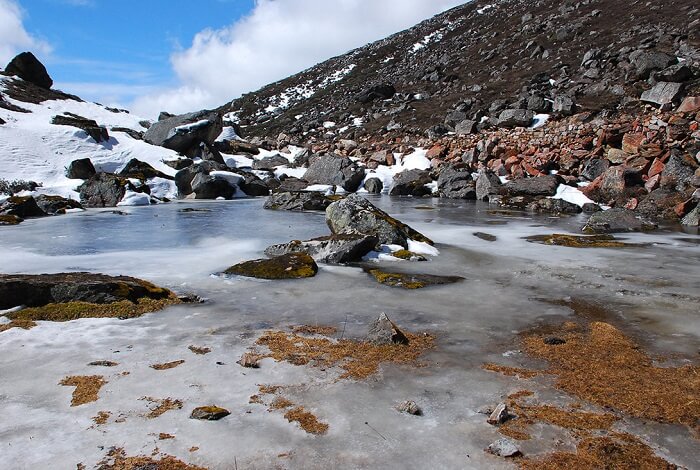 Image Source
Enjoy bathing in the two pools of Yumthang Hot Springs, located near Yumthang village at about 135 km from the capital Gangtok. You can reach Yumthang by walking a few hundred yards from the main road and after crossing a pedestrian bridge on the River Lachung.
Borong, Ra Long, and Phurchachu are some other hot water springs in Sikkim that attract a lot of tourists from various places. Once in Sikkim, taking a dip in these natural hot water springs (especially during cold) is an incredibly pleasing experience. Don't miss that!
Best time to experience hot springs of Sikkim: December – March is considered as the best time of the year to enjoy the hot springs in Sikkim.
Suggested Read: 9 Extraordinary Places In Sikkim That Will Leave You Spellbound
Hot water springs in Meghalaya
This sparsely populated Northeastern state of India is one of the most beautiful tourist destinations known for its natural beauty, culture and hot water springs. The most known hot springs in Meghalaya are in Jakrem.
15. Jakrem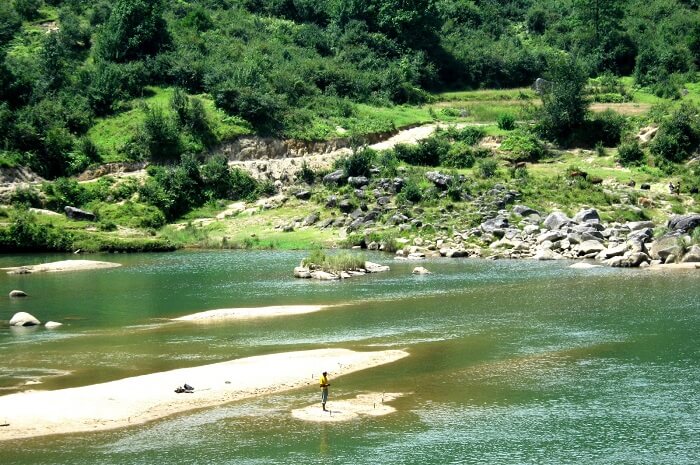 Image Source
This quaint place about 64 km from Shillong is now attracting the attention of a lot of tourists and the reason is its natural hot springs. The medicinal properties of hot springs of Jakrem have turned this lesser known attraction into a potential health spa which also has separate bathing compartments for tourists' comfort.
You can also enjoy visiting the lesser known hot springs of Umngi.
Best time to enjoy bathing in hot springs of Jakrem: February to June is considered as the best time to experience the hot springs of Jakrem as the weather is pleasant during this period.
Famous hot springs in Jharkhand
This eastern state of India has a lot to discover apart from the exploring rich culture and visiting heritage sites. Also, you would find it worth a visit as it's a home to some very famous hot water springs in India.
16. Tattapani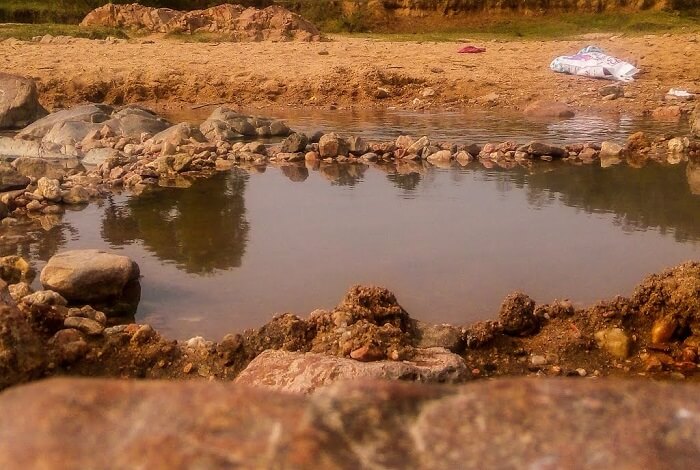 About 8 km from Latehar in Jharkhand, Tattapani natural hot spring emerges out of Sukari River banks. Tourists visit this place to make the most of taking a dip in its sulphur rich hot water that has medicinal value and property to cure skin diseases.
Apart from these, Talaha, Tantloi, Darahi, Barapalasi, Surajkund, Balbal Duari, Charak Khurd, Raneshwar, Susum Pani, Numbil, and Tharia Pani are other worth visiting hot spring sites in Jharkhand.
Best time to enjoy the hot springs in Jharkhand: Winter season, i.e, the time from October to March, is the best time to experience hot springs in Jharkhand.
Natural hot springs in Odisha
Odisha is home to many tourist attraction and its sulphurous natural hot water springs add to the allure of this beautiful state.
17. Atri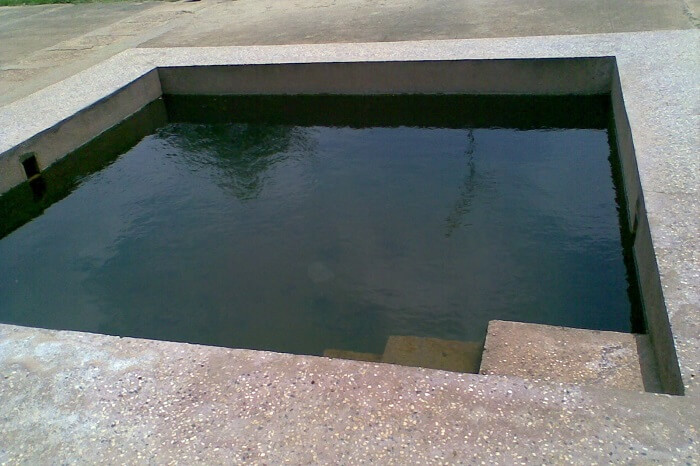 Located in Khurda district of Odisha, Atri is a small village famous for its perennial hot water springs with doses of sulphur which are considered to have healing powers. There is a bathing complex maintained by Government of Odisha.
18. Taptapani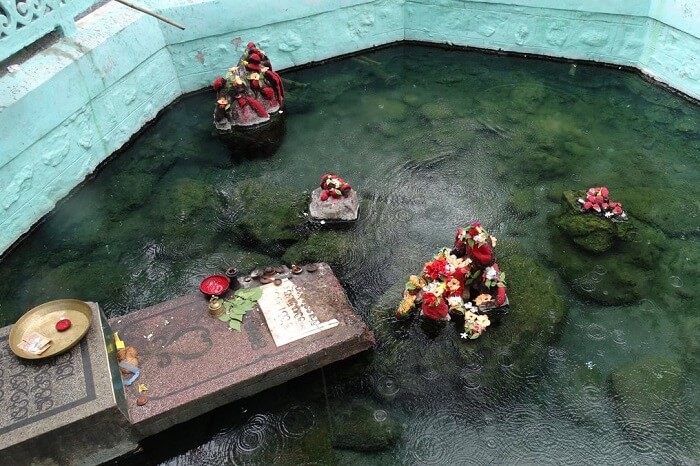 Taptapani, meaning hot water, is yet another prominent name in the list of natural hot springs in India. Located atop a hill surrounded by lush green forest and has medicinal attributes. You can well imagine the comforting experience of bathing in the pond created next to the hot springs with such a beautiful ambiance.
Natural hot springs of Maharashtra
Maharashtra is also home to a number of tourist-friendly natural hot water fountains in India.
19. Aravali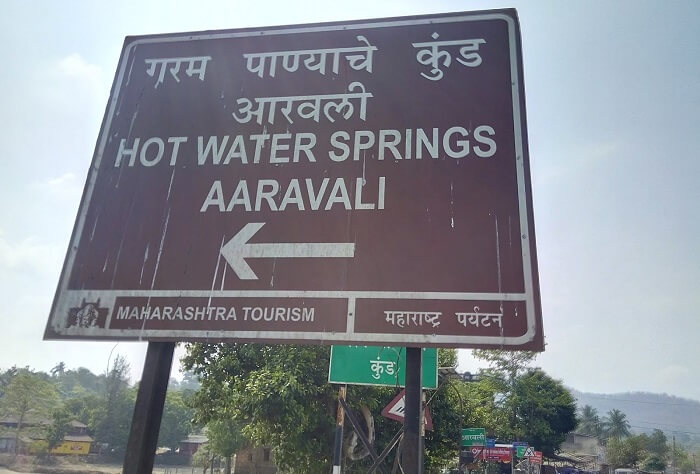 The Aravali hot water springs are located in the Aravali village of Ratnagiri District. These hot springs are situated to south of the bridge on the Gad river and are frequented by tourists.
20. Akoli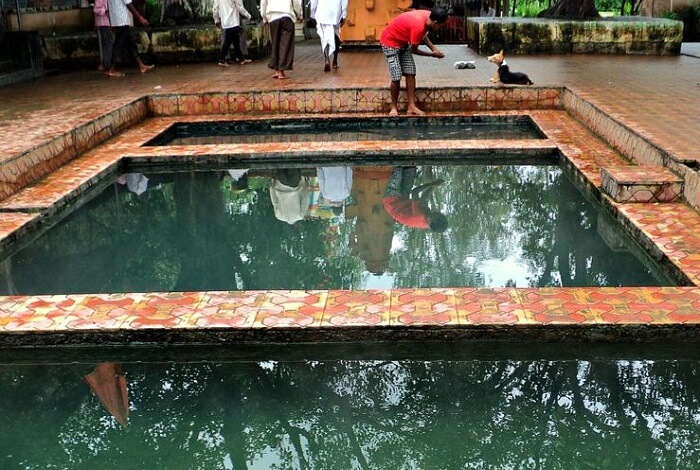 Located at a distance of about a kilometer from Vajreshwari of Thane district in a pleasant valley, Akoli hot water springs are one of the best places for one-day trips from Mumbai. The springs nest the famous Rameshwar Temple and are therefore also known as Rameshwar springs. These springs are located on the left bank of Tansi river. The water from these springs is contained in cisterns where people can take a holy dip.
Nere, Ganeshpuri, Sativali, Unapdev, Rajapur, Sav, Tural, Unhavare, and Unhere are some other famous hot water springs in Maharashtra.
Best time to enjoy the hot springs in Maharashtra: The best time to visit Maharashtra to enjoy bathing in hot springs depends upon the location of the hot springs. For hot springs in or nearby coastal region, September To April is the ideal time and for the ones in hill stations, September To Mid-June is the best time to visit.
With so many popular natural hot springs in India, there are certainly a few that are not crowded and thus perfect for you to take a dip and relax!
Further Read: 25 Famous Lakes In India That Will Bedazzle You With Their Stunning Beauty
---
Looking To Book An International Holiday?
Book memorable holidays on TravelTriangle with 650+ verified travel agents for 65+ domestic and international destinations.
---
Comments
comments