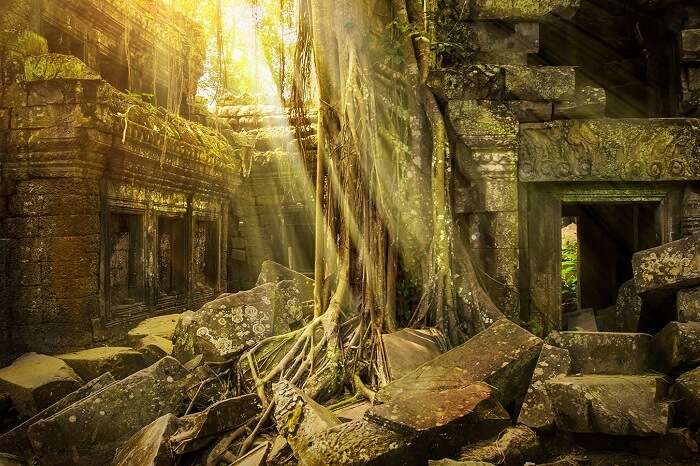 Perhaps in distant future, one of our descendants will gaze upon the ruins of Taj Mahal or Statue Of Liberty and wonder about the settlements around. It won't be a surprise if, then, a lot of present day cities would already be submerged. After all, the history mentions many ancient lost cities of the world that were drowned, abandoned, or merely lost in the wilderness.
Many of these lost cities of the world were eventually forgotten with the passage of time until some wanderer or historian accidentally or intentionally discovered the ruins. Thanks to these people, we came to know of these hidden beautiful places in the world.
There is no end to the list of the lost cities of the ancient world. But, to make things easier for you, we have listed some of the lost cities of the world that were eventually discovered. Have a look!
Most Interesting Lost Cities Of The World
Exploring places that were once significant centers of trade, economy, and culture but lost their significance with the passing centuries tells us mysterious stories of the bygone days. Here is the list of the lost cities of the world, starting with domestic sites followed by international hidden gems. Read on to know the interesting facts about the lost cities of the world: 
Kalibangan – Rajasthan
Lothal – Gujarat
Dwarka – Gujarat
Sanchi – Madhya Pradesh
Vijayanagara – Hampi
Mohenjo-daro – Sindh
Taxila – Rawalpindi
Caral – Barranca
Machu Picchu – Cusco
Calakmul – Campeche
Lagunita – Yucatán
Göbekli Tepe – Örencik
Troy – Çanakkale
Mesa Verde – Colorado
Skara Brae – Orkney
Pompeii – Campania
Leptis Magna – Khoms
Helike – Achaea
Heracleion – Alexandria
Petra – Ma'an Governorate
1. Kalibangan – Rajasthan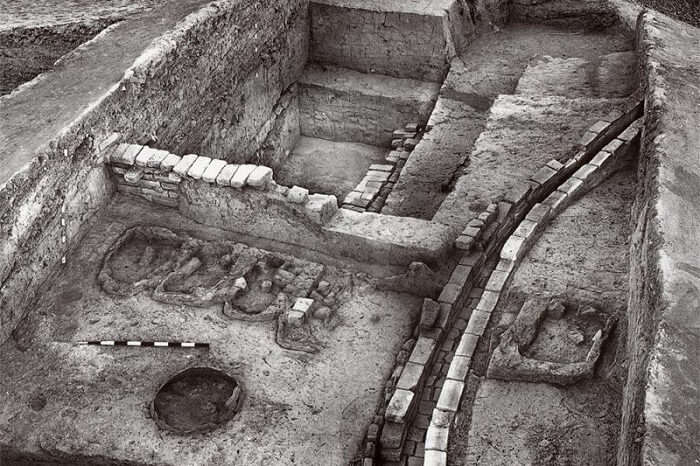 The unique fire altars and the world's earliest attested ploughed field are what make Kalibangan so important among the other lost cities of the world.
Location: Hanumangarh, Rajasthan
Established in: 3700 BC
Abandoned in: 1750 BC
Discovered in: 1919 AD; by Luigi Pio Tessitori, an Italian Indologist, who was doing work on Ram Charit Manas by Tulsidas
Must Read: 51 Incomparable Places To Visit In Gujarat
2. Lothal – Gujarat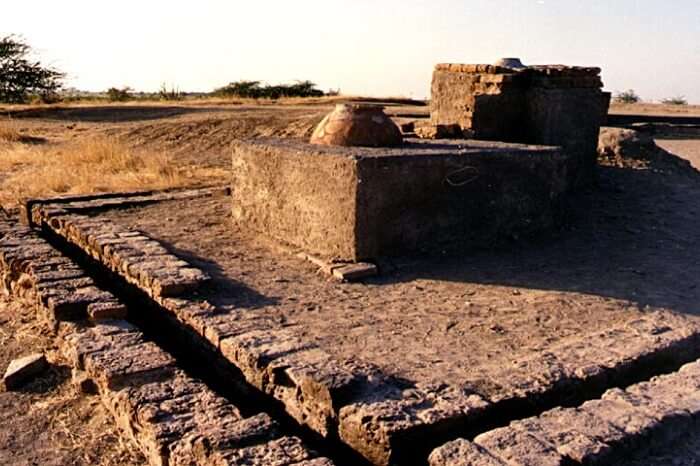 Arguably the most important excavated city among the long lost cities of the world, Lothal still shows the brilliance of city-planning and organised structures during the times of the Indus Valley Civilisation. This is amongst the famous lost ancient cities in India. 
Location: Saragwala Village in Ahmedabad, Gujarat
Established in: 3700 BC
Abandoned in: 1900 BC
Discovered in: 1954 AD
Suggested Read: 28 Mosques In India That Showcase The Best Of Indo-Islamic Architecture
3. Dwarka – Gujarat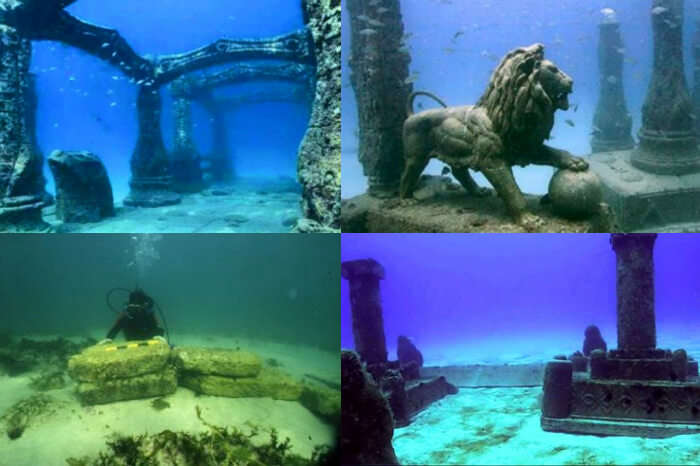 The submerged city of Lord Krishna is one of the mythical lost cities. The present-day Dwarka is claimed to be the 7th city, with first 6 submerged off its coast in the Arabian Sea. Archaeologists, however, have only succeeded in recovering ruins that date back to the 15th century BC.
Location: Gujarat
Established in: 1500 BC (estimated)
Abandoned in: 1443 BC (estimated)
Discovered in: 1983 AD
Suggested Read: Dharavi Becomes The Most Popular Tourist Destination In India Beating The Taj Mahal
4. Sanchi – Madhya Pradesh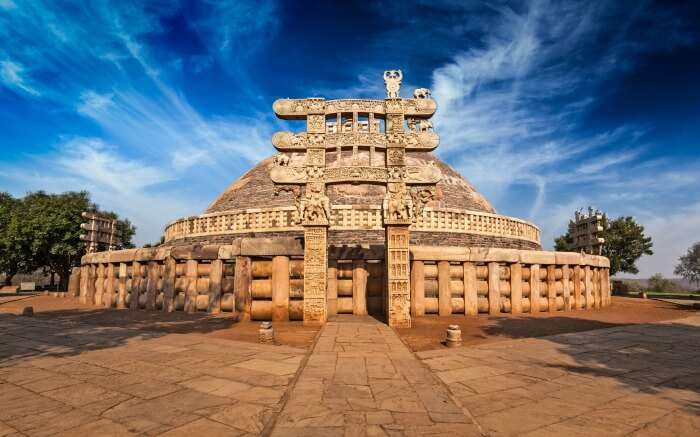 Sanchi is the most famous historical places in India. It is famous for the Greco-Buddhist-styled Sanchi stupas and the Ashoka pillar that was erected during the time of Emperor Ashoka. One of the lost cities of the ancient world, it was later rediscovered in the 19th century.
Location: Sanchi Town, Madhya Pradesh
Established in: 300 BC
Abandoned in: 1300 AD
Discovered in: 1818 AD; by British General Taylor
Suggested Read: 40 Tourist Places In Madhya Pradesh That You Should Be Visiting Right Now
5. Vijayanagara – Hampi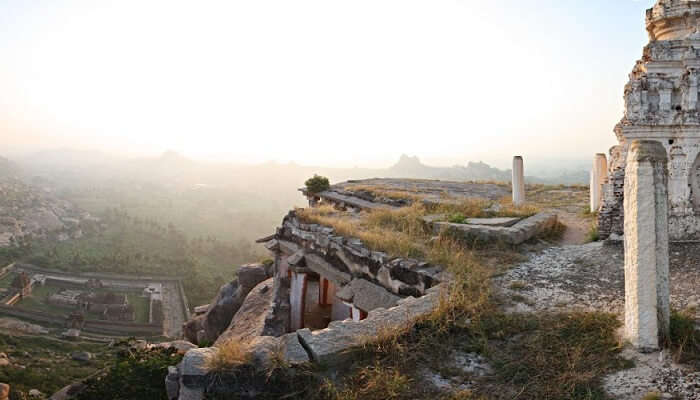 Though archaeologists have successfully found remains that found date back to around 300 BC, the entire excavated city of Vijayanagar in Hampi belongs to the time of the empire by the same name. However, even the Hindu legend of Ramayana has mentioned Hampi by the name of Kishkinda – the realm of the monkey gods. This is one of the most popular lost ancient cities of the world.
Location: Hampi, Karnataka
Established in: 1336 AD
Abandoned in: 1565 AD
Discovered in: 1800 AD; by Colonel Colin Mackenzie
Suggested  Read: 10 Lost Cities In India That Have Been Discovered
---
Planning your holiday but confused about where to go? These travel stories help you find your best trip ever!
---
6. Mohenjo-daro – Sindh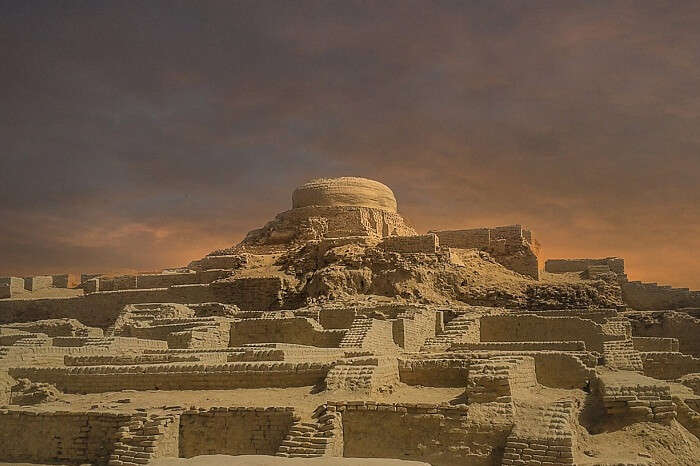 Listed among the ancient lost cities of the world, Mohenjo Daro was long lost until its discovery in 1922. Excavations revealed it to be one of the largest cities of Indus Valley Civilisation and one of the earliest urban settlements in the world. The use of fire-burnt bricks to make organised structures and the marvelous planning are what make the city so famous. And of all the buildings & ruins unearthed, the structure of the Great Bath is the most famous.
Location: Sindh, Pakistan
Established in: 2500 BC
Abandoned in: 1900 BC
Discovered in: 1922; by R. D. Banerji, an officer of the Archaeological Survey of India
Suggested Read: 33 Regal Forts In India That Are Popular Tourist Attractions Today In 2022
7. Taxila – Rawalpindi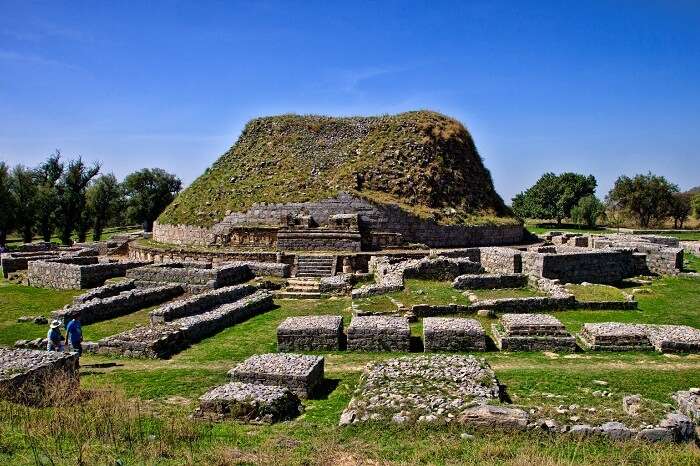 Image Source Taxila or Takshashila finds its mention in Indian & Greco-Roman literary sources and in the accounts of two Chinese Buddhist pilgrims, Faxian & Xuanzang. It was India's largest seat of learning. According to the Hindu epic of Ramayana, Takshashila was founded by King Bharat who was Lord Rama's brother. The city is said to be named Bharata's son Taksha, its first ruler. However, excavations could not prove its relation to anything predating 600 BC.
Location: Rawalpindi, Pakistan
Established in: 600 BC
Abandoned in: 500 AD
Discovered in: 1863 AD; by Sir Alexander Cunningham
Suggested Read: 30 Temples In South India 2022: The Perfect Amalgamation Of Art And Divinity
8. Caral – Barranca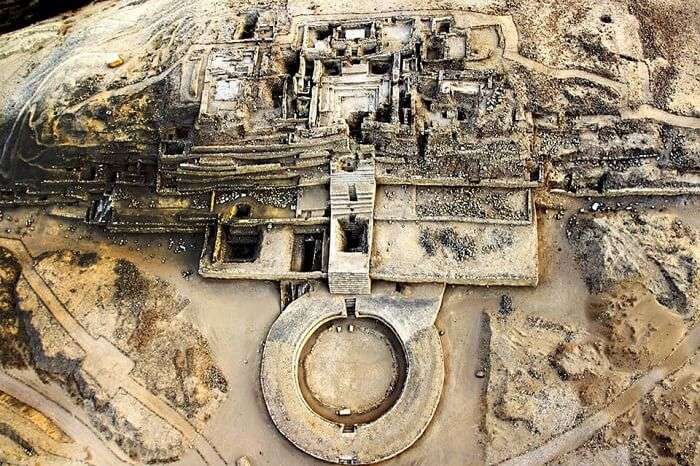 Caral was believed to be the oldest urban center in the Americas until older sites like Bandurria in Peru were discovered. No battlements, no weapons, and no mutilated bodies have been found from the excavation sites. So, the long lost city is believed to be home to a gentle society that was involved in commerce, music, and pleasure.
Location: Supe Valley, Barranca Province, Peru
Established in: 2600 BC
Abandoned in: 2000 BC
Discovered in: 1905; but were quickly forgotten due to lack of artifacts before Paul Kosok rediscovered it in 1948
Suggested Read: 14 Most Unusual Beaches In India That Will Make You Fall In Love At First Sight In 2022
9. Machu Picchu – Cusco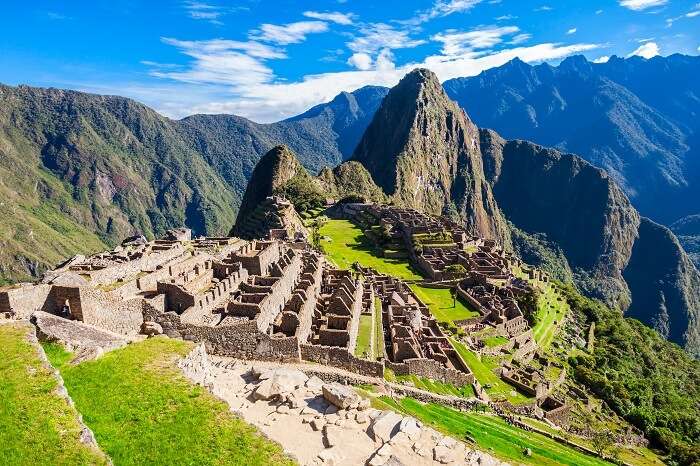 Built as an estate for emperor Pachacuti, Machu Pichhu is the most iconic structure of the Inca civilisation. However, the structure could serve the dynasty for only about a century and was abandoned at the time of the Spanish conquest. In a worldwide poll of 2007, it was voted as one of the New Seven Wonders of the World.
Location: Cusco Region, Peru
Established in: 1450 AD
Abandoned in: 1532 AD – 1572 AD
Discovered in: 1911 AD; by American historian Hiram Bingham
Suggested Read: 20 Best Countries To Visit In The World This Year
10. Calakmul – Campeche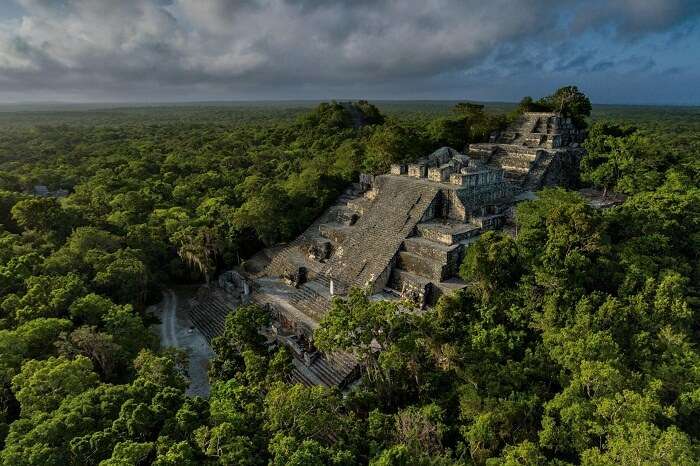 The Maya archaeological site of Calakmul was the seat of the Snake Kingdom. Literally meaning City of the Two Adjacent Pyramids, it had 2 very tall pyramids and hundreds of small structures.
Location: Campeche, Mexico
Established in: 7th century; when Kaan dynasty relocated here
Abandoned in: 9th century
Discovered on: 29th December 1931; by biologist Cyrus L. Lundell
Suggested Read: Barren Island: Nature's Hidden Paradise With India's Only Active Volcano
11. Lagunita – Yucatán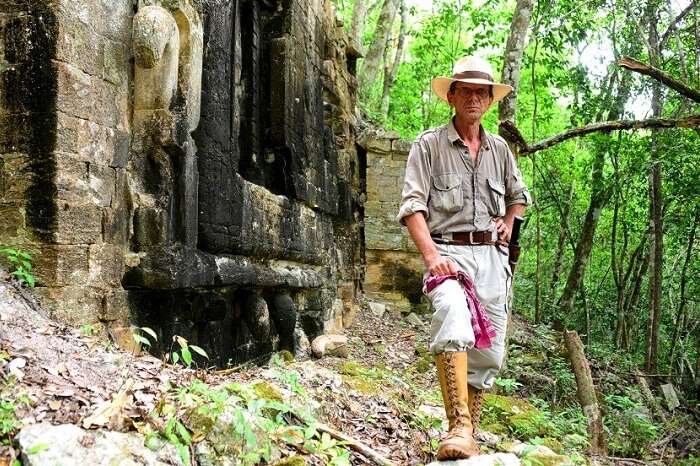 It wasn't long ago that the long lost cities of Lagunita and Tamchen from the Maya civilisation were finally discovered in the jungles of Mexico. The discovery was made after reviewing aerial photographs of the area.
Location: Yucatán Peninsula, Mexico
Established in: 300 BC
Abandoned in: 700 AD – 1000 AD
Discovered in: August 2014; by Ivan Sprajc – associate professor at the Research Center of the Slovenian Academy of Sciences and Arts – following the descriptions of Swiss archaeologist Eric Von Euw who visited the site in 1970s
Suggested Read: Panajachel (Guatemala) & Other Offbeat Honeymoon Destinations In The World
12. Göbekli Tepe – Örencik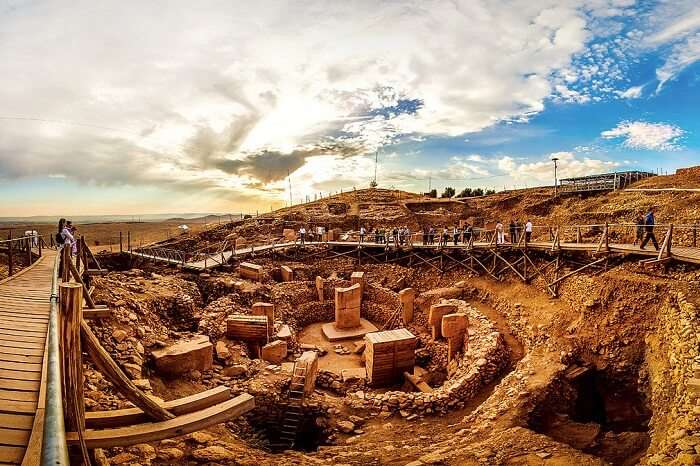 Göbekli Tepe, the oldest known temple of the world, pre-dates the pottery neolithic era. Many circular & oval structures were discovered atop a hill. Evidence later proved that these structures weren't used for domestic purposes, rather primarily for religious purposes.
Location: Örencik, Turkey
Established in: 9600 BC
Abandoned in: 7300 BC
Discovered in: 1963 AD
Suggested Read: Travel Back In Time With Turkey's Top 10 Historical Places That Still Have Tales To Tell
13. Troy – Çanakkale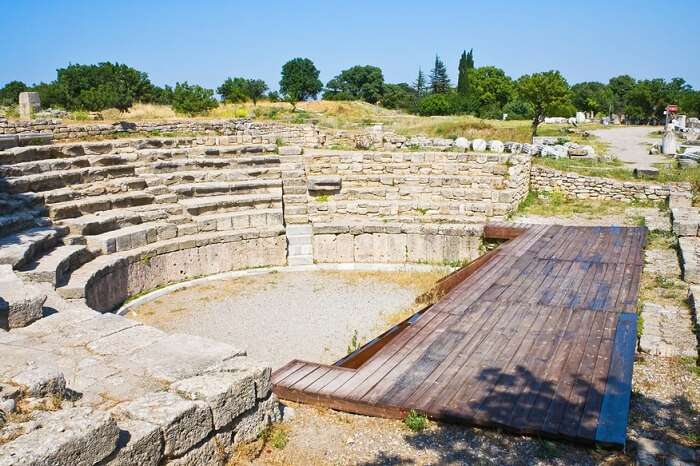 Troy and Trojan War were only discussed in Greek legends for long until the city's discovery in late 19th century. One of the formerly mythical lost cities, Troy not only finds mention in poetry works of Homer & others but also was made into a great adventure war film in 2004.
Location: Tevfikiye, Çanakkale Province, Turkey
Established in: 3000 BC
Abandoned in: 500 AD
Discovered in: 1870; by the famous archaeologist Heinrich Schliemann
Suggested Read: An All-In-One Post-Covid Travel Guide To Northeast India: Stay Safe And Sanitized In The Seven Sister States
14. Mesa Verde – Colorado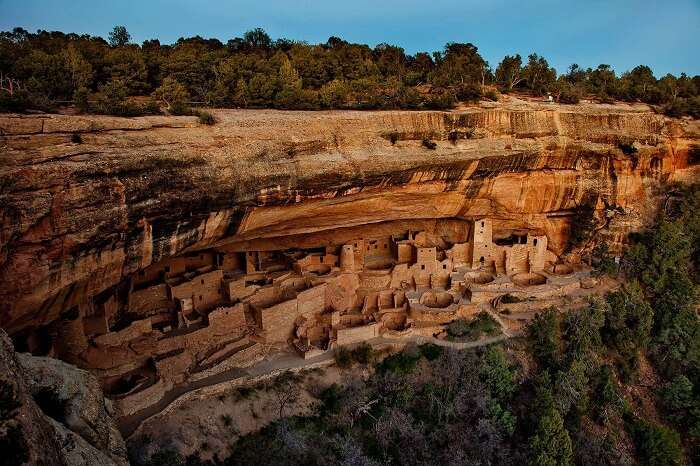 A National Park & and a UNESCO-listed World Heritage Site, Mesa Verde protects some of the best preserved Ancestral Puebloan archaeological sites in the US. It is best known for the Cliff Palace, which is considered to be the largest cliff dwelling in North America.
Location: Southwestern Colorado, USA
Established in: 1190 AD
Abandoned in: 1300 AD
Discovered in: 1988 AD; by cowboys Richard Wetherill and Charlie Mason
Suggested Read: Scuba Diving In India: Explore The Breathtaking Underwater Universe At The 14 Best Spots In 2022
15. Skara Brae – Orkney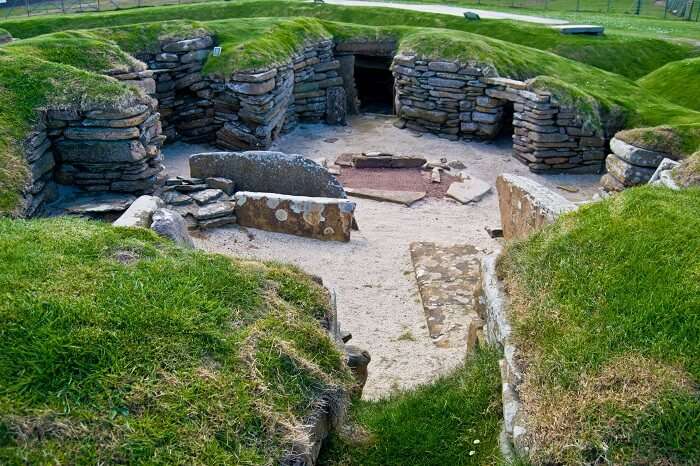 Older than Stonehenge and Great Pyramids, Skara Brae is known as the Sottish Pompeii because it is very well preserved. It was a stone-built Neolithic settlement on the largest island in the Orkney archipelago of Scotland that was discovered following severe storms during 1850 to mid-1920s.
Location: Bay of Skaill on the west coast of Mainland, Orkney, Scotland
Established in: 3180 BC
Abandoned in: 2500 BC
Discovered in: 1850 AD
Suggested Read: 22 Most Beautiful Waterfalls In India You Need To Explore In Summer 2022
16. Pompeii – Campania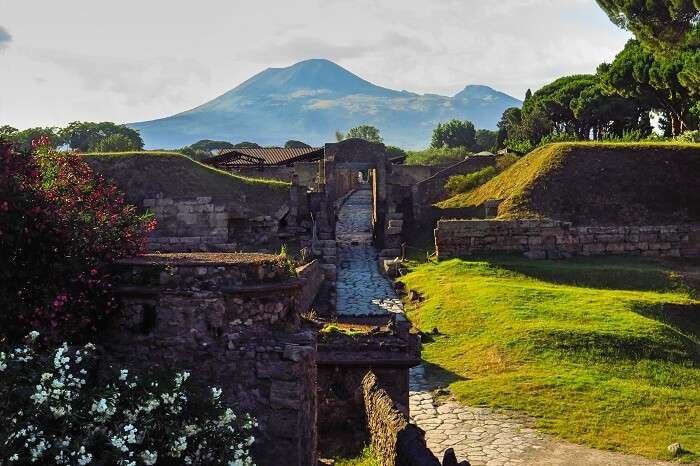 Pompeii is one of the ancient lost cities of Roman empire that was destroyed and buried under a thick layer of volcanic ash after the massive eruption of Mount Vesuvius. When the site was discovered, the objects that were recovered were found to be preserved due to the lack of air & moisture beneath the layer of ash.
Location: Province of Naples, Campania district, Italy
Established in: 7th century BC
Abandoned in: 79 AD; following the catastrophic eruption of Mount Vesuvius
Discovered in: 1748; by the Spanish military engineer Rocque Joaquin de Alcubierre
Suggested Read: 6 Spine Chilling Bungee Jumping In India To Taste Adventure In 2022
17. Leptis Magna – Khoms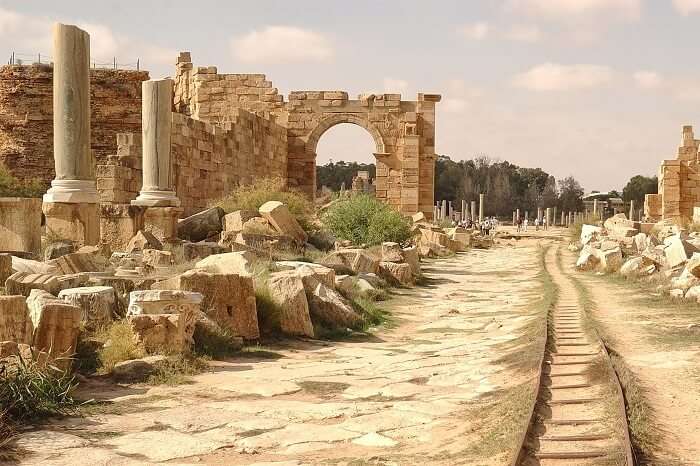 The erstwhile prominent Roman city, Leptis Magna is known to be one of best preserved Roman ruins in the Mediterranean. The excavated site has well-preserved remains of theatre, amphitheatre, market place, gates, Arch of Septimius Severus, and more.
Location: Khoms, Libya
Established in: 7th century BC
Abandoned in: 7th century AD
Discovered in: Early 1920s; by Italian archaeologists
Suggested Read: 10 Indian Restaurants In Miami That'll Make You Feel At Home In 2022
18. Helike – Achaea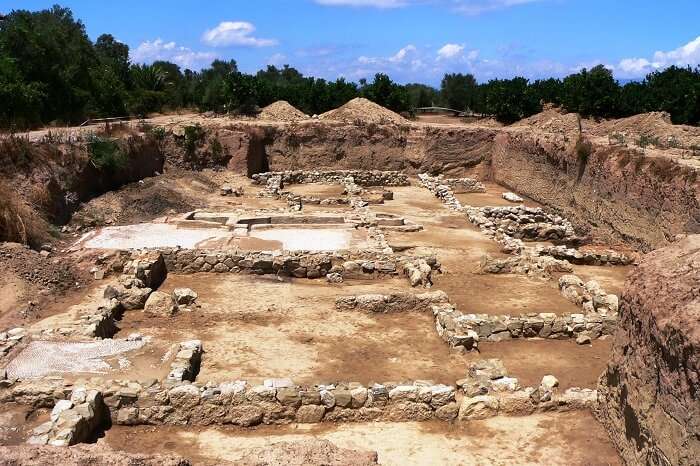 Helike used to be an ancient Greek city that was once submerged by tsunami around 373 BC. The World Monuments Fund had included the place in the list of 100 most endangered sites. This submerged town was amongst the biggest targets for underwater archaeology.
Location: Achaea, Greece
Established in:
Abandoned in: 373 BC; when it got submerged following a tsunami
Discovered in: 2001; by Helike Society that was formed after multiple previous discoveries that suggested the existence of the city
Suggested Read: Ecotourism In India: 10 States That Are Encouraging Responsible Travel In 2022
19. Heracleion – Alexandria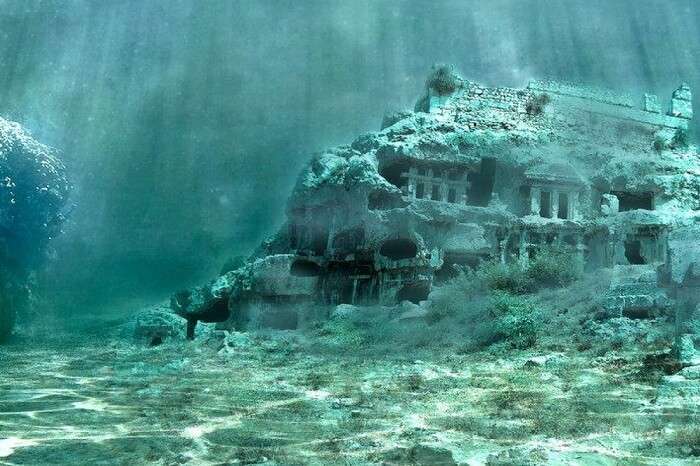 The Lost City of Heracleion in Egypt was searched for years around the enormous area of the Abu Qir Bay. French archaeologist Franck Goddio encountered the site submerged almost 6.5 km off the coast of Alexandria. The underwater ruins here include 64 ships, 700 anchors, 16-feet long standing statues, and remains of the majestic temple of the god Amun-Gereb. Visiting the site is amongst the popular things to do in Egypt. 
Location: Alexandria, Egypt
Established in: 12th century BC or before
Abandoned in: 2nd century AD or 3rd century AD; probably because of tremors that were followed by the liquefaction of the silts on which it was built
Discovered in: 2000; by by the French underwater archaeologist Franck Goddio
Suggested Read: 35 Greatest Underwater Wonders Of The World That Will Leave You Dumbfounded
20. Petra – Ma'an Governorate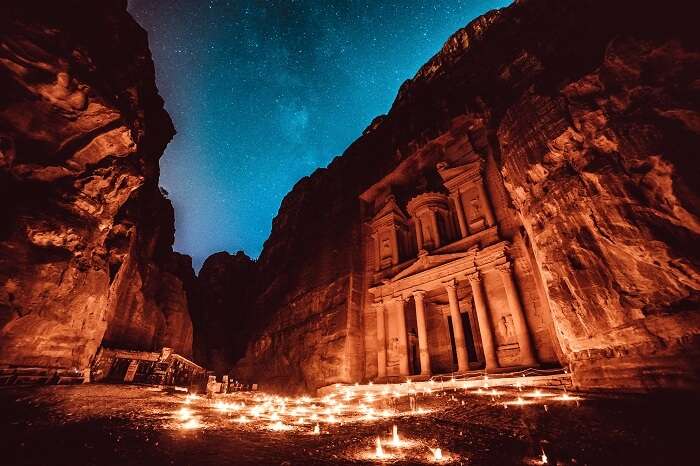 Petra Caves is an archaeological city located in southern Jordan. Served to be a prominent center during ancient times, today, the place serves to be the symbol of Jordan. Originally the site was known as Raqmu and was inhabited in 7000 BC.
Location: Ma'an Governorate, Jordan
Established in: 312 BC
Abandoned in: 663 AD; when Arabs conquered the region, following the major earthquakes of 363 AD & 551 AD
Discovered in: 1812 AD; by Swiss explorer Johann Ludwig Burckhardt
Further Read: 14 Gorgeous Places That Will Disappear From The World Map By 2050
Boy, aren't we glad that these ancient lost cities of the world have been rediscovered! So, what's holding you back? Plan a holiday now and visit these beautiful places. You can also get your itinerary optimized according to your preferences and try vacationing like never before!
Disclaimer: TravelTriangle claims no credit for images featured on our blog site unless otherwise noted. All visual content is copyrighted to its respectful owners. We try to link back to original sources whenever possible. If you own the rights to any of the images and do not wish them to appear on TravelTriangle, please contact us and they will be promptly removed. We believe in providing proper attribution to the original author, artist, or photographer.
Please Note: Any information published by TravelTriangle in any form of content is not intended to be a substitute for any kind of medical advice, and one must not take any action before consulting a professional medical expert of their own choice.
Frequently Asked Questions About Lost Cities Of The World
Are there any cities underwater?
Yes, there exist many cities underwater according to many popular legends. The lost city of Atlantis is one of them.
Is there a lost city in the Amazon?
As per the famous novel The Lost City of Z: A Tale of Deadly Obsession by David Grann, there does exist a lost and mysterious city in the forests of Amazon. It is believed that Col. Percy Harrison Fawcett had even disappeared in this forest looking for this city.
Is Lost City of Z real?
According to many, this city does exist in the treacherous forests of the Amazon. The city was named thus by the British surveyor Col. Percy Harrison Fawcett who believed in the existence of this indigenous city in the Amazon jungle. American author David Grann has even written a popular novel called The Lost City of Z: A Tale of Deadly Obsession based on Fawcett's quest for finding this city in the Amazon.
Where is the lost city of Atlantis located?
It is believed that the submerged city of Atlantis is located in the Atlantic sea just beyond the Pillars of Hercules (presumably the Strait of Gibraltar).
What happened to Pavlo Petri?
Pavlopetri was an ancient port city in the bronze age that had submerged roughly 3,000 years ago owing to gradual erosion or other factors. It was located on the southern coast of mainland Greece and was later discovered in 1967 under not more than 15 feet of water.
Is there a real city of gold?
According to legend, Hawikuh, Halona, Matsaki, Quivira, Kiakima, Cibola, and Kwakina are the seven cities of gold in the pueblos of New Mexico Territory. There is also believed to be a seventh city, but it has never been found.
How did ancient cities get buried?
There are several reasons as to why many ancient cities got submerged a long time ago. Erosion, tsunamis, and floods are the main reasons. Also, many of them are abandoned and uninhabited ancient towns that had been taken over by nature. This is because plant seeds tend to take root and create bulk from the amount of carbon dioxide they pull from the air, ultimately resulting in the land's submergence.
Which city is known as the Lost City?
The Lost City, or Ciudad Perdida in Spanish, happens to be the archaeological site of an ancient city in Sierra Nevada de Santa Marta region of Colombia. It was apparently found in about 800 CE, over 650 years before Machu Picchu.
---
Looking To Book An International Holiday?
---