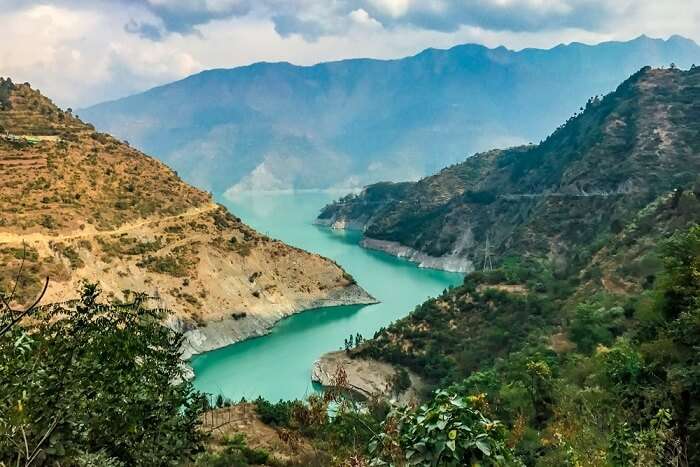 So many songs have been dedicated to Chamba district in Himachal Pradesh which all owe to its magnificent beauty and tranquil environment. Home to centuries-old temples and forts, you will find quite a few places to visit in Chamba, all exclusive in their exquisiteness and experience.
Located on the banks of Ravi River, Chamba is an ancient town in Himachal Pradesh known for it great historical implications and comeliness. Bounded by the mighty Himalayas from all sides and verdant forests, the weather in this hill station is pleasant throughout the year which makes it a popular hill destination among tourists.
Top 10 Places to visit in Chamba
There is no shortage of attraction to see in Chamba. Its numerous pristine lakes, centuries-old temples and archaic citadels have given it a recognition for being a popular hill destination. Here are top places to visit in Chamba to make your holiday a memorable experience:
Khajjiar Lake
Kalatop Wildlife Sanctuary
Chamundi Devi Temple
Chamera Lake
Laxmi Narayan Temple
Manimahesh Lake
Bhuri Singh Museum
Akhand Chandi Palace
Rang Mahal
Chaugan
1. Khajjiar Lake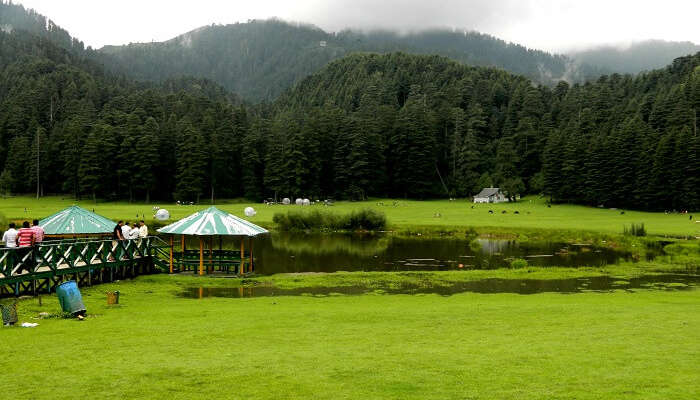 Nestled between evergreen cedar forest and cotton clouds hovering over, Khajjiar Lake is an epitome of natural beauty. The lake gets its name from the Khajji Nag Temple which is located near the lake. With weather so salubrious and tranquil surroundings, it is hailed as the 'Mini Switzerland' of India. If you are lucky to get a clear sky, you can even see the reflection of Mount Kailash in the lake. One of the top places to visit in Chamba, this is where you can indulge in the number of thrilling recreational activities like paragliding and horse riding.
Timings: Open all day
Entry Fee: None
Suggested Read: 10 Places To Visit In Rajasthan In Monsoon For Those Who Love Rains
---
Himachal Holiday Packages On TravelTriangle
Head to Himachal to witness lush valleys surrounded by snow-capped hills. Indulge in skiing, paragliding, and other adventure sports. Book holiday packages inclusive of airport transfers, cab, resort, sightseeing, and meals to Shimla, Manali, Kasol, Dharamshala, and more.
---
2. Kalatop Wildlife Sanctuary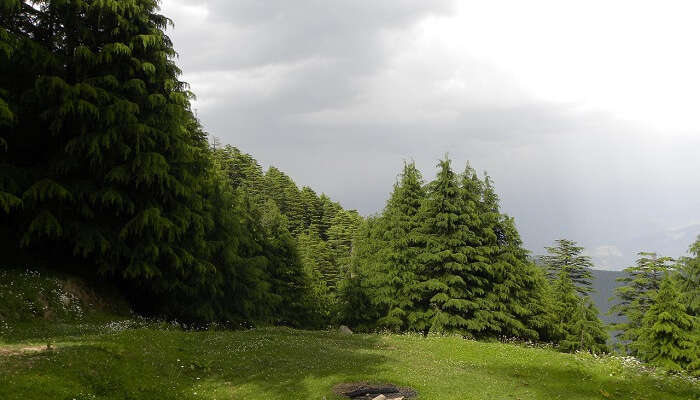 Perched on a hilltop on the way to Dalhousie and Khajjiar, Kalatop Wildlife Sanctuary is your refuge amidst harmonious surroundings and verdant greenery. Spread in an area of 30.9 square km, the park is well laid out with trekking trails where you can spot indigenous birds species like pheasants, Eurasian Jay, and Grey-headed Canary. Dip your feet exhausted from walking in the cold waters of Ravi River which dissects the park. While you are at it, catch the majestic views of snow-covered Pir Panjal Ranges which surround the sanctuary. Spend a night in the woods at Kalatop Forest Rest House to have a rustic staycation experience.
Timings: 7 AM to 6 PM
Entry Fee: INR 250
3. Chamundi Devi Temple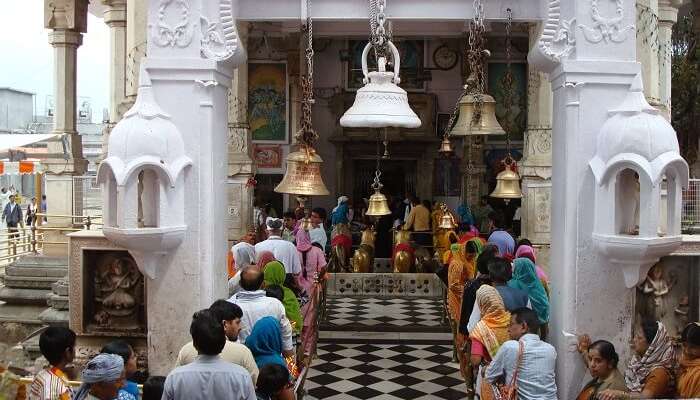 Nestled among the snow-capped hills and by the banks of River, Chamundi Devi Temple holds a great importance among locals and pilgrims. Dedicated to Goddess Kali, the 300-year old shrine is the only wooden temple in Chamba with a gabled roof. Its jaw-dropping surroundings make it one of the most recommended places to visit in Chamba. Scan the breathtaking views of the Chamba Valley and Himalayas from the temple The temple also houses a tank in which people take a holy dip. There is also a handicraft center inside the temple premises from where you can but the famous Kangra paintings, Kangra Tea, and wooden artifacts.
Entry fee: None
Suggested Read: Top 15 Places To Visit In Uttarakhand In Summer To Dial Down The Heat
4. Chamera Lake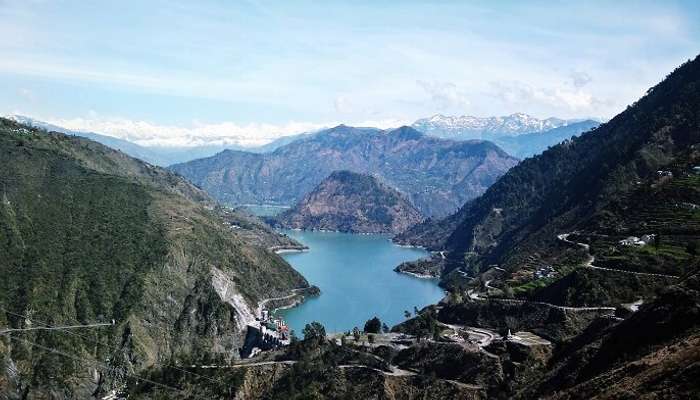 What makes this pristine lake one of the popular places to visit in Chamba Valley are its picturesque surroundings. The lake is formed by the convergence of Ravi River but the major source of the lake is the embankment created over the lake. Apart from the scenic views, the lake also offers a number of recreational activities like speed boating. It is very famous among the tourists who come to visit the lake. Its invigorating climate throughout the year makes it an exciting picnic destination for tourists.
Timings: 7 AM to 5 PM
Entry fee: No entry charges, INR 500 per person for boating
5. Laxmi Narayan Temple
One of the most famous places to visit in Chamba is the Laxmi Narayan Temple which is known for its great historical importance and architecture marvel. Built in 10th century, the vast temple complex consists of temple sections dedicated to Lord Shiva and Lord Vishnu. The legend has it that the temple is made out of marble stone brought from Vindhyachal mountains. The exterior of the structure is adorned with intricate carvings while the shell roof and the wooden chhatries protect the temple from snow and cold. The visitors are greeted with a metallic image of Garuda, erected at the temple entrance.
Timings: 6:30 AM to 12:30 PM, 2:30 PM to 8:30 PM
Entry fee: None
Suggested Read: Top 10 Places To Visit In Almora Where You Will Feel Blessed With Nature's Bliss
6. Manimahesh Lake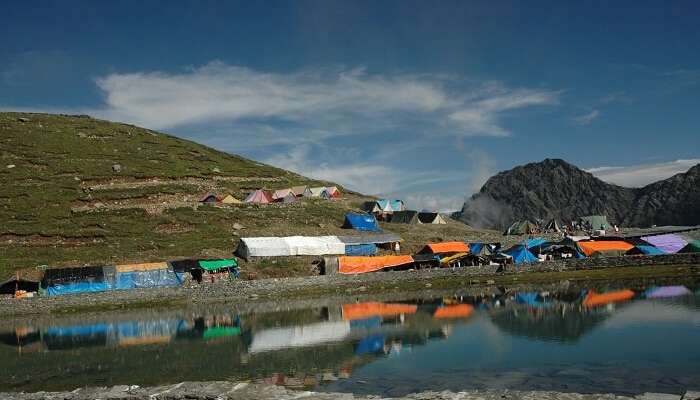 Another stupendous lake in Chamba district, Manimahesh Lake has the same importance as that of Lake Mansarovar in Tibet. The lake is located in the foothills of Mount Kailash and is a venue of high-altitude pilgrimage treks. One of the most revered places to visit in Chamba district, the lake is considered to be the abode of Lord Shiva. Devotees from all over the country trek all the way to the holy lake in the monsoon period to seek blessings of Lord Shiva. The whole scenery of snow-capped mountains surrounding the mystical lake paint looks one of the most bewitching creations of nature.
7. Bhuri Singh Museum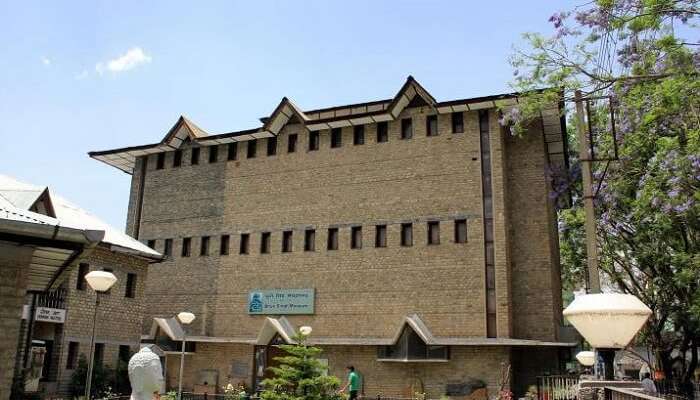 Dedicated to the ruler of Chamba, Raja Bhuri Singh, the museum houses all the artifacts dating back to his reign. Founded in the year 1908, the museum was initially started as a place to showcase the paintings made by Raja Bhuri Singh. But now it also houses the artifacts like carved doors, frescoes, coins, and many other historical items which depict the culture and tradition of Chamba. Get introduced to the Chaugan heritage through the antique jewelry, royal costumes, and musical instruments of the royal Chamba family. If you are a history buff, you should check out one of the most suggested places to visit in Chamba, Himachal Pradesh.
Timings: 10 AM to 5 PM (Monday closed)
Entry fee: INR 10 for Indians, INR 50 for foreigners, INR 50 with camera
Suggested Read: 10 Best Things To Do In Ranikhet For A Rejuvenating Break In The Charming Hill Station
8. Akhand Chandi Palace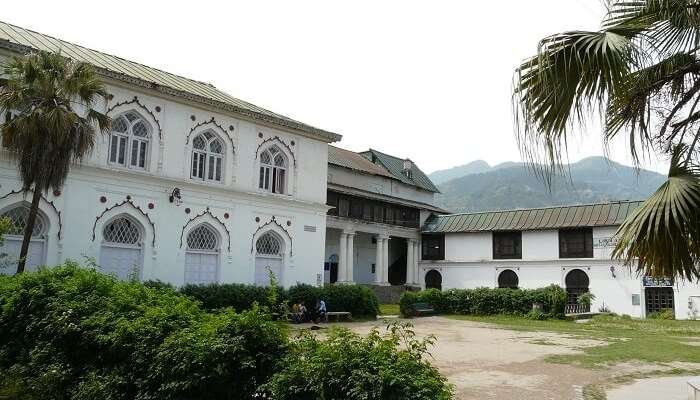 Built by Raja Umed Singh in the 18th century, Akhand Chandi Palace is an epitome of royalness and grandeur in Chamba district. Perched on a hilltop, the antique palace overlooks Rang Mahal, Laxmi Narayan Temple, and Sui Mata Temple with much pride. Popularly known as Chamba Palace, it is one of the recommended places to see in Chamba. The palace has three sections which form an incomplete square. Few of the sections were constructed later which is why you can see an ideal blend of British and Mughal architecture.
Timings: 10 AM to 6 PM
Entry Fee: None
9. Rang Mahal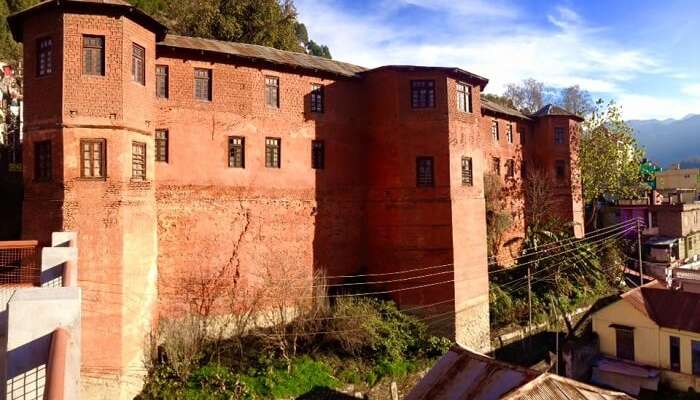 One of the most famous places to visit in Chamba, the red iconic palace is hard to miss. Rang Mahal, founded by Raja Umed Singh in the 18th century, is another place where you can spot an eccentric fusion of British and Mughal architecture. The striking architecture of the citadel makes it stand out of the town. the interiors of the fort are beautified with breathtaking wall paintings. The monument has now been converted into an 'Emporium House' from where you can buy local handmade artifacts like embroidered silk fabrics, shoes, and slippers.
Timings: 10 AM to 1 PM, 2 PM to 5 PM (Sunday closed)
Entry Fee: None
Suggested Read: Binsar Wildlife Sanctuary: Jungle Treks, Jeep Safaris, & Infinite Views Of Snowy Peaks
10. Chaugan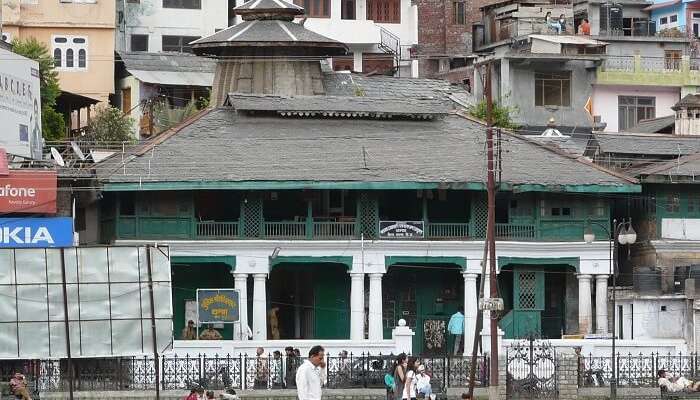 In Chamba, India, points of interest are too many. One of which is Chaugan which is also your ultimate shopping destination. Chamba is famous for a variety of things like the famous Kangra tea, Kangra paintings, and everything organic. Chaugan is a plain area in the town where all the major activities in Chamba take place. There are a number of shops where you can find all sorts of lovely souvenirs for your trip like precious stones, metal artifacts, and the famous Chamba slippers.
Best Time To Visit Chamba
March to June are the perfect months to enjoy a moderate climate in Chamba. As the autumn comes, the air gets nippy. If you are visiting Chamba in winters, you can even enjoy a good amount of snowfall.
How To Reach Chamba
1. By Road
Chamba is well connected with road network to all the major cities. There are direct Volvo and ordinary buses available from ISBT Kashmere Gate, Delhi to Chamba. The overnight bus journey from Delhi to Chamba takes around 12 hours.
2. By Rail
The nearest railhead to Chamba is in Pathankot which is 120 km away. You can then take either a bus or a cab from Pathankot to Chamba. Alternatively, you can take a train to Chandigarh and then head on a bus to Chamba.
There are a copious amount of options in Himachal Pradesh where you can plan a relaxing weekend getaway. Choose from various Himachal Tour Packages to have a good time with your friends or family on your next vacation.
Frequently Asked Question About Places To Visit In Chamba
Q. What is the best time to visit Chamba?
A. The best time to visit Chamba is in the months of March to June.
Q. What is Chamba famous for?
A. Chamba is a hill town located at an altitude of 926 meters, in Himachal Pradesh. It is situated at the banks of the meeting point of River Ravi and Sal River. The valley is famous for its abundant natural beauty spanning lush meadows, lakes, and streams. It is also known for its temples.
Q. What is there to see in Chamba?
A. Some of the best places to visit in Chamba are Himachal Emporium in Rang Mahal, Lakshmi Narayan Temple, Hariraya Temple, Church of Scotland, Champavati Temple, Bhuri Singh Museum, Akhand Chandi Palace, Sui Mata Temple, Hari Rai Temple.
Q. What is the old name for Chamba?
A. Chamba was formerly known as Champa or Champavati. It was named after the daughter of Raja Sahil Varman the king of King of Bharmour.
Q. Who built Chamba church?
A. The Chamba Church was built by Raja Sham Singh who had gifted it to the church of Scotland mission. The construction of this church took place from 17th February, 1899 A.D. till 1905 A.D.
Q. What is Minjar Mela?
A. Minjar Mela is one of the most popular festivals celebrated in Chamba Valley. It is celebrated during the time when paddy and maize crops start showing shoots. It is celebrated by wearing a silk tassel symbolising the same.
Q. How do I get to Chamba?
A. Here are the ways you can reach Chmaba:
By Air: The nearest airport to Chamba is in Jammu located about 120Kms away.
By Rail: The nearest railway station to Chamba is in Pathankot which is around 120Kms away. The remaining distance can be covered via road through buses or cabs.
By Road: Chamba can be easily reached by road from the nearby cities and states including Delhi, Punjab, and Haryana. You can hire a cab, self drive or board an Himachal Road Transport Corporation (HRTC) buses that run regularly.
---
Looking To Book A Holiday Package?
Book memorable holidays on TravelTriangle with 650+ verified travel agents for 65+ domestic and international destinations.
---
Comments
comments