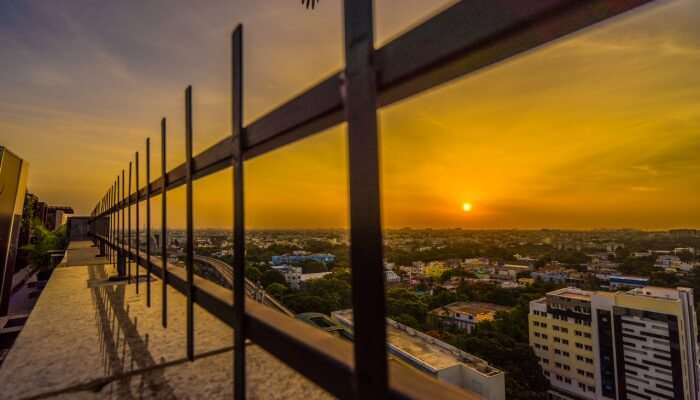 The capital of the Indian state of Tamil Nadu, not just offers a wide range of places to visit in Chennai but is also steeped in cultural history and ancient works of art. It's a bustling Indian city home to many sea beaches, British colonial architecture, newly developed markets, and some of the oldest temples in the world. With temples dotting the city's skyline, the city is known to preserve India's great religious architecture and has a completely unique way of life.
Home to the second-largest urban beach in the world, the Marina beach, this city draws thousands of visitors as there are a plethora of places to visit in Chennai. As you come to Chennai, you will be amazed to find a combination of culinary flavours and cultures that are bound to excite the traveller in you. Here we have compiled the top places to visit in Chennai, which are versatile and some of them also refer back to the colonial era.
Top 32 Places To Visit In Chennai
Chennai is more than the fourth metropolis in India. It is a lovely beach city with a soul that has people warmer than the weather. Whether you are a visitor or a new resident of the city, make sure to do your bit of sightseeing. Here is the list of top places to visit in Chennai for an enthralling time. Keep scrolling down and read along!
1. Covelong Beach: Walk Through The Sparkling Silver Sand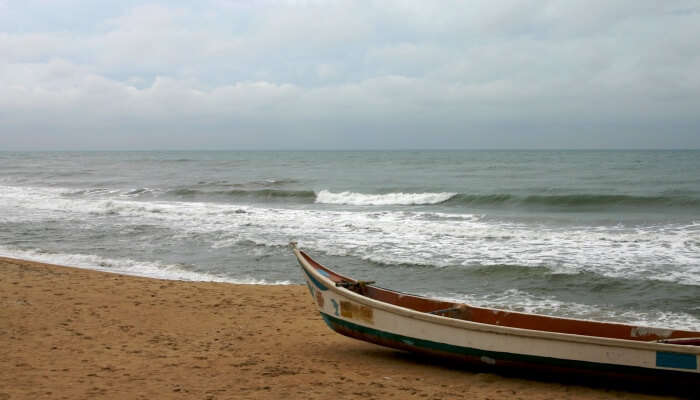 Image Credit: Prateek Rungta for Wikimedia Commons
Located on the coast of Coromandel near the village Covelong, Covelong Beach is one of the most beautiful beaches around Chennai. Set amidst palm trees and sparkling silver sand, Covelong Beach has a captivating environment making it ideal for excursion and picnic spots. An important tourist spot in Chennai, the beach offers a plethora of water activities to its visitors swimming and windsurfing being the most popular ones.
Walk through the sands, rest under the palm trees or enjoy the calmness during the sunset, the experiences that this beach offers are unmatched. Offering various water activities like surfing, jet skiing, boating, the beach is packed with thousands of visitors every day.
Location: Covelong, Chennai, Tamil Nadu
Timings: All day long
Entry fee: Free
23 Things To Do In Chennai To Explore The Southern Pearl Of India At Its Best
2. Thiruvanmiyur Beach: For Beautiful Sunrise And Sunset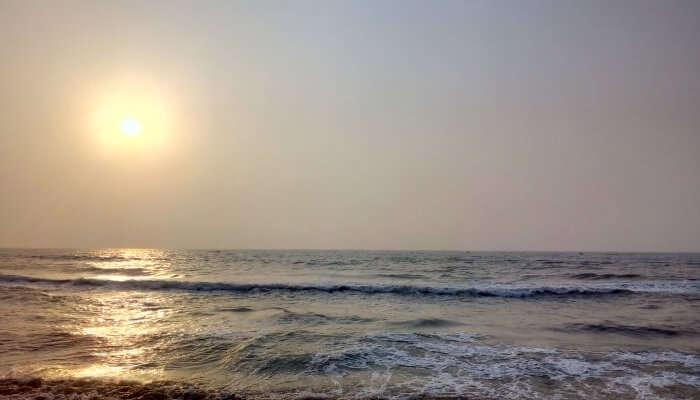 Image Credit: Magesh95 for Wikimedia Commons
Located in the neighborhood of Thiruvanmiyur in Chennai, Thiruvanmiyur Beach is a quite isolated and tranquil spot as compared to other beaches. Offering beautiful sunrise and sunset views, it's the perfect place to rejuvenate and rewind yourself. Mostly visited by nature lovers, the beach is more charming than you could have imagined. It's is one of the most romantic places to visit in Chennai for couples and solitude seekers as the atmosphere is quiet and tranquil.
Location: Chennai, Tamil Nadu
Timings: All day long
Entry fee: Free
3. Fort St. George: Witness British Artistry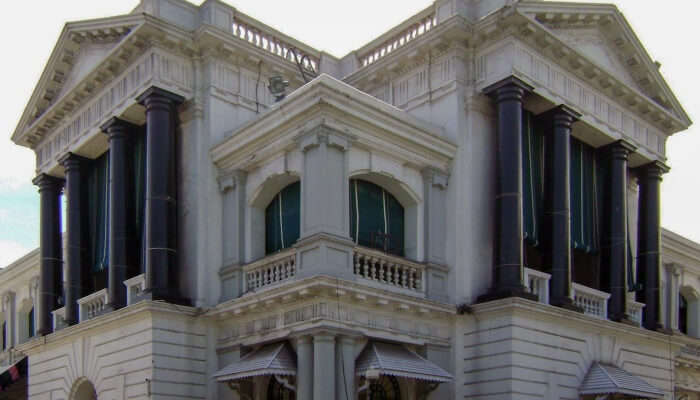 Image Credit: L.vivian.richard for Wikimedia Commons
One of the live examples of British history in India, Fort St. George, is one of the official buildings of the British Empire in Chennai, and the first English fortress in India. Founded in 1644 at the coastal city of Madras, the place serves as a museum today. The gigantic monument and the architecture are sure to make you appreciate the British artistry. The place is open for tourists. You can visit to witness artifacts, paintings, coins, silverware, arms, documents, and much more.
Location: Chennai, Tamil Nadu
Timings: 9 AM to 5 PM
Entry fee: INR 5 for Indians and INR 100 for foreigners
23 New Year Parties In Chennai (2022)
4. Madras War Memorial: The White Stone Structures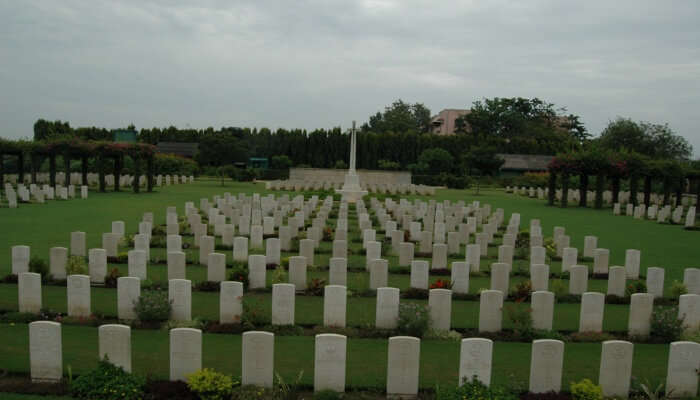 Image Credit: Silvarius Celso for Wikimedia Commons
Witness the martyrs of the Second World War at Madras War Memorial. It is one of the most visited places in Chennai where you can take a stroll through the well-maintained gardens and find structures beautifully carved out of white stones with detailing of men who sacrificed their lives during World War II. The best time to visit the place is during Army day or Vijay Diwas if you want to witness the special homage paid by the forces to the martyrs.
Location: Mount Poonamalle High Road, Nandambakkam, Chennai, Tamil Nadu
Timings: 8 AM to 6 PM (Monday to Saturday)
Entry fee: Free
5. Prakasam Salai: The Roman-Style Building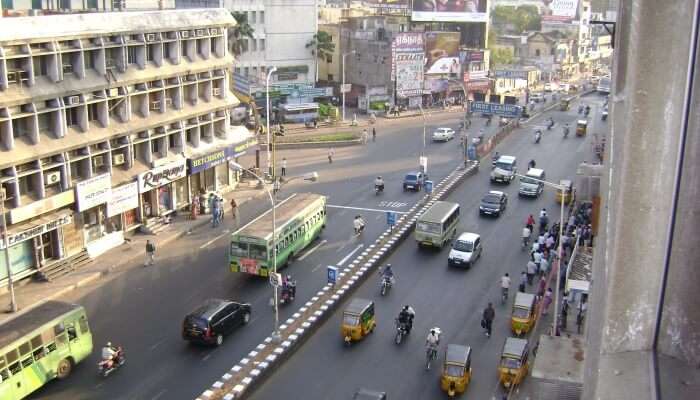 Image Credit: L.vivian.richard for Wikimedia Commons
Built-in 1795, this Roman-style architectural building is a significant tourist attraction in Chennai. The massive building is built with redbricks that have a beauty of its own. The gigantic structure can even be witnessed from a long distance. Visit Prakasam Salai and be a part of the Roman culture as you enter the compound of this historic structure.
Location: 88, Prakasam Road, Mahfushkhan Garden, Manadi Police Colony, George Town, Chennai, Tamil Nadu
Timings: All day long
Entry fee: Free
53 Tourist Places Near Chennai: Reasons To Look Forward To Your 2022 Weekends In Chennai
6. Swami Vivekananda's House: Explore The Famous Spot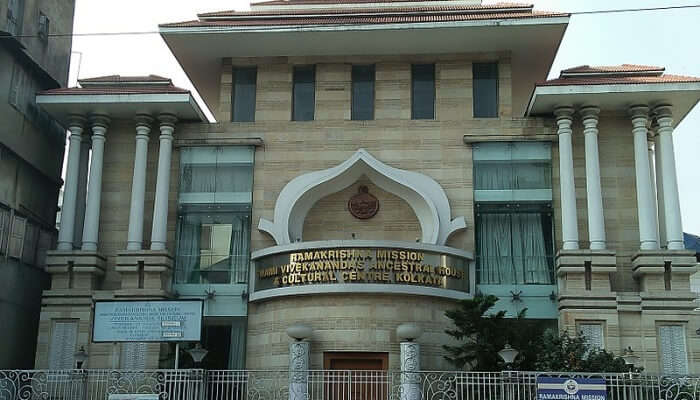 Image Credit: Halder97Sudipto for Wikimedia Commons
Take a knowledge tour and learn more about Indian culture and Swami Vivekananda's life. It is the place where Swami Vivekananda spent a few days of his life after he returned from the west. This historical place will sow positivity in your soul and arouse you towards a new approach of life as you witness the gallery, a meditation room, and walk through the Vivekananda Park.
Location: Kamaraj Salai, Marina Beach Road, Triplicane, Chennai, Tamil Nadu
Timings:10 AM to 12:30 PM; 3 PM to 7:15 PM (Tuesday to Sunday)
Entry fee: INR 10 for adults; INR 5 for children
7. Arignar Anna Zoological Park: For Animal Lovers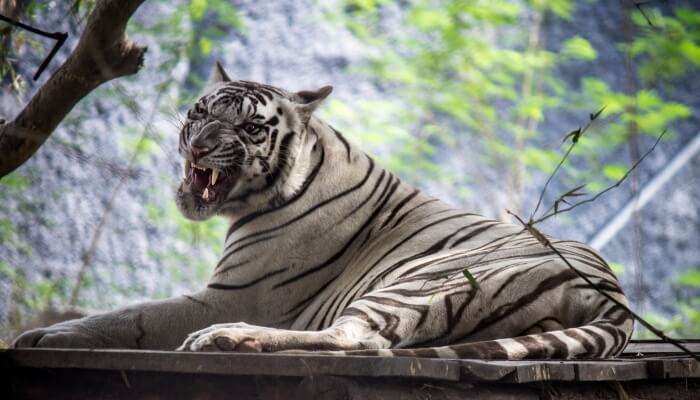 Image Credit: Pravee1207 for Wikimedia Commons
For animal lovers, this place is beyond missing. It is home to more than 500 rare species, which are mostly endangered. Pay a visit to the zoo and be a part of the various safaris offered, such as Lion Safari and the Elephant Safari. Not just home to the endangered species, it also boasts of a rich variety of flora and fauna of the region. Situated at a distance of 32 kms from Chennai city, the zoological park is a great weekend spot to visit with your little ones. Also, witness the aquarium, crocodile house, butterfly house, and amphibian house, which the place has to offer.
Location: Grand Southern Trunk Rd, Vandalur, Tamil Nadu 600048
Timings:9 AM to 6 PM (Wednesday to Monday)
Entry fee: INR 30 for adults; INR 10 for children and INR 25 for photography
11 Most Haunted Places In Chennai In 2022
8. George Town: The Oldest Market

Image Credit: Rasnaboy for Wikimedia Commons
Shopping is an integral part of every tour. And where history accompanies the market place, what else would you expect. George Town is one of the oldest markets in Chennai, which offers anything and everything that you can legally imagine buying from Chennai at the right price.
Walk through the narrow lanes of George Town and witness the market place which is rich in history and has a story to depict The colorful scenes will surely amaze you.
Location: George town, Chennai
Timings: All day long
Entry fee: Free
9. Marina Beach: Visit World's Second Largest Beach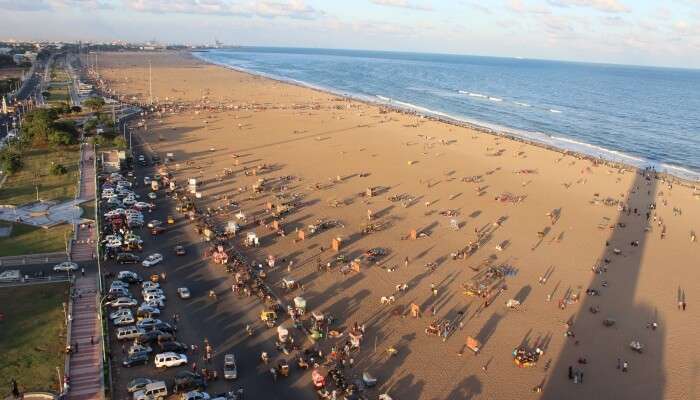 Image Credit: KARTY JazZ for Wikimedia Commons
Find yourself in deep tranquillity and peace as you wander across the second largest beach in the world. Marina beach is mesmerizing in every sense of the word, enclosed by beautiful palm trees and glittering golden sand beneath feet. A very famous tourist spot and must-visit on trip to Chennai, Marina Beach captivates the onlooker with its beautiful sunrise and sunsets.
Cool winds never fail to rejuvenate you here. Do not miss enjoying the authentic south Indian snacks – crispy sundal and murukku sold at this beach. Awake the explorer in you and visit numerous historic places near the beach. A god blessed beach nestled in South India, Marina Beach is the perfect getaway.
Location: Marina Beach, Chennai
Timings: All day long
Entry fee: Free
20 Exquisite Beach Resorts In Chennai To Appease Your Coastal Cravings In 2022
10. Elliot's Beach: Take Stroll Around The Cleanest Beach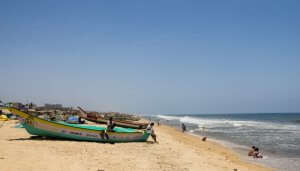 Image Credit: Alexey Komarov for Wikimedia Commons
Located in Basant Nagar, Chennai, Elliot's Beach is one of the best places to visit in Chennai for youngsters. This astounding beach is named after Edward Elliot (who was once the chief magistrate and superintendent of police, Madras during the British times) and forms the end-point of the Marina Beach shore.
Out of all the spectacular beaches in the city, the beach is touted as one of the cleanest beaches in the city of Chennai. For those who want to enjoy solitude accompanied with the beauty of Mother Nature, this beach is an incredibly calm and tranquil place. To make the most of your vacation, you can also visit the Velankanni Church and the Ashtalakshmi Kovil nearby the beach.
Location: Elliot's Beach, Chennai
Timings: All day long
Entry fee: Free
11. Mylapore: The Oldest Residential Area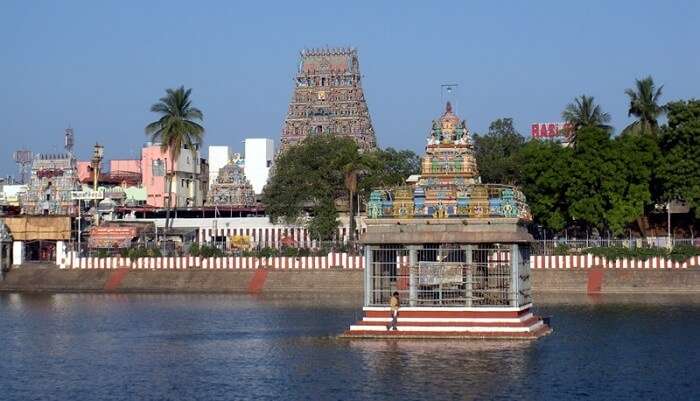 Image Credit: Nsmohan for Wikipedia
From religious places to outlets that are known for serving delectable food, Mylapore is a neighborhood that is perfect for all kinds of travelers. Located in the Chennai district, Mylapore is home to a plethora of places that you can explore. Kapaleeswarar temple and Ramakrishnan Math is situated in Mylapore and which is one of the reasons for this neighborhood is one of the best places to visit in Chennai. Mylapore is the oldest residential area and all those who are interested in getting acquainted with the history of Chennai must visit this neighborhood.
Location: Chennai, Tamil Nadu
Timings: All day long
Entry fee: Free
18 Romantic Places In Chennai For A Quixotic Day Out With Your Love In 2022!
12. Royapuram Fishing Harbour: The Perfect Spot For All Photographers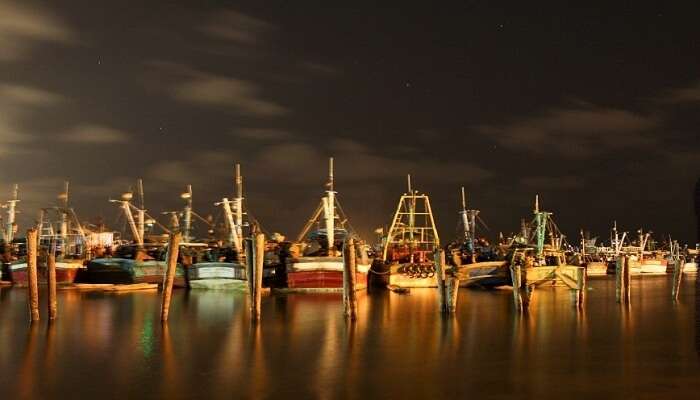 Image Credit: VikiUNITED for Wikipedia
One of the best tourist attractions in Chennai for all the travelers who are crazy about clicking amazing pictures to the place they travel to is the Royapuram fishing harbor. Known as the Kasimedu fishing harbor or the Chennai fishing harbor, this spot attracts a lot of tourists as it is major fishing grounds in Chennai. If you want to capture an eminent part of the lives of locals in Chennai then you ought to visit this harbor. You can spot a lot of fishermen catching fishes and a lot of boats. You will also find locals roaming around the market and purchasing fishes. As soon as the sun sets, the Chennai fishing harbor looks mesmerizingly beautiful and you should be present there to experience bliss.
Location: Chennai, Tamil Nadu
Timings: All day long
Entry fee: Free
13. Birla Planetarium: Know All About The Solar System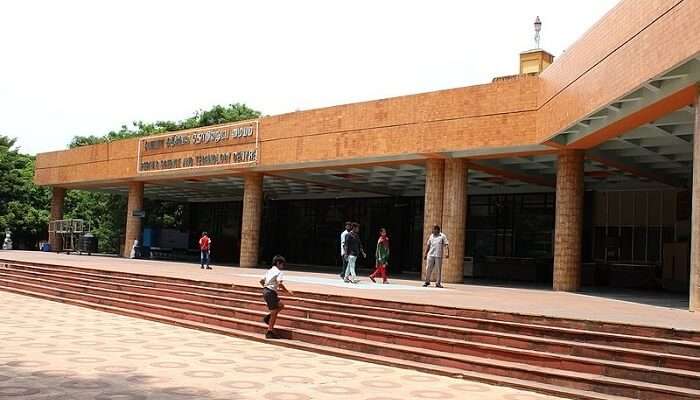 Image Credit: Sivahari for Wikipedia
Does the solar system fascinate you? If yes, then the next one on this handcrafted list of places to see in Chennai is something that you must pay a visit to on your trip. Birla Planetarium in Chennai will make for an excellent spot for a family outing. Located in Kotturpuram, Chennai, Birla Planetarium organizes a lot of cosmic shows and virtual tours of the solar system. You can visit this place with your kids and learn about the planets, stars, and other terms related to the solar system.
Location: Kotturpuram, Chennai, Tamil Nadu
Timings:10 AM to 5:45 PM (All week)
Entry fee: INR 30 for adults and INR 15 for children
4 Handpicked Cottages In Chennai One Must Plan A Stay At And Enjoy A Relaxing Vacation!
14. Thousand Lights Mosque: Visit The Multi-Doomed Structure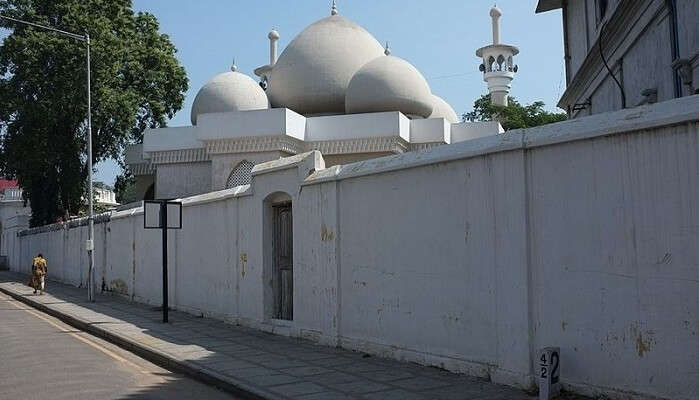 Image Credit: Aleksandr Zykov for Wikipedia
Thousand Lights Mosque is one of the largest mosques in the country and has an impressive structure. Get ready to witness the multi-domed mosque which is also a serene place where you can pray and meditate. There are separate sections for women and men in this mosque. The only thing which you must keep in mind is to dress up properly and cover your head while visiting this mosque. The timings for the Thousand Lights Mosque are morning 5:30 AM to evening 9 PM
Location: Royapettah, Peters Rd, Peters Colony, Thousand Lights, Chennai, Tamil Nadu
Timings:5:30 AM to 9:00 PM
Entry fee: Free
15. Guindy National Park: For All Wildlife Lovers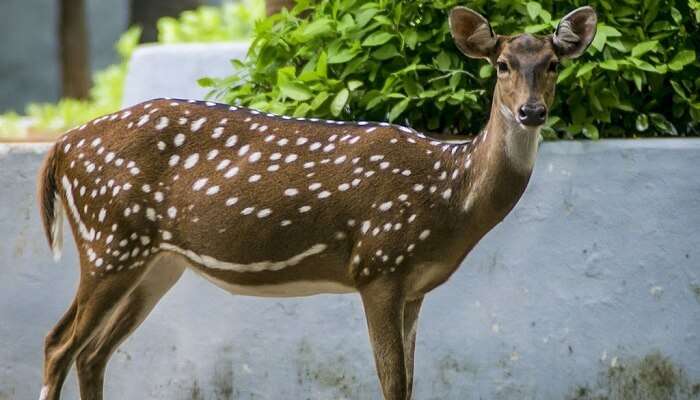 Image Credit: Sudharsun Jayaraj for Wikipedia
Guindy National Park is the 8th smallest national park in India and is one of the best places to visit in Chennai for all wildlife lovers. Guindy National Park is abode to deers, blackbucks, jackals, snakes, tortoises, and more. This national park has around 130 species of birds and 14 species of mammals. With so many mammals, birds, and animals to spot, this national park in Chennai should be on your itinerary. If you like birdwatching then its time for you to take out your binoculars and visit this national park soon.
Location: Rangeguindy, Chennai, Tamil Nadu
Timings:9 AM to 5:30 PM
Entry fee: INR 20 for adults and INR 5 for children
8 Best Cruises To Andaman In 2022: Guide To Fares And Ferries From Kolkata, Chennai And Vizag
16. Parthasarathy Temple: Seek Blessings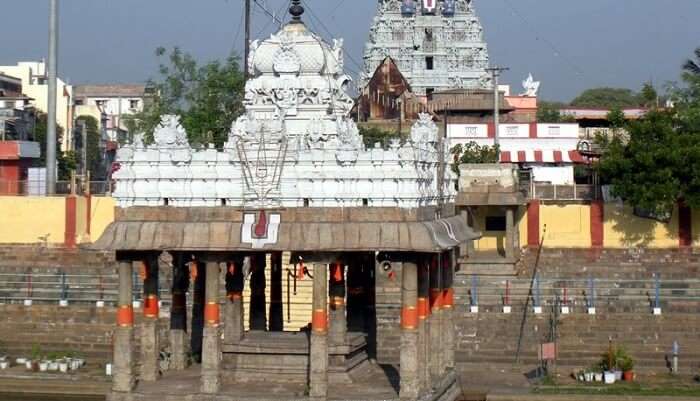 Image Credit: Nsmohan for Wikipedia
Parthasarathy Temples is one of the best religious places to visit in Chennai as it belongs to the 8th century and is dedicated to Lord Vishnu. Located in Thiruvallikeni, Chennai, Parthasarathy Temple was built by king Narasimhavarman I in the 8th century. This temple is dedicated to Lord Vishnu and has icons of Gajendra Varadaraja, Narasimha, Ranganatha, Rama, and Krishna. These icons are the five forms of Lord Vishnu that are worshipped in this temple. If you want a witness the grand ceremony organized in this temple, then you must plan your trip around the traditional festivals.
Location: Narayana Krishnaraja Puram, Triplicane, Chennai
Timings:6:00 AM to 12:30 PM; 4:00 PM to 9:00 PM
Entry fee: Free
17. Valluvar Kottam: The Chariot Shape Monument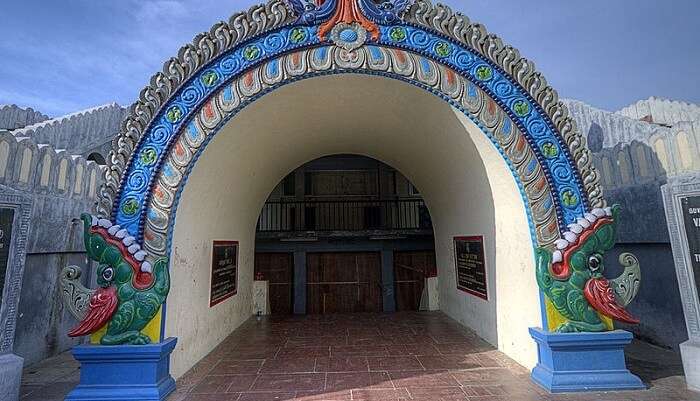 Image Credit: Panoshaf for Wikipedia
Valluvar Kottam is an impressive monument in Chennai and is dedicated to Valluvar. Thiruvalluvar was a prominent poet and philosopher and his works are an eminent part of Chennai's literature collection. This monument was inaugurated in 1976 and since then it is one of the prime tourist attractions in Chennai. This monument is in shape of a chariot and the auditorium is one of the largest ones in India. You can have a look at 133 chapters of his famous work inscribed in the monument. Valluvar Kottam is one of the most important places in Tamil Nadu that all travelers should definitely visit.
Location: 34, Valluvar Kottam High Road, Nungambakkam, Chennai
Timings:8:30 AM to 5:30 PM
Entry fee: INR 3 for adults and INR 2 for children
18. Government Museum, Chennai: Take A Step Back Into The History Of Chennai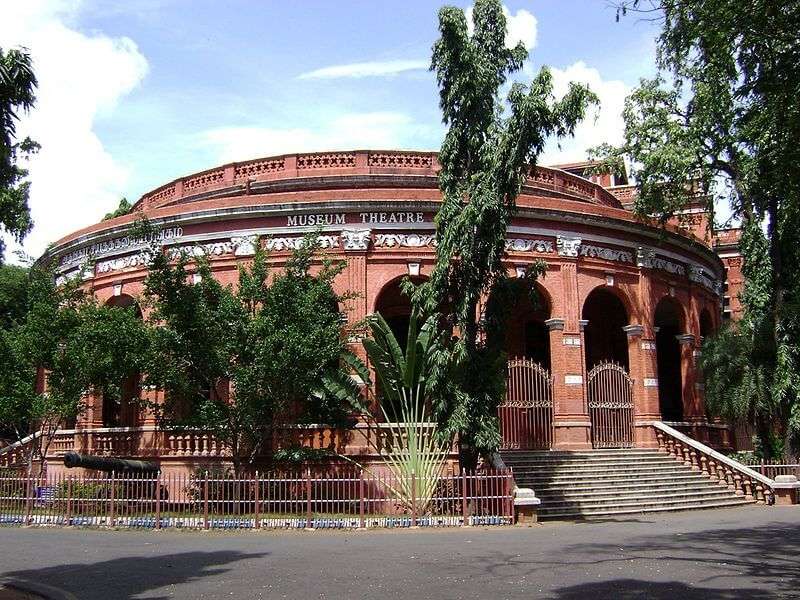 Image Credit: L.vivian.richard for Wikipedia
The Government Museum or the Madras Museum in Chennai is a museum of human history and culture. The museum houses some of the rarest artefacṭs in all of India. Being the second oldest museum in India and the tenth oldest in the world, built in 1851, it is one of the most sought after places of study for academicians. The museum especially has a rich archaeological and numismatic collection. 
Built in indo-gothic or colonial architecture, the place is a treat for history lovers and one of the best tourist places in Chennai. Among rare and amazing collections, the museum has paintings from renowned Indian and European painters. The third-largest museum in the world, the Madras museum has 500 bronze idols dating back to 1000 BC. 
Location: Pantheon Rd, Egmore, Chennai, Tamil Nadu
Timings: 9:30 AM to 4:30 PM (Saturday to Thursday)
Entry fee: Free
19. Breezy Beach: The Name Says It All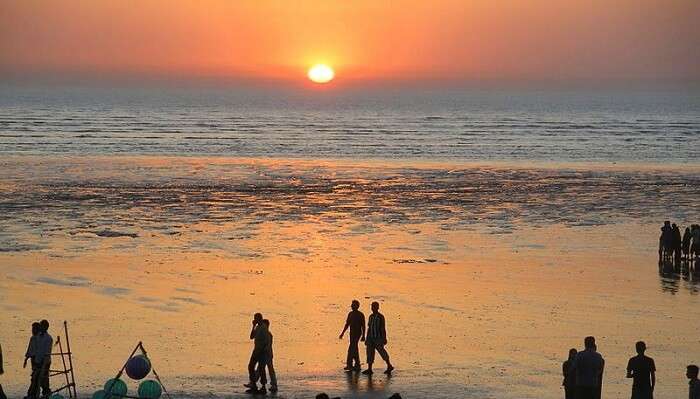 Hidden away in Valmiki Nagar area of Chennai, this aptly named beach is the perfect getaway from the bustling city life of the metropolis. Located around 9 kilometers from the city center, the place offers a peaceful ambiance. The beach is famous for the most stunning sunrises and delicious breakfast served at the nearby restaurants and cafes.
Being among the popular tourist places in Chennai, people often end up here to take a break from the daily routine. On your trip down to the breezy beach, you can try street snacks including sandals and idlis, and enjoy shopping at the nearby Thiruvanmiyur market. 
Location: Valmiki Nagar, Chennai
Timings: All day long
Entry fee: Free
16 Adventure Sports In Chennai That You Should Try To Kick In That Adrenaline In 2022
20. Marundeeswarar Temple: A Shrine Dedicated To Shiva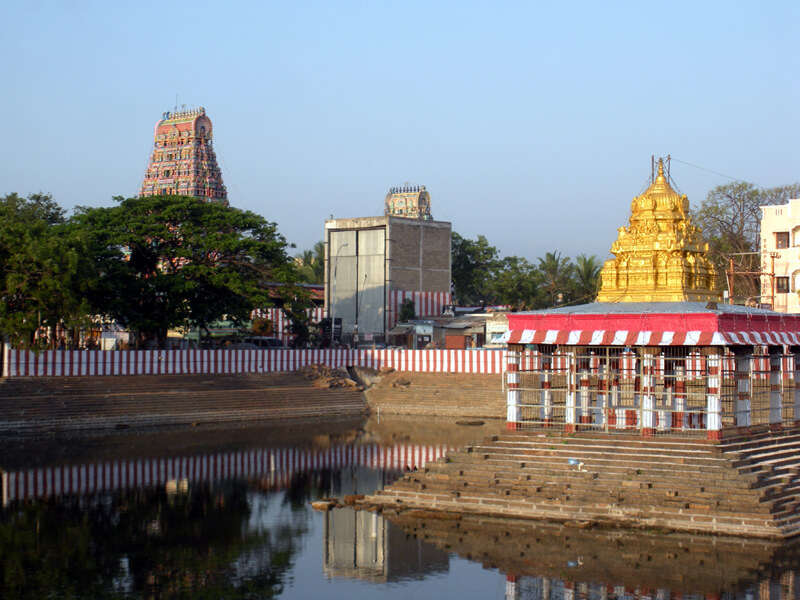 Image Credit: Mohan Krishnan for Wikimedia Commons
A revered Shiva temple in Chennai, Marundeeswarar Temple is located on the shores of the Bay of Bengal. Marundeeswar is the 'god of medicines' and Hindu devotees from around the country come here to pray for the recovery of ailments or diseases.
The temple is a fine specimen of the quintessential Dravidian architecture built between the 7th and 8th centuries by the 'Nayanars' Appar and the Thirugnana Sambandar. The temple was later maintained and made popular by the Chola kingdom in the 11th century. Today it is among the most famous tourist places in Chennai and pilgrims from across the country come to visit it. The unique thing about the temple is its prasadam which is a mix of the ash, water, and milk that is believed to act as a medicine for any kind of diseases and ailments.
Location: 8, W Tank St, Lalitha Nagar, Thiruvanmiyur, Chennai, Tamil Nadu
Timings:9 AM to 8 PM
Entry fee: Free
21. Ashtalakshmi Temple: On The Shorelines Of Bay Of Bengal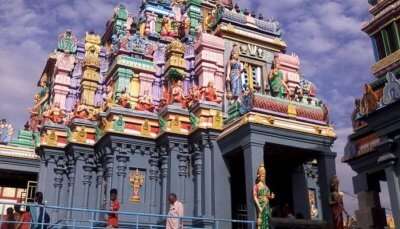 Ashtalakshmi Temple in Chennai is another vibrant Hindu religious place on the coast of Bay of Bengal, a few meters away from the famous Basant beach. The temple is dedicated to the Hindu 'goddess of wealth and knowledge'. The best part about the complex is that you can hear the continuous sound of the ocean waves echo that offers the place a peaceful and calm ambiance.
The temple hosts an important Hindu religious ceremony that attracts people from all over the country here, called the 'Jeernodhara Ashta Bandana Maha Kumbhabhishekam'. It is among the best tourist places in Chennai and if you're religiously inclined you must stop by here.
Location: Elliot's beach, 6/21 paindi Amman Kovil, Besant Nagar, Chennai
Timings: 6:30 AM to 12:00 PM; 6:00 PM to 9:00 PM (Monday to Thursday) | 6:30 AM to 1:00 PM (Friday, Saturday and Sunday)
Entry fee: Free
12 World-Class Resorts In Chennai That Offer Guests With Utmost Comfort & Lavishness!
22. Connemara Library: A Repository Of Knowledge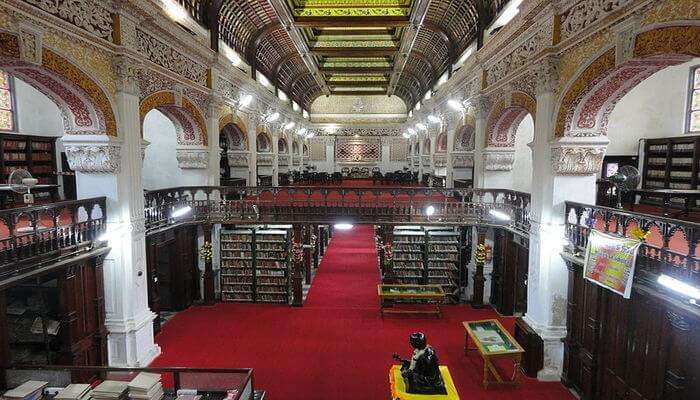 One of the most premier landmarks in the city, the Connemara Library inaugurated in the year 1896, is a treasure trove of literature. It is one of the four National Depository Libraries in India receiving a copy of every book, newspaper, and periodical published in the country.
A haven for book lovers, the hundred-year-old library contains a rich collection of books, braille manuscripts, journals, and magazines. Highly sought after by researchers, the building is located in the Egmore area of Chennai. The library is well-kept and you can spend a day amid the fountain of knowledge here as it is among the famous tourist places in Chennai.
Location: Museum Compound, Pantheon Road, Egmore, Chennai, Tamil Nadu
Timings: 9:00 AM to 7:30 PM (Monday to Friday); 9:30 AM to 6:00 PM (Saturday, Sunday)
Entry fee: Free
23. Madras Crocodile Bank Trust: More Than Just A Zoo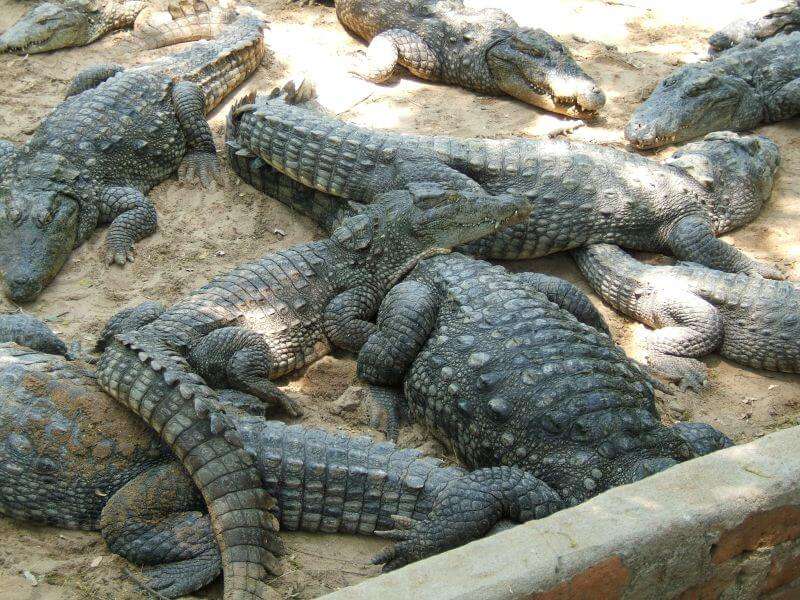 Image Credit: Andy Hay for Wikimedia Commons
A rich crocodile breeding center, the Madras Crocodile Bank Trust is more than just another zoo. You can witness this ferocious yet calm and beautiful reptile here in a healthy habitat. A great place for kids to learn more about nature and wildlife, the place is home to more than 17 species of crocs, some of which have been listed critically endangered by the IUCN.
The initiative is the brainchild of the famous wildlife activist and herpetologist, Romulus 'Rom' Whitaker to conserve the fading species of crocodiles in the subcontinent. The Crocodile Bank in Chennai remains open for 6 days in a week for visitors and is definitely worth a visit.
Location: Post Bag No 4, Mahabalipuram, Tamil Nadu
Timings: 9AM to 5:30PM (Tuesday to Sunday) *Last ticket at 5PM | Night Safaris from 7PM to 8:30PM. Closed on Mondays
Entry fee: Adult: INR 60; Children (below 10 years): INR 30 | Night Safari: Adult: INR 200; Children (below 10 years): INR 100
Nightlife In Chennai – What's Hot And What's Not In 2022!
24. Nettukuppam: The Most Unspoilt Beach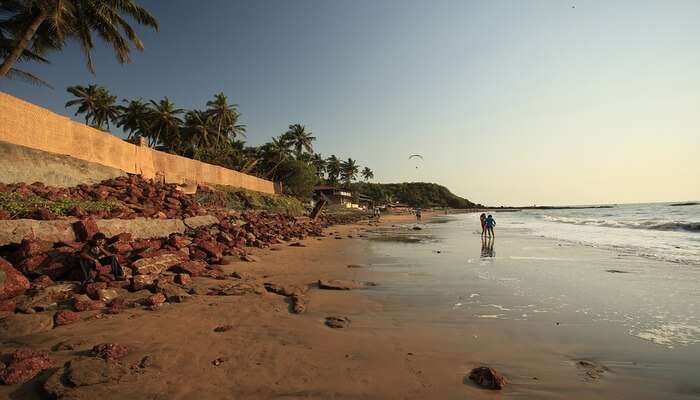 One of the most offbeat places to visit in Chennai, Nettukuppam is a small fishermen's village at the northernmost tip of the metropolis. The beach here is absolutely unspoiled and serene and the most spectacular part about this place is the broken pier that turns the place into a postcard-perfect scenery.
While the beach is usually more crowded over the weekends and during festivals, it is usually lesser-known and emptier. Located some 20 km away from the city center, you can reach the place in 3 to 4 hours drive. Enjoy the stunning skyline of Chennai with glittering lights from this beach. And if you happen to be here in the morning, the fishermen sell their fresh catches and you can buy off of them at reasonable rates.
Location: Nettukuppam, Chennai, Tamil Nadu
Timings: All day long
Entry fee: Free
25. Basilica of Our Lady of Good Health: The Shrine Of Vellankani

Image Credit: BrownyCat for Wikimedia Commons
Basilica of Our Lady of Good Health, also known as the Vailankanni shrine is a huge catholic church near Elliot's beach. It is a huge structure and a revered religious place for Christians in India. A pristine white edifice today, it was originally a modest chapel built by Portuguese sailors who claimed to have been saved by Mother Mary from a tempest in the sea. 500 years later today the church hosts a nine-day festival that is observed by over 5 million devotees from across the country.
Location: Velankanni, Nagapattinam, Tamil Nadu
Timings: 5AM to 9PM
Entry fee: Free
16 Road Trips From Chennai For The Roadie In You In 2022!
26. San Thome Church: Religious Escape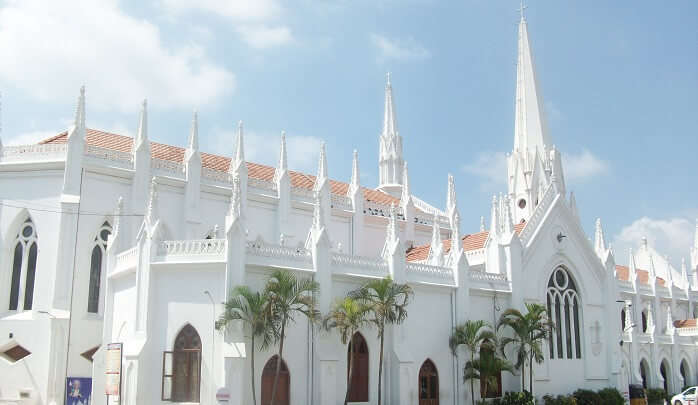 Image Credit: Anugarg for Wikimedia
The sparkling white structure of San Thome Church that stands on the tomb of Saint Thomas is one of its kind. The place is quite popular among locals and lures travelers wandering in the city with its exclusive infrastructure and serene ambiance. This beautiful masterpiece reminds of the colonial past and is one of the most interesting places to visit in Chennai. 
Location: 38, Santhome High Road, Chennai, Tamil Nadu 600004
Timings: 6AM to 8PM
Entry fee: Free
27. Kapaaleshwar Temple: Vibrant Architecture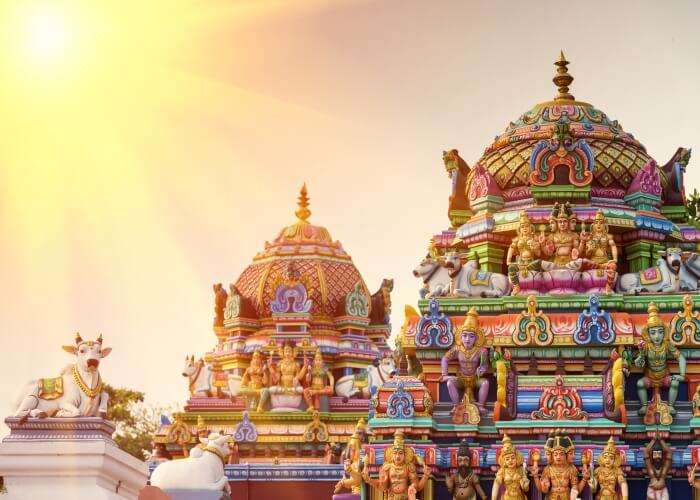 Another popular temple in Chennai with unique architecture, Kapaaleshwar Temple exhibits the Dravidian style of construction. The height of the temple is nearly 37 meters. The temple remains lively in the months of March and April. There is a huge tank filled with water at the place which is believed to have religious importance. 
Location: Within Chennai city
Timings: 5:30AM to 12 PM and 5M to 9PM
Entry fee: No entry fee
53 Tourist Places Near Chennai: Reasons To Look Forward To Your 2022 Weekends In Chennai
28. Vadapalani Murugan Temple: Exclusive Carvings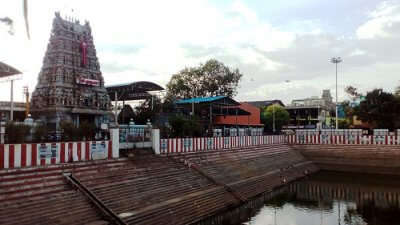 Image Credit: VK Raja for Wikimedia
The temple is nearly 125 years old and is amongst the most prominent religious sites in the capital city. The temple is dedicated to Lord Murugan and exhibits exclusive and colorful carvings. The idol of Murugan is wearing footwear which makes it one of the rarest temples in South India. 
Location: Palani Andavar Koil Street, Vadapalani, Chennai
Timings: 5AM to 12:30PM and 4PM to 9PM
Entry fee: No entry fee
29. Golden Beach: Leisurely Walks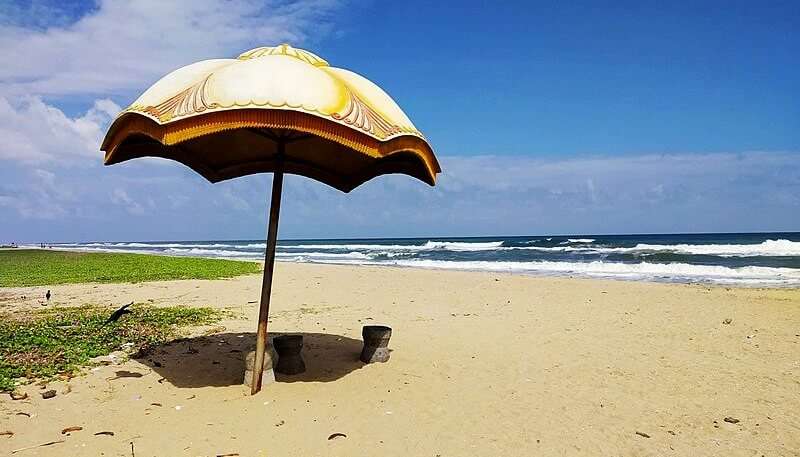 Image Credit: Mohan Babu for Wikimedia
As the name says, this pristine beach is known for the huge expanses of golden sands. However, it a private beach, owned by the VGP Universal Kingdom but you can experience the entire thrills of VGP Amusement Parks. This is one of the cleanest beaches in Chennai and is loved for offering the enticing views of sunset and sunrise. 
Location: East Coast Road, Injambakkam, Chennai
Timings: 5AM to 6PM
Entry fee: No entry fee
20 Hill Stations Near Chennai In 2022 That Will Leave You Loving Summer Forever!
30. Akkarai Beach: Enthralling Seafront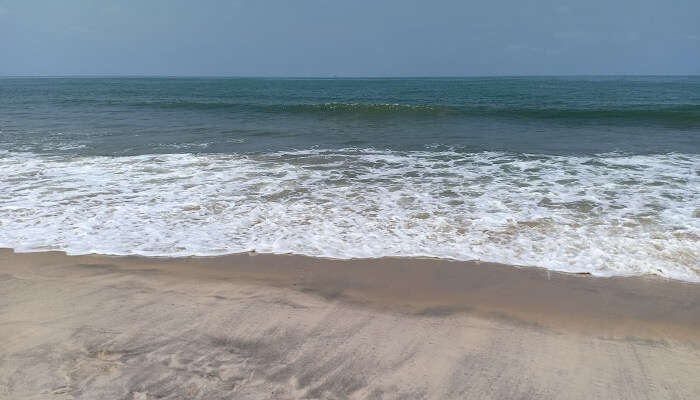 Another stunning beach in Chennai, Ankara Beach features an enthralling seafront that comprises luxuriant greenery and tranquil sites. This is one of the most offbeat places in Chennai and remains clean and peaceful throughout the day. 
Location: Injambakkam, Chennai
Timings: Throughout the day
Entry fee: No entry fee
31. Ripon Building: Roman-style Architecture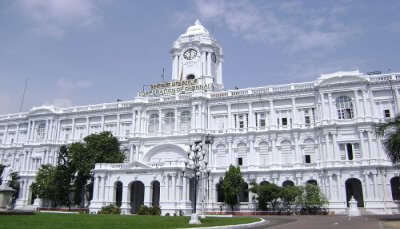 Image Credit: L Vivian Richard for Wikimedia
Ripon Building is one of the most popular tourist places in Chennai and this behemoth government building features unique Roman-style architecture. The building was established in the year 1913 and is named after Lord Ripon, the prominent governor-general of British India. 
Location: 53, Raja Muthiah Road, Kannappar Tidal, Periyamet, Chennai
Timings: 10AM to 6PM
Entry fee: Restricted entry
11 Weekend Getaways From Chennai That Offer A Refreshing Break From The Monotony!
32. Besant: Gorgeous Sunsets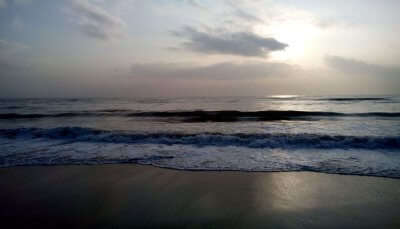 Image Credit: Sara for Wikimedia
If you are looking for free places to visit in Chennai, then Besant is an amazing site for you to explore. It is located on the East Coast of Bay of Bengal with Thiruvanmiyur in the south. There is also a popular church and temple at the site which makes it a lively escape with numerous devotees relaxing at their own pace. 
Location: East coast of Bay of Bengal
Timings: Throughout the day
Entry fee: No entry fee
18 Iconic Street Foods In Chennai That'll Make You Drool In 2022!
How To Reach Chennai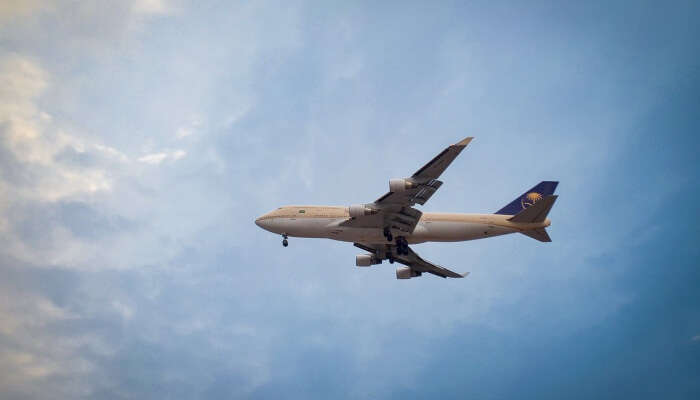 Image Credit: hafiznaveed for Pixabay
The city is just 7 kilometers away from the Chennai International Airport. The third busiest airport in India, Chennai International Airport is the main hub for major flights in South India. The airport is well-connected to most major airports in the world. Passengers can easily book their taxi at the prepaid taxi booths outside the airport. and reach the destination. Also, there is no dearth of auto-rickshaws which can take you to the city at a relatively low fare.
Reaching the city via train is also easy thanks to the railway connectivity. Chennai has three major railway stations namely Chennai Central (code MAS), Chennai Egmore and Tambaram which are well-connected to major cities like Bengaluru, Mumbai, Coimbatore, Delhi, Cochin, Hyderabad, Kolkata, and other Indian cities. Many super-fast and express trains operate here on a daily basis.
Best Time To Visit Chennai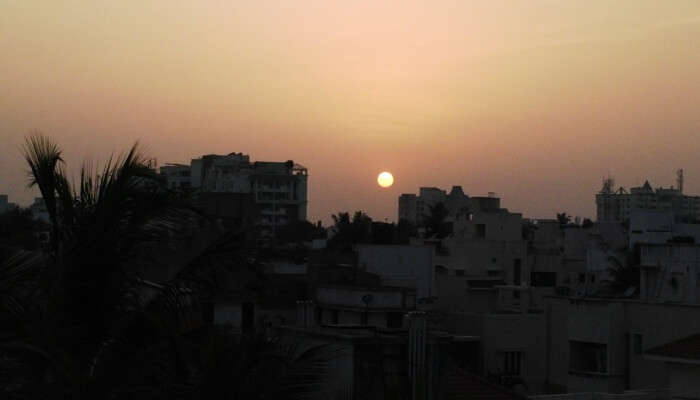 Image Credit: Fioselvan for Wikimedia Commons
Chennai is never too cold it's believed to be the hottest in Chennai. So November to February months is considered the best month to visit the city since its winter season in Chennai. The temperature remains pleasant during this time between 20 and 25 Degree Celsius. One can experience cool breezes from the sea which provides respite from the otherwise hot weather in Chennai. So one can also enjoy long morning walks during the daytime and breezy evenings.
23 Picnic Spots In And Around Chennai For An Extravagant Holiday Experience In 2022
Chennai is a metropolitan city which is blessed with natural aspects, making it a perfect holiday destination. This means that a vacation in Chennai would not only be culturally enriching but would also ensure a peaceful travel experience. Adding the above-listed places to visit in Chennai to your itinerary is a must for a fulfilling experience in this city of Tamil Nadu.
For our editorial codes of conduct and copyright disclaimer, please click here.
Frequently Asked Questions about Places to Visit in Chennai
What are the best shopping places in Chennai?
The most popular market places in Chennai are Phoenix Market City, T Nagar, and Express Avenue. Make sure to visit these vibrant markets and purchase various handmade products, and silk sarees.
What are the best places to visit in Chennai at night?
Visiting Marina Beach and walking along the shore is one of the best things you must experience at night. If you are interested in going to some night clubs then you can check out Pasha, 10 Downing Street, Gatsby 2000, and many more.
Is it safe to visit Chennai during covid times?
The Government of Tamil Nadu prioritizes public health, hence, have issued some safety guidelines such as social distancing, using face masks, applying hand sanitizers, and washing hands frequently, which must be adhered to by all visitors. Tickets should be booked online for contactless entry. Also, in some places for accommodation, visitors should provide their vaccination details for both doses for a hassle-free stay.
Which is the best trek near Chennai?
There are numerous exciting trekking trails near Chennai. The following are the most popular:
1. Tada Waterfall Trek
2. Kotagiri Trek
3. Kurangani Top Station Trek
4. Kumbakumari Trek.
Make sure to go for these intriguing adventures during your Chennai tour.
What is so special about Chennai?
Chennai, the capital city of Tamil Nadu, attracts many visitors both local and foreign tourists owing to its history, heritage and healthcare facilities. Known as an IT and industrial hub, it houses many innovative and ambitious startups who are redefining the creativity and work culture followed by Indian companies. With its mesmerizing temples, beaches, music and arts culture, Chennai serves as a gateway to the rest of the South. Foreign tourists also land here more frequently to get lost in the charm of the Mother Nature.
Is Chennai safe?
Chennai is a sprawling and busy city and a relatively safe destination for visitors. It reports less crime than most other major Indian cities. However, travelers should exercise increased caution when traveling in overcrowded places as pick-pocketing and begging are the main problems here. Be careful as you pass by beggars as they specifically target foreigners and may even harass them for money.
What should I do in Chennai?
Things to do in Chennai:
1. Witness the glorious sunrise at Elliots Beach,
2. Have unique experiences at MGM Dizzee World amusement park,
3. Feed your literary desires at the Anna Centenary Library.,
4. Witness shore temples and sculpted wonders at Mahabalipuram.
What is famous in Chennai to eat?
Some of the popular and appetizing dishes in Chennai that you shouldn't miss are:
1. Filter Coffee,
2. Idli,
3. Masala Dosa,
4. Sambar and Rasam rice,
5. Vadai/Thayir Vadai,
6. Meals,
7. Kuzhi Paniyaram,
8. Bajji,
9. Adai.
---
People Also Read
Places To Visit In Uttarkashi Places To Visit In Panchgani Places To Visit In Thekkady