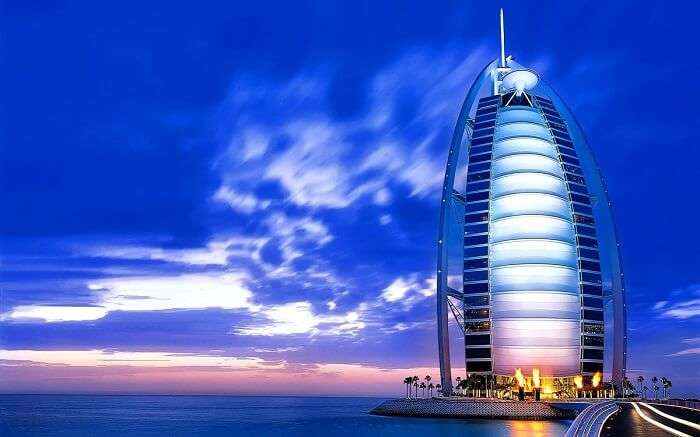 We've grown up understanding that when it comes to stars, the more is the merrier, and the top 7 star hotels in the world only prove us right. They not only reflect timeless luxury and class, but but also boast their elegantly designed exteriors against expansive backdrops in a way that make them look even more breathtaking.
But before everything else, let's find out:
What makes a hotel '7-star'?
While there isn't any international standard of ratings for describing what lets a hotel earn the stars for the kind of comfort, luxury, and hospitality it offers, some countries follow their own criteria, whereas a few others stick to a mutually standardized classification at regional level (But, some hotels prefer rating them themselves). With all of this, it's only confusing to understand which hotel is really a 7 star?
Suggested Read In Pictures: Get Lovestruck With These 35 Most Romantic Hotels In The World
So here are a few reasons which we thought deem fit for an accommodation to be a 7 star:
It offers more luxury than what a 5 star hotel does at a much higher price
The comfort and amenities provided on the silver platter are world-class
Every customer's experience is personalized and the interests, likes & dislikes are taken care of
The rooms are spacious, but there is also a wide range of room types
The views from the rooms are exceptionally overwhelming
From a pool to a butler, everything is private
Which are the best seven star hotels in the world?
Despite how costly these hotels may be, the experience they offer is undoubtedly one-of-its-kind. A stay here would be perfect to make yourself feel like a billionaire and get pampered to the core.
1. Burj Al Arab in Dubai, UAE
Being repeatedly voted as the world's most luxurious hotel, Burj Al Arab is the pearl of the ocean. Its exquisitely sail-shaped exterior, and lavish ultra-modern interiors make it drop-dead gorgeous. But, this hotel is not just about its beauty, it is about the hospitality and services it boasts. From an optional chauffeur-driven Rolls-Royce to spending a day at leisure, and from visiting the world's best dining venues to taking a swim on the terrace, the experiences here are extraordinary!
Wow Factor: The mesmerizing panoramic views of the ocean from its luxurious duplex suites, a private beach, and complimentary access to the Wild Wadi Waterpark are a few of the best features that would make you fall in love with this marvellous hotel.

Price: INR 1,50,000 to INR 1,95,000 (for a room for two adults and two kids)
TripAdvisor Rating: 4.5/5
Location: Jumeira Road, Umm Suqeim 3, Dubai, United Arab Emirates
Website | Reviews
Suggested Read 17 Best Amusement Parks In The World For A Dose Of Extravaganza In 2020!

---
Looking To Book An International Holiday?
Book memorable holidays on TravelTriangle with 650+ verified travel agents for 65+ domestic and international destinations.
---
2. Emirates Palace in Abu Dhabi, UAE
Popular for its award-winning 5-star luxury, hospitality, and authentic local experiences, this hotel is the shining gem in the city's crown. Its luxurious rooms and suites, exceptional culinary cuisine, and landscaped pools and beach make it perfect for a once-in-a-lifetime holiday. Be it its design or be it the myriad offerings, it's a grand place to stay for a surreal experience.
Wow Factor: Located in the heart of Abu Dhabi, this hotel is like a fairyland with all of the world's best amenities right within your reach.

Price: INR 24,000 to INR 41,000 (for a room for two adults and one kid)
TripAdvisor Rating: 4.5/5
Location: West Corniche Road, Abu Dhabi, United Arab Emirates
Website | Reviews
3. The Pentominium in Dubai, UAE
While not open to the public yet, this hotel still needs to be on your bucket list if you're a flashpacker and an experience-seeker. It is believed to be the only super tall skyscraper across the world, which has 120 floors in it. Even imagining the level of luxury and services it would offer gives us major feels.
Wow Factor: While the hotel is still under construction, it has already won awards for being the tallest residential building in the world.

Price: NA
Location: Dubai, United Arab Emirates
Website
Is there any 7-star hotel in India?
Further Read Top Safari Honeymoon Destinations, Experiences, & Resorts In The World
Well, there isn't really any hotel that has certified itself with 7 stars in India. However, there are luxurious palace-like hotels that are an alternative to having an almost similar experience. Five-star hotels like The Faluknama Palace in Hyderabad, The Oberoi Udaivilas and The Leela Palace in Udaipur, Windflower Hall in Shimla, and more are a few accommodation options that are perfect for your next staycation!
What are a few tips for staying at a 7-star hotel?
If you're planning a holiday at one of these top-notch hotels, make sure you check the availability as per your dates.
Dress smartly while you're there, and pack the best of clothes and footwear with you.
Don't forget to tip your private butler, driver, and hotel staff unless it's not allowed in the hotel.
If you're indulging in a buffet, make sure you take only as much as can eat.
4. Town House Galleria in Milan, Italy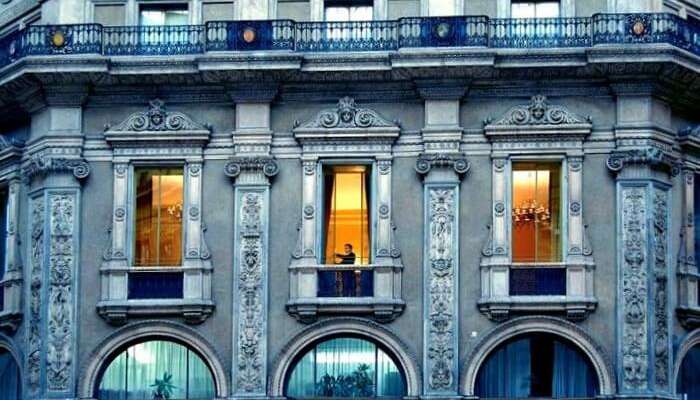 Suggested Read Wake-up With The Sharks At These 8 Almost Unreal Underwater Hotels In The World
Well located in the heart of Milan inside the famous Galleria Vittorio Emanuele II, the Town House Galleria holds is all about its world-class interiors and lavish accommodation. Both the rooms and suites offer a stunning view and make up for an ideal hideaway to rejuvenate oneself. The top-notch lounges, stores, and restaurants make it the perfect getaway for having the best shopping experience in the city.
Wow Factor: It is the world's only 7 star hotel who would love your pet as much you do. The luxurious dining, private Limousine transfers, and a direct access to The World of Leonardo Da Vinci Museum only add to the exclusivity of the hotel.

Price: INR 30,000 to INR INR 45,000 (double-sharing)
TripAdvisor Rating: 4/5
Location: Via Silvio Pellico, 8, 20121 Milano MI, Italy
Website | Reviews
5. Pangu Seven Star Hotel in Beijing, China
Also known as Morgan Plaza, this hotel overlooking Beijing's Olympic Theatre of Dreams is a charming place to stay in the city. Its exteriors resemble the Chinese culture, and interiors reflect ultimate luxury. The wide range of fine dining restaurants, the large bay windows, and a digital fireplace is why it's one of the best hotels in China.
A great accommodation makes your holiday in an unknown land homelike, and this is exactly what this hotel is known for.
Wow Factor: A great view of Beijing, its Olympic Theatre of Dreams, an architecture that looks like the Chinese Dragon, and home to the biggest library in China are some of the things that make this hotel extraordinarily great.

Price: INR 18,000 to INR 42,000 (double-sharing)
TripAdvisor Rating: 4.5/5
Location: 27 N 4th Ring Road Middle, Chaoyang Qu, Beijing Shi, China
Website | Reviews
6. The Flower Of The East on Kish Island, Iran
Suggested Read 23 Mythical Hotels Around The World You Must Stay In At Least Once
This hotel changes the perception of Iran not being synonymous with luxury. Now popular as the epitome of the same, this hotel's architectural beauty and services are to die for. The tower reflects a mix of Persian and modern style, and is known as the second best 7 star hotel in world. From the window of one's lavish rooms, it's also easier to witness and admire the sunrise!
Wow Factor: Built like a flower, this hotel oozes luxury at its best, and is the most iconic landmark of Iran, which makes it an exquisite hotel to stay for a while.

Price: You can get in touch with the hotel management to know about the cost per room or suite.
Location: Kish Island, Iran
7. Signiel Seoul in South Korea
There isn't a single reason, but multiple that makes Signiel Seoul the most luxurious 7 star hotel in Korea. Apart from its ultra comfortable and spacious rooms, its fine-dining restaurant situated at 342 meters up in the air, and refreshing pool & sauna add to the top-notch exquisiteness of the hotel. Apart from this, a stay here comes along with helicopter transfers, Michelin-starred chefs, and the largest champagne bar in Asia. Now, who doesn't want that!
Wow Factor: The most exclusive feature of this hotel that makes it a brilliant place to stay is the gorgeous panoramic view of the cityscape that can be witnessed from all of its 235 rooms.

Price: INR 23,000 to INR 57,000 (double-sharing)
TripAdvisor Rating: 4.5/5
Location: 300, Olympic-ro, Songpa-gu, 05551 Seoul, South Korea
Website | Reviews
8. Full Moon Hotel in Baku, Azerbaijan
Suggested Read 10 Most Expensive Islands In The World
A 35 story luxury hotel with about 382 rooms and a paradise on earth for those who dream to visit the moon, Full Moon Hotel in Baku is certainly the most unique accommodation to stay at when in the city. There is nothing that could beat the comfort and elegance here, and as much as one would vouch for a great experience here, the hotel would for the prosperity it reflects of the oil-rich city.
Wow Factor: Built in the shape of a moon, this marvelous hotel boasts timeless luxury and offers class apart experiences, which would leave you only asking for more.

Price: Get in touch with the hotel management to check the cost per room or suite.
Location: Baku, Azerbaijan
9. The Centaurus in Islamabad, Pakistan
If there is one thing that has brought Pakistan into the international travelers' focus, it is the luxurious Centaurus Hotel in Islamabad. As splendid are its exteriors, as are its interiors and hospitality. While a stay here is close to experiencing royalty, the comfort offered makes it closer to homelike.
Wow Factor: Apart from its architecture, the most unique feature of this hotel is the fact that it is made in a way that it can withstand an earthquake of 9.5 Richter Scale.

Price: You can get in touch with the hotel management to know about the cost per room or suite.
TripAdvisor Rating: 5/5
Location: Jinnah Avenue, Islamabad, Pakistan
Website | Reviews
10. Laucala Island Resort in Fiji
Nestled amidst the serenity of nature, this resort offers a plethora of experiences to indulge in while you bask in the glory of ultimate hospitality, world-class comfort, and tranquil beach vibes. Each of the super elegant villas offer unparalleled privacy and a buggy, which you can take to explore the resort at your leisure.
Wow Factor: It is one of the world's most beautiful private island resort with luxurious experiences you may have never had before!

Price: You can get in touch with the hotel management to know about the cost per villa.
TripAdvisor Rating: 5/5
Location: Laucala Island Resort, Laucala Island, Fiji
Website | Reviews
Irrespective of how expensive or affordable these hotels are, even you would agree that they are too perfect for holidaying at least once in your life! So, whenever you take an international trip and stay at any of these luxurious hotels, do share your experience with us at travelogues@traveltriangle.com
Frequently Asked Questions About 7 star hotels in the world
Comments
comments