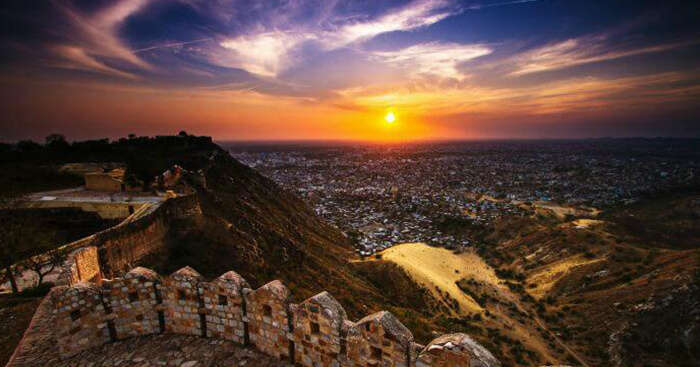 Jaipur, the desert capital of India, popularly known as the Pink City is the land of palaces, lakes, maharajas, alluring architecture. The rich Rajput culture and their glorious past is perspicuously reflected in the lifestyle and the infrastructure of the places to visit in Jaipur. This beautiful capital of the Indian state of Rajasthan oozes royalty. From palaces to bazaars, from temples to wildlife zones, Jaipur is an experience you must not miss.
Best Time To Visit Jaipur: October – March
Distance From Delhi: 269.4 km (4 hours 50 minutes)
Distance From Agra: 238.7 km (4 hours)
One of best ways to look at the attractive colours of the city is by enjoying a bird's-eye view on a hot air balloon tour. We'll come to that, but right now we have a list of the famous tourist places in Jaipur, for those who prefer private or independent tours. For a quick tour to the city of royalty, you can also plan to spend 6 days in Rajasthan on your next vacation.
Here is a list of best places to visit in Jaipur. Take a look!
Forts – Best Places To Visit In Jaipur
Famous for its regal architecture, Jaipur sightseeing map is studded with princely forts and citadels. Here are some of the forts and palaces that you ought to visit on your trip:
1. Amer Fort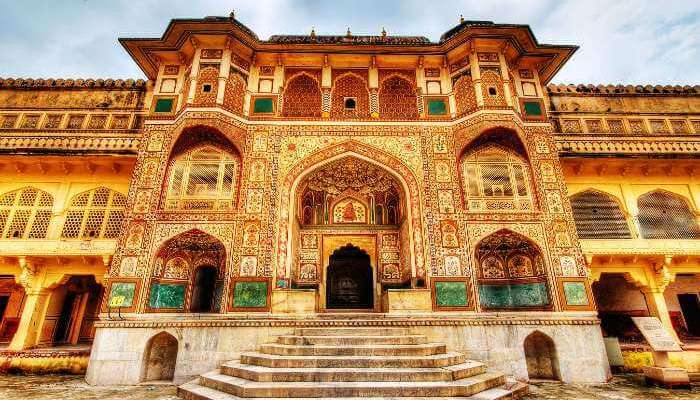 Sanjay Leela Bhansali's Bajirao Mastani has suddenly put the spotlight on Jaipur's beautiful Amber Fort. A crucial war scene, starring Ranveer Singh will be shot here, besides major chunks which will be filmed in other locations of the city. Famous for its endearing mirror work, the fort and its history come alive with the evening light and sound show. The elephant ride uphill to the fort entrance and 'Amber by night' allows tourists to see the charmingly lit chowks and mahals.
Entry:
Foreigners: INR 200 for adults, INR 100 for students (inclusive of entry & camera)
Indians: INR 25 for adults, INR 10 for students (inclusive of entry and camera)
Elephant rides: INR 900 for 2 people
Amber by Night: INR 100 per person
Light & Sound Show: INR 200 for English show, INR 100 for Hindi show
Visiting hours:
Fort: 9:00 am – 4:30 pm
Light & Sound Show: 7:00 pm – 9:00 pm (English), 8:00 pm – 10:00 pm
Elephant rides: 9:00 am – 11:30 am, on first come first serve basis; Prior bookings are not allowed.
Must Read: 12 Historical Places In Rajasthan That Will Take You Back To The Glorious Past
---
Rajasthan Holiday Packages On TravelTriangle
Explore Rajasthan, the land of Maharajas. Experience its royal cultural heritage, luxurious hotels, camel safaris, pristine lakes, and magnificent forts and palaces. Cover the best of Jaipur, Udaipur, Jodhpur, Jaisalmer, Pushkar and Ranthambhore at best prices with TravelTriangle.
---
2. Jaigarh Fort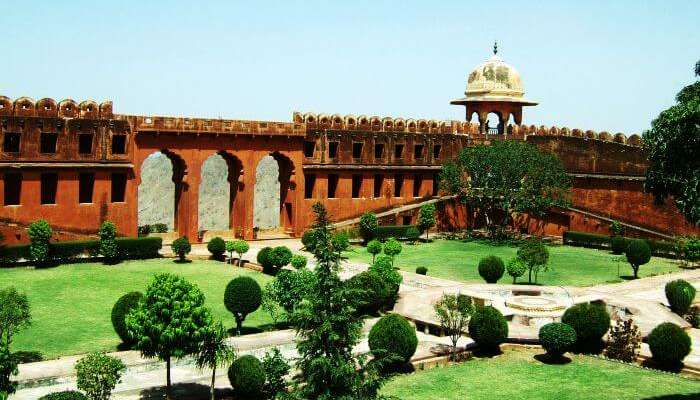 Another from awesome places to see in Jaipur, Jaigarh Fort is famous for the world's largest cannon on wheels. Also, a significant structure of the medieval period – Diwa Burj – has been maintained very well over the year. The watch tower offers a scintillating view over the plains. Also known as 'Cheel ka Teela', the panoramas of the city visible from this place are something to die for.
Entry:
Indians: INR 35
Foreigners: INR 85
Visiting hours: 9:30 am – 4:30 pm
Must Read: 6 Incredible Indian Destinations under 20k you need to explore this year!
3. Nahargarh Fort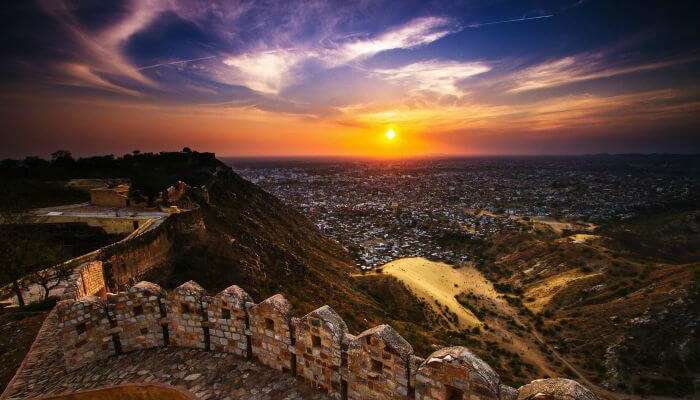 Since the fort is situated high up on the Aravali hills, it is one of the famous places in Jaipur, popular for its enchanting sunset views overlooking the entire Jaipur city. It's also a famous picnic spot as there is a cafe inside that serves snacks and drinks. An important spot for sightseeing in Jaipur, the fort is beautifully lit at night.
Entry:
Foreigners: INR 50 for adults, INR 25 for students
Indians: INR 20 for adults, INR 5 for students
Visiting hours: 10:00 am – 5:30 pm
Suggested Read: Give A Colorful Start To The Year By Attending The Jaipur Kite Festival In India
4. Bhangarh Fort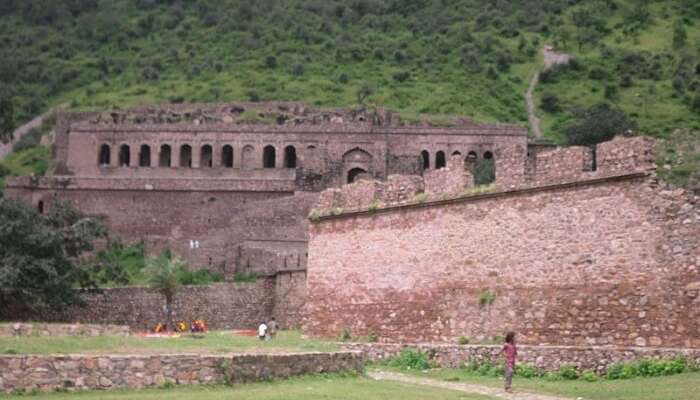 Known for being a spooky tourist destination in Jaipur, this fort has ruins of its buildings and therefore holds a historical significance. This fort comes on the way from Delhi to Jaipur and curious youngsters are often found exploring this place. It is counted amongst one of the most haunted places in India.
Visiting hours: Make sure you plan your visit to this place before sunset, as entry closes after sunset.
Suggested Read: Top 23 Things To Do In Jaipur: Exploring The Pink City All Over Again In 2019
5. Achrol Fort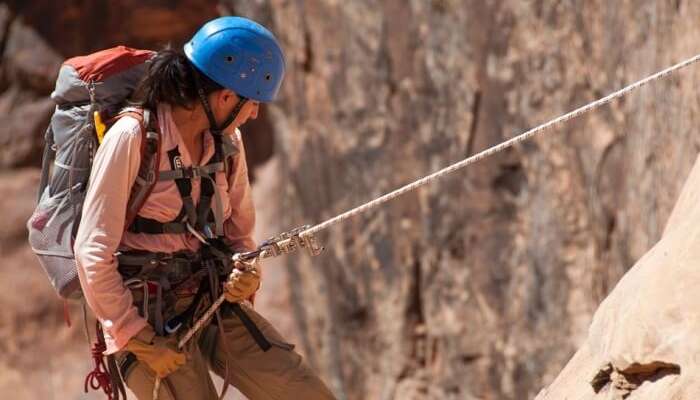 If you are looking for an adventurous day out, then Achrol Fort is for you! The place is ideal for activities like trekking through which one can witness the architectural wonders. The fort is located at the outskirts of Jaipur. Apart from trekking, you can even get indulged in rappelling during the morning hours while absorbing the wonderful nature.
Visiting hours: NA
Suggested Read: Take Down Tips To Plan An Ideal 4D/3N Romantic Trip To Rajasthan!
Best Palaces To Visit In Jaipur
After all, you are in the capital of Rajpuatanas! How can you not visit these grand palaces that reflect how rich the culture and tradition of this region are:
6. City Palace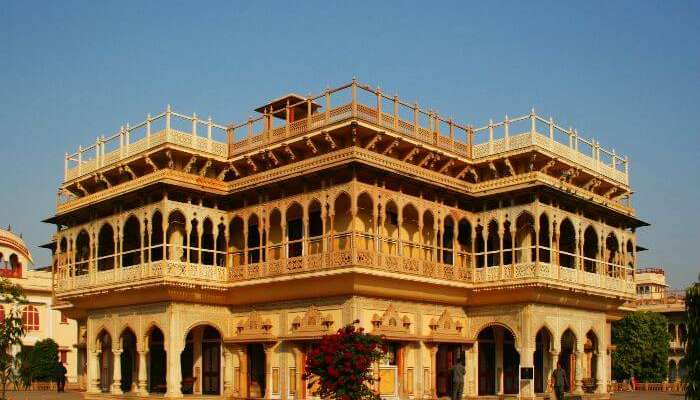 A popular tourist place in Jaipur, the City Palace is famous for its serene amalgamation of rich Rajasthani and Mughal architecture. The intricately designed peacock gates are one of its kind and the palace has vast courtyards, gardens, a museum, an art gallery and a fascinating display of royal costumes and old weapons.
Entry:
Foreigners: INR 350 for adults
Indians: INR 75 for adults
Visiting hours: 9:30 am – 5:00 pm
Must Read: 16 Places To Visit In Rajasthan: Get A Glimpse Of Rajputana Splendor In 2019!
7. Jal Mahal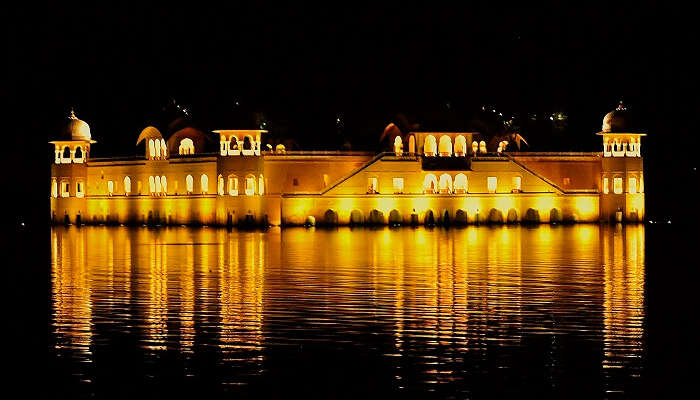 Jal Mahal, located in the middle of Lake Man Sagar, is one of the best places to see in Jaipur. This 5-storey palace has 4 storeys beneath the surface of the water that offer a unique underwater viewing experience. The architecture is a fusion of Mughal and Rajput styles. The clear water of the lake and the scenic views of the surrounding Aravallis make the palace look all absolutely stunning, especially at night.
Visiting hours: One cannot go inside the fort. However, you can marvel at this beauty anytime you'd like
Must Read: 10 Must-Visit Fancy Cafes in Jaipur You Can't Miss
8. Hawa Mahal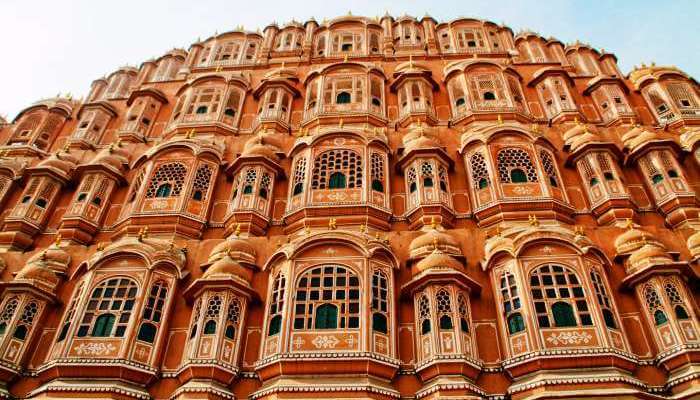 Jaipur main tourist place, this place needs no introduction. Hawa Mahal, famous as the palace of the winds, is one of best places to see in Jaipur. The immensely breezy palace provides a spectacular view of the city below. The panoramic views of the palace and the shimmering city are a treat to the eyes.
Entry:
Foreigners: INR 50 for adults
Indians: INR 10 for adults
Visiting hours: 9:00 am – 4:30 pm
Must Read: 13 Palaces In India That Can Give Buckingham Palace A Run For Its Money
9. Rambagh Palace
Rambagh Palace, once the residence of the Maharajas, now serves as one of the best hotels in the world. It was made as a garden house for the nurse of Raja Ram Singh. It was later converted into a hunting lodge and then into the principle residence of Maharaja Sawai Man Singh II, before it was finally converted into a 5-star hotel by the Taj Group.
Visiting hours: 6:00 am – 6 pm (for public visit without stays)
For further details on tariff and room availability, click here.
Must Read: Adventure Places In Jaipur: 8 Best Sites To Witness The Thrilling Side Of The Pink City!
Best Temples To Visit In Jaipur
Temples in Jaipur are also worth visiting not because of their exhilarating architecture but also the local dieties that you may not have heard of before.
10. Birla Mandir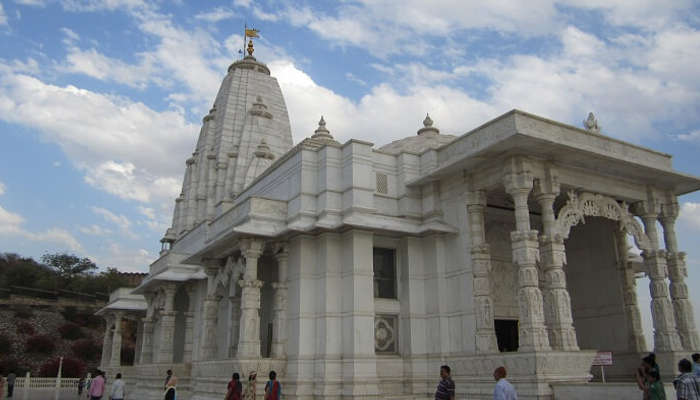 Birla Mandir, one of the most popular religious place in Jaipur, is located at the foot of the Moti Dungri Hill in Jaipur. The temple, built in white marble, has Lord Vishnu and Goddess Laxmi as the main deities. The temple is constructed using white marble which is why it shines white in the day and even looks charming in the night when it is all lit up. You have got to check out the impressive architecture of this place. Put this on your itinerary if you are looking for places to visit in Jaipur in 2 days
Entry: Free
Visiting hours: 8:00 am – 12:00 pm, 4:00 pm – 8:00 pm
Suggested Read: Swing, Dance, & Rejoice At Teej Festival In Jaipur – A Fanfare Of Customs & Celebrations
11. Galtaji Temple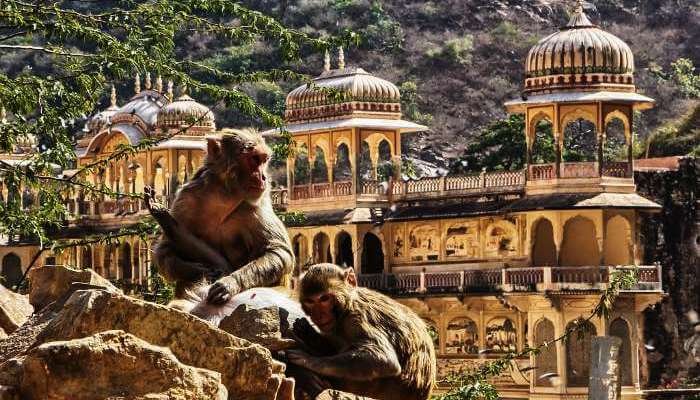 One of the buzzing tourist places in Jaipur, Monkey Temple is famous for its rather complex structure. It has three sacred pools of water and is surrounded by two granite cliffs. You can actually spot a lot of monkeys bathing in those pools. Enjoy the stupendous views of the Aravalli Hills and the dense greenery because of which the temperature of this place is always moderate.
Entry: Free
Opening Hours: It is advised to go during late afternoon, during the sunset when the monkeys get into the temple.
Must Read: Swing, Dance, & Rejoice At Teej Festival In Jaipur – A Fanfare Of Customs & Celebrations
12. Govindji Temple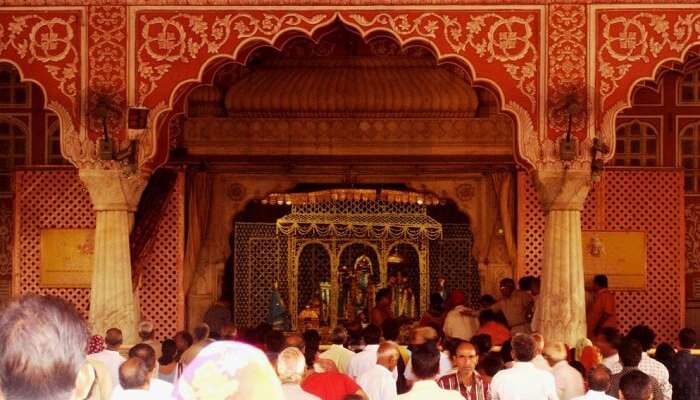 Govind Dev Ji Temple, located within the City Palace complex, is dedicated to Lord Krishna. This temple is among the 7 temples of Thakur of Vrindavan, including Sri Radhavallabh Ji, Shri Bankey Bihari Ji, Shri Govind Dev Ji and four others. It was Maharaja Sawai Jai Singh II who brought the murti here from Vrindavan.
Entry: Free
Aarti timings at Govind Dev Ji temple: 4:30 am – 5:00 am, 7:30 am – 8:45 am, 9:30 am – 10:15 am, 11:00 am – 11:30 am, 5:45 pm – 6:15 pm, 6:45 pm – 8:00 pm, and 9:00 pm – 9:30 pm
13. Bhuteshwar Nath Mahadev
This temple is the final destination of a trek that begins from Sagar Lake that is located at the backside of Amer Fort. In the beginning, the trek would seem to be a bit steep and would gradually become smoother. This trek too would feed the souls of adventurous travelers who will also get to witness the picturesque views of Aravali hills as they'll reach the temple.
Visiting hours: NA
Best Gardens To Visit In Jaipur
The sprawling garden in and around Jaipur are something you should check out on your Jaipur sightseeing. These gardens will equally put you in awe as its forts and palaces.
14. Sisodia Rani Garden – The Symbol Of Eternal Love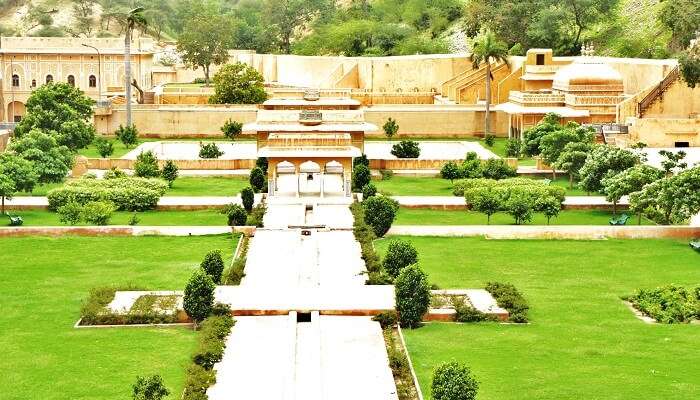 Sisodia Rani Garden, built 10 km from Jaipur in 1728, is considered as a symbol of eternal love between Maharaja Sawai Jai Singh and Rani Sisodia Jai Singh and counted amongst one of the best tourist places in Jaipur, Rajasthan. The garden has, ever since, been a getaway for the queens of Jaipur. It is themed on the stories of love between Lord Krishna and Radha. In addition to a tourist attraction, the garden is also a popular wedding destination in Jaipur.
Entry: Free
Visiting hours: 9:30 am – 4:30 pm
Suggested Read: 10 Road Trips From Jaipur That'll Invoke Serious Wanderlust In You
---
Planning your holiday in Rajasthan but confused about what to do? These Rajasthan travel stories help you find your best trip ever!
Real travel stories. Real stays. Handy tips to help you make the right choice.
---
15. Central Park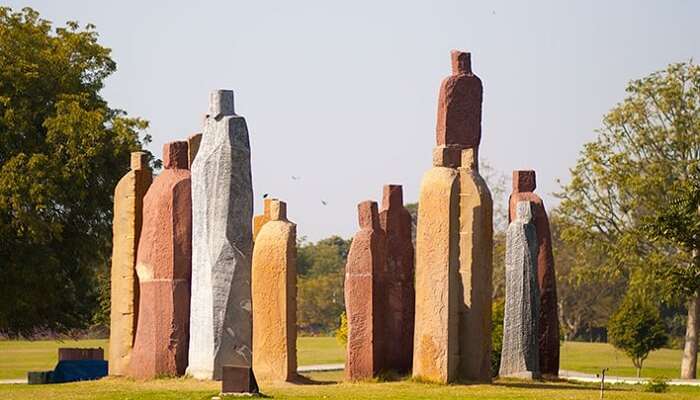 One of the largest and most colorful gardens in Jaipur, the Central Park is located in the heart of the city. Musical fountain, temple, stone states, 206-feet national flag, and the 5 km long jogging and walking track are some of the attractions of the park. The park, developed by the Jaipur Development Authority, is also set to be turned into a theme park soon.
Entry: Free
Visiting hours: Open 24 x 7
Best Places For Shopping In Jaipur
If you are looking for places to visit in Jaipur for shopping, here are the markets where you can splurge all your money on handicrafts, clothes, and jewelery that Jaipur is famous for.
16. Johari Bazaar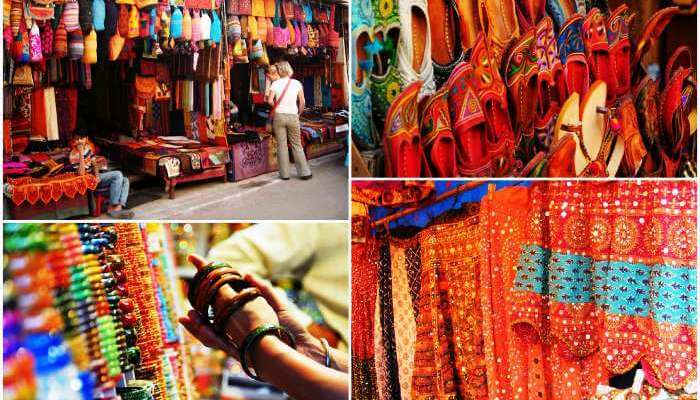 Famous for its amazing collection of precious gemstones, costume jewellery, bangles, traditional clothes, textiles and a lot more, Johari Bazaar and MI Road are among key tourist places in Jaipur. If you want to do some wedding shopping, then this is the best place in Jaipur to get all your needs sorted. You will easily find this location in the Jaipur tourist places map.
Visiting hours: 9:00 am – 8:00 pm; closed on Sunday
Must Read: Get The Rajasthani Bohemia On! 8 Amazing Shopping Places In Jaipur
17. Bapu Bazaar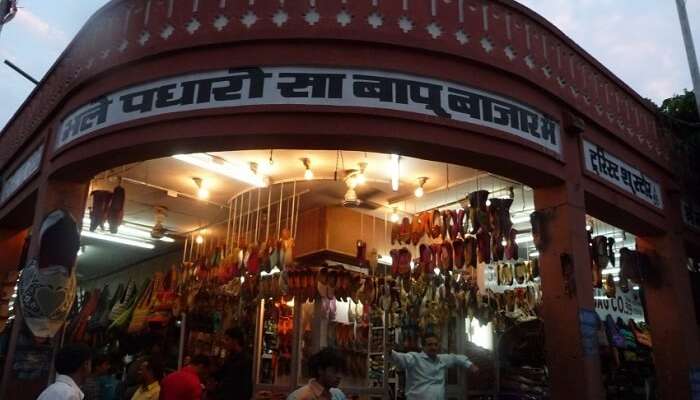 The Bapu Bazaar boasts of an untouched legacy among the largest camel leather market in the world. It is popular for its high-quality leather belts, wallets, lamp sheds, and bags. But it is the fine quality Mojri shoes that have made the market so popular. If you are looking for bags and footwear made from real leather, then this is the best place to find something for your taste. This is one of the best places to visit in Jaipur in 2 days.
Visiting hours: 9:00 am – 8:00 pm; closed on Sunday
Other Popular Places To Visit In Jaipur
Jaipur is no short of attractions. Here are more that you may wish to explore on your trip, some of which are apt places to visit in Jaipur for couples.
18. Mirza Ismail Road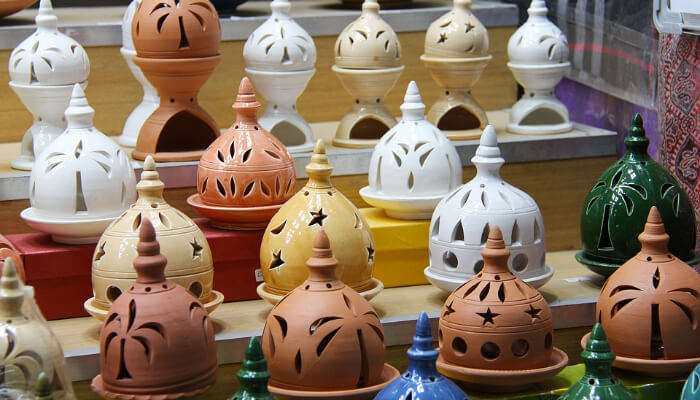 Mirza Ismail Road is one of the most popular shopping places in Jaipur. If you are planning to shop during your vacation this is where you must come. This one of the oldest market lane in the city and is known for its traditional pottery products. The mind-blowing pottery pieces have a fan following from around the globe. The bazaar also has a variety of gorgeous wooden sculptures and handicrafts and brass products for home decor. You can buy your souvenirs from here during your vacation in the capital of Rajasthan, you get a variety of things to buy.
19. Tripolia Bazaar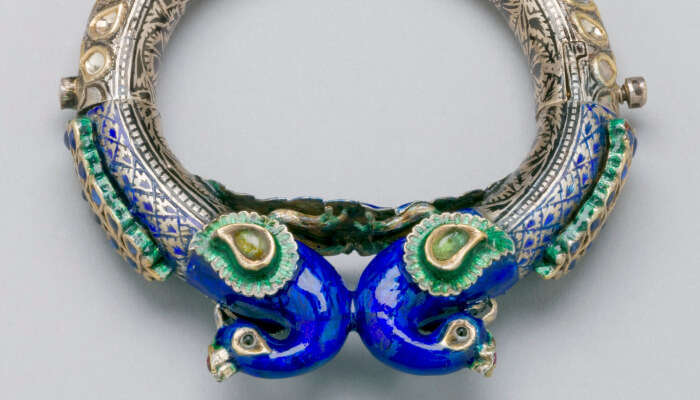 The traditional lac (wax) jewelry of Jaipur is one of the most popular products of Rajasthan. And if you are willing to buy lac jewelry, there's no better place that Tripolia Bazaar. Here you would find some exclusive and intricate designs of the jewelry. The bazaar also has stalls selling traditional Rajashtan textile products in various embroidered patterns, patchwork, and colors. Bandini or Bandhej is an authentic method of dying fabric. You can also shop for puppets, carpets, and brass utensils, at Tripolia Bazaar.
Suggested Read: Our 6 days In Rajasthan Gave Us Majestic Experiences To Be Cherished Forever
20. Abhaneri Step Well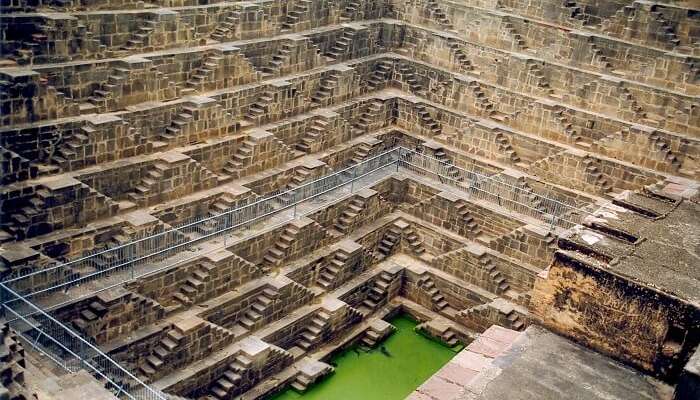 Abhaneri, or Abha Nagri as it was originally named, is located in the desert area 95 km from Jaipur. To counter the shortage of water in the desert area, the locals invented the Chand Baori and other step wells to reserve water for use in the dry seasons. This place soon started being used as a cool place to relax in the hot summers.
Entry: Free
Visiting hours: 8:00 am – 6:00 pm
Must Read: 10 Private Places For Couples In Jaipur For A Super Romantic Date In 2019
21. Raj Mandir Cinema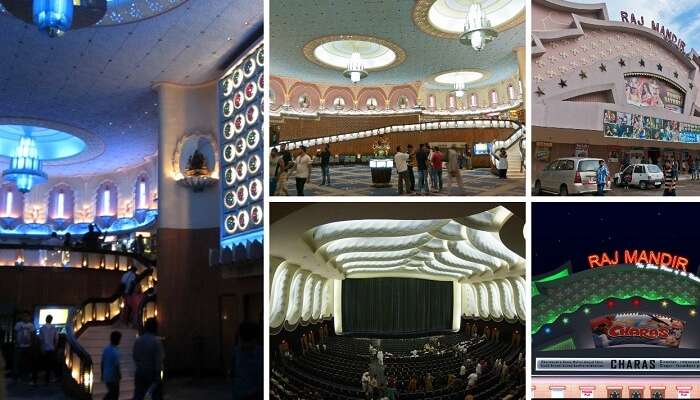 Raj Mandir Cinema, the meringue-shaped cinema complex, is a popular tourist place in Jaipur. Both locals and tourists flock in to see the Bollywood films. The complex, built in 1976 and designed by W M Namjoshi in the modern-style art, has a capacity of 1300 people. The ceiling design, indirect lighting system, and glittering stars add to the appeal of this film-theater.
Check here for show timings and ticket rates.
22. Chokhi Dhani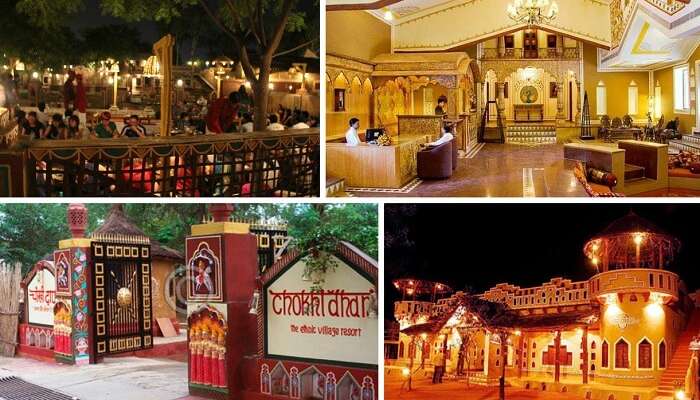 Celebrations never stop at the ethnic village resort of Chokhi Dhani. The 5-star resort is a replica of a traditional Rajasthani village. Traditional Rajasthani food, puppet shows, folk music, and traditional dance performances add to the charm of this tourist place in Jaipur. Those who do not wish to stay here can still enjoy these performances and food at the restaurant.
Entry:
Traditional Rajasthani Dining: INR 600 for adults, INR 350 for kids
AC Royal Rajasthani Dining: INR 800 for adults, INR 500 for kids
Visiting hours: 5:00 pm – 11:00 pm
23. Elefantastic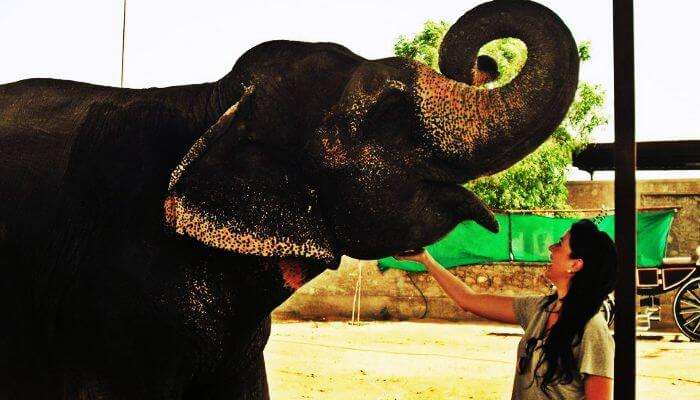 A major one among tourist attractions of Jaipur, Elefantastic famous for its unique concept of a small elephant farm in a village. Here people love elephants and are educated about their medicines, treatment, diet and so on. So, even the animal lovers can visit this place and show some affection to the tuskers. An Elephant safari is what you can't miss here!
Entry: INR 80 per person for farm entry, INR 3,500 per person for Elephant Safari
Visiting hours: 10:30 am – 6:00 pm
24. Albert Hall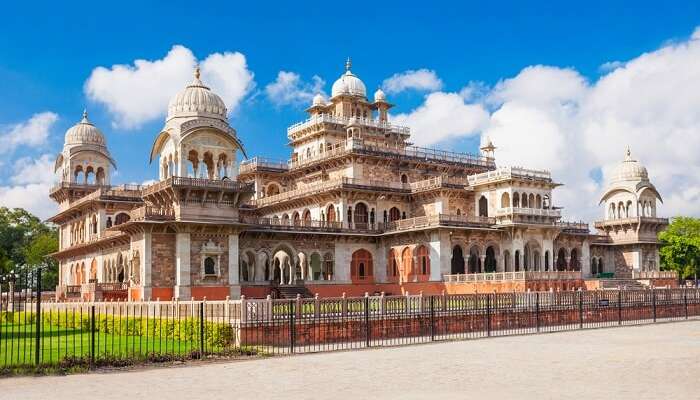 Commonly called as Albert Hall, Government Central Museum is among famous places to see in Jaipur. Visit it to see a collection of local king's portraits, artefacts, handicrafts and paintings of the glorious past of the city and the royal families. This is also a home to one of the six 'Egyptian Mummies in India' that has brought a lot of international acclaim to this museum. It was built in the commemoration of the visit of Prince Albert.
Entry:
Foreigners: INR 150
Indians: INR 20
Visiting hours: 10:00 am – 4:30 pm
Must Read: 13 Places In India You Must Visit With Your Family
25. Jantar Mantar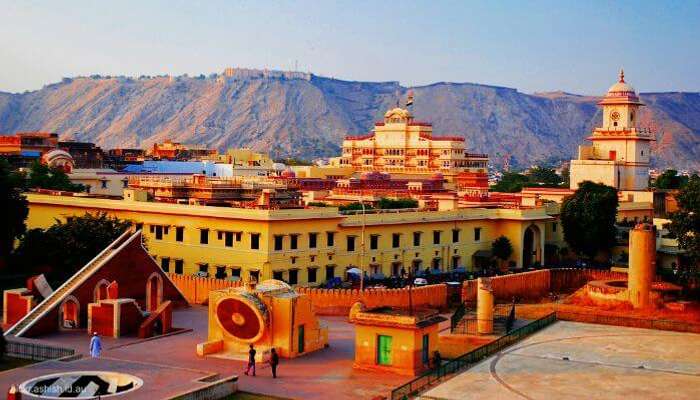 Famous for its intriguing sculptures and structures, Jantar Mantar Observatory is among the most popular tourist places in Jaipur. It tells a lot about how people in olden times calculated or estimated time. The huge Samrat yantra sundial – a time calculator, is really impressive.
Entry:
Foreigners: INR 200 for adults, INR 100 for students
Indians: INR 40 for adults, INR 15 for students
Visiting hours: 9:00 am – 4:30 pm
Note: Composite ticket for entry to Jaipur monuments can be procured from any of the 5 monuments that it includes, viz. Albert Hall, Hawa Mahal, Jantar Mantar, Nahargarh Fort, and Amer Fort. The prices are as follows:
Foreigners: INR 350 for adults, INR 175 for students
Indians: INR 70 for adults, INR 25 for students
26. Sambhar Lake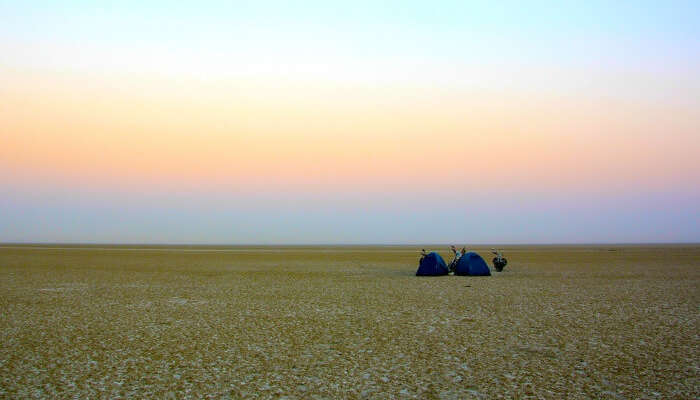 Sambhar is located near Jaipur is known for its lake known by the same name. Sambhar Lake is a vast saline waterbody, which is considered to be the largest in India. Here, you can have a great experience by camping near the lake. The sunsets here are a must to see, giving you all the reasons to take out your camera and start a long photo session.
Visiting hours: 12 am to 12 pm
27. Hathni Kund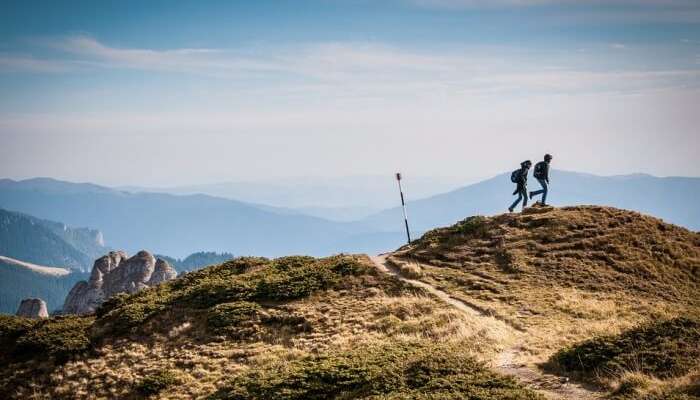 This is a trek that passes along the lush-green valleys. On the trail, trekkers can enjoy the view of picturesque landscapes with mesmerising sand dunes everywhere. Hathni Kund is located 17 kilometers from Jaipur and is totally worth a visit. For those looking for adventure in their trip, this is one of the ideal tourist places near Jaipur, Rajasthan.
Visiting hours: NA
28. Chour Ghati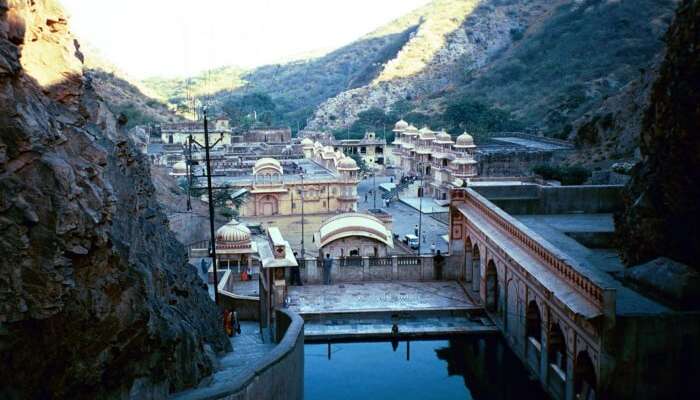 This trail lies in the Galta Valley amidst the ruins of Aravalis. While trekking here, you can witness the majestic beauty of Sun Temple and Chour Palace. During the trek, you can even relish the beauty of a lake that runs amidst the forests. Moreover, while trekking on this trail, you will come across Monkey Temple and Monkey Valley. Chour Ghati is at a distance of 14 kilometers from Pink City Centre.
Visiting hours: NA
29. Water Valley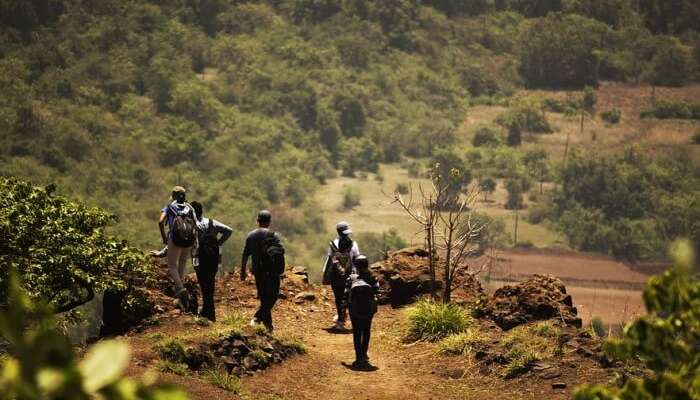 This is a trek located close to Man Sagar Lake and therefore is called by the name Water Valley. The whole trek is surrounded by dense greenery, bringing the trekkers closer to nature. A beautiful view of Man Sagar can also be enjoyed alongside the trek. As you'll reach the top, you would be taken by surprise by the glorious view of city of Jaipur and Jal Mahal.
Visiting hours: 11am to 2am
30. Jhalana Leopard Conservation Reserve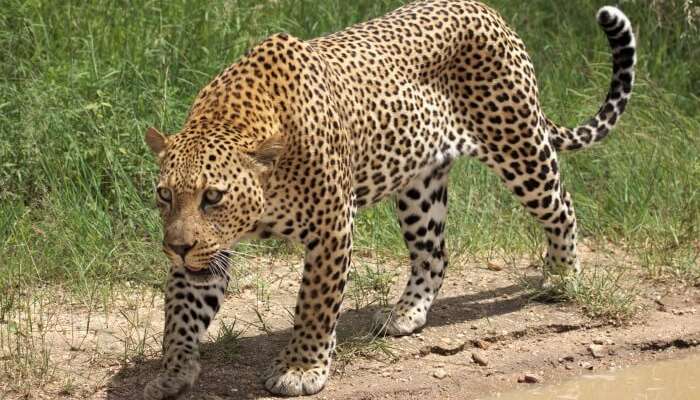 Jhalana Leopard Conservation Reserve covers a vast area of 20 kilometers square or more. The whole reserve has been enveloped within Jaipur city. This is one of the ideal places where you can be a witness to the majestic leopards that can appear frequently before your eyes. Apart from the leopards, you can even encounter spotted deers, blue bulls, desert fox, rhesus macaque, etc.
Visiting hours: 6am to 9am, 3pm to 6pm
31. Pink City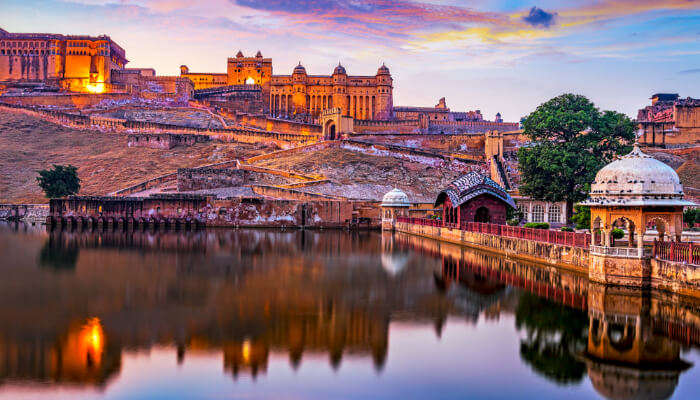 Pink City in Jaipur in the old walled city which dates back to 1727. It was established by Maharaja Jai Singh II and has been declared as the World Heritage Site by UNESCO in June 2019. The boundary walls are six meters high and three meters thick, circumferencing the entire area called the Pink City. There are seven gates to this interesting city namely, Suraj Pol, Chand Pol, New Gate, Ghat Gate, Sanganeri Gate, Samrat Gate, and Zorawar Singh Gate.
Visiting Hours: Until late hours
32. Moti Dungri Temple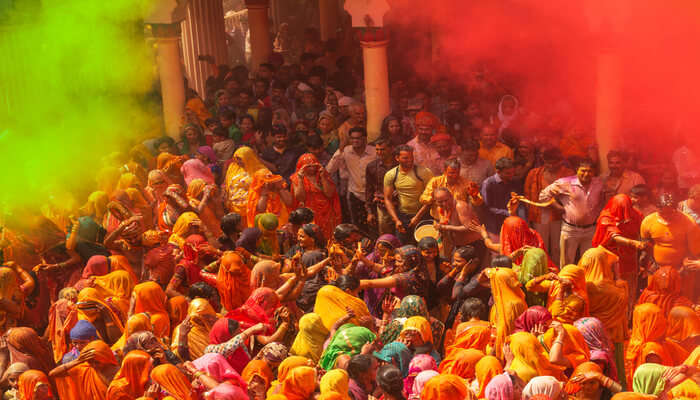 Moti Dungri Temple is an interesting temple in Jaipur that is located on a small hillock bordering Moti Dungri Palace. However, the palace is a cultural landmark but can not be visited by tourists but the temple has been enticing pilgrims and visitors for decades. This temple is known for its exclusive latticework exhibiting famous Hindu mythological characters. The most beautiful part of this temple resembles an old Scottish castle.
Visiting Hours: 4:30 AM-9:30 PM
33. Panna Meena Ka Kund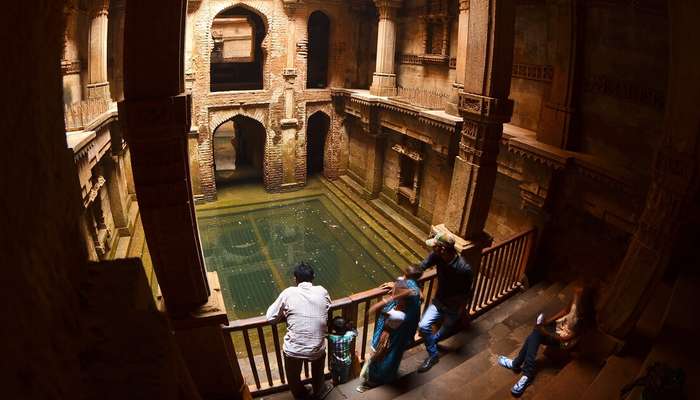 This ancient stepwell is amongst the numerous popular architectural marvels of Jaipur. It was established in the 16th century and has interesting folklores about its name. The original purpose of this stepwell was to supply drinking water to the locals for daily needs. The kund also served as a community center for centuries.
Visiting Hours: 24 hours
34. Ram Nivas Garden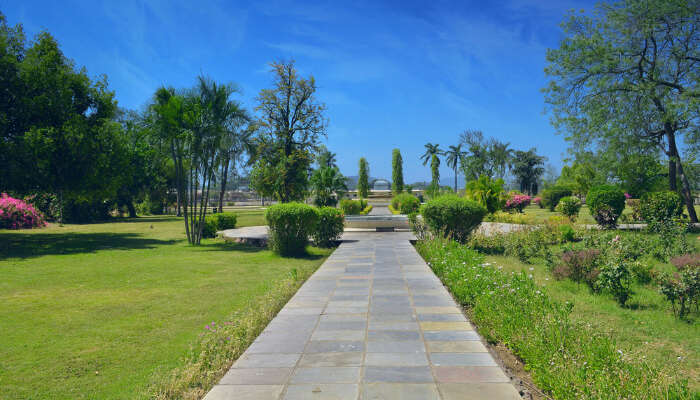 Ram Nivaw Garden is a stunning royal garden that was built in 1868. The garden was established by Maharaja Sawai Ram Singh in the core of the Jaipur city. The garden is spread over an area of 30 acres and is home to the famous Albert Hall Museum. This beautiful garden gives a glimpse of the royal lifestyle of the British Raj in India.
Visiting Hours: 8:30 AM – 5:30 PM
35. World Trade Park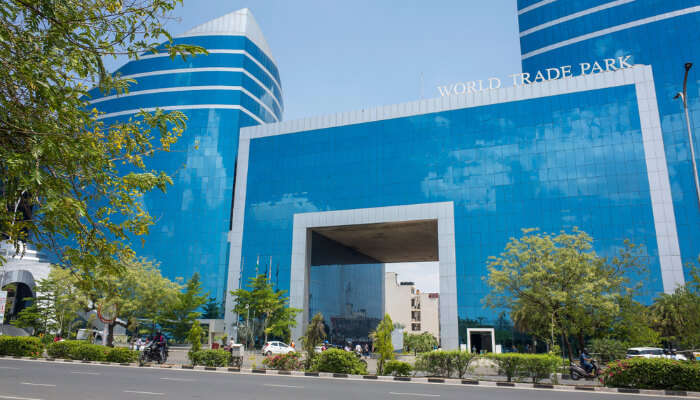 If you are a shopaholic and staying in Jaipur for vacation, then don't forget to visit World Trade Park which is quite popular for shopping and entertainment. This amazing place was inaugurated in the year 2012 and occupies an area of over 52 acres. This place offers an enormous collection of bags, luggage, footwear shops, watches, sportswear, handicraft shops, gift shops, beauty, skincare products, jewelry brands, and cosmetic stores.
Visiting Hours: 11:00 AM – 10:00 PM
36. Anokhi Museum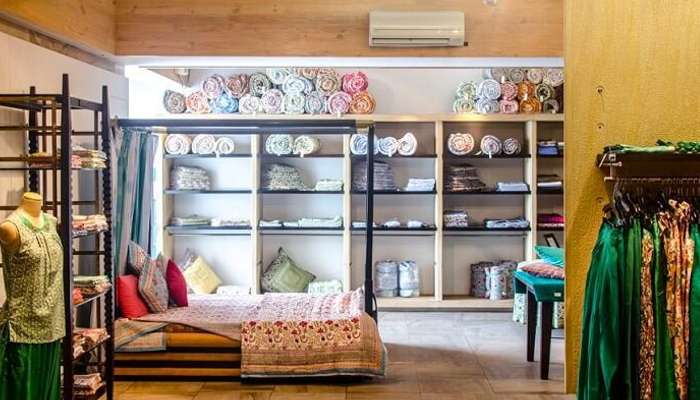 The Anokhi Museum of Handmade Paintings is an interesting place that exhibits the oldest forms of Rajasthani art. You will be glancing over a hundred hand-printed garments, keeping alive the old tradition of hand printing. This interesting place also holds a certification from UNESCO for its amazing collections and preservations of art.
Visiting Hours: Tue-sat- 10 AM-5:30 PM & Sun- 11 AM-4:30 PM
Further Read: 38 Most Colorful Places In India That Will Make Your Heart Skip A Beat
The city of forts and palaces, scintillating views and spectacular architecture is sure to leave you overwhelmed. The city of Jaipur is truly the place to be the king or queen you always wanted to be. Keep our list of tourist places in Jaipur handy while you plan a visit here!
---
Frequently Asked Questions About Tourist Places In Jaipur
Q. What are the places to visit in Jaipur at night?

A. Some of the places to visit in Jaipur at night are Chokhi Dhani, Jal Mahal, Hawa Mahal and more.
Q. What are the places to visit in Jaipur in two days?

A. Some of the places to visit in Jaipur in two days are City Palace, Jal Mahal, Nahargarh Fort, Amer Fort and many more.
Comments
comments