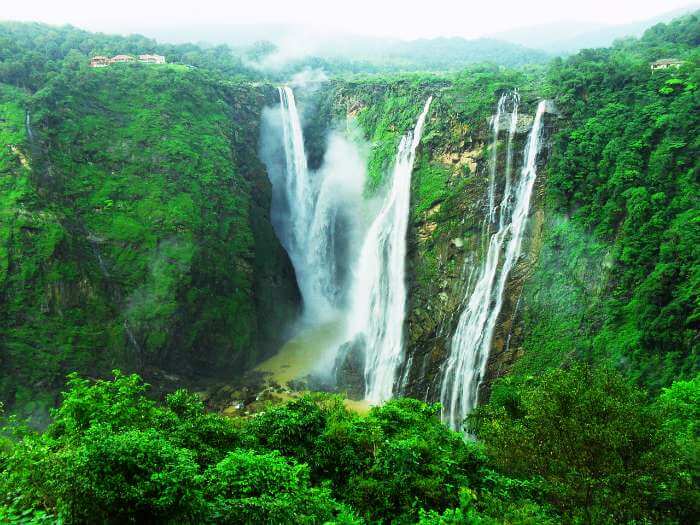 If you are tired of your fast paced life and are looking for a perfect weekend getaway near Bangalore, you landed on right page. Karnataka is home to numerous waterfalls which offer you not only breathtaking views but also peace of mind. The routes to these waterfalls are equally scenic and refreshing and make for a perfect break from the city.
So here is a list of 10 most beautiful waterfalls near Bangalore, handpicked for you:
1. Chunchi Falls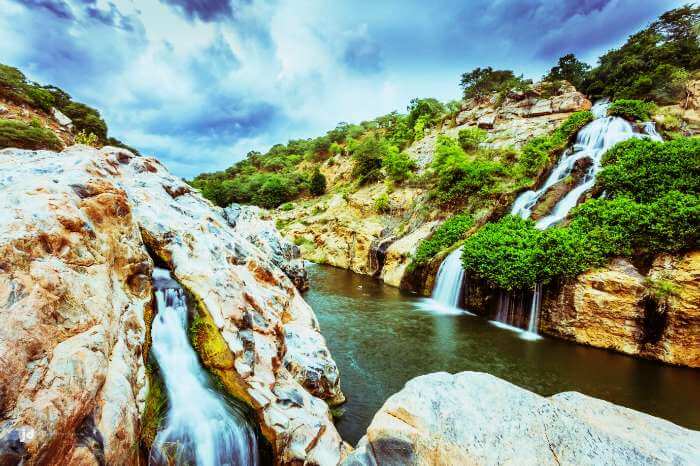 Image Source
Fed by river Arkavati, Chunchi falls is en route to Mekedatu and Sangama, it is the amongst the most scenic falls near Bangalore. Sangama is a place where 3 rivers join and flow through Mekedatu a rocky valley. The route to Chunchi Falls is full of greenery.
Distance from Bangalore: 83 kms
Commonly Visited From: Sangama & Mekedatu (13.5 Kms)
How to reach: We recommend you take your own transport since public transport is limited. It takes about 2 to 3 hours to reach this waterfall. The closest railway station to Chunchi Falls is Kanakapura.
Best Time to Visit: Post monsoons and winter
Must Read: 15 Fabulous Places To See In A Day Around Bangalore
---
South Weekend Holiday Packages On TravelTriangle
A trip to South India has a lot to offer – from tranquillity of forests to charm of sizzling beaches and from lost kingdoms to chills of a hill station. Visit Kerala, Coorg, Ooty, Mysore, or Kodaikanal. Book holiday packages inclusive of airport transfers, cab, resort, sightseeing, and meals.
---
2. Shivanasamudra Falls, Mandya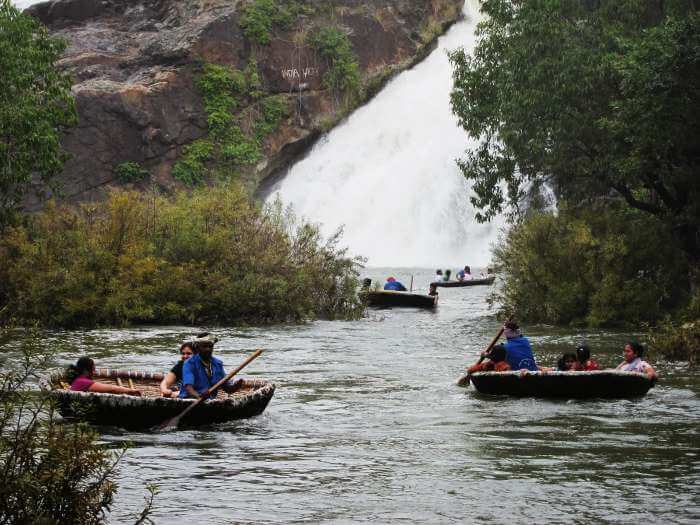 Image Source
Kaveri river flows through stone filled topography of the deccan plateau and drops off in the form of Shivanasamudra Falls.The river further splits into two beautiful waterfalls – Barachukki and Gaganchukki, making this waterfall near Bangalore a popular holiday getaway.
Fact: Visitors can also enjoy a coracle ride over the gushing waves of the water at the bottom of the falls.
Distance from Bangalore: 110 kms
Nearest base station: Mysore; 68 kms from here
How to reach: It is a 3hr drive from Bangalore and is best reached via the Kanakapura main road.
Best Time to Visit: The fall is in its full glory during the monsoon season of July to October.
3. Iruppu Falls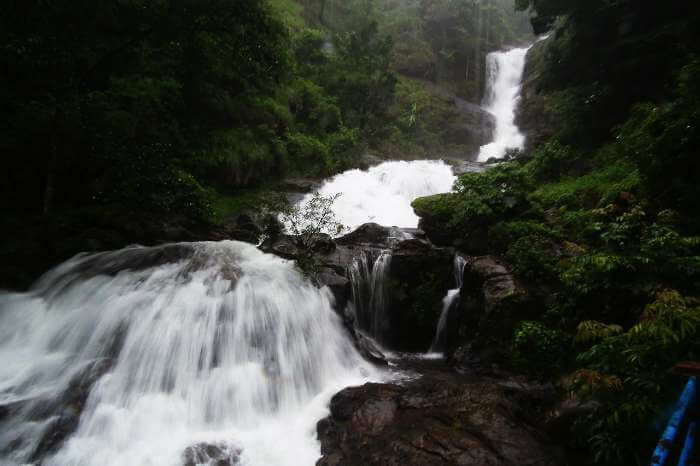 Image Source
Originating from the Brahmagiri Range, the river Lakshmana Theertha plunges down from a height of 170 ft. forming the Iruppu Waterfalls. It creates a ceaseless thunder amidst the silence of the thick wood.
Fact: This pristine waterfall near Bangalore is believed to possess the power to cleanse one's sins and is visited by thousands of devotees from far and near on Shivaratri day.
Distance from Bangalore: 247 kms
Nearest base station: Mysore; 108 kms from here
How to Reach Iruppu Falls: It is located at about 260 kms from Bangalore. The route is Bangalore-Mysore-Gonikoppa-Iruppu. Nearest railway station is Thalassery, Kerala which is located about 58 kms from the Iruppu falls.
Best time to visit: During monsoons and winter.
Must Read: The Ultimate Weekend Getaway Destinations From Bangalore
4. Muthyala Maduvu Falls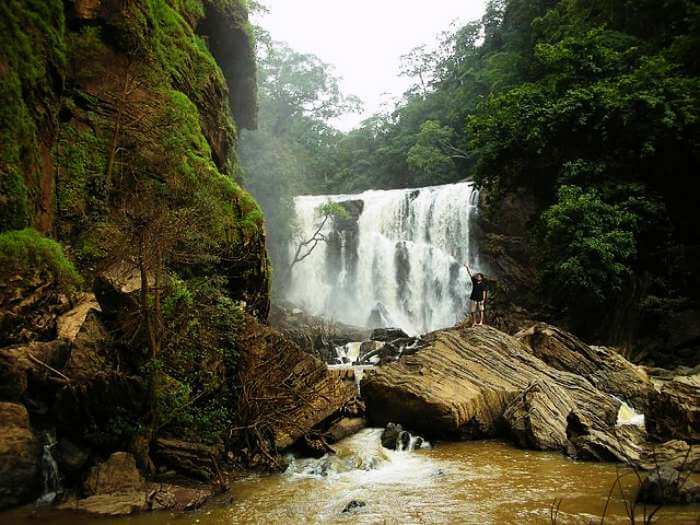 Image Source
Muthyala Maduvu Falls or the Pearl Valley Falls is a gushing stream cascading down from a height of 92 m. The fall, its serene ambience and the lush green valley is a huge draw for visitors.
Distance from Bangalore: 43 kms
Nearest railway station: Bangalore
How to Reach: Muthyala Maduvu Falls is a lovely picnic spot, an hour's drive (about 40 kms) from Bangalore near Anekal. It's in the periphery of Bannerghatta National Park.
Best time to visit: During monsoon i.e. August to November
5. Hogenakkal Falls, Dharmapuri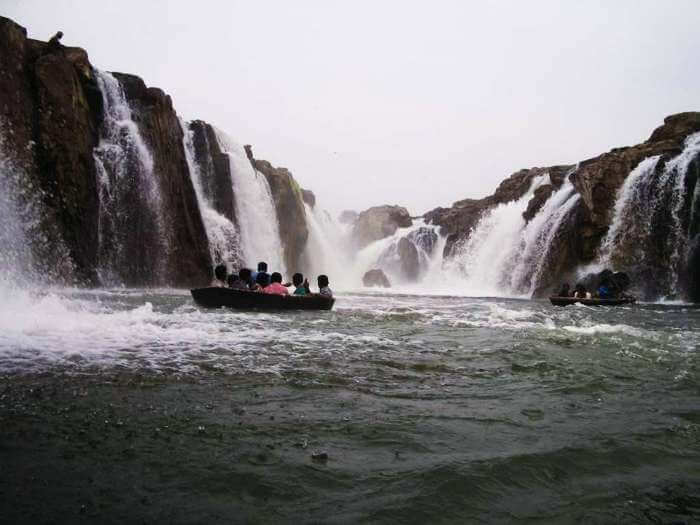 Image Source
River Kaveri enters the Tamil Nadu border descending down the lofty landscape forming the Hogenakkal Waterfalls. It is one of the most best waterfalls near Bangalore for a day's trip.
Distance from Bangalore: 180 kms
Nearest railway station: Salem; 53 kms from here
How to reach: Visitors have to drive for 3 hours on the Malur-Hosur-Adiyamankottai road to reach this waterfall. Nearest railway station is Adiyamankottai.
Best Time to visit: Post monsoons and dry seasons for Coracle rides.
Tip: Coracle riding is one of the main attractions of the area and is allowed during the dry-season when the waterfalls are not strong enough to upset the boats.
Must Read: Hill Stations Near Bangalore
6. Mekedatu falls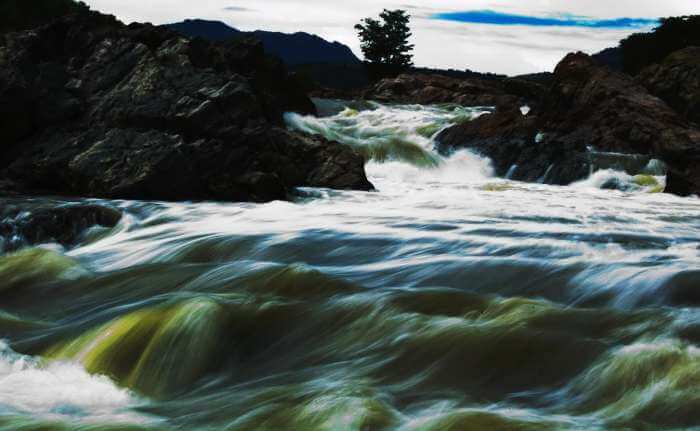 Image Source
Mekedatu means goat's leap in Kannada. River Kaveri flows into a deep and narrow gorge, so narrow that a goat could leap over it and that is how it got its name. When reaching the gorge the river flows ferociously onto the rocks sculpting them into some amazing shapes. The river Kaveri flows through a deep ravine of just 5-10 meter wide.
Distance from Bangalore: 93kms
Commonly Visited From: Brindavan Gardens
How to reach: A diversion is required after Kanakapura (33 km) via Dodda Alahalli & Hegganuru towards Sangama to reach Mekedatu. To visit Mekadatu, cross the river at Sangam on a boat and take public / private transportation to Mekadatu (3.5 kms)
Best Time to visit: September to December
Must Do: Explore the cascades of Mekedatu Falls as you commence on an exciting cycling tour that will take you close to nature and through wilderness trails on your bicycle.
Note: No transportation is available after 5:30 PM.
7. Balmuri Edmuri Waterfalls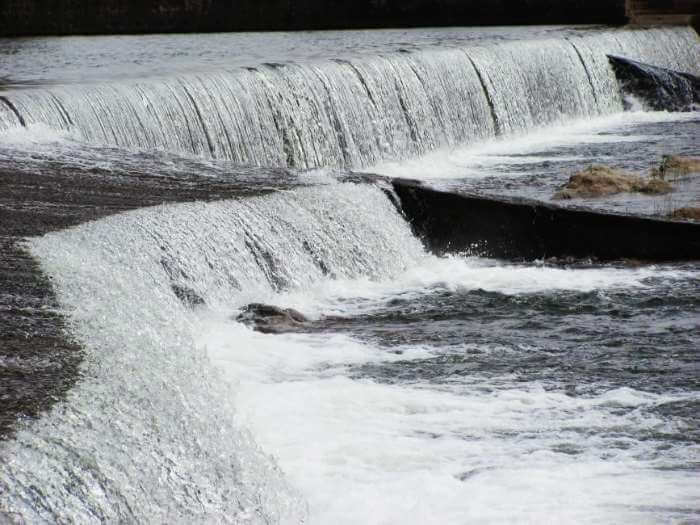 Image Source
Balmuri Edumuri Falls are man-made waterfalls on the way to KRS dam. Edumuri falls is about 1 km from Balmuri Falls. Balmuri Falls are actually small falls created by a check-dam constructed on river Cauvery.
Fact: Balmuri falls is a popular film shooting spot and Edumuri falls is a great spot to swim and play in the water.
Distance from Bangalore: 175 kms
Nearest Railway Station: Mysore; 15 Kms from Mysore railway station
How to reach: About 8 Km before KRS dam, take right turn at Belagola and the Balmuri falls is 3 Km from here.
Commonly Visited From: Brindavan Gardens
Best Time to visit: June to february
Must Read: 21 Road Trips From Bangalore You Must Plan With Your Friends
8. Abbey falls, Coorg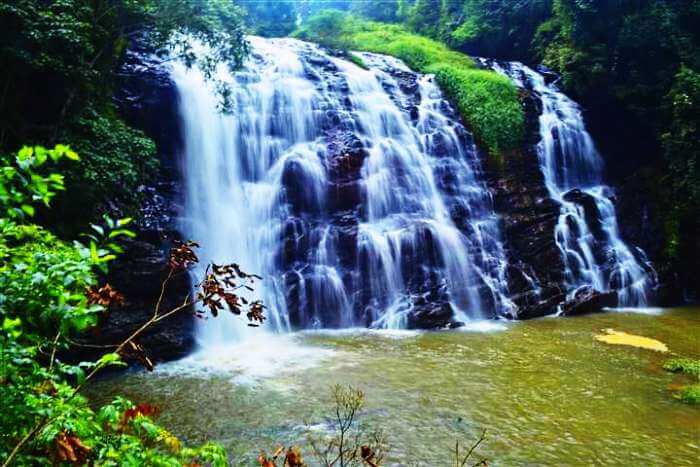 Image Source
It is one of the most spectacular waterfalls near Bangalore. Situated in the middle of a private coffee plantation, numerous small streams and abundant rainfall combine to form the Abbey waterfalls. This waterfall flows to unite with River Kaveri.
Distance from Bangalore: 270 kms
Nearest Bus Station: Madikeri, 7 kms from here
How to reach: This falls is around 7 km from Madikeri town. You can take a bus or hire a jeep or cab to reach here.
Commonly Visited From: Madikeri Bus Station
Best Time to visit: During monsoon or September to January is the beat season to visit.
Must try: Trekking at Nature stay, Brahmagiri Trek and Nishani Motte
Must Read: 10 Places to Visit in Coorg For a Memorable Vacation
9. Chunchanakatte Falls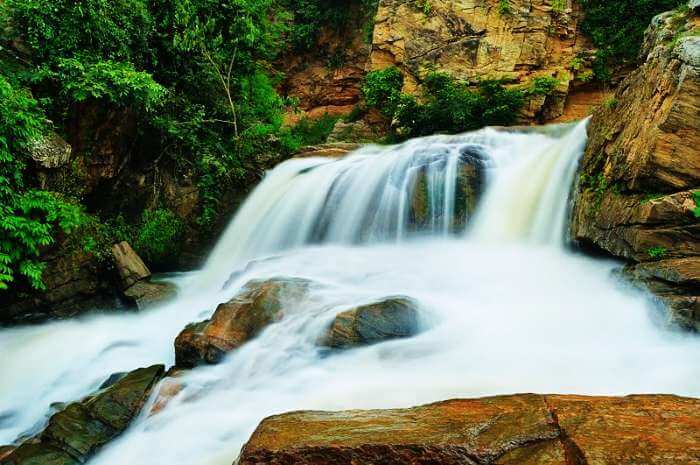 This famous waterfall near Bangalore formed by Cauvery River is 60 feet tall and about 350 feet wide waterfall. The uniqueness of this place is that the sound of the waterfalls can be heard all over except inside the sanctum of the centuries old temple.
Fact: It is also believed that Goddess Sita took holy bath in this river and till now the color of the water looks like mixed with turmeric, oil and shikakai. These shades are visible even today when there is huge amount of water flowing in the falls.
Distance from Bangalore: 190kms
Nearest Railway Station: Mysore; 55 kms from here
How to reach: The waterfall can be reached by taking a diversion at Krishnarajanagar on the Mysore – Hassan highway. One has to take diversion is on the left at the circle in the town of K R Nagar.
Commonly Visited From: Mysore
Best Time to visit: October to March
10. Jog falls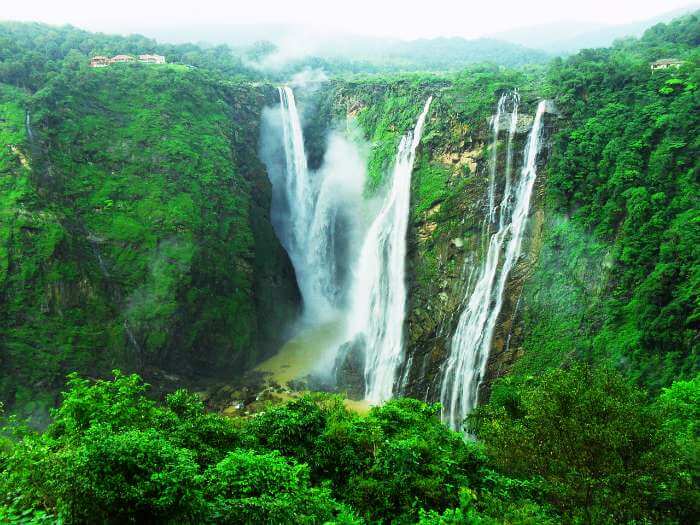 Last but not the least, one of the best waterfalls near Bangalore, Jog falls amongst the most beautiful waterfalls in India. Formed by Sharavathi River, it is also called as Gerusoppa falls and Jogada Gundi. The falls are separated into four different parts and called as Raja, Rocket, Rani & Roarer.
Distance from Bangalore: 375 kms
Nearest Railway Station: Sagar; 28kms from here.
How to reach: Jogfalls is well connected by roads. Private buses ply frequently to Jogfalls from Sagar.
Best Time to visit: August to January
Tip: The backwaters of the Sharavati Wildlife Sanctuary provide excellent opportunities for water sports.
Chill at the stunning waterfalls near Bangalore and share your experience with us!
Futher Read: 10 Romantic Resorts Around Bangalore For The Super Busy Love Birds
---
Looking To Book A Holiday Package?
Book memorable holidays on TravelTriangle with 650+ verified travel agents for 65+ domestic and international destinations.
---
Comments
comments