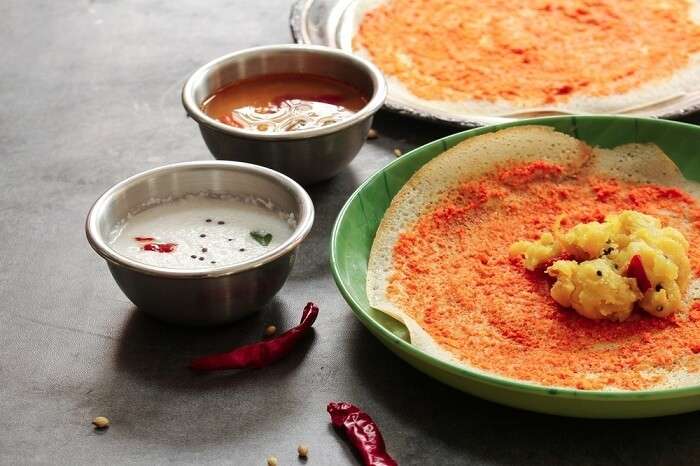 Masala Dosa is the first thing that pops into your head when it comes to Karnataka Cuisine. What you don't know is that Karnataka cuisine, one of the oldest surviving cuisines, is well known for its spicy curries and seafood specialities. Rich and delicious, it has drawn an influence from the neighbouring states and coastal areas.

The taste and variety of Karnataka dishes change as you move from region to region. While North Karnataka food is mainly about vegetarian food, the coastal region serves you lip-smacking seafood. Kodagu region is where you will taste the best meat curries and Mangalorean Cuisine has a rich flavour of coconut and local spices.
Here are top 22 dishes from Karnataka Cuisine you must absolutely have for an amazing gastronomic experience.
Top 22 Karnataka Cuisines
Are you interested in tasting the best of Karnataka cuisine? If yes then check out these scrumptious delicacies one must surely not miss out on while staying here:
1. Mysore Masala Dosa: Staple Food Of Karnataka

Starting from the famous Mysore Masala Dosa, it is a staple food of Karnataka. The reason Mysore Masala Dosa tastes different from the other dosas is the special red spice mix smeared on the inside of the Dosa. The flavour of the red spice mix and the crispiness of Dosa will make you wanting for more. The dosa is best enjoyed with coconut chutney, sambar, and lots of ghee.
Best place to have: Mavalli Tiffin Room in Indiranagar, Vinayaka Mylari in Mysore
Price: INR 70 per plate
Must Read: 8 Best National Parks In Karnataka For The Wildlife Enthusiasts To Explore
2. Mysore Pak: People's Favourite Dessert

If you haven't heard about this famous sweet, have you ever been living in this world? Mysore Pak is a Karnataka sweet made with a concoction of ghee, sugar, and gram flour. It was first created in the kitchens of Mysore Palace during the regime of Raja Wadiyar IV and now has become people's favourite dessert. If you find yourself in Mysore, stop at one of its sweet shops and bring yourself a box of famous Mysore Pak. It is an iconic item of Karnataka Cuisine.
Best place to have: Vaishnavi Sweets in Mysore
Price: INR 150/kilogram
Suggested Read: Shopping In Mysore: Top 10 Things To Buy
3. Chow Chow Bhath: Two-in-one Dish

For those who like to eat spicy and sweet at the same time, Chow chow Bath is just the Karnataka food for you. It is a two-in-one dish; Khara Bath and Kesari Bath. While Khara Bath is the spicy Upma made with peanuts and vegetables, Kesari Bath is sweet Halwa which gets its orange colour from saffron. Both these delectable dishes are made with semolina (sooji). It is Karnataka's favourite breakfast meal.
Best place to have: Brahmin's Coffee Bar in Bangalore, Taaza Thindi in Bangalore
Price: NA
Suggested Read: 10 Awesome Places To Visit Near Coorg On Your Next Holiday To Karnataka
4. Ragi Mudde And Sopinna Saru: Healthylicious

Ragi Mudde is a part of the Karnataka cuisine in rural areas and is made with Ragi flour and water. The dough is rolled into balls and is eaten with Sopinna Saru which is simply a gravy made with green leafy vegetables and lentils cooked with spices. The consistency of Saru makes it easier to swallow Mudde. This Karnataka recipe is very high in nutritional value and has amazing health benefits.
Best place to have: Prems Graama Bhojanam, Kamat Lokaruchi in Mysore
Price: NA
Suggested Read: 15 Top Hill Stations In Karnataka To Rejuvenate Yourself
5. Korri Gassi: Flavours Of Karnataka

Korri Gassi is a lip-smacking chicken curry that comes from the coastal region of Karnataka. In the Tulu language, chicken is called 'korri' and the curry is called 'gassi'. The curry is infused with the flavours of coconut and tamarind which are the main ingredients of this dish. It is served along with Neer Dosa. The aroma and flavours of this chicken curry describe the Karnataka Cuisine scene at its best.
Best place to have: Sea Rock in Seshadripuram, Coastal Mama in JP Nagar
Price: NA
Suggested Read: 25 Stunning Places To Visit In Summer In Karnataka For A Relaxing Retreat
6. Obbattu Or Holige: Sweet Paranthay

What is popularly known as Puran Poli in Maharashtra, Obbattu or holige in Karnataka is one of the most favourite and important dishes in the Mangalorean Cuisine. Obbattu is a sweet Indian flatbread made of lentils and jaggery. The mixture of lentils, jaggery, and coconut is covered with flour dough and rolled into a sweet parantha. It is an integral part of all the festivals and traditions. It is one of the most famous food of Karnataka.
Best place to have: The Green Path in Malleshwaram, Mane Holige in Jayanagar
Price: INR 100 for two.
Suggested Read: 21 Historical Places In Karnataka Every History Buff Should Visit
7. Kane Rava Fry: Epicurean's Delight

How can Mangalorean Cuisine be complete without a coastal fish curry? This authentic dish of Karnataka is made with Ladyfish dipped in fiery red chilli paste batter which is then coated with semolina and fried till it is golden and crisp. The fish is crispy on the outside and tender and juicy inside. This coastal delicacy is a favourite among the fish-eating community. This traditional food of Karnataka is one of the most famous.
Best place to have: Sea Rock in Seshadripuram, Maravanthe in Indiranagar
Price: NA
Suggested Read: 24 Places To Visit In Dandeli For Unforgettable Adventure
8. Bisi Bele Bath: South Indian Khichdi

Bisi Bele Bhath is such a popular south-Indian meal that you will find in every Karnataka restaurant. The wholesome meal is made with rice, lentils, and vegetables cooked together with tamarind paste and dry coconut. The south-Indian version of 'Indian Khichdi' is served along with papadum and buttermilk. Bisi Bele Bath is the perfect dish for the days when you want something simple yet flavorful. It is a staple food of Karnataka
Best place to have: Mavalli Tiffin Room in Indiranagar
Price: INR 150 for two
Suggested Read: 13 Picnic Spots Near Mysore Will Help You Discover The Rich Flora & Fauna Of Karnataka
9. Maddur Vada: Snack Time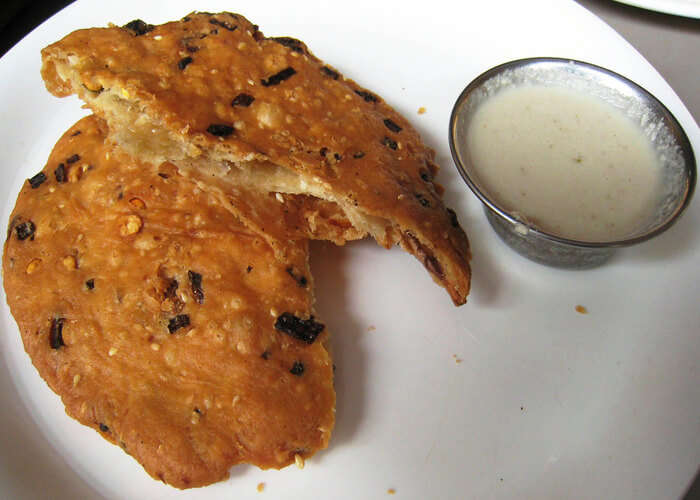 Another most popular Karnataka famous food is Maddur Vada. A very popular tea time snack, it becomes difficult to stop once you start munching these fritters. This Karnataka cuisine recipe derives its name from Maddur town in Mandya, Karnataka. Unlike regular Vada which looks like a doughnut, Maddur Vada is made with maida, semolina, and few spices. You will find this famous fritter snack served in trains and tea stalls. This Karnataka food item is best enjoyed with coconut chutney and filter coffee.
Best place to have: Maddur Tiffany's in Mandya, Go Native in Bangalore
Price: NA
Suggested Read: Monsoon In Karnataka: Here's 15 Places You Must Visit During Monsoon
10. Coorg Pandi Curry: For Non-Vegetarians

Image Source
A non-vegetarian delicacy hailing from the land of Coorg, Pandi Curry is made every time there is a reason for celebration. Traditionally, the dish was made with wild boar and vinegar made out of wild black fruit, but the contemporary version uses pork meat and special 'Coorg Vinegar' which imparts a distinct sour flavour. The rich dark colour to the gravy is imparted by a freshly ground spice blend. The curry is best enjoyed with rice roti or rice balls.
Best place to have: Coorg Cuisine in Madikeri, The Coorg Food Co. in Bangalore
Price: NA
Suggested Read: 28 Best Things To Do In Coorg For A Refreshing Escape From Urban Life
11. Dahi Bada: Melange Of Tangy Flavours

One of the popular Udupi dishes you will find on the menu is Dahi Bada or Thayir Vadai. This recipe is somewhat different from the north Indian version of Dahi Bhalla which is a melange of tangy flavours. The dish is prepared on all eves and festivities in South India and also a popular breakfast meal. If you are visiting a traditional South Indian restaurant, start your meal with this simple yet delectable dish. It is one of the most famous food of Karnataka.
Best place to have: MTR 1924 at St. Mark's Road
Price: INR 60 per plate
Suggested Read: 17 Festivals In Karnataka That Will Give You A Glimpse Into Its Vibrant Culture
12. Filter Coffee: Signature Beverage

Filter Kaapi is love. Enough said.
The Indian coffee is made with boiling frothy milk mixed with a decoction of ground coffee beans brewed in a traditional filter. The right way to drink filter coffee is by slurping it from the small saucer they serve it with. The rich aroma of the coffee will take you straight to the coffee plantations. Filter kaapi is a signature beverage and cultural icon all across Karnataka and other coastal regions.
Best place to have: Shri Sagar and Indian Coffee House in Bangalore
Price: NA
Suggested Read: 9 Museums In Karnataka: Top Creative Spots With A Rich Heritage
13. Mangalorean Bhende Puli Koddel: Crunchy Texture

Puli Kodel is yet another Mangalorean delicacy made from okra cooked in freshly made coconut masala. The dish will win over your senses with the rich aroma and flavour of south-Indian spices. While okra gives it a crunchy texture, jaggery and tamarind in the coconut mixture make it sweet, spicy, and tart all at the same time. This Karnataka special food is made with no onion or garlic and is best enjoyed with steamed rice.
Best place to have: Oota in Bangalore
Price: NA
Suggested Read: 10 Homestays In Coorg That Will Bring You The Exact Feel Of A Sweet Home
14. Udupi Tomato Rasam: Tangy Appetizer

All south Indians start their meal with a tangy appetizer called Rasam. Udupi Rasam is made with tomato and tamarind water tempered with spices which results in a tasteful concoction. A Kannada Brahmin recipe, it is served before meals or with South Indian Thali. It is literally a blast of flavours in your mouth and you won't be able to stop at just one glass.
Best place to have: Prems Graama Bhojanam in Bangalore, Machali in Mangalore
Price: NA
Suggested Read: Explore These Top 17 Places To Visit In Hubli For A Cultural And Heritage Tour Of Karnataka
15. Neer Dosa: Fluffy Laced Crepes

Literally translating to 'Water Dosa' in Tulu Language, Neer Dosa fluffy laced crepes made with rice batter. The difference between a regular dosa and Neer dosa is that its batter is not fermented. An important part of Mangalorean cuisine, it is a great accompaniment with curry dishes like kurma and saggu.
Best place to have: Oota in Bangalore
Price: INR 80
Suggested Read: Monsoon In Karnataka: Here's 15 Places You Must Visit During Monsoon
16. Kundapura Koli Saaru: Authentic Spices

Image Credit: Suraj for Wikimedia
Kundapura Koli Saaru is a unique Karnatic style Chicken curry and is quite popular in the coastal areas of Mangalore. The gravy is cooked with onion, ginger, garlic and other authentic spices. It is usually served with neer dosa, boiled rice, or chapati.  
Best place to have: Anjappar Chettinad Restaurant, Mangalore Pearl
Price: NA
Suggested Read: 13 Churches In Mysore You Should Definitely Visit During Your Karnataka Tour
17. Allugedda: Mashed Potatoes

Image Credit: Navias for Wikimedia
Allugedda is a popular dish of mashed potatoes having tomato, black gram, and onion. It is served with dosa or rice as a side dish. You can also have it as snacks with tea and coffee. 
Best place to have: Bonsouth, The Mangalorean Restaurant
Price: NA
Suggested Read: 27 Exciting Things To Do In Chikmagalur On Your Vacay In Karnataka!
18. Haalbai: Sweet Delight

Image Credit: Miansari for Wikimedia
For those who have a sweet tooth, Karnataka is truly a delightful place. Apart from Mysore Pak, the second most loved sweet here is Haalbai which is made from coconut, rice, and jaggery. To add a distinct flavour, coconut milk is also added to it and it helps as a combining ingredient. 
Best place to have: Go Native, South Ruchis Square
Price: NA
Suggested Read: 47 Best Places To Visit In Karnataka That Will Totally Knock You Out
19. Mangalorean Biryani: Burst of Flavours

Image Credit: Creative Commons Zero for Pxfuel
Mangalorean Biryani is the exclusive biryani of Karnataka that one must surely taste while staying here. What makes it special is the masala paste adding the true flavours of Karnataka to it. The paste includes coconut, cardamom, clove, coriander seeds, fennel seeds, ginger, garlic, cumin seeds, and dry red chilli.  
Best place to have: The Karavali, The Mangalorean Restaurant
Price: INR 150 for two
Suggested Read: This Private Island Homestay In Karnataka Is A Treasure & You Won't Doubt It!
20. Mysore Bonda: Delicious Fried Snack

Image Credit: JPad for Wikimedia
Not like the usual Bonda, Mysore Bonda is made up of maida and yoghurt. Some people make it with urad dal and this delicious fried snack is quite popular in the entire state of Karnataka. Mysore Bonda is generally served with coconut chutney and you can also have sambar with it. 
Best place to have: Bangalore cafe, Vattika Vegetarian Restaurant
Price: NA
Suggested Read: 20 Temples In Karnataka That Are All About Grandeur That You Must Visit
21. Pori Urundai: Puffed Rice And Jaggery

Image Credit: Thamizhpparithi Maari for Wikimedia
What we usually know as kurmura is called Pori Urundai in Karnataka. It is a delicious sweet that is made up of puffed rice and jaggery. Though the recipe is quite simple, the taste is truly delightful. It is a snack and is consumed with coffee or tea.
Best place to have: Karavalli, Tata Cha
Price: NA
Suggested Read: 14 Mystical Places To Visit In Badami, Karnataka That Need Your Attention
22. Chiroti: Flaky Pastry Circles

Image Credit: SR Sasikumar for Wikimedia
Chiroti is a popular sweet of Karnataka that is also popular in other states. It is prepared with maida and these flaky pastry circles are sprinkled with a generous amount of cardamom sugar before serving. The sweet is cooked in households during festivals and special occasions. 
Best place to have: Sri Venkateshwara Sweet-Meat Stall, Vidyarthi Bhavan
Price: INR 54/kg
Further Read: 6 Adventure Sports In Kochi That Will Let You Challenge Your Fears
Told ya! There is more to Karnataka cuisine than just Masala Dosa. The best part is they have a variety of dishes for both vegetarians and non-vegetarians. So you won't have to order the same thing every time. Choose your honeymoon or family getaways from a customized Karnataka trip with TravelTriangle.
For our editorial codes of conduct and copyright disclaimer, please click here
People Also Read
Kolkata Cuisine Uttarakhand Cuisine Himachal Pradesh Cuisine