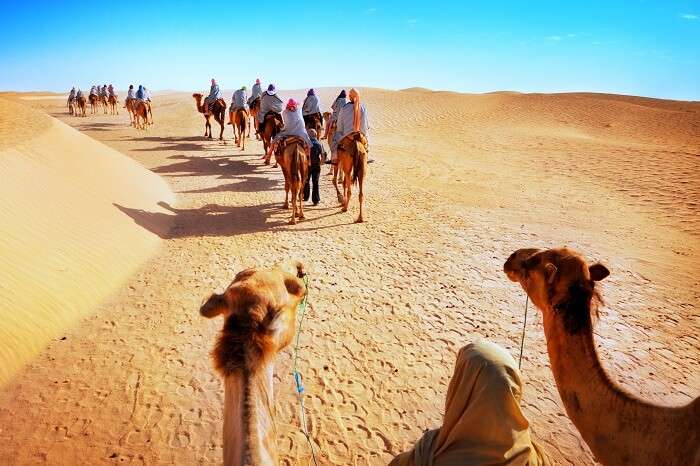 Named after Maharaja Jaisal Singh, Jaisalmer is one of the most popular historical places in Rajasthan. Located amid the expansive Thar desert, the city is known for its rich heritage, traditions, and culture. And the exhilarating adventure sports, fascinating safaris, and camping are only a few of the many things to do in Jaisalmer that add to the rich experience here.
Top 18 Things To Do In Jaisalmer
November to March is the best time to visit Jaisalmer. These months offer comfortable weather to go for desert safari. The vibrant desert festival in February pulls tourists from all over the world. Check out the below given interesting list best things to do in Jaisalmer and indulge in all of these on your next Rajasthan vacation.
Fascinating Jaisalmer Fort
Scenic Jaisalmer City
Great Gadisar Lake
Fantastic Jaisalmer Local Bazaar
Terrific Kanoi
Adventurous Paramotoring
Unforgettable Sam Sand Dunes
Noteworthy Thar Desert
Unique Winds Desert Camp
Enchanting Tanot Mata Temple
Impressive Desert National Park
Striking Desert Culture Centre & Museum
Delicious Rajasthan Cuisine
Thrilling Desert Jeep Safari
Mindblowing Camel Safari
Marvellous Salim Singh Ki Haveli
Extraordinary Jain Temple Tour
Stunning Nathmal Ki Haveli
1. Jaisalmer Fort – Sightseeing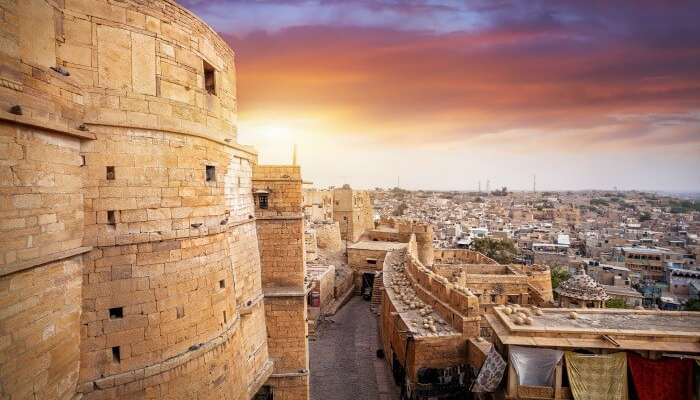 The city is known for the grand fort that fences the city and other tourist attractions in Jaisalmer. These include, inter alia, Jaisalmer Fort, Gadisar Lake, Patwon Ki Haveli, Sadar Bazar, and Desert National Park. Taking a city sightseeing tour is one of the most desired things to do in Jaisalmer. Depending on the time in hand, one can also plan to visit Desert Museum and Heritage Museum.
Jaisalmer Fort Tickets Charges: INR 50
Jaisalmer Fort Timings: 9AM – 5PM
Must Read: 18 Palaces & Forts In Rajasthan That Speak Of A Glorious Past
---
Rajasthan Holiday Packages On TravelTriangle
---
2. Jaisalmer City – City Tour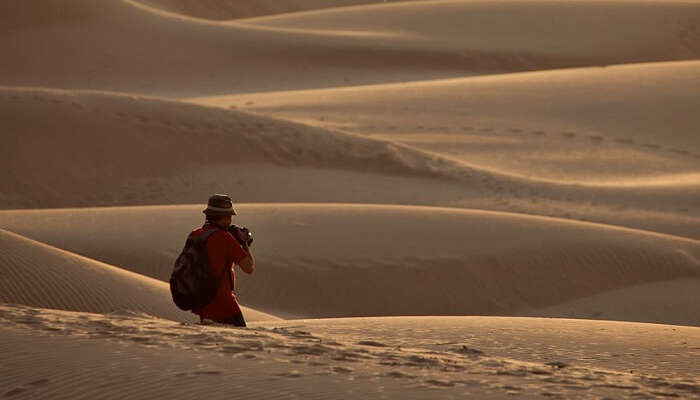 To capture the best glimpses of the royal Jaisalmer, take a guided photography tour of the favorite Jaisalmer attractions. This 2-hour fascinating tour will take you through the lanes, havelis, temples, & forts and will make you view the dunes and sand from never seen before perspective. Carry the best camera & wide angle lenses that you have for the amazing shots. And while you are touring the city, try a few cafes in Jaisalmer for tasty snacks.
Charges: INR 1300/person
Suggested Read: 8 Homestays In Jaisalmer To Get A Taste Of Rajasthani Hospitality
3. Gadisar Lake – Boating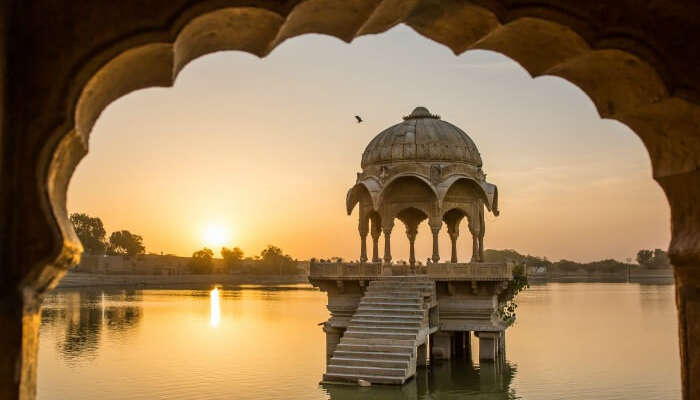 The Gadisar Lake is among the most popular Jaisalmer attractions. This man-made reservoir was built in 1367 by Maharawal Gadsi Singh, after whom it is named. Boating here is one of the refreshing activities in Jaisalmer and also one of the best things to do in Jaisalmer. Relish the spectacular surroundings or enjoy fun-filled boating in this sparkling lake with families and friends.
Opening Hours: 7 am – 7 pm
Charges: INR 100 for 2-seater pedal boat | INR 200 for 4-seater pedal boat | INR 300 for 6 seater rowing boats
Suggested Read: In Pictures: The Most Interesting Borders Between Countries Across The World
4. Jaisalmer Local Bazaar – Shopping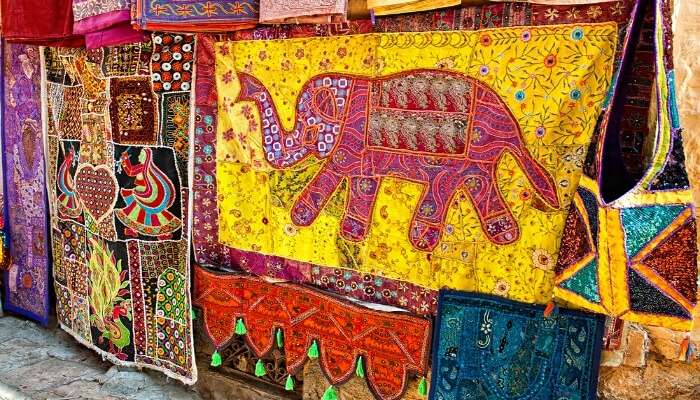 There are many vibrant options for shopping in Rajasthan. And shopping in the fort city is definitely among the best things to do in Jaisalmer for the shopaholics. With so many options and varieties of handmade products including clothes, jewelry, accessories, bags, footwear, etc, shopping is one of the best things to do in Jaisalmer.
What to shop in Jaisalmer: Puppets, Rajasthani textiles, jootis, decorative items, local handicrafts, camel leather items, yellow sandstone showpieces, wooden items, and ornaments
Where to shop in Jaisalmer: Sadar Bazaar, Bhatia Bazaar, Manak Chowk, Pansari Bazaar (oldest market of Jaisalmer), Sonaron ka Baas, and government-owned Khadi Gramodyog Bhavan in Seema Gram
Suggested Read: Jaisalmer Fort: The Sonar Quila In The Golden Desert City
5. Kanoi – Parasailing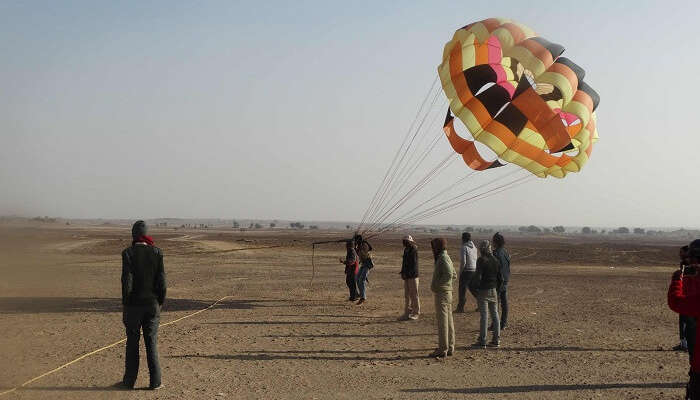 Fly high above the desert and enjoy an exhilarating bird's eye view is a lavish treat to the mind and soul. This thrilling and brave heart parasailing activity is quite common in the desert areas and one of the offbeat things to do in Jaisalmer. Most of the desert camps organize this activity on prior requests.
Charges: INR 760
Suggested Read: 12 Historical Places In Rajasthan That Will Take You Back To The Glorious Past
---
Planning your holiday in Rajasthan but confused about what to do? These Rajasthan travel stories help you find your best trip ever!
---
6. Paramotoring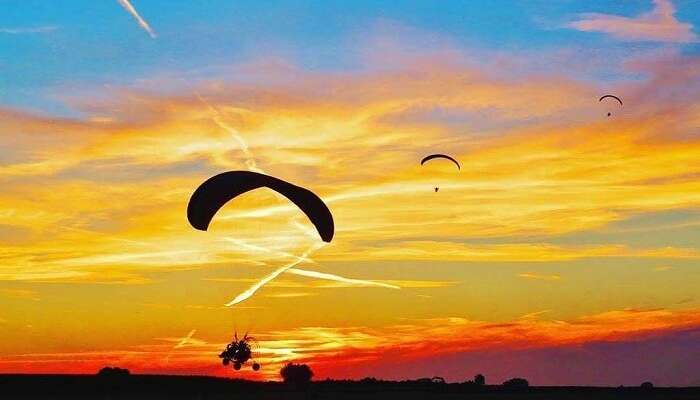 Paramotoring is among the must-try adventure activities in Jaisalmer for those who wish to make the Jaisalmer trip daring and adventurous. This motor-powered parasailing makes you view the golden sand dunes from high above the sky. You can also click fascinating pictures of the surroundings or just a crazy selfie. The pilot will be with you to control the vehicle so that the adventure sport is extremely safe and secured.
Charges: INR 2000
Suggested Read: Nightlife In Jaisalmer: What Happens In The Golden City When The Sun Goes Down
7. Sam Sand Dunes – Quad Biking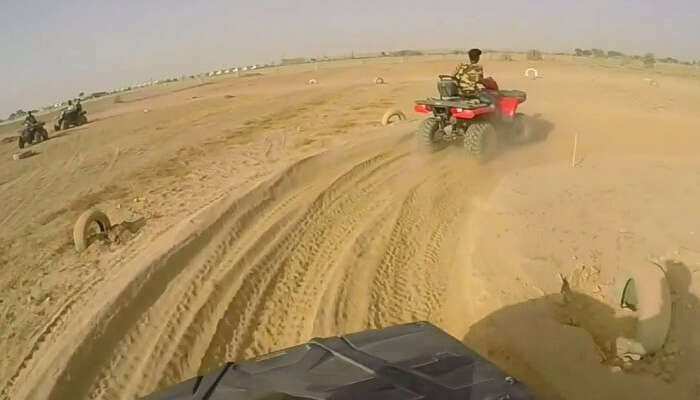 Quad Biking is also among the most thrilling things to do in Jaisalmer. Explore the dune topography or ride in an enclosed circuit in a quad-bike. The dusty whirlpool created by the ATV's motion adds to the thrill factor. Perfect sandy terrain and space make quad biking one of the best things to do in Jaisalmer when it comes to adventure activities.
Charges: INR 1700
Suggested Read: 10 Marvelous Places To Visit In Jaisalmer In 2020
8. Thar Desert – Dune Bashing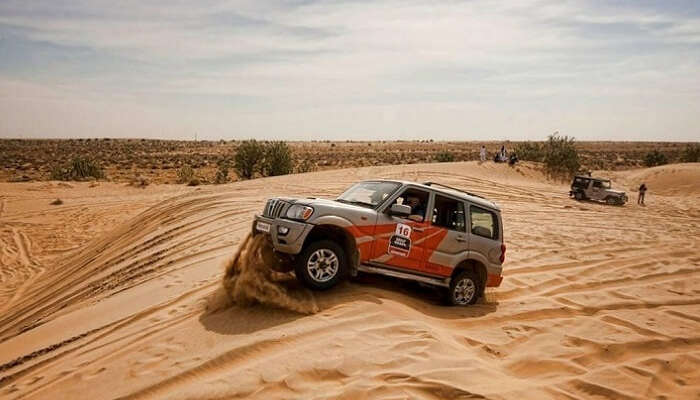 The sand dunes of the Thar Desert are perfect for bashing and off-roading activities. Exploring the desert in an SUV is one of the most pulsating things to do in Jaisalmer, India. A large sports utility vehicle, such as the Toyota Land Cruiser or the Fortuner 4X4, is used in this adventure sport. This is done under strict professional supervision as dune bashing and off-roading may include sharp overturn and competent maneuvering skills.
Charges: INR 3500/person
Suggested Read: Places To Visit Near Jaisalmer: 8 Spectacular Locations That Deserve To Be In Your Itinerary
9. Winds Desert Camp – Desert Safari And Camping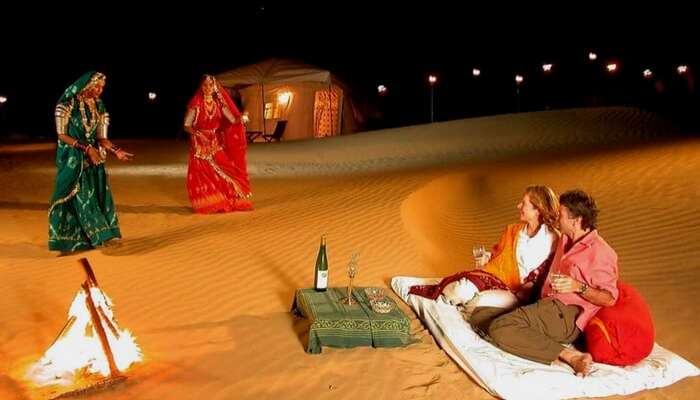 Taking a desert safari and staying overnight in a desert camp are other popular things to do in Jaisalmer at night. Travelers can take evening safaris to explore the spectacular dunes and watch the sun setting behind the dunes. The desert camps are other major tourist attractions in Jaisalmer and offer all modern facilities needed for the stay. Travelers can also enjoy Rajasthani folk music & dance performances, followed by a sumptuous local cuisine buffet dinner while camping in Jaisalmer.
Popular desert camps: The Serai, Royal Desert Camp, and Prince Desert Camp
Charges: INR 5000 – INR 9000 for overnight camping | INR 1500 for camel safari and dinner
Suggested Read: 12 Destinations To Go Glamping In India
10. Tanot Mata Temple – Indo-Pak Border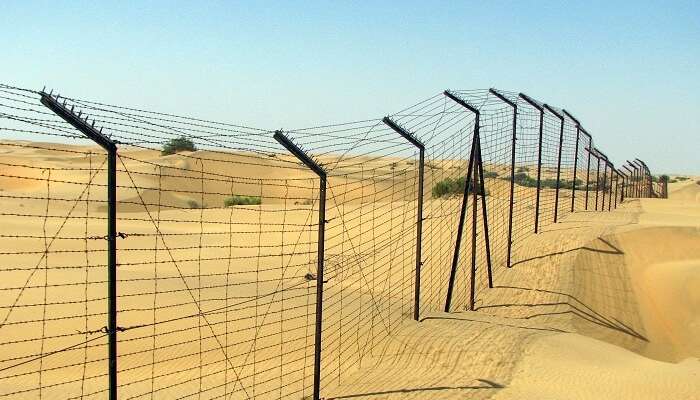 Visiting the Tanot Mata Temple is one of the most popular things to do at Jaisalmer Indo-Pak border. Located near the Tanot Mata Temple, the Indo-Pak border is among the most sought-after tourist attractions in Jaisalmer. Travelers can extend their desert safari and visit the Indo-Pak border area with prior permission and permit passes from the Indian Military.
Suggested Read: 5 Jaisalmer Temples That Represent The City's Spirituality Beautifully
11. Desert National Park – Admire The Wildlife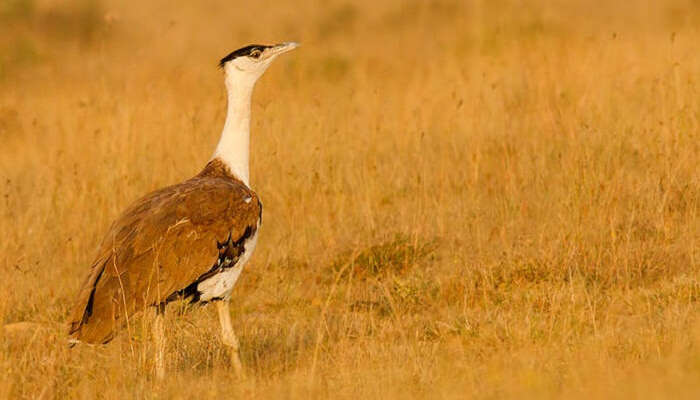 Admiring wildlife is one of the other top things to do in Jaisalmer city. Located on the western part of Rajasthan, Desert National Park is sprawled in an area of 3162 km². They are made of rocky surfaces, sand dunes and salt lake bottoms. It is a commendable example of the Thar Desert and one can find different animals here like Indian Fox, Desert Cat, Chinkara, and many more. Apart from this, you will find the state bird of Rajasthan here, the Great Indian Bustard.
Location: Myajlar Road, Jaisalmer, Rajasthan 345001
Opening Hours: 7 am to 5 pm
Length:
Suggested Read: 9 Best Romantic Things To Do For An Exciting Honeymoon In Jaisalmer
12. Desert Culture Centre & Museum – Puppet Show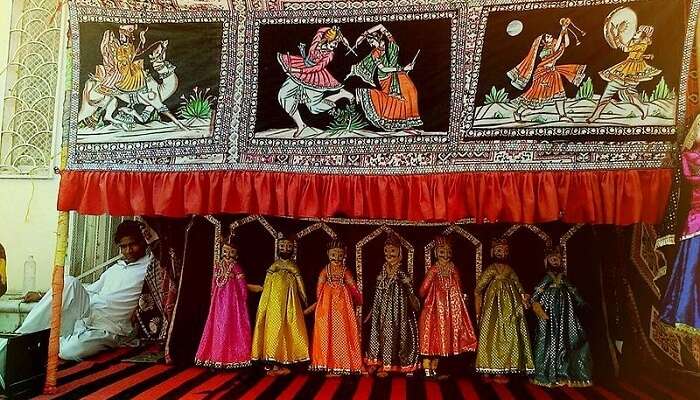 When in Jaisalmer, you must watch a puppet show in the Desert Culture Centre and Museum. It is a 40 minutes incredible show that lets you take a sneak peek in the traditional times and know more about the culture of Jaisalmer. You must include puppet show in your list as it is one of the top things to do in Jaisalmer in 2 days.
Location: Gadisar Rd, Amar Sagar Pol, Jaisalmer, Rajasthan 345001
Charges: INR 50 – 100 per head
Opening Hours: 6:30 pm to 8:30 pm
Suggested Read: 10 Amazing Restaurants In Jaisalmer That Offer Great Food And Splendid Views
13. Rajasthan Cuisine – Try Something New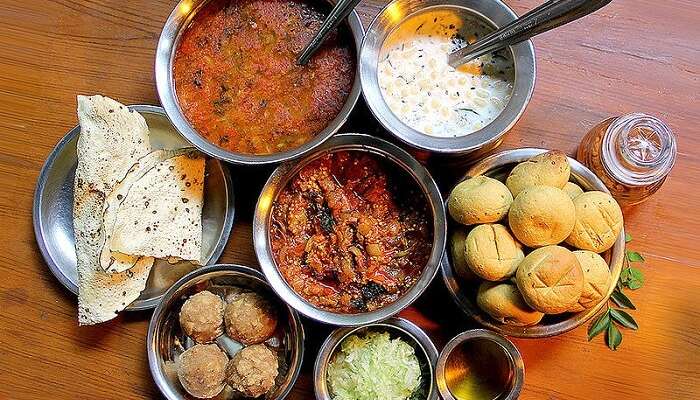 A trip to Jaisalmer is incomplete if you haven't tried spicy dishes from the Rajasthan cuisine. Ditch fast food and try out something new to treat the epicurean in you. You cannot miss out on Mirchi, Bada, Pyaaj Kachori, Lauki ke Kofte, Kicha ki Sabji and the famous Dal Bati Churma. And to end your meal properly, Jaisalmer has Ghotua Laddoo which will definitely satisfy your sweet tooth.
Suggested Read: 20 Stunningly Colorful Festivals of Rajasthan
14. Desert Jeep Safari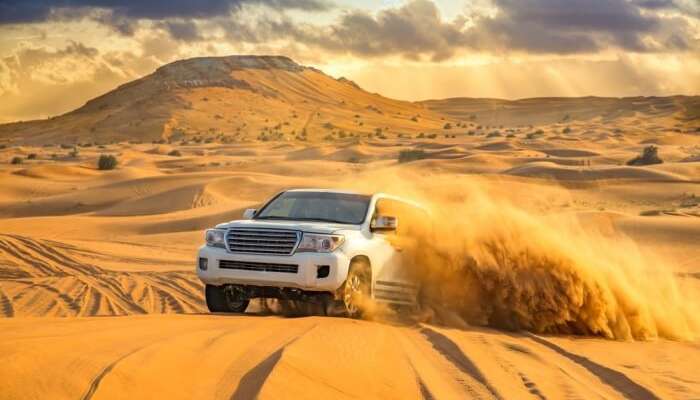 The Desert Jeep Safari in Jaisalmer takes one through deserts and villages of Rajasthan. One will drive through the serene golden Thar desert and get to see the small villages. Get an insight into the daily village life and if lucky you might even spot a Black Buck Antelope. Take a day out for a desert jeep safari tour and have a great time driving through the golden dunes. There are various tours that one can opt for in Jaisalmer.
Suggested Read: Monsoon In Jaisalmer: A Guide To See The Best Sights Of The Golden City Of Rajasthan In 2020!
15. Camel Safari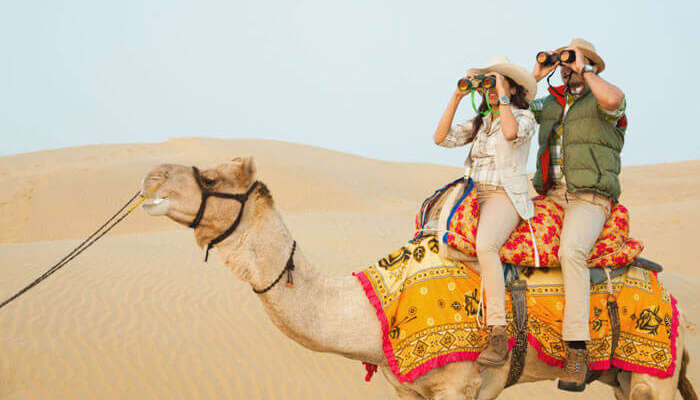 There are various safaris that different places are famous for, and Jaisalmer, the desert city is known for one too, the camel safari. Enjoying a camel safari is one of the top things to do in Jaisalmer Rajasthan. An endless stretch of golden sand, the Thar desert is a beauty to witness. Enjoy the beautiful desert views during the safari that happens to be one of the must-experience activities in Jaisalmer. There are multiple operators offering desert safari in Jaisalmer and one can choose any from amongst them.
Timings: 9:00 AM – 3:00 PM
Price: Starting from INR 1000/-
Suggested Read: A Guide To Desert Safari In Jaisalmer
16. Salim Singh Ki Haveli – Explore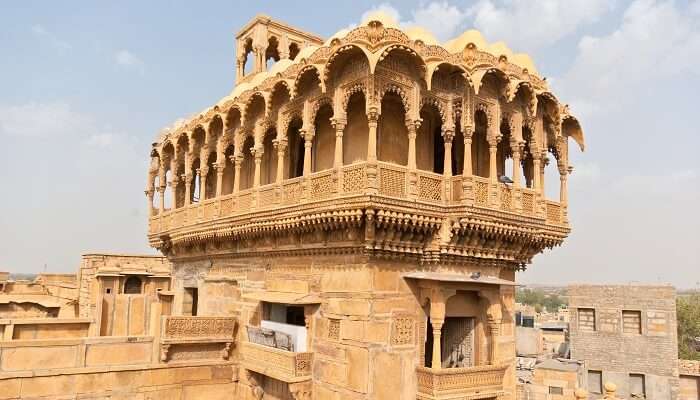 Salim Singh ki Haveli is a mansion in Jaisalmer, famous for its architecture. The structure is an 18th-century building which has around 38 beautifully carved balconies. The distinct architecture of the Haveli sets it aside from the other structures of those times. The balconies and the roof are the prime focus of this building where the roof is inspired by a peacock. Head to this amazing place and marvel at the architecture on your trip to Jaisalmer.
Suggested Read: 11 Jaisalmer Resorts To Stay In 2020 For Experiencing Rajasthani Lifestyle
17. Jain Temple Tour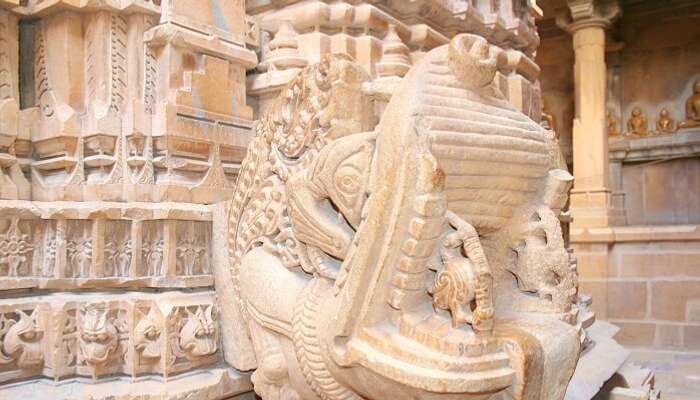 Dating back to the 12th and 15th century, the Jain Temples are another set of architecturally beautiful structures in Jaisalmer. These temples aren't just places of worship, but of beauty too. The intricate designs on the temple walls are the distinct features of the Jain temples in Jaisalmer. Marveling at the architecture is one of the top things to do in Jaisalmer Rajasthan.
Suggested Read: Monsoon In Jaisalmer: A Guide To See The Best Sights Of The Golden City Of Rajasthan In 2020!
18. Nathmal Ki Haveli – Marvel At The Architecture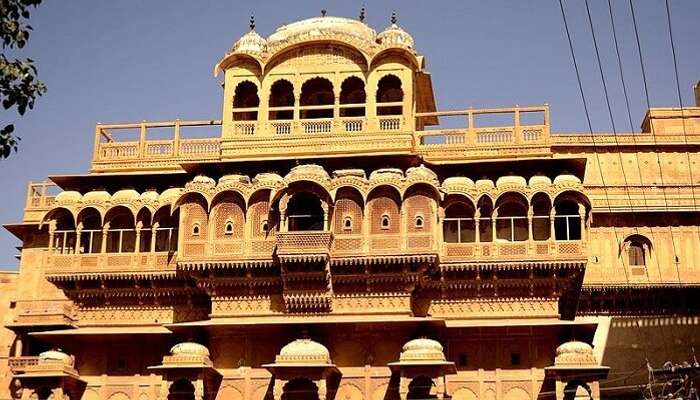 Image Source
Another place to enjoy the marvelous architecture in Jaisalmer is Nathmal Ki Haveli. Open on all days of the week, one can visit the Haveli any time in between 8 in the morning to 6 in the evening. The beautiful design includes carvings of elephants on the yellow colored stone and other intricate designs on both the interior and exterior walls of the Haveli. Do add this to your list of places to visit so that you do not miss out on the beautiful architecture of this desert city.
Timings: 8 AM – 6 PM (all the days of the week)
Suggested Read: Pulling The Royal Out Of A Random Weekend: Trip To Jaisalmer
How To Reach Jaisalmer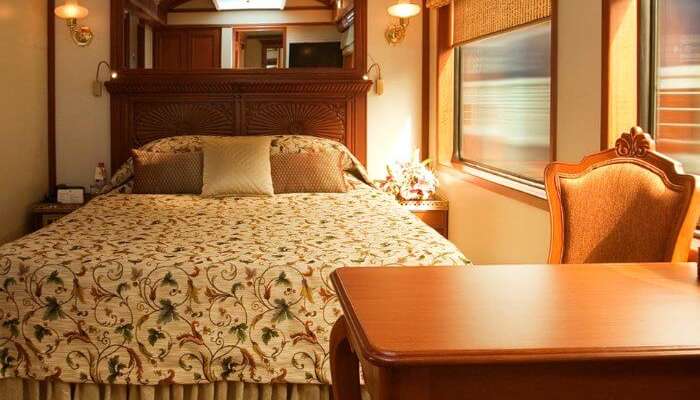 By Air: Jaisalmer airport is 5 km from the city and is well connected with Delhi, Jaipur, and Jodhpur.
By Train: Jaisalmer railway station is 2 km from the city. The Palace On Wheels is one of the luxury trains in India that can take you to Jaisalmer.
By Road: Inter-state buses run from Jaipur to Jaisalmer frequently. There are no direct buses from Delhi to Jaisalmer. Delhi to Jaisalmer via Jaipur is close to 800 km.
Further Read: This Is How A Family Fell Prey To The Charm Of Jaisalmer
The long list of things to do in Jaisalmer looks quite fascinating. Be sure to choose your pick before you plan a holiday in Jaisalmer. Also make sure you experience the maximum possible things to do in this Golden City of Rajasthan.
Frequently Asked Questions About Things To Do In Jaisalmer
Q. Is it safe to drive in Rajasthan at night?
A. It is generally advised to not drive at night, but if one follows traffic rules strictly and is cautious, then driving at night isn't a problem.
Q. Is Rajasthan safe for tourists?
A. Rajasthan is one of the safest states for tourists to travel in India.
Q. Is it safe to travel to Jaisalmer?
A. Yes, Jaisalmer is a safe city to travel to.
Q. What is there to do in Jaisalmer in December?
A. You can find a number of interesting places to visit in Jaisalmer in December such as: 
1. Forts & Palaces
2. Nathmal Ki Haveli
3. Patwon Ki Haveli
4. Salim Singh Ki Haveli
5. Khaba Fort
6. Bada Bagh
7. Maharaja's Palace
8. Jaisalmer Fort
Q. How many days should I spend in Jaisalmer?
A. Two days is quite sufficient to explore the beauty of the ancient heritage of fort and enjoy the experience of the desert camp.
Q. Why is Jaisalmer famous?
A. Jaisalmer, popularly known as the golden city is famous for the Jain temples as well as the stretched out Jaisalmer Fort which is a prominent element of the city landscape.
Q. What is a desert safari in Jaisalmer?
A. Desert safari is a thrilling experience of exploring the wide stretched deserts on a camel ride across several sand dunes of Jaisalmer desert which is followed by authentic traditional dinner and local dance performances which you can enjoy at the Desert Camps.
Q. How far is Sam sand dunes from Jaisalmer?
A. Sam sand dunes are located 40 km away from Jaisalmer city. This desert area is one of the most famous tourist destinations in Jaisalmer.
People Also Read:
Things To Do In Ajmer Things To Do In Manali Things To Do In Jaipur
Comments
comments