About Gangotri: rated 2/5 (based on 1 reviews) | Packages starting from ₹160,000/-
Located amidst the mountains of Uttarkashi, Gangotri is one of the most important pilgrim destination among the Char Dham devoted to goddess Ganga. Due to the fascinating history and the religious significance it holds, loads of Gangotri tour packages are available for tourists to embark on a blissful journey to this popular pilgrim place in India. The pristine water of river Ganga originating from the Gangotri Glacier and picturesque snow clad mountains in the vicinity along with 18th century Gangotri Temple make these Gangotri packages an excellent choice for a peaceful vacation amidst the sheer beauty of nature.
What's Special About Gangotri Tour Packages!
These Gangotri packages, designed by our travel experts, aim to provide a serene and peaceful holiday experience without any troubles or hassles. The packages include detailed itineraries with sightseeing to all the nearby attractions, leisure time in the heart of nature, and adventure at its best. Luxury accommodation as well as private transfers make these packages even more attractive. Moreover, one can customise these Gangotri tour packages as per their desire and choose to engage in their preferred activities. Hence, these packages provide tourists with a personalized holiday to revel in the holiness and achieve peace of mind, away from the stressful city lives.
Best Time For A Gangotri Tour Package
The best time to visit Gangotri is during summers from the months of April to June when the temperature remain below 30°C but the sun shines to make the days cheerful. With cold evenings and nights, summers attract maximum number of tourists. Another popular time to visit Gangotri is after the monsoon season, from September to mid November. It is best to avoid the winter season from November to March because of heavy snowfall and extreme cold which might hinder the sightseeing. However, the shivalinga, which lies submerged in Gangotri in summers, is visible only during winters.
Tourist Attractions That Can Be Covered With These Gangotri Packages
The pilgrim place of Gangotri is mostly popular among the tourists for the Gangotri Temple and its scenic location. Apart from this, these Gangotri tour packages cover all the popular attractions and places to visit in Gangotri ranging from various temples to small hidden villages and peaks covered with greenery. The leisure time provided by these Gangotri packages let's one explore at their own pace and spend quality time appreciating the natural wonders here. Some of the popular places near Gangotri are Gangotri Temple, picturesque village of Harsil, Gaumukh (source of Ganga), Bhojbasa, Gangnani, Bhaironghati, Jal Magna Shivling, Dharali, and the Surya Kund.
Outdoor Activities Provided In These Gangotri Tour Packages
Apart from sightseeing, these Gangotri Tour Packages also offer numerous opportunities to engage in adventure and fun with your loved ones. Trekking at the trails ranging from easy to difficult ones, camping and fishing at sparkling lakes are all possible on this Gangotri Package. Embark on a challenging or an easier trek based on your expertise and enjoy camping at the snow clad mountains tops. Spend your night in one of the small cozy cabins scattered around the Dodital after a long trek. Visit the Kedar tal and enjoy an enchanting night beside the brimming lake. For the more experienced trekkers, the Auden's Col trek is like a dream. A lot of other alternative trails are available that are equally challenging but rewarding. Last but not the least, the Gangotri National Park is one of the most beautiful high altitude wildlife sanctuary, also known for some of the best trekking trails in Uttarakhand. Witness more than 15 species of mammals and 150 species of birds including some rare ones as well.
Shortlisted Packages

No packages to compare. Please add using 'Add to compare' button.
List of Gangotri Tour Packages
Call Us for details
844 844 9287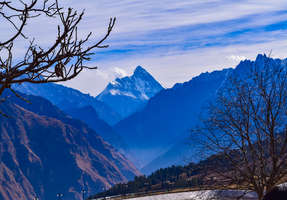 Please deselect at least one item. Only 3 are allowed.
6 Days & 5 Nights
Customizable
Starting from:
9% Off
₹ 160,000/-
₹ 175,824/-
Per Person on twin sharing
Himalayas
Temple Tour
Sightseeing
Adventure
Nature
Hill station
Religious
Hotel included in package:
Cities:
Dehradun (1D)
Yamunotri (1D)
Gangotri (1D)
Guptakashi (1D)
Badrinath (2D)
Grab a soulful 5 nights, 6 days Chardham tour itinerary....
Upto 3 Stars

Flights

Meals

Sightseeing

Stay Included

Transfers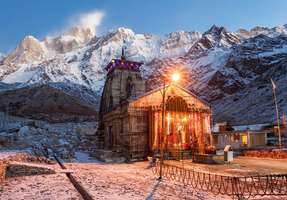 Please deselect at least one item. Only 3 are allowed.
6 Days & 5 Nights
Customizable
Starting from:
8% Off
₹ 160,000/-
₹ 173,913/-
Per Person on twin sharing
Temple Tour
Religious
Hill station
Hotel included in package:
Cities:
Dehradun (1D)
Yamunotri (1D)
Gangotri (1D)
Guptakashi (1D)
Badrinath (2D)
Book this amazing Kedarnath Badrinath tour package
Upto 3 Stars

Flights

Meals

Sightseeing

Stay Included

Transfers
FAQ's for Gangotri
Yes, it is possible to travel to the source of Ganga, Gangotri glacier. However, only a long and difficult trek will take you there.
Various adventurous activities around Gangotri include trekking on easy as well as challenging trails, camping, rafting and visiting the Gangotri National Park.
The Gangotri Temple opens during the second half of April and remains open till November. The temple opens for Darshan, Pooja and other ceremonies at 6:15 AM to 2 PM and then from 3 PM to 9:30 PM.  
Yes, one and customise the package as per their desire. All they have to do is convey the same to the travel agent beforehand.
The best time to visit Gangotri is during the Summer season from April to June when the weather is perfect and cool winds blow at night.
Why Book With Our Agents?
Only The Best Agents
Travelers deal with only the top 10% reviewed agents who are selected after a 23 step rigorous assessment procedure by TravelTriangle.
Ensuring Quality
TravelTriangle ensures quality service via verified partners by releasing the payment only after the booking vouchers/receipts are received by the traveler.
24*7 On-trip assistance by Local Travel Agents
Travelers deal with only the top 10% reviewed agents who are selected after a 23 step rigorous assessment procedure by TravelTriangle.
Similar Places You Should Visit
Traveler Reviews for Gangotri
Read on to find out why our customers love us!
Trip to Gangotri

Chardham trip with Lakshay travels was good to an extent. The travel agent who finalized the itenary resigned and later another person started coordination. There should have been proper handoff. For kedarnath chopper the tickets were not given until last day and we're supposed to take print out which was not possible and had to struggle a lot to get it as the place is very far from city. Information should be have been passed on in advance. Communication should be priority.

Trip to Gangotri

Nice tour..... To make a memorable.... By travel guide miss ananya mehta she is always connect through Ph. For proper guidance....

Trip to Gangotri

Whole trip was planned very carefully and the response of the travel agent was very quick. Ananya's behaviour was very cooperative and friendly. She managed all ups and downs. She was very concerned and had conversations with us whenever required.

Trip to Gangotri

It was an experience never expected .....Although the destination was itself very thrilling but just to make this journey memorable, Travel Triangle, Lakshya Tours played their leveled role best to meet the expectations. But all of them could only earn appreciation because I luckily got to have a Travel Adviser like Ananya. She has not left any gap in the services and compelled me to back to positive gesture even sometimes if any loop hole was found. Thus she really played a vital role in the whole trip to keep the guests on track and was wisely coordinating whenever I was feeling even a bit dissatisfied. Ananya was so good to her responsibilities and the best part was that she was always available over the phone and positively coordinating each and every aspects of the trip. My best wishes for her bright future.

Trip to Gangotri

Travel agent hospitality and care, especially vehicle driver (Ahuja) co operation is very good. We enjoy total trip. Thanks for your co operation in Avery time.

Trip to Gangotri

Booked char dham yatra via Vaishnavi holidays ... Deepak from Vaishnavi was very cooperative.. attempted all my Calls made at anytime ... Deepak was ready for any customisation during the tours... Our driver jasvir sahota was super fantastic driver ...Never opposed any idea ...Thanks deepak for wonderful trip ..deepak was calm & attentive. It was our first trip to uttarakhand... All our future trip will be by you ... Keeping giving good services ...

Trip to Gangotri

Overall it was good exp, I had issue with one of the hotel during trip- Amazing Uttrakhand team was very responsive and they changed hotel in an hour as I wsnt satisfied with hygiene of lodge which they initial booked. Only issue is with planning , the agent agreed to my customised plan for completing char dham yatra in 8 days which was very hectic. Thanks to driver who drove in night time as well to get to destinations else complete plan would have messed.

Trip to Gangotri

Food given in hotels were not good. Service in logue were very bad.

Trip to Gangotri

Chardham tour 04.05.18 to 14.05.18 First of all i would like to thank Mr. Mohit and Mr. Mohan Chandra from travel ride for excellent co operation through out the entire tour and they never let down at any moment. First i hesitated to book through travel triangle and i never heard about both of them, but honestly they are good in service and with reasonable pricing package. I will prefer travel ride through travel triangle for my future trips. I wish Mohit and Mohan Chandra for their success . I will recommend travel ride Mohit and Mohan Chandra to my friends and relatives also. Memorable and thrilling experience

Trip to Gangotri

Two days accommodation was not good.English speaking driver not provided. Memorable trips as pilgrimage and we enjoyed a lot.arranging helicopter trip is splendid.
Other Perks of Booking Gangotri Tour Packages
The unique shopping experience at Gangotri also makes it a must visit place. Small stalls and shops near the main temple sell exquisite religious as well as other goods perfect to take home as a fond memory of this religious Gangotri Dham Yatra. Shop for beautiful idols of Gods and Goddesses, Puja thalis, indigenous handicraft items, wooden carvings, books and CDs of hymns, paintings of Gods and much more.
The heavenly food of Gangotri is another alluring aspect of these Gangotri tour packages. Due to the religious and spiritual significance, non vegetarian food as well as alcohol is prohibited in Gangotri. However, a number of local eating joints, stalls and restaurants serve lip-smacking Indian platters prepared with local ingredients that are highly nutritious and packed with energy. Some of the local delicacies characterizing the cuisine of Gangotri are Gulgula, Rus, Badi, Palau, Arsa, Kafuli, Bhatt ki Churkani and Kandalee ka Saag.
These Gangotri Tour packages offer the perfect holiday combining extensive sightseeing with thrilling activities as well as budget friendly accommodation with all modern facilities. To make the travelling amidst the mountains easier, private vehicle is provided to the tourists for all sightseeing. Embark on an unforgettable tour by booking one of these Gangotri tour packages with TravelTriangle and get great offers on your trip to this holy destination.
International Tour Packages
Corporate Office:
Holiday Triangle Travel Private Limited
Address: Plot No - 29 , 3rd & 4th Floor,
Dynamic House, Maruti Industrial Complex, Sector 18,
Gurugram -122015,Haryana
Landline: 1800 123 5555
All rights reserved © 2019