01
TravelogueAdventurous cum romantic start to our new journey!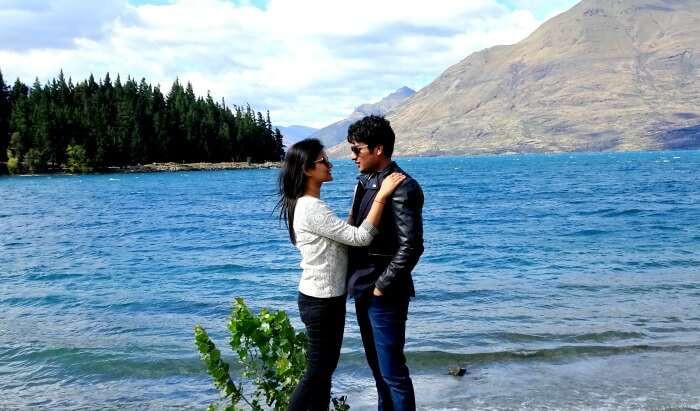 Duration: 13N/14D
Accomodation: Luxurious
Experiences cherished: Bay ofIslands, Auckland, Waiheke Island, Hole in the Rock, Scuba diving, Thermal village and TranzAlpine Train ride.
Come back for: skydiving
We wanted our honeymoon to be the best, like every newly married couple. Our family members suggested us New Zealand as a honeymoon destination and after checking numerous New Zealand honeymoon packages, we decided to book our honeymoon package via TravelTraiangle as they offered an extended stay and customizing facility. Soon our Travel expert shared the itinerary and after making a few changes in it, we booked the package.
After the pomp and show of the marriage, we were looking forward to spend some quality time together and finally the day came when we were set to depart for our much-awaited New Zealand holidays. After 17 hours long journey, we reached Auckland airport in the jet lagged state. We wanted to visit our relatives staying in the city, so we visited them and spent the remaining day relaxing.
Next day, we headed for our romantic cum adventurous journey in which our first stop was Waiheke Island. We took a ferry to reach Waiheke Island and the magnificent vista of the grand blue ocean and misty blue sky bewitched us. Waiheke Island was an astounding place with beautiful beaches, marvelous scenery and the amazing weather augmented its beauty. Later, we went to Sky Tower which gave us a panoramic view of Auckland from this multi-storied tower.
On the third day, we had to travel to the famous Bay of Islands and I decided to take a rented car to drive in the serene beauty of this exquisite country. After a three hour drive, we reached the main waterfront town of Paihia. After checking-in to our hotel, we left for the magnificent view of 'Hole in the Rock' via helicopter. The same day, we went for Scuba diving and this was my first experience of viewing marine life. I was completely thrilled and wanted to stay there for my entire life.
Our next destination was Rotorua as part of the perfect New Zealand couple tour packagewhere we visited a thermal village. It was a unique experience where we saw the natural hot water pools formed due to geothermal activity in the area. Next day we went for a motor raft on a speeding river. After completing an intrepid rafting course, we headed for the Gondola ride.
Our next day was planned for Milford Sound Tour. On our way to this beautiful place, we crossed nearly 150 small and big waterfalls. Milford Sound Cruise was a surreal experience which took us amidst the mist, clouds and mountains. Our next stop was the famous Franz Josef Glacier. We did the glacier walk and took a small trek. The day ended with electrifying quad bike safari.
We experienced the beauty of the serene place via TranzAlpine Train. The natural beauty of New Zealand can't be justified in photographs, one must visit the place and experience the panoramic beauty of nature.
Read Full Story Here