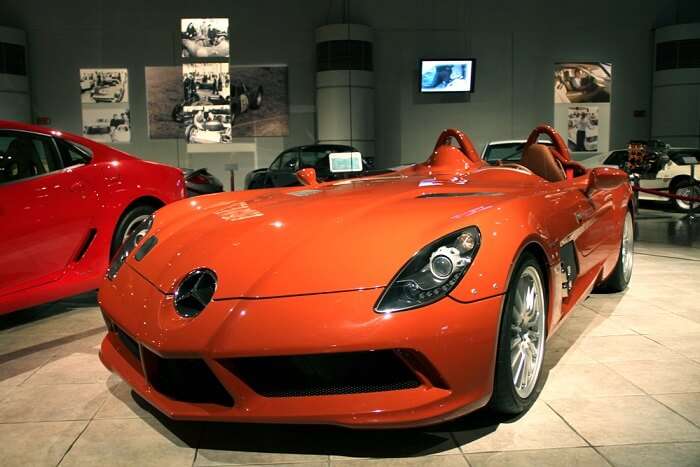 Jordan is a beautiful nation present on the east bank of the Jordan River in the United Arab Emirates. It's a country full of ancient monuments, sprawling nature reserves, valleys and amazing resorts. It flourishes in culture, economy and social fields. It's majorly frequented by tourists throughout the year, however, mostly in early spring and fall. Jordan is beautiful in fall. The country has beautiful sculptural buildings, it gives off a quaint vibe and the museums in Jordan garner a lot of attention too. They play an important role in contributing to its rich cultural history.
Best Museums In Jordan
Here is a list of the best museums in Jordan, where all the history buffs and the general public can go and enrich themselves through the history of Jordan.
1. The Royal Automobile Museum
Present in the picturesque capital city of Amman, this museum, like its name is an automobile museum. It is home to and houses vintage and rare cars from the earlier centuries, especially the ones owned by King Hussein. On entering this museum, you feel like you have stepped back an era. Unwittingly though, it has a retro ambiance that makes it an amazing experience if you happen to visit it.
The museum's tour gives one much to know about the evolution and history of cars. It is a must recommended site if you are a car enthusiast. If you are not, you still learn and experience.
Location- King Hussein Park, Amman, Jordan
Contact: +96265411392
Must Read: Dead Sea In Jordan Is A Traveler's Paradise In The Middle-East
2. Jordan Archaeological Museum
Built in 1951, this museum is one of the more well-known museums. It is present on the Citadel Hill, in Amman. It is actually located within a citadel itself. Not that the citadel isn't itself a unique piece of architecture, it houses several other famous buildings within its complex. This museum contains and shows, ancient manuscripts and historical artifacts dating back to the fifteenth century. All of these items have been excavated and discovered from various archaeological sites, an organized chronologically for the tourists to learn more about the history of Jordan.
The museum has a great coin collection, apart from its collection of old jewelry, flint, glass and handmade(old) pottery on display. It initially also held the Dead Sea scrolls, which are ancient Jewish manuscripts that were excavated from near the Dead Sea. However, these scrolls have now been relocated to another museum. There is so much to know and explore within this one museum itself.
Location: Citadel Hill, Amman, Jordan
3. Jordan National Gallery Of Fine Arts
Established in 1980 by the Royal Society of Fine Arts, this museum is home to seventy years of contemporary art from Jordanian artists and other countries too. However, if you mistake its name for it being "just" a gallery of paintings, then you're in for a ride. This gallery holds all forms of art from paintings, ceramic work, sculpture to photography as well; and this is just scratching the surface. This museum was inaugurated under the reverential patronage of the late King Hussein and his wife Queen Noor Al Hussein. The best part about the museum is its diversity. It houses so many different artists' work without any distinction altogether.
The rich cultural history of Jordan is reflected in the local artwork. There are over two hundred pieces of art from the Jordanian artists themselves, and over two thousand pieces of art in their permanent collection from all over the world, India, Netherlands, Palestine, Australia, and Algeria to name a few. If you are an ardent art lover, this is the place to be. It will take you two full days to complete a whole tour of this gallery.
Location: Hosni Fareez Street, Amman, Jordan
Contact:+96264630128
Suggested Read: 15 Best Hotels And Resorts In Jordan For Every Type Of Traveler
4. The Children's Museum
Exactly like its name, it is a children's museum. It was started by now Queen Rania Al Abdullah, of the Hashemite Kingdom. It was started by her as a non-profit organization for educational purposes. It is located in the King Hussein Park, in Amman. Its architecture is so unique. It covers a whole surface area of over seven thousand square meters. This museum was launched very recently in 2007.
It has a total of one hundred and fifty centers for indoor and outdoor facilities and exhibits. There is an art studio, a library, a restaurant with a party hall next door, a multi-purpose hall, and an outdoor theatre. There is a pretty little gift shop where you can buy gifts and souvenirs for your friends back home. There is extra space being developed for a botanical garden, special effects auditorium and an extension of the already large exhibit hall.
Location: King Abdullah Bin Al Hussein Ath Thani, Amman, Jordan
Contact:+96265411479
5. Amman Museum
Also called the Jordan Museum, this was recently built in 2014 by the Queen of Jordan, her majesty Rania Al Abdullah. This museum is currently housing very ancient archaeological findings dating back to the era before Christ. There are artifacts ranging back to 7,500 BC and the Ain Ghazal Statues which were the oldest statues built by the human civilization ever! This museum was where the Dead Sea Scrolls have been relocated. This museum boasts of state-of-the-art architecture and happens to be the only Jordan Museum with modern technologies for preventing artifact decay. It actually helps preserve the art and all the statues and sculptural work from the elements of nature.
Location: Ali Ben Abi Taleb St. 10, Amman, Jordan
Contact:+96264629317
Suggested Read: 8 Best Places To See In Jordan That You Simply Can't Miss [Infographic]
---
Planning your holiday but confused about where to go? These travel stories help you find your best trip ever!
Real travel stories. Real stays. Handy tips to help you make the right choice.
---
6. Jordan Folklore Museum
Established in 1971, Jordan Folklore Museum holds an important place in the cultural history and heritage of the country. It is located in the city of Amman too. It is located right next to the Roman Amphitheatre. It showcases a collection of handicrafts, artifacts, attire and musical instruments from Palestinian and Jordanian culture folk. It also has a unique and amazing collection of mosaics as well.
Location: Al-Hashemi St. 91, Amman, Jordan
7. The Prophet Muhammad Museum
The name isn't a misnomer. This museum built recently in 2012 and it is literally about The Prophet Muhammad and his life story. It was opened at the King Hussein Mosque in Amman. This museum contains the remains and belongings of the Prophet Muhammad. They hold a single strand from the Prophet's beard. It also contains the original and only copy of the letter the Prophet wrote to the emperor of the Byzantine Empire requesting him to turn to Islam.
This museum also houses a sampling of the tree under which The Prophet has tested on his way to the Levant Trading, which happened in the Pre Islamic-Era. If you have been always curious about the origins and history of the Islamic traditions and religion, you should definitely pay this place a visit. It takes you back in time and you get to know so much about the man who started it all.
Location: Al Hussein Public Parks; Amman, Jordan
Suggested Read: In Photos: Top Tourist Attractions In Jordan
8. Aqaba Archaeological Museum
This museum is present in the ancient city of Aqaba. It was originally a palace for the founder of the Hashemite Dynasty(the currently ruling kingdom) Sharif Hussein Bin Ali in 1917. This was made into a museum much later in 1989. This museum holds artifacts from the Bronze Age of civilization. There are articles and belongings in this museum that date back to over four thousand years before the birth of Christ. This museum is a standing example of the rich, flourishing civilizations that lived in the country much before. This museum also houses ancient Quranic verses and manuscripts, and old gold coins from different countries.
Location: The Old City, Aqaba, Jordan
Contact:+96232019063
9. The Royal Tank Museum
Also present in the capital city of Amman, the Royal Tank Museum was established in January of this year. It is a state-of-the-art architectural marvel and an epitome of contemporary art. It is a museum that showcases the military prowess and history of Jordan. It has about thirteen halls that display military weapons, machinery, heavy or light organized in a chronological order. This museum boasts of covering a whole area of twenty thousand square meters of exhibition space. This museum shows the evolution of their military machinery, tanks, and armored cars that have been used in past wars and battles.
Location: King Abdullah II Park, Amman, Jordan
Contact:+96264381881
Suggested Read: 10 Vibrant And Lively Hostels In Jordan For An Amazing Vacation
10. Jerash Museum
It is again an archaeological museum present in Jordan. It contains excavated articles and discoveries from the Jerash Archaeological site. It holds special exhibitions called "Jordan Through the Ages" and displays artifacts from the Neolithic to the Mamluk Period. Other than that, it displays pottery, jewelry, coins, figurines, statues, stones, and mosaic art from those eras. The displays are organized chronologically and typologically for the ease of the tourists.
Location: Jerash, Jordan
Further Read: Nightlife In Jordan: Experience The Lesser Known Side Of Jordan
There you have it, the list of museums in Jordan. Book your trip to Jordan and know of the rich history of this country. Visit Jordan, enrich your knowledge and love for all things old, ancient, and historical.
---
Looking To Book A Holiday Package?
Book memorable holidays on TravelTriangle with 650+ verified travel agents for 65+ domestic and international destinations.
---