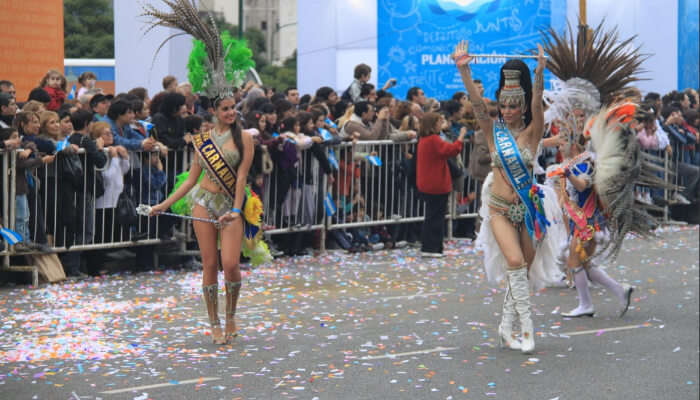 Cover Image Credit: Pxhere
Argentina is known to have fun-loving people, with an exciting culture and beautiful landscapes. It is the second largest country in South America. There is more to the country than meets your eye. The country not only offers great food, adventure but is also host to a number of festivals. Your trip to Argentina will not be complete without you witnessing or being a part of its culture.
A fun way to explore that will be drive engagement and be a part of the several Argentina Festivals. You will get a chance to witness good music, superb art and party with the locals till you drop, and boy, do they know how to party! Read on as we list down some of these festivals in Argentina.
Top 10 Argentina Festivals
Here we have listed down some of the most famous Argentina festivals for you to be a part of during your visit:
1. Oktoberfest
2. Vendimia
3. Buenos Aires Tango Festival
4. Gualeguaychú Carnival
5. Cosquin Festival
6. Buenos Aires Carnival
7. Septiembre Musical
8. Pepsi Music Festival
9. Buenos Aires Jazz Festival
10. Buenos Aires International Film Festival
1. Oktoberfest
Argentina has its own version of the popular German beer festival, Oktoberfest. This festival of drinking fun and frolic takes place in the city of Belgrano which was founded by the Germans. The hills of Cordoba are home to a huge number of immigrants of German descent. Hence, when they came here to live, they also brought with them a version of the German Oktoberfest.
The festival takes place in the city' beer garden. Breweries that were set up decades ago come here to sell their in-house beers, German traditions and food to the people. Head into the Oktoberfest today to have an epic experience.
When: October
Where: Cordoba
Suggested Read: 10 Magnificent Places To Visit In Argentina To Explore The Best Of This Modern Metropolis!
2. Vendimia
Vendimia is an annual traditional affair that takes place in March. It is held in the wine capital of Argentina, Mendoza. The long harvest season provides tons of grapes and it is quite an experience to witness the journey of the grape from fruit to wine glasses. Local wine tours are held for tourists to taste the wines of the breweries in the area.
The festival had its inception in the 1930s and was quite a simple affair. But, now it has become a huge event where you can have good wine, eat great food and enjoy musical concerts.
When: March
Where: Mendoza
Suggested Read: Honeymoon In Argentina: A Guide For Couples Looking To Spend Time Together
3. Buenos Aires Tango Festival
Buenos Aires is considered as the premier location for Tango across the world. The Tango festival takes place each year in the month of August. Dancing duos from across the world come here to take part in the Tango festival. Professional as well as amateur dancers populate the scene to enthrall you with some great dance moves. l over the city.
For the uninitiated, there are Tango classes which are organised by the event producers. If that's not enough, then perhaps the fact that it is a free two-week celebration will make you want to do the tango.
When: August
Where: Buenos Aires
Suggested Read: Brazil vs Argentina: Which Of The Two Should Be On The Top Of Your Travel Checklist ?
4. Gualeguaychú Carnival
The Gualeguaychu Carnival is a celebration of Catholic origin taking place in almost all parts of Argentin. The premier event however, happens in Gualeguaychu, hence the name. Situated a couple hours drive away from Buenos Aires, the carnival has many shows, concerts and parades.
Although, it's not as grand as other carnivals, you can still expect to see huge crowds during the weekends, when the carnival parades take place. There is an atmosphere of partying with music, food, drinking and dancing.
When: February/March
Where: Gualeguaychú, Entre Rios
Suggested Read: Iguazu National Park: A Heaven Which Lies On The Border Of Argentina, Brazil, & Paraguay
5. Cosquin Festival
The modest town of Cosquin is home to one of the most popular festivals of Argentina. This festival is steeped in rich history and folktales. The festivals started off as just music festivals with local folklore embedded in the form of songs and recitals. However, in the later years this festival has gone on to include food stalls, drinking competitions and folklore recitals. You must make an effort to visit this town to imbibe yourself with local folklore and culture.
When: January/February
Where: Cosquin, Cordoba
Suggested Read: Best Trips For: Pick Your Favorite, Pack Your Bags, And Head Right Out!
6. Buenos Aires Carnival
The Buenos Aires Carnival is one of the most popular carnivals of Argentina. The parade takes place annually in the month of february. It is stretched over a long weekend and has attractions like water bombs, traditional customs and murga parades and many such festive activities. The most popular event is the Murga parade.
Murga is a genre of music that takes place in Argentine carnivals. It is performed alongside acrobatic movements by dancers and rhythmically beating the percussive instruments. Be a part of it if you want to know the colonial past of the country.
When: February
Where: Buenos Aires
Suggested Read: 14 Amazing Restaurants In Argentina For An Extraordinary Culinary Experience
7. Septiembre Musical
The Septiembre Musical is held in October. Yeah, the name suggests otherwise but that's how it is. This socio-cultural festival has been very popular and is cherished by locals. This annual arts festival was originally dedicated to academic musical symphonies, chamber music and classical music.
However, over the years the event has added various other disciplines including blues, jazz, opera, pop-rock, tango and recitals of local folklore. Attend this festival to get a taste of true Argentinian heritage.
When: October
Where: Tucuman Province
Suggested Read: 10 Exciting Things To Do In Argentina Which One Must Definitely Tick Off From Their List!
8. Pepsi Music Festival
The image is for representation purposes only.
The Pepsi music festival is fairly new in age. It started at the beginning of the new millenia. But, that has not stopped it from becoming one of the most famous music festivals in Argentina. It is named thus because of the main sponsor that is Pepsi, which has organised every event since 2003. It is the largest music festival in Argentina with attendance soaring well over 300,000. Come and attend this festival to see the biggest international musical icons.
When: September/October
Where: Buenos Aires
Suggested Read: Honeymoon In Argentina: A Guide For Couples Looking To Spend Time Together
9. Buenos Aires Jazz Festival
The image is for representation purposes only.
Jazz has created a niche for itself in the hearts of argentines. So, much so, that the local government started the Buenos Aires Jazz Festival to commemorate this love for Jazz. The event has moved to various venues throughout the city and is attended by over 50,000 people each year. It honors international Jazz icons as well as amateur local talent equally. Do make an effort to attend this sonic festival if you consider yourself to be a Jazz fiend.
When: August
Where: Buenos Aires
Suggested Read: Nightlife In Argentina: 10 Places To Make The Best Out Of Your Trip After The Sun Sets
10. Buenos Aires International Film Festival
The image is for representation purposes only.
The Buenos Aires Festival Internacional de Cine Independiente is an international film festival which promotes and celebrates the best of independent cinema. This has been a haven for storytellers with a distinct voice to show off their work to the people of the world. If you like new ideas, bold concepts and engaging storytelling, then this prestigious international festival is for you.
When: April
Where: Buenos Aires
Further Read: Winter In Argentina: A Guide To All The Things One Can During The Winter Season
So, there you go. This guide to Argentina Festivals will help you to explore the culture of the country and make some great memories. Keep in mind the timing and location of the respective festivals when you plan your trip to Argentina. We hope you enjoy the food, people and festivals.
Disclaimer: TravelTriangle claims no credit for images featured on our blog site unless otherwise noted. All visual content is copyrighted to its respectful owners. We try to link back to original sources whenever possible. If you own the rights to any of the images, and do not wish them to appear on TravelTriangle, please contact us and they will be promptly removed. We believe in providing proper attribution to the original author, artist or photographer.
Please Note: Any information published by TravelTriangle in any form of content is not intended to be a substitute for any kind of medical advice, and one must not take any action before consulting a professional medical expert of their own choice.
Frequently Asked Questions About Argentina Festivals
What are some festivals in Argentina?

Some of the top festivals in Argentina celebrated in the grandest of ways are as follows: Oktoberfest Festival of Beer, Tango Buenos Aires Festival, Cosquín Folk Festival, Fiesta Nacional de la Vendimia and Carnival.

Name some popular traditions in Argentina?

With a number of traditions followed in this South American country, here are the most popular ones: the Book Fairs, Independent Film Festival, 4th of July Nation Day and La Rural.

How many public holidays are there in Argentina?

There are some 15 or such public holidays in Argentina including those for New Year's Day (January 1), Memorial Day (March 24), Día de la Bandera (June 20), Día de la Concepción Inmaculada (December 8) and Christmas Day (December 25).

What do they eat in Argentina?

With a rich tradition, here are some popular Argentinian foods you can expect to taste on your vacation: Locro, Asado & parrillas, Empanadas, Choripan, Dulce de leche, Fainâ, Milanesa and so many more tasty items.

What do Argentinians call Santa?

Santa Claus is more commonly referred to as Papá Noel,meaning Father Christmas in Argentina.

What is the most famous dance in Argentina?

Argentine dance is an essential part of Argentinian culture. The most famous dance of the country is called Argentine Tango, which originated in Buenos Aires.

What activities are there to do in Argentina for fun?

Argentinians have a bit of a relaxed and laid-back culture when compared to the rest of the world. Apart from Tango dancing, the people's favorite pastimes are outdoor recreation like fishing, horseback riding and skiing.
People Also Read: