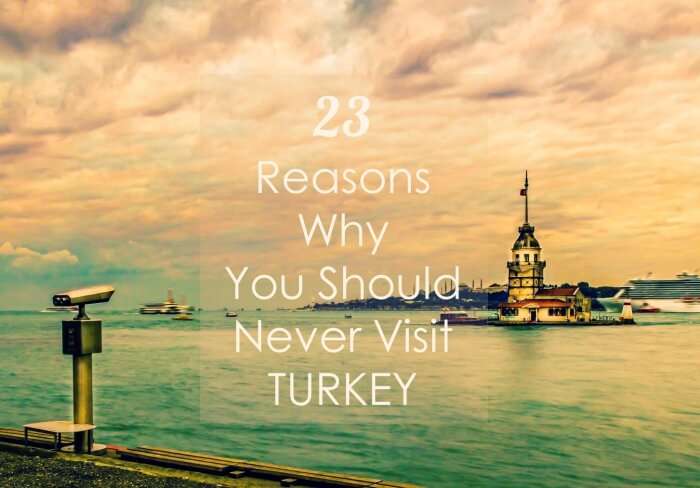 Turkey- yes, it's the country we're referring to here, not the bird! And the question is, do you really think it's worth spending your bank balance for some baklava and international plane tickets?
Lets find out!
1. Well, first of all, who would want to wake up to this sight?

2. Don't fall prey to the travellers who call the place pretty. They've no taste!

Image Source
Hot air balloons in Cappadocia!
3. Sightseeing? I call it just another excruciatingly boring task to visit mosques and old buildings! Bleh!

Sultanahmet Mosque, Istanbul
Suggested Read: 12 Places To Visit In Cappadocia In 2022 That Let You Explore The Magical Kingdom Of Anatolia
4. Get ready for history lesson 101! Can't imagine going through that!

Image Source
Two thousand years old Ephesus
Suggested Read: 15 Scenic Israel Beaches That You Ought To Visit In 2022!
5. Transcontinental city- Big Deal!

Image Source
Big deal indeed, the Bosphorous bridge in Istanbul literally bridges Europe and Asia.
6. There are hot springs everywhere in the world, what's so great about the Pamukkale?

Must Read: 15 Best Honeymoon Destinations In Turkey For A Perfect Romantic Trip In 2022
7. I mean seriously, who'd spend their money to stay in caves?

Uchisar Kalesi
Must Read: Love Just Got Exotic: 10 Romantic Resorts In Turkey
8. And the very idea of Persian poetry and Whirling Dervishes will put you to sleep!

Image Source
Mevlâna Museum, Konya- The is the mausoleum of Jalal ad-Din Muhammad Rumi
Must Read: 15 Things Turkey Does Better Than Anywhere Else
9. It's a conservative country that's stuck with it's primitive ideas. You'll have to be careful with every step you take!

10. Get ready to sport a burka or head scarf at all times while you're in Turkey!

Image Source
In fact it's forbidden in public buildings because of secularist system. However, keeping in regard all views it now entirely depends on personal choices.
11. Nope, no skin show even at the beach!

12. It's all about camel rides and apple teas!

Two biggest Turkish HOAX that tourists love to believe!
13. Parties are obviously out of the question in such a conservative environment!

Must Read: 25 Mindblowing Places To Celebrate Your 25th Birthday In 2022
14. So, say goodbye to nightlife!

15. Shopping at the Grand Bazaar is only the most tedious thing ever!

Must Read: 82 Best Places To Visit In Turkey That Must Be On Your Itinerary In 2022
16. If you're thinking of making a few Turkish friends, forget it!

17. They're cold and inhospitable. Remember Midnight Express!

18. There's nothing else other than walking through the ancient ruins and gazing at the ornate churches. Pretty boring isn't it?

19. Adventure activities- Zilch!

20. Talk about food and they'll stuff you with Şiş Kebap! There's nothing else.

Must Read: 25 Countries With 25 Of The World's Yummiest Breakfast
21. And they have THIS in the name of dessert! Who would want to put that into their mouth?

Stop drooling!
22. They say Turkish coffee is an acquired taste. Well, you'll never want to acquire it, trust me!

23. Surely, there's nothing that is reason enough for you to visit Turkey!

Image Source
Amasra
So, I think we're able to convince you enough that Turkey is just not your cup of tea (or should I say coffee).
Good luck getting it out of your head now because you know, the spell of Turkey has already been cast upon you. Now you won't be able to relax till you've visited this slice of utopia!
Further Read: 30 Unpredictable And Non-Clichéd Places To Visit In Your 20s
So, what are you waiting for? Vamoose!
---
Looking To Book An International Holiday?
Book memorable holidays on TravelTriangle with 650+ verified travel agents for 65+ domestic and international destinations.
---